52 Cooking Gifts for Men Perfect for Father's Day 2023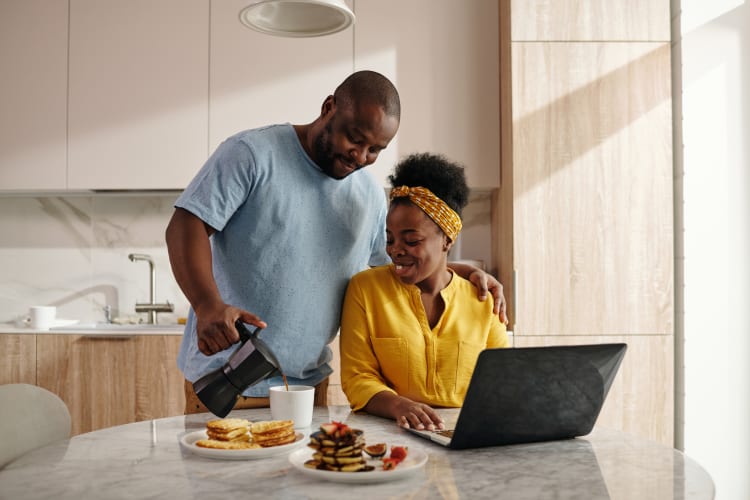 Our editorial team recommends the best products through independent research, selection and careful review. If you make a purchase through one of our affiliate links, we may earn a commission. Prices are subject to change.
Cooking gifts for men make a wonderful way to surprise Dad, Grandpa, Uncle Joe or other men in your life on Father's Day. Whether he's a baking expert, a beginning bartender, grilling guru or a culinary king is some other way, he's sure to enjoy a new gadget, appliance or cooking apparatus that will make the job easier, more productive and more creative.
From barware, kitchen basics and cutlery to cast iron skillets, gas grills and panini presses, we've designed this list to cover a wide variety of culinary interests and budgets. Keep reading to get the ideas flowing for the best cooking gifts for men.
Jump to Section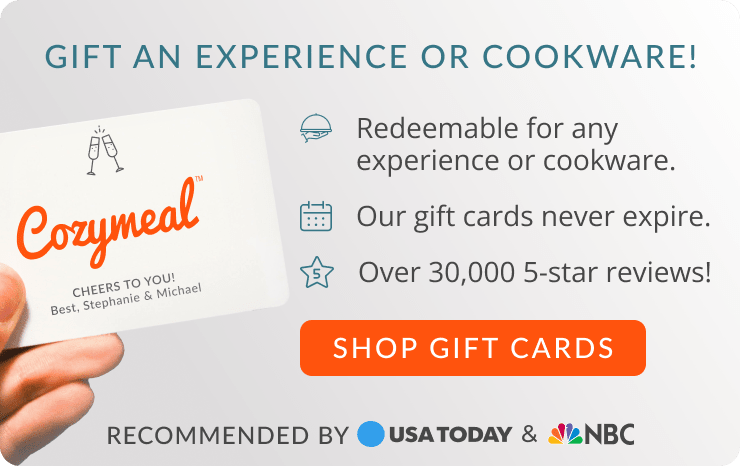 Food Gifts for Men
1. Cooking Classes
If he's just getting into cooking, cooking classes are the perfect cooking gift for men. From cooking classes in Dallas to cooking classes in Nashville, he can choose from culinary experiences around the U.S. Learn how to grill steak, roast a turkey or slice, dice and mince vegetables like a pro. Check out cooking classes near you to pick from a wide array of options, or browse a selection of online cooking classes he can enjoy from the comfort of his own kitchen.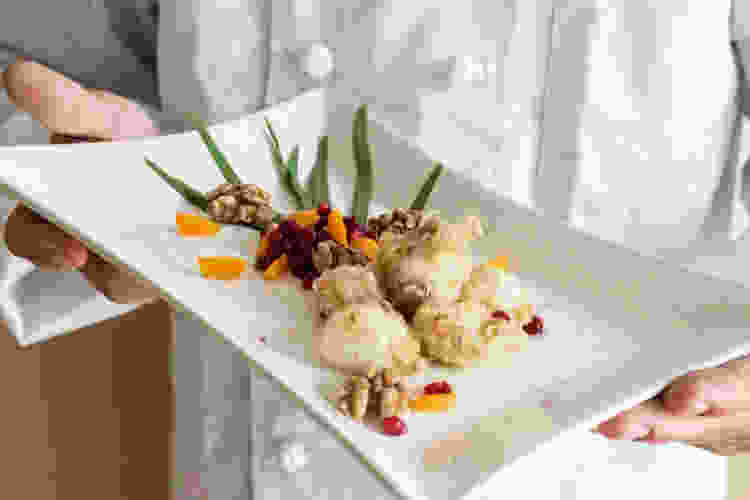 2. Private Chef Experience
Even the most die-hard home chef deserves a night off. Find out his favorite cuisine and plan a private dinner just for him. From private chefs in DC to private chefs in Las Vegas, there's a whole country of locations to choose from. Local chefs plan, prepare and even clean up four-course gourmet meals, casual seafood feasts or a festive Father's Day party. Check out private chefs near you to plan the perfect cooking gift for men.
3. Food Tours
What's more fun than eating food? Well, probably not much. But learning about local history while touring and tasting your way through restaurants, bars, markets and cafés comes pretty close. Book food tours in Milwaukee, food tours in Boston or other food tours near you to explore the culture and cuisine of a favorite vacation spot or hometown.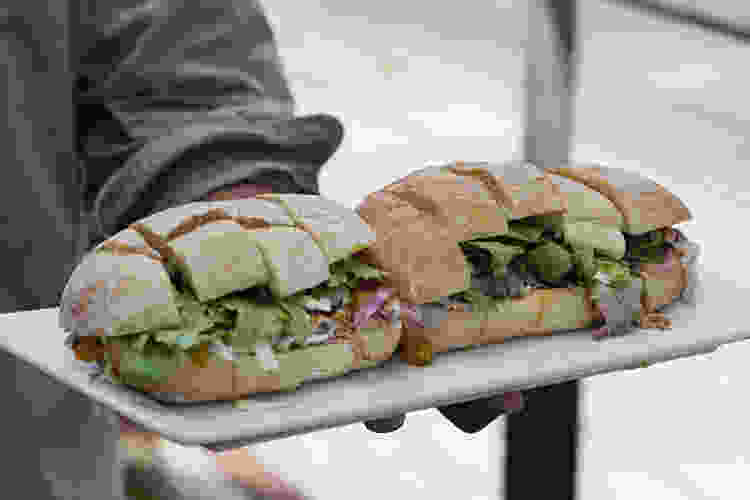 4. Online Beverage Tasting
He might already be proficient with the Keurig, tea kettle or cocktail shaker, but it's fun to dive deeper into his favorite beverages. He can learn how to take wine pairings to the next level with virtual wine tastings or mix negronis and mojitos like a pro with online mixology classes. Professional bartenders and sommeliers lead these fun and interactive classes. All he needs is an internet connection and a mobile device to get started.
Gift a Local Food Tour Now
The perfect gift for every gastronomist. Discover an abundance of culture and culinary delights with a five-star local guide.
5. Foodie Gift Cards
Foodie gift cards can be used toward any culinary experience on Cozymeal, as well as for gourmet cookware in the Cozymeal Shop. Gift cards are available in any amount over $10, never expire and make great cooking gifts for men who are hard to shop for.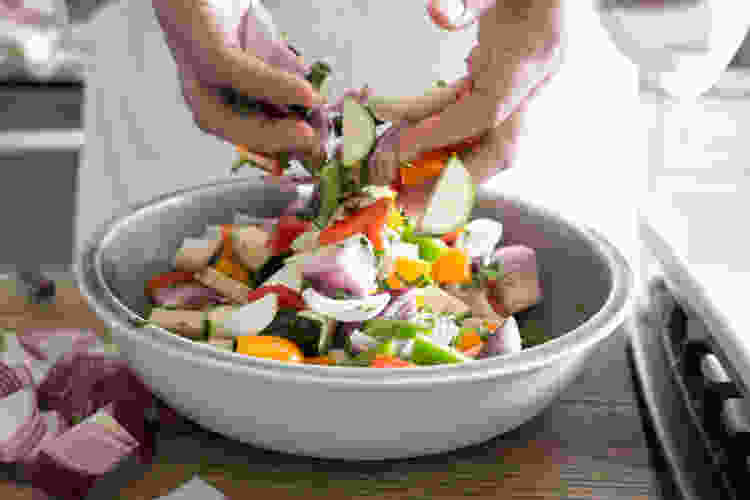 6. Gourmet Honey
If he has a sweet tooth, a jar of Palermo premium honey with comb will hit the spot. Use it in tea, drizzle over pancakes, bake into sweet treats or stir it into yogurt. Also edible, the honeycomb comes with this unique cooking gift for men and can be used to scoop chocolate and cheese. It's also been known to reduce bad cholesterol and help improve metabolism, making this a healthy and delicious food gift for Dad.
7. Steaks
Pass the steak sauce, it's time to grill some meat! Texas Roadhouse Butcher Shop steaks come as a package of four 6 oz. USDA choice filet steaks. They're hand-cut, individually sealed and arrive in a Styrofoam cooler packed with dry ice. Dad can put his love of grilling to use while preparing this cooking gift for him.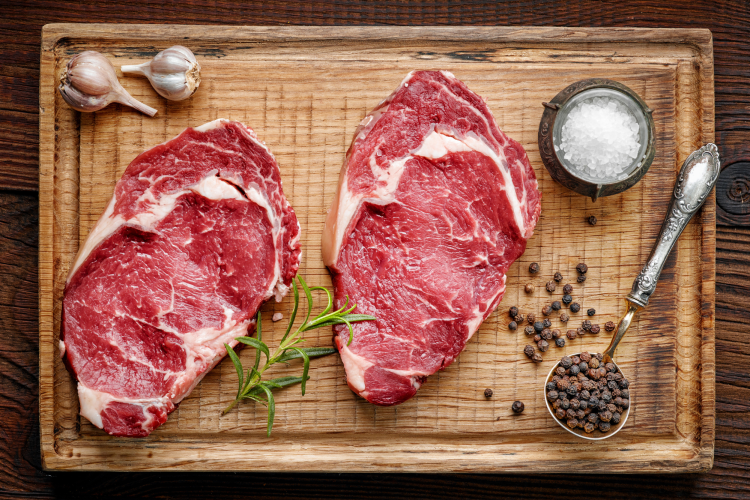 8. Premium Olive Oil
If he's into healthy cooking, he's bound to appreciate a bottle of premium Papa Vince olive oil to marinate, drizzle and sauté. Add in a bottle of top-quality olives, a can of marcona almonds, a loaf of rustic Italian bread and a wedge of manchego cheese to keep the Mediterranean theme going.
Grilling Gifts for Men
9. Portable Grill
The Weber Traveler Portable Gas Grill is one of the best cooking gifts for men who like to grill. It has a large grilling area for hot dogs, burgers, steaks and seafood. The grill is attached to a cart for easy transport to the beach, boat, campground, backyard or next tailgating party. It folds compactly for storage.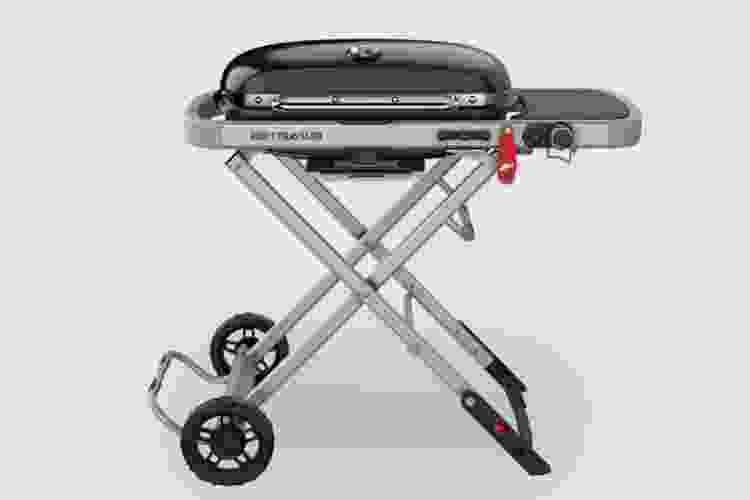 10. Grilling Basket
Another fantastic grilling gift, he can hold fish, vegetables and food of all sizes in the Weber Grilling Basket. The flexible wire design holds everything in place and keeps it from falling through the grates. It's made of stainless steel and is dishwasher safe, making it a practical and easy-to-clean cooking gift for men.
Gift a Private Chef Experience Now
Treat someone special to gourmet fine dining at home. Gift a private chef experience starting at $59/person.
11. Smoker Box
If he's been wanting to try his hand at smoked salmon, here's the perfect cooking gift for Dad. The Weber Smoker Box holds hickory, oak, cherry or apple wood chips to deliver flavor to steaks, chicken, vegetables and more. It's made from stainless steel and fits most gas or charcoal grills.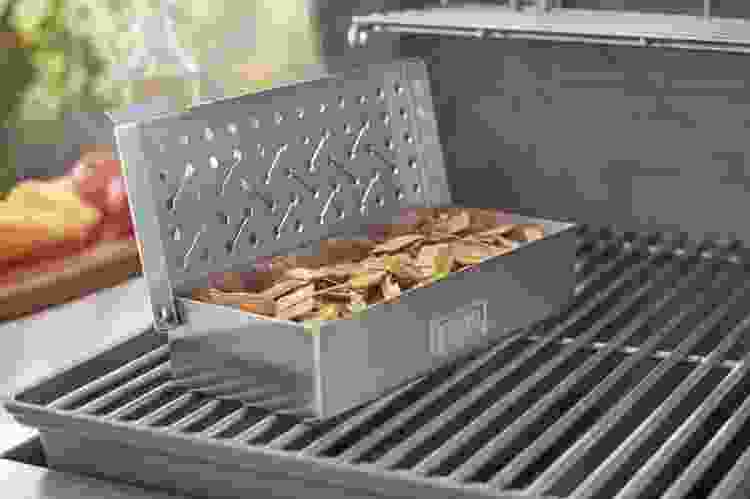 12. Cooker
One of the best cooking gifts for men who grill, the Weber Smokey Mountain 22" Cooker is large enough to grill steaks and smoke the Thanksgiving turkey at the same time. It has a lid-mounted temperature gauge, silicone temperature grommets, aluminum vents and two steel-plated cooking grates.
13. Burger Turner
If his grilling gear has gotten rusty, it's time for an update. The Harold Import Co. Flippin Good Burger Turner easily lifts and flips burners, steaks or pancakes. Unique slots let excess fat drain away. The TPR handle is soft and comfortable. It's safe for use with steel pans, making it a useful cooking gift for men who don't always pay attention to things like that.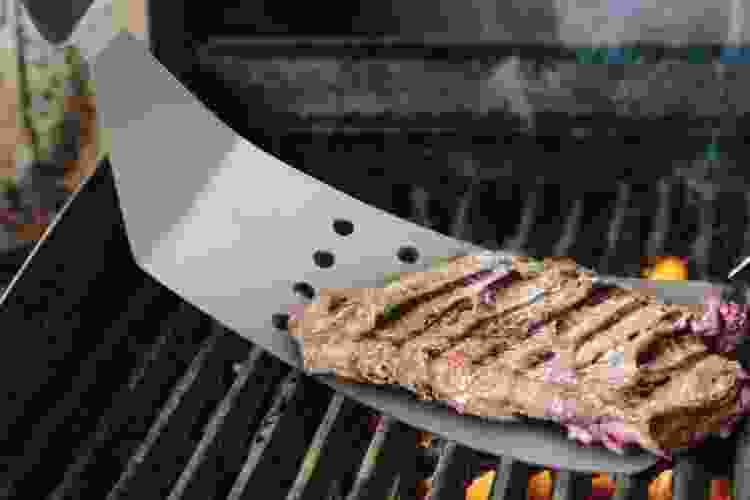 14. Double Burger Press
For perfect burgers every time, Harold Import Co.'s The World's Greatest Flippin Good Double Burger Press can't be beat. It makes quarter and half pound patties that cook evenly. Made of stainless steel, it's dishwasher safe and can be used for veggie burgers, crab cakes and hashbrowns for a versatile cooking gift for men.
15. BBQ Gloves
Splurge on something he probably wouldn't buy himself. The Weber Premium BBQ Gloves are a necessity for safety around the grill, campfire or fireplace. This cooking gift for men is made of silicone and heat-resistant material and is heat-safe to 482°F.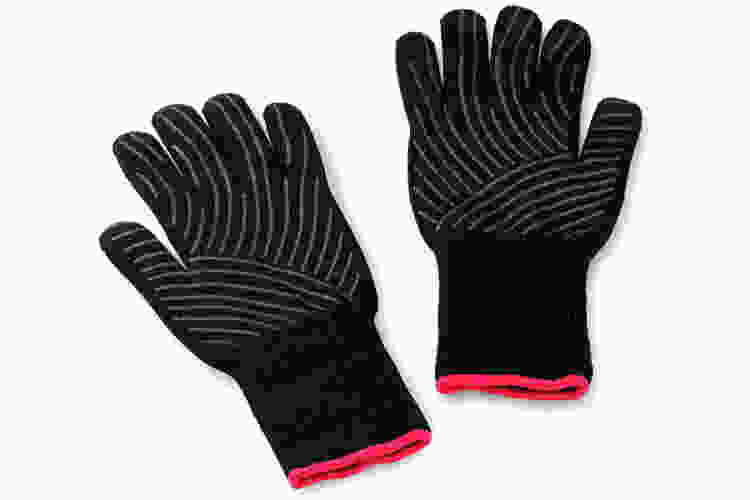 16. Meat Thermometer
Never second guess the temperature of burgers, steaks and chicken again. The Harold Import Co. Large Face Meat Thermometer accurately reads the internal temperature of any cooked meat. It's safe for ovens, smokers, campfires and charcoal, electric and gas grills.
Gift Cookware Loved by Chefs
Shop gourmet gifts for your favorite foodie. Chef-beloved brands. Easy returns. Price matching guaranteed.
17. Skewer Set
Made from chrome-plated steel, the Harold Import Co. Chrome 15" Skewers - Set of 4 are necessary tools for any grillmaster. Use them for kabobs, grilled meat or even s'mores. The square profile prevents them from rolling or spinning on the grill.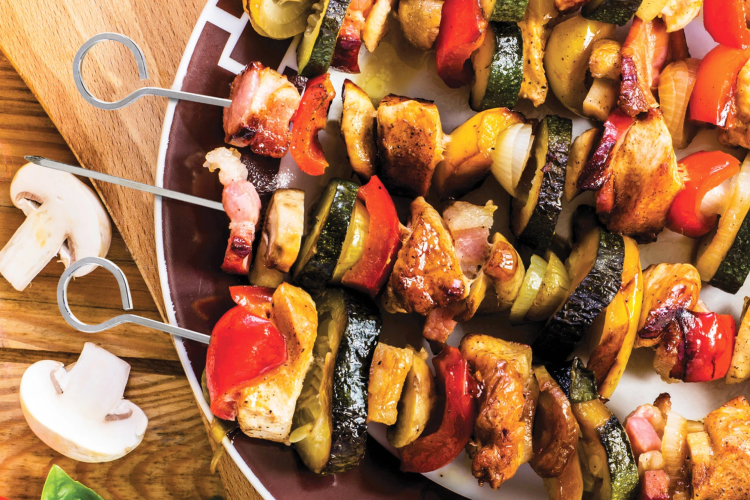 18. Kettle Smoker
Use the Nordic Ware Kettle Smoker on the stovetop or outdoor grill. Add wood-smoked flavor to fish, poultry, steaks and vegetables. It's designed for wet and dry cooking to make a versatile cooking gift for men. This cooking gift for men includes the base with lid as well as a smoking tray, a drip pan, wood chips, a thermometer and a recipe booklet.
19. BBQ Brush
Keep those grill grates clean with the Brushtech Heavy Duty Wide Faced 16" BBQ Brush. This cooking gift for dads who grill has galvanized steel wire bristles designed to slide between grill grates. Hand wash this cooking gift for men in warm soapy water after use.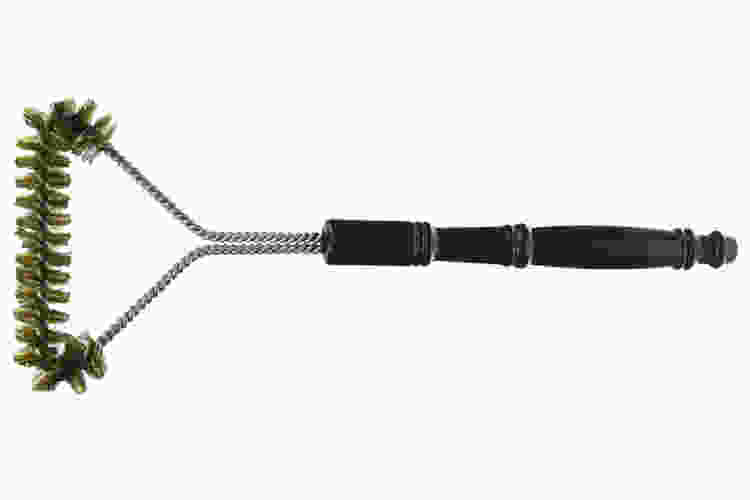 20. Bib Apron
Keep his clothes clean and rep his favorite brand with the Cozymeal Branded Bib Apron. Practical and professional, this cooking gift for men is made of heavyweight fabric for durability and long wear while grilling, taking cooking classes, baking birthday cakes or preparing the holiday ham.
Cookware Gifts for Men
21. Grill and Panini Press
Whether he grills steaks or enjoys the art of the panini, the Cuisinart Griddler Grill & Panini Press does double duty. It not only presses closed, but it can also be left open and used as a flat tabletop grill for burgers, fish or hot dogs. The grill plates of this cooking gift for men are dishwasher safe for easy cleanup.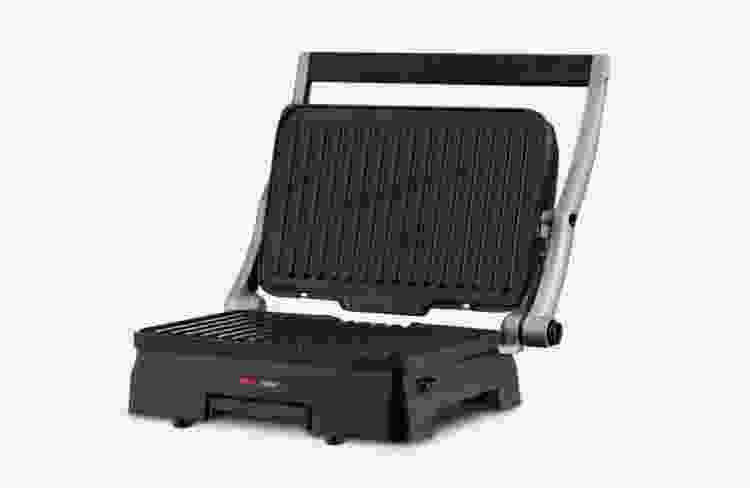 22. Grill Pan
The Finex 15" Cast Iron Lean Grill Pan has a domed interior to drain away fat and grease. Grill healthy and delicious vegetables, burgers, steaks and more with this cooking gift for men. One of the best grill pans, the heavy-duty cast iron heats evenly, and it's slim enough to easily store away when not in use.
Hungry for the Best Cooking Gifts?
Shop gifts and experiences for food lovers, budding chefs and cocktail connoisseurs.
23. Cast Iron Care Kit
Wondering how to clean a cast iron skillet? Take care of cast iron cookware with the Finex Cast Iron Care Kit. The cooking gift for men includes an oak wood scraper, a chain link scrubber, a bottle of organic flaxseed oil and an eyedropper. The oil seasons cookware while the scraper and scrubber remove residue and burnt-on food.
24. Cast Iron Grill Pan
The best cast iron pans provide natural heat retention to perfectly cook food. The Staub Square Cast Iron 12" Grill Pan has a black matte interior surface for even browning and roasting. Grilling grooves collect excess fat and liquid. The bright red color looks great on the oven or as a serving piece. It's compatible with ovens and induction and is grill safe to 500°F. This cooking gift for men is also chip resistant and dishwasher safe.
Pizza Making Gifts for Men
25. Pizza Peel
The Fante's Pizza Peel is one of the best cooking gifts for men and a handy pizza making tool for dads who bake. The surface is large enough for a 14" pizza. The edge is thin and beveled to easily slide under a pizza, flatbread, calzone or loaf of bread. Made of natural New Zealand pine, it makes an attractive serving board as well as a cooking vessel.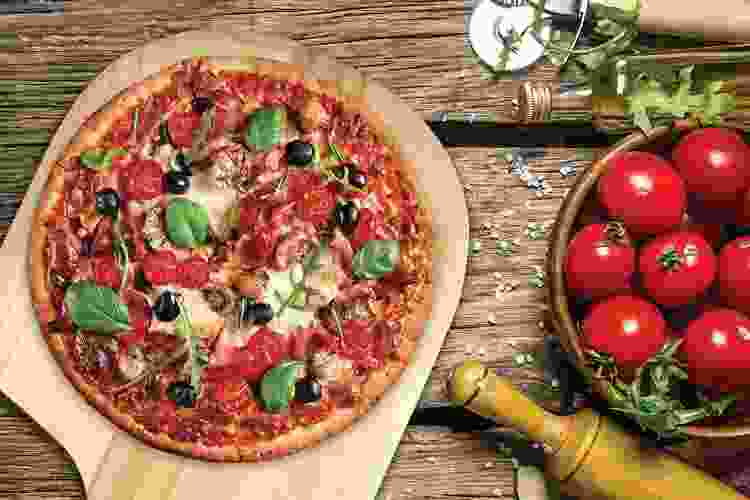 26. Deep Dish Pizza Pan
Made of aluminum for even baking and heat retention, the Nordic Ware Deep Dish Pizza Pan will bring his next Chicago-style pizza or casserole creations to the next level. This cooking gift for men can also be used as a quiche pan.
27. Mortar and Pestle
Made of natural Carrara marble, the Harold Import Co. Marble Mortar & Pestle is a great cooking gift for men who like to prepare their own spice blends. With this best mortar and pestle set, he can grind herbs and spices for dry rubs, pesto and curry powder or crush nuts and smash ginger and garlic for things like guacamole, hummus, flavored salts and aioli.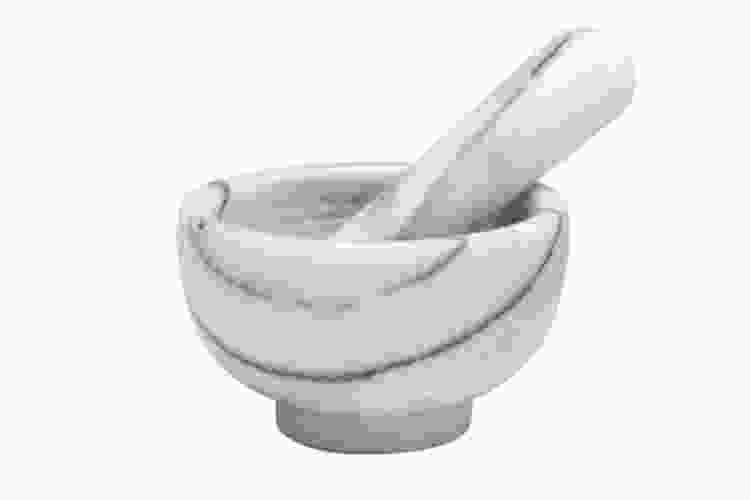 28. Pizza Stone With Rack
Whether he bakes pizza dough from scratch or prefers pre-made frozen versions, the Nordic Ware Deluxe Square Pizza Stone With Rack bakes perfect pies every time. It comes with a stainless-steel rack to make transport easy and convenient. Made of heat-safe cordierite ceramic stone, it's safe for the grill or oven and makes a great cooking gift for men.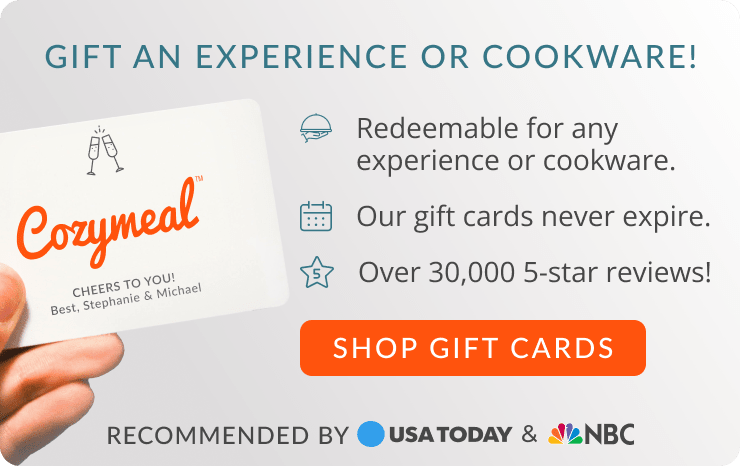 Cutlery Gifts for Men
29. Cutting Board Set
Every chef needs a top-quality best knife set for chopping, peeling, cutting and slicing. The Zwilling Pro Cutting Board 5 Pc Set includes a paring knife, a fine edge prep knife, a pull-through sharpener, kitchen shears and a bamboo cutting board, making it an all-purpose cooking gift for men.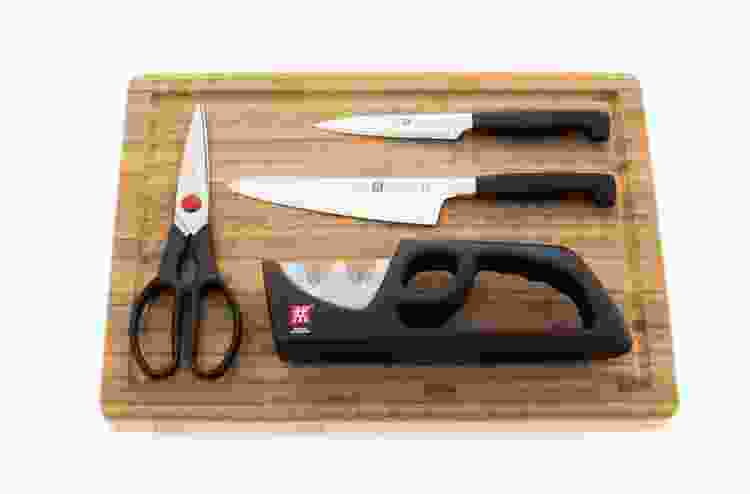 30. Gyuto Knife
With a Western-style eco-wood handle and a stainless-steel Japanese blade, the Kikuichi Elite Warikomi Damascus Tsuchime 8" Gyuto Knife is one of the best Japanese knives and a luxurious addition to any chef's cutlery collection. The blade's hammered finish helps food slide off rather than stick to the blade. He will be able to slice fish, cut meats and dice vegetables using rock-chop and fine tip cutting methods to make an all-purpose cooking gift for men.
31. Chef's Knife
Made of stainless steel, the Zwilling Four Star 8" Chef's Knife has a contoured handle and an ice-hardened precision-forged blade that provides maximum strength and durability. This German-style best chef's knife provides the multi-use benefits of chopping, slicing or dicing.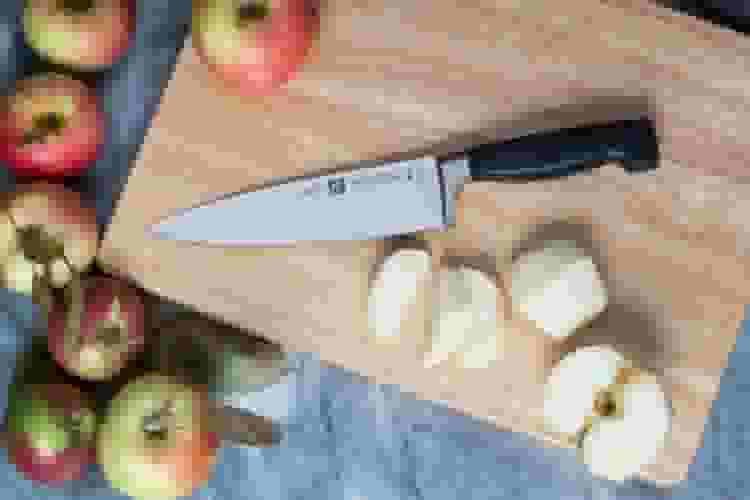 32. Steak Knife Set
For the traveling chef, Zwilling 4-Pc Gentlemen's Steak Knife Set With Leather Travel Case have inverted serrated blades for longer blade life. The knives have an attractive palisander wood handle that's triple-riveted for added durability, making this best steak knife set a wonderful cooking gift for men.
Barware Gifts for Men
33. Bar Essentials Set
Made of sleek stainless steel, the Viski 7 Piece Bar Essentials Set is a useful gift for cocktail lovers and looks great on a countertop or home bar. This Boston shaker-style set comes with a mixing glass, 28 oz. shaker tin, 18 oz. shaker tin, a Hawthorne strainer, a double-sided jigger, a bar spoon and a muddler. He will be able to mix mojitos, daiquiris and margaritas like a pro.
34. Barware Set
The Viski Gunmetal Mixologist Barware Set makes an elegant addition to his barware collection. It's made from sleek stainless steel with an attractive gunmetal finish. This gift for bartenders comes with a cobbler-style shaker, a Hawthorne strainer, a double-sided jigger and a bar spoon.
Gift an Online Mixology Experience
Raise a toast to the perfect gift. Enjoy craft cocktails, bartending basics and more taught by five-star mixologists.
35. Whiskey Decanter
The Viski Irish Cut Whiskey Decanter is an elegant, unique and practical addition to any dad's bar collection. Made of lead-free crystal glass with triangle cuts, this gift for men holds 15 oz. of whiskey, scotch or bourbon for a luxury sipping experience.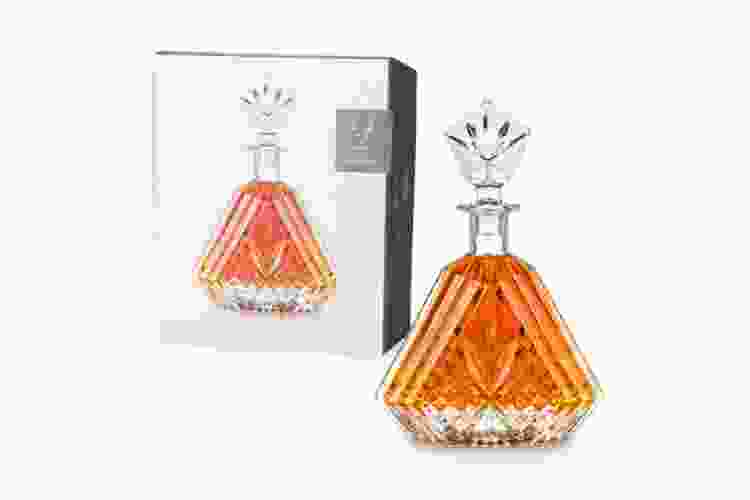 36. Ice Ball Maker
Make perfectly round balls of ice with the Viski 55mm Ice Ball Maker. Made of aluminum and stainless-steel, it uses gravity to shape out blocks into unique orbs of ice for craft cocktails, whiskey and liqueur. This is one of the most unique bartending tools we can think of.
37. Double Wall Tumbler Glass Set
Treat him to the perfect glass of whiskey, bourbon or scotch with the Zwilling Sorrento Double Wall Tumbler 2 Pc Glass Set. Glasses are made of mouth-blown glass and feature double walls to provide superior insulation. Lightweight and stylishly modern, the glasses were designed by Matteo Thun and Anotonio Rodriguez. They're dishwasher and freezer safe.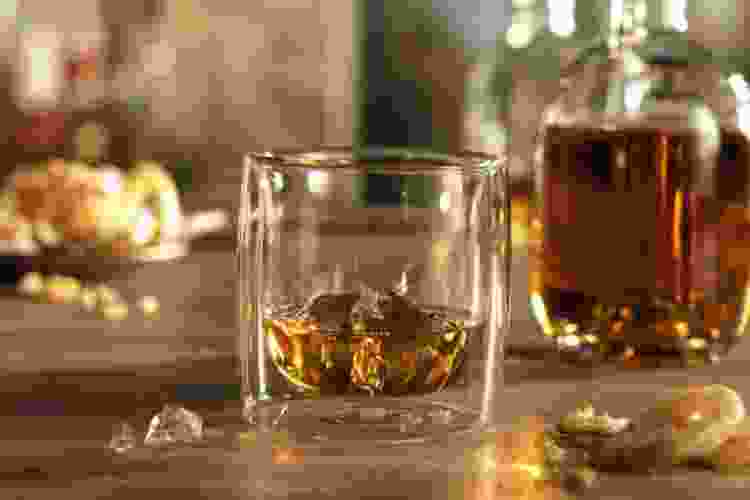 38. Beer Tasting Kit Glasses
Designed to enhance flavors, the Spiegelau Craft Beer Tasting Kit Glasses, Set of 4 includes a glass for IPAs, one for sour and Belgian beers, one for lagers and hefeweizens and one for ABV barrel-aged brews. The shape of the glass is designed to enhance each specific type of beer, making a stylish and unique cooking gift for men who enjoy craft beer.
39. IPA Beer Making Kit
The Brooklyn Brew Shop New England IPA Beer Making Kit makes a terrific cooking gift for men. The kit comes with an all-grain mix, mosaic hops, cascade hops, a glass fermentation jug, vinyl tubing, a tubing clamp and all the necessary items to brew the perfect IPA. The equipment is all reusable.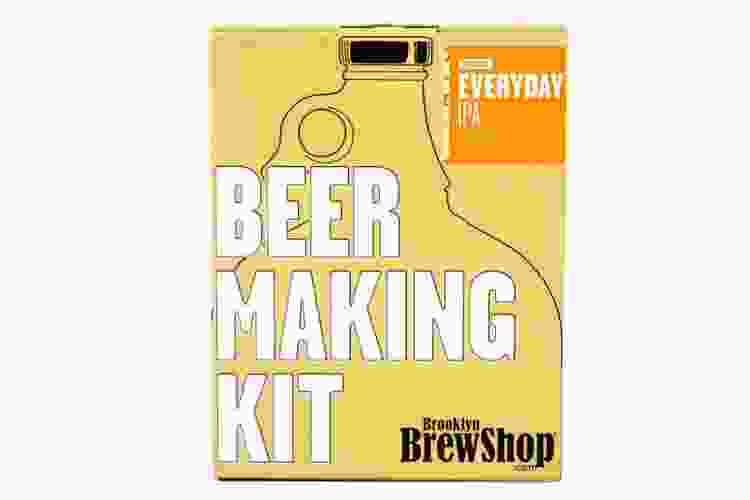 40. Beer Bottle Set
His next batch of craft beer will be bottled in style with the Brooklyn Brew Shop Beer Bottle Set. This cooking gift for men comes with 10 12 oz. reusable glass bottles. Use the box to store bottles as it conditions. Bottles are compatible with the Brooklyn Brew Shop Bottle Capper Set.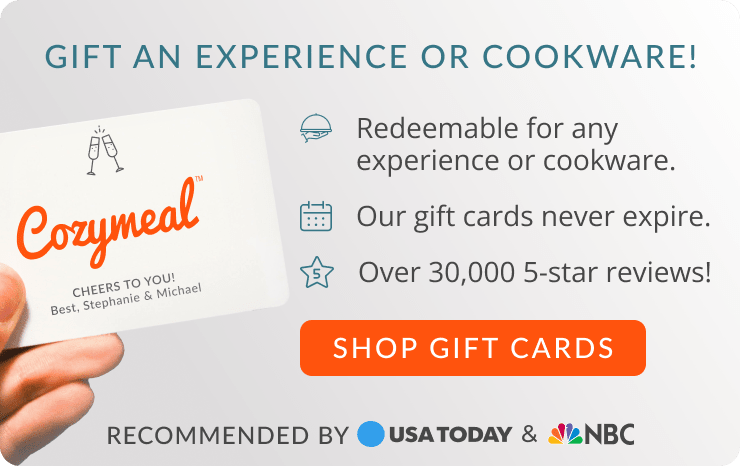 41. Bottle Capper and Capper Set
Dads who are into brewing their own craft beer will get a kick out of the Brooklyn Brew Shop Bottle Capper and Capper Set. He can cap any non-twist-off beer bottle for freshness, making this a versatile cooking gift for men.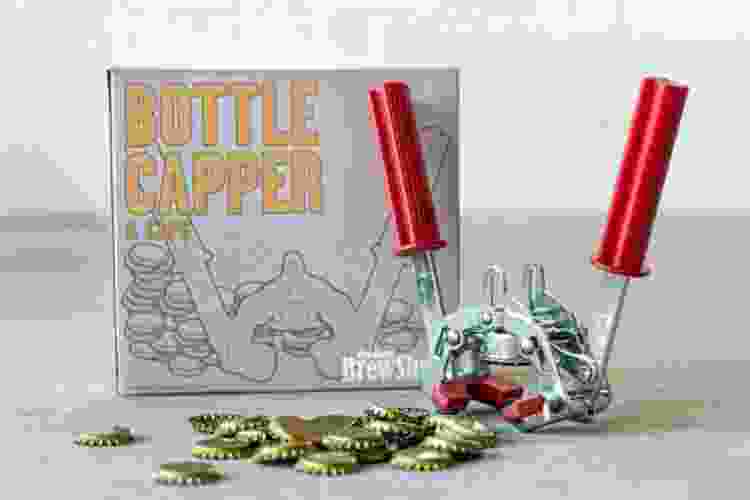 42. Wine Cellar
Give him the luxury of his own wine cellar with the Cuisinart 8-Bottle Private Reserve Wine Cellar. Convenient and compact, this cooking gift for men holds up to eight bottles at an ideal temperature for maximum flavor and aroma. It can even sit on a countertop. A button allows you to accurately set the temperature.
43. Wine Tool Set
The perfect cooking gift for men who enjoy wine or Champagne is the Zwilling Sommelier Wine 4 Pc Tool Set. He can open bottles, aerate while pouring and then seal the bottle for flavor retention. The set comes with a corkscrew, a decanter, a drop ring and a foil cutter in a gift box. Stainless steel makes a stylish and professional presentation in this cooking gift for men.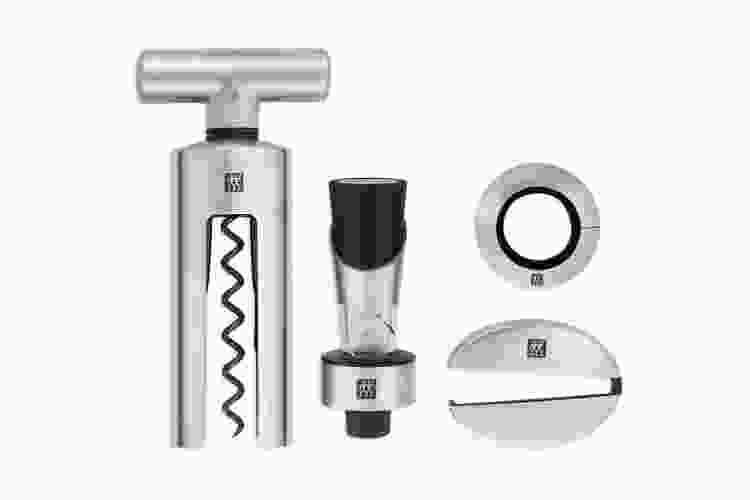 44. Wine Stemless Tumbler Set
Add to his cocktail collection with the Riedel O Wine Stemless Tumbler Cabernet/Merlot 8 Pc Glass Set. Glasses are made from dishwasher-safe crystal and are perfect for an elegant dinner, casual event or backyard get together. They're especially suitable for cabernet and merlot wine varieties. The stemless design of this wine gift for men makes breakage less likely.
45. Flaviar Membership
For the father who loves whiskey and other spirits, a Flaviar club membership will put the biggest smile on his face this Father's Day. He'll pick the spirits he wants, receive them in the mail and discover new favorites with the help of the tasting guide. Available at three price points, a Flaviar membership comes with multiple perks, including a members discount in the online store.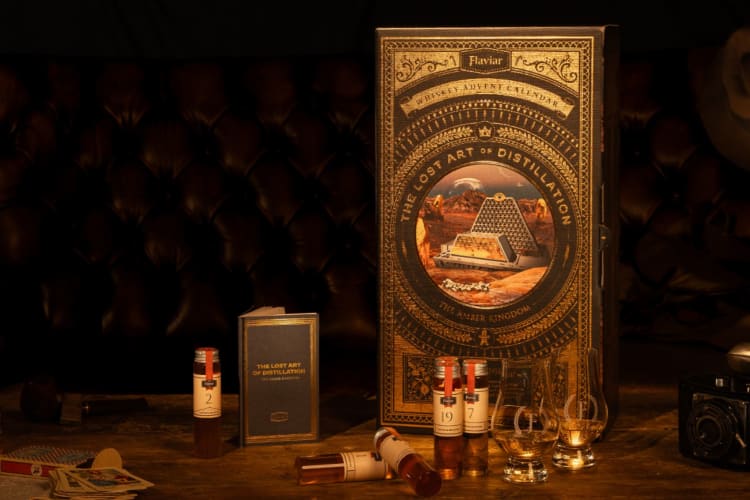 Coffee Gifts for Men
46. Grind and Brew Coffeemaker
The Cuisinart Automatic Grind & Brew 12-Cup Coffeemaker allows him to grind and brew rich and full-flavored cups of coffee. The 12-cup capacity should handle the whole family's caffeine needs. This cooking gift for men is made of stainless steel with a glass carafe to make an attractive countertop addition.
47. Coffee Maker
If he's a fan of the French press, this gift for coffee lovers will impress him. The AeroPress Coffee Maker uses a rapid total immersion brewing process to brew coffee in about a minute. It's compact and lightweight enough to take with him to the office or on vacation.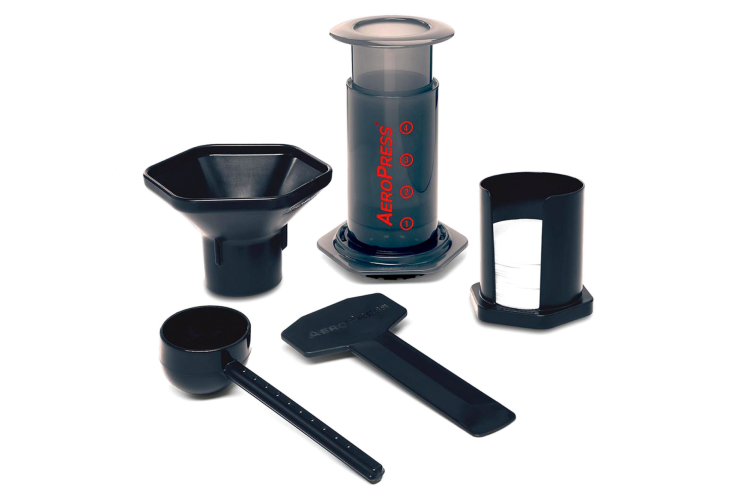 Gift a Local Food Tour Now

The perfect gift for every gastronomist. Discover an abundance of culture and culinary delights with a five-star local guide.

Shop Now
48. Breakfast Stout
If he's a fan of dark beer, the Brooklyn Brew Shop Mikkeller's Beer Geek Breakfast Stout makes great cooking gifts for Dad or any other man on your list. The kit comes with an all-grain ingredient mix, a glass gallon glass fermenter, vinyl tubing, a screw-cap stopper, instructions and more to brew the perfect breakfast stout.
Food Kit Gifts for Men
49. DIY Sushi Kit
This cooking gift for men is perfect for the sushi lover in your life. The Global Grub DIY Sushi Kit is one of the best sushi making kits on the market and comes with sushi rice, nori, rice vinegar powder, sesame seeds, wasabi powder, a rolling mat, instructions, a shopping guide and drink pairing suggestions. He can prepare the perfect maki style of sushi. There are enough ingredients in this cooking gift for men to make eight rolls with six pieces each.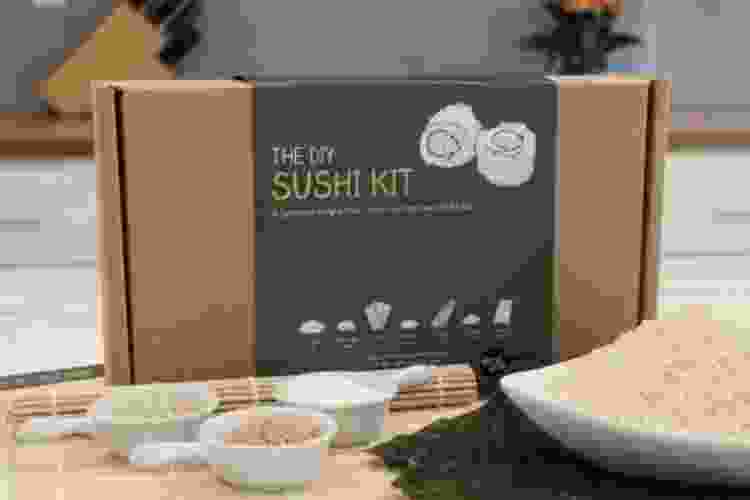 50. Hot Sauce Kit
FarmSteady Fermented Hot Sauce Kit makes a unique cooking gift for men who enjoy making their own salsa, chutney and other spicy toppings. The kit comes with a half gallon glass fermenting jar, glass fermentation weight, a lid with airlock and kosher salt.
Appliance Gifts for Men
51. Air Fryer Toaster Oven
Combine two appliances in one with the attractive stainless-steel Cuisinart Air Fryer Toaster Oven. He can bake, broil, toast and air fry with this small kitchen appliance. This cooking gift for men saves countertop space while cooking healthy meals. It comes with an oven rack, a baking pan, an air fryer basket and a crumb tray.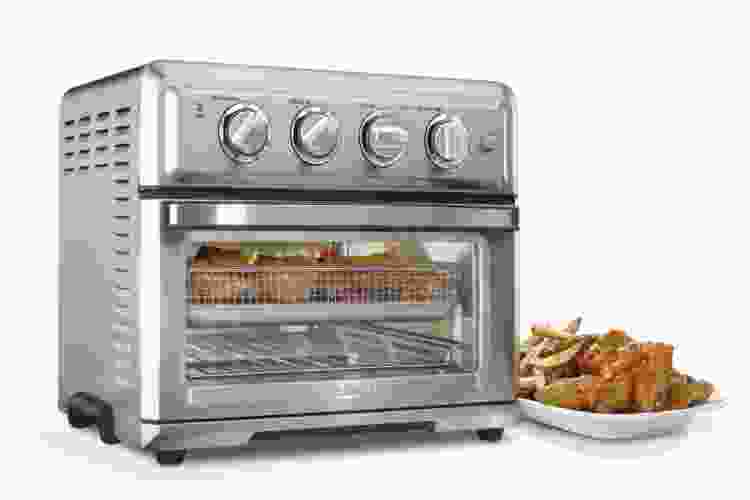 52. Sous Vide Starter Set
The Zwilling Fresh & Save Sous Vide Starter Set comes with all he needs to get started with the sous vide cooking method. Whether he's into meal prepping or just likes the precision and control of the method, this cooking gift for men is sure to impress. The sous vide machine comes with a vacuum pump and vacuum bags.

Join 200,000+ Culinary Enthusiasts
Exclusive deals, recipes, cookbooks, and our best tips for home cooks — free and straight to your inbox. PLUS: 500 Rewards Points.
Picking out just the right cooking gifts for men can be a confusing task, but it doesn't have to be. Whether you're searching for something small and useful or a luxury culinary item to add to his collection, this list offers a range of ideas. Whatever you choose, it's bound to be a bonus for you as he practices and perfects his kitchen skills.
For even more cooking gifts for men, check out chef-recommended cookware and culinary experiences in the Cozymeal Shop.