57 Bridesmaid Gift Ideas They'll Actually Use
Our editorial team recommends the best products through independent research, selection and careful review. If you make a purchase through one of our affiliate links, we may earn a commission. Prices are subject to change.
With your wedding date fast approaching, you may be looking for unique bridesmaid gift ideas within your budget. Are you searching for presents that your bridesmaids will use even after the wedding? Maybe you're looking for bridesmaid gift bag ideas or ideas for bridal party proposals. You and your girls are all one of a kind, and you want to find bridesmaid gift ideas that reflect that individuality.
Bridesmaid gifts are the perfect way to thank your ladies for being an integral part of your special day. Gifts can be luxurious, low-key or even handmade. This guide includes over 50 creative bridesmaid gift ideas to spoil your squad no matter your budget.
Jump to Section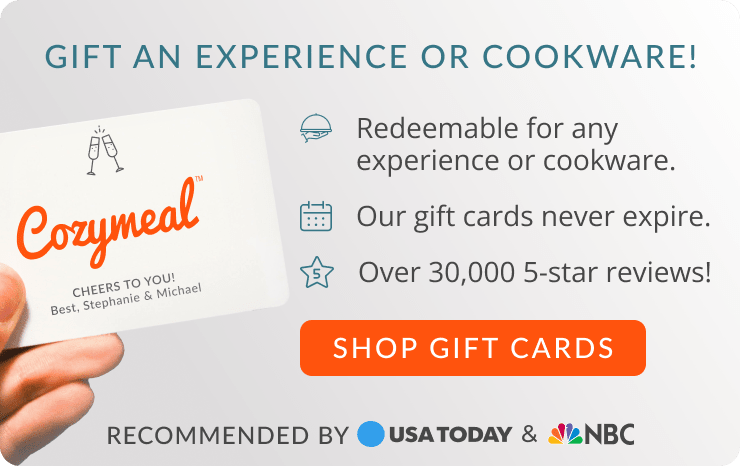 Unique Bridesmaid Gift Ideas
1. Online Cooking Classes
Online cooking classes are a fun and unique bridesmaid gift idea and perfect for girls who love to cook or would be interested in learning more kitchen skills and recipes. They also make a great gift for newlyweds for the happy couple!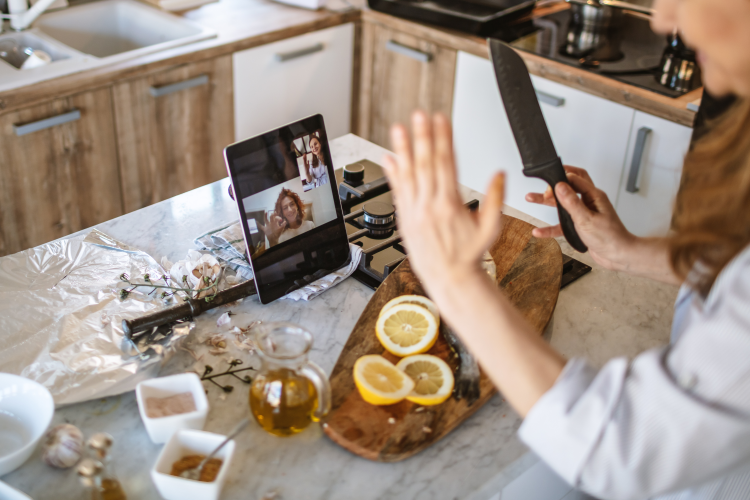 Hungry for the Best Cooking Gifts?

Shop gifts and experiences for food lovers, budding chefs and cocktail connoisseurs.

Shop Now
2. Hands-On Cooking Class
If you're looking for an in-person experience for a bridesmaid gift idea, cooking classes near you can bring all your closest girls together to learn some seriously delicious recipes — how to prepare homemade pasta or dumplings from scratch. There are cooking classes in Chicago, cooking classes in Napa and beyond.
3. Food Tours
Food tours are a fun and unique experience for you and your bridesmaids to share. Browse food tours near you to set up a special girl's night. There are food tours in Milwaukee, food tours in Philadelphia and many other cities both near and far.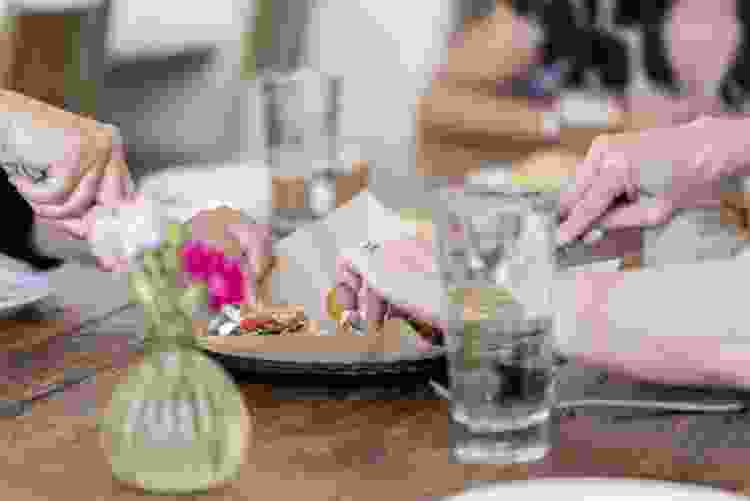 4. Coffee Classes
Coffee classes are a great bridesmaid gift idea for java lovers. They'll learn how to perfect their home brews while enjoying an interactive virtual experience. If your budget allows, pair this with a cute mug or bag of coffee beans.
5. Virtual Wine Tastings
If your bridesmaids are wine-lovers, consider organizing a virtual wine tasting led by a top sommelier or chef. They'll enjoy a unique, interactive experience from the comfort of their home.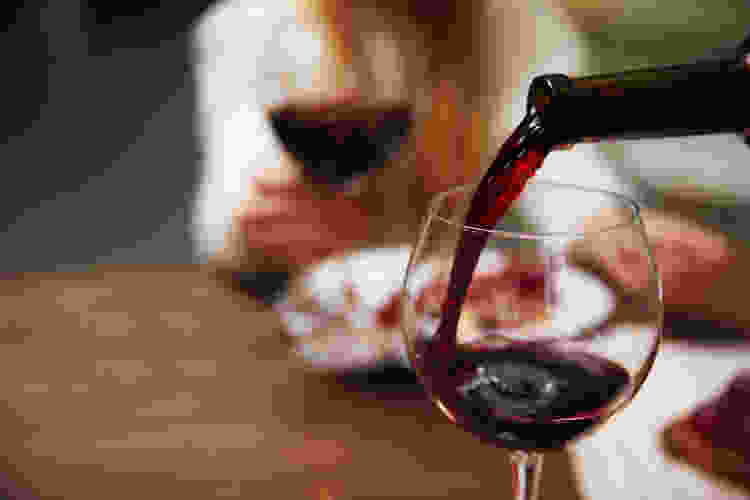 6. Whiskey Tastings
Whiskey tastings are a better option if your bridesmaids prefer whiskeys, bourbon or scotch. These interactive experiences can focus on the spirit or teach them how to make delicious whiskey-based cocktails.
7. Online Mixology Class
If your girls love a good craft cocktail but are tired of the crowded bar scene, enter online mixology classes as a unique bridesmaid gift idea! Each class is taught by a master mixologist who will have you all stirring and shaking like a pro in no time.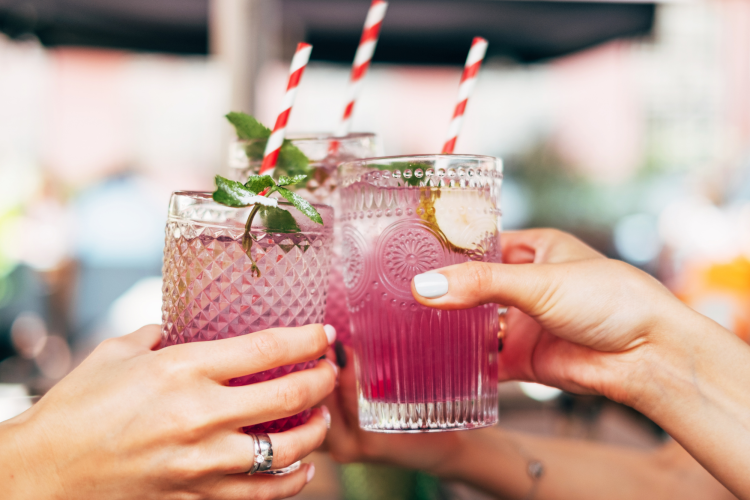 8. Foodie Gift Card
If you're indecisive and struggling to settle on one particular bridesmaid gift idea, a foodie gift card is the perfect present for your bridal party. They can use the card towards private chef experiences, food tours, in person or online classes, or any cookware or bakeware in the Cozymeal Shop. And the cards never expire!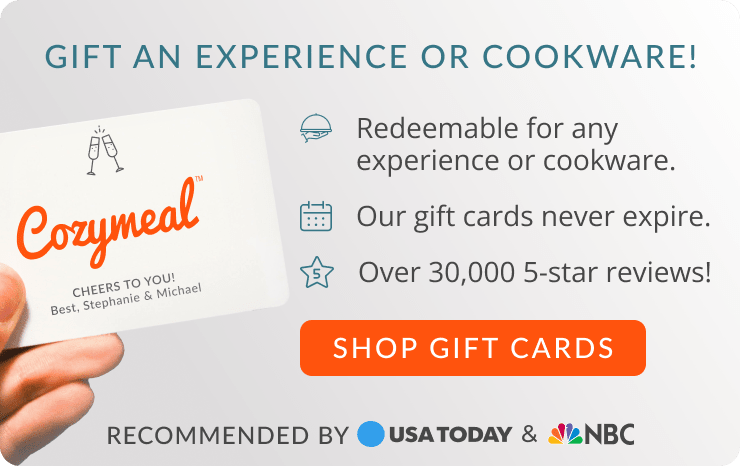 9. Name and Birth Flower Necklace
These name and birth flower necklaces are a unique and lovely gift she'll wear regularly. Each necklace is customized with your bridesmaids' name and the flower that corresponds with her birth month.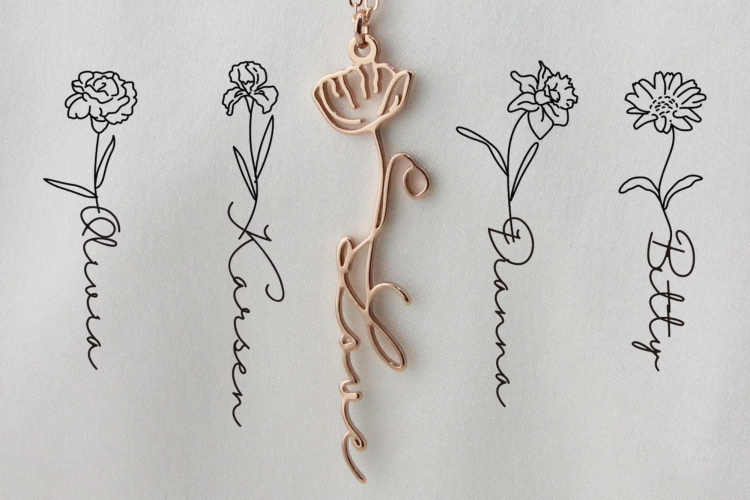 10. Monogrammed Pajamas
Matching pajamas are a fun bridesmaid gift idea. This monogrammed pajama set is super soft, includes shorts and a top that can be customized with your bridesmaids' names or initials.
11. Live Frame
For an incredibly unique bridesmaid gift idea, check out these live frames made of high-quality wood and filled with moss and air plants. These will add earthy ambience to any room in her home.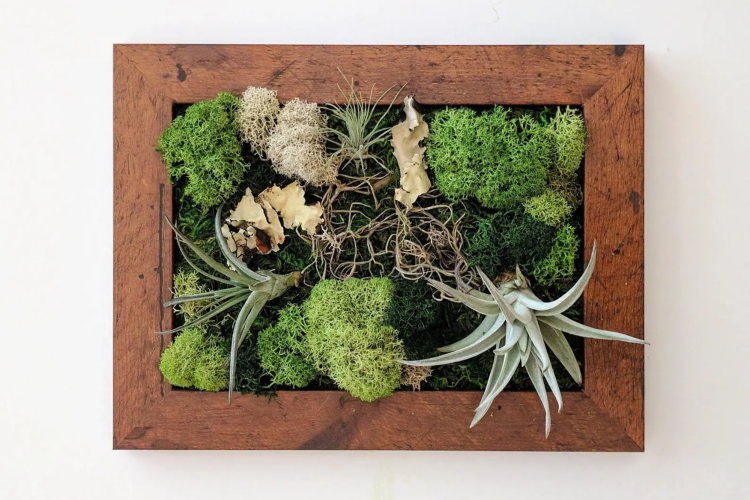 12. Customized Leather Journal
These customized leather journals are high quality and personalized. Order one for each bridesmaid, and begin their journal by writing a letter to them or add personal notes or favorite quotes scattered throughout the pages.
13. Personalized Clutch
While clutch purses with bridesmaids' names or initials on the exterior are a common bridesmaid gift idea, this personalized clutch is completely unique as the designer adds your handwritten message to the interior lining of each gorgeous bag.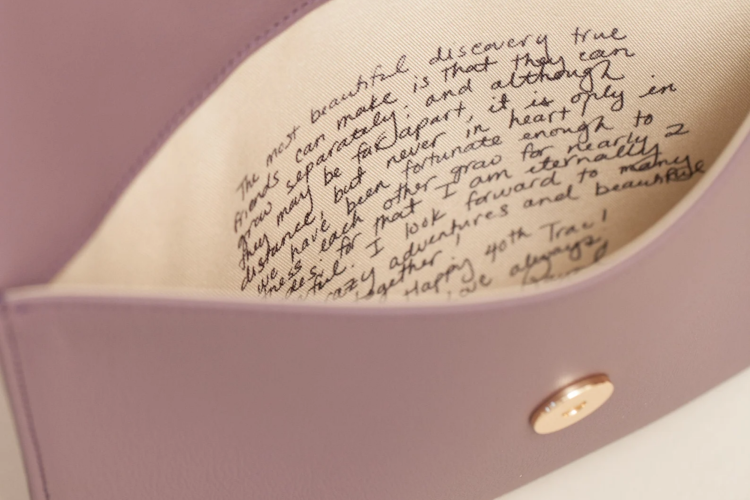 14. Jewelry Box
These jewelry boxes are cute, portable and personalized with your bridesmaids' first initial. If your budget allows, add a ring or pair of earrings inside the boxes for a special gift.
15. Jewelry Dish
These custom jewelry dishes are useful and unique. Each dish is personalized with your bridesmaid's name and a watercolor image of their bridesmaid dress.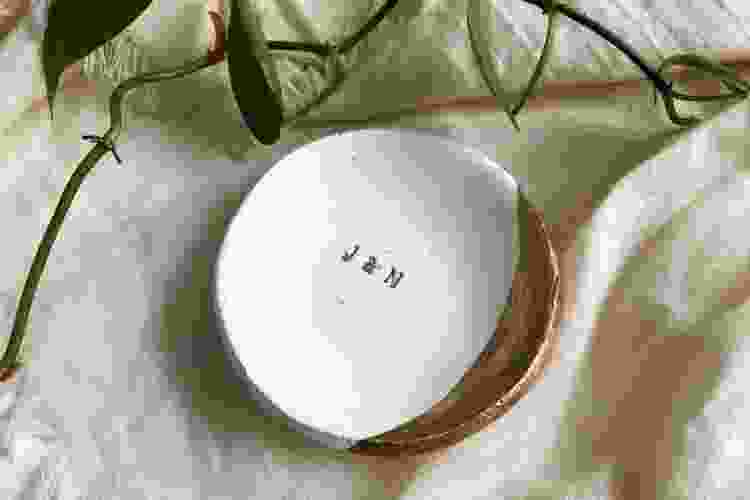 DIY Bridesmaid Gift Ideas
16. Candles
Hand pouring candles is simple and fun. You can purchase wicks, soy wax, essential oils and trendy molds or collect jars. For a thoughtful gift under $50, you could also purchase a candle-making kit that includes all the supplies you'll need to make beautiful candles.
17. Bracelets
Take friendship bracelets to the next level by creating one-of-a-kind bracelets for each of your bridesmaids. Buy a bracelet-making kit filled with supplies or select beads you know your girls will love.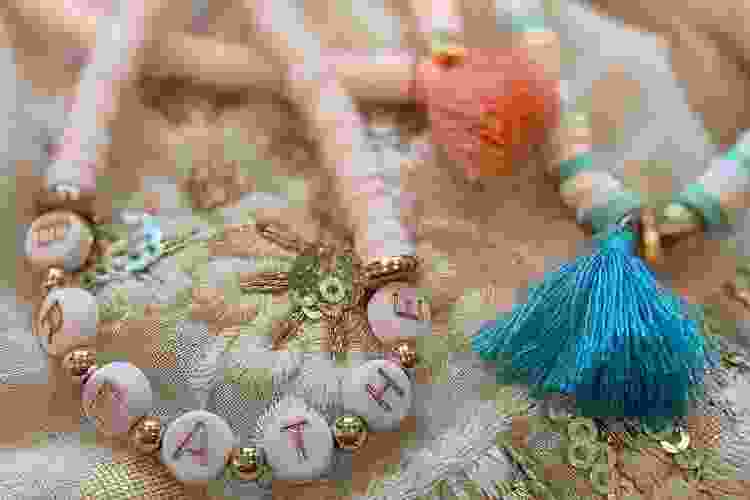 18. Mini Scrapbooks
For an incredibly sentimental bridesmaid gift idea, purchase small scrapbooks or create your own by securing craft paper together. You can add photos as well as personal notes, pressed flowers, stickers or drawings.
Gift a Local Food Tour Now
The perfect gift for every gastronomist. Discover an abundance of culture and culinary delights with a five-star local guide.
19. Earrings
Purchase this clay earrings kit which comes with everything you'll need to create six pairs of adorable earrings, or shop at your local craft store for earring hooks and polymer clay or beads to create unique jewelry for each of your bridesmaids.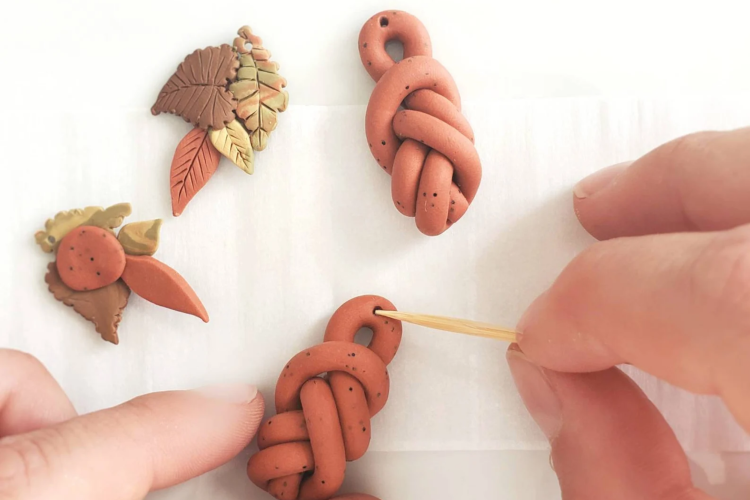 20. Flower Bouquet
Select flowers your bridesmaids will love then gather vases, upcycle jars to use as vases or purchase heavy-duty wrapping paper. Next, cut the stems and bunch the flowers together into bouquets for a lovely bridesmaid gift idea.
21. Soaps
This shea butter soap-making kit includes everything needed to make four bars of luxury soap. You can gift these soaps alone or add them to a gift bag.
22. Glitter Rolled Bottles
Buy your bridesmaids their favorite bottle of wine or liquor and get crafty! Cover the bottles with Mod Podge then sprinkle glitter until the bottle is completely covered. You can select mini bottles of sparkling wine for a budget-friendly version.
23. Hand Painted Wine Glasses
Purchase a set of wine glasses, Champagne flutes or even shot glasses and use acrylic paint pens to create personalized glassware for your bridesmaids.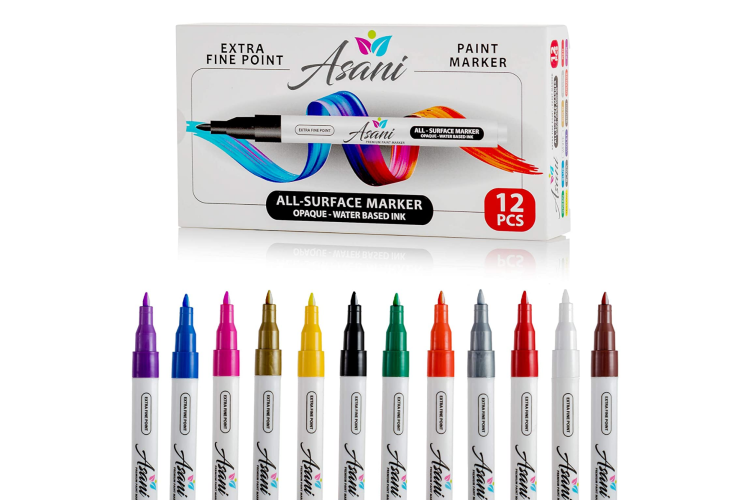 24. Bath Bombs
This bath bomb kit comes with everything you'll need to make over 15 bath bombs. Your bridesmaids will love these for a relaxing evening and be impressed you made them yourself.
25. Sugar Lip Scrub
Sugar lip scrubs are a great DIY bridesmaid gift idea. They can be added to gift bags or gifted on their own. There are seemingly endless recipes for lip scrubs, but the base is typically a combination of sugar and oil with honey and essential oils or flavor extract added.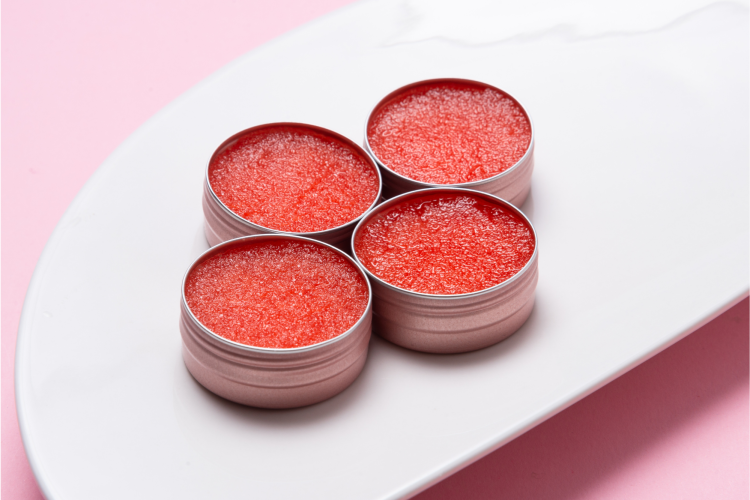 26. Embroidery
For an impressive DIY bridesmaid gift idea, these embroidery kits are easy to use, even if you're brand new to the world of embroidering. Create gorgeous plant-themed embroidery that your bridesmaids will love displaying in their homes or offices.
Gift a Virtual Wine Tasting Now
The ultimate gourmet gift for any wine lover on your list. Virtual wine tastings bring a virtual vineyard experience right to you.
27. Baked Goods
Get creative in the kitchen with this bridesmaid gift idea. Baking for your bridesmaids is thoughtful and sweet, literally. You can make cupcakes, cookies and more, and combine them in cute bakery boxes.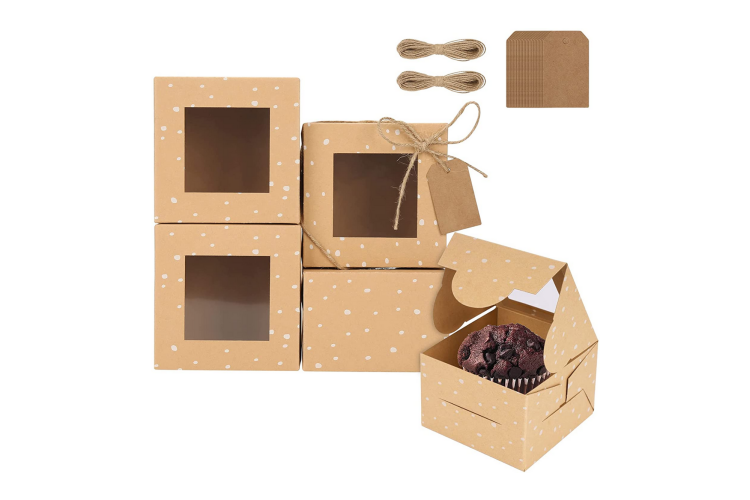 28. Terrariums
Gather planters, rocks, dirt, sand and succulents to create terrariums for each of your bridesmaids. You can add seashells, gravel, marbles or miniature figurines to make each terrarium unique.
Cheap Bridesmaid Gift Ideas
29. Personalized Hangers
These personalized hangers are sturdy and elegant at a fantastic price point. Your bridesmaids will use these on the wedding day for their dresses and every day after as a sentimental staple in their closet.
30. Custom Travel Mirror
These custom travel mirrors are cute, personalized and the perfect size to toss in a purse or make-up bag. They're the perfect custom bridesmaid gift idea for under five dollars.
31. Bottle Label
For a cheap bridesmaid gift idea, purchase inexpensive bottles of wine, and cover them with these bottle labels. This makes a great stand-alone gift or can be added to a gift bag or paired with a wine glass.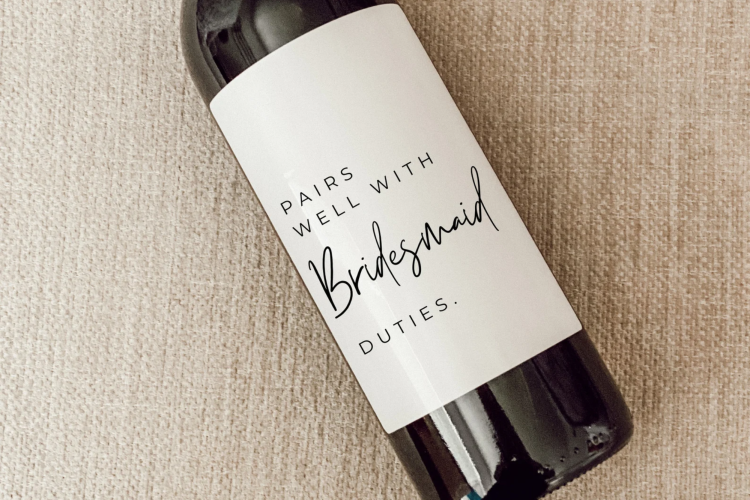 32. Robes
Buying all of your girls matching robes is the bridesmaid gift idea that will get you stunning photos with your girls before the wedding and give them a cozy gift they will continue to use for years after the big day. These robes can be customized for only a few dollars more.
33. Bridesmaid Koozies
These koozies can be selected in colors to match your wedding. This is the bridesmaid gift idea that can include the entire wedding party if you choose to order one for each person in your bridal party.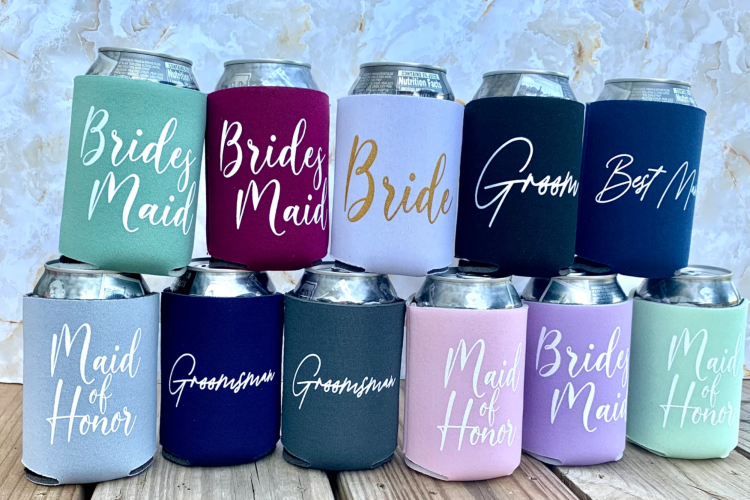 34. Rose Gold Initial Ring
These dainty rose gold initial rings are delicate and personal. Your bridesmaids can wear these at the wedding for a subtle touch.
35. Personalized Flask
For a boozy bridesmaid gift idea, these personalized flasks come in many different colors and can be customized with your bridesmaids' names or initials.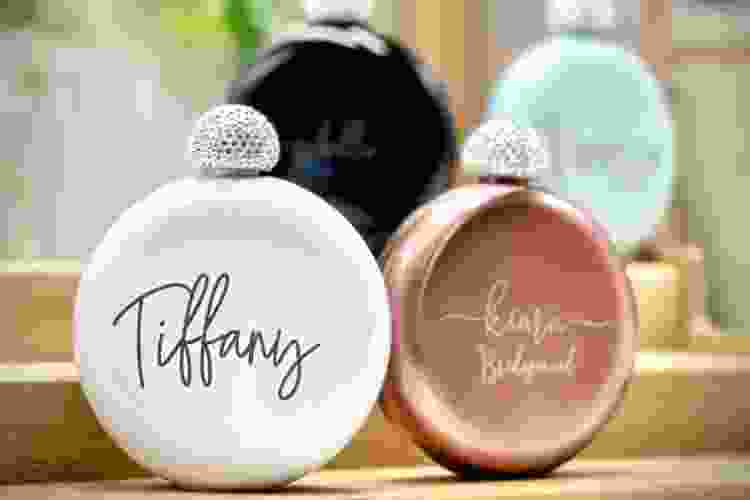 36. Burlap Tote Bag
For a cheap stand-alone bridesmaid gift idea, these burlap tote bags are cute, multi-purpose and can be customized for only a few more dollars. If it fits your budget, you can fill these bags with goodies for your girls.
Gift a Private Chef Experience Now
Treat someone special to gourmet fine dining at home. Gift a private chef experience starting at $59/person.
37. Personalized Stemless Wine Tumbler
For a bridesmaid gift she'll use at the bachelorette party, at the beach, on a picnic and around the house, this personalized stemless wine tumbler is cute, useful and custom-made with her name.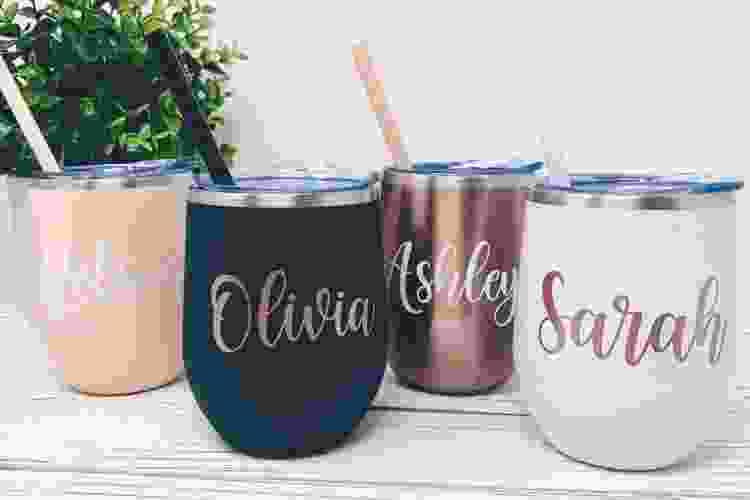 Bridesmaid Gift Bag Ideas
38. Survival Kit
For a fun bridesmaid gift idea, create survival kits for your girls to battle the wear and tear of partying hard. Include a water bottle, sports drinks, first aid items, stain remover pens and ibuprofen.
39. Pedicure or Manicure Kit
Fill a cosmetic bag with everything needed for an at-home mani-pedi. Include items such as nail polish, cotton balls, nail files, hand cream, foot lotion, pumice stones and more.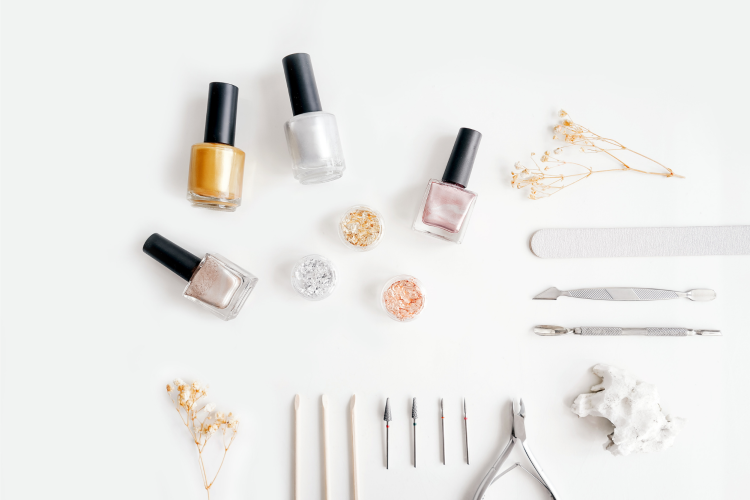 40. Cosmetic Pouches
Fill personalized cosmetic pouches with make up wipes, face wash, cute lipstick or lipgloss, a compact mirror and any other beauty items you'd like.
41. Movie Night Bucket
For film-fanatic bridesmaids, fill a popcorn bucket with microwave popcorn, candy, snacks and soft drinks. You can even include gift cards to your local movie theatre or a DVD copy of her favorite movie.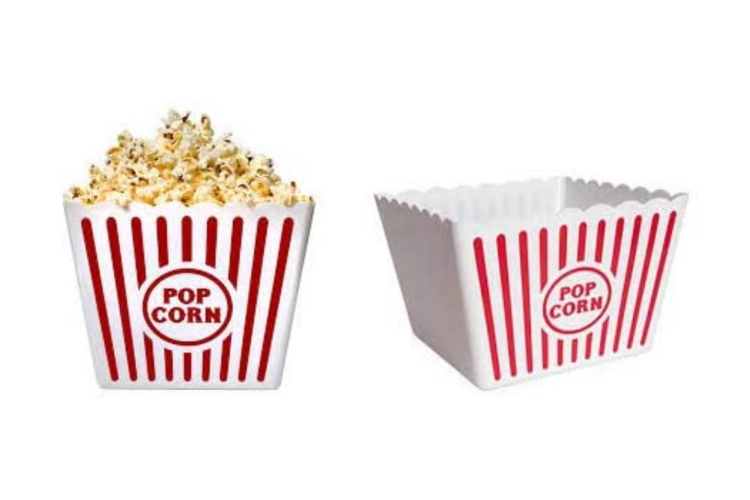 42. The Night Before Bag
For a bridesmaid gift idea you can give at the rehearsal dinner, fill a bag with anything you'd like them to have on the wedding date. You can add robes or pajamas, custom hangers, clutches, face masks, slippers, tissues, mints, bobby pins and a sweet note.
43. Travel Bag
If you're planning a destination wedding or bachelorette weekend trip, consider buying your bridesmaids personalized carry-on duffel bags and adding luggage tags, travel-sized toiletries and a handwritten itinerary or list of local restaurants and attractions.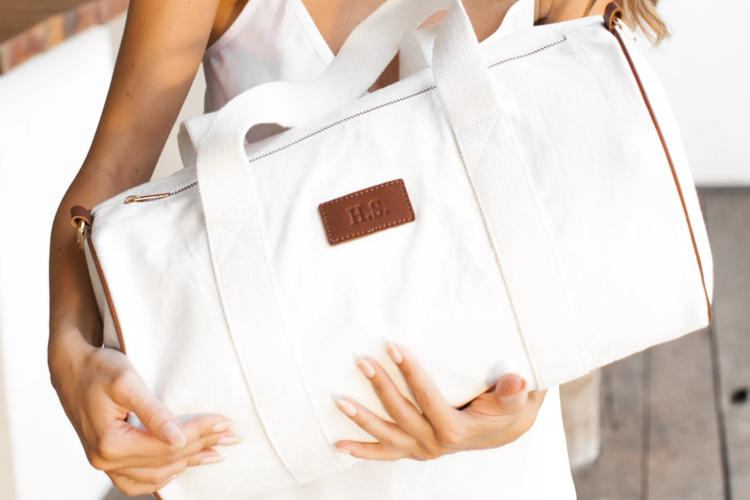 44. Self Care Tote
Fill tote bags with all the essentials for a relaxing evening. You can include journals, throw blankets, bath bombs or bath salts, candles, loofahs, lotions and more.
45. Beach Bags
Purchase oversized beach bags and fill them with custom beach towels, water bottles, mini Bluetooth speakers, sunglasses, flip flops, sunhats and sunscreen or tanning lotion.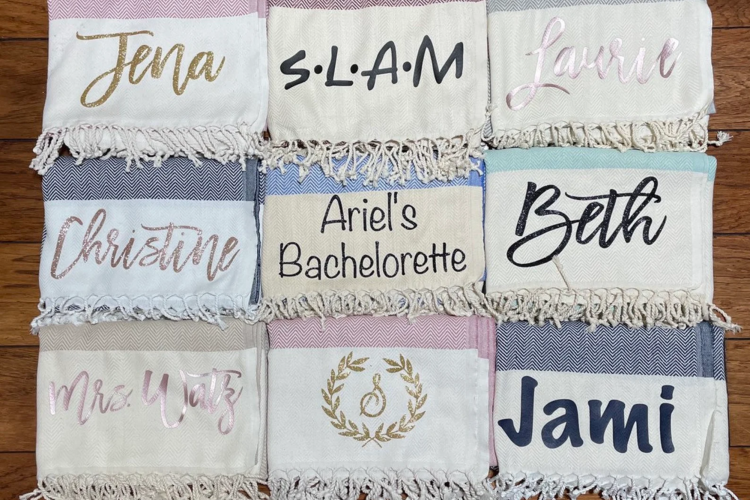 46. Booze Bag
If your squad loves to party, this is the perfect bridesmaid gift idea for them. Create booze bags, including items such as shot glasses, wine tumblers, mini bottles, flasks and drink koozies.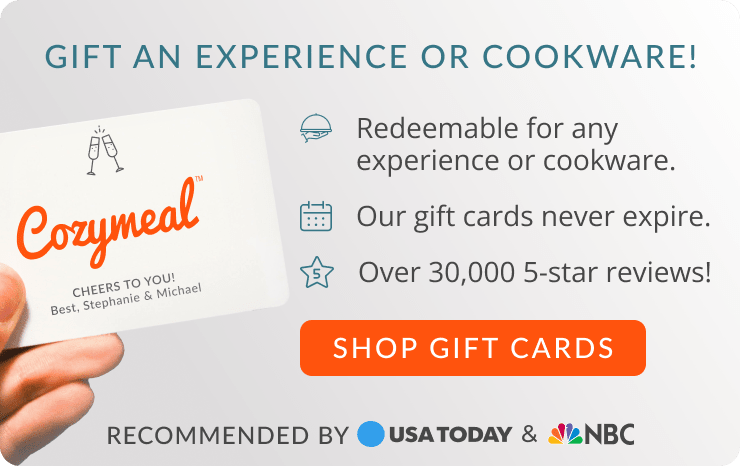 47. Gym Bag
Do you and your bridesmaids share a passion for fitness? Purchase custom gym bags and include related items such as yoga mats, towels, workout bands, dumbbells, reusable water bottles and protein powder.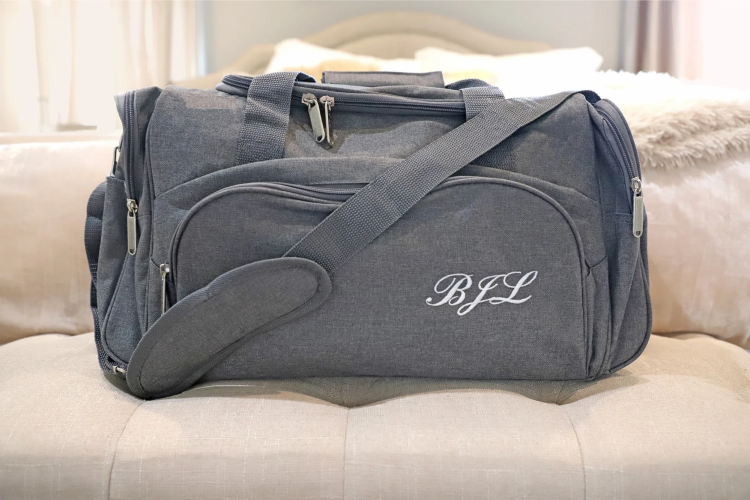 Will You Be My Bridesmaid? Gift Ideas
48. Private Chef
Gather your closest friends and family members, and host a special evening where you ask them to be in your wedding party. Browse private chefs near you to find an amazing, multi-course dinner that will impress your soon-to-be bridesmaids — all shopping, cooking and cleaning accounted for! There are private chefs in Houston, private chefs in NYC and elsewhere.
49. Succulent and Candle Gift Box
For a cute and unique bridesmaid gift idea, this succulent and candle gift box comes with a succulent, soy candle and small jar of matches. You can add various accessories to the box for an additional cost, including bath bombs, jewelry, hair accessories and more.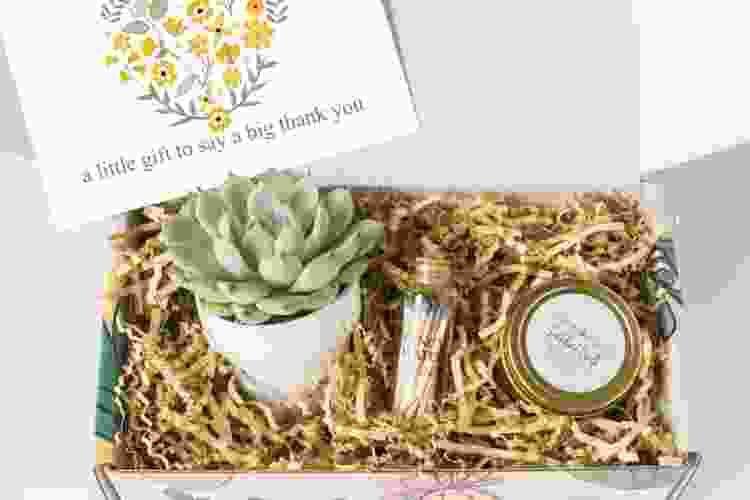 50. Tie the Knot Charm Bracelet
These tie the knot charm bracelets are dainty and elegant with a simple design that features a knot and a charm with their initials. Each bracelet comes in a gift box with a message inside that reads, "I couldn't tie the knot without you."
51. Wedding Cake Candle
Gift these wedding cake candles alone or as part of a gift box or bag as a subtle wedding party proposal.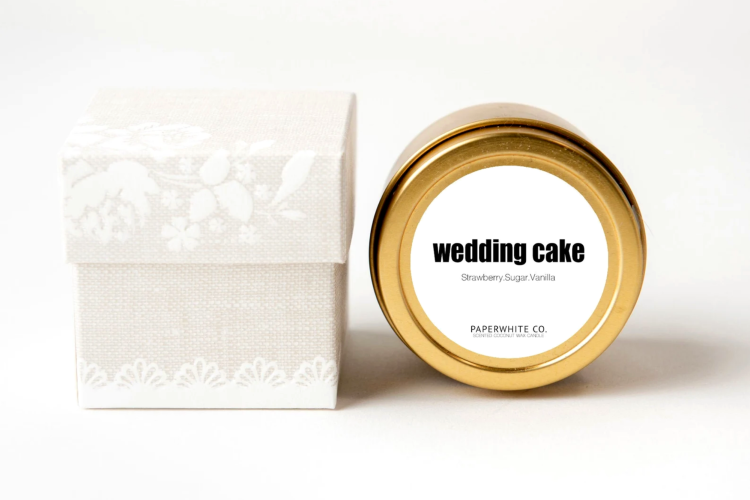 52. Spa Gift Box
These spa gift boxes are specifically designed for bridal party proposals and filled with handmade, vegan soaps and bath products.
53. Proposal Piñata
For a unique bridesmaid gift idea, check out these small, Champagne bottle proposal piñatas that you can fill with each girls' favorite candies.
54. Hair Ties
These hair tie sets come with three hair ties on a cardstock that reads, "I can't tie the knot without you!" Gift these as an affordable bridesmaid proposal or as a part of a themed gift bag.
55. Personalized Proposal Puzzle
For a fun surprise, these personalized proposal puzzles will arrive to her in pieces she'll have to solve to unveil the question. Each puzzle is customized to feature an image that looks like you and your future bridesmaid.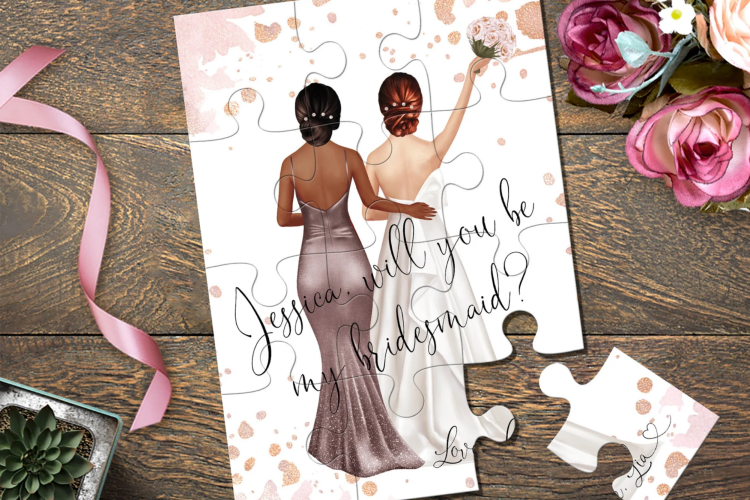 56. Hidden Message Candle
These hidden message candles provide a completely unique way to ask your closest people to be in your wedding. These candles are lovely on their own, but encourage her to burn the candle right away to reveal a secret custom message that asks her to be your bridesmaid.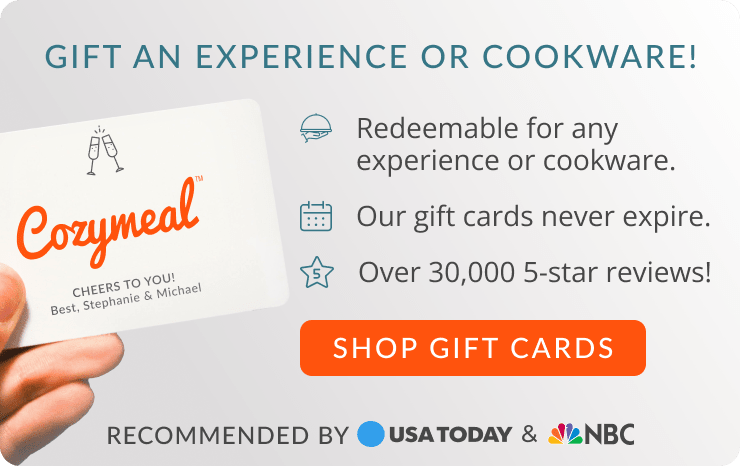 57. Quail Egg
This bridesmaid gift idea might seem odd, but these quail eggs add an impressive special touch. The eggs come in many different colors and are delivered in a dainty box with a message inside that reads, "Crack me." When your soon-to-be bridesmaids crack open the egg, they will find a tiny note asking them to be part of your wedding.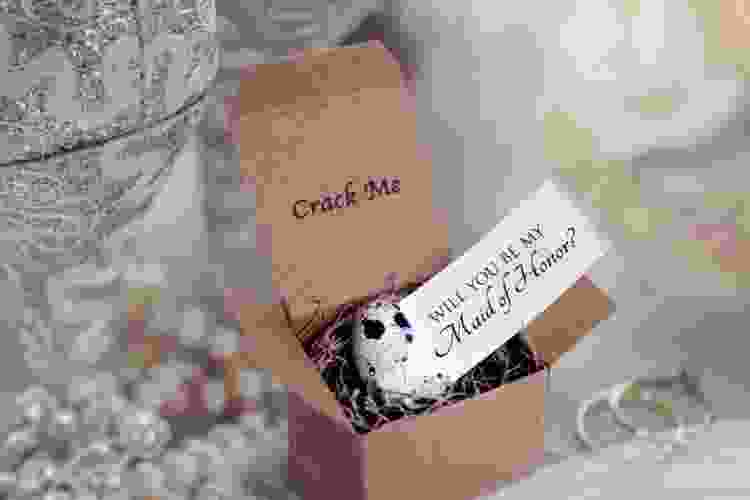 FAQs
How much should you spend on bridesmaid gifts?
How much you spend on bridesmaid gifts is completely up to you and dependent on your budget. If you've decided to only select a few close friends or family members as bridesmaids, you may be able to spend more than if you have several bridesmaids. Whether you can afford upscale presents for each girl or choose to make cost effective gifts on your own, your girls will appreciate the thought and care you put into your bridesmaid gift ideas.
What do you put in a bridesmaid package?
Bridesmaid packages are a super fun bridesmaid gift idea. You'll enjoy putting them together and selecting items to include. You can get as creative as your heart desires, and even pick a theme that fits your personality. You can go simple or unique with which bag, purse, box or basket you decide to fill. Add anything from bath and beauty products to candles, t-shirts, snacks and more. Include a handwritten personal note in each package for a thoughtful touch.
Does a bridesmaid give the bride a gift?
If you're a bridesmaid in an upcoming wedding, it's your decision whether you choose to get the bride a gift or not. While it is typically customary to give the bride or the couple a present, often the expenses that come with being a bridesmaid can add up quickly. Consider how much you contributed to the wedding, bridal shower or bachelorette party. If you'd like to give the bride a gift, you can search for experiences or items that fit her personality. You can also team up with other bridesmaids to purchase a larger present or get crafty and create a homemade gift.

Join 200,000+ Culinary Enthusiasts
Exclusive deals, recipes, cookbooks, and our best tips for home cooks — free and straight to your inbox. PLUS: 500 Rewards Points.
Now that you've explored a plethora of bridesmaid gift ideas, you should be ready to get shopping for amazing stand-alone gifts or for putting together unique gift bags. Maybe you feel inspired to craft your own gifts. Whatever you choose, your bridesmaids will love and appreciate the experiences you plan for them or the presents you put together thoughtfully.
For even more thoughtful bridesmaid gift ideas, or if you're looking for fun and unique bachelorette party ideas, check out other experiences on Cozymeal.