53 Enticing Vegan Appetizers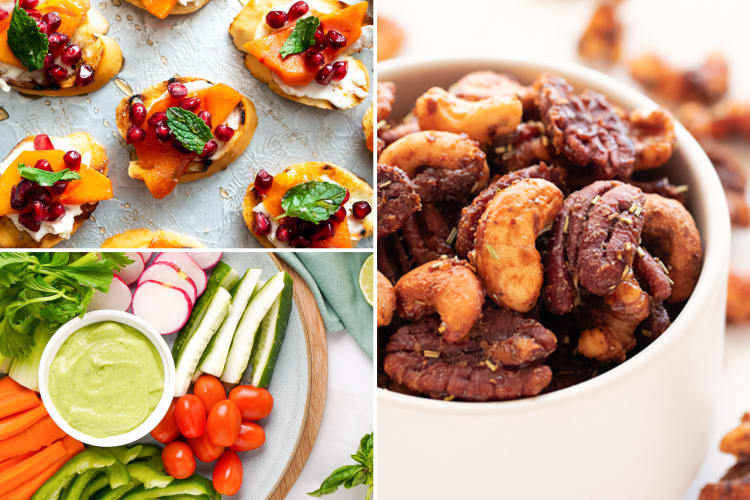 From light and refreshing to rich and decadent, vegan desserts prove that cooks and bakers don't have to rely on eggs, butter and cream to create satisfying sweet treats. Vegan desserts are as diverse and exciting as their egg and dairy-laden counterparts thanks to easy swaps and substitutions with innovative ingredients such as flax, chickpeas, tofu and aquafaba.
What are the best vegan desserts for the holidays? Traditional holiday desserts are often brimming with generous amounts of butter, eggs and cream. Vegan desserts for the holidays capture the signature flavors of the season by highlighting fragrant spices and plant-based ingredients like fruit and nuts. From bright, summertime treats to festive holiday sweets, here are 59 of the best vegan desserts to enjoy throughout the year.
Jump to Section
Easy Vegan Appetizers
1. Black Bean Hummus
It doesn't get much easier than creamy Black Bean Hummus when it comes to vegan appetizer ideas. Simply combine everything in a blender or food processor until smooth and serve with your favorite bread, crackers or sliced vegetables.

Try our Black Bean Hummus recipe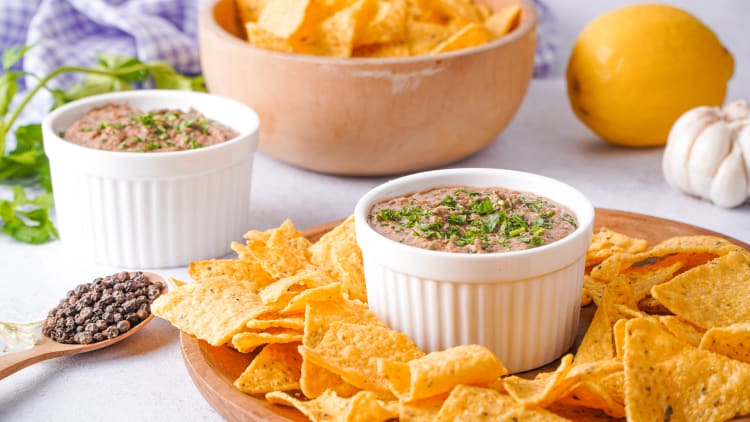 2. Vegan Artichoke and Spinach Dip
There's no need for dairy in this Vegan Artichoke and Spinach Dip that brings the rich and creamy textures of the classic appetizer. Prepare this luscious dip in a cast iron pan or oven-safe skillet for an easy, one-pan appetizer.
Try our Vegan Artichoke and Spinach Dip recipe
3. Tomatillo Red Chili Salsa
This vibrant Tomatillo Red Chili Salsa packs tons of flavor with just a few bold ingredients. As the peppers and tomatillos meld, the flavor intensifies, making this bright salsa ideal for make-ahead vegan appetizers.

Try our Tomatillo Red Chili Salsa recipe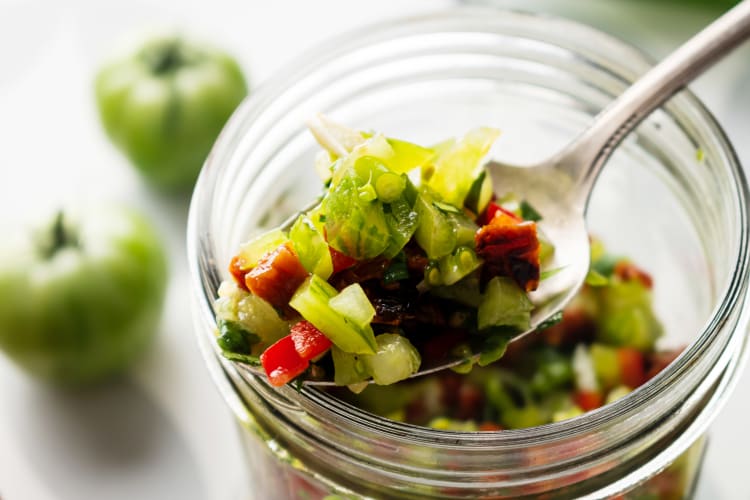 4. Vegan Pasta Salad
This fresh Vegan Pasta Salad is a bright and colorful dish perfect for kicking off a barbecue or picnic. Capture the flavor of summer any time of the year by roasting the vegetables in the oven or cooking them on a grill pan to achieve that signature char.
Try our Vegan Pasta Salad recipe
5. Japanese Cucumber Salad
Light, refreshing and rich in nutrients, Japanese Cucumber Salad is an elegant and intriguing option for vegan appetizers. Be sure to check for vegan dashi powder or a plant-based broth to make the umami dressing as many traditional products are fish-based.

Try our Japanese Cucumber Salad recipe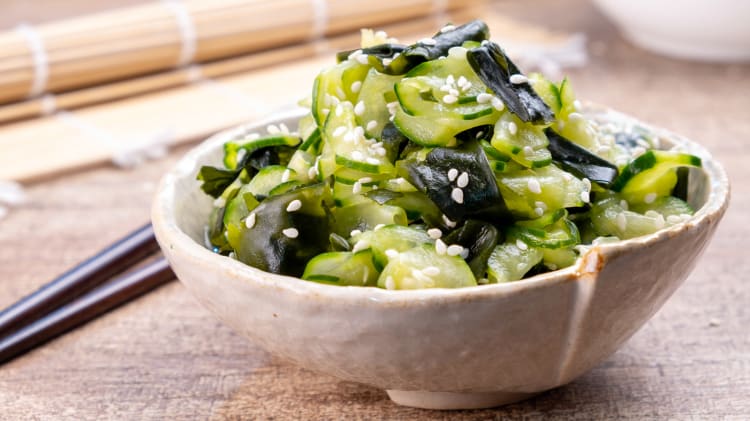 6. Cheesy Vegan Drop Biscuits
Although biscuits can be notoriously difficult to make, these Cheesy Vegan Drop Biscuits by Glue and Glitter are surprisingly easy vegan appetizers. Try the recipe as is with vegan cheddar and rosemary or create your own flavor combinations.
7. Firecracker Vegan Lettuce Wraps
Start the meal with a bang as you bite into these Firecracker Vegan Lettuce Wraps by Pinch of Yum. Crispy tofu and noodles are glazed in a rich, nutty sauce then wrapped in buttery lettuce cups for light, easy-to-assemble vegan appetizers.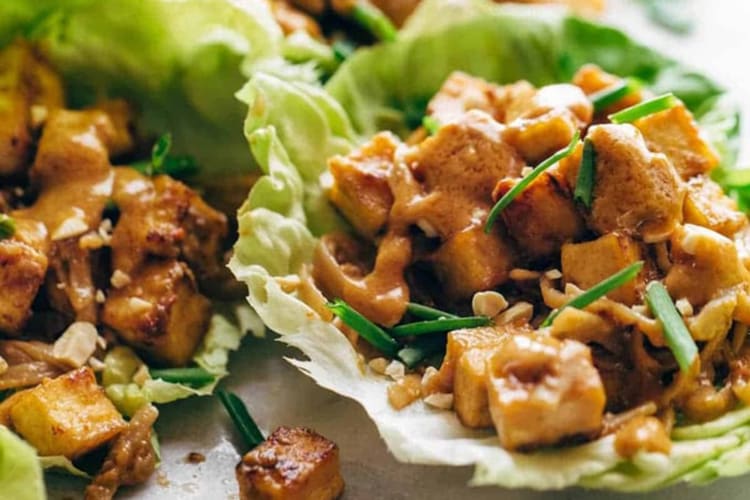 8. Air Fryer BBQ Lentil Meatballs
These Air Fryer BBQ Lentil Meatballs from Vegan Yack Attack transform pantry staples into hearty, flavorful vegan appetizers. Once the mixture is prepared, form the balls and crisp them in the air fryer before finishing with tangy barbecue sauce.
9. Smoky Tofu Dumplings
Crispy, pan-fried Smoky Tofu Dumplings from Connoisseurus Veg are easy and satisfying vegan appetizers served with a tangy sweet chili sauce. These savory dumplings can even be made ahead and frozen for up to three months for a quick appetizer that is ready for any occasion.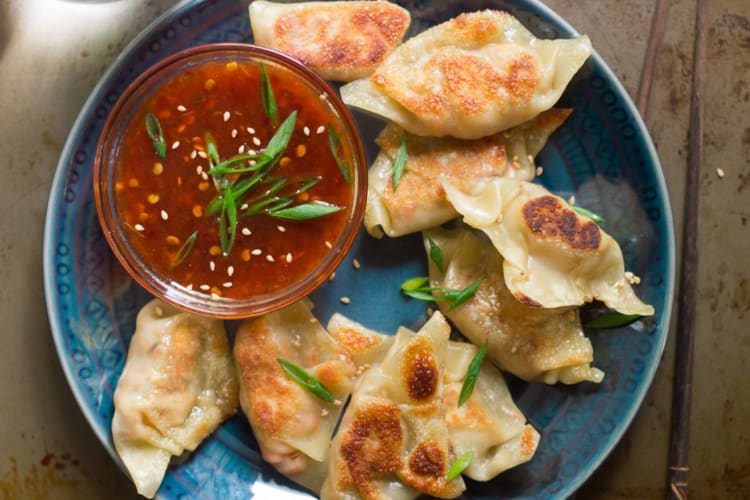 10. Esquites
Drawing from traditional Mexican cuisine, creamy Esquites, or Vegan Mexican Street Corn, by Dora's Table offers a plant-based version of the classic street food. Served on the cob or in a cup, this iconic Mexican dish makes inviting vegan appetizers for picnics, potlucks and summer barbecues.
11. Loaded Vegan Nachos with Mushroom "Pulled Pork"
Featuring the signature flavors of traditional Tex-Mex, these Loaded Vegan Nachos with Mushroom "Pulled Pork" from Live Eat Learn are sweet, tangy, cheesy, smoky and spicy vegan appetizers that can easily feed a crowd. Shredded king oyster mushrooms slathered in barbecue sauce give a meaty heft to layers of tortilla chips, cashew queso and fresh toppings such as diced tomatoes, peppers and cilantro.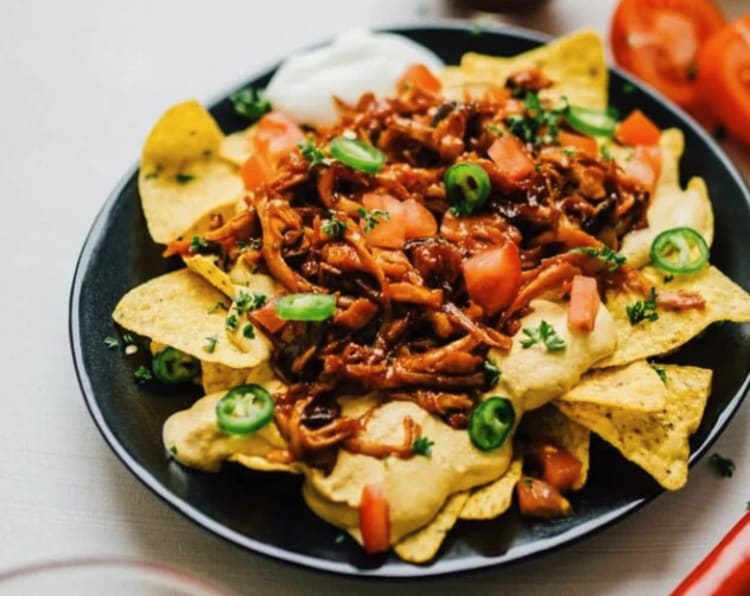 12. Cheesy Vegan Drop Biscuits
Although biscuits can be notoriously difficult to make, these Cheesy Vegan Drop Biscuits by Glue and Glitter are surprisingly easy vegan appetizers. Try the recipe as is with vegan cheddar and rosemary or create your own flavor combinations.
Vegan Gluten Free Appetizers
13. Green Goddess Dip
Simply blend, season and serve to enjoy this versatile Green Goddess Dip. This creamy, herbaceous dip pairs perfectly with gluten-free chips and sliced vegetables or as a sauce or spread for bowls, wraps and other vegan appetizers.

Try our Green Goddess Dip recipe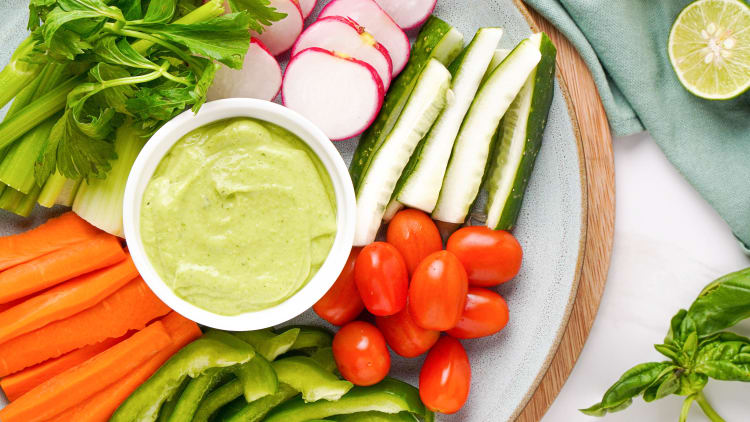 14. Air Fryer Potato Wedges
Crowd pleasing Air Fryer Potato Wedges are vegan gluten free appetizers that require minimal effort and only four ingredients. Pair with your favorite dips or sauces for an easy starter everyone will love.
Try our Air Fryer Potato Wedges recipe
15. Blistered Shishito Peppers
Enhanced with bright lemon and flaky salt, these Blistered Shishito Peppers are unforgettable vegan appetizers. This quick appetizer comes together in just a few minutes, but is sure to leave a lasting impression.

Try our Blistered Shishito Peppers recipe
16. Mango Avocado Salsa
This fresh and fruity Mango Avocado Salsa is a versatile appetizer that can be served as a dip, filling or topping. Colorful and nutritious, this bright salsa livens up almost any dish.
Try our Mango Avocado Salsa recipe
17. Salsa Roja
Enjoy restaurant quality salsa without hours of prep work thanks to this irresistible Salsa Roja. Roasted tomatoes, onions, peppers and garlic give this versatile salsa its unique depth and complexity.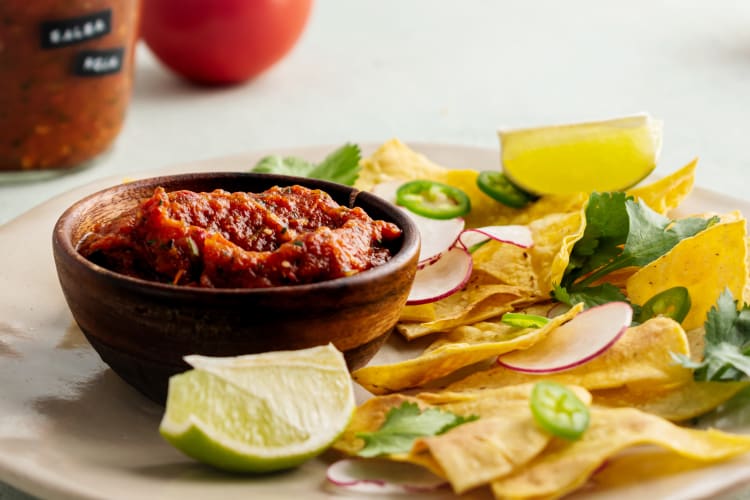 18. Gluten Free Breadcrumbs Three Ways
Whether baked or fried, many of the best vegan appetizers feature a crisp and crunchy coating. Learn how to achieve that perfect crunch with vegan appetizer recipes featuring Gluten Free Breadcrumbs Three Ways.
Try our Gluten Free Breadcrumbs Three Ways recipe
19. Green Papaya Salad
Inspired by a traditional Thai dish, this Green Papaya Salad by Healthy Nibbles and Bits is a bright and refreshing starter to wake up the palate before a meal. The key to this salad is thinly slicing the fruit which can be done by hand or with the help of a mandoline.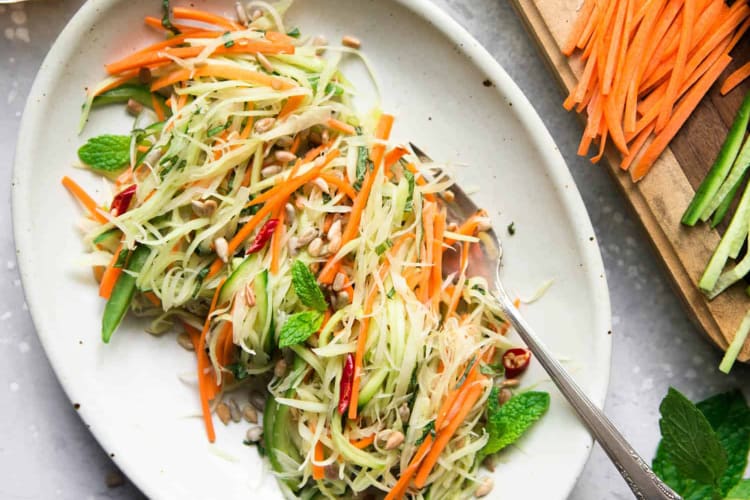 20. Indian Vegetable Fritters
Also known as pakoras or bhajiyas, these Indian Vegetable Fritters by Little Spice Jar feature a delightful array of textures and flavors with every bite. These ultra crispy fritters use chickpea or gram flour to achieve their signature crunchy, airy coating.
21. Sun-Dried Tomato & Basil Arancini
A lighter take on an Italian classic, these plant based Sun-Dried Tomato and Basil Arancini from Minimalist Baker are crisp on the outside, tender in the center and packed with traditional Italian flavors. Be sure to choose gluten free panko breadcrumbs to bind the arancini and achieve that signature crunchy exterior on these robust vegan appetizers.
Simple Vegan Appetizers
22. Vegan Tortillas
A simple canvas for flavorful appetizers, Vegan Tortillas are astonishingly easy to make. Use these four ingredient tortillas to make homemade tortilla chips, tacos, wraps and more.
Try our Vegan Tortillas recipe
23. Instant Pot Artichokes
A stunning appetizer for Easter brunch or a spring dinner party, Instant Pot Artichokes produce tender, unctuous vegan appetizers ready in just about twenty minutes. Easy to follow instructions guide the process of trimming and steaming the whole, fresh artichokes which are finished with vegan butter or mayonnaise and a spritz of lemon.

Try our Instant Pot Artichokes recipe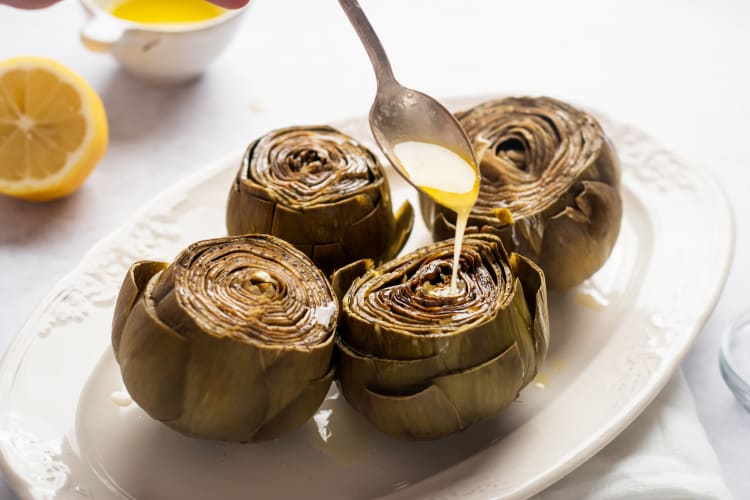 24. Air Fryer Tofu
With a flavorful mixture of sesame, soy and gochujang, Air Fryer Tofu is nearly effortless to make without sacrificing taste. A few minutes in the air fryer yields crispy, sweet and spicy tofu perfect for enjoying on its own, skewered with grilled vegetables or in a fresh lettuce wrap.
25. Spicy Edamame
This unassuming appetizer of Spicy Edamame delivers a surprisingly addictive combination of sweet, salty and spicy with just four ingredients. Simply sprinkle the tantalizing blend of salt, sugar and ichimi togarashi over cooked edamame to create these mouthwatering vegan appetizers.

Try our Spicy Edamame recipe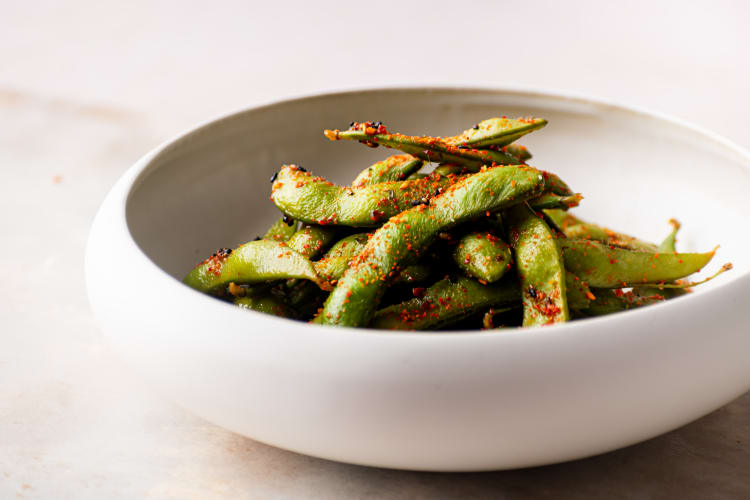 26. Tomato Confit
Despite its simplicity, Tomato Confit brings an intense layer of flavor to a variety of vegan appetizers. Serve this rich condiment with crusty bread, mixed in pasta or to complement a vegan charcuterie board.

Try our Tomato Confit recipe
27. Keto Guacamole
This inclusive Keto Guacamole is also vegan and gluten-free for a creamy and delicious appetizer to suit just about any dietary need. Use a mortar and pestle to achieve the inviting, fluffy texture of this flavorful guacamole.

Try our Keto Guacamole recipe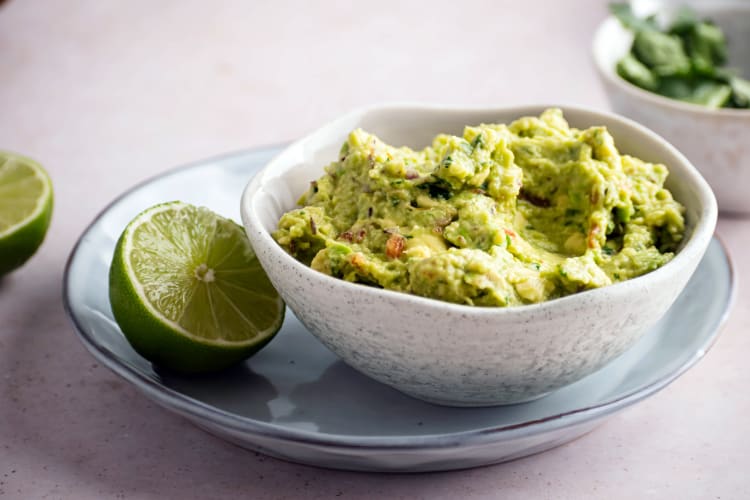 28. Vegan Tzatziki
The signature Greek dipping sauce goes plant-based for this creamy Vegan Tzatziki. The classic combination of tangy yogurt, bright lemon, fresh cucumber and aromatic dill is an ideal complement to vegan appetizers from simple sliced vegetables to crispy falafel.
29. Vegan Rainbow Spring Rolls
Colorful and fresh Vegan Rainbow Spring Rolls from Live Eat Learn are eye-catching vegan appetizers perfect for a summer gathering. Dip these vegetable-packed rolls in a gingery, umami, nutty sauce for a taste sensation inspired by a classic Thai dish.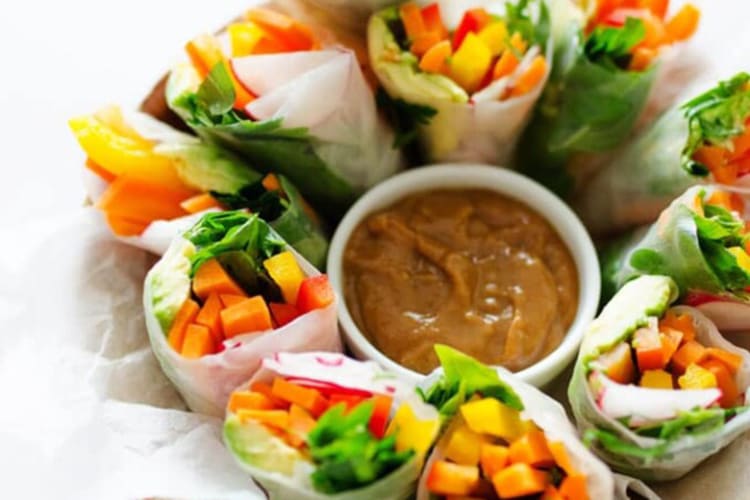 30. Buffalo Cauliflower Wings
A tried and true favorite in the world of simple vegan appetizers, these Buffalo Cauliflower Wings by Chocolate Covered Katie are a staple for parties, picnics and game day gatherings. These crunchy vegan wings require only six ingredients, so feel free to make a double batch.
31. Hearts of Palm Calamari
These crisp Hearts of Palm Calamari by Simple Vegan Blog are sure to turn heads at your next gathering. Briny nori seasoning brings a distinctive oceanic flavor to the tender hearts of palm to emulate the classic seafood appetizer.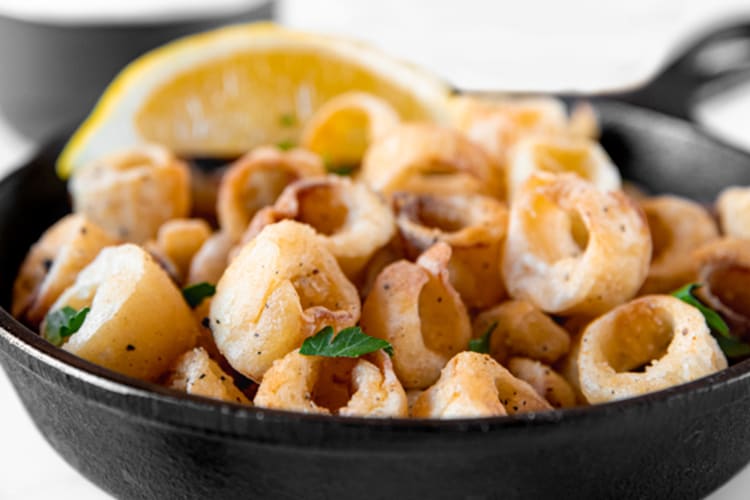 32. Fried Pickles
An appetizer classic, these Fried Pickles from Homemade Hooplah bring all the crunch and flavor of the original with the subtle sweetness of cornmeal. Serve these crispy, sweet and spicy fried pickles with vegan ranch or your favorite plant-based dipping sauce.
33. Cauliflower Ceviche
Bright and refreshing, this Cauliflower Ceviche by Dora's Table can be enjoyed on its own, stuffed in a creamy avocado or served over crispy tostadas for light vegan appetizers. This versatile recipe can also be made with mushrooms, hearts of palm or coconut for a range of unique flavors and textures.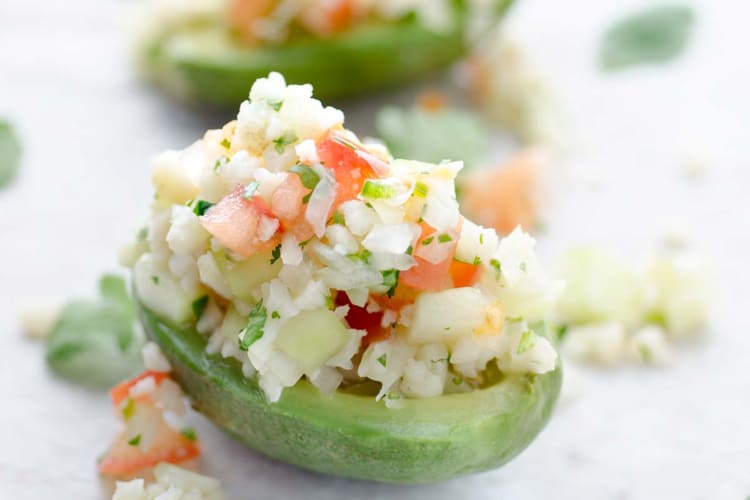 Vegan Christmas Appetizers
34. Stuffed Dates
Finished with a decadent rum syrup, these nutty Stuffed Dates are brimming with tantalizing textures and flavors. The jammy dates stuffed with creamy almond butter and caramel-coated nuts are showstopping vegan appetizers that will be the star of the holiday table.
35. Garlic Confit
A versatile addition all year round, Garlic Confit makes any dish feel special. Elevate vegan appetizers for the holidays with this savory, mellow and delicately sweet condiment or gift a jar to your favorite foodies.

Try our Garlic Confit recipe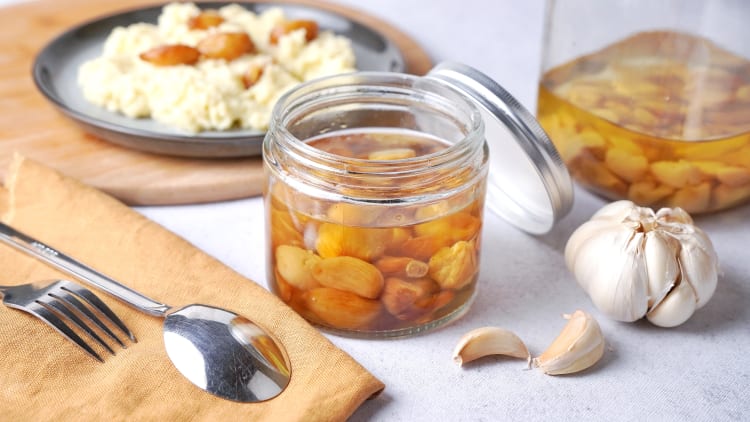 36. Festive Winter Squash Focaccia
This Festive Winter Squash Focaccia by Vegan Yack Attack brings the comfort and warmth of the season to the holiday table. Tender, airy focaccia is topped with delicately sweet squash, tart cranberries, salty vegan feta and a bit of rosemary for a colorful and aromatic start to the meal.
37. Spiced Nuts
Sweet and savory with a subtle heat, these Spiced Nuts from Simple Vegan Blog are simple, yet satisfying appetizers that will keep holiday guests coming back for more. While this recipe includes a variety of nuts, herbs and seasonings, ingredients can be swapped in or out to give the mix a signature spin.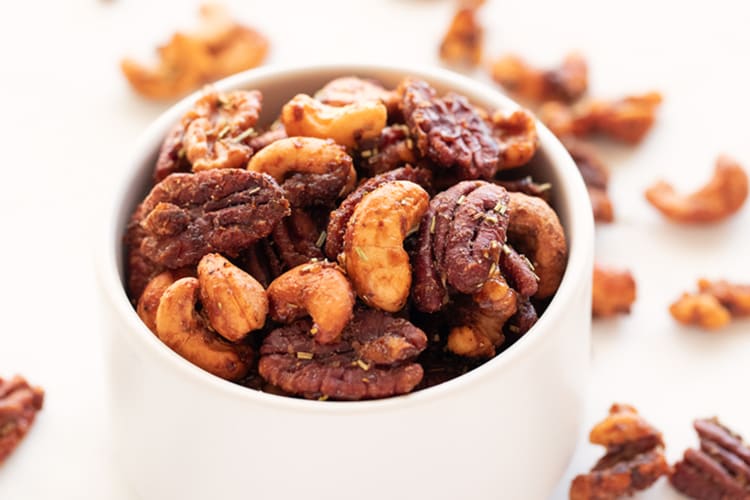 38. Crescent Roll Pesto Appetizer
Make a statement on your holiday table with these beautiful Crescent Roll Pesto Appetizers from Vegan in the Freezer. Buttery pastry twists reveal vibrant red and green fillings in these vegan appetizers perfect for a Christmas celebration.
39. Lemon and Herb White Bean Dip
An elegant twist on classic hummus, this Lemon and Herb White Bean Dip from Minimalist Baker is a smooth, buttery pairing for crisp toast or crackers and fresh sliced vegetables. With the help of a food processor, this dip is ready in minutes leaving more time to enjoy the festivities.
40. Balsamic Roasted Figs
Rich, nutty, savory and sweet, these Balsamic Roasted Figs by Olives for Dinner are unique appetizers for the holiday season. Served with socca, a European flatbread made of chickpea flour, this elegant dish that is surprisingly easy to prepare.
41. Pomegranate Persimmon Crostini
These Pomegranate Persimmon Crostini by Vegan Yack Attack are colorful, bite-sized finger foods perfect for a holiday party. The vegan Christmas appetizers top toasted baguette with silky vegan cream cheese, sliced persimmons, jewel-like pomegranate arils and a sweet drizzle of agave nectar.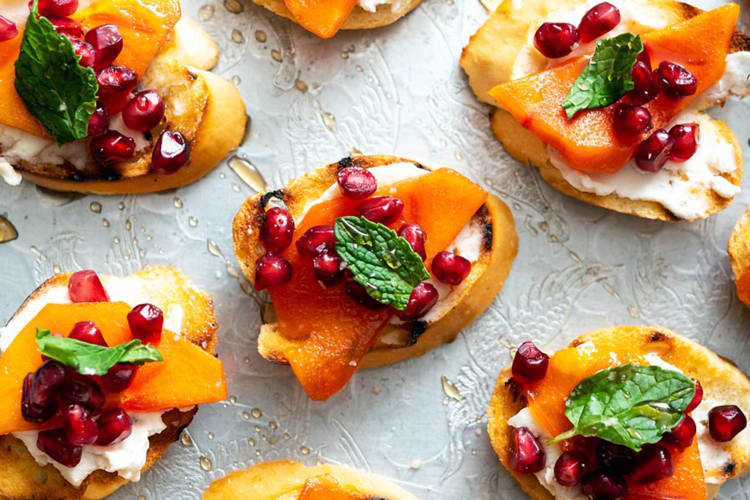 42. Warm Brussels Sprout Salad with Cranberries and Almonds
Showcasing cool weather vegetables, this Warm Brussels Sprout Salad with Cranberries and Almonds by Glue and Glitter brings a fresh reprieve from the rich and hearty dishes often found on the holiday table. Earthy vegetables contrast with tangy cranberries and nutty almonds for an intriguing mix of textures and flavors.
43. Vegan Feta Cheese
Transform a humble block of tofu into this Vegan Feta Cheese by Live Eat Learn for a perfect addition to a vegan holiday snack board. This homemade tofu feta will elevate your vegan Christmas appetizers from silky hummus to salads or soups.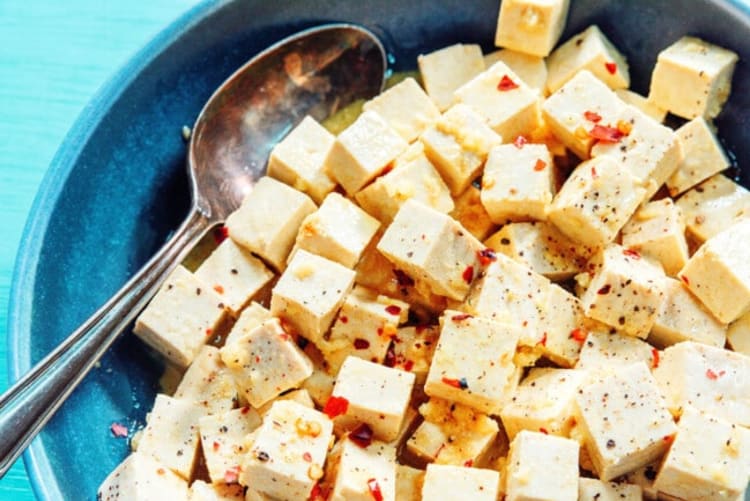 Vegan Thanksgiving Appetizers
44. Fried Oyster Mushrooms
Crisp and savory Fried Oyster Mushrooms are comforting vegan appetizers perfect for the Thanksgiving table. Hearty mushroom pieces are coated in seasoned panko for a crunchy, dippable starter.
Try our Fried Oyster Mushrooms recipe
45. Pepper Salad
With vibrant fall colors and aromatic herbs, this warm Pepper Salad is a cozy starter for the Thanksgiving meal. Tender bell peppers are tossed with toasted pine nuts and topped with crispy sage to create these colorful appetizers.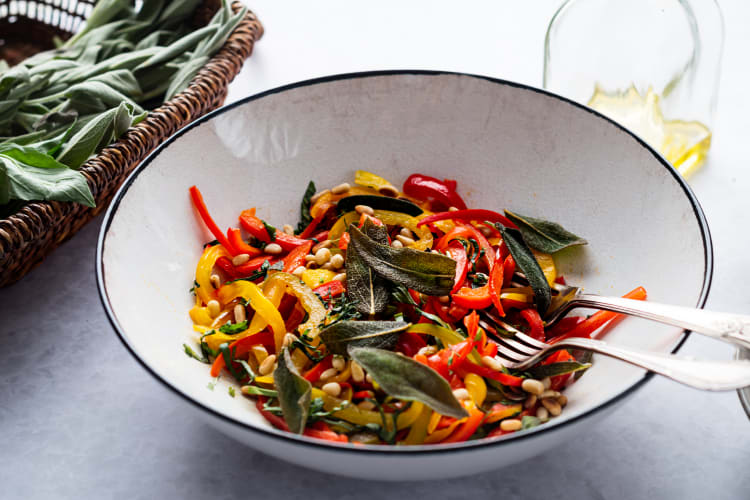 46. Roasted Chili Corn Salsa
A cornucopia of flavor, this Roasted Chili Corn Salsa is sweet, tangy, spicy and refreshing. The colorful combination of corn, green chiles, onion and tomatoes melds together to create a zesty dip, topping or filling for vegan Thanksgiving appetizers.
Try our Roasted Chili Corn Salsa recipe
47. Vegan Mushroom Pâté
A classic of French cuisine, pâté carries connotations of elegance and indulgence. The Vegan Mushroom Pâté by Connoisseurus Veg is a savory, umami-rich spread to elevate your vegan appetizers for Thanksgiving.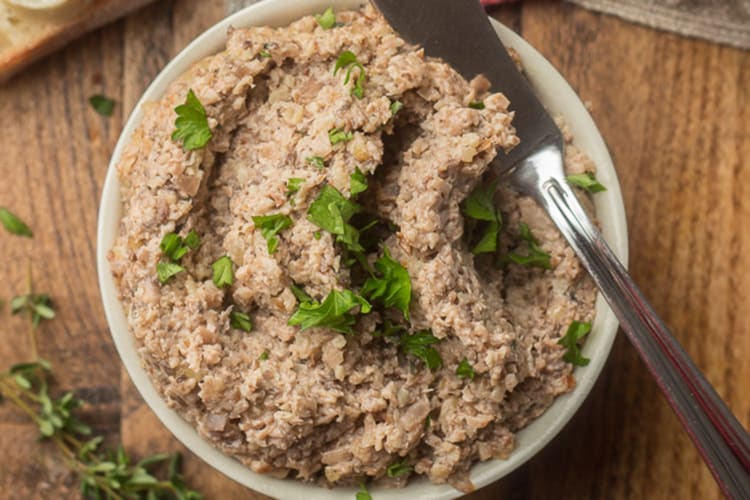 48. Vegan Carrot Ginger Soup
Silky and fragrant, this Vegan Carrot Ginger Soup from A Virtual Vegan welcomes diners with a luxurious creamy texture and warming notes of ginger. The rich, inviting hue reflects the autumnal palette for a festive addition to the Thanksgiving table.
49. French Onion Puff Pastry Cups
These handheld French Onion Puff Pastry Cups by Fried Dandelions are ideal vegan appetizers for mixing and mingling at holiday gatherings. Rich and savory caramelized onions are nestled inside buttery puff pastry to create these decadent bite-sized hors d'oeuvres.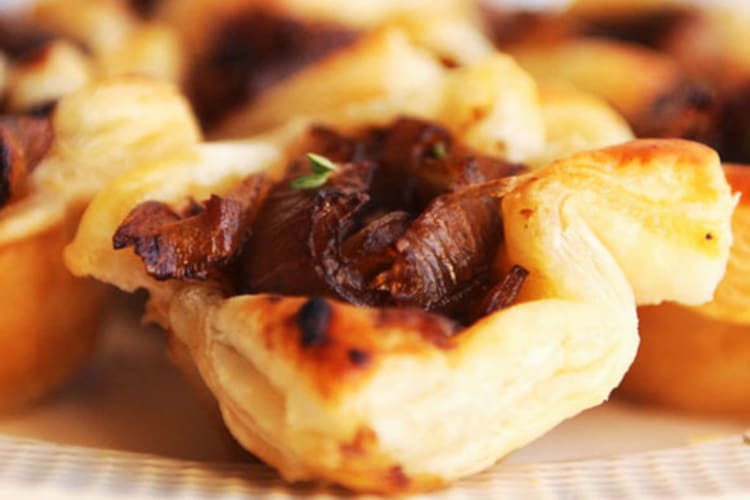 50. Vegan Cheese Ball
Whether snacking before dinner or dipping in during the game, this Vegan Cheese Ball by Olives for Dinner is a must have for the Thanksgiving celebration. A mixture of vegan cheeses is rolled in a salty, nutty blend of olives and pecans to give this holiday appetizer an extra boost of texture and flavor.
51. Crusty Apple Cranberry Dutch Oven Bread
Packed with festive fall flavors, this Crusty Apple Cranberry Dutch Oven Bread by Vegan Yack Attack is a surprisingly easy to make starter for your Thanksgiving gathering. Baking in a Dutch oven yields a rustic, crusty loaf with a soft, tender interior that needs nothing more than perhaps a pat of vegan butter.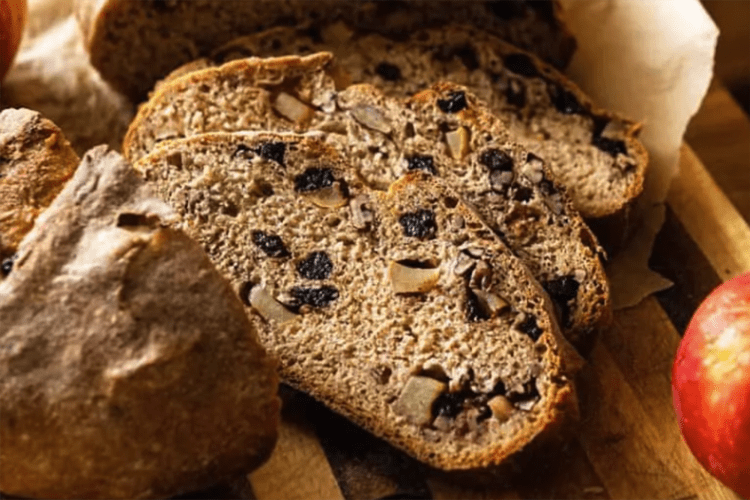 52. Vegan Stuffed Mushrooms with Creamy Basil Tofu Ricotta
The Vegan Stuffed Mushrooms with Creamy Basil Tofu Ricotta by Glue and Glitter are an elegant take on a traditional starter dish. With juicy mushroom caps and a savory, homemade filling, these bite-sized appetizers are a crowd pleasing addition to the Thanksgiving spread.
53. Pan Fried Polenta with Roasted Kale & Chickpeas
Nothing goes to waste with versatile vegan appetizer recipes like this Pan Fried Polenta with Roasted Kale and Chickpeas by Healthy Nibbles and Bits. Follow the recipe for a colorful starter salad (just omit or swap for vegan parmesan) or make it your own with your favorite sauces and vegetables.
The world of vegan appetizers is stimulating and diverse. Without meat, eggs or dairy, they amuse the palate with dynamic combinations of colors, flavors and textures. From fried favorites for game day to elegant hors d'oeuvres for a holiday dinner, the best vegan appetizers kick off the meal with excitement and intrigue.
For even more inspiring recipes, including other plant-based dishes and appetizer ideas, check out Cozymeal Recipes. Discover helpful tools and appliances in the Cozymeal Shop and bring your own culinary creations to life.