53 Best Gifts for Women Who Have Everything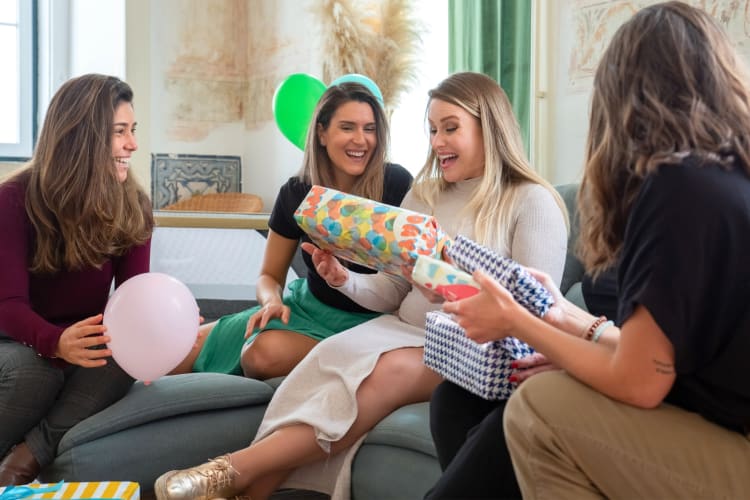 Our editorial team recommends the best products through independent research, selection and careful review. If you make a purchase through one of our affiliate links, we may earn a commission. Prices are subject to change.
When it comes to buying gifts for women who seem to have everything, it can feel like an impossible task. Whether she's a trendsetter or just an avid shopper, it can be daunting trying to give something thoughtful that she won't return or exchange. The key to coming up with great gifts for women is to either give them an experience or something they didn't know they needed.
Based on her interests and passions, the groundwork is set for you to come up with something great. To help you out even more, this list of the best gifts for women will give you plenty of ideas to carry you through upcoming holidays, birthdays or other gift-giving occasions.
Jump to Section
Gift a Local Cooking Class Now
Give your favorite gourmand the gift of world-class cooking lessons with the best chefs in their city.
Best Experience Gifts for Women
1. Cooking Classes
For the woman who loves to get creative with food, cooking classes are an amazing experience gift for women to enjoy alone or with friends. Even for a seasoned home chef, there are always new skills to master and new cuisines to dabble in. From cooking classes in Los Angeles to cooking classes in Vancouver, you're guaranteed to find cooking classes near you that will be the perfect experience for your gift recipient.
2. Food Tours
Food tours are arguably the best way to see a city whether your gift recipient is on vacation or planning to be a tourist in their own hometown. This fun gift idea for women will involve a carefully curated trip centered around a range of iconic and delicious local restaurants, from hole-in-the-wall joints to the hottest new reservation in town. Best of all, you can find food tours near you in almost every city, like food tours in Chicago or food tours in Boston.
3. Private Chef Meal
If you're looking to spoil your gift recipient, a private chef meal is one of the best and most memorable gifts for women. No matter where she's located, you'll be able to find private chefs near you who can create a multi-course meal featuring all of her favorite dishes, including sweet and savory treats.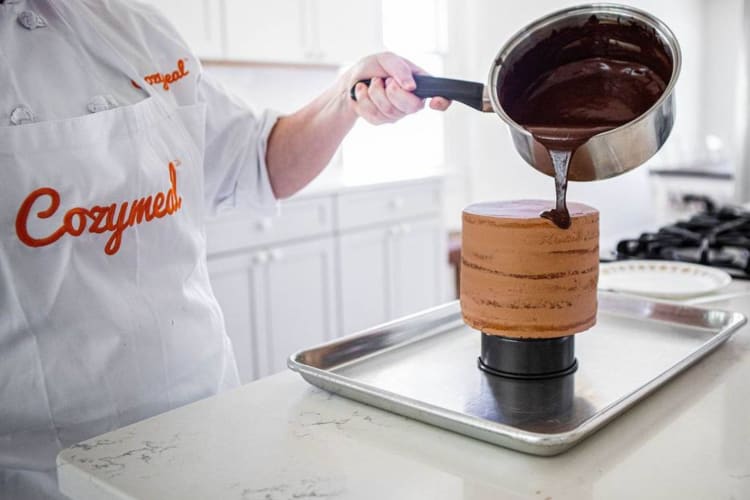 4. Virtual Culinary Experiences
The special lady in your life can enjoy a novelty culinary experience from the comfort of her own home with options like online mixology classes, virtual wine tastings or online cooking classes. Learn the science of balancing a cocktail or enjoy an introduction to wine, guided by a sommelier, as you uncover regions, tasting notes and more on a variety of bottles. This gift for women will leave your gift recipient with great memories and new knowledge and skills to hone her culinary craft.
5. Spa Treatments
This may seem obvious, but a trip to the spa is a gift for nearly all women, no matter the occasion. Along with providing a spa gift card, you could take the liberty of booking a few of her favorite treatments like a massage and a facial. Any local spa or luxury hotel will do the trick. She may not get to unwrap anything, but she will be over the moon regardless.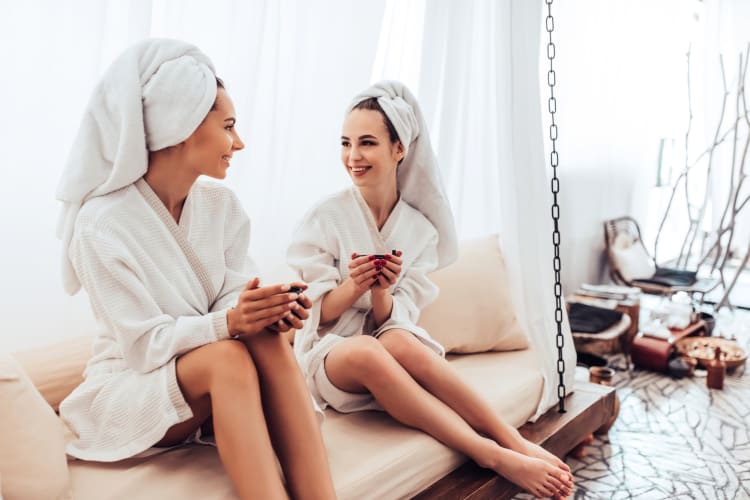 Gift an Online Cooking Class Now
Give your favorite gourmand the gift of world-class cooking lessons right from the comfort of their own kitchen.
Unique Gifts for Women
6. Foodie Gift Card
Leave out the guesswork of trying to figure out her favorite restaurant or type of cuisine and give her a foodie gift card. This is an easy gift for women that anyone would be thrilled to receive. With so many options like cooking classes, private chefs, cookware and more, she's sure to find something that piques her interest.
7. Bubble Tea Kit
Know a lady who loves boba tea? This bubble tea kit comes with everything she needs to make her own delicious boba beverage at home. Featuring tapioca balls and multiple types of tea, it makes for a unique gift for women. The set also includes two reusable stainless steel straws large enough to sip the boba through.
8. Cubi Print Apron Set from La Double J
A fun birthday present or housewarming gift for the woman who loves to host, this geometric printed apron set from La Double J includes a matching oven mitt, pot holder and tea towel. The luxury Italian cotton set will certainly inspire her to create something wonderful and is one of the best kitchen gifts for mom.
9. Birthdate Pendant Necklace
This beautiful gift for women is best suited for a jewelry lover. A mini heart birthdate necklace comes customized for her with her initial and birthstone. Each piece is handmade for a fashionable and customized statement that's inspired by astrology and numerology.
10. Brightland's The Duo
This duo of olive oils from Brightland is an amazing gift for women who love to cook. Only a woman with a finely tuned palate could distinguish between an olive oil made for cooking and another made for garnishing a salad. This set also comes in very trendy bottles that look great on her counter.
Gift a Local Food Tour Now
The perfect gift for every gastronomist. Discover an abundance of culture and culinary delights with a five-star local guide.
Best Gifts for Young Women
11. Viski Two-Toned Barware Set

If the woman on your gift shopping list loves cocktails, a Viski two-toned barware set is the perfect present. The set includes a cocktail shaker, strainer, bar spoon and more. This is an especially great gift for young women who have just moved into their own place and are looking to stock an at-home bar.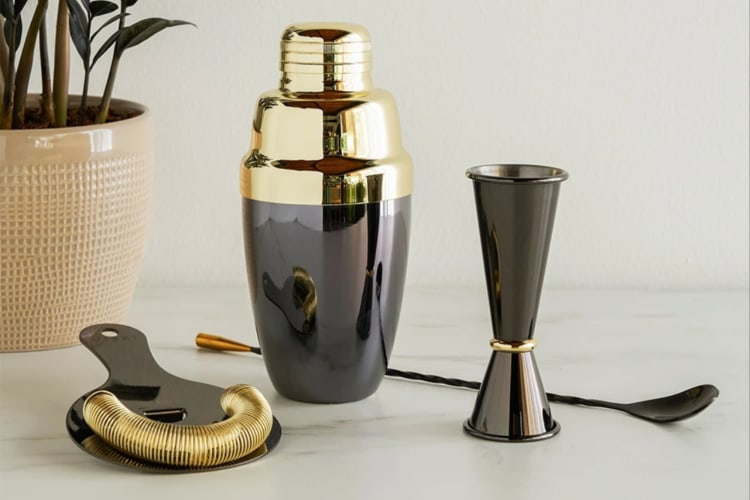 12. The Five Minute Journal
Give the gift of mindfulness with the Five Minute Journal. This is a great Amazon gift for women, whether it's your younger sister or a new co-worker. This cute and affordable gift is perfect for starting a habit of journaling. With daily prompts to guide her on her journey of mindfulness and gratitude, anyone would love to receive this cute gift.
13. Weezie Makeup Towels
These makeup towels from Weezie will have her excited to wash her face every night. They come in a nice dark shade of navy so she doesn't have to deal with makeup stains on light-colored towels, and you can select a cute set of eyelashes or her initials to don the front. A thoughtful and practical gift for women, especially those in high school or college.
14. RICRIS Premium Automatic Makeup Brush Cleaner
Keeping her makeup brushes clean is essential to preventing breakouts or infections, but it can be an easy step to skip. Make it convenient to keep brushes clean by gifting an automatic makeup brush cleaner set. This is a great gift for women who love makeup or young girls who are just getting started on their makeup journey. Set the foundation for good hygiene habits with a gift she will be excited to unwrap.
15. Scent Bird Perfume Subscription
This perfume subscription is one of the best gifts for young women who are trying to nail down their go-to scent. Each month, she will get a selection of miniature scents to try out. It's always fun to test a new perfume, and if she finds one that she falls in love with, she can purchase the full-size version right from Scentbird.
Gift an Online Mixology Experience
Raise a toast to the perfect gift. Enjoy craft cocktails, bartending basics and more taught by five-star mixologists.
16. Olive and June Mani System
This adorable gel nail kit has everything she needs to give herself a great manicure at home. Including gel primer and top coat, plus tools and an LED light to set the nail design, it's a convenient and stylish gift option. Notably, it makes an excellent stocking stuffer or birthday gift for young women.
Best Gift Baskets for Women
17. Harry & David Chest of Chocolates with Wine
A thoughtful and delicious way to let her know you're thinking of her is by sending a chest of chocolates with wine from Harry & David. This gourmet gift box is an ideal gift for women as it has everything she needs for a romantic evening, a cozy night alone or a fun get together with friends. Featuring goodies like Moose Munch gourmet popcorn, malted milk balls and chocolate-covered pretzels, this might be one of the best gift baskets out there.
18. Nancy Silverton's Favorite Gelato Gift Box
Featuring nine flavors of incredible gelato from Nancy Silverton, this stunning gelato gift box is the perfect gift for women with a sweet tooth. Shipped nationwide on dry ice, anyone can savor a spoonful of these artisanal gelatos and sorbettos from the legendary Nancy's Fancy in Los Angeles. Flavors include coconut stracciatella, salted peanut butter, Italian custard and Meyer lemon torrone.
19. Boarderie Cheese & Charcuterie Board
This stunning display of meats and cheeses looks almost too pretty to eat, but it makes a great gift for women, especially if you want to go above and beyond with a gift. Harry & David curate all sorts of delicious boards, from fruit and sweets to savory delights.
This charcuterie board is best shared amongst a group of friends. Plus, she gets to keep the acacia wooden board, allowing her to continue enjoying charcuterie trays over and over again.
Best Gift Sets for Women
20. Eberjey Pajama Set
Perhaps the softest pajamas she will ever put on her body, Eberjey pajama sets are a perfect gift for women of all ages. Whether it's a beautiful set of white pajamas for a new bride or a cute set of holiday-patterned pajamas to cozy up in, there's something for all styles.
Gift a Virtual Wine Tasting Now
The ultimate gourmet gift for any wine lover on your list. Virtual wine tastings bring a virtual vineyard experience right to you.
21. Blissy Dream Set
Give the gift of beauty sleep with this adorable silky sleep set, a thoughtful gift for women of any age. The Blissy Dream Set comes in a variety of colors and sizes and includes a silk pillowcase, eye mask and two silk sleep scrunchies for protecting her locks while she snoozes. The soft, silky fabric is ideal for preserving hair and skin while sleeping and every piece is machine washable.
22. Sol de Janiero Bum Bum Summer Jet Set
The tantalizing packaging and incredible scent of all the Sol de Janeiro Bum Bum products make them a fan-favorite and the perfect gift for women. This Summer Jet Set pack comes with a travel-size body wash, body spray and, of course, their signature Bum Bum firming body cream. Once she smells their unique, tropical scents, she will never look back.
23. On Holiday Pickleball Starter Bundle
Pickleball is the latest craze, and what better way to get your girlfriend to play with you than by gifting her this On Holiday Pickleball starter kit? Complete with two funky, patterned racquets along with a set of neon-colored pickle balls and a nice mesh tote to keep everything together, it's a cute and sporty gift for women that she will be excited to use.
24. Via Carota Negroni Set
This stylish Negroni set from Via Carota makes a lovely gift for women who enjoy Italian cocktails. It comes with three bottles of pre-mixed Negroni, classic, white and espresso martini. It's perfect for those who already love Via Carota spirits and those who want to try a few to find their favorite.
25. Bean Box Coffee + Chocolate Tasting Box
Coffee and chocolate are a match made in heaven, and now she can enjoy an international selection of both with a Bean Box tasting box. This tasty gift for women contains four artisan coffees and a different specialty chocolate to pair with each roast.
Best Small Gifts for Women
26. MonétBeauty Ice Globes
Perfect as a stocking stuffer or a "thinking of you" token, these MonétBeauty Ice Globes are a woman's best friend when it comes to de-puffing. This gift for women will bring the spa to her home as she combats puffy eyes, dark circles and headaches while giving her complexion a boost of circulation.
Gift Cookware Loved by Chefs
Shop gourmet gifts for your favorite foodie. Chef-beloved brands. Easy returns. Price matching guaranteed.
27. Perixx Wireless Mini Keyboard and Mouse
Elevate her work-from-home station with this adorable pink wireless mini keyboard and mouse from Perixx. This cute gift for women is perfect for a college student or someone who works on their computer all the time. It adds a much-needed pop of joyful colors to make the time go by faster, and according to one very passionate review, the keys make a wonderful clicking noise to satisfy your ASMR needs.
28. FaceTory Hand-Picked Koreak Sheet Mask Subscription
Give the gift of a fresh face with a Korean Sheet Mask subscription from FaceTory. This is one of the best Amazon gifts for women because it's an item she may not think to ask for, but will certainly use. Each month, she will receive several sheet masks that treat a variety of concerns, all made from Korean skincare products.
29. Papier Scallop Trim Notecard Set
These beautiful scallop trim notecards from Papier make a beautiful gift for women in your life. Not only will they make her want to sit down and write a nice note to someone, but they're also visually stunning to look at. They're available in a variety of colors and can even be customized with her name or initials.
Best Luxury Gifts for Women
30. Ugg Scuffette II Slipper
The coziest lounging slipper for wearing around the house, these UGG Scuffette II Slippers are a beautiful gift for women. Even if she already has a pair of slippers, she can always use an extra pair or a fresh set. Cater them to her style by choosing a vibrant or neutral shade.
31. Trudon Josephine Room Spray in Floral Garden
The Trudon Josephine room spray makes a gorgeous gift for women that they will enjoy using. With a chic vintage design and tantalizing notes of bergamot, kaffir lime and Turkish rose, this luxurious room spray elevates any space.
32. Sophie Bille Brahe Velvet Jewelry Box
This elegant velvet jewelry box by Sophie Bille Brahe is the ultimate luxury gift for women. It's small enough to travel with, offering a beautiful and secure way to store her treasures. It's also pretty enough to sit out on her dresser at home.
Gift a Local Cooking Class Now
Give your favorite gourmand the gift of world-class cooking lessons with the best chefs in their city.
33. Gucci GG Marmont Card Case
This chic Gucci card case is a perfect gift for women who don't like to carry around a big, heavy purse or wallet. Available in several beautiful shades of quilted leather, she will cherish this piece and get years of use out of it. It's just the right size for holding a credit card or two and her ID, with a small pocket to stash a few dollar bills if need be.
34. Loewe Tomato Leaves Candle
This luxurious gift for women isn't for everyone, only the women who are obsessed with candles (you'll know if that's her, trust us). If you can get your hands on the Loewe tomato leaves candle, consider yourself lucky.
The candle went viral and has been hard to track down ever since. It's known for its trendy design and sublime fragrance that's intense but not overpowering and reminiscent of a lush summer vegetable garden.
35. Sophie Lou Jacobsen Wave Pitcher
This artsy pitcher from Sophie Lou Jacobsen is as beautiful as it is functional and will be a topic of conversation for any hostess. Pick her favorite color combination with this unique gift for women that will spark joy each time she uses it. Take it a step further and get a matching set of glasses to complete the funky collection.
Best Travel Gifts for Women
36. BagSmart Travel Jewlery Organizer
If you know someone who just throws their jewelry into their suitcase loose, it's time for a thoughtful gift for women that will preserve their little trinkets. This affordable travel jewelry organizer from Bagsmart comes in a bunch of colors and patterns. It offers a genius solution for containing rings, bracelets, necklaces and any other jewelry piece she may want to store.
37. Lululemon Everywhere Belt Bag
The belt bag, or fanny pack, is making a comeback in a major way. In particular, the Lululemon belt bag makes a great travel gift for women and is perfect for someone who is always on the go. Ideal for running errands, going for a walk and even for the light traveler to keep their ID, chapstick and phone at the ready.
38. Jade Roller and Gua Sha
This beautiful Baimei pink jade roller and gua sha kit also belongs on the list of best Amazon gifts for women, especially women who travel. The practice of using a jade roller or gua sha stone is an ancient one and helps to define facial features and increase circulation to reduce fine lines and wrinkles while also decreasing swelling. If your lady travels often, chances are she is familiar with that post-airplane puffy feeling and would love a way to minimize it.
Gift an Online Cooking Class Now
Give your favorite gourmand the gift of world-class cooking lessons right from the comfort of their own kitchen.
39. Drunk Elephant The Littles Skincare Set
This colorful Drunk Elephant travel set comes with all the skincare essentials she could need. All the products are vegan and travel-friendly to help address any and all skin concerns by exfoliating, hydrating and protecting her skin. This is a great gift for women who fly often, which can be harsh and drying to the skin.
40. Apple Air Tag Belkin Secure Holder with Strap
A delayed or lost bag is every traveler's worst nightmare. While an Apple Air Tag may not guarantee her bag makes it to her destination every time, it's a great gift for women who travel frequently that can bring them peace of mind. Along with the Apple Air Tags, a set of Belkin secure holder straps will keep the tag safe and securely attached to her luggage so she can track it with ease.
Gifts for Outdoorsy Women
41. Stanley Quencher H2.0 FlowState Tumbler
Whether your lady loves long walks on the beach or grueling hikes through the woods, hydration is vital. Though she probably already has a reusable water bottle or two, there's something so enjoyable about getting a fresh one.

The Stanley Quencher H2.0 FlowState Tumbler comes in a variety of colors and sizes, up to 64 oz. Perhaps the best part is that it has a built-in straw, which seems to make staying hydrated a million times easier.
42. She's Birdie Personal Safety Alarm
While it might not be fun to think of anything going wrong, it's important to be prepared for anything. The She's Birdie Personal Safety Alarm is a sleek solution and thoughtful gift for women that can provide peace of mind to a solo hiker or world traveler. As an added bonus, it comes in five fun colors so it looks pretty cute clipped to a backpack or purse.
43. Bombas Women's Running Quarter Sock 6-Pack
If you've never tried Bombas socks, get ready to join the super-fan group of obsessed customers. The reviews are practically unanimous "best socks ever." Whether it's a pair of no-shows or mid-calf running socks, the craftsmanship and durability are unmatched, making a pack of these socks a thoughtful gift for women who love to run, walk or hike.
44. Outdoor Voices Exercise Dress
Regardless of her outdoor activity of choice, the Outdoor Voices Exercise Dress lets her do it in style. The dress comes in an ever-changing variety of colors and patterns and has a surprisingly big pocket that can hold even a large iPhone comfortably. The inner layer functions as a built-in sports bra and spandex shorts, making it ideal for hiking, tennis or just running errands. It is a gift for women she would be thrilled to unwrap.
GET UP TO $50 IN COZYMEAL
CASH™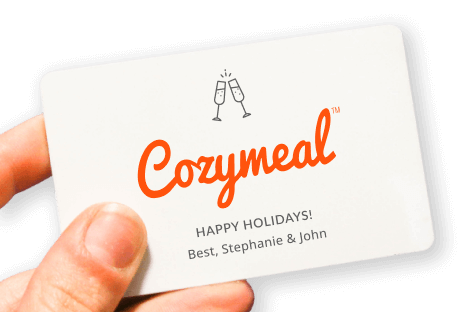 GET UP TO $50 IN COZYMEAL
CASH™
$100 or more, get $10 Cozymeal Cash™
$250 or more, get $25 Cozymeal Cash™
$500 or more, get $50 Cozymeal Cash™
45. Fujifilm Instax Mini 40 Instant Camera
This powerful gift for women can help her capture the beauty of nature wherever she chooses to roam. Thanks to its portable size, the Fujifilm Instax Mini 40 camera fits easily in a backpack or is lightweight enough to wear around her neck. She will be left with miniature shots of her favorite moments in nature.
Best Gardening Gifts for Women
46. Azalea Outdoor Bonsai Tree
This colorful tree is a miniature version of the iconic azalea trees that bloom in Southern states in the spring. For the avid gardener, a bonsai tree is a great gift for women with the time and patience to cultivate this tiny beauty. Bonsais are technically the same plant as their full-size counterparts, just kept small with careful pruning and fertilizing.
47. Farmhouse Herb Garden
This complete indoor herb gardening kit is an ideal gift for women who love to garden but live in the city or have a desk job. The kit comes with a neat set of three metal herb pots and a tray that doubles as a drainage system. This gift offers a cute way for her to use that green thumb on a much smaller scale.
48. Birth Month Flower Grow Kit
This symbolic gift for women will have her garden bursting with colorful blooms that represent her birth month. The grow kit includes seeds and a pretty ceramic plant pot for growing, plus instructions to help her plants thrive.
Best Gifts for Women Under $50
49. Global Grub DIY Sushi Kit
If the woman you're gifting loves sushi, why not give them the experience of making it themselves? Crafting delicious sushi rolls is made easy with a Global Grub DIY Sushi Kit. It comes complete with a sushi rolling mat, sushi rice, nori, and seasonings. All your gift recipient needs to add is fillings and they'll be ready to roll perfect sushi at home.
50. Bonjour Monet 3-Cup French Press
Help curb her Starbucks habit by gifting her this sleek Bonjour Monet 3-cup French press. The stylish and useful product makes fantastic fresh coffee to get her up and going every morning. No more watered-down coffee, this yields a nice strong brew every time.
Hungry for the Best Cooking Gifts?
Shop gifts and experiences for food lovers, budding chefs and cocktail connoisseurs.
51. Body Polish Sugar
This gift for women looks good enough to eat, but it's actually made to help her skin stay smooth and hydrated. These body polish sugar scrubs are available in a variety of tempting scents like lilac and willow or cantaloupe and will turn her everyday shower into a spa-like experience. If you're looking for gifts under $25, this is an excellent choice!
52. Diptyque Candle
Known for their incredible scents and iconic packaging, all you need to make her day is a Diptyque candle. Scents like jasmine or rose are practically universally loved and make a great gift for women as a thank you or "I'm thinking of you" gesture. If you're searching for last-minute gift ideas, this is also a good choice.
53. More Is More: Get Loose in the Kitchen: A Cookbook by Molly Baz
While the cover is enough to spark joy, what's inside is even better. More Is More: Get Loose in the Kitchen: A Cookbook by Molly Baz is all about cooking with confidence and harnessing bold flavors for the best dishes. While this brightly colored cookbook looks beautiful as a coffee table book, it's an even better gift for women who want to start doing more in the kitchen while learning how to combine flavors with confidence.
Whatever your reason or whatever the season, it's always going to be the thought behind each gift that really counts. Especially if you're a man shopping for a woman, it can seem daunting, but this list should guide you on how to get gifts for someone who has everything.
It's often the more thoughtful gifts that provide an experience or ease a pain point in their daily life that really make them smile. Don't be afraid to step out of your gift-giving comfort zone here!
For even more gift ideas for women, check out other experiences happening on Cozymeal.