How to Celebrate National Drink Wine Day: February 18, 2023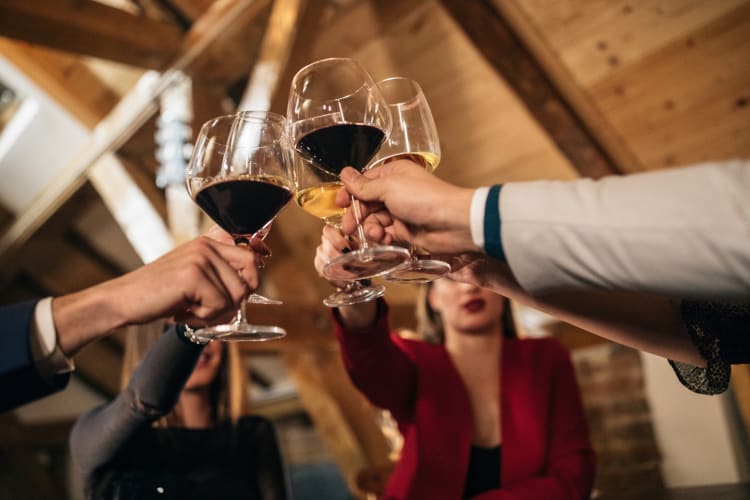 With National Drink Wine Day approaching, have you made fun plans to celebrate? On February 18th, wine lovers all over the country will toast the popular drink. Will you take the chance to experience new wines or savor a glass of your go-to favorite?
From mellow and chill to sophisticated and exciting, there are tons of unique and memorable ways to pay homage to your favorite beverage. You can explore a new wine venue in your area or partake in a wine experience at home. Whatever your preference, there's a perfect event to say "Happy National Drink Wine Day" in your very own way.
Jump to Section
Book a Live Virtual Wine Tasting Now
Indulge in all things wine with the best chefs and sommeliers in the industry. Virtual wine tastings bring a taste of the vineyard home.
12 Ways to Celebrate National Drink Wine Day
Select from these activities to celebrate National Drink Wine Day. Choose your favorite or combine a few to make it a day-long ode to vino!
1. Enjoy a Virtual Wine Tasting
Learn how to taste wine like a pro and expand your palate as you try new types. With a virtual wine tasting, you can take part in the perfect National Drink Wine Day celebration from home. Meet online in real-time with sommeliers and expert chefs as you learn the art of tasting wine.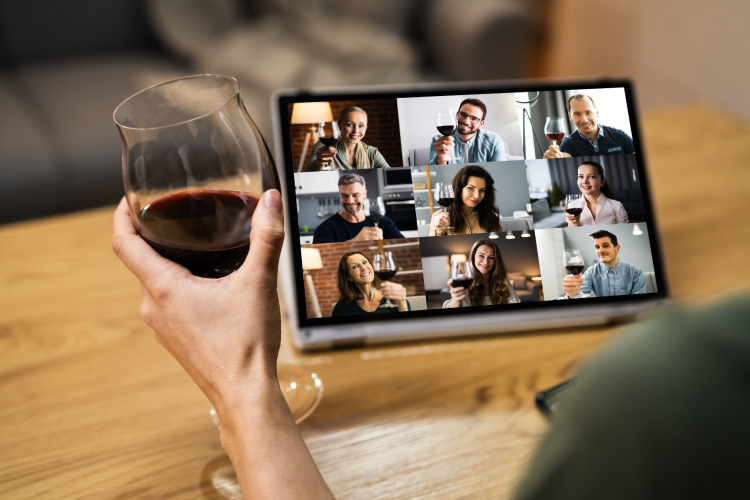 2. Visit a Local Winery
Head to a local winery or vineyard to learn about the winemaking process firsthand from the experts. Many will allow you to schedule a tour of the facilities and learn about their unique story. Then, head to the tasting room or bar and enjoy a wine flight selected based on your palate. Take home a bottle of your favorite and store it to open on National Drink Wine Day next year!
3. Host a Wine and Cheese Night
Host your wine-loving friends for a wine and cheese night to celebrate the day. Research your own wine and cheese pairings and set up a tasting menu. Or, have a potluck-style event, and ask everyone to bring their favorite wine and go-to cheese. You might just discover your new favorite duo!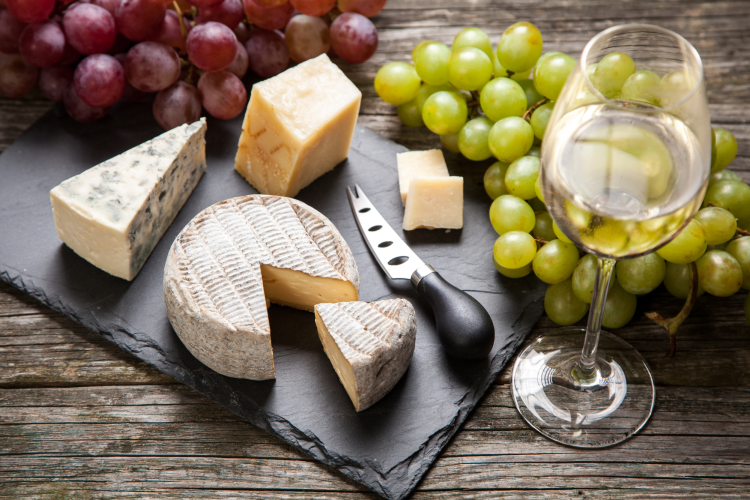 4. Plan a Wine Movie Marathon
Few things go better than wine than freshly popped popcorn! Cozy up and plan a National Drink Wine Day movie marathon for yourself or your friends. There are some awesome wine movies to keep you entertained as you nibble and sip. Depending on what you're in the mood for, you can watch riveting documentaries about the industry or a series of romantic tales with vineyard backdrops.
5. Paint Your Own Wine Glass
Celebrate National Drink Wine Day by creating your own custom wineglass! Look into classes in your area where an instructor will provide guidance and all of the materials you need for your project. If you'd like to get crafty at home, there are kits available on Etsy, or you can gather your own supplies and check out project tutorials on YouTube.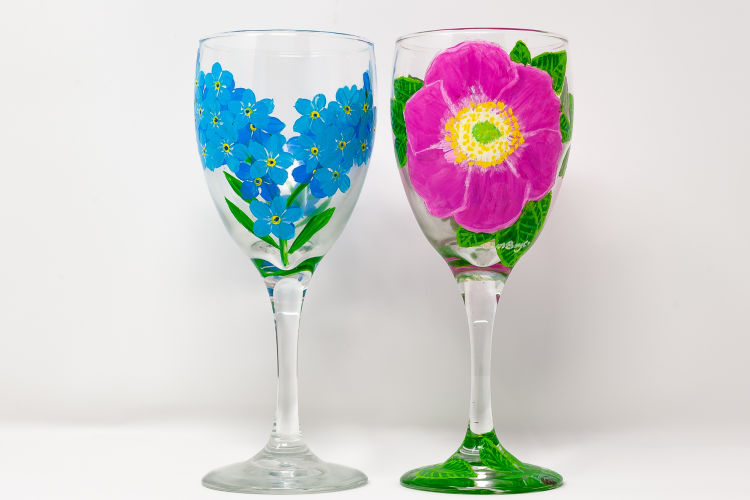 Book Your Virtual Wine Tasting
Bring the winery home with an unforgettable live virtual wine tasting. Your personal sommelier is standing by.
6. Have a Blind Wine Taste Test
Get together with friends and see whose wine comes out on top with a blind taste test. Select a type of wine and have each guest bring a bottle. Purchase wine bags and cover them so you don't know which one is which. Then, take turns tasting each one and rating it from 1 to 10. The owner of the highest-scoring wine gets bragging rights as the top connoisseur until the next National Drink Wine Day.
7. Make Your Own Wine
Purchase a wine-making kit, such as the Brooklyn Brew Shop Bubbly Sparkling Wine Kit, and learn to make your own vino. These come at a wide range of price points, making them perfect for a wide variety of budgets. You can also look into wine-making classes in your area and schedule one as a hands-on way to celebrate National Drink Wine Day.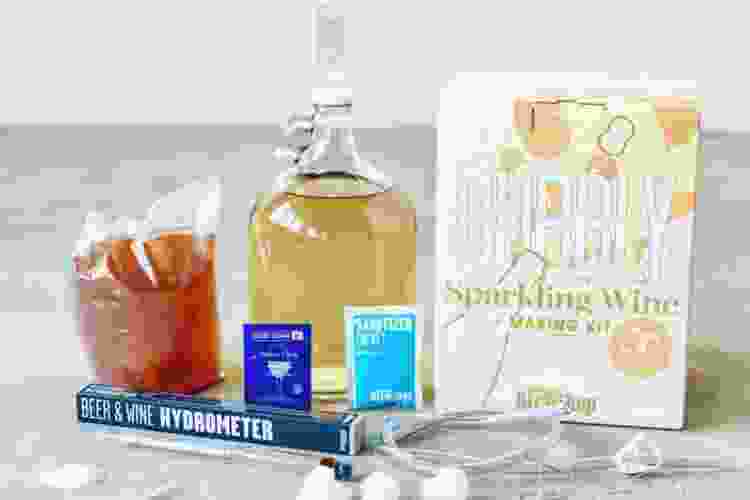 9. Plan a Wine Gift Exchange
Who doesn't love a good gift exchange? Gather with friends and draw names, getting to know each other's flavor preferences. Then, purchase a bottle that you hope your recipient will love. If you all enjoy similar types of wines, you can skip drawing names and all simply contribute a wrapped bottle. Then, choose from the gifts and steal from your fellow wine-lovers — white elephant gift idea style!
9. Go Wine Bar Hopping
If you have lots of wine bars in your area, National Drink Wine Day is the perfect opportunity to check them out. Make a list of ones to try and map your course. Select a designated driver, rent a party bus or rely on Uber and hop to each bar, exploring your local wine scene.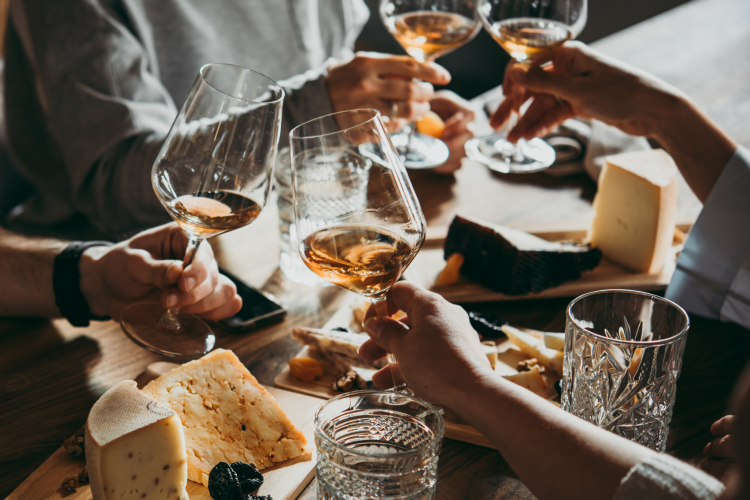 10. Purchase Yourself New Wine Gifts
There are a ton of different wine gifts on the market to enhance your drinking experience. Why not purchase one for yourself as a National Drink Wine Day treat? Invest in a quality aerator, buy a corkscrew set or pick up that handy wine stopper you've been eyeing. Then, grab your favorite bottle of wine and enjoy your new gadget.
11. Learn Something New About Wine
To know wine is to love wine, why so not get to know more about it? Buy or rent a book from your local library and read about the history of wine. Hop on a sommelier YouTube channel to learn how to select and pair wines like a pro. You can even take an online wine quiz to test your knowledge and see what you still have left to learn.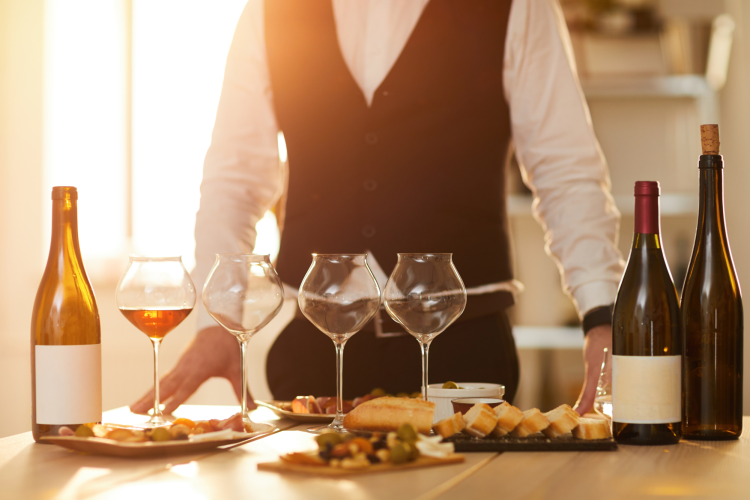 Book a Live Virtual Wine Tasting Now
Indulge in all things wine with the best chefs and sommeliers in the industry. Virtual wine tastings bring a taste of the vineyard home.
12. Explore a Wine Region
Go big this National Drink Wine Day and head on a wine region getaway. There are tons of domestic options from scenic Napa to the balmy Texas Hill Country. You can also take your travels abroad and experience that bucket list trip to some Italian wine regions or French wine regions. Either way, you'll be able to immerse yourself in all things wine to celebrate its namesake day.
10 Fun Facts About Wine
According to Atlas Obscura, the oldest bottle of unopened wine is housed in a museum in Germany and is believed to be from about 325 C.E.


As one of the world's most expensive wines, The Drinks Business says a six-liter bottle of The Setting Wines 2019 Glass Slipper Vineyard Cabernet Sauvignon, will set you back about a million dollars.


Celebrities are getting into the wine business! In fact, superstars from Snoop Dogg and Jon Bon Jovi to Mary J. Blige all have their own wine brands.


People love wine — and not just in their glasses! Today, products like wine jelly to vino-infused salts are hitting the market to vino-lovers glee.


It's no secret that wine is a worldwide favorite. So much so that 36 billion bottles are made annually, per Wine Spectator.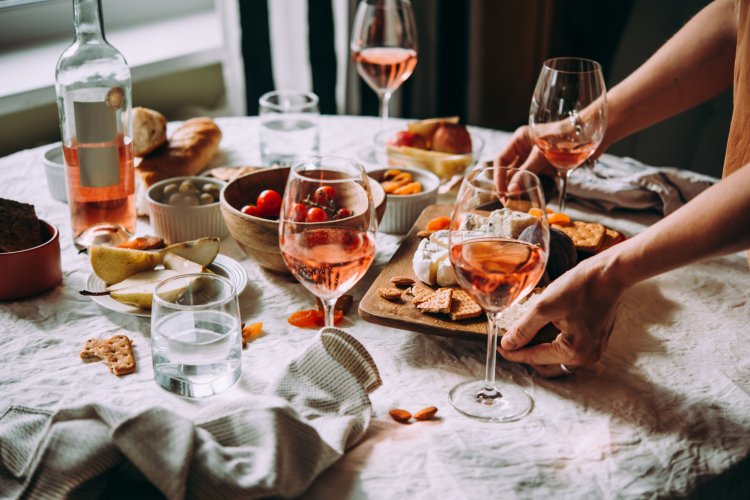 The Court of Master Sommeliers, an organization responsible for certifying wine experts, features four levels of expertise. The highest, Master Sommelier, can take up to 10,000 practice hours to achieve and requires passing a rigorous exam, according to Wine Folly.


Red wines are thought to have health benefits as they contain the antioxidant resveratrol. However, due to its growing region and thin skin, Pinot Noir likely contains higher levels, making some believe it's the healthiest wine in the world.


Many red wine drinkers serve their vino at room temperature. However, experts say the ideal temperature at which to enjoy red varieties is closer to 60 to 68 degrees Fahrenheit.


Celebrating the new year with a toast of bubbly has a long history, according to Business Insider. Thanks to Dom Perignon perfecting the Champagne bottle and making it more accessible, revelers have enjoyed popping corks on New Year's Eve since the 1800s.


National Drink Wine Day was created in 2007 by businessman Todd McCalla, says Fox 6 Milwaukee. He's not in the industry but is a guy that just loves his wine.

Join 200,000+ Culinary Enthusiasts
Exclusive deals, recipes, cookbooks, and our best tips for home cooks — free and straight to your inbox. PLUS: 500 Rewards Points.
So, whether you decide to embark on an overseas wine adventure or just enjoy a wine tasting at home, savor this annual celebration. Start planning your fun activities in preparation for February 18, a day dedicated to vino. And have a Happy National Drink Wine Day — cheers!
For even more fun ways to explore the world of wine, check out other experiences happening on Cozymeal.