53 Best Gifts for Men Who Have Everything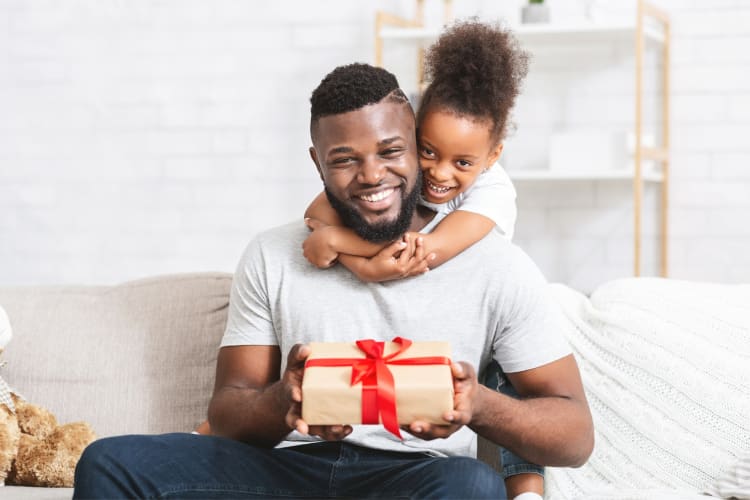 Our editorial team recommends the best products through independent research, selection and careful review. If you make a purchase through one of our affiliate links, we may earn a commission. Prices are subject to change.
Are you looking for the best gift for a man who has everything? We've all been there; coming up with the perfect gift year after year can be stressful. Men in particular can be hard to shop for, even when other men are doing the shopping. What do men want, anyway?
To help with your perfect gift search, we've come up with a list of 53 unique and diverse gifts for men — there's sure to be something for every man in your life. Read on and start making your gift shopping list.
Jump to Section
Gift a Local Cooking Class Now
Give your favorite gourmand the gift of world-class cooking lessons with the best chefs in their city.
Best Experience Gifts for Men
1. Cooking Class
Cooking classes near you can make an excellent gift for a man in your life. It's a great gift for young men who may not know how to cook on their own yet, but really, it can be a fun gift at any age. Whether he's making pasta at cooking classes in Portland or pizza at cooking classes in Toronto, he'll love learning a new skill.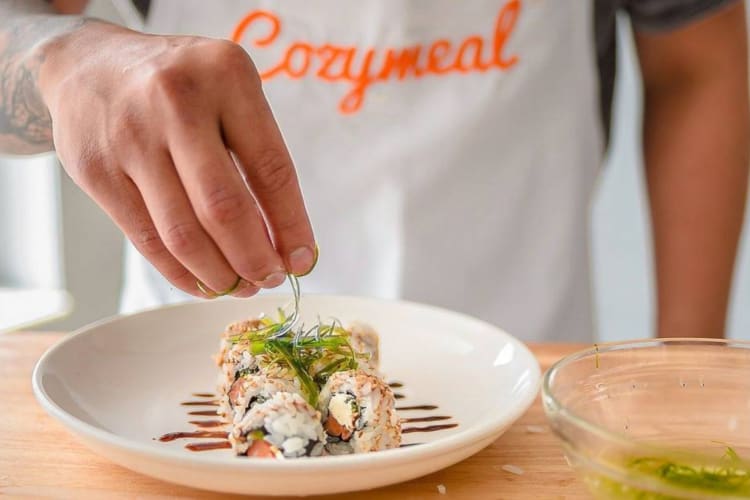 2. Food Tour
If a man in your life loves to try new foods, a food tour may be the perfect gift for him. He'll get to try multiple restaurants that he may have never chosen on his own. Luckily, food tours are available in cities all over. He can go on diverse food tours in NYC, Southern food tours in New Orleans or any local food tours near you.
3. Private Chef Meals
Going out to dinner is always fun but you can make it even more special by hiring a private chef to cook for the man in your life at home. No matter where you live, you'll find an array of private chefs near you who can cook him a professional meal he'll always remember.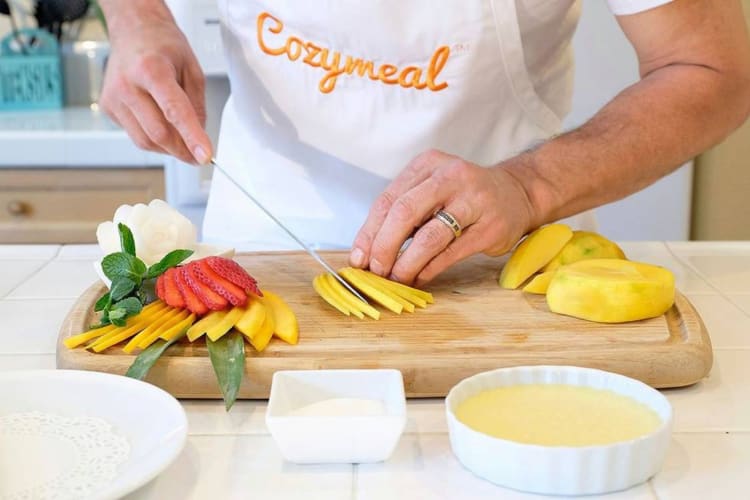 4. Virtual Culinary Experience
If you're looking for last-minute gift ideas for a man in your life, a virtual culinary experience is a great option. He can enjoy the gift from the comfort of his own home.
Online cooking classes are great for any man who's looking to improve his culinary skills. For men of legal drinking age, virtual wine tastings led by expert sommeliers can be great for introducing them to the diverse and fascinating world of wine. For men who'd love to learn how to craft their favorite cocktails or mocktails, online mixology classes are perfect.
5. Goldbelly Subscription
A subscription is an experience gift for men that keeps on giving! Goldbelly subscriptions have something for every man in your life, from monthly cookie subscriptions for those with a sweet tooth to savory pizza or BBQ subscriptions.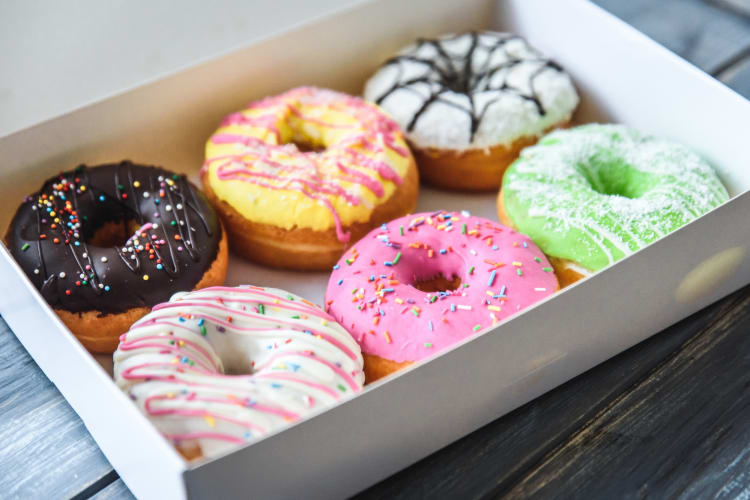 Best Food Gifts for Men
6. Foodie Gift Card
Looking for gifts for someone who has everything can be incredibly frustrating. In that case, give the man in your life a handy foodie gift card. This gives him access to whatever Cozymeal experiences or shop items he wants, so he can choose his own gift.
Gift a Local Food Tour Now
The perfect gift for every gastronomist. Discover an abundance of culture and culinary delights with a five-star local guide.
7. Pizza Stone
Homemade pizza just isn't the same without a pizza stone, but it's something many pizza lovers never choose to buy. A pizza stone is one of our favorite cooking gifts for men this year. There are many excellent pizza stones to choose from, but we recommend the Fante's Pizza 13" Stone as a great starter stone.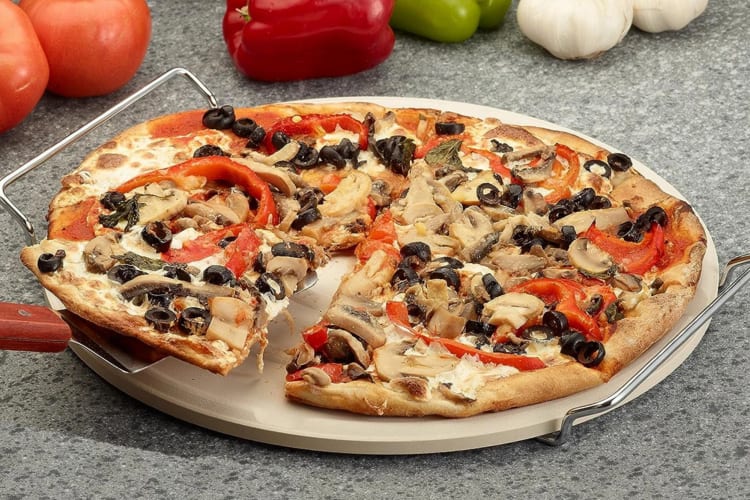 8. Tabletop Grill
There's nothing quite like going outside on a hot day and grilling up some burgers or hot dogs. During the winter, however, using the grill isn't quite as fun, and not everyone has the space for a big grill. To solve this problem, a tabletop grill, like the CuisineArt Griddler Grill and Panini Press is a great gift for men who yearn to grill from the comfort of their kitchens.
9. Knife Set
A simple and high-quality knife set is a fantastic gift for a foodie man, especially one who's always bought second-hand cutlery and supplies. A sharp knife makes a big difference while cooking. The Henckels Solution 15-Pc Knife Block Set is a chef-approved (and visually stunning) set that makes a great gift.
10. Pasta Maker
Fresh pasta? Yes, please! Sure, dry pasta is fine most of the time, but nothing compares to fresh. The Anolon Gourmet Prep Chrome Plated Pasta Maker turns making pasta into a far easier task. It's a great gift for men who want to upgrade their pasta night game.
Gift an Online Cooking Class Now
Give your favorite gourmand the gift of world-class cooking lessons right from the comfort of their own kitchen.
11. Zwilling Sorrento Double Wall Tumbler

Whiskey aficionados will be thrilled to receive a set of Zwilling Sorrento Double Wall Tumblers. These unique and stylish glasses feature a "wall" around the main glass which keeps whiskey at an optimal temperature for as long as possible.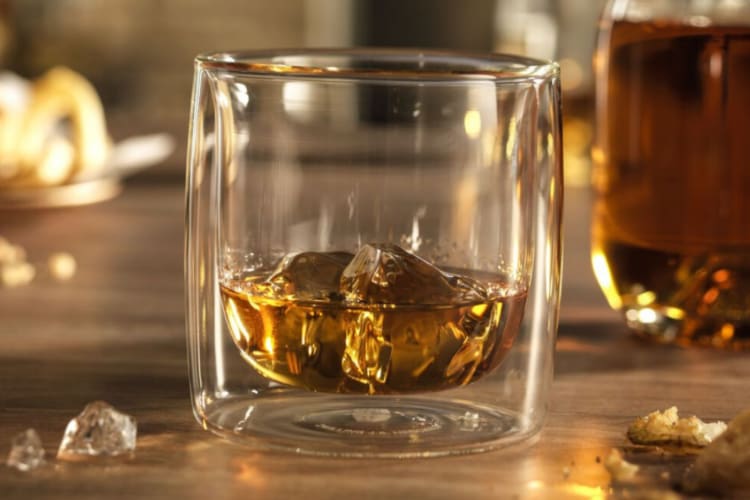 Best Gift Baskets for Men
12. Meat and Cheese Gift Basket
Harry & David makes some of the best gift baskets around, and several of them made their way to our list. The Ultimate Meat and Cheese Gift Box is the most luxurious option and one of the ideal gifts for men that will appeal to almost everyone. It even comes with its own cutting board. Baskets like these make great Christmas gifts for men.
13. Bacon Gift Basket
For a unique gift for a man, a bacon gift basket is a great choice. Sure, not all men are bacon lovers, but if you have a real "meat and potatoes" kind of guy in your life, you can't go wrong with this. The Bacon Crate comes with bacon jerky, seasoning, peanut brittle and even jam.
14. Snack Gift Basket
If there's a man in your life who's always snacking, you can't go wrong with a snack gift basket. It's full of all of the crunchy, sweet and salty snacks that he loves. The Snack Lovers Gift Basket will have enough delicious snacks to keep him occupied for a while.
15. Pampering Gift Basket
Yes, men need pampering sometimes too, but they may not want to buy their own pampering kits. The men's self-care gift set is full of self-care items that don't read as too "feminine," meaning even the toughest guy can treat himself.
Best Gift Sets for Men
16. Fragrance Set
Does a man in your life need to improve his fragrance game? A fragrance gift set is one of the excellent gifts for men who love to smell fantastic but may not know where to start. It's a good idea to gift a small sampler so he can try a variety of fragrances and choose the one that works best for him.
17. Male Grooming Set
Many men like to look well-groomed. If you know a man who always wants to look his best, a grooming gift set full of tools for his hair and skin makes an amazing gift. This gift for men also comes in a handy travel case, so he can take it with him wherever he goes.
18. A "Manly" Gift Set
If the idea of a manly gift set seems silly, that's intentional. The Man Box is a gift set for men, full of all kinds of unique items. It has soap, a knife, a candle and even a fire-starting kit (among other things). It's an amusing gift set that the recipient should love.
GET UP TO $50 IN COZYMEAL
CASH™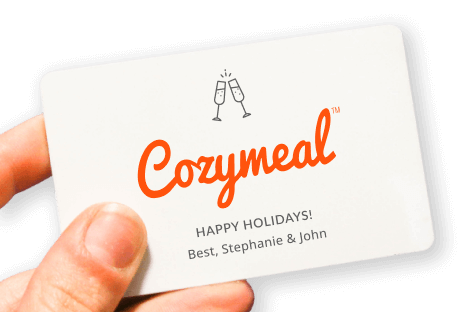 GET UP TO $50 IN COZYMEAL
CASH™
$100 or more, get $10 Cozymeal Cash™
$250 or more, get $25 Cozymeal Cash™
$500 or more, get $50 Cozymeal Cash™
19. Spice Set
Do you know a man who loves to spend time in the kitchen? A smokehouse spice set is an excellent gift for him! High-quality spices can elevate his cooking in a real way. If you're lucky, he'll show off those new spices by having you over for a meal.
Best Small Gifts for Men
20. Multi-Tool Pen
Is it a pen, or is it something more? A multi-tool pen is an excellent stocking-stuffer gift for men, especially if they seem to have everything. It's a pen, a ruler and so much more. It's perfect for slipping into a pocket or small bag because you'll never know when you'll need it.
21. Mini Arcade Machine
Everything is cuter when it's tiny, and this mini arcade machine is no exception. It's the perfect gift for men who used to spend countless quarters at the arcade. It's even desktop-sized, so it can fit anywhere.
22. Portable Espresso Machine
Men on the go value their caffeine. If a man in your life is always drinking energy drinks, give him another option with a portable espresso maker. He can enjoy a great cup of espresso (or even a nice mixed coffee drink) wherever he is.
23. Flashlight Gloves
If the man in your life is always fixing things or working on projects, he may benefit from flashlight gloves. They're perfect for home tasks in dark places, painting miniatures, building things and so much more.
Best Gifts for Young Men
24. Leather Wallet
Many young men are still in the "cash in pockets" phase of their lives. A sleek and stylish wallet, and even a simple leather tri-fold wallet, makes an excellent gift for men who are still in the early stages of adulthood.
25. Stylish Trainers
Shoes can be both comfortable and stylish. Many young men want to be fashionable in a "casual" way, so they may struggle with unique and stylish footwear. Leather lace-up trainers make an excellent addition to any casual and chic wardrobe. They're comfortable and stylish, but not too stuffy. They're perfect for lounging around, running errands or even going on a date.
26. Phone Camera Lenses
Do you know a man who is always taking photos with his phone? Whether they're selfies, nature photos, photos of his car or anything else, you can upgrade his phone photographer game with a phone camera lens kit. His future photos will really pop.
Gift Cookware Loved by Chefs
Shop gourmet gifts for your favorite foodie. Chef-beloved brands. Easy returns. Price matching guaranteed.
27. Beard Oil
Beards are still in fashion. If a man in your life is trying to grow out his facial hair, beard oil will keep it looking and feeling smooth and healthy. It also smells fantastic. This is a great gift for young men who are still learning how to manage their beards.
Best Luxury Gifts for Men
28. High-Quality Bag
Men deserve nice bags too. Whether he's traveling for fun or work, the man in your life will love a fashionable leather weekend bag. It's a nice upgrade from your average travel bag, that's for sure. It's also a perfect carry-on.
29. Fine Whiskey
There's nothing wrong with a bottle of Jack Daniels, but if the man in your life appreciates luxury, why not give him a whiskey tasting box? The Flaviar whiskey tasting boxes feature multiple kinds of carefully selected whiskey, sure to please whiskey lovers new and old. Other spirit-tasting boxes as well as single bottles of high-quality spirits are available from Flaviar as well.
30. Craft Meats
If you're looking for a gift for a man who appreciates a fine meal, a nice cut of meat may be perfect for him. This isn't your common everyday steak. A wagyu sampler will give him access to several delicious and high-quality steaks to throw on the grill.
31. Designer Watch
Watches never go out of style. For a man who loves to look put-together (and who always wants to be on time), a designer watch is an excellent gift. Try to choose a watch that suits his personal style so he can get the most use out of it. For example, someone with a minimalist style may want a stylish Swiss quartz black leather watch.
Best Golf Gifts for Men
32. At-Home Putting Green
You don't need to be on the golf course to practice your putt. An at-home putting green is an excellent gift for a man who never stops trying to improve his golf game. Best of all, he can practice from the comfort of his living room.
33. Golf Accessories Kit
A true golfer can never have too many golf accessories. A golf accessory kit will be perfect for his practice games. He'll never have to go hunting for a ball or tee again!
34. Golf Bag
A golf cart bag is another excellent gift for golf enthusiasts. This is where your golf-loving friend will store all of his clubs and other golf-must-haves. Find one that's spacious and comfortable to carry around for long days on the golf course.
Gift an Online Mixology Experience
Raise a toast to the perfect gift. Enjoy craft cocktails, bartending basics and more taught by five-star mixologists.
35. Backyard Golf Game
This isn't a golf gift per se, but it's an excellent gift for men who are golf enthusiasts. This golf-themed cornhole game is the perfect backyard activity for cookouts and other gatherings. No, it's not real golf, but it's a great way to have fun and bond.
Best Tech Gifts for Men
36. Wireless Charging Station
A wireless charging station is a super convenient gift for a man who always needs to make sure that his devices are well-charged. There are many different charging stations to choose from, but make sure the one you pick is suitable for the types of devices your friend uses.
37. Tile Mate
Is a man in your life always losing things? We all know that guy. Give him a hand with a Tile Mate. He can attach this little device to whatever things he loses most and the app will help him find them. Hopefully, the thing he loses most isn't his phone!
38. Mini Drone
A mini drone with a camera is an excellent tech gift for men. It's great for tech lovers, photographers, people who love to make videos and more. This is notably one of the best "entry-level" drone gifts.
39. Mini Projector
If the man in your life is always looking at his phone, why not give him a bigger screen to stare at? A mini phone projector is a unique gift for men that will allow him to watch all of his favorite things on a much bigger screen.
Best Travel Gifts for Men
40. Packing Cubes
We can not overstate the convenience of packing cubes for travelers. They're perfect for hikers, backpackers, people who travel for work and even casual weekend travelers. This gift for men can help the man in your life save space and stay organized when he's on the go.
41. Travel Subscription Box
There are subscription boxes for everything these days. It stands to reason that there's a travel subscription box as well. The Nomadik box comes full of travel gear for any worldly outdoorsman. You can even tailor this gift for men for specific adventures.
42. Packing List Notepad
This is a cute stocking stuffer for a man who loves to travel but hates to pack. If he's always buying last-minute essentials at the airport, he'll love (or at least be amused by) this handy packing checklist notepad. He can then pack the notepad (if he remembers!) to ensure he has everything back in his case for the trip home.
Gift a Virtual Wine Tasting Now
The ultimate gourmet gift for any wine lover on your list. Virtual wine tastings bring a virtual vineyard experience right to you.
43. National Parks Poster
Speaking of outdoorsmen, this is a great gift for one. The National Parks are some of the best treasures that the United States has to offer. A scratch-off National Parks poster will let the man in your life track his travels with ease. Crossing off that final park will feel like a huge accomplishment.
Most Unique Gifts for Men
44. Smartphone Paper Airplane Kit
This is such a unique gift for a man who loves to have fun. You can upgrade a simple paper airplane with the power of your smartphone. The smartphone-controlled paper airplane kit brings tech and a simple childhood activity together for hours of creative fun.
45. Building Brick Mug
No one really grows out of building, right? If a man in your life is a lifelong brick builder, this cute building blocks mug will be perfect for him. He can use some of the bricks he already has to customize his mug every morning.
46. Hot Sauce Advent Calendar
On the first day of Christmas, my true love sent to me: hot sauce? Yes, that's right. This year, why stop with one gift when you can give a whole season of gifts? A hot sauce advent calendar makes an excellent and unique gift for a man who likes things spicy.
47. Pet Portrait
Does a man in your life have a furry friend that he cherishes? This is an excellent handmade gift that he'll love. Immortalize his companion with a custom pet portrait that he can display with pride.
48. Personalized Whiskey Barrel and Whiskey-Making Kit
This is a great gift for any whiskey lover in your life. A personalized whiskey barrel and whiskey-making kit is a perfect gift for a man who appreciates the finer things and the effort and thought that goes into a personalized gift. Along with the personalized barrel, this gift comes with everything needed to age his own whiskey.
Gift a Private Chef Experience Now
Treat someone special to gourmet fine dining at home. Gift a private chef experience starting at $59/person.
Best Gifts for Men Under $50
49. Insulated Mug
An insulated mug, like the stackable mug from Yeti, is a good gift for a man who always has a cup of coffee or tea in his hand, especially if he loves camping. This mug will keep his beverages warm even if he's out on a chilly morning in the wilderness.
50. Reusable Shopping Bags
More and more people are making sustainable choices. If you know a man who's trying to go green, encourage him with this stocking stuffer. It's also one of the most convenient gifts under $25. Reusable shopping bags come in countless styles and patterns, so you can choose some that match his vibe.
51. Tabletop Fire Pit
If you know a man who can't resist a perfectly toasted marshmallow, a tabletop fire pit might be the perfect gift for him. He can stay warm and cozy and pretend he's camping from the comfort of his desk.
52. Insulated Lunch Bag
There are few things more disappointing than a cold lunch. This Carhartt deluxe insulated lunch bag will stop that from happening. It will keep your giftee's lunch at the perfect temperature until he's ready to chow down.
53. Scratch-Off Date Ideas
If you're buying a gift for a partner, this is a fun one! This set of scratch-off date ideas offers a unique way to reignite the spark in a relationship and come up with fun activities that neither of you would have thought of on your own. It's a gift that keeps on giving.
So which of these gifts for men are you adding to your to-buy list this year? With 53 gifts, there's sure to be at least one for every man on your list. Whatever you get him, he's guaranteed to love it!
For even more gift ideas for men, check out other experiences happening on Cozymeal.