The Ultimate Foodie Bucket List for 2023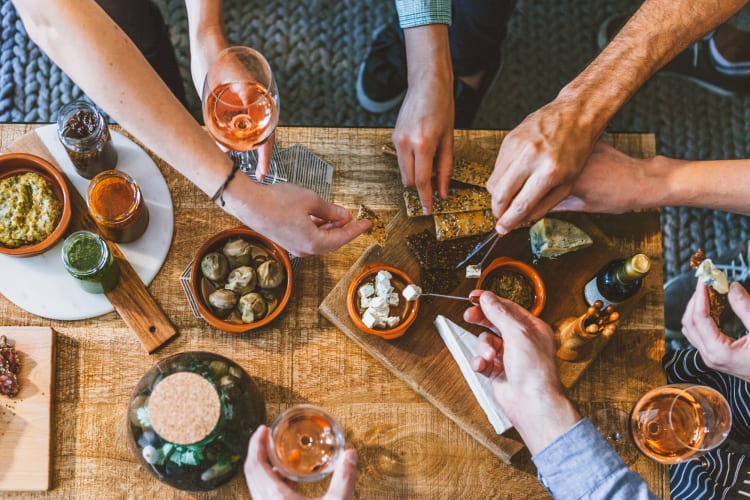 Our editorial team recommends the best products through independent research, selection and careful review. If you make a purchase through one of our affiliate links, we may earn a commission. Prices are subject to change.
Everyone has a bucket list of things to do before they die, so if you live for food, it only makes sense that you'd have a foodie bucket list too. When it comes to the joy of food, the world is truly your oyster. Virginia Woolfe is famous for saying, "One cannot think well, love well or sleep well if one has not dined well," and it is quite possible no truer words were ever spoken.
What are your foodie bucket list dreams? Maybe you have visions of slurping ramen from a street vendor in Tokyo, or aspirations of afternoon tea at the Savoy in London. Maybe you fantasize about having a chance to compete in Hell's Kitchen until Gordon Ramsay screams at you for screwing up the risotto. Maybe you're just still wishing Anthony Bourdain wasn't gone.
If you've never really thought about your food bucket list ideas, be like Hansel and Gretel and follow our trail of breadcrumbs to get started. While you can't dine with Anthony Bourdain, you can still eat in Anthony Bourdain's top NYC restaurants. Warning: Reading through this ultimate food bucket list is likely to make your stomach rumble and increase your lust to wander. Let's just say if your life goals read like a menu, get ready to turn the page.
Jump to Section
Book a Gourmet Cooking Class Now
Kick-start your culinary confidence with help from a world-class chef. See what's cooking in your city today.
Foodie Bucket List Experiences
1. Participate in Cooking Classes
Some foodies might hesitate at the idea of putting cooking classes on a foodie bucket list. After all, most foodies have above-average cooking skills already. Why would you want to spend an afternoon with people who don't know how to debone a chicken or who have never heard of sous vide?
You might be surprised to find out that cooking classes near you offer more adventurous instruction than you thought. Cooking classes are also worthwhile food bucket ideas for when you travel. Envision a weekend getaway to New England with cooking classes in Boston to get a feel for the flavors of the best Boston foods, or explore new food combinations with cooking classes in Toronto. If there is a specific dish or cuisine on your foodie bucket list, you could also check out online cooking classes for professional instructors who teach live classes from around the world.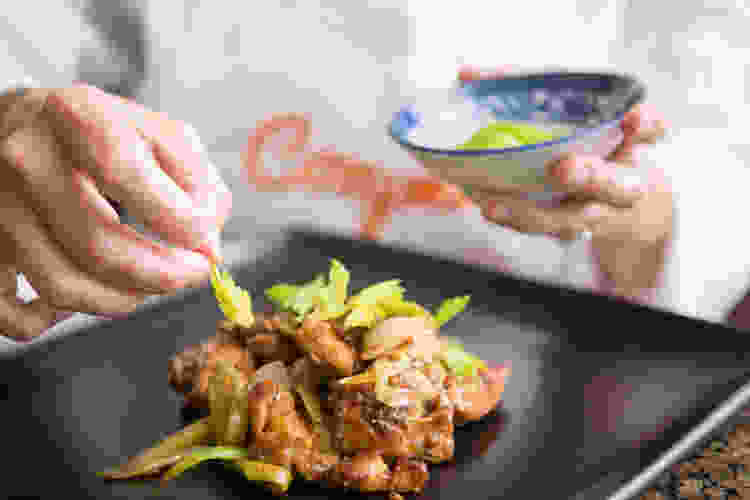 2. Take a Food Tour
For a lot of us, our foodie bucket list actually guides our choices for travel destinations. When you are planning to hit a city with an overwhelming amount of foodie bucket list restaurants, food tours actually make a lot of sense.
Take NOLA, for example. With hundreds of New Orleans French Quarter restaurants to choose from, food tours in New Orleans can give you a head start in discovering the best New Orleans foods and various cuisines. Same with the city by the Bay. Food tours in San Francisco allow you to get the lay of the land in terms of San Francisco foods and the ultimate food bucket list neighborhoods. If you are tired of the same old, same old in your own hometown, it might be time to consider food tours near you to get some fresh inspiration.
3. Hire a Private Chef
Intrigued by cooking classes, but don't want to share? We understand. That's why you should add private chef experiences to your foodie bucket list. There are two ways to set the table on this one — first, you could use it like a cooking class where you get one-on-one instruction from a professional. Or, you could throw a killer dinner party for your foodie friends and have private chefs near you do all the work.
There are private chefs in Houston that may specialize in local fare, while private chefs in San Diego may have more globally-inspired food training. Whichever one you choose, having a restaurant-quality meal prepared in your own home without having to do the cleanup should be on any foodie's bucket list.
Book a World-Class Private Chef Now
Five-star fine dining from the comfort of home. Find your favorite private chef experience starting at $59/person.
4. Enjoy an Online Beverage Tasting
One cannot eat delicious food without having the right beverage to wash it down. If you are ordering the same cabernet sauvignon with every steak or the same pomegranate martini with every salad, then let's put some new sips on your foodie bucket list.
Virtual wine tastings are ideal for foodies. Every restaurant offers a wine list, and learning how to better navigate it will only enhance your meals. Are you actually a little sick of wine but haven't ever found the cocktail that speaks to you? Time to put online mixology classes on your foodie bucket list. Learning to become your own bartender or how to prepare classic New Orleans drinks is one foodie bucket list idea that will stir up your next party.
5. Learn to Roll Sushi
We are all experts at consuming sushi, but few of us have ever learned to make our own. It isn't nearly as hard as it seems, and once you get the hang of it, it's actually pretty fun — so put this on your foodie bucket list. You could take a class (such as sushi making classes in Seattle or sushi making classes in Washington D.C.) or check out YouTube videos to get started. Classes make the process approachable and also show you some great recipes that don't require purchasing expensive sushi-grade fish.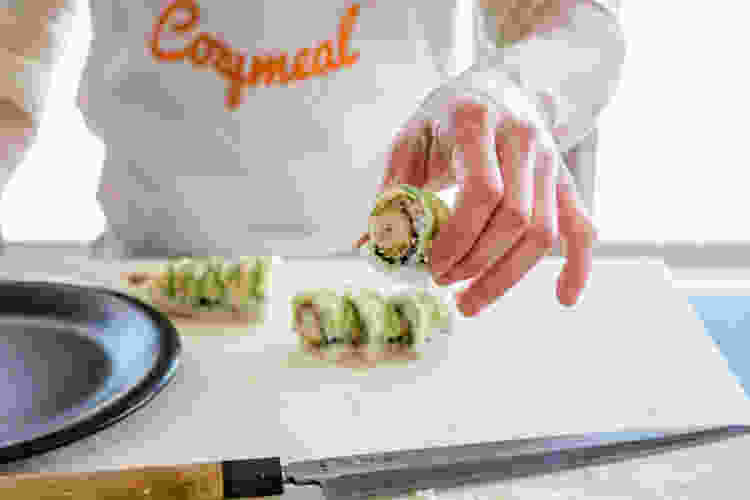 6. Peel Your Heart Out at a Crawfish Boil
The ideal way to cross this one off your foodie bucket list is to get invited to a boil with a local. It's a totally different experience to sit around and socialize while anticipating the big dump vs. eating crawfish out in a restaurant. Locals also have secret recipes and signature add-ins which make every boil unique (from Brussels sprouts to pineapple to artichokes to hot dogs).
Just watching the boil process is a foodie bucket list-worthy experience in and of itself. If you don't know a local, your best bet is to search for crawfish festivals, and during crawfish season, those are not hard to find. The format is usually a cook-off, which means for one fee you get to try several different versions of the Cajun delicacy. Whatever you choose, make sure your foodie bucket list includes plenty of cold Abita beer to wash them down.
Book a Local Food Tour Now
Explore your city's best bites, esteemed eateries and hidden gems with a top-rated tour guide.
7. Fly First Class for the Food
Since you've been checking items off your foodie bucket list, you've probably racked up enough credit card points to get a first-class ticket. For domestic flights, the experience really isn't worth the points. But for certain international carriers, it's a game changer. Look for lay-flat seats so that after your three-course napkin-worthy meal, you can settle in for a good nap and wake up when the wheels touch down.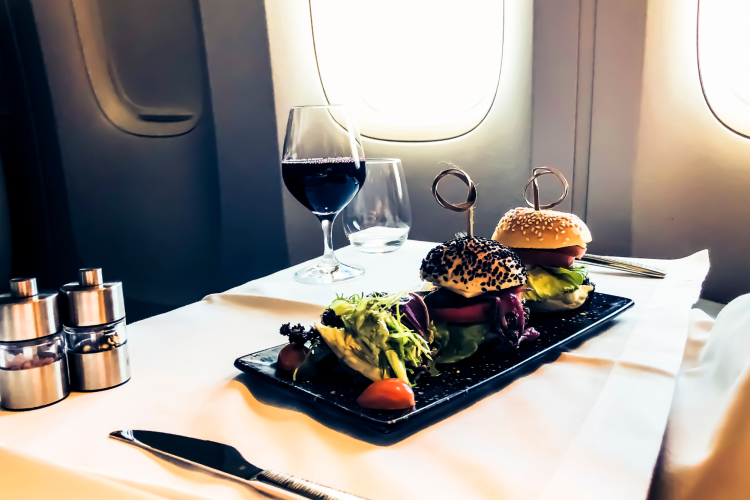 8. Make Père Roux's Cake
This foodie bucket list confection is not your mother's rum cake (except that it uses shortening). And making this decadent dessert is not for the baking faint of heart. But if you have the patience and the equipment, the rewards of Père Roux's cake will be worth the effort.
Why is baking this cake a food bucket list idea? Answer: Four fluffy cake layers flavored with both real vanilla beans and almond extract. A filling made from butter, brown sugar, overripe bananas and dark rum. But the icing on the cake is literally the icing on the cake: an ultra-rich butter and cream cheese frosting seals the deal. This is an absolute foodie bucket list show-stopper for Christmas dinner. The cake is huge, but you'll slice it small so there will be plenty of leftovers for breakfast. Yes, you will eat it for breakfast. It's almost better with morning coffee than as an after-dinner dessert.
9. Make Julia Child's Boeuf Bourguignon
Adventurous cooks could choose to do a Julie & Julia and put "cook all the recipes in Julia Child's Mastering the Art of French Cooking" on their foodie bucket list. The rest of us can be satisfied if we make just one of her iconic dishes. Boeuf bourguignon is the most famous, but deboning a duck for pate de canard en croûte is a more ambitious and foodie bucket list-worthy choice.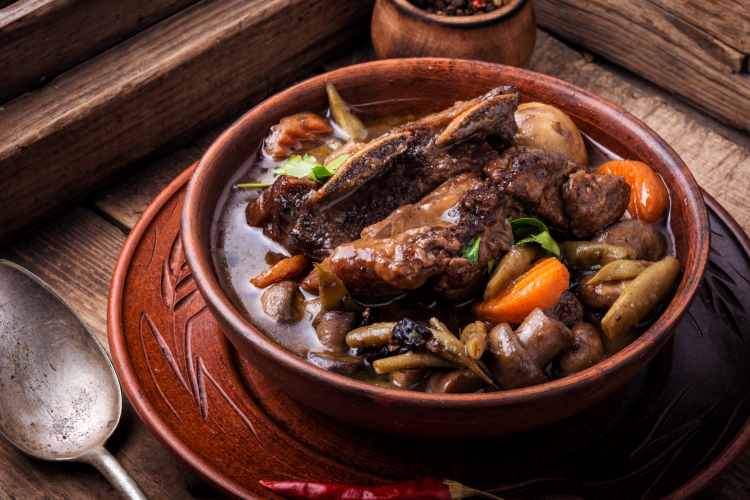 10. Try a Sensory Dining Experience
We're betting that very few of you have tried this, so let's add it to the foodie bucket list of to-dos. Sensory dining involves eating while blindfolded or possibly fully immersed in darkness. The idea is that all five of your senses — sound, sight, taste, touch and smell — will be utilized together to create a unique dining and eating experience.
Book a Local Food Tour Now
Explore your city's best bites, esteemed eateries and hidden gems with a top-rated tour guide.
11. Order Fancy Room Service at the Ritz Carlton
There's room service, and then there is foodie bucket list-style room service at the Ritz Carlton. Known for going above and beyond in every way, Ritz Carlton is one property where the expense of having a full meal brought to your room is worth the splurge.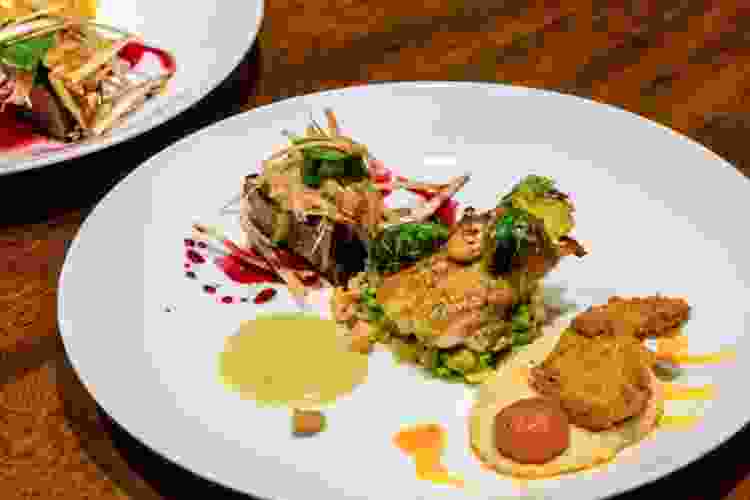 U.S. Foodie Bucket List Destinations
12. Eat Your Way Around the World at EPCOT
A lot of foodie bucket lists will include dinner at Cinderella's castle in the Magic Kingdom, and that is probably a good choice, too. But for those who crave something a little more sophisticated, EPCOT's world showcase is a good alternative. Eleven countries are represented, so if your foodie bucket list skips the United States (just so you can save room), that gives you 10 opportunities to sample foods you won't find on your average dinner menu. And because each country is decked out in its traditional style, you will feel like you've taken a vacation without getting on a plane.
Warning: EPCOT is still a theme park, so not all of the food on offer is foodie bucket list worthy. Do some research and choose carefully. Target foods should include the School Bread at Kringla Bakeri Og Kafe in Norway, the Biergarten buffet in Germany, galettes and crêpes at La Crêperie in France, the omakase menu at Takumi-Tei in Japan and, mainly for romantic ambiance, the San Angel Restaurante inside of Mexico.
13. Pick Apples in New England
The quintessential New England foodie bucket list experience should include a trip during foliage season, which also happens to be peak apple-picking season. Follow the Revolutionary War battlefields from Boston out Route 2 into Concord and Lexington, and then take a short detour to the tiny town of Stow, Massachusetts.
Honey Pot Hill Orchards has been in business since 1926 when it was a 70-acre family farm. Its current 186 acres include pick-your-own apple orchards, an authentic hedge maze, a petting zoo and a farm store where you can buy your apples if you don't want to pick them. Don't forget to get some fresh-pressed apple cider and their irresistible cider donuts while you check this one off your foodie bucket list.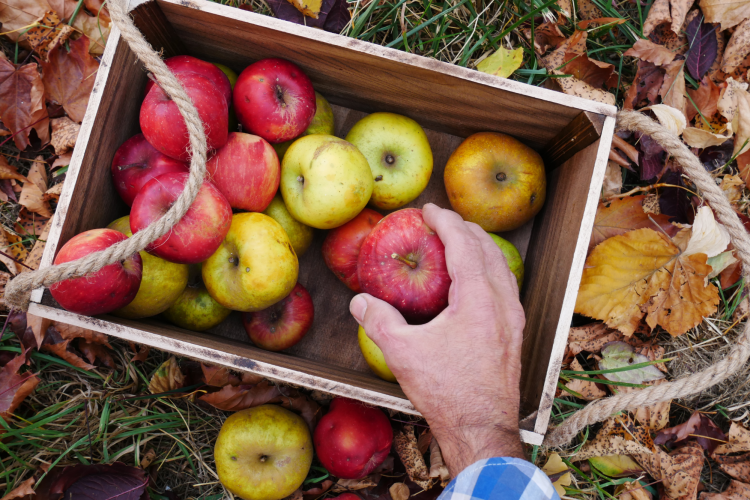 Gourmet Cooking Classes Near You
Take your culinary skills to new levels with guidance from five-star chefs.
14. Pig Out at the Buffet at Wynn Las Vegas
In the city of ultimate excess, there are several ways to have over-the-top foodie bucket list experiences. One is to pig out at the Wynn Las Vegas buffet. In true Wynn style, the dining space is colorful and inspiring, but so is the buffet. With more than 90 different items to choose from including a wide variety of international dishes, sushi, carving stations and an entire confectionery section, it's a true foodie bucket list jackpot.
15. Indulge on Italian Cookies at Mike's Pastry
No trip to Boston would be complete without foodie bucket list staples like a hearty pasta meal in the North End and a trip to Mike's Pastry for dessert. Boston is one of the best foodie cities and this Italian neighborhood is teeming with family restaurants and cafes that specialize in gelato and espresso. But the most coveted bite is a fresh cannoli from Mike's. As with any neighborhood gem/institution, be prepared to stand in line to earn your foodie bucket list prize.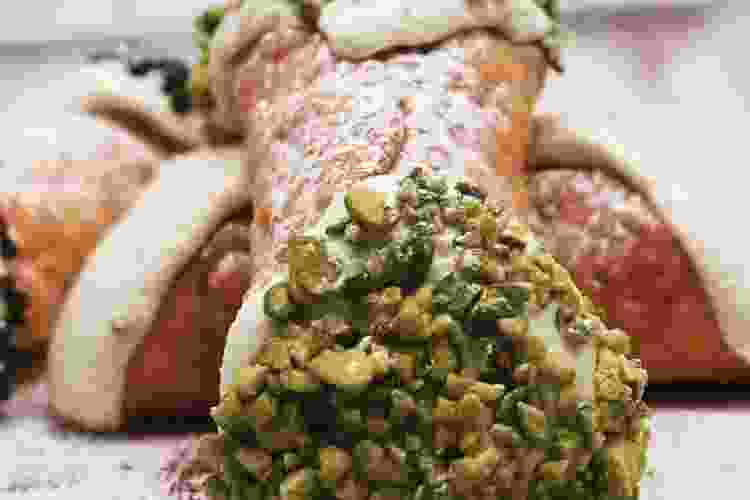 16. Watch Live Music and Sip Beer in Luckenbach, Texas
Skip the best BBQ in Austin. Let's go to Luckenbach,Texas with Waylon, Willie and the boys. This iconic outdoor country music venue is located in the rolling hill country of Texas. Get your dustiest cowboy boots on and get ready to kick up your heels at one of the many live concerts that they host throughout the year. Keep yourself refreshed with cold local beer. This foodie bucket list experience wouldn't be complete without a little retail therapy in the general store for souvenirs to prove you were there.
17. Eat at Hell's Kitchen
You can't say you've checked everything off your foodie bucket list until you've experienced Gordon Ramsay's Hell's Kitchen. There are several locations across the country now, but the OG is in Las Vegas and the star chef himself occasionally makes an appearance.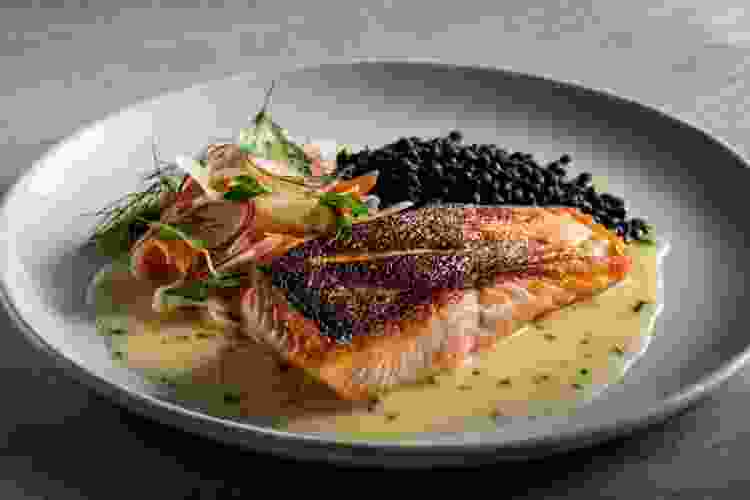 18. Take a Dinner Cruise of the Riverwalk
The San Antonio Riverwalk is overflowing with restaurants to fill any foodie bucket list. The best way to experience both the flavors of the area and the romance of the river is to book a dinner cruise. Check out Go Rio Cruises to learn about the rotation of restaurants that offer group dinner cruises.
Book a World-Class Private Chef Now
Five-star fine dining from the comfort of home. Find your favorite private chef experience starting at $59/person.
19. Eat Twice a Night in Washington, D.C.
Our nation's capital has an incredible number of amazing restaurants and opportunities to sample foods you won't find elsewhere (unless you go to another country). One dinner per night isn't enough! A good foodie bucket list plan is to schedule two dinners per night when you are in town, one early reservation and one late. Top targets should be Rasika, Old Ebbitt Grill, Zaytinya by Jose Andres and Marcel's. There is plenty of walking to do between meals to work off the calories.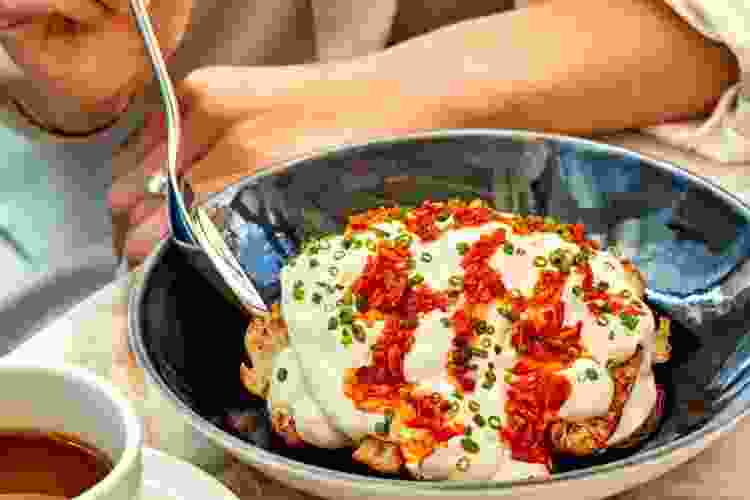 20. Catch, Kill and Cook Your Own Wild Game
This might include deer, wild boar or even game fish. But you haven't lived your foodie bucket list until you've participated in a squirrel cookoff. Louisiana is not only a sportsman's paradise, it's also a place where there is a festival for everything. At the annual Sportsman's Heritage Festival in St. Landry Parish, foodies can sample and vote for the best wild game in the Fur, Feathers, or Fins cook-off.
21. Finish a Kimball Special
If you're exploring New England in the summer months, there will be plenty of opportunities to get real dairy-made ice cream. One place to put on your foodie bucket list is Kimball Farm. You can get a scoop or three, but we recommend that you go big or go home with the 5-scoop Kimball Special.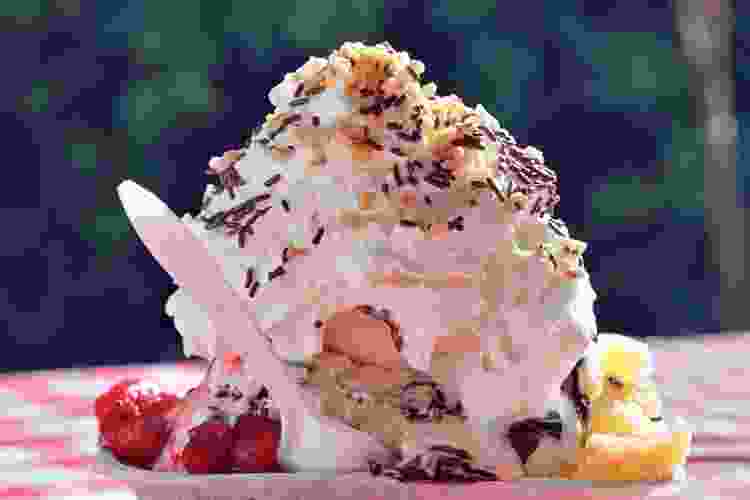 22. Experience St. Anthony's Feast in Boston's North End
Known as the "feast of all feasts," this Boston festival is essentially an Italian food lover's ultimate food bucket list dream come true. It's like your nonna and all her besties decided to spend about a week in the kitchen and then it overflowed into the streets. There are parades, live musicians and merchandise galore to browse while you stuff yourself on Boston's best of the best Italian food and drink.
23. Take a Lobster Cruise in Maine
One of the best ways to experience what New England has to offer is to put Maine on your foodie bucket list. Start with a lobster cruise on one of the Finestkind boats that leave from quaint Perkins Cove in Ogunquit and see what it's like to pull a live lobster from a trap. Afterward, grab a table at the legendary Barnacle Billy's (located next to the docks) and experience the joy of a perfectly prepared cold lobster roll on a buttery split top bun.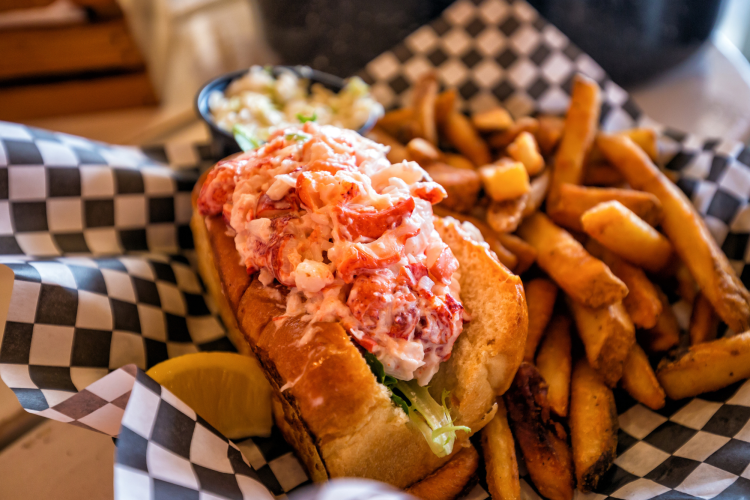 Book a Local Food Tour Now
Explore your city's best bites, esteemed eateries and hidden gems with a top-rated tour guide.
24. Catch a Flying Fish at Pike Place Fish Market
Made famous by the FISH Philosophy corporate training program, there is no question that trying to catch a flying fish at Seattle's Pike Place Fish Market should be on any foodie's bucket list. Pike Place Fish Company is just one of the dozens of places you'll want to check out at the Seattle Public Market, and eating as much food as you can here should also be on your foodie bucket list.
25. Eat Pralines in New Orleans
In New Orleans, you'll find lots of shops selling sugary pralines and eating a dozen or so of these should be on your foodie bucket list. A stroll down Decatur will lead you toward the French Market and you'll smell them before you see them. Look for spots where they're actually making them fresh to go and in a variety of fun flavors like coconut, peanut butter or rum.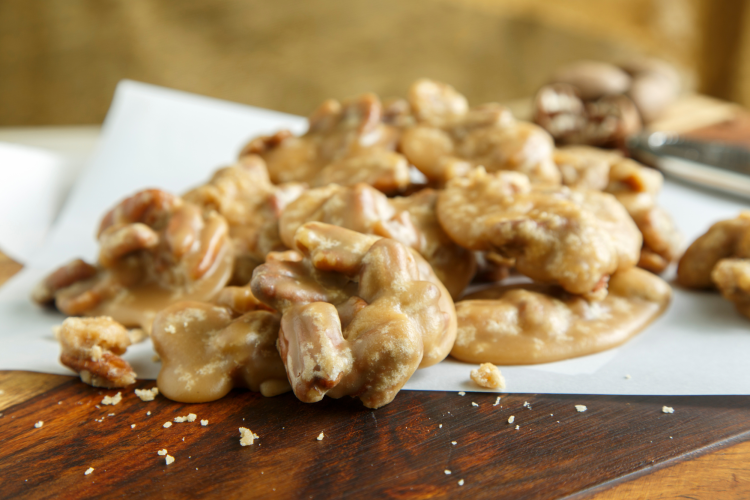 26. Eat a Fenway Frank
If you're catching a Red Sox game in Boston, then you're on deck to eat a Fenway Frank. It only counts if you order it from one of the vendors making their way through the stands. Be sure to have your cold Samuel Adams ready. Alternatively, you could achieve this foodie bucket list goal at Wrigley and have hot dogs in Chicago instead.
27. Taste Real Olive Oil in Napa
There is a fabulous book about the olive oil industry by Tom Mueller that everyone should read before they buy their next bottle of Bertoli from the grocery store. Knowledge is power, and once you learn that what you're buying is likely not even made from olives, your life will change forever. When you want to know what you've been missing, put a visit to Round Pond winery on your foodie bucket list. They offer olive oil and food tasting where you'll learn what real and good look like.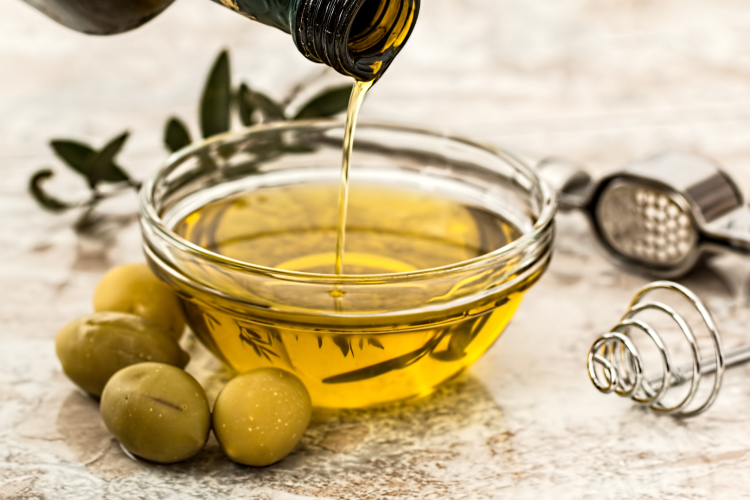 28. Take a Sleigh Ride to Dinner on a Mountain Top
After a long day of skiing in Park City Utah, you'll have worked up an appetite. One of your foodie bucket list choices is to refuel at Flanagan's on Main, an Irish pub serving life-changing corned beef sliders. Follow that with two fingers' worth of High West Whiskey, distilled right there in the heart of Mormon country.
For a true Salt Lake City foodie bucket list experience, get dinner reservations at the Norwegian Viking Yurt. This hut is located at an elevation of 8,700 feet and you'll take a 23-minute sleigh ride to get there. Settle in for a four-hour, six-course winter warmer complete with pewter dinnerware and live music played on a baby grand piano. If you can't make it for dinner, make an entry on your foodie bucket list to ski in for lunch and scarf down a hot bowl of chili and a cold Guinness on draft.
Book a Virtual Wine Tasting Now
Bring the winery home with an unforgettable live virtual wine tasting. Your personal sommelier is standing by.
International Foodie Bucket List Destinations
29. Dine Cliffside on the Sea of Cortez
The dining experience at El Farallon in Cabo San Lucas is a one-of-a-kind must-add to any foodie bucket list. Located at the Waldorf Astoria in the Pedregal, just arriving is special. You'll wind your way on foot through a desert scape of carefully placed cacti, lanterns, candlelit walkways and desert rock to arrive first at the Champagne Terrace, and then into a dining space on a cliff situated just above the crashing waves of the Sea of Cortez.
The kitchen is open-air and the daily catch is prominently displayed beneath apropo chalkboards bearing quotes from Hemingway's The Old Man and the Sea. The key to this foodie bucket list experience is to time your reservation so that you can enjoy a pre-dinner Champagne flight and then be seated just as the sun begins to set.
If a culinary-inspired marriage proposal is on your foodie bucket list, this is undoubtedly one of the most romantic and spectacular settings in the world where you'll be inspired to pop the question.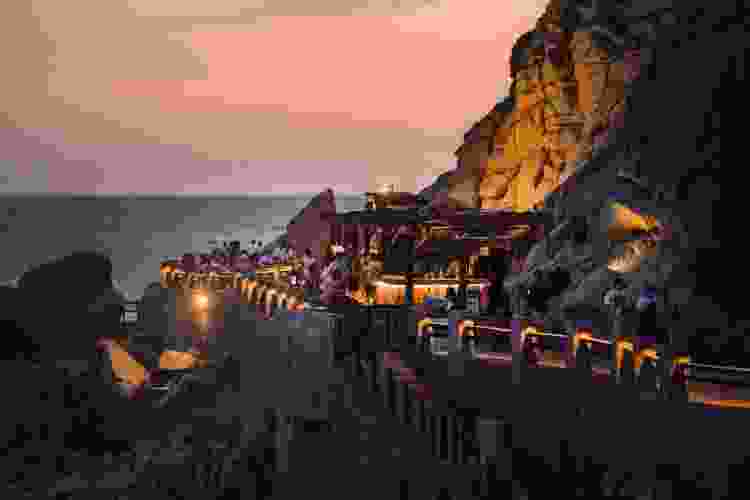 30. Nibble Jambon et Fromage in Les Saintes
Is there any better foodie bucket list experience than eating a jambon et fromage on a fresh French baguette slathered in butter? Yes! It's tasting that simple joy on a tiny French-speaking island in the Caribbean that no one else has ever heard of.
Arrive at charming Terre-de-Haut by ferry from the main island of Guadeloupe, or if you're lucky, by private charter. Work up an appetite by hiking up to Fort Napoléon. Then grab le sandwich and a cold bottle of rosé and head to magical Plage de Pompierre for a picnic. Take a refreshing plunge after lunch but before you cross this one off your foodie bucket list, be sure to bring your goggles so you can see those adorable sea turtles swimming with you.
31. Embrace Octopus in Mykonos
Even for a foodie, octopus can be confounding. Your first experience was probably the cold, rubbery chunks served in sushi restaurants. Or a terrible marinated salad bar version. Or greasy battered and fried calamari (which is actually squid). Properly prepared octopus is a labor of love. It is boiled, tenderized, marinated and then grilled. Prepare to have your life changed when you put Mykonos, Greece on your foodie bucket list.
When it comes to foodie bucket list dinners in Mykonos Town, you will want to put Maereio on your list for sure (Rick Steves said so). But what about lunch?
Check into the Myconian Ambassador at Platis Gialos. Wake up to the most foodie bucket list-worthy breakfast buffet you've ever seen. Nap it off on the beach. When you're ready for a late lunch, slip on your sandals and grab a seat at Yialo-Yialo. Order the grilled octopus and a glass of rosé. One bite is all it takes. We promise.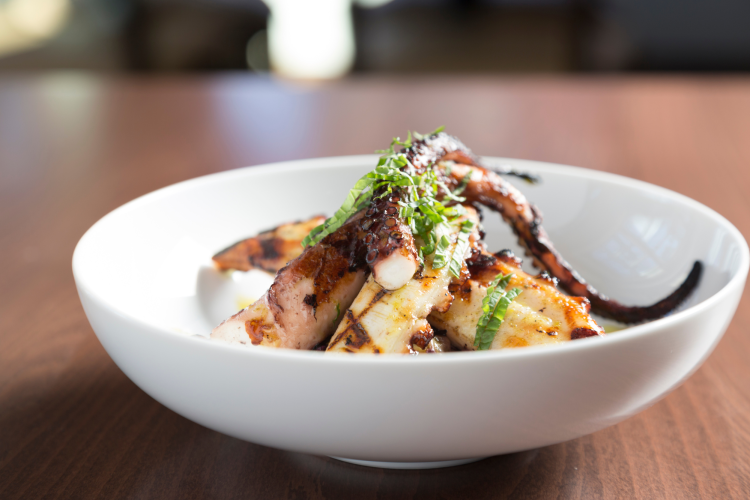 Book a Gourmet Cooking Class Now
Kick-start your culinary confidence with help from a world-class chef. See what's cooking in your city today.
32. Stay at a Tuscan Olive Oil Plantation
There are a thousand foodie bucket list experiences in Italy. Do them all, but make sure that Villa Campestri is on your list. This Renaissance estate is a first-of-its-kind resort built around centuries-old olive groves. Every room is decorated in a refined yet old-world style, and every one has a view of the rolling hills outside.
You'll walk the vineyards, explore the gardens, shop at local markets, participate in the food preparation and — most importantly — you'll taste everything, including some of the best and freshest olive oil in the world. If you are not already an olive oil snob, you're about to become one. Learning about how to identify and use real olive oil should be on any foodie bucket list.
33. Yell Prost and Chug Beer at Oktoberfest in Munich
You've been to lots of festivals before, but you've never experienced anything like this. Oktoberfest in Munich, Germany actually takes place in September and lasts for 18 days. It is colorful, boisterous and rowdy fun, yet somehow remains orderly and organized in true German form. This is hands-down a must-do for any foodie bucket list.
You'll have to purchase tickets in advance if you want to get into a "tent." You'll want to invest in some lederhosen or you'll look like a tourist. It's everything your foodie bucket list imagination dreamed it would be and way more.
Well-endowed women in dirndls hoisting beer steins overhead and girls in pigtails selling Bavarian pretzels. Oom-pah-pah bands in every direction. Table dancing, chicken dancing. Even if you can't get a tent pass, anyone can pay the entrance fee and wander the grounds in order to cross this off your foodie bucket list. There are even family-friendly rides and attractions if you absolutely must bring the kids.
Oh, and you'll want to stay at the Platzl Hotel in Old Munich. The rooms are basic but you won't remember them so just go for another foodie bucket list as-good-as-Greece-if-not-better breakfast buffet.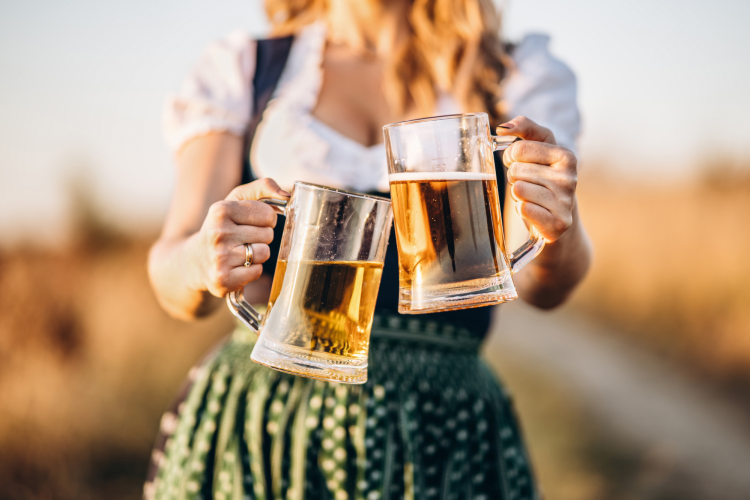 Book a World-Class Private Chef Now
Five-star fine dining from the comfort of home. Find your favorite private chef experience starting at $59/person.
34. Tableside Catch of the Day in Marigot
Any trip to the Caribbean offers foodie bucket list seafood eating opportunities, but a lot of those include frying the catch of the day instead of treating it with the respect it deserves. That's why your foodie bucket list should include dinner in Marigot on Saint Martin.
Many people visit Saint Martin as a cruise port of call. Boats dock in Philipsburg which is on the Dutch side and which is a bit overrun with tourist trap souvenir shops. You can take a cab to Marigot on the French side where you'll find a charming and walkable town center with many foodie bucket list-worthy restaurants and craft shops to browse.
Almost every restaurant will have a chalkboard out front listing the catch of the day with choices like parrot fish, trunk fish or trigger tail. Look for a fine-dining establishment that offers the entire fish deboned tableside. Remember, in order to be foodie bucket list worthy, fish should swim three times: first in water, then in wine and lastly in butter.
35. Sip Scotch in Scotland, Try Haggis
Scotland may not be a country you'd think of for a foodie bucket list, but what they lack in terms of food they make up for in beverages. It's called whiskey when it's made anywhere else but in Scotland, it's scotch. To sample the best, visit Oban Distillery. Oban is a very small batch producer and the tour is short and sweet, but you get a sample at the end served in a really nice keepsake glass.
Another way to cross scotch tasting off your foodie bucket list is to sip it after a hearty Scottish meal. Three Chimneys restaurant on the Isle of Skye will require you to use an actual map vs. GPS due to its remote location. You'll also need to be good at dodging the sheep and cattle that will be wandering the roads along your way. But their chef's table experience is one-of-a-kind and worth the adventure for sure.
And don't forget to put "try haggis" on your foodie bucket list if you're into adventurous eating. The best way to compare it would be to boudin in New Orleans, but if you don't know what that is either, just trust us and don't ask.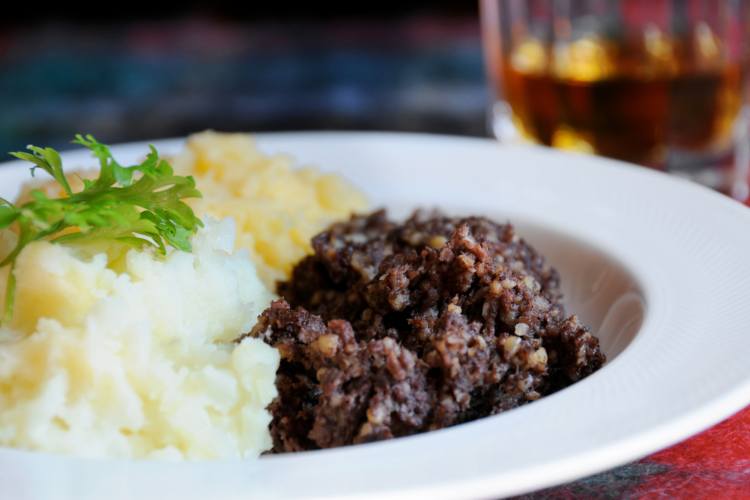 Book a Local Food Tour Now
Explore your city's best bites, esteemed eateries and hidden gems with a top-rated tour guide.
36. Pursue Joie de Vivre in Paris
Every foodie should have a foodie bucket list just for Paris. The city of love holds the promise of secret rendezvous and stolen kisses between lovers late at night, the glitter of the Eiffel Tower and the romance of the Seine. And the true joy of life which is a perfect croissant.
Channel your inner Julia Child and prepare to make major strides on your foodie bucket list here. Wander the food markets. People watch in streetside bistros while sipping cafe au lait and nibbling on madeleines. Eat sublimely perfect escargot at the unassuming Polidor in the 6th arrondissement. Finish with duck confit (and two bottles of bordeaux) at Le Caveau de L'isle in the neighborhood of Isle St. Louis, just a few steps from Notre Dame.
37. Eat a Sugar Shack Feast in Quebec
When in Canada, one of the best things to put on your foodie bucket list is to visit a sugar shack. This is the affectionate name given to maple syrup plantations that have successfully turned the art of producing sugar into a commercialized foodie bucket list experience. Think log cabin hidden deep in the forest and indoor dining spaces warmed by a fireplace with communal picnic tables and all-you-can-eat buffets.
The sugar shack feast celebrates the coming of spring, but also all the ways that the components between tree sap and the final product of maple syrup and sugar can be used culinarily. A typical sugar shack meal includes soup, baked beans, spiced pork, ham sausages soaked in maple syrup, omelets, crêpes and endless sweet-tooth temptations. The maple syrup isn't the only on tap — so is live foot-stomping, two-stepping entertainment and most likely local draft beer.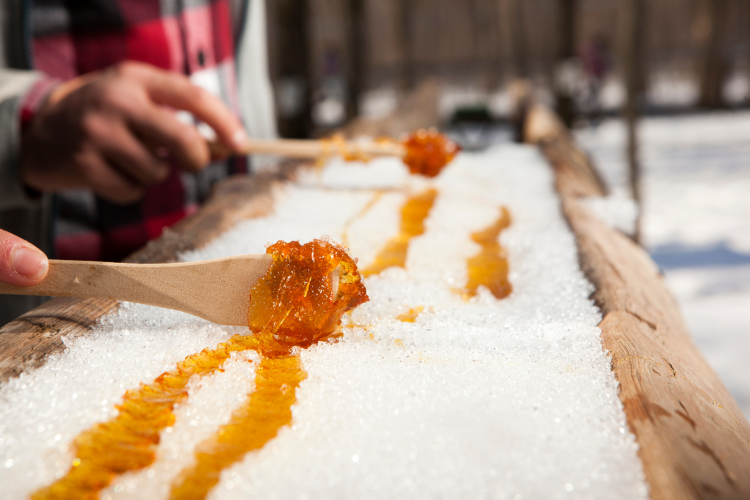 38. Eat Termites in Costa Rica
We've got your attention now! Costa Rica isn't a top destination for foodie bucket list experiences, but it is top on many lists because of the opportunity to explore real rainforest. Many tours in Costa Rica will involve a jungle trek where you'll see adorable capuchin monkeys, sloths and innumerable tropical birds. But you'll also find giant termite nests built into trees on these hikes. Did you know that termites taste like popcorn? It's a handy tip in case you lose your way and get hungry.
Join a Live Online Cooking Class Today
Your kitchen is now your own culinary classroom. Connect with chefs from around the world right from the comfort of home.
39. Wine and Cheese Picnic in the Alsace
The Alsace region on the border between France and Germany is a foodie bucket list must. Combine old-world charm, French and German-influenced menus, and a French wine region famous for its production of Riesling wine and you've got all the components of a foodie bucket list paradise. Bike paths that wind and weave through local vineyards lead to open fields that make the perfect romantic backdrop for a picnic, so grab some camembert and paté on the way. If you prefer to drive, follow the Alsace wine route.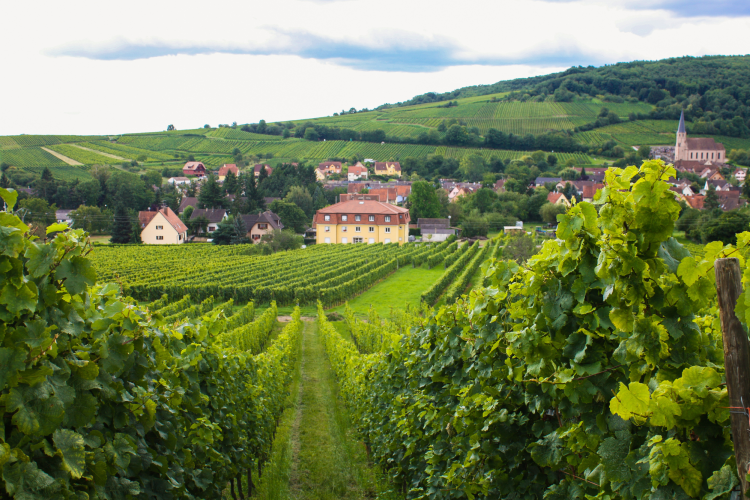 40. Eat With Silverware on the Beach in St. Kitts
When your cruise ship makes a stop in Basseterre, St. Kitts, skip the souvenir shops and head straight to Banana Bay beach to fulfill this foodie bucket list experience. This picturesque beach faces sister island Nevis and has a full-service restaurant that also provides beach service. The daily special varies, but you can be sure it will be a fresh grilled fish served with a coconut-raisin slaw, local pumpkin and traditional rice and peas. Lunch is served on real china with cloth napkins and real silverware.
41. Dive for Conch on Middle Caicos
You can take a vacation on the main island in Turks and Caicos, but the real foodie bucket list adventure is on tiny Middle Caicos. This is one of the few places in the world where it is legal to dive for conch. Take a ferry and arrange for a local to take you out for some snorkeling and see if you have what it takes to make the plunge. You can fry up your catch for dinner, but conch makes an awesome ceviche.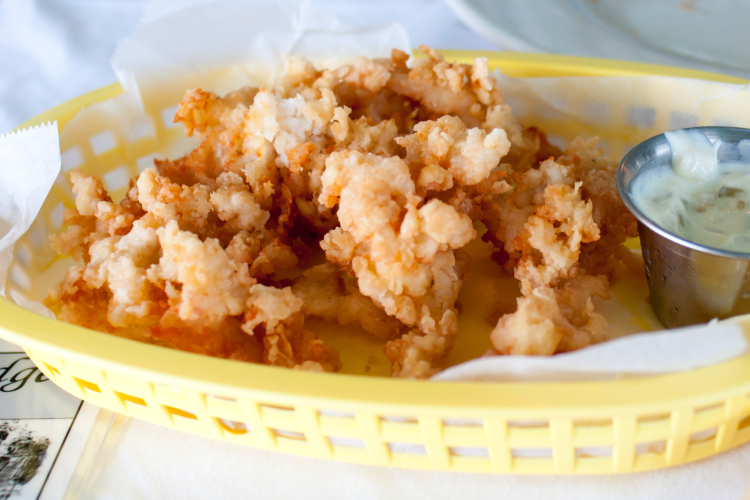 42. Dine on a Boat in the Abacos
A splurge-worthy foodie bucket list vacation idea (or the perfect honeymoon idea) is to hire a captain and do a private boat charter. Cruise Abaco services the Abaco islands of the Bahamas and they will set you up with everything you need, including a captain. They'll also stock your kitchen with everything you need to have a foodie bucket list feast without leaving your boat.
43. Learn to Pour a Proper Pint in Dublin
The Guinness Storehouse in Dublin, Ireland is like an amusement park for beer enthusiasts, or at least it is for Guinness fans. If you love the black stuff, a visit should be on your foodie bucket list. Part of the experience is an activity where you learn to pull a proper pint of Guinness from a draft. You'll get a completion certificate and yes, you'll get to drink it when you're done.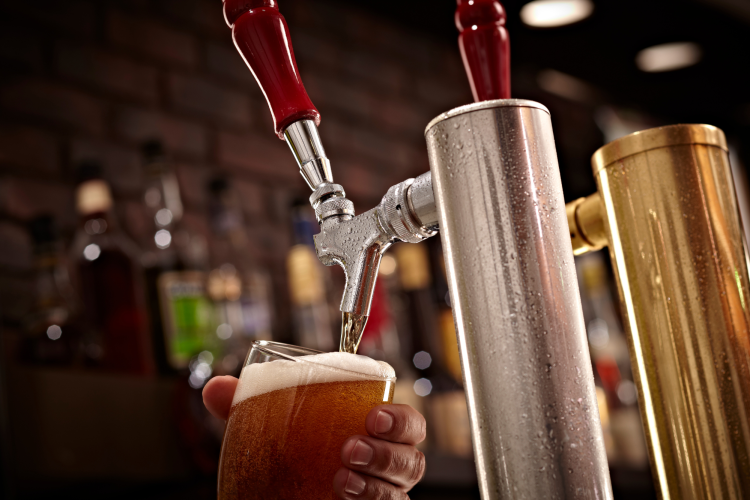 Gourmet Cooking Classes Near You
Take your culinary skills to new levels with guidance from five-star chefs.
44. Sip Rum and Yacht Shop in St. Barths
St. Barths is one of the most exclusive ports in the Caribbean, and they host an annual bucket regatta where you can watch expert yachtsmen park J-boats as easily as if they were backing a compact car into a parking spot at Walmart. Have a foodie bucket list-worthy dinner at Bagatelle (we recommend the lobster pasta if available). It's pretty common in St. Barth's for a restaurant to give you a free shot of local rum after dinner, so when the sun goes down, find a good spot with a view of the glittering people coming and going for the boat after-parties and sip as if you were one of them.
45. Have a Ryokan Dinner in Japan
Staying at a Japanese ryokan is a unique idea for a foodie bucket list. A ryokan is the Japanese version of a hot spring resort with traditional Japanese accommodations. Part of the experience is to wear your yukata to dinner where you will sit on the floor and enjoy a multi-course, artfully prepared meal that features local food and signature dishes of the ryokan itself.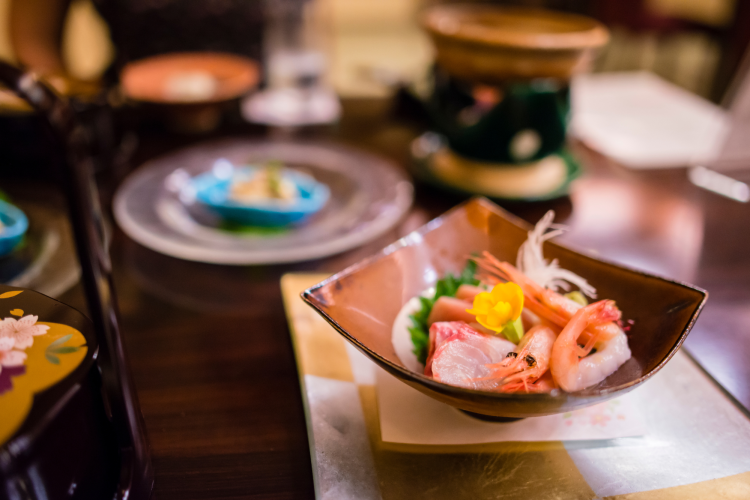 46. Make Homemade Tortillas in Oaxaca
Known for being the epicenter of the famous Dia de los Muertos, or Day of the Dead Festival, Oaxaca, Mexico is also a place to try your hand at tortilla making. A great addition to your foodie bucket list is to sign up for a tour with G Adventures and you'll get to experience the best of both the festival and the food.
47. Breakfast By the Caldera in Santorini
This experience is for both your foodie bucket list and your amazing places to stay bucket list. Santorini, Greece is unquestionably one of the most beautiful and romantic places in the world. Splurge for a suite at Oia Castle Art Maison and enjoy breakfast delivered to your private patio overlooking the caldera (the bay created by a volcanic crater that formed Santorini). The indoor cave pool in your room is pretty spectacular, as is the view of the sunset, but the homemade Greek yogurt with candied raisins and pastry selection is the best part of all.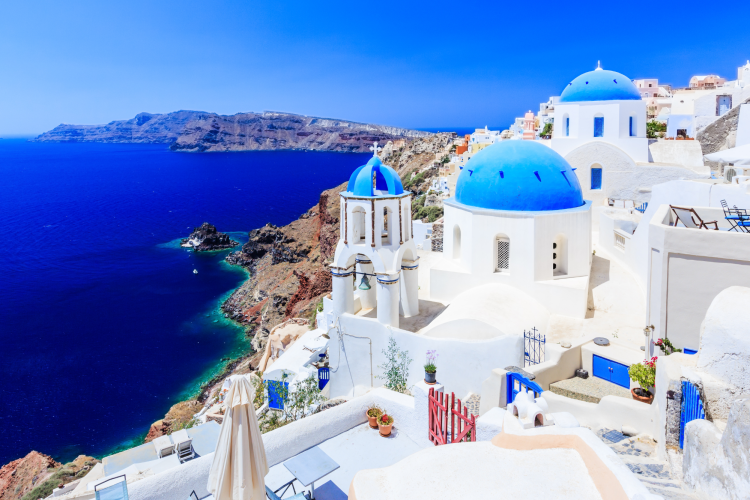 48. Have a Mallorca for Breakfast in San Juan
Exploring the charming streets of Old San Juan is a foodie bucket list-worthy trip. There are fresh ceviches, heaping paellas and colorful mofongos on every corner. But the best-kept secret is the mallorca, a Puerto Rican sweet bun dusted in powdered sugar. It's usually served for breakfast and the best one can be found at Cafeteria Mallorca. Try the original first, and then the ham and cheese.
Book a World-Class Private Chef Now
Five-star fine dining from the comfort of home. Find your favorite private chef experience starting at $59/person.
49. Dine in Style on a Luxury Train
The top foodie bucket list choice for this experience is to explore options from Belmond. The luxury hotel brand also boasts a selection of luxury train itineraries that travel to some of the most interesting places in the world. There are two options serving destinations in the Peruvian Andes as well as their original Venice-Simplon Orient Express in Europe.
50. Eat at Ultraviolet in Shanghai
We have saved the best and most exclusive foodie bucket list experience for last. Chef Paul Pairet has created a truly unique multi-sensory food experience available to only 10 guests per night in Shanghai, China.
This totally unconventional meal takes place in a secret location that diners are led to from a meeting point. The 20+ course menu involves not just food, but lights, sound and smells coming from all directions. Recently added to the list of top restaurants in the world, getting a reservation at Ultraviolet and being able to afford it are the two biggest obstacles to achieving this foodie bucket list goal.

Join 200,000+ Culinary Enthusiasts
Exclusive deals, recipes, cookbooks, and our best tips for home cooks — free and straight to your inbox. PLUS: 500 Rewards Points.
This ultimate foodie bucket list is more appetizer or amuse-bouche than icing on the cake. Work through it bite by bite, and course by course, and create flavor memories that you'll savor forever. Digest what is here but always stay hungry for more. And always remember that the best way to live your foodie bucket list is with someone who loves food as much as you do.
For even more fun ways to explore your favorite foods, check out other experiences happening on Cozymeal.