16 San Francisco Foods To Try in 2023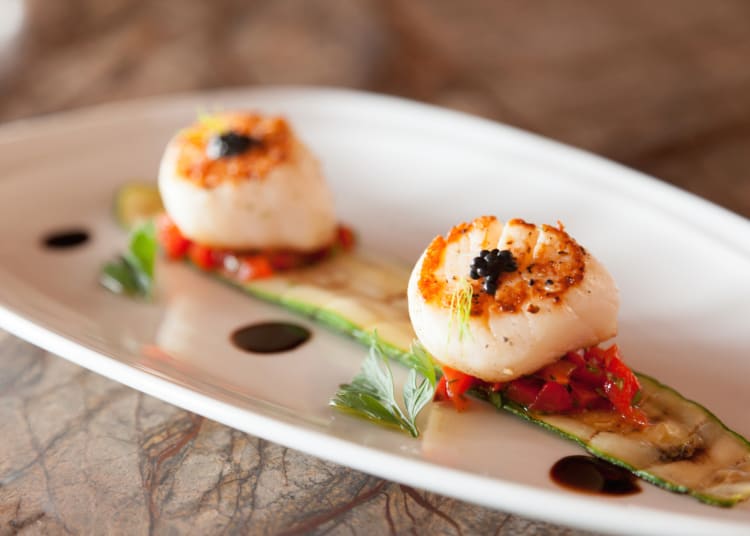 We all know that the San Francisco food scene is one of America's greatest, right? We can agree on that. But whether you lived here before tech or relocated two weeks ago, there are always new treats to try in San Francisco.
These San Francisco foods form the city's culinary core. Through a combination of unique local ingredients, exceptional past residents and that trademark SF ingenuity, we've inherited foods that would seem bizarre elsewhere. You can't beat them. Enjoy.
Jump to Section
Best Cooking Classes in San Francisco

Master the art of gourmet cuisine taught by the best chefs in San Francisco.

Book Now
1. The Original Gold Rush Sourdough Bread at Boudin Bakery
Sourdough was actually the most common leavening method for most of human history. It refers to the process of using certain naturally occurring yeasts rather than baker's yeast. The latter makes normal bread. Baker's yeast is only about 150 years old.
French bakers came to San Fran during the Gold Rush for the money and stayed for the weather, adapting their baking techniques to their new home. Now, the sourdough loaf is one of the staple San Francisco foods loved by locals and tourists alike. Some of the most famous sourdough in the city can be found at Boudin Bakery, who have been making these iconic loaves since 1849.
Boudin Bakery | 160 Jefferson St., Lower Level, San Francisco, CA 94133 | $$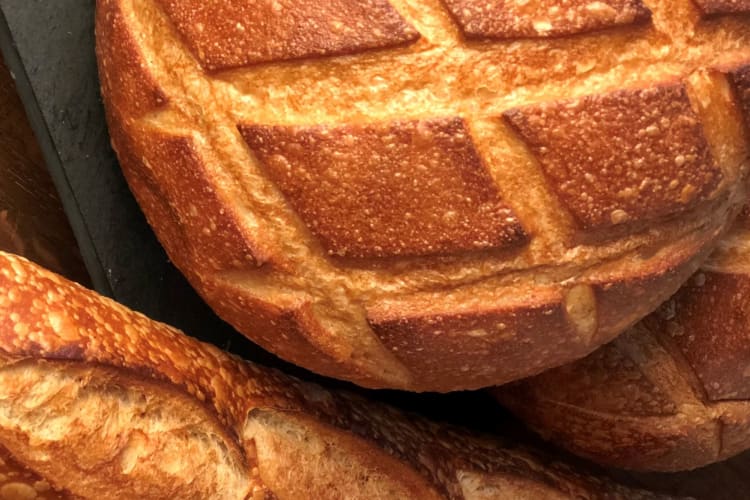 2. It's It
The It's It may have an unassuming name, but this beast of a dessert sandwich is one of the best San Francisco foods. George Whitney created It's It — a generous scoop of ice cream between two old-fashioned cookies — as a way to attract visitors to Playland at the Beach near Ocean Beach. The treat originally only came in one flavor, but now you can have It's It in chocolate, mint, pumpkin, cappuccino and strawberry while strolling on the breezy beach.
It's It Ice Cream Company | 865 Burlway Rd., Burlingame, CA 94010 | $$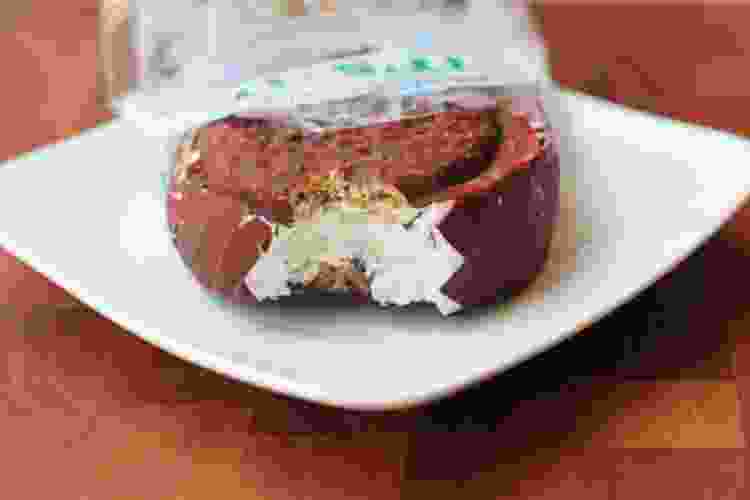 3. Hangtown Fry at Tadich Grill
Legend has it that the Hangtown Fry, a savory oyster and bacon omelette, was the most expensive thing a miner could order in Placerville, aka Hangtown, after he struck gold. Another tale says it was the last meal of a condemned man who knew the retrieval of oysters would delay his execution.
Thankfully, we live in an era where eggs, oysters and bacon are readily available, and we don't worry about smallpox quite as much. This is a must-try San Francisco food to add to your list, and the Hangtown Fry at Tadich Grill is the dish for you if you want authenticity to the max. They've been serving it for over a century, so you know they've perfected the recipe!
Tadich Grill | 240 California St., San Francisco, CA 94111 | $$$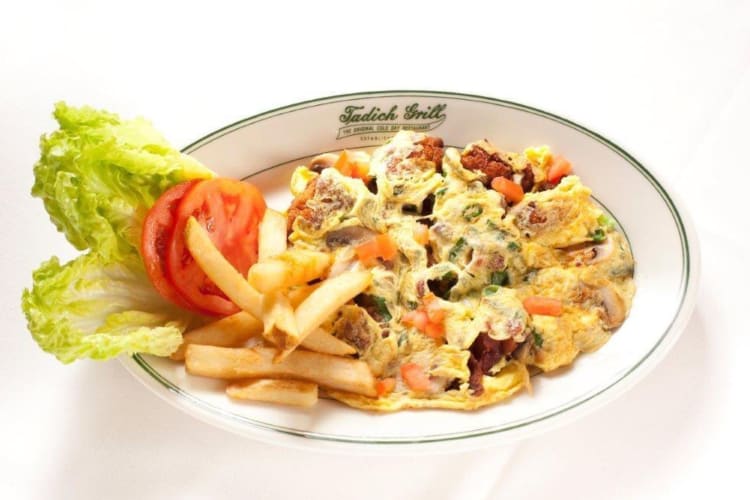 4. Cioppino at Sotto Mare
Does this classic San Francisco food get its name from ciuppin, an Italian word for to chop? Or a misheard interpretation of an Italian immigrant's pronunciation of "chip in?" Regardless, this hearty, flavor-packed stew of everything leftover from the day's catch will satisfy your cravings for any and all seafood. The cioppino at Sotto Mare feeds two and is served with all the requisite equipment of a serious seafood stew, from bibs to bread.
Sotto Mare | 552 Green St., San Francisco, CA 94133 | $$
5. Martinis at Bix Restaurant
Maybe not technically a San Francisco food, but this is still a must-try culinary indulgence. The world's most iconic cocktail has its roots in the Occidental Hotel, where the bartender would mix a "Martinez" cocktail for the passengers on the ferry bound for Martinez. The people of Martinez itself, however, dispute that claim, saying that they invented the drink. Either way, after more than one martini you won't remember what city you're in.
The best martini in San Francisco is hard to pinpoint — there are just so many great mixologists— but the one at Bix Restaurant made martinis the drink again in San Francisco back in 1988, so it's the one to imbibe first.
Bix Restaurant | 56 Gold St., San Francisco, CA 9413 | $$$$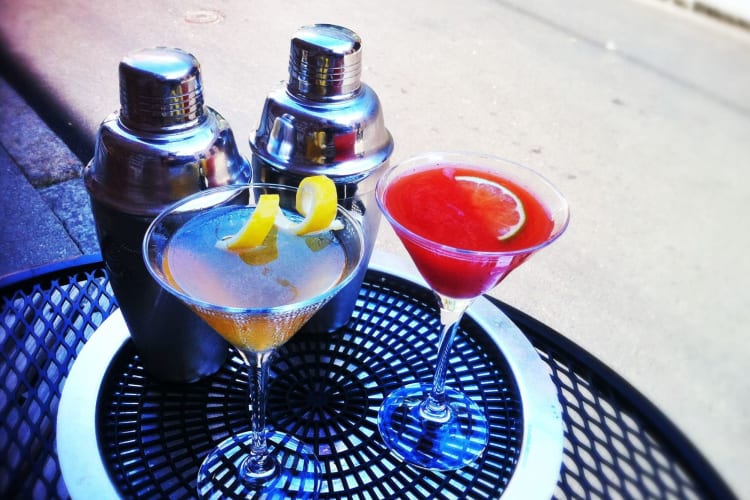 Book a San Francisco Food Tour
See San Francisco's famous food scene in a whole new light. Explore the best restaurants, hotspots and more with top local guides.
6. Chicken Tetrazzini
"I will sing in San Francisco if I have to sing in the streets, for I know the streets of San Francisco are free." — Luisa Tetrazzini, famed Italian soprano singer.
The tale of this classic San Francisco food is an interesting one. The story goes that the head chef of the Palace Hotel, Ernest Arbogast, devised the dish in homage to Tetrazzini's extravagance after a trial banned her from performing in New York. While there's no evidence Luisa Tetrazzini ever got to sample her namesake dish — chicken in a rich cream sauce over spaghetti — plenty of people call it a favorite in the city by the Bay.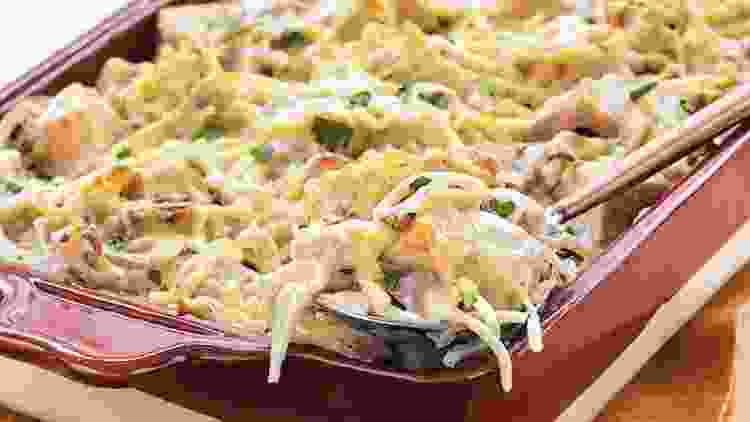 7. Fortune Cookies at the Golden Gate Fortune Cookie Factory
"Love is not yours today." —A bitter fortune cookie.
Makoto Hagiwara, the Japanese inventor of America's most popular Chinese dessert, won proprietorship of the clairvoyant dessert through a court case against two Los Angeles restaurateurs in 1983. He had been serving the treat, modeled after a Japanese cracker, since the 1890s.
To learn more about the history of this famous little cookie and stock up on sweet, crunchy souvenirs, you must visit the famous fortune cookie factory in San Francisco. The photo opportunities are golden, too!
Golden Gate Fortune Cookie Factory | 56 Ross Aly, San Francisco, CA 94108 | $$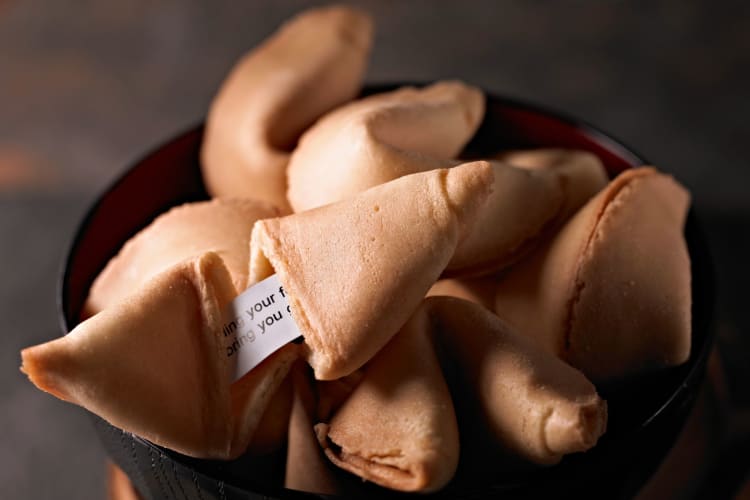 8. The Original Anchor Steam Beer
"Steam" was once a moniker for any West Coast beer brewed without ice, but these days Anchor Steam has a trademark on the term. "Steam" may also have once referred to the practice of cooling the beer in the night fog, but now it's all about the unique taste of San Francisco's trademark amber beer.
Anchor Brewing Company | 1705 Mariposa St., San Francisco, CA 94107 | $$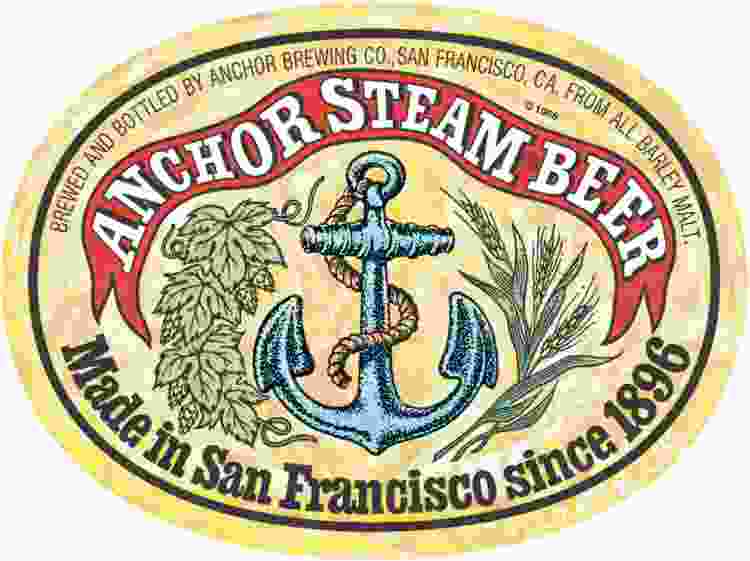 9. Crab Louie Salad at Scoma's Restaurant
The king of salad, the earliest records of this San Francisco food are in a 1910 cookbook by the head chef of the St. Francis hotel, on a menu at Solari's in 1914 and as a recipe in the Bohemian Club of San Francisco. All these ancestors unite in our modern version: Iceberg lettuce, crab (preferably Dungeness), tomato, asparagus, hard-boiled eggs and Louie dressing (mayo and chili sauce). Nowadays, we'd have to say that the best Crab Louie salad can be found at Scoma's Restaurant. You can't go wrong with half a pound of Dungeness crab meat and chefs who know what to do with it.
Scoma's Restaurant | 1965 Al Scoma Way, San Francisco, CA 94133 | $$$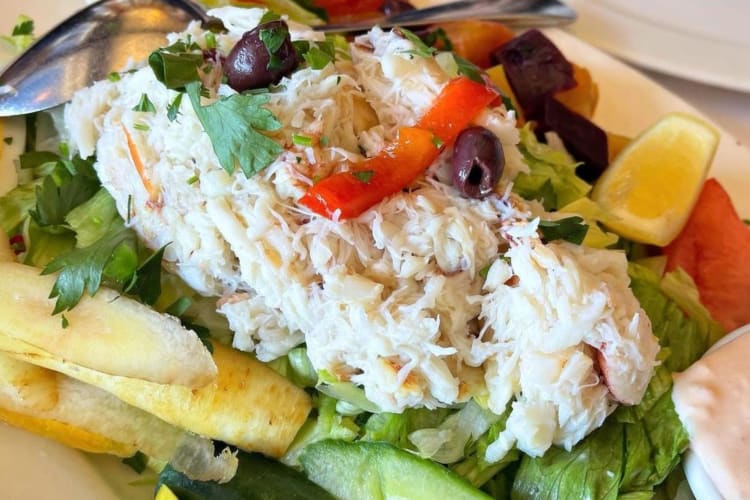 10. Pisco Punch at Comstock Saloon
If you've ever been drunk in the Transamerica building, you're not alone. Duncan Nicol invented pisco punch at Bank Exchange & Billiard Saloon, which used to rest at the intersection of Montgomery and Washington, where our triangular skyline ornament now stands.
The Pisco Punch at Comstock Saloon features (and we quote) pisco, pineapple gum, lemon and secrets. Yes, secrets. Just like the original recipe invented by Nicol.
Comstock Saloon | 155 Columbus Ave., San Francisco, CA 94133 | $$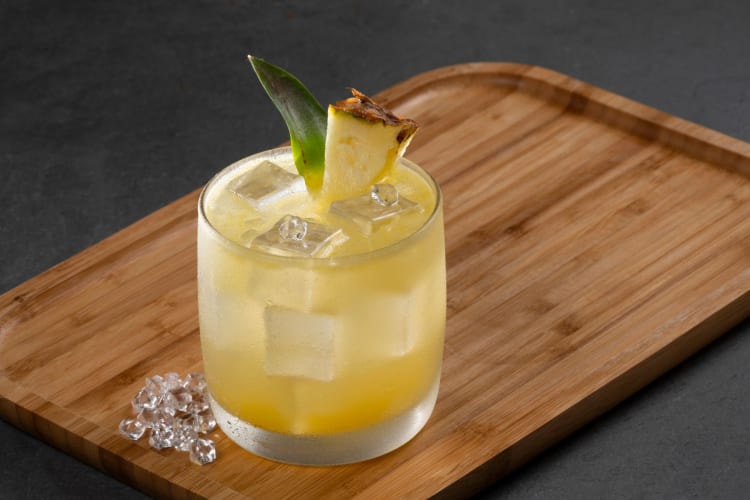 11. A Variety of Oysters
The San Francisco food scene not only boasts great oysters (drive just an hour north to shuck your own) but also gathers the best oysters from the entire Pacific: Pacific, Olympia and even Kumamoto from Japan.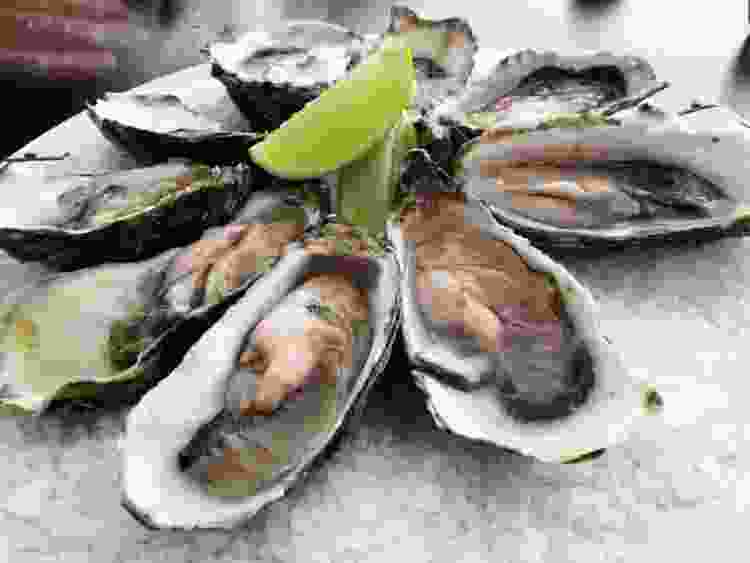 Best Cooking Classes in San Francisco
Master the art of gourmet cuisine taught by the best chefs in San Francisco.
12. Mission Burrito at Taqueria La Cumbre
The Mission is home to the most burrito joints per capita outside of Mexico itself. Statistically, San Francisco's are the best burritos. It's impossible to go wrong, but make sure you get it with everything in true Mission style.
As for who has the best, that's another tough call to make, but Taqueria La Cumbre is said to have created the Mission-style burrito back in the late 60s. This hot spot is such a local institution and the burritos so consistently good that we're convinced.
Taqueria La Cumbre | 515 Valencia St., San Francisco, CA 94110 | $$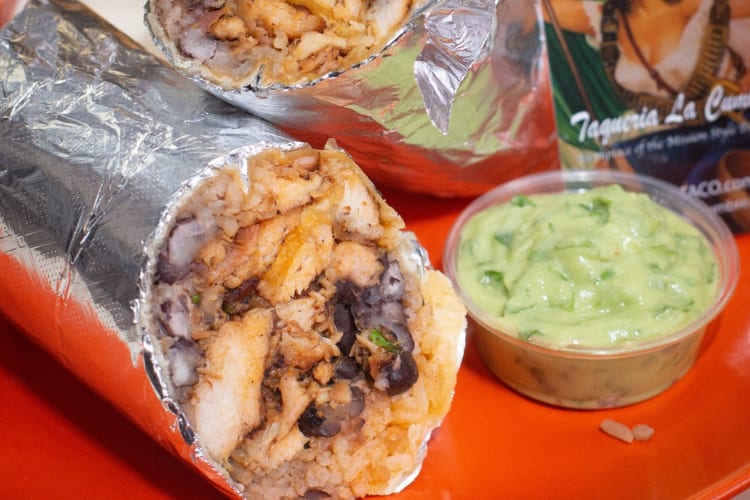 13. The Best Irish Coffee at The Buena Vista
Perfected here, not invented here. The Irish did indeed conceive of Irish coffee. The Buena Vista, however, reports having served more than 30 million Irish coffees. The key is the sweet floating cream (green on Saint Patrick's Day) on top of the hot and intense coffee-whiskey combination.
The Buena Vista | 2765 Hyde St., San Francisco, CA 94109 | $$
14. Purple Yam Ice Cream at Mitchell's Ice Cream
The line at Mitchell's is shorter than at the legendary Bi-Rite, so why wouldn't you go sample this unique San Francisco food? Ice cream flavors range from avocado to ube, the signature purple yam flavor that tastes like taro's first cousin. Ube has been used as food since ancient times, so it fits in your paleo diet. Stop by to split a bowl with your sweetheart for a cute date idea in San Francisco or enjoy it with friends or family on National Ice Cream Day.
Mitchell's Ice Cream | 688 San Jose Ave., San Francisco, CA 94110 | $$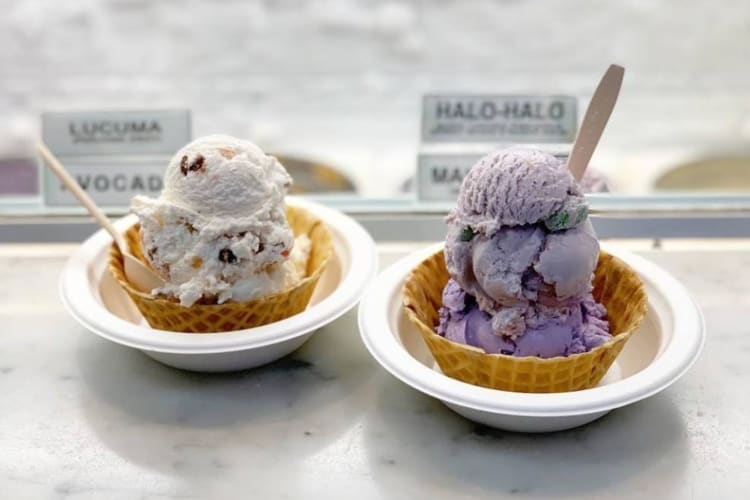 15. Dutch Crunch Bread at Guerra Quality Meats
If you've ever thought about the name, it makes sense that Dutch Crunch is also popular in the Netherlands. Its incognito name is "Tiger Bread." It's unclear how this combination of rice paste, sesame oil and flour made its way to the Bay Area, but it's hard to imagine its absence from the San Francisco food scene.
You may wonder how a spot called Guerra Quality Meats serves the best Dutch crunch bread. They just so happen to painstakingly source it from Costeaux French Bakery, a century-old business in Healdsburg, and this crunchy bread has brought legions of dedicated fans back for their meat sandwiches for years.
Guerra Quality Meats | 490 Taraval St., San Francisco, CA 94116 | $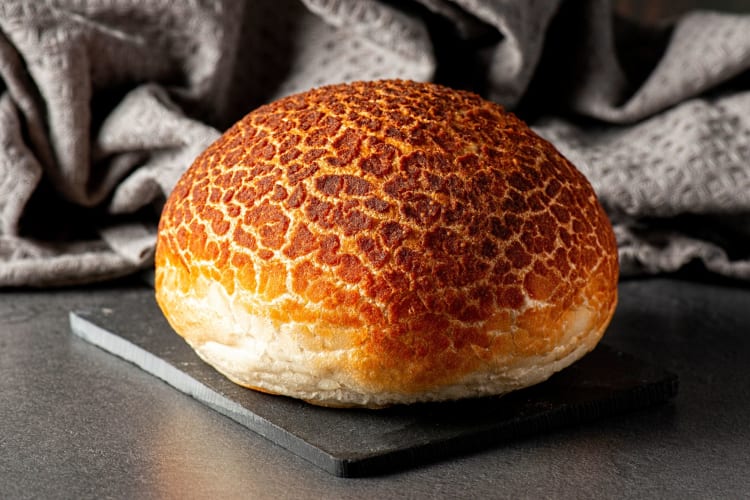 16. Dungeness Crab
Fisherman's Wharf's most recognizable product is a San Francisco food that every seafood lover has to sample, whether it's at one of the city's phenomenal seafood restaurants or at one of the best diners in San Francisco.
When San Francisco comes to mind, Dungeness might be second only to the Golden Gate. The name comes from Dungeness, Washington, but San Francisco has certainly taken the crustacean as its own.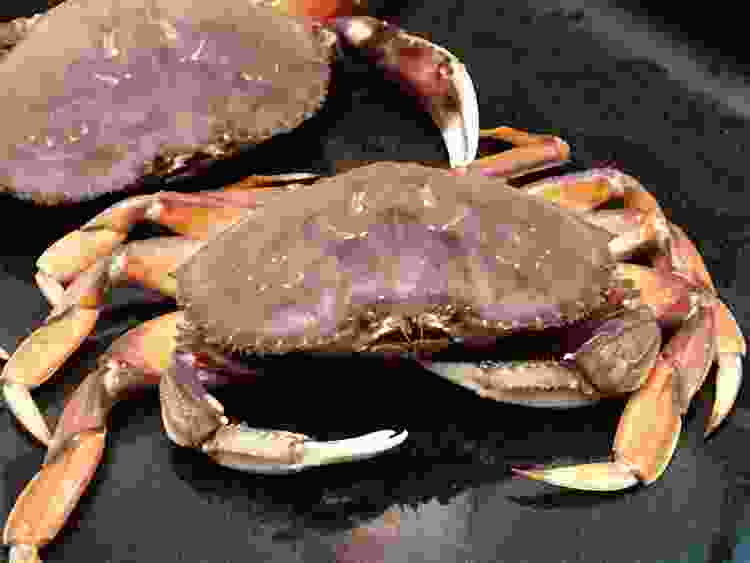 Join 200,000+ Culinary Enthusiasts
Exclusive deals, recipes, cookbooks, and our best tips for home cooks — free and straight to your inbox. PLUS: 500 Rewards Points.
More Ways to Enjoy San Francisco Foods
Looking for other unique ways to get a taste of authentic San Francisco foods? Start out by exploring the city on one of many San Francisco food tours led by expert local guides. You'll get to learn all about local history, architecture and (of course) food while getting to sample bites and beverages from famed eateries and hidden gems. It's one of the best things to do in San Francisco whether you're a local or just visiting.
Or, get your hands dirty in the kitchen with some cooking classes in San Francisco taught by world-class chefs. Whether you want to learn how to craft a classic Californian plate or something a little more outside the box, there's a cooking class to suit your tastes and preference.
Finally, private chefs in San Francisco are another great way to explore the best San Francisco foods from the comfort of your home. Private chefs come to you with all of the ingredients, skills and equipment necessary to prepare a gourmet meal. And, they'll even handle all of the post-meal cleanup at the end.
Whether you're a local, a transplant or a tourist, checking out the best foods in San Francisco is bound to be a delicious adventure. Take some inspiration from this list and make your decision: Which will you try first?
For even more ways to sample the best food from around the world, check out other experiences happening on Cozymeal.