31 Unique Date Ideas in San Francisco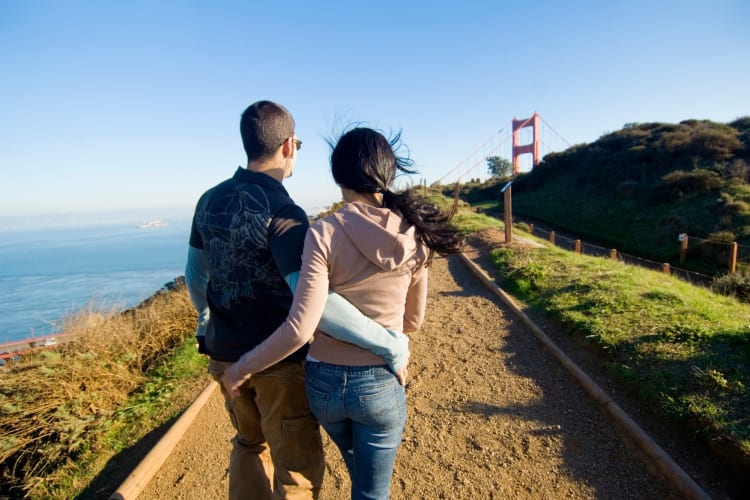 With its vibrant culture and breathtaking views, there is no shortage of unforgettable date ideas in San Francisco. Whether you and your companion are life-long partners or meeting for the very first time, the Golden City has everything you need to plan the perfect date.
Are you an outdoorsy adventurer, or someone who is hoping to bond with your date over a shared interest in art? Whatever the case, these 31 unique San Francisco date ideas are sure to have you covered.
Jump to Section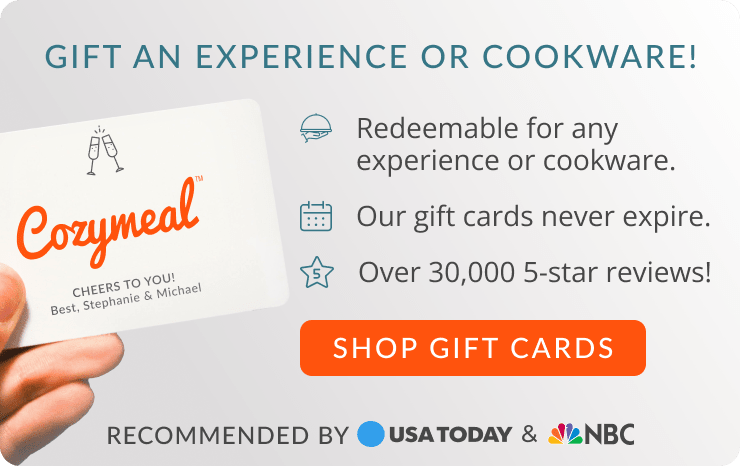 Foodie Date Ideas in San Francisco
1. Cooking Classes
Cooking classes in San Francisco are a fantastic way to spend time with your date while learning a new skill. World-class chefs can help you broaden your culinary horizons and explore brand new techniques and ingredients with confidence. Check out classes in nearby cities, too, such as cooking classes in Napa, and connect with master chefs skilled in cuisine from all around the globe.
Looking for low-key date ideas in San Francisco? Interactive online cooking classes bring your chef's expertise right into the comfort of your home kitchen.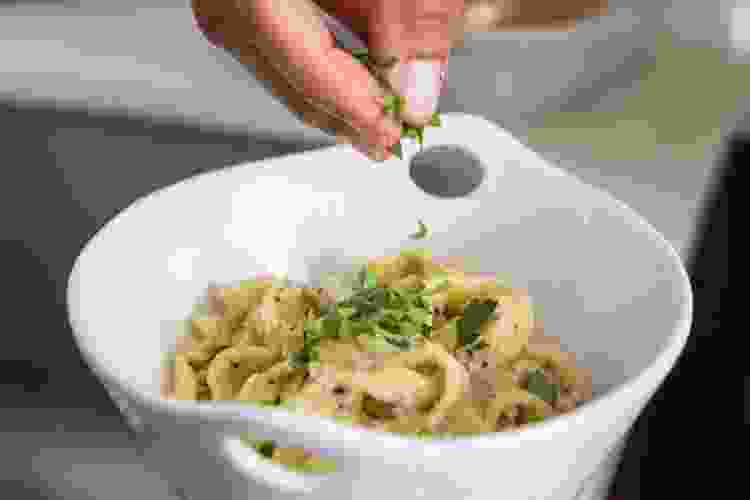 Best Cooking Classes in San Francisco

Master the art of gourmet cuisine taught by the best chefs in San Francisco.

Book Now
2. Private Chef Experiences
What could be more luxurious and romantic than a meal prepared by a personal chef? Private Chefs in San Francisco are available to create an intimate dinner for two in your own home, or host you and your date in an elegant private setting. They handle all of the menu planning, grocery shopping, cooking and even kitchen clean-up so you won't have to lift a finger. Explore private chefs near you and choose from an incredible variety of sumptuous multi-course menus.
3. Food Tours
Get to know the Golden City through its cuisine by booking a food tour near you. A local guide will take you on a curated culinary journey, allowing you and your date to experience the best San Francisco foods with a side of history, art and local lore. Because these experiences are so much more than dinner, food tours in San Francisco are an excellent way for couples who are new to the area to explore all that it has to offer. Sample classic delights from the best diners in San Francisco, iconic Chinatown eateries or decadent bakeries while learning about the history of this important city.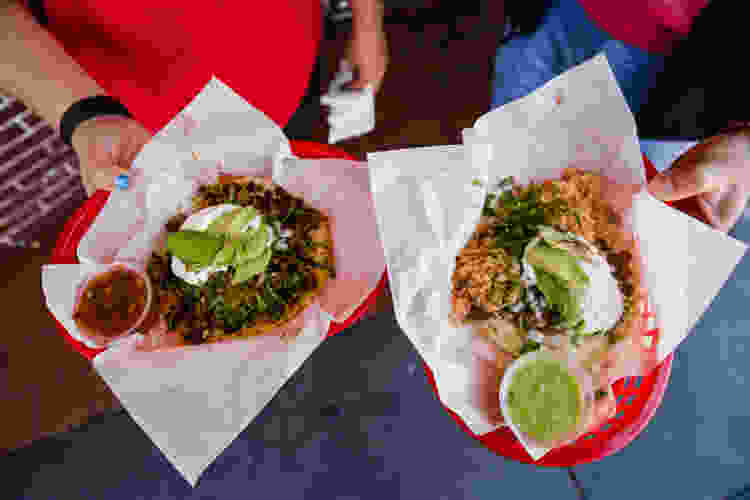 4. Winery Tours and Tastings
Raising a glass to California's renowned wine country is one of the most classic things to do in San Francisco! Couples seeking a leisurely weekend date can stroll the lush vineyards of San Francisco's wineries and learn the ins and outs of the fermentation process. After your tour, spend the afternoon comparing tasting notes over a shared cheese plate and take home a bottle of your favorite vino.
Book a San Francisco Food Tour
See San Francisco's famous food scene in a whole new light. Explore the best restaurants, hotspots and more with top local guides.
5. Brewery Tours and Tastings
If you and your sweetheart are craft beer lovers, the Golden City's vibrant beer scene is sure to delight. Book a San Francisco brewery tour, and peek behind the curtain at your favorite local taphouse. Knowledgeable guides will separate the ales from the lagers and answer questions while you and your date sample premium craft brews.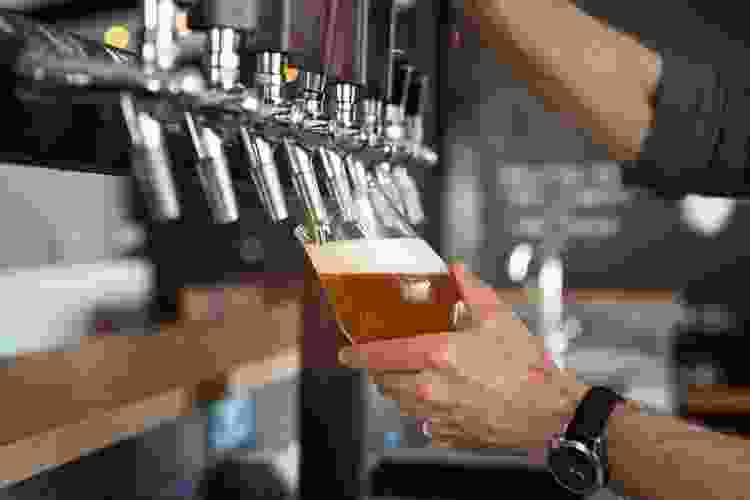 Relaxing Date Ideas in San Francisco
6. Enjoy a Night in With Virtual Date Ideas in the Bay Area
If a peaceful night at home is on the agenda, become your own bartender with an online mixology class. Challenge your date to see who can shake up the tastiest cocktail, or refine your palates with a virtual wine tasting. Whether you choose cocktail attire or sweatpants, your evening is sure to be one to remember.
7. Unwind at the Marin Country Mart
The ultimate low-pressure San Francisco date idea? Browse through the shops at the Marin Country Mart, an open-air market brimming with unique retail stores, fun snack spots and even a brewery. Planning an easy-going weekend date? On Saturdays, the outdoor mall hosts a farmers market.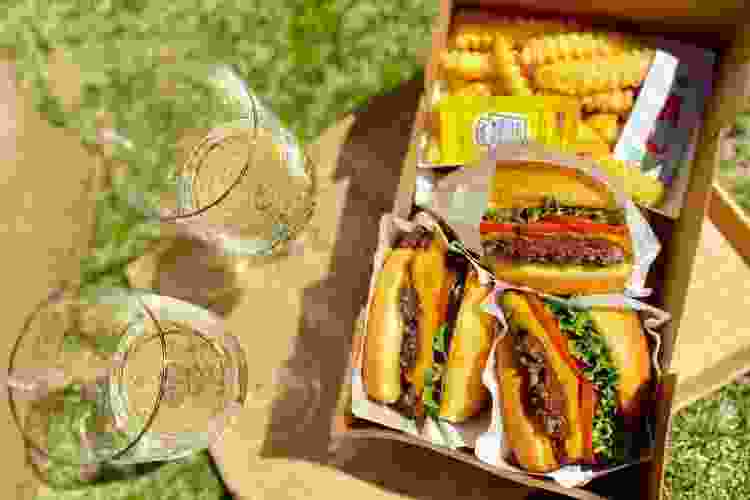 8. Have a Picnic in Crissy Field
Forgo an evening of reservations and crowded bars, and take advantage of the Bay Area's iconic vistas. A former military airfield, Crissy Field is now a national park with picturesque views of the Golden Gate Bridge and the region's gorgeous tidal marshes. Pack a blanket, snacks and libations, and spend a stress-free date watching the world go by.
Free Date Ideas in San Francisco
9. Catch a Free Concert at Stern Grove
Stern Grove welcomes an eclectic lineup of local and internationally known artists to their stage every summer. If you and your partner are interested in date ideas in San Francisco that support the arts, look no further. Donations fund the festival's mission to bring cost-free music education to teens and young adults.
10. Wander the Botanical Garden
With over 55 acres of lush gardens featuring thousands of species of flowers from around the world, the San Francisco Botanical Garden is perfect for getting to know your date during a leisurely stroll. If you are feeling challenged to see it all in a single visit, don't worry: The gardens are open daily and are free to San Francisco residents.
Book a Top Private Chef in San Francisco
Indulge in the finest fare San Francisco has to offer. Book a five-star private chef experience starting at $59/person.
11. Take an Urban Hike
If you want to wow your date with awe-inspiring views of San Francisco without committing to rugged terrain, take advantage of the city's many miles of interconnecting urban hikes. Meander hand-in-hand along these shady paths, and stop to take in gorgeous vistas of the Pacific Ocean, marshes and Golden Gate Bridge.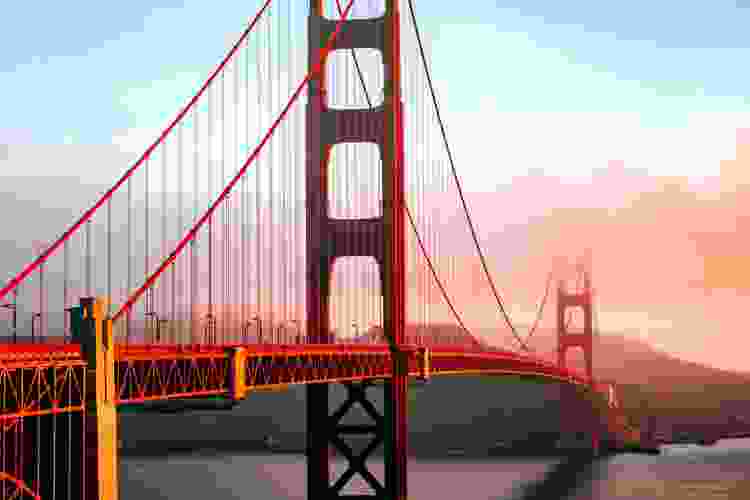 12. Bike Across the Golden Gate Bridge
For a truly iconic San Francisco date idea, hop on your bikes and traverse the world-renowned suspension bridge. A great deal of the Bay Area is fantastic to explore on a bike, so make a day of it and pedal around the city.
Outdoorsy Date Ideas in San Francisco
13. Visit the Japanese Tea Garden
Wander the tranquil grounds of the Japanese Tea Garden of San Francisco and admire stone paths, blooming cherry blossoms and a charming koi pond. The garden's tea house makes a perfect afternoon date spot, offering a traditional tea service and a selection of Japanese treats.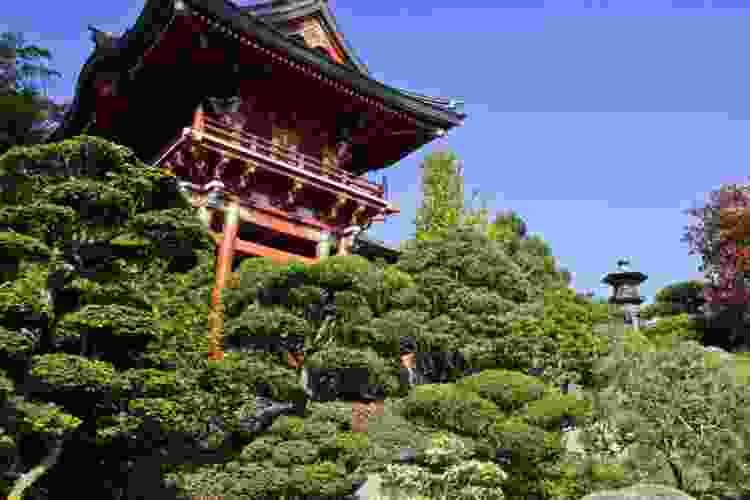 14. Play Mini Golf at Stagecoach Greens
If you think your companion might enjoy some friendly competition, plan a visit to Stagecoach Greens, San Francisco's only outdoor mini golf course. Eighteen decidedly Golden-City-themed holes are a surefire way to break the ice on a first date.
15. Hike Lands End
Looking for a Bay Area date idea that can include your pup? Leashed dogs are welcome at Lands End Trail. The popular hiking destination offers an easy-to-moderate walk through some of San Francisco's most beautiful terrain. Be sure to stop and admire the area's vibrant patches of seasonal wildflowers.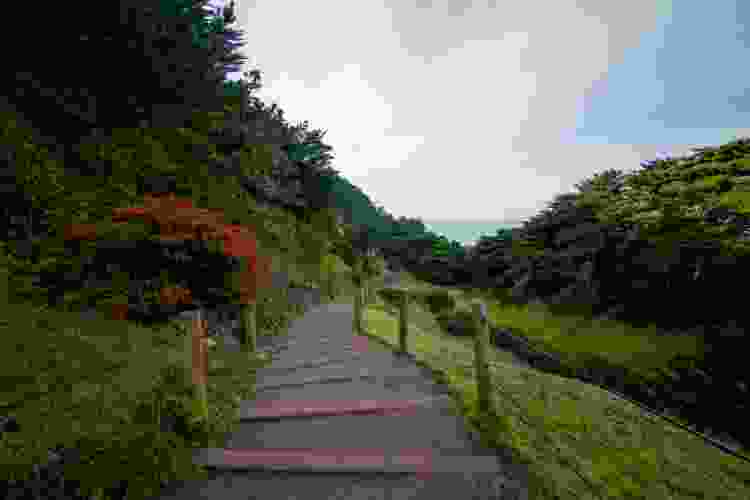 Adventurous Date Ideas in San Francisco
16. Conquer the Rollercoasters at California's Great America
If an amusement park is your ideal San Francisco date idea, look no further. There is nothing like an adrenaline rush to bring you and your date closer together. With acres of exhilarating coasters, rapids and thrill rides, adventure awaits at California's Great America. If the lazy river is more to your tastes, cool off with your date in their new South Bay Shores Waterpark.
Book an Online Cooking Class Now
Ready to perfect your homemade pasta, paella or pad thai? Join a world-class chef from the comfort of your kitchen.
17. Explore the Gilroy Garlic Festival
Each July brings the Golden City's annual Gilroy Garlic Festival, a must-see for adventurous foodie couples looking for a quintessential San Francisco date idea. Sample the pungent vegetable like never before and challenge your palate with oddities like garlic chocolate and garlic ice cream. The good news: As long as you're both trying festival treats, garlicky kisses are perfectly acceptable.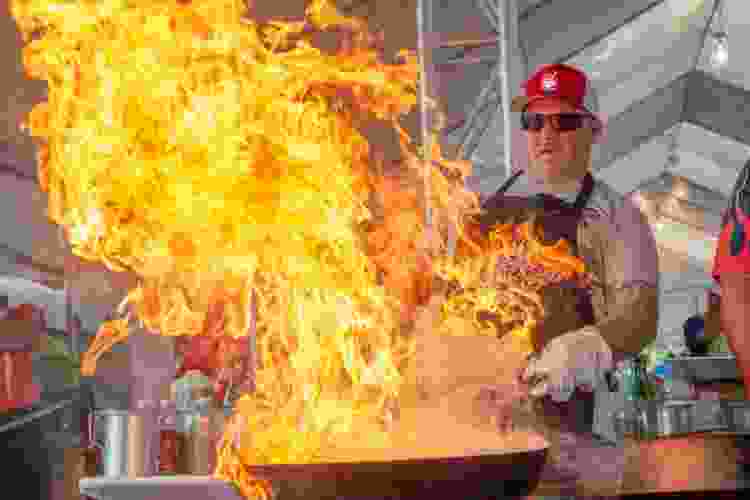 18. Book a Private Plane Tour
If your goal is to impress, the ultimate San Francisco date night idea includes views of the bay from a private plane. The experience is luxurious, and sunset aerial views of the city are stunningly gorgeous and romantic. Consider booking a tour to kick off a night on the town celebrating a special anniversary date idea.
19. Tour Alcatraz
If you and your date are up for exploring the darker side of San Francisco's fascinating history, book a tour of the country's most infamous federal prison. If you have a shared interest in history, crime or local legends, a visit to Alcatraz will be as thrilling as it is educational.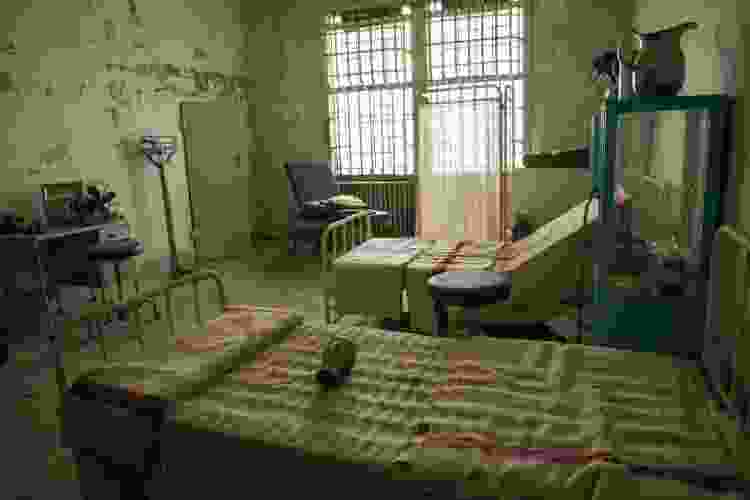 20. Laugh at Cobb's Comedy Club
Searching for a date idea in San Francisco that will get you guffawing? If you and your companion enjoy stand-up, venture out into the city's comedy scene and take in a show at Cobb's. Get to know your date's sense of humor as you laugh along with touring comedians and local performers.
Artistic Date Ideas in San Francisco
21. Admire Murals in the Mission
San Francisco's Mission District is home to many breathtaking murals by local artists, including those represented by the Clarion Mural Project. These vivid works of art frequently express powerful political and cultural statements and are a poignant medium of expression for the Bay Area's constantly evolving communities. Take your date on an art walk, and experience San Francisco through the eyes of some of its most talented residents.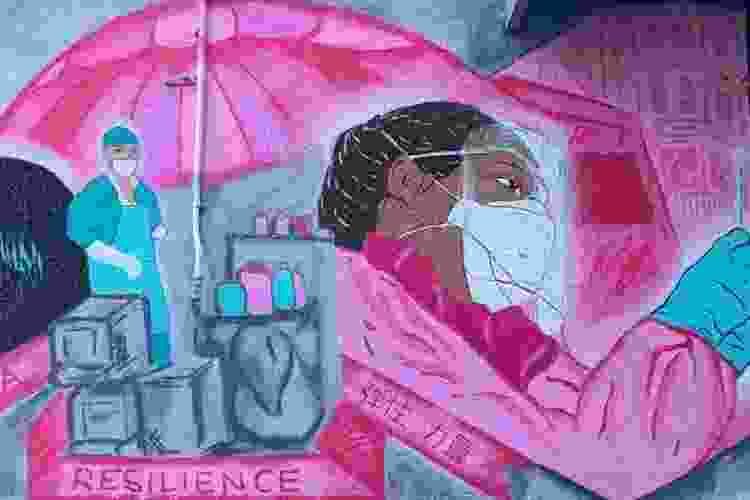 22. Have a Cocktail at 111 Minna Gallery
A chic art gallery by day and an eclectic lounge and event space by night, 111 Minna Gallery is sure to make an impression on a date who is enamored with San Francisco's vibrant art scene. With a great happy hour in a hip setting, 111 Minna is an ideal spot to meet up after work.
Book a San Francisco Food Tour
See San Francisco's famous food scene in a whole new light. Explore the best restaurants, hotspots and more with top local guides.
24. Explore the de Young Museum
Located in Golden Gate Park, the de Young Fine Arts Museum houses collections of sculpture, photography and textiles from around the globe. Acquisitions are frequently updated, so San Francisco couples who enjoy the arts should make the de Young a recurring date destination.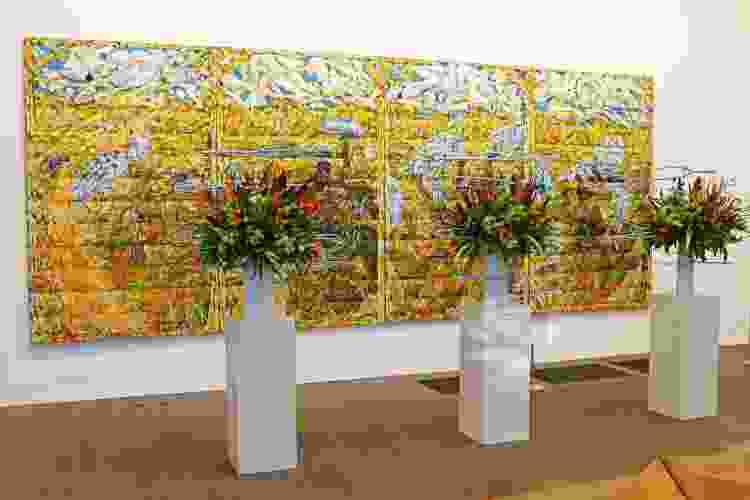 24. Experience the Wave Organ
Take your date to San Francisco's Marina District during high tide, and be blown away by Peter Richards and George Gonzalez's unique outdoor art exhibit. The Wave Organ is a sculpture built around PVC pipes that produce uncanny organ-like music when the tide rushes through them. Bring a bottle of wine and enjoy this absolutely unique San Francisco date idea with your sweetheart.
Romantic Date Ideas in San Francisco
25. Spend a Night at the Huntington Hotel
Seeking a truly opulent date idea in San Francisco? For couples celebrating a birthday or anniversary, a stay at the Golden City's palatial Huntington Hotel is the perfect ending to a romantic night on the town. Plush interiors, breathtaking views and an indulgent spa embody the spirit of San Franciscan luxury.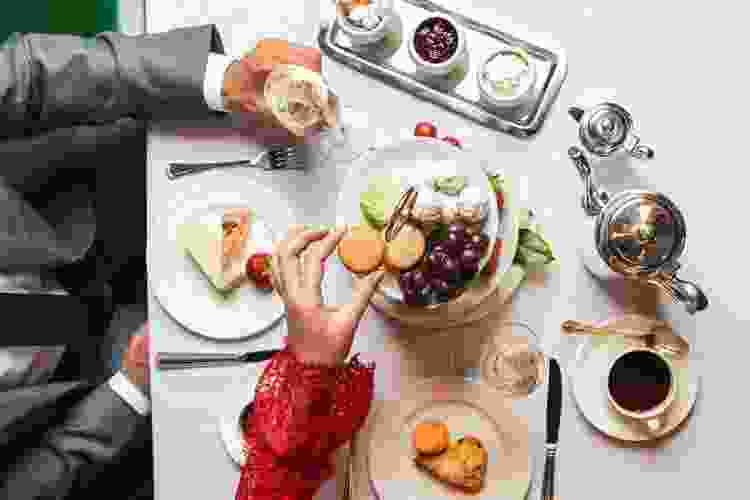 26. Take a Full Moon Kayak Tour
Kayaking under the Golden Gate Bridge is a classic San Francisco experience, and some touring companies offer full moon or starlight tours that allow you and your date to take in the city lights at night. Whether you and your loved one are Bay Area natives or passing through for a visit, the view of the city from the water is one you'll treasure forever.
27. Make Dinner Reservations at Berber
For an unforgettable dining experience, treat your date to dinner at Berber. The Morrocan-inspired supper club features live cirque performances alongside decadent North African cuisine. The thrilling yet elegant atmosphere and unique dining experience establishes Berber as one of the most romantic restaurants in San Francisco.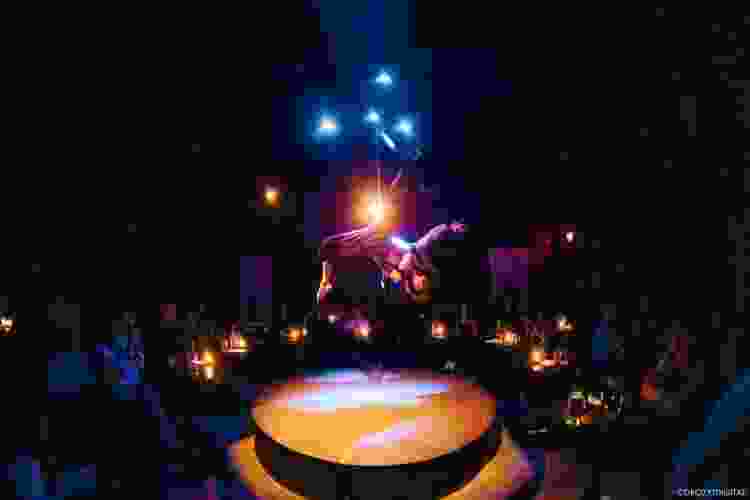 28. Share a Sunset at Battery Park
Every truly romantic San Francisco date idea involves a sunset. A former masonry fort, Battery Park now provides some of the best twilight views in the city. Bring a blanket and look out over the Golden Gate Bridge, the Bay and Downtown San Francisco from a wonderfully quiet, undeniably romantic vantage point. It's the perfect start to a night on the town as well as an evening at home.
Book a Top Private Chef in San Francisco
Indulge in the finest fare San Francisco has to offer. Book a five-star private chef experience starting at $59/person.
Whimsical Date Ideas in San Francisco
29. Have a Boutique Bowling Experience
In the mood for a delightfully kitschy San Francisco date idea? Mission Bowling Club takes bowling to the next level with upscale dining and retro lanes. With loads of quirky appeal and an impressive menu of craft cocktails to take the edge off, your date is sure to be charmed.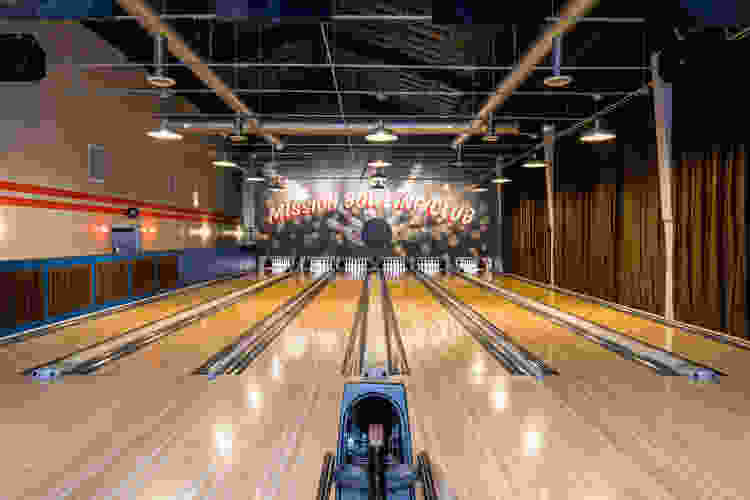 30. Go Roller Skating at the Church of 8 Wheels
For couples who enjoy nostalgia and don't take themselves too seriously, strap on your skates! A shuttered church-turned-roller rink, The Church of 8 Wheels is a destination for vintage fun in an outlandish setting. The rink offers adults-only hours on weekends to keep the atmosphere fun and romantic
31. Dine at Foreign Cinema
For fans of fine food and film, Foreign Cinema has the recipe for a sweet date night in the Golden City. The Mission District restaurant serves up eclectic, refined continental cuisine while projecting classic movies onto an outdoor screen. It's the perfect outing for movie buffs who don't want to spend most of their date in silence at a theatre.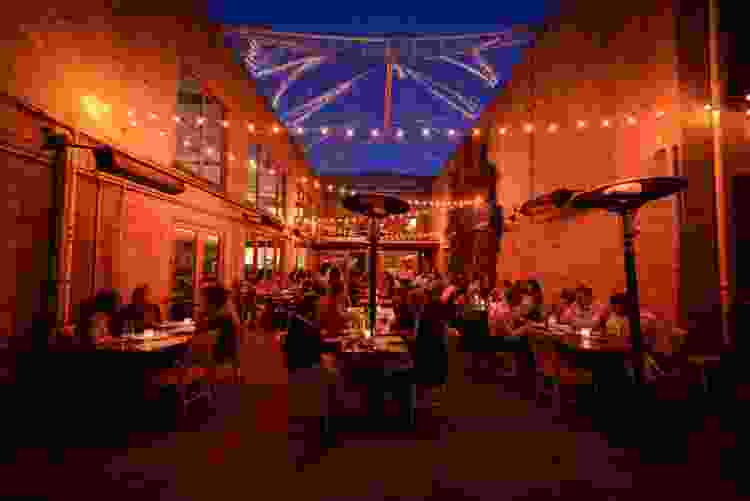 Join 200,000+ Culinary Enthusiasts
Exclusive deals, recipes, cookbooks, and our best tips for home cooks — free and straight to your inbox. PLUS: 500 Rewards Points.
With so much to see and do in San Francisco, you're never far from an unforgettable night on the town (or afternoon by the Bay!). Whether you are planning your very first date or some much-deserved quality time with your partner, there are fun and romantic San Francisco date ideas to suit every couple's interests.
For even more unique San Francisco date ideas, check out other experiences happening on Cozymeal.