33 Romantic Date Ideas in Los Angeles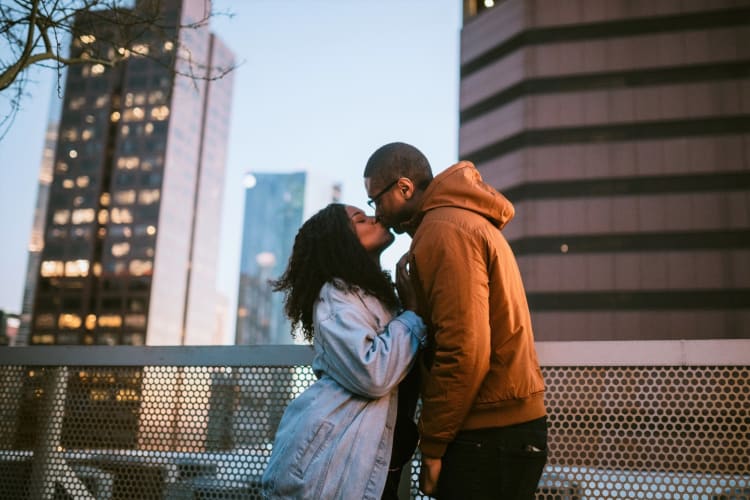 Scouring the internet for date ideas in Los Angeles that go beyond dinner and drinks? We understand. Lucky for you, the city boasts no end to exciting places to go on a date in LA.
This list of fun dates in LA holds something for every couple, from delicious cooking class experiences to adventurous excursions, and from classic Los Angeles date night ideas to free (but not lame) date night spots.
Read on to find a date idea in Los Angeles perfect for you and your special someone!
Jump to Section
Foodie Date Ideas in Los Angeles
1. Cooking Classes
On the hunt for cooking classes near you to plan a unique date night? There are plenty of fun choices when it comes to cooking classes in Los Angeles; join a top-rated chef for an evening of culinary creativity as you learn to prepare fresh pasta, Peruvian fare or a vegetarian feast. If you and your date prefer to stay in for the evening, online cooking classes or even some special online cooking classes for couples are an option right up your alley.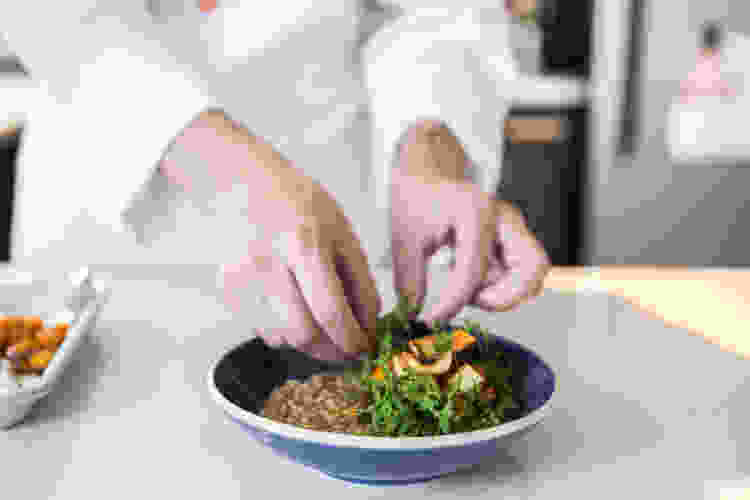 Best Cooking Classes in Los Angeles

Master the art of gourmet cuisine with the help of world-class chefs.

Book Now
2. Private Chef Experience
A private chef experience dials up the romance as you dine on chef-prepared dishes in an intimate setting. To begin planning your private chef date night, look for private chefs near you who will travel to your location with all of the ingredients and skills necessary to prepare a meal so exquisite you'd expect to find it in one of the best restaurants in Los Angeles. After cooking and serving, your chef will even clean up before leaving. There are many private chefs in Los Angeles to host your upscale evening, whether you have a taste for Thai or classic Italian food.
3. Food Tour
If you like to bond over the best bites in town, there are plenty of food tours in Los Angeles that offer insight into one of the most memorable food scenes in the country. Expert local guides are eager to take you around for a hands-on education in local architecture, history, culinary culture and more, all while uncovering the best hidden gems and hotspots in LA.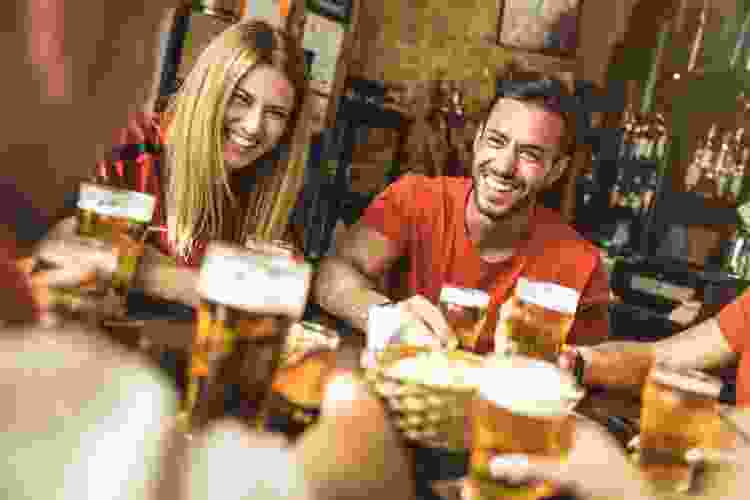 4. Winery Tour and Tasting
A winery tour and tasting is the perfect escape from the city to enjoy the outdoors and develop your tasting palates together. This Los Angeles date night takes you and your date outside the concrete jungle to enjoy the lush California vineyards scattered around Los Angeles county.
5. Malibu Wine Safaris
Enjoy the outdoors and a unique wine tasting experience on a two-hour safari-style nature tour at Saddlerock Ranch. You'll get to feed animals, learn about the ranch's storied past and taste various wines made on the ranch along the way.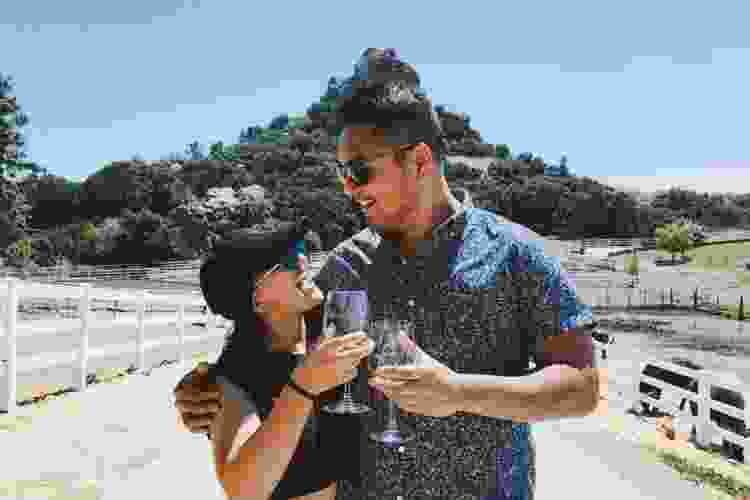 Relaxing Date Ideas in Los Angeles
6. Take an Online Tasting Class
Feel like cozying up for a night in? A relaxing date night at home can still leave room for a new experience, like an online tasting class. Learn to make unique drinks together in an online mixology class, or develop your palates with a virtual wine tasting. Nothing says bonding like learning a new skill together!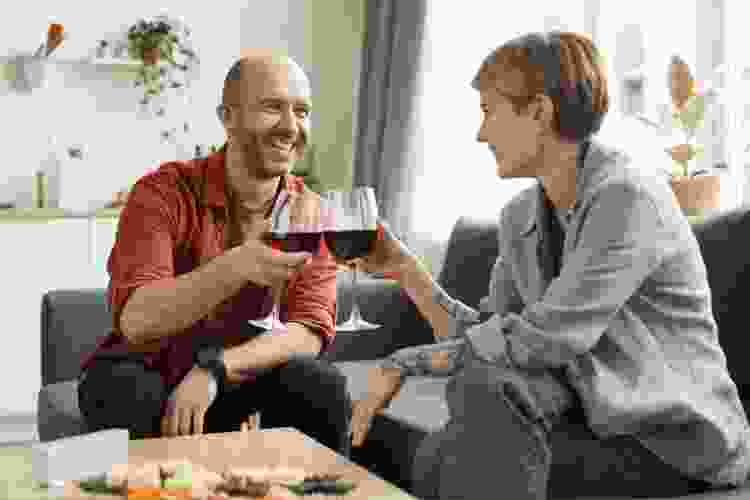 Book a Top Private Chef in Los Angeles
Indulge in the finest fare LA has to offer. Book a five-star private chef experience starting at $59/person.
7. Stroll Through the Venice Canals
One of the most relaxing date ideas in Los Angeles is a romantic stroll through the peaceful Venice Canals, three canal-lined blocks tucked between Venice Beach and Abbot Kinney. You and your date can admire the quaint cottages, climb arching pedestrian bridges and point out wildlife at home on the canals. If you own a canoe or kayak, you can tour the canals from the water via the ramp on Venice Boulevard.
8. Spend the Day at Huntington Library
The Huntington Library, Art Collections and Botanical Gardens is a destination to enjoy at a leisurely pace. With plenty to see, you and your date will have no end of topics to discuss. The sprawling botanical gardens alone are worth the trip, but on hotter days, head indoors to explore the extensive collection of British art and take a peek at a Gutenberg Bible for an equally memorable date.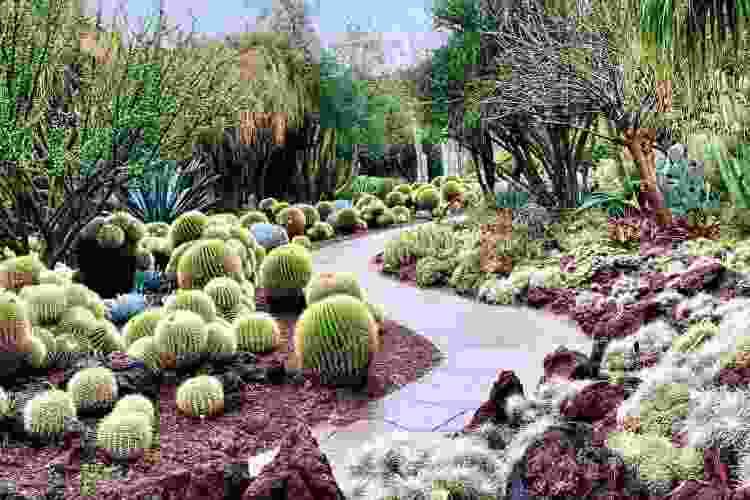 Free Date Ideas in Los Angeles
9. Take a Joy Ride on Mulholland Drive
Pack a picnic and wind your way through Mulholland Drive to one of the many classic Los Angeles overlooks (and makeout spots). This free picnic date idea in Los Angeles is simple, but offers plenty of time for conversation and connection.
10. Visit the Griffith Observatory
This free date idea in Los Angeles is about as magical as it appears in the movie La La Land. Take in breathtaking views of the city from the observation deck, or head inside to see scientific exhibitions. If you go in the evening, you and your date may be able to pick out stars and planets from the sky via telescopes placed around the observation deck.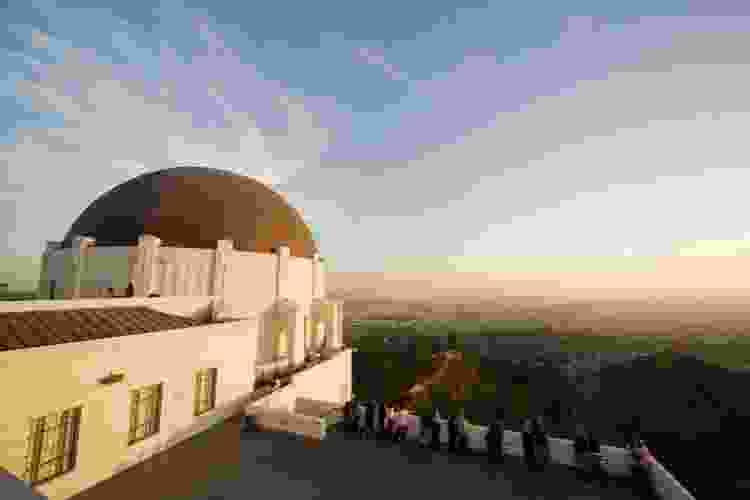 11. Visit City Hall's Observation Deck
While a government building may not be the pinnacle of romance, the sweeping views at the top of the city's tallest building will make up for it. And the best part about visiting the City Hall Observation Deck — it's a free thing to do in Los Angeles! After taking in the views, visit Perch for a rooftop dinner at one of the most romantic restaurants in Los Angeles.
Book a Los Angeles Food Tour Now
Explore LA's famed eateries, hidden gems and acclaimed culinary culture with a top local guide.
Outdoorsy Date Ideas in Los Angeles
12. Boat in Echo Lake Park
For a rom-com worthy, classic date idea in Los Angeles, head to historic Echo Lake Park for a boat ride. Rent a cozy swan boat and pedal around the lake to your heart's content, then take a stroll along the path surrounding the lake to take in some downtown views.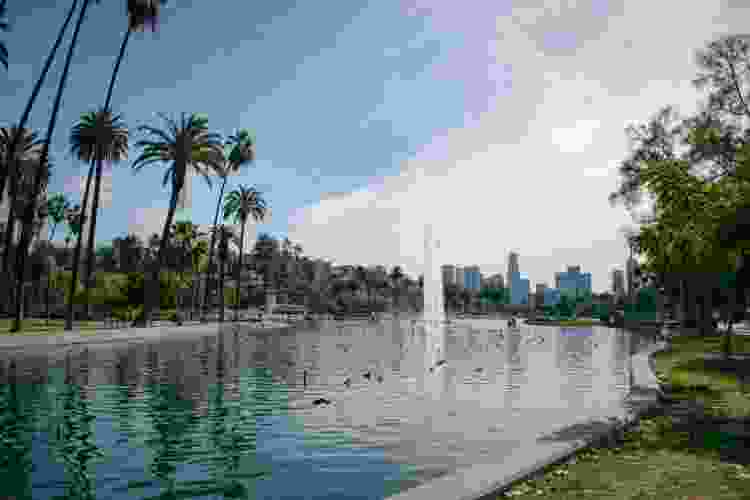 13. Hike Temescal Canyon
Just north of Santa Monica, the Temescal Canyon at Temescal Gateway Park is a popular hiking spot in the Los Angeles area. Densely wooded with a seasonal waterfall, this hike pulls nature-seeks from the bustle of the city into a California oasis. This would be a great hike to bring along a furry best friend, too. Double bonding!
14. Hike at Runyon Canyon
With sweeping views of the city, this romantic date idea in Los Angeles is perfect for couples in search of a free and exciting date. Start at Mulholland Drive for a quick 0.85 mile hike to the top to catch the sunset. Or make a day of it and challenge yourselves to a longer loop.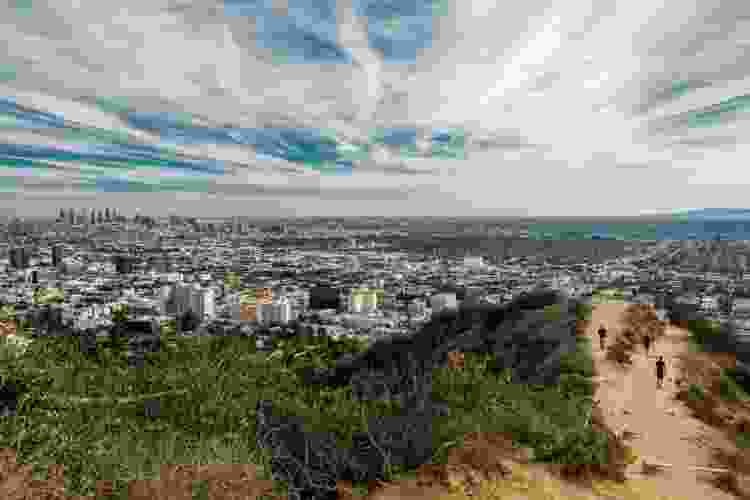 Adventurous Date Ideas in Los Angeles
15. Bike the Marvin Braud Trail
The Marvin Braud bike trail (known as "the strand" to locals) runs 21 miles from Will Rogers State Beach all the way down to Torrence. If you don't mind getting a little sweaty, this date idea in Los Angeles could be an out-of-box adventure. We recommend starting at Will Rogers State Beach and biking to the Santa Monica Pier for a trip around the ferris wheel and a (well-deserved) ice cream.
16. Take a Trip to El Matador State Beach
With cliff-top view, crashing waves and craggy caves, Malibu's El Matador Beach is an adventurous couple's ideal beach day. Once Malibu's best-kept secret, this breathtaking beach area is ideal for scenic strolling, taking in the surf and exploring towering arches and shallow caves. After a morning exploring, visit the iconic Malibu Seafood Fresh Fish Market and Patio Café for a freshly-caught bite to eat.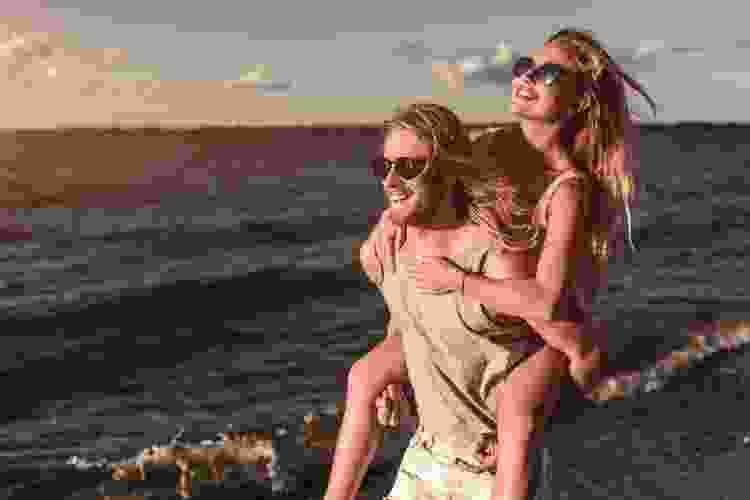 Artistic Date Ideas in Los Angeles
17. Immerse Yourselves in the Broad Museum
The stunning Broad Museum experience begins outside, as you and your date take in the sprawling white honeycomb-inspired building. Inside, you'll discover a collection of contemporary art spanning video, lithography and installations, including the Instagrammable Yayoi Kusama Infinity Room.
Book an Online Cooking Class Now
Ready to perfect your homemade pasta, paella or pad thai? Join a world-class chef from the comfort of your kitchen.
18. Muse at the Los Angeles County Museum of Art (LACMA)
The Los Angeles County Museum of Art is the perfect place to take a date interested in contemporary art. With collections of modern art, incredible installations and rotation exhibitions, there's plenty to discuss on a date night at the LACMA.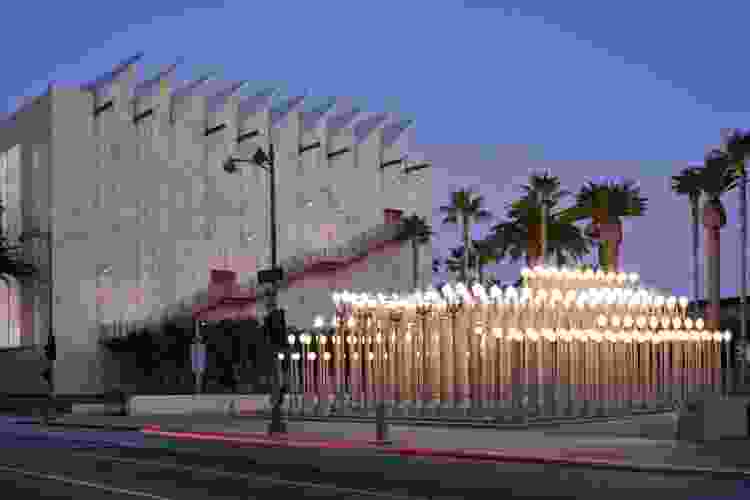 19. Visit the Eames' Los Angeles House
For architecture and furniture design buffs, the Charles and Ray Eames' 1940s home is a unique date idea in Los Angeles. Located in the Pacific Palisades, this house is a landmark of mid-century modern architecture. After a few hours dreaming of home design together, wrap up your date with lunch at the nearby Café Vida.
20. Take a Trip to Getty Villa
Venture outside the city to Getty Villa, an Italian-inspired villa housing a collection of ancient Greek, Roman and Etruscan antiquities. The villa itself is designed in exact imitation of an Italian villa near Mount Vesuvius. Wander through artifacts or through the pristine grounds with an ocean view. On summer evenings, you can attend free performances of Shakespeare and Italian operas on the grounds.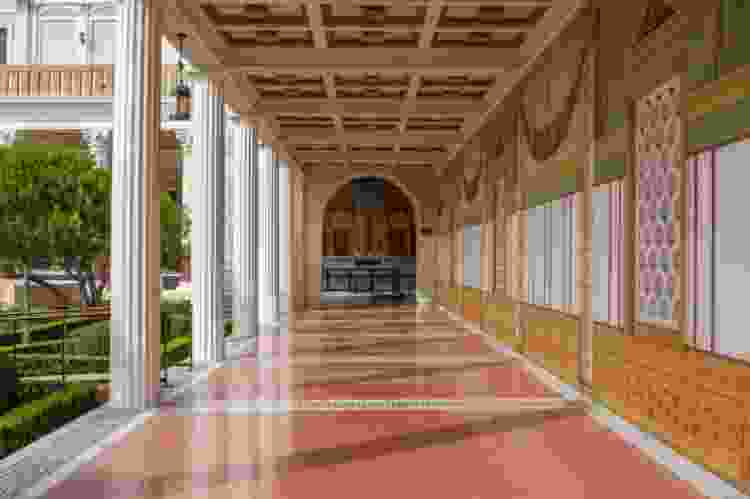 Classic Date Ideas in Los Angeles
21. Take in a Rooftop Movie
For a relaxing date idea that doesn't skimp on romance, snuggle close under the stars and take in a rooftop movie screening. The Melrose Rooftop Theater is a popular option in West Hollywood, or check out the Rooftop Cinema Club website for more rooftop movie screen locations around Los Angeles.
22. The Hollywood Bowl
Don't let summer in LA pass without a date night at the iconic Hollywood Bowl venue. Check this outdoor music venue's lineup and pick a show that you and your date can't miss. This outdoor date idea in Los Angeles is one to keep in your back pocket.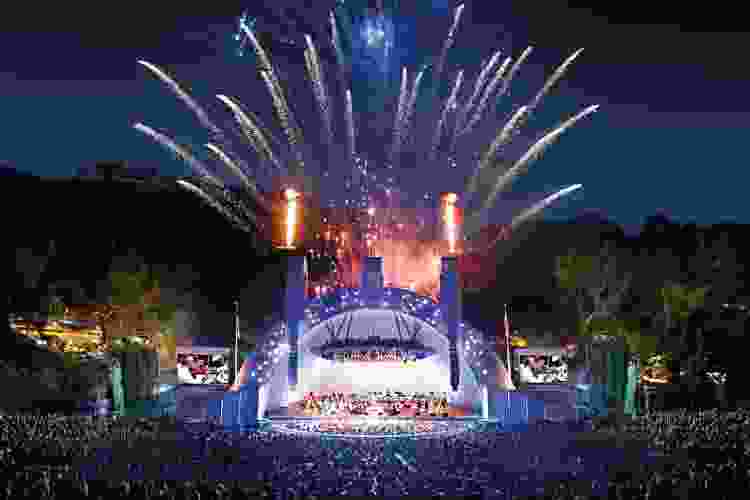 23. Highland Park Bowl
The beautifully restored Highland Park Bowl, LA's oldest bowling alley, is the perfect spot to go if you need a fun double date idea. Grab your best couple of friends for an evening of bowling, drinks and delicious food. This date night calls for reservations, so don't forget to plan ahead.
Best Cooking Classes in Los Angeles
Master the art of gourmet cuisine with the help of world-class chefs.
24. Stroll Through the Los Angeles Flower Market
The Los Angeles Flower Market is a classic date idea in Los Angeles for a reason — even a casual stroll through the flower-lined aisles can't help but feel romantic. We recommend going in the morning before the vendors close at noon, and ending your date with Southern-inspired brunch at a spot serving some of the best brunch in Los Angeles, Poppy + Rose.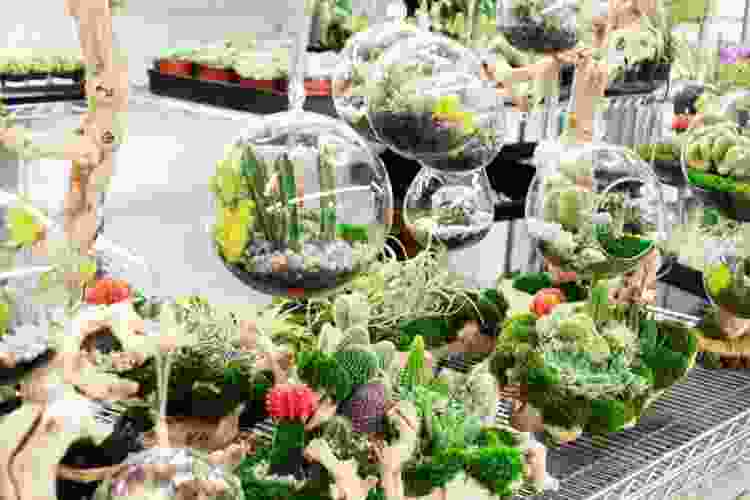 25. See a Comedy Show at The Groundlings Theater
If you and your date decide to see a show at The Groundlings Theater, prepare yourselves for an evening of raucous comedic entertainment. An intense training ground for improvisational and sketch comedians, this famous LA theater boasts alums like Will Ferrell and Kristin Wiig. Bonus — tickets are just $12.
26. Grab a Bite at Grand Central Market
Another classic staple on any list of date ideas in Los Angeles, take your date on a self-guided food tour of Los Angeles on a visit to the Grand Central Market, which for more than 100 years has housed some of LA's best food vendors. Grab a coffee at G&B Coffee, then wander the market trying everything from BBQ to artisanal PB&Js until your bellies are full.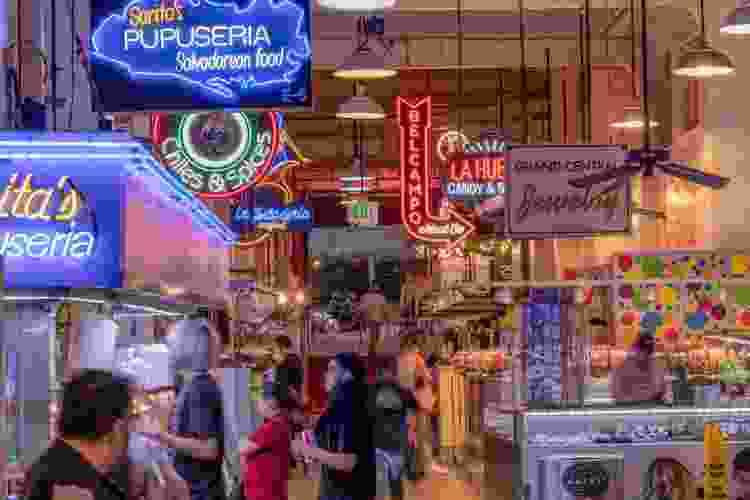 27. Go to First Friday in Venice
If date night lands on the first Friday of the month, head down to Abbot Kinney Boulevard to enjoy the atmosphere at Los Angeles' food-truck mecca and a stroll through unique shops lining the boulevard. Take the opportunity to discover your date's favorite fare as you share unique foods from around the city.
First Date Ideas in Los Angeles
28. Play at a Board Game Bar
If you want a relaxing evening but still want to get a bit competitive during your date, a board game bar or brewery is the perfect answer. Board game bars are booming in popularity, so regardless of which neighborhood you're in, you're sure to find one that's perfect for you and your date. Play a game of Guess Who, Scrabble or even Monopoly if you're feeling brave. This is one of the best things to do in LA to get a fun and romantic rivalry going in minutes.
Book a Los Angeles Food Tour Now
Explore LA's famed eateries, hidden gems and acclaimed culinary culture with a top local guide.
29. Visit Da Poetry Lounge
If you love listening to local poets, a visit to Da Poetry Lounge is in order. On Tuesdays, you can listen to local poets or even recite some of your own work. Reciting poetry is a bold move for a first date, but watching it is relaxing and inspiring. It's one of our favorite first date ideas in Los Angeles for people who are thinking outside of the box.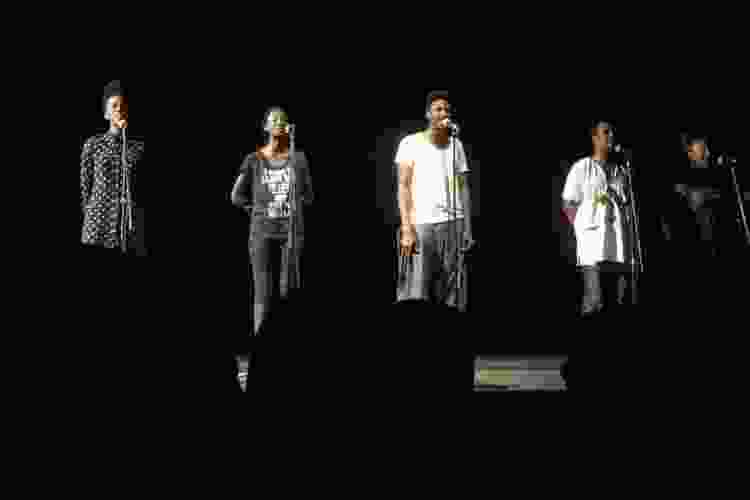 30. Paint and Sip Nights
If you're an artist or even just someone who likes to paint, what's better than a paint and sip night for a first date idea in Los Angeles? And if you've never picked up a paintbrush in your life, don't worry: Paint and sip nights aren't about talent. They're about having fun and leaving with a new piece of artwork (and hopefully a stronger bond with your date). This is one of the best first date ideas in Los Angeles for would-be creatives who want to have fun in a low-stress environment.
31. Hike on Hollyridge Trail
Yes, this is definitely one of the most stereotypical first date ideas in Los Angeles, but it's a fun one. Hollyridge Trail is also known as the Hollywood sign hike. It takes you right behind the letters of the Hollywood sign! It's a Los Angeles rite of passage. Note that this trail is tough, so it's definitely only one of the best date ideas in Los Angeles for people who are up for a challenge. Bring a water bottle and wear sunscreen, and don't forget your camera!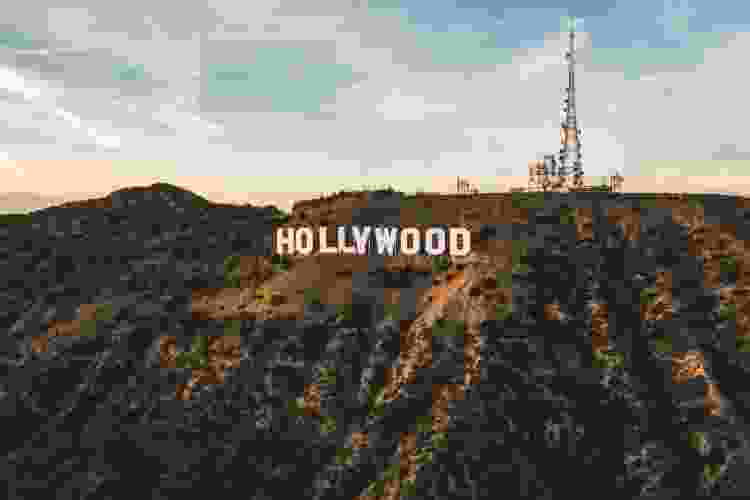 32. Check Out the Flea Market
Looking for something new and interesting? Go on a treasure hunt in a local flea market. This is one of our favorite cheap first date ideas in Los Angeles, and there is no shortage of flea markets to choose from. Go look at vintage clothing, local artwork and unique trinkets. Challenge each other to find something that the other person has never seen before. You can spend hours having fun in a flea market even if you never make a purchase.
33. Check Out the Wildlife Learning Center
Looking for a first date idea in LA for animal lovers? The Wildlife Learning Center is perfect. You and your date will love learning about unique animals from around the world. Admission is $15, and that money goes toward conservation efforts. Your date is contributing to a good cause!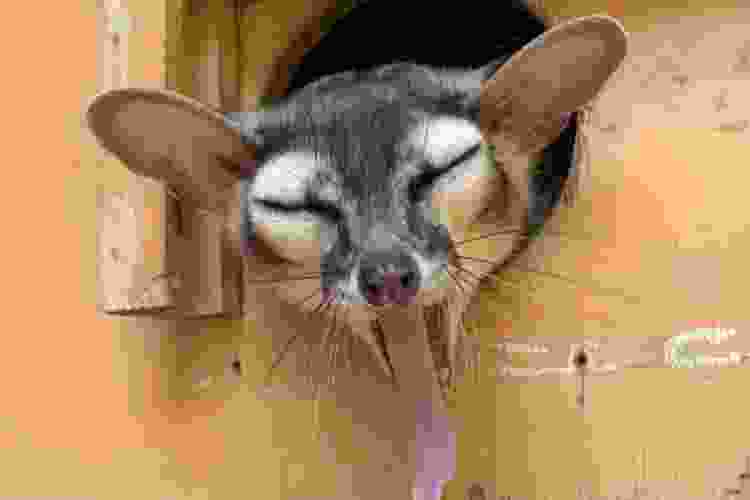 Join 200,000+ Culinary Enthusiasts
Exclusive deals, recipes, cookbooks, and our best tips for home cooks — free and straight to your inbox. PLUS: 500 Rewards Points.
Did a cooking class in Los Angeles pique your interest, or perhaps an excursion to the stunning El Matador Beach? There are so many unique places to go in Los Angeles, you and your special someone will find the perfect date idea in Los Angeles to connect, enjoy one another and plan your next date night.
For even more fun ways to explore Los Angeles and beyond, check out other experiences happening on Cozymeal.