50 Best 50th Birthday Gift Ideas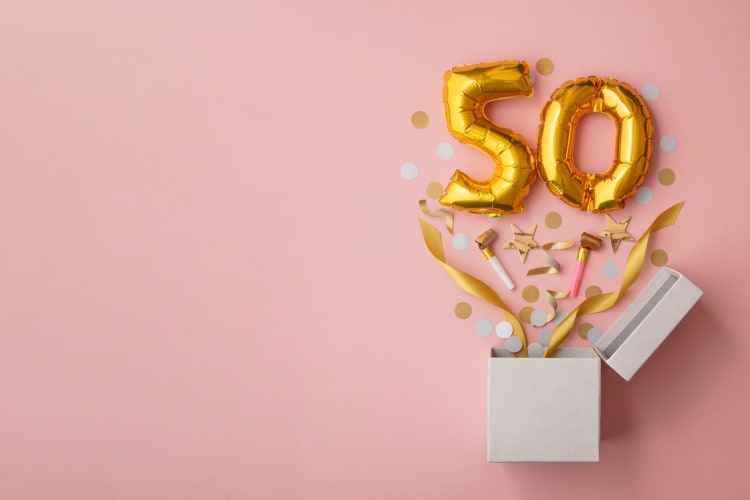 Our editorial team recommends the best products through independent research, selection and careful review. If you make a purchase through one of our affiliate links, we may earn a commission. Prices are subject to change.
Are you on the lookout for 50th birthday gift ideas to celebrate a special someone who is turning half a century old? Turning 50 is a huge milestone, so if one of your loved ones is approaching 25 for the second time, it is practically your duty to ensure their big day is one of the best.
There are many perks of turning 50. A person approaching their fifth decade is older and wiser. They know themselves and have a greater appreciation for life. So why not help them live it up? This list of the best 50th birthday gift ideas is for men and women, so this guide will help you find the perfect present for anyone celebrating the big 5-0.
Jump to Section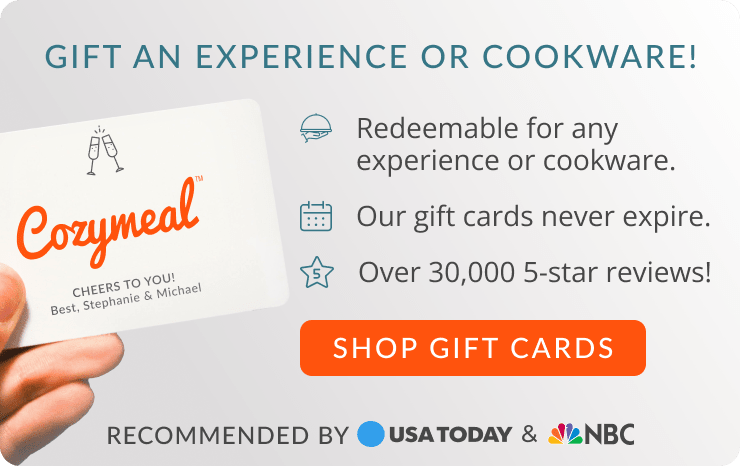 50th Birthday Gift Ideas for Foodies
1. Cooking Classes
Cooking classes are a fun and unique 50th birthday gift idea that provide an interactive experience for your loved one. Find cooking classes near you, or opt for cooking classes in Calgary and many other major cities. If you're planning a beachside vacation, be sure to check out cooking classes in Miami and other popular destinations.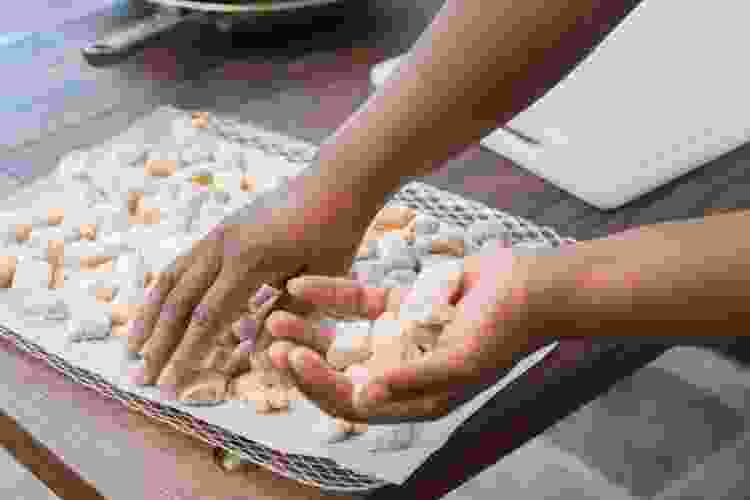 2. Private Chef Experience
If you want to give your loved one a real treat, schedule a private chef experience for a gourmet 50th birthday party idea. Private chefs in San Diego bring culinary flare to the West Coast, while private chefs in NYC create big flavors in the Big Apple. No matter where you live there is sure to be a private chef near you who is ready to shop for, prepare and serve the ultimate birthday meal. They'll even handle the kitchen clean-up!
3. Food Tours
Food tours are a fun way to ring in a new decade of life. Whether you're looking for food tours in San Francisco or Food tours in Chicago, a simple search for food tours near you should do the trick for a 50th birthday gift idea they'll never forget.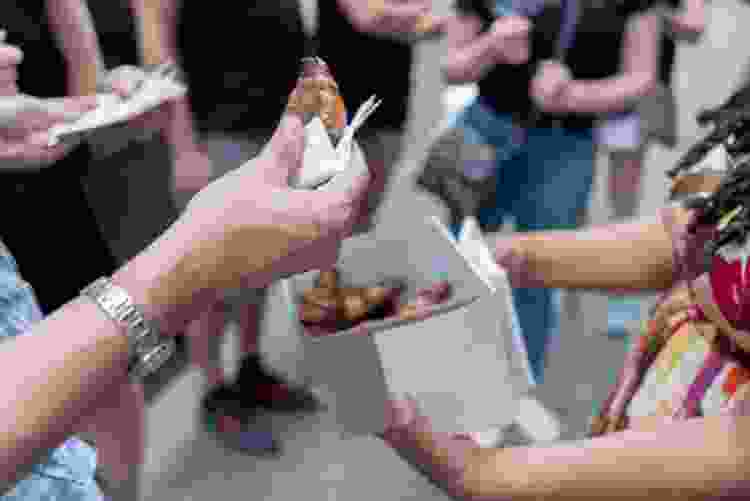 4. Online Cooking Classes
If your loved one prefers a low-key night in as a 50th birthday gift idea, online cooking classes offer a fun and engaging way to expand their culinary skills from the comfort of their own kitchen. These interactive classes are taught by world-class chefs, so quality is never sacrificed.
5. Cuisinart Smart Stick 2-Speed Hand Blender
The Cuisinart Smart Stick 2-Speed Hand Blender is quite the culinary commodity. This small kitchen appliance will have the user blending and pureéing their favorite ingredients with ease. It includes a two-speed slide control and blending shaft that reaches deep into pots and containers of all sizes. The blade guard makes it safe to use for cooks of all levels. The fact that this blender is versatile, safe and easy to clean makes it one of the best 50th birthday gift ideas for any foodie.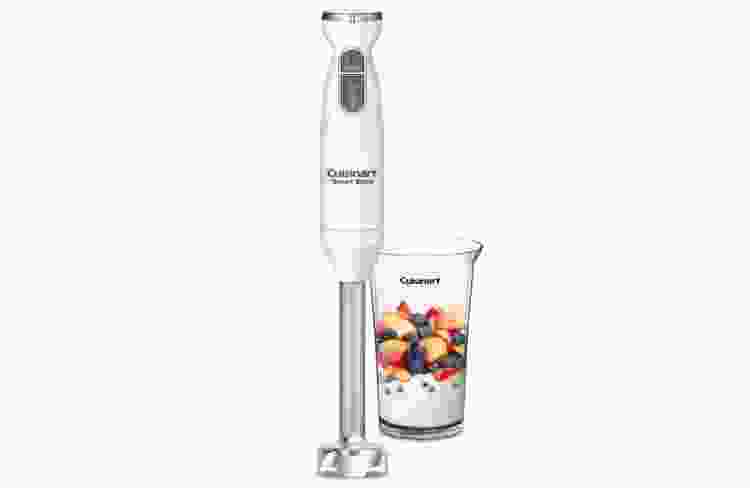 6. Marcato Atlas 150 Pasta Machine
The Marcato Atlas 150 Pasta Machine is one of the best pasta making tools and perfect for anybody who loves to whip up homemade pasta from scratch. Made in Italy, this hand-crank roller is easy to use and churns out fresh lasagna, linguine, tagliatelle and more with the turn of a handle. Separate pasta cutter attachments and a drive motor are also available.
Gift a Private Chef Experience Now
Treat someone special to gourmet fine dining at home. Gift a private chef experience starting at $59/person.
7. Zwilling 3-Pc Cheese Knife Set
Your life shouldn't be dull at 50, and neither should your knives. When it comes to kitchen tools, quality cutlery is one of the best 50th birthday gifts money can buy. Check out this Zwilling 3-Pc Cheese Knife Set for the cheese lover in your life. One of the best knife sets, it includes a knife for soft, medium and hard cheeses, and their sleek look helps to create a spectacular cheese board display.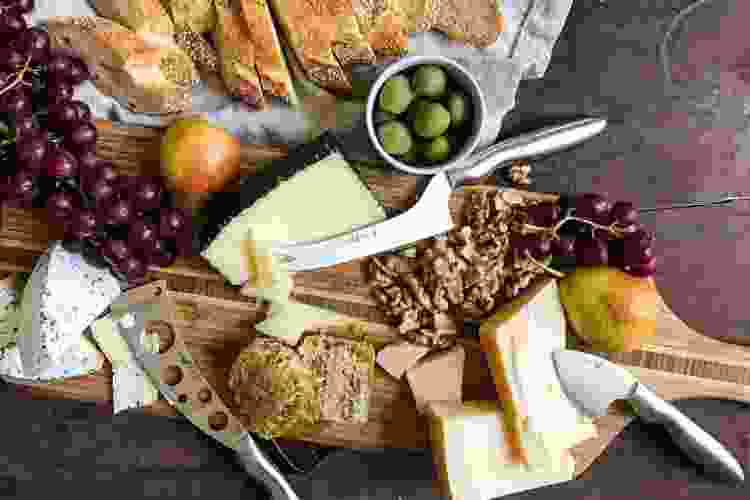 8. Foodie Gift Card
You can't go wrong with a foodie gift card. These cards can be used for any culinary class, tour or tasting on Cozymeal, as well as any chef-recommended cookware in the Cozymeal Shop. Gift cards are available in any amount over $10 and never expire, making them a great 50th birthday gift idea.
Best 50th Birthday Gifts for Women
9. Virtual Wine Tastings
Are you looking for 50th birthday gifts for women? Grab your gals and celebrate feeling 50, fun and fabulous. Virtual wine tastings are led by world-class sommeliers and chefs. They make the perfect 50th birthday gift idea because they provide the ultimate girls night in.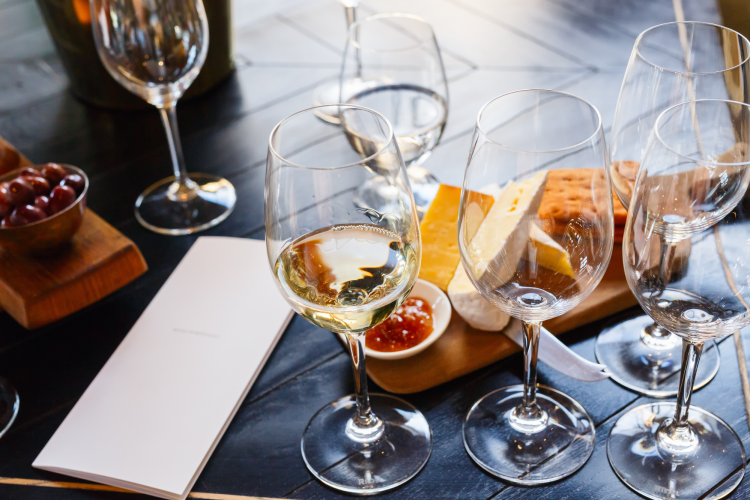 10. Global Grub DIY Sushi Kit
If your birthday girl is a homebody who loves sushi, making the Japanese favorite at home has never been easier. This Global Grub DIY Sushi Kit is one of the best sushi making kits around and gets five stars from users, making it one of the best 50th birthday gift ideas for women. If you're lucky, she may even prepare a roll for you.
11. Pemira 50th Birthday Necklace
If you're shopping for a gift for your wife in particular, why not settle on this elegant 50th birthday necklace? This pretty sterling silver piece features five creatively woven rings to symbolize each decade of life.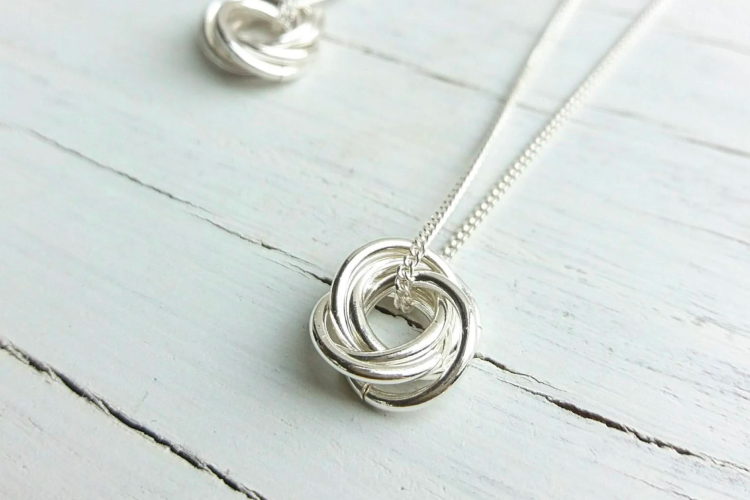 12. Monthly Flower Subscription
Turning 50 is a big milestone, so why not celebrate for the duration of the year? A monthly flower subscription from Bouqs is a favorite 50th birthday gift idea because, for one, what woman doesn't love flowers? Even better, you can place your order once and let automatic billing do the rest. This gift is creative, thoughtful and convenient. Every month, your loved one will receive a bright, fragrant surprise that is sure to put a smile on her face.
Gift a Virtual Wine Tasting Now
The ultimate gourmet gift for any wine lover on your list. Virtual wine tastings bring a virtual vineyard experience right to you.
13. Spa Gift Set
Help her indulge in some rest and relaxation with this 50th birthday gift idea. This rose spa gift set includes rose-scented soap, lip balm, an exfoliating face mask and more. Receiving a collection of self-care products will encourage her to indulge in some well-deserved pampering.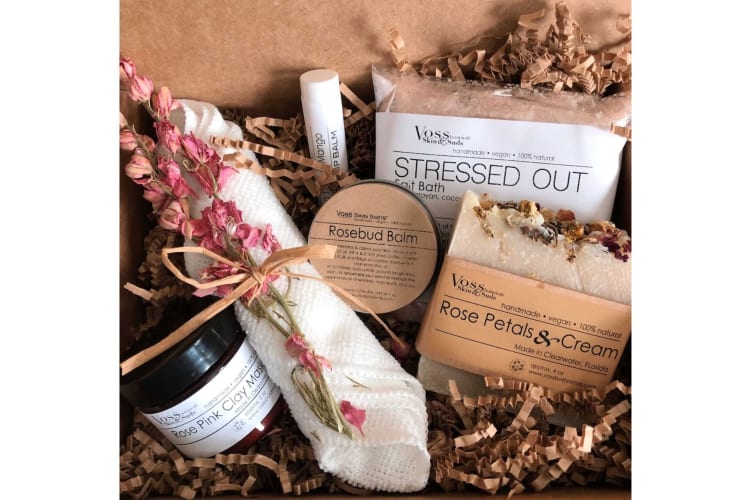 14. Blessed Engraved Necklace
Turning 50 is a time when many women reflect on all life has given them up to this point. This "Blessed" engraved necklace is a great piece of jewelry to give if you want to help highlight all of the special moments that have led to this day. It's simplicity and elegance make this one of the near-perfect 50th birthday gift ideas for a wife, mother, daughter or friend.
15. Personalized Message Necklace
Let her know you love her even when you're not around with this engraved personal message necklace. You can further personalize it by adding a birthstone charm.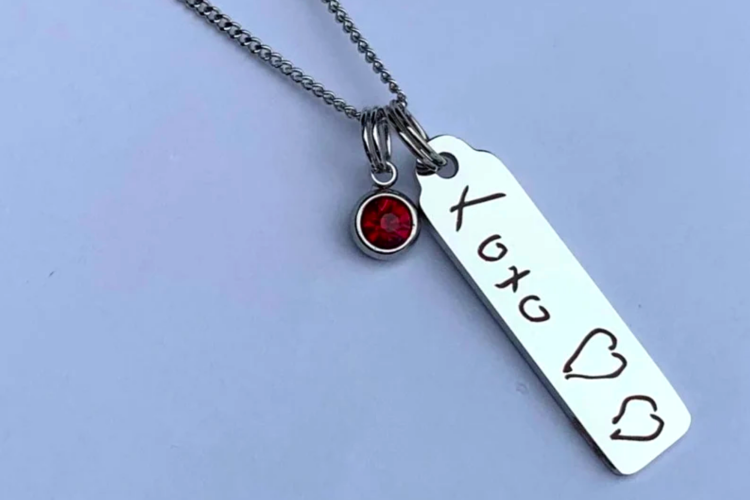 16. Best Nana Ever Custom Socks
If she's a grandma, keep her feet warm and her heart full with this custom wearable gift. Adorned with the message "Best Nana Ever" and a place to include a photo of the youngest (and most adorable) family member in her life, this cute pair of custom socks will not disappoint.
17. Photo Collage Mug
She'll be able to keep the likeness of her children, grandchildren, pets and loved ones close by with this adorable collage mug. The mugs are 11 oz. and can fit either six or eight of her favorite photos.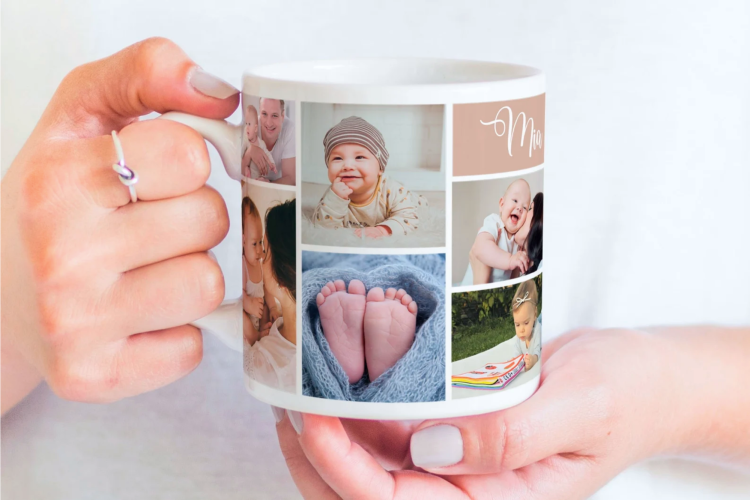 18. Custom Pet Pillows
If the birthday honoree loves their furbabies, these custom pet pillows are bound to be a hit. Each one bears the shape and likeness of her favorite dog or cat, making for a unique and fun 50th birthday gift idea.
19. 50th Birthday Frosted Candle
Light up their world with this 50th birthday frosted candle. Include their name, birth year and personalized message on the label. The candles are white in color, and there are several scents to choose from.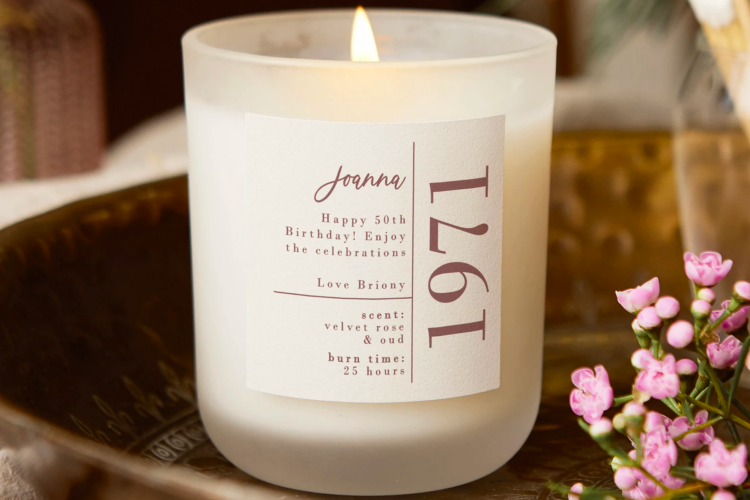 20. 50th Birthday Crew T-Shirts
Bachelorettes are not the only group of girls who can dress in matching, attention-grabbing gear. Get the whole crew together and go out for a fun lunch or happy hour. With everyone wearing a "50th Birthday Crew" t-shirt, you will be sure to make your loved one feel special. This is one of the best 50th birthday gift ideas if your loved one enjoys being social, as it will definitely draw comments everywhere you go.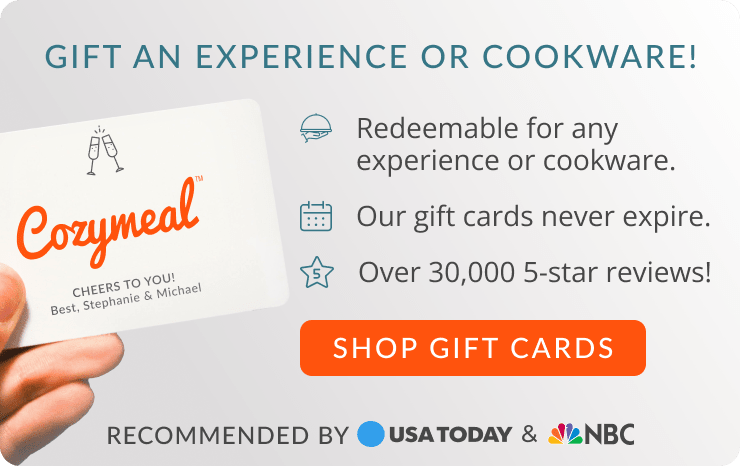 21. Custom Togetherness Digital Art
Imagine your family sitting together, side-by-side, enjoying each other's company. A customized illustration will depict this for you in a beautiful, high-quality graphic image with a personalized message. This is a digital file, and printing is not included.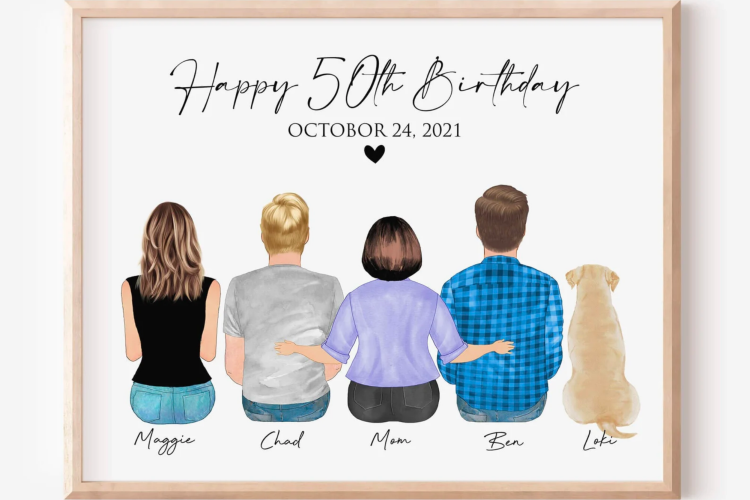 Best 50th Birthday Gifts for Men
22. Viski Reserve European Crystal Liquor Decanter
Men are notoriously hard to shop for, and that remains the case when it comes to 50th birthday gifts. If you're looking for 50th birthday gift ideas for men who love their whiskey or other fine liquors, consider a Viski Reserve European Crystal Liquor Decanter. With a 28-ounce capacity, this gift is not only functional but also makes an elegant statement on a home bar, mantle or other place of honor in the house.
23. Weber Traveler Portable Gas Grill
If your birthday boy loves to cook, there are many 50th birthday gift ideas for men that cater to the culinary genius inside of him. Whether searching for the best 50th birthday gift ideas for husbands, family members or friends, grilling gifts are perfect. The Weber Traveler Portable Gas Grill is a great choice because it can go with them anywhere.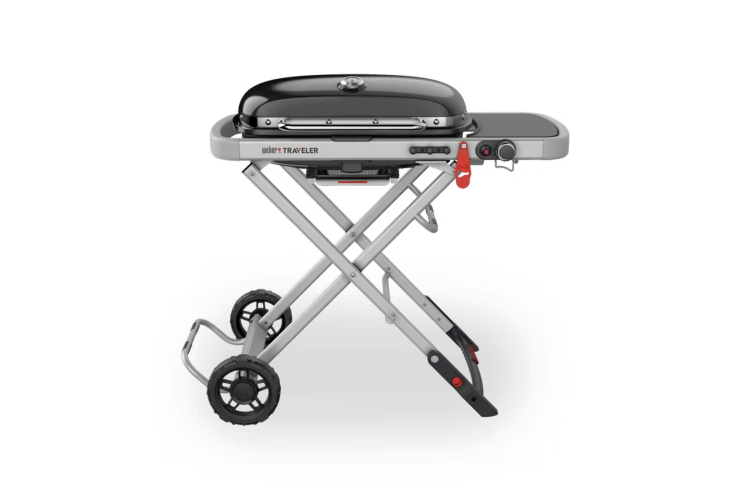 24. Online Mixology Classes
If he loves enjoying a mixed drink but would rather skip the bustling bar scene, online mixology classes are a unique 50th birthday gift idea. These live classes are taught by the best bartenders and mixologists in the industry, which is something every cocktail connoisseur can raise a glass to!
25. The Gentleman's Box
If you're truly stuck pondering the best 50th birthday gifts for men, a subscription to the Bespoke Post will keep him spoiled year-round. Each monthly box is themed around a hobby or interest, such as camping, home brewing, mixology or grooming.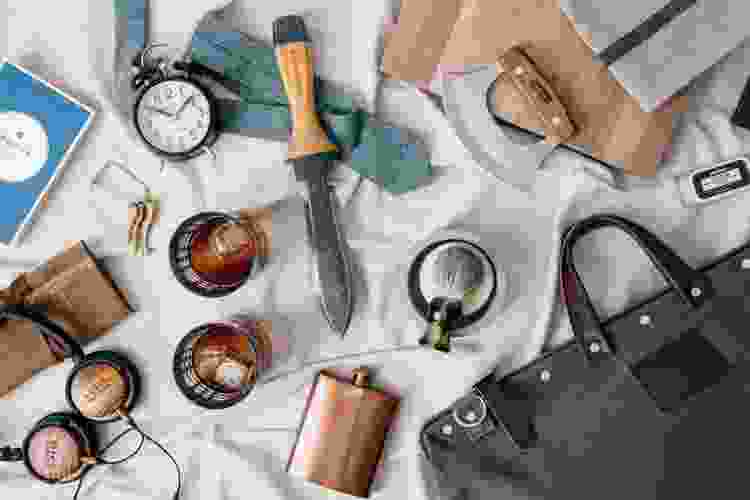 26. Handyman Coffee Mug
If he's a Mr. Fix-it as well as a coffee enthusiast, a coffee mug that complements his abilities is the best 50th birthday gift idea on this list. This personalized handyman coffee mug will suit him well with a flattering message that reads, "If [name] can't fix it, no one can." Help him feel appreciated as he indulges in his daily dose of java.
27. Customized Wireless Phone Charger
This customized wireless charging pad is one of the best 50th birthday gifts for any dad. With space for a custom message or design, his heart is sure to melt each time he conveniently drops his phone off for cord-free charge.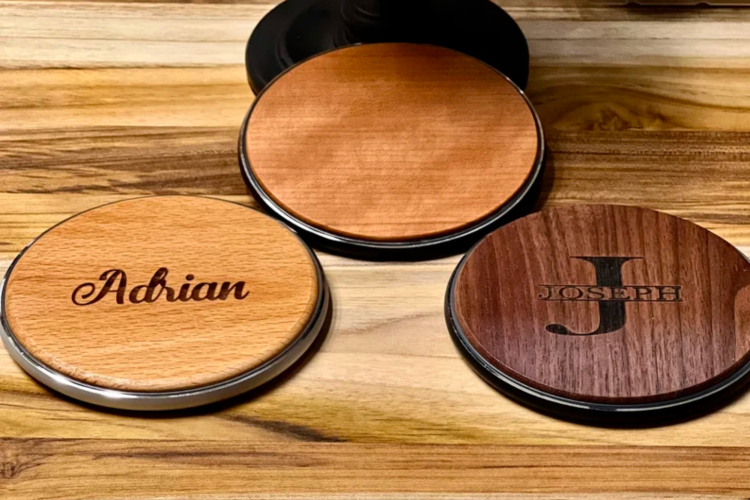 28. iFixIt Pro Tech Toolkit
Is he tech-savvy with a handyman twist? The Pro Tech Toolkit from iFixit includes all the tools he needs to tinker. There's an assortment of spudgers, openers, tweezers and suction handles — plus a case of 64 steel screwdriver bits.
Gift a Private Chef Experience Now
Treat someone special to gourmet fine dining at home. Gift a private chef experience starting at $59/person.
29. Beats Fit Pro Wireless Ear Buds
Offer him maximum comfort when he hits the gym or the office. Not only do the Beats Fit Pro wireless ear buds come in four stylish colors, they also include comfortable, secure-fit wing tips and active noise-cancelling so he can zero in on the task at hand.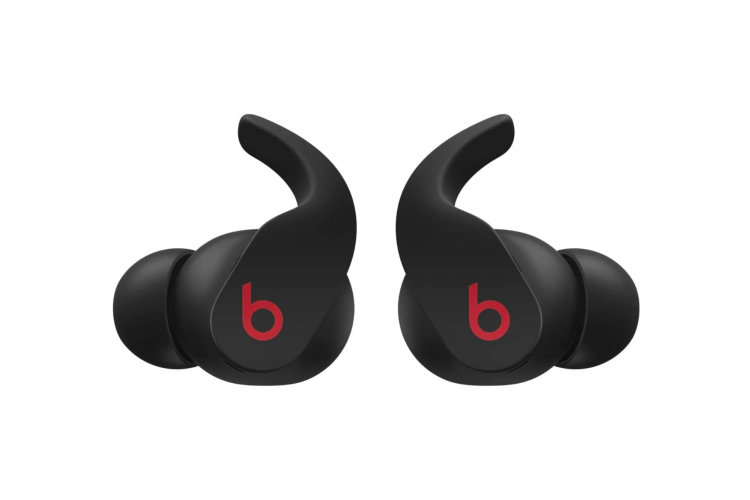 30. Sonos Roam Portable Speaker
Give him the gift of great sounds that can go with him anywhere he roams. The Sonos Roam portable speaker is lightweight, portable and ready to pair with his every device. This smart speaker is waterproof, drop resistant and has a 10-hour battery life. This is a 50th birthday gift idea that will last and last!
31. Engraved Flask
This sleek leather-wrapped flask can be etched with a monogram or personal message. Opening this stylish gift will be sure to lift his spirits on the big day. Be prepared to propose a toast when you give this gift.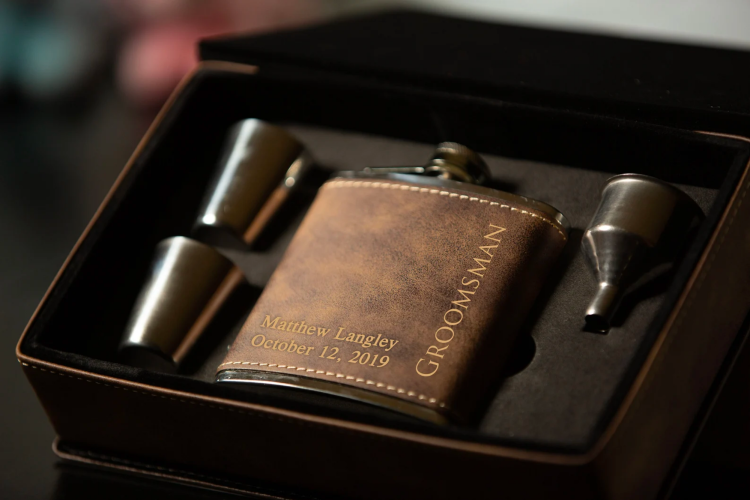 32. 50th Birthday Collage Print
This personalized 50th birthday collage print lets you create a custom birthday message, complete with a photo collage. A great 50th birthday gift idea for dads and grandads, it's a sweet reminder of how loved he is.
33. Vintage Shirt With Birth Year
This vintage aged to perfection t-shirt will let everyone know your loved one is a true classic. With a vintage whiskey bottle design made complete by their birth year, this is the best 50th birthday gift idea for the t-shirt collector in your life. Customize it to your liking with their favorite color or long sleeves.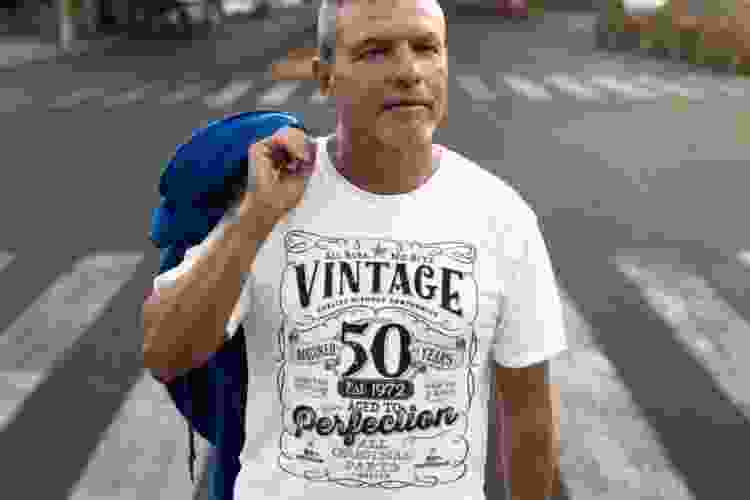 34. Customized Milestone Map
He's celebrating 50 years of grand adventures, so why not call attention to them? This custom made-to-order map is available in a frame or as a canvas wrap. Call out the geographical locations of mountains he's climbed, beaches he's sunbathed on and more with this elegant print.
Gift Cookware Loved by Chefs
Shop gourmet gifts for your favorite foodie. Chef-beloved brands. Easy returns. Price matching guaranteed.
Unique 50th Birthday Gift Ideas
35. Specialty Coffee
Is your loved one a coffee connoisseur? If so, treat them to the best possible gift for coffee lovers! A bag of premium coffee from Volcanica Coffee is a 50th birthday gift that will never disappoint. The collection features over 150 coffees from all around the world, everything from single origin to peaberry to estate and more, all freshly roasted in Atlanta, Georgia.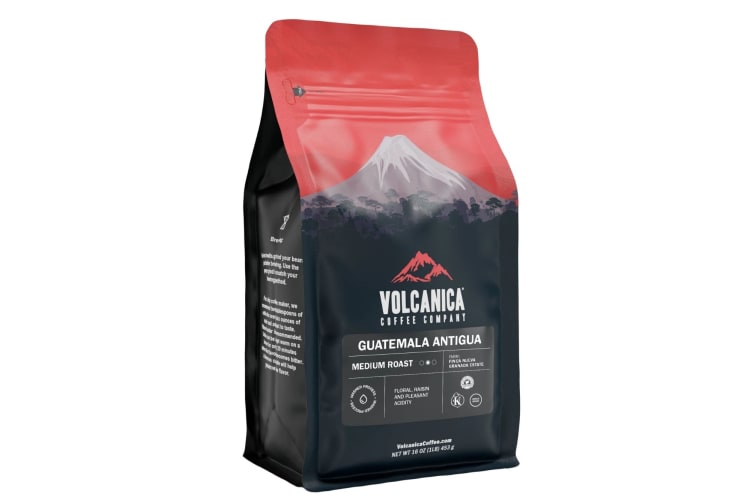 36. A Homemade Time Capsule
While this 50th birthday gift idea requires a good amount of creativity, it also provides a chance to get the entire family involved. Ideas for items to include are mementos from any school they attended, childhood artifacts, photographs, front pages of newspapers printed on the day they were born, their favorite candy, etc. A time capsule is by far one of the most sentimental gifts you could ever give.
37. Personalized Christmas Ornaments
If your loved one is into Christmas ornaments, giving them a custom piece is welcomed at any time of year, even their 50th birthday. Add a festive favorite to their collection so they can give their tree a personalized touch when the holidays come around.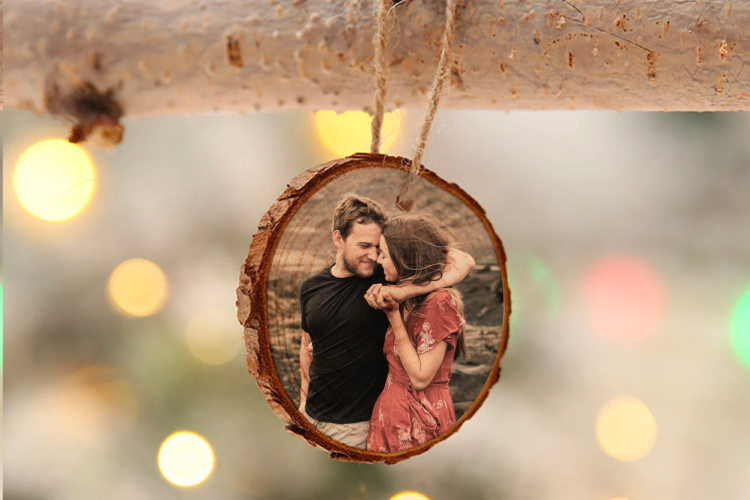 38. May The Fifties Be With You Star Wars Tumbler
If your favorite Star Wars nerd is turning 50, this Hollywood-inspired tumbler is a must-have. It is available in multiple colors, and the message is written in the classic movie font.
39. Personalized Book
This is a detailed and professionally illustrated book, and all you have to do is provide your loved one's date of birth. The book does the rest. The end result will include fascinating individualized facts about them, TV and film trivia, music facts, sports tidbits and more.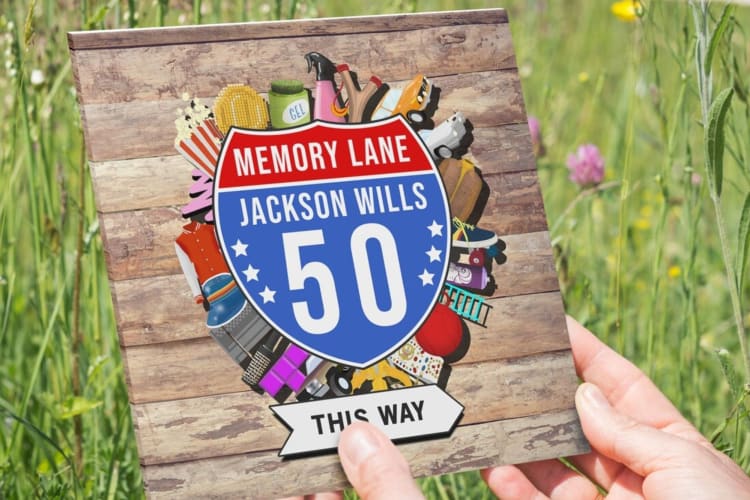 40. Candy Club Subscription Box
This is one of the best gifts for anyone who is known to get the occasional sugar craving. With a candy subscription box, your loved one will indulge in an ongoing assortment of savory sweets.
Gift a Local Food Tour Now
The perfect gift for every gastronomist. Discover an abundance of culture and culinary delights with a five-star local guide.
41. ScentBird Fragrance Subscription
This is a gift box for the person who loves to feel and smell amazing. Get a 30-day supply of designer fragrances for men and women. With a delivery each month, your loved one will be able to mix up the mood.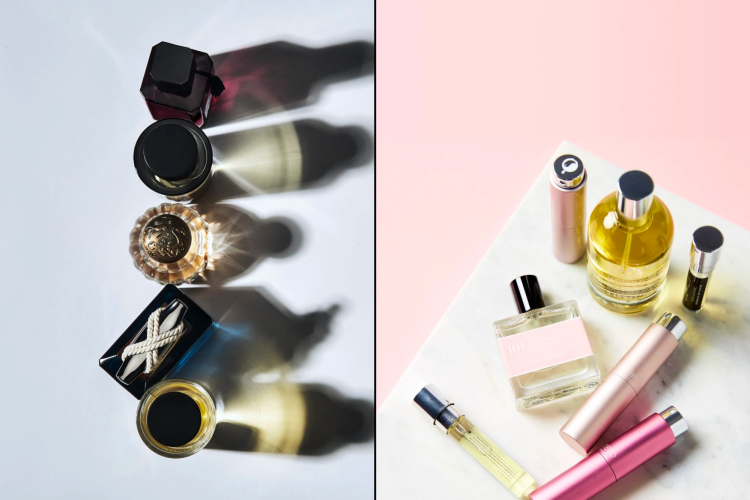 42. Bluetooth Beanie
With a stylish Bluetooth beanie, your loved one will enjoy ultimate sound quality while keeping their noggin warm.
43. Making 50 Look Good Birthday Wine Label
This peel-and-stick waterproof, vinyl wine bottle label is perfect for the wine lover in your life. Give them a bottle of their favorite red, white or rosé and smack this label on it to make the birthday boy or girl feel extra special.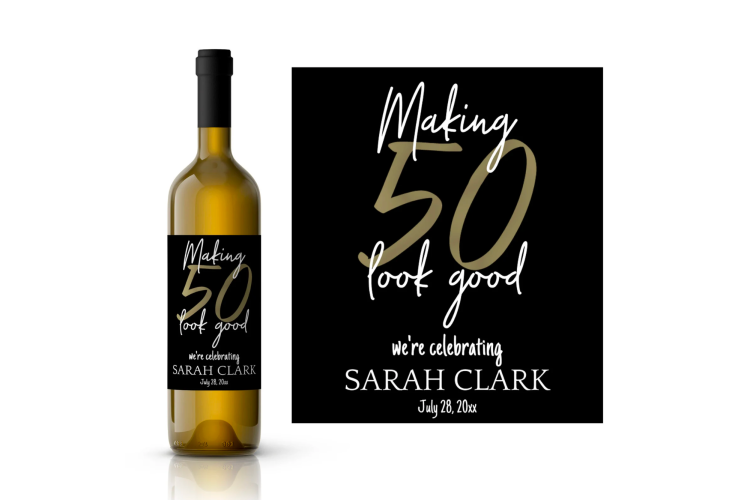 Funny 50th Birthday Gift Ideas
44. Colonoscopy Birthday Card
"Look who's all grown up and ready for their colonoscopy." That's the message printed on this funny birthday card, depicted with a pair of hands donning latex gloves. This birthday card is perfect for the 50-year-old with a sense of humor in your life.
45. "More Fun Than Two 25 Year Olds" Cap
The hat and text color are both customizable on this hilarious 50th birthday cap, so you can create the perfect gift to go along with your loved one's personality. This is one of the best 50th birthday gift ideas for the sassiest and spunkiest members of your crew.
46. Definition of 50 Poster
The recipient of this gift will be tickled pink. A personalized definition of 50 poster includes seven descriptions of what being a 50-year-old means. With default messages like, "five perfect 10s," you can use the definitions provided or create your own. Consider alluding to inside jokes to make the print all the more meaningful.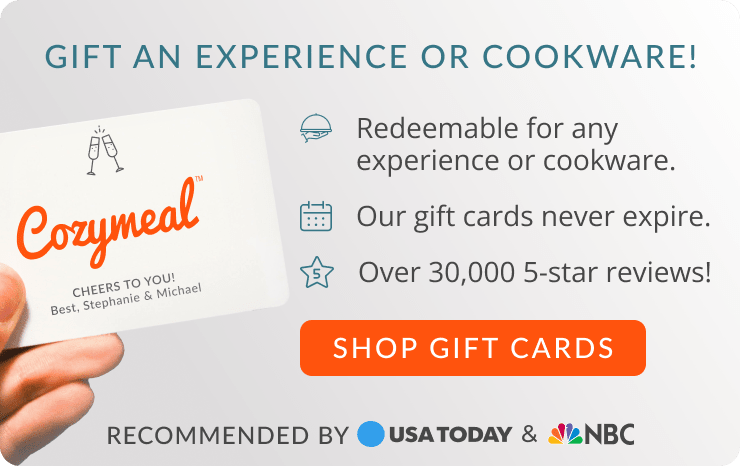 47. "WTF" T-shirt
Are you looking for a wearable 50th birthday gift idea? Consider gifting this hilarious t-shirt that will help your special someone wear 50 proudly. This time, the popular WTF acronym stands for "Who's turning 50?" This is an affordable gift that is sure to give the recipient a nice chuckle. It is available in a variety of stylish colors.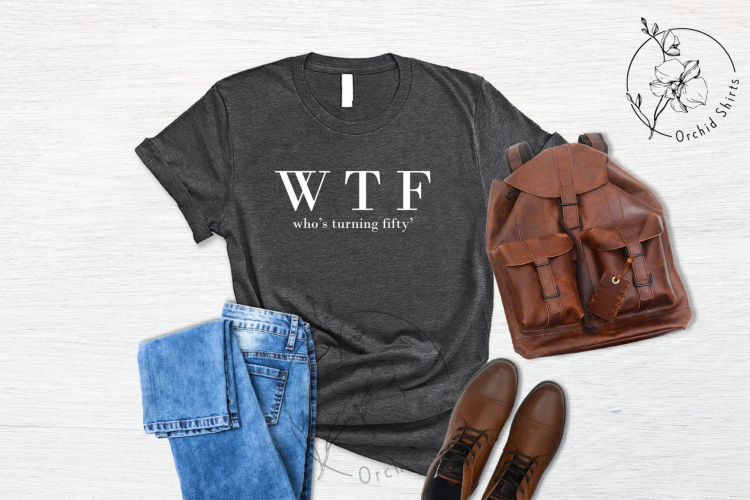 48. "Fifty: The Ultimate F Word" Coffee Mug
If your gift recipient bleeds coffee, a new mug is one of the best gift options you can purchase. This one in particular from is one of the funniest presents money can buy, especially if your loved one has a bit of a potty mouth. It comes in solid white with black lettering, a black handle and accents.
49. 49+1 Stemless Wine Glass
This section has included items that play on swearing and math, and this gift combines them both. On this bestelling stemless wine glass, the "+1" is depicted as a middle finger, and it is one of the best 50th birthday gift ideas if a laugh is what you're after. Cheers to being 50, funny and funky!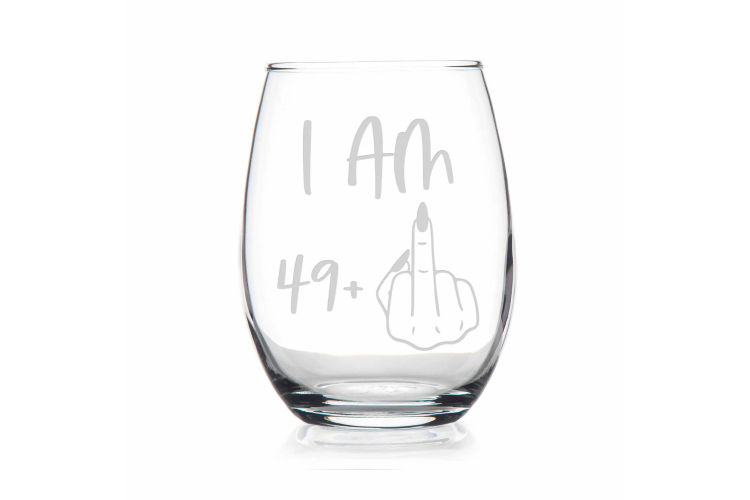 50. Square Root of 2500 T-Shirt
If you're shopping for funny 50th birthday gifts, this one is perfect for the math nerd in your life. This comical t-shirt is a 50th birthday gift idea that provides the opportunity for them to wear their age as a badge of honor while conjuring up a few laughs. There are several colors to choose from, so you can order it in their favorite shade.
FAQs
For some, shopping for 50th birthday presents can be a challenge. We hope this list of the best 50th birthday gift ideas has inspired you to make your loved one's 18,262nd day on Earth one of the best. Whether you spend $20 or $100-plus, don't get too wrapped up in the monetary value. Just find a gift that suits their personality so they know you put thought into it. To most, it is the thought that counts.
For even more fun 50th birthday gift ideas, check out other experiences happening on Cozymeal.