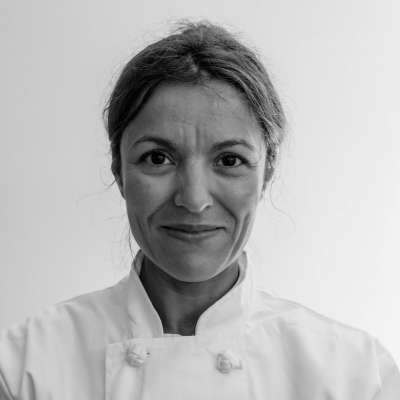 Chef Lamia
Verified chef
(32 reviews)
Chef Lamia is a private chef, pastry chef manager, and cooking instructor in San Francisco. She enjoys sharing her passion of food with her students, learning the science behind food, and the importance of eating healthy. Using only organic and fresh ingredients, Chef Lamia challenges you to discover new flavors and to expand your palate.
Cozymeal guest reviews for Chef Lamia

Jess
11 Feb 2020
Chef Lamia was wonderful! She welcomed us into her home and taught us how to make 3 dishes during our class. She was a great teacher and host! I would recommend her for any event!

June Legare
01 Feb 2020
Welcoming, Charming, Talented. What a wonderful Experience. Thank you Soooo Much Chef Lamia!!! Will book with you again :)

Xinkun
31 Jan 2020
Wonderful and super warm chef! Great food! Thanks so much Chef Lamia!

Pattie
30 Jan 2020
Chef Lamia was amazing! It was a perfect way for my friends and I to spend the evening together. She made us feel so welcome in her home. The pace and format of the class enabled us to balance observing and learning with cooking, which was a very relaxing pace. She shared practical tips and her passion for cooking--and was a great storyteller! The icing was sitting down to enjoy the delicious meal we had created together. Chef Lamia is a treasure!

Victoria
14 Jan 2020
We came to visit San Francisco for a Bachelorette Party and we wanted something a little more relaxed during the day. Lamia made sure we had a great time! The food was fantastic and she made us feel right at home. She let us cook the meal hands on so we can remember how to put the ingredients together. I 100% recommend her to my friends and family, thank you again Chef Lamia!!

Tara
09 Jan 2020
THE BEST COOKING CLASS WE'VE TAKEN! AND, WE HAVE TAKEN A LOT OF THEM! Chef Lamia welcomed our whole group whole heartedly and was such a special host and culinary genius!! We are grateful for all that she does and how special she made the evening for our group!

Boris
03 Jan 2020
Lamia was absolutely wonderful -- such a great host that made this feel like a dinner with old friends. The food was delicious and the care she took with every ingredient and step was always visible. What a fantastic experience -- we hope to do an evening with Lamia again soon. Thank you Lamia!!

Alexander
01 Jan 2020
An extremely talented woman who is as friendly and accommodating as she is knowledgeable and skilled—which is to say, quite a lot of all of those! I had an amazing evening cooking with my family group and would gladly do that with her again, and again, and again!

Sekani
28 Dec 2019
This was my first time trying any cooking class and I am so glad my first time was with her. She was kind, funny and knowledgeable. It's not easy to please a teacher, but I learned thing about cooking a recipe can't teach you. She introduced us to flavors we never heard of. Also meeting other people who like food and were fun to was a joy.

Tavya
28 Dec 2019
I had an amazing experience with Chef Lamia. Her cooking class was by far the best I have ever taken.

Mike
13 Dec 2019
Wow! This class was amazing. Chef Lamia has an amazing, vibrant personality and made our team building session feel like we were at our good friend's house to all cook a meal together. The food was absolutely delicious but even better was the ambience and the conversation amongst our group. I'd highly recommend this for anybody and we'd love to do another class with Chef Lamia soon!

richard
20 Nov 2019
We had a fantastic time with Chef Lamia! I would highly recommend a cooking class with her for a small or large group.

Talin
30 Sep 2019
it was really great

Paul
27 Aug 2019
Lamia was a fantastic teacher and host for my team's first experience with Cozy meal. I would HIGHLY recommend signing up for one of her meals. I can't wait to book again in the future!

Tyler
21 Aug 2019
What an incredible experience this was. I have never taken a cooking class before but this certainly was a great way to start. Chef Lamia is not only an incredible cook, but a great teacher. I feel confident in my ability to recreate the meal my team and I made. I will definitely book another class with Chef Lamia! I cant wait to go back to her beautiful home.

Madison
21 Aug 2019
Chef Lamia is a not only an incredible Chef, but such a lovely person. As soon as we arrived, she warmly welcomed us into her beautiful home and had such patience and humor when teaching us her techniques. After a fantastic evening of learning, cooking, and laughing, she served us a delicious meal she helped us prepare that we could all enjoy at her dining table. I give this experience an 11/10 and would highly recommend this to others. Thank you for sharing your home and talent with us Chef!

Jeremy
21 Aug 2019
Thank you for hosting our team!

Howard
21 Aug 2019
Outstanding! Such a wonderful dinner/night! Highly recommend.

Jill
06 May 2019
Chef Lamia is amazing. We enjoyed the class with another couple. Techniques of the trade will enhance my dishes I make at home. Chef Lamia is patient & makes sure the experience & food is amazing. Thanks to Pete & Ellis. You were such fun. It was also nice to have Chef Lamia's husband & daughter join us for dessert. Can't wait to remake the entire meal at home.

Nancy
28 Apr 2019
Amazing cooking class with Chef Lamia! Excellent menu of recipes that will translate well to our own home. Chef Lamia was super friendly and welcoming, and we all learned a lot of kitchen tips and tricks. Fantastic evening for our entire family to spend together.

Doug
27 Feb 2019
Chef Lamina welcomes us Into her kitchen and we had an excellent Experience cooking and learning, then eating and Laughing. Highly recommend!

Pooya
23 Aug 2018
Chef Lamia's Morrocan Tagine class was all I could ask for a cooking class. The class was interactive, and she taught us all the steps and let us do most parts of the work. Ingredients were organic and high quality, and we all enjoyed all the dishes afterward. Her place was also beautiful, and she was a great host as well as a great chef.

Christine
23 Aug 2018
Chef Lamia was so warm and welcoming. We had a wonderful time learning to cook some amazing French-Morrocan dishes, with her french flair! Wonderful way to celebrate my dad's birthday as he loves to cook. We all enjoyed the whole experience.

Radha
22 May 2018
Chef Lamia was amazing! She truly made our entire day if not our trip for a bachelorette party with 8 girls. Her home is beautiful and easily accommodated our group. Would highly recommend chef Lamia for any class as she's such a fun person with a warm personality we all absolutely adored her!

Elizabeth
20 May 2018
Chef Lamia was great! She has such a great energy about her and made us feel so welcome and comfortable in her home. We learned how to prepare a number of dishes but the experience overall in working with her and being with our group was the best part. Highly recommend!

Joanne
14 May 2018
Love love love Chef Lamia!!! We will come back for more classes for sure!

Elizabeth
30 Apr 2018
Chef Lamia was amazing - warm, welcoming, super talented, and so fun! From start to finish, our cozymeal experience was fantastic. None of us had ever done anything like this before (take a private cooking class in chef's home) — and our experience exceeded every expectation. Thank you for a very special day - it was perfect!

Masha
25 Apr 2018
This was our first class with Cozymeal and we couldn't be happier about our experience with Chef Lamia! We took her French-Moroccan cooking class and left feeling informed, inspired, and definitely well-fed! Chef Lamia is a knowledgeable chef experienced in many cuisines, but what makes her special is her warmth, generosity and approachability. She instantly made us feel welcome and led us through the process of the three-course meal prep, from start to finish. Not only was she friendly and encouraging during the whole process, but she also answered a lot of my cooking questions and helped address my everyday menu planning, stress-free. As a result, I am no longer scared of taking on a souffle or a cheese puff, and feel more confident about using various spices. Plus, we learned some French, too, since Chef Lamia is a native speaker! It takes a true professional to keep the integrity of the dishes and at the same time make the learning process exciting and accessible. We'll definitely take her classes again!

Richard
16 Apr 2018
Fun fun fun. Great food too!

James
13 Oct 2016
We loved Chef Lamia's food especially the organic chicken tagine, which was one of the best tagine's I have ever had. Throughout the preparation we had a chance to talk with Chef Lamia, who was really nice, and she told us some very interesting stories about her history as a chef from France. The appetizers and yuzu mousse for dessert were delicious as well.

Samad
05 Oct 2016
Chef Lamia is a kind chef with amazing cooking skills. We used her catering services for our tasting event in San Francisco. She was more than kind and the food was really good. She brings big portions which means I had left overs for the following two days which was an additional bonus. For catering in San Francisco - she is definitely one of the caterers I would recommend.

Melissa
02 Feb 2016
Chef Lamia has such a warm personality and is SO sweet. Her home is absolutely wonderful, her kitchen is so open and perfect to fit a group of five or more people. She has so much patience and explains everything very throughly. Her food is absolutely AMAZING and I cannot recommend her enough! I'm looking forward to her next class!
YOU'RE IN!
Thank you for signing up for our mailing list.
© CozymealTM, Inc. 2013-2020 - Phone: 800-369-0157
US Headquarters:
350 Rhode Island, Suite 240
San Francisco, CA 94103
Atlanta Office:
260 Peachtree Street NW, Suite 2200
Atlanta, GA, 30303
Austin Office:
501 Congress Avenue, Suite 150
Austin, TX, 78701
Baltimore Office:
400 East Pratt Street, 8th Floor
Baltimore, MD, 21202
Boise Office:
950 Bannock Street, Suite 1100
Boise, ID, 83702
Boston Office:
100 Cambridge St, 14th Floor
Boston, MA, 02114
Boulder Office:
1434 Spruce Street, Suite 100
Boulder, CO, 80302
Chicago Office:
141 W. Jackson, Suite 300A
Chicago, IL, 60604
Dallas Office:
325 N. St. Paul Street, Suite 3100
Dallas, TX, 75201
Denver Office:
999 18th Street, Suite 3000
Denver, CO, 80202
Fort Lauderdale Office:
2598 E. Sunrise Blvd., Suite 2104
Fort Lauderdale, FL, 33304
Fort Worth Office:
420 Throckmorton Street, Suite 200
Fort Worth, TX, 76102
Houston Office:
2929 Allen Parkway, Suite 200
Houston, TX, 77019
Indianapolis Office:
201 North Illinois Street, 16th Floor – South Tower
Indianapolis, IN, 46204
Kansas City Office:
107 W 9th St 2nd Floor
Kansas City, MO, 64105
Las Vegas Office:
500 North Rainbow Blvd, Suite 300
Las Vegas, NV, 89107
Los Angeles Office:
10880 Wilshire Blvd Suite 1101
Los Angeles, CA, 90024
Miami Office:
801 Brickell Avenue, Suite 900
Miami, FL, 33131
Minneapolis Office:
100 S 5th Street, Suite 1900
Minneapolis, MN, 55402
Nashville Office:
424 Church Street, Suite 2000
Nashville, TN, 37219
New Orleans Office:
1615 Poydras St, Suite 900
New Orleans, LA, 70112
New York City (NYC) Office:
136 Madison Avenue
New York, NY, 10016
Orange County Office:
17901 Von Karman Ave
Irvine, CA, 92614
Orlando Office:
111 North Orange Avenue, Suite 800
Orlando, FL, 32801
Philadelphia Office:
325-41 Chestnut Street, Suite 800
Philadelphia, PA, 19106
Phoenix Office:
20 East Thomas Road, Suite 2200
Phoenix, AZ, 85012
Pittsburgh Office:
322 North Shore Drive Building 1B, Suite 200
Pittsburgh, PA, 15212
Portland Office:
121 Southwest Salmon St, 11th Floor
Portland, OR, 97204
Sacramento Office:
980 9th St, 16th Floor
Sacramento, CA 95814
Salt Lake City Office:
136 East South Temple, Suite 1400
Salt Lake City, UT, 84111
San Antonio Office:
1100 NW Loop 410, Suite 700
San Antonio, TX, 78213
San Diego Office:
501 W Broadway, Suite 800
San Diego, CA, 92101
San Jose Office:
177 Park Avenue, Suite 200
San Jose, CA, 95113
Seattle Office:
801 Second Avenue, Suite 800
Seattle, WA, 98104
St. Louis Office:
100 South 4th Street, Suite 550
St. Louis, MO, 63102
Tampa Office:
4830 West Kennedy Blvd, Suite 600
Tampa, FL, 33609
Tucson Office:
One South Church Avenue, Suite 1200
Tucson, AZ, 85701
Washington, DC Office:
1300 I Street NW, Suite 400E
Washington, DC, 20005