Best Korean Fried Chicken in NYC: 5 Favorite Restaurants in 2023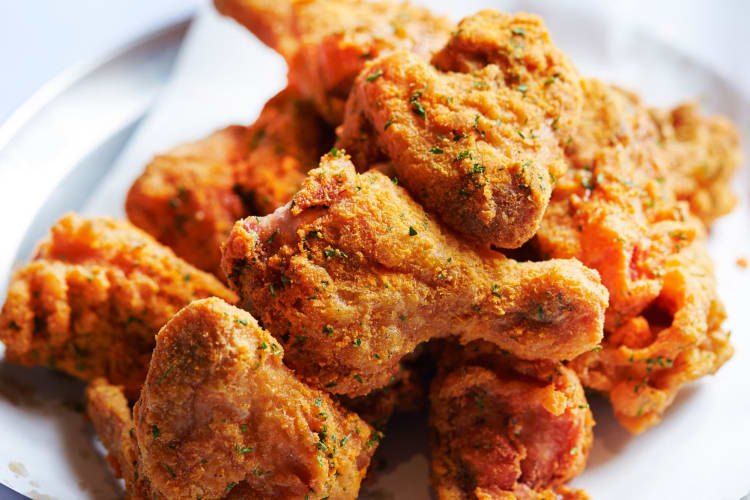 Restaurants that serve Korean fried chicken in NYC usually have a secret ingredient that makes it better than its American counterparts. It has a distinctive crunch with a light and crispy fried crust. From sandwiches to wings, Korean fried chicken is irresistible, and many seek out the best places to get a bite.
New York City has a bustling culinary scene, including vibrant Korean restaurants that serve both traditional and modern dishes. You'll find some mouth-watering meals in Koreatown, but there are restaurants all around the city where diners are raving about their Korean fried chicken. If you're ever in NYC, these restaurants are worth the trip.
Jump to Section
Book a Food Tour in NYC Now
Explore NYC's best bites, esteemed eateries and hidden gems with a top-rated local guide.
Find the Best Korean Fried Chicken in NYC
With so many options, finding the right restaurants in New York City can be difficult. Embark on food tours in NYC for guided and curated tours of all the best eateries. Taste new dishes and discover new restaurants while learning about the history and culture of the city from an expert guide. You never know what dish will become your new favorite.
Whether you're looking for NYC's best Korean fried chicken, the best dim sum in Chinatown, NYC or even the best pizza in Brooklyn, food tours have you covered.
5 Best Korean Fried Chicken Spots in NYC
1. Koko Wings & Cajun Seafood
Cooking up flavorful "Seoul food" in New York City, Koko Wings & Cajun Seafood has quickly become a favorite in the city. Describing themselves as the "Unicorn of Fried Chicken," their flavorful recipes seem to have a monopoly on Korean fried chicken cravings. With raving reviews and an extensive menu, this is a must-visit spot for anyone looking for their go-to fried chicken joint.
The Vibe
The exposed brick in both locations creates a warm atmosphere for cozy, casual dining. Customers rave about the friendly wait staff, which, along with the delicious food, keeps regulars coming back consistently. Stop in on your lunch break or for a casual weekend meal. It's also a great place for a low-key birthday dinner in NYC or a place to take out-of-town guests for an impressive laid-back meal.
What to Order
The bestsellers are chicken wings with the Yangnyeom sauce, a tangy and savory sauce with some heat behind it. They've also got some Korean classics like bulgogi and spicy pork that deserve a taste. And don't overlook the Cajun seafood options at their East Village location. They pair well with the best Korean fried chicken in NYC.
Koko Wings & Cajun Seafood | Multiple Locations | $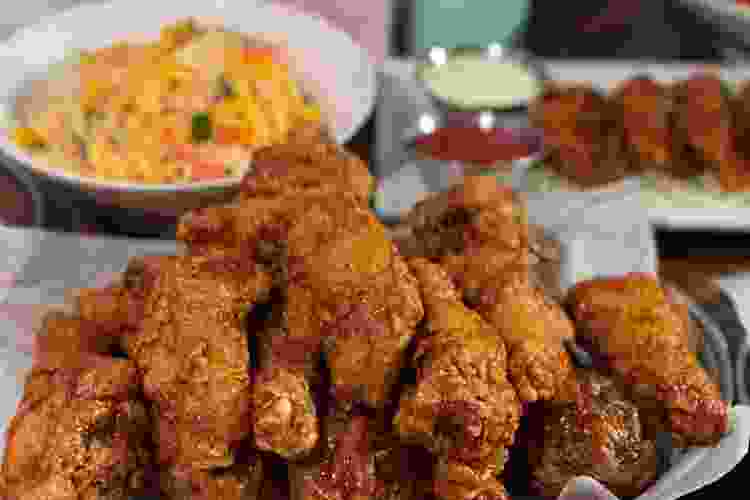 2. Chicken Insider
New York City locals know Chicken Insider will always hit the spot. If they have to recommend one place for Korean fried chicken in NYC, it might be this restaurant. Diners love the variety of flavors and reasonable prices. It's the perfect casual eatery in a bustling city.
The Vibe
Chicken Insider may be small on the inside, but the unassuming location is only part of the charm. It has some of the best Korean fried chicken in NYC, which you can enjoy at a cozy two-person table or with takeout. Head to Chicken Insider when you're looking for comfort food after a day out in the city.
What to Order
Prepare for leftovers; Chicken Insider serves huge portions. But the flavors are so good, you'll love having extras the next day. The Seoul chicken sandwich is topped with spring mix and Korean sauce. The truffle fries are the perfect accompaniment.
Chicken Insider | 1752 Second Ave., New York, NY 10128 | $$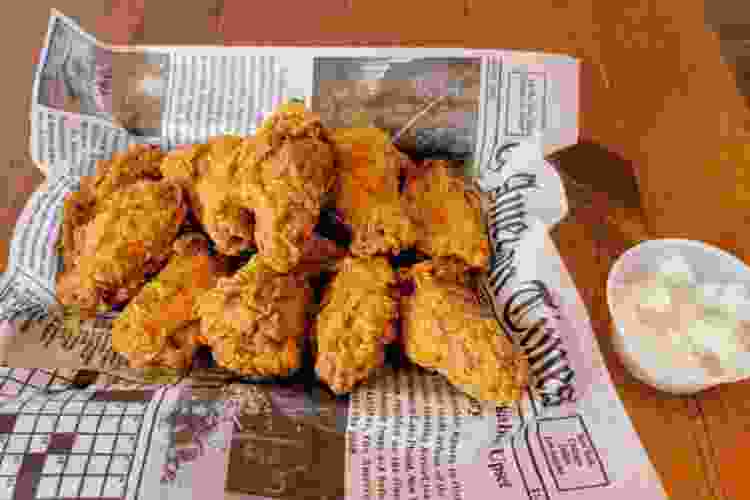 Top-Rated Cooking Classes in NYC

Kick-start your culinary confidence with help from a world-class chef. See what's cooking in NYC today.

Book Now
3. Turntable Chicken Jazz
For the best Korean fried chicken in Koreatown NYC, head to Turntable Chicken Jazz. With unforgettable flavors, generous portions and a cool focus on jazz, hanging here is sure to be your new favorite thing to do in NYC.
The Vibe
Vinyl records covering the walls create a fun dining experience in Koreatown. It's spacious and great for large groups, so bring your friends so you can try more items on the menu. The space is absolutely buzzing, with an eclectic wood-soaked-industrial décor. With a full bar, this is also a great place to spend happy hour.
What to Order
It's all about the sauces here. Soy garlic or hot and spicy, you've got plenty of options to smother your Korean fried chicken at Turntable Chicken Jazz. The tender wings tossed in the hot and spicy sauce are a must-try. Or try the chicken burger smothered in soy garlic sauce.
Turntable Chicken Jazz | Multiple Locations | $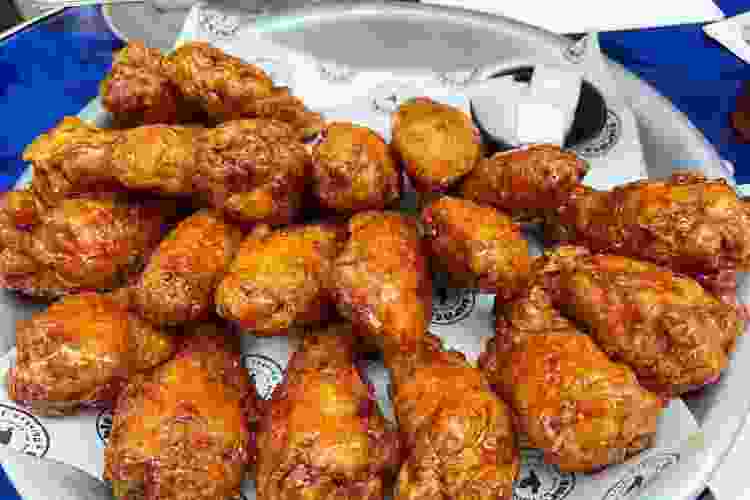 4. Pelicana
Pelicana is a Korean chain that has made the move to America, and it has fans raving. Pelicana is one of the originals in Korea, so it's no wonder their recipe leads to incredible fried chicken. Many believe Pelicana is the best Korean fried chicken in NYC. One bite and you may agree.
The Vibe
With exposed brick and dark wood, Pelicana has a cozy aesthetic, perfect for enjoying some of your favorite comfort foods. It has a casual atmosphere, so it's the perfect place to eat in NYC during a lunch break or for a quick meal on the weekends.
What to Order
You have to try one of Pelicana's signature flavors: sweet and spicy chicken or garlic chicken. Or get a half-and-half order with sweet and spicy and crispy fried chicken wings.
Pelicana | Multiple Locations | $$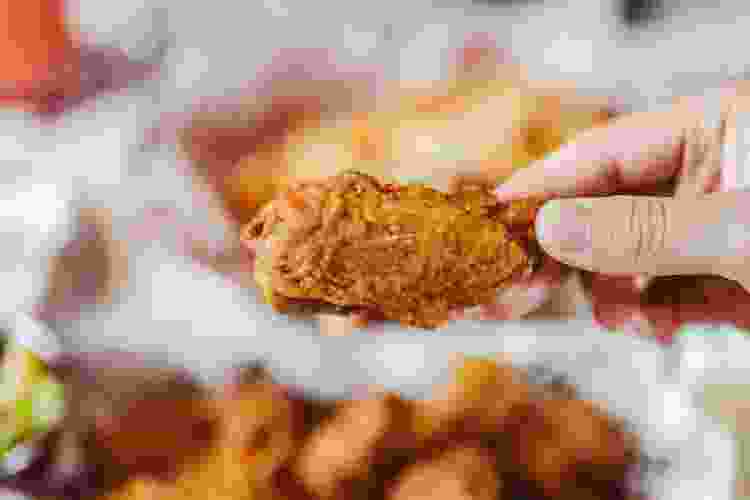 5. bb.q Chicken
Take a quick stroll just south of Midtown and you'll find some of the best Korean fried chicken in Koreatown, NYC. The restaurant employs a mix of both modern and traditional Korean culinary techniques and flavors. The founders created Chicken University in Seoul, where they look to find the best ways to improve their quality and flavor.
The Vibe
At bb.q Chicken, you'll find a warm and upscale vibe that's perfect for enjoying an elevated version of a favorite comfort food. It has exposed brick and casual seating so you can head here for a weekday date night in NYC. There is also a selection of beers and Korean cocktails, making them another prime spot for happy hour. Take note, though: Only the Koreatown location serves alcohol.
What to Order
You have to try the Galbi sauce, which is a Korean classic that mixes smokey, savory and sweet flavors. Gang-Jeong is another Korean favorite that has a little bit of heat thanks to the cinnamon in the sauce and fresh chili sprinkled on top.
bb.q Chicken | Multiple Locations | $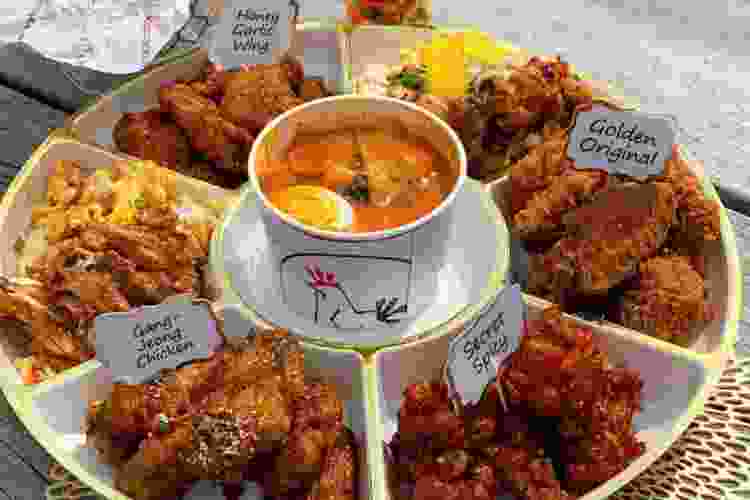 Join 200,000+ Culinary Enthusiasts
Exclusive deals, recipes, cookbooks, and our best tips for home cooks — free and straight to your inbox. PLUS: 500 Rewards Points.
New York City has one of the most vibrant culinary scenes in the world. You'll never run out of NYC foods to try in a city full of world-class chefs creating traditional dishes and putting their own spin on the classics. But the not-so-hidden gems of this dynamic culinary landscape are all the restaurants selling crispy, crunchy Korean fried chicken in NYC. Once you try one, you're going to want to try them all.
For even more fun ways to explore NYC and beyond, check out other experiences happening on Cozymeal.