87 Tempting Halloween Desserts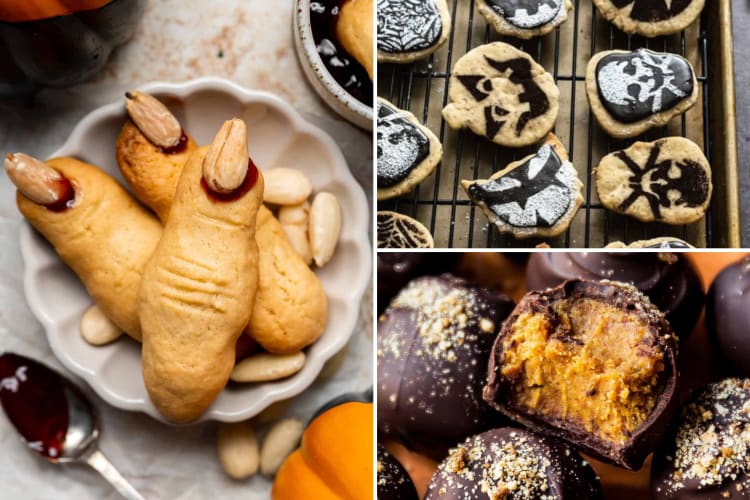 Get into the spirit of the spooky season with this devilishly delicious collection of the best Halloween desserts. From cute to creepy and simple to gourmet, there are festive Halloween desserts to suit every taste. What are the most crowd-pleasing Halloween dessert ideas? Kids will go wild for candy-filled sugary treats, bowls of candy worms or edible eyeballs while adults might savor more sophisticated sweets filled with surprising flavors and textures. For those looking for healthier Halloween desserts than the usual cookies and candy bars, clever ingredient swaps and fruit-based desserts bring a pop of color and freshness to the Halloween spread.
Bite-sized and handheld treats are dessert table essentials at any Halloween party, saving dishware while giving guests the freedom to mingle. They also make excellent party favors. Whether crafting a show-stopping spread of grisly desserts for a spooky shindig or celebrating the season with fun, autumnal treats, these 87 Halloween desserts are sure to offer plenty of spine-tingling inspiration.
Jump to Section
Easy Halloween Desserts
1. Chocolate Chip Blondies
Packed with creamy morsels of white and dark chocolate, these Chocolate Chip Blondies are frightfully delicious treats for any season. The addition of macadamia nuts and pecans give these Halloween desserts a decadent, buttery crunch.

Try our Chocolate Chip Blondies recipe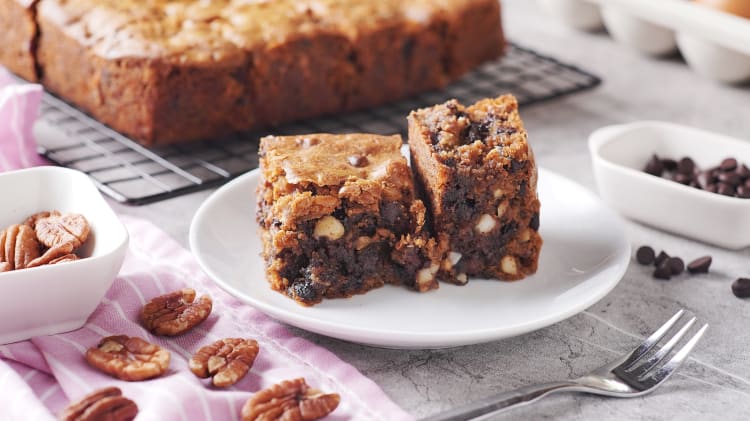 2. Caramel Apple Dip
Enjoy all the classic flavors of a signature fall festival treat in an easy, creamy dip. Pair this buttery, rich and nutty Caramel Apple Dip with fresh slices of tart apple, pretzel sticks or graham crackers.
Try our Caramel Apple Dip recipe
3. Vegan Cookie Dough
No tricks here! This quick and easy Vegan Cookie Dough is meant to be eaten raw thanks to heat-treated flour.

Try our Vegan Cookie Dough recipe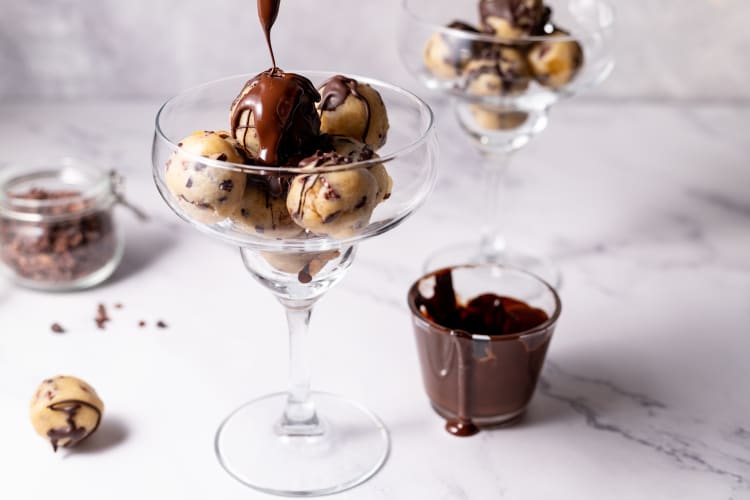 4. Peanut Butter Rice Krispie Treats
These chocolate drizzled Peanut Butter Rice Krispie Treats are an easy upgrade of the chewy marshmallow classic. Finish these Halloween desserts with a dusting of flaky sea salt for an irresistibly mouthwatering treat.
Try our Peanut Butter Rice Krispie Treats recipe
5. Red Velvet Cupcake
The vibrant color of this light and moist Red Velvet Cupcake makes it a festive addition to a table of Halloween desserts. Finish these cupcakes with tangy cream cheese frosting and spooky decorations.

Try our Red Velvet Cupcake recipe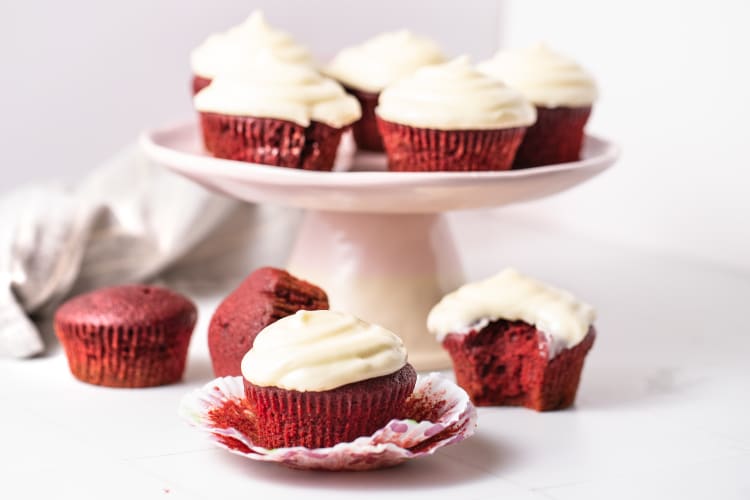 6. Frozen Hot Chocolate
All you need is a blender to prepare these chilling Halloween desserts. This creamy Frozen Hot Chocolate gets a major flavor boost from frothy and rich chocolate milk.
Try our Frozen Hot Chocolate recipe
7. Buckeye Cookies
Buckeye Cookies are almost effortless, no-bake sweets that are sure to please kids and adults alike. These tasty peanut butter and chocolate "eyes" fit the Halloween theme without being too creepy.

Try our Buckeye Cookies recipe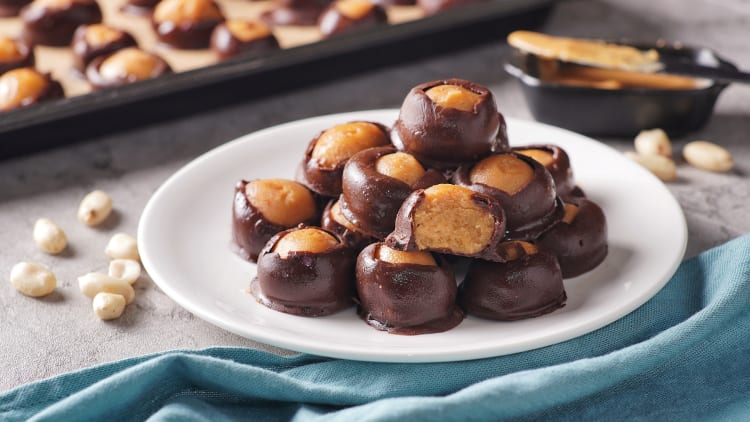 8. Dulce de Leche Cookies
A playful combination of salty and sweet, these one-bowl Dulce de Leche Cookies are shockingly simple to make. Soft chocolate cookies are stuffed with oozy dulce de leche filling and topped with a sprinkle of sea salt for an elegant, well-balanced flavor.
Try our Dulce de Leche Cookies recipe
9. Homemade Caramel Apples
Draped in buttery caramel, these Homemade Caramel Apples by Sally's Baking Addiction are iconic Halloween party desserts. Enjoy these Halloween desserts plain or rolled in tasty toppings like crushed peanuts, cookies or candies.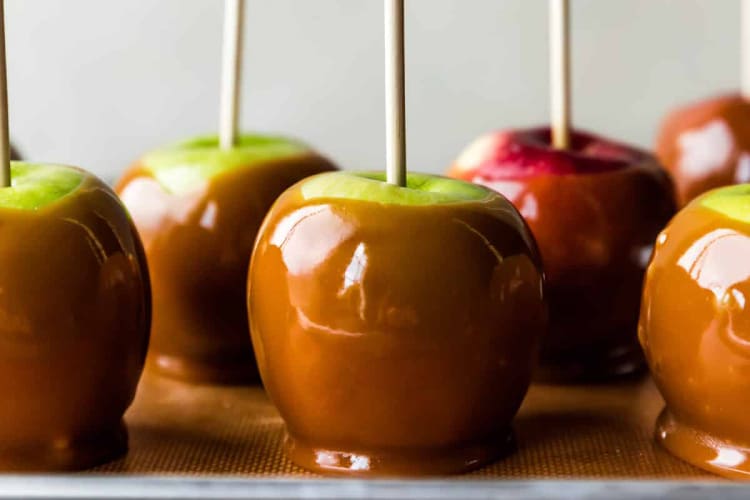 10. Trick or Treat Cake
Delight guests with a colorful surprise when you cut into this Trick or Treat Cake by Spend with Pennies. This festive cake can be prepared two ways, as a tender cake topped with rich chocolate frosting or a moist poke cake infused with orange flavor.
11. Cookies and Cream Halloween Popcorn
Sweet and salty treats like the Cookies and Cream Halloween Popcorn from Inside BruCrew Life make festive snacks and fun party flavors. Prepare these easy Halloween desserts on a sheet pan to avoid big clumps and ensure each bite is coated in plenty of chocolatey goodness.
12. Pumpkin Whoopie Pies
These easy Pumpkin Whoopie Pies from The Girl Who Ate Everything transform boxed cake mix into soft, spiced sandwich cookies stuffed with a smooth cream cheese filling. Try using an ice cream scoop to transfer perfectly portioned balls of dough onto the pan for consistent, evenly-sized cookie sandwiches.
13. Pumpkin Cake Roll with Mascarpone Whipped Cream
This show-stopping Pumpkin Cake Roll with Mascarpone Whipped Cream by Love & Olive Oil is easier than it looks thanks to helpful tips and step by step instructions. A few common tools like a stand mixer will have this striking centerpiece coming together in no time.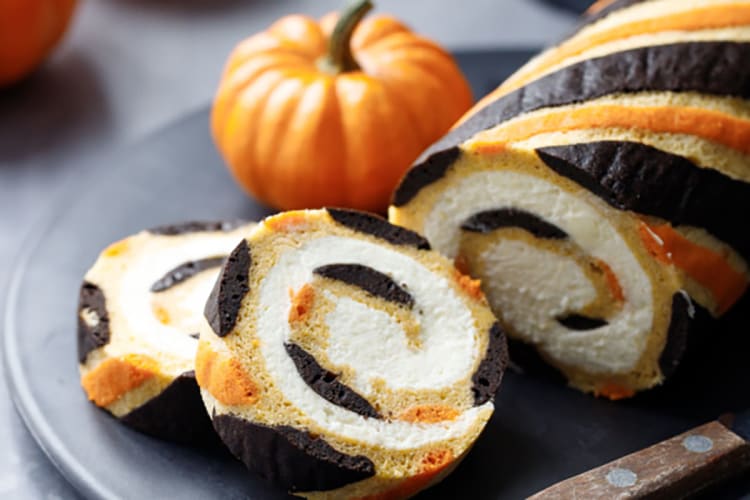 14. Snickers Stuffed Crescent Roll Mummies
These decadent Halloween desserts transform a favorite candy bar and buttery pastry into a monstrous treat. Easy and indulgent Snickers Stuffed Crescent Roll Mummies by The Slow Roasted Italian can be made in the oven or an air fryer.
15. Campfire Cones
Campfire Cones by The Girl Who Ate Everything are fun Halloween desserts for kids that minimize mess. These creative and customizable treats can be baked in an oven or a fire pit.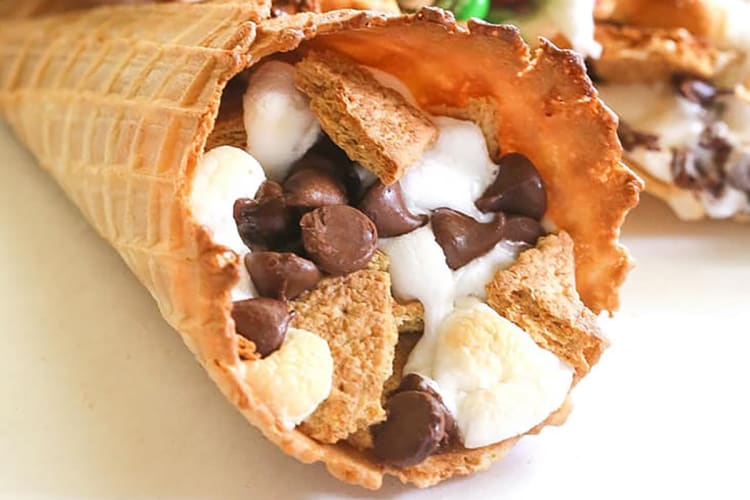 Gluten Free Halloween Desserts
16. Hot Fudge Sauce
This thick and chocolatey Hot Fudge Sauce is a perfect way to amp up the decadence factor in a variety of gluten free Halloween desserts. Enjoy this fudgy sauce with ice cream, drizzled over fresh fruit or as a filling for gluten free cakes or cupcakes.
Try our Hot Fudge Sauce recipe
17. Vegan Chocolate Pudding
Adapted from a Filipino dessert known as tibok-tibok, this luscious Vegan Chocolate Pudding may start off looking like a witch's brew as it simmers over a double boiler, but soon thickens into a rich, creamy treat. The use of coconut milk gives this pudding an ultra-silky texture and more complex flavor.

Try our Vegan Chocolate Pudding recipe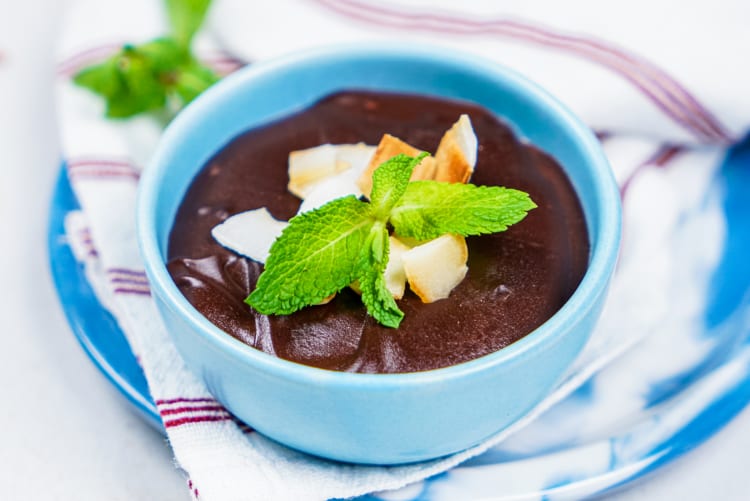 18. Easy Pumpkin Brigadeiros
Brazil's signature treat gets a fun fall makeover with these Easy Pumpkin Brigadeiros from Easy and Delish. Also known as brigadeiro de abódoba, these adorable pumpkins are intriguing Halloween desserts with a unique international twist.
19. Pistachio Macarons
The eerie green hue of these Pistachio Macarons by Ahead of Thyme makes them ideal for a spread of colorful Halloween desserts. Traditionally made with almond flour, macarons are a reliable gluten free dessert that, with a little practice, can become surprisingly easy to bake.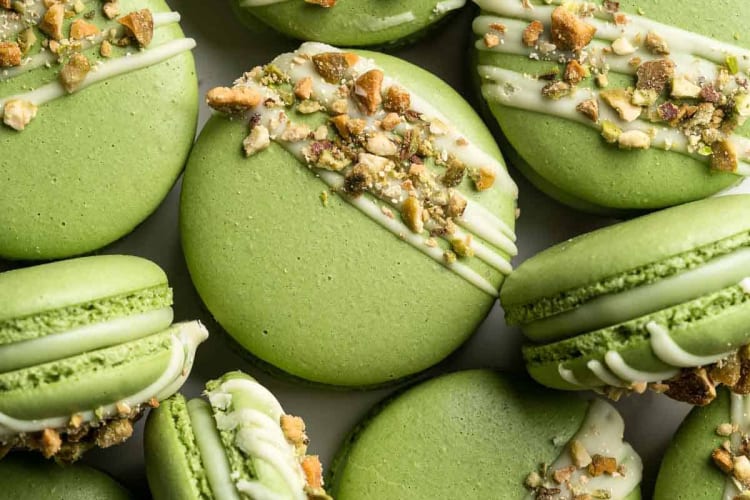 20. Flourless Mexican Hot Chocolate Cake
Not your average gluten free Halloween dessert, each slice of this Flourless Mexican Hot Chocolate Cake by Baking Sense surprises with a spine-tingling combination of Mexican cinnamon, smoky chipotle powder and a hint of tequila. Amp up the tequila flavor with spiked whipped cream for a boozy treat or omit the tequila entirely for an alcohol free version of this tantalizing dessert.
21. Grandma's Caramel Corn
Made with just a few pantry staples, Grandma's Caramel Corn by Sally's Baking Addiction is a nostalgic treat perfect for parties and festive gatherings. This sweet and crunchy caramel corn can be made ahead and in big batches, leaving plenty of time for party prep and finding the perfect costume.
22. Gluten Free Bloody Berry Cupcakes
Just a little spooky, but oh so delicious, these Gluten Free Bloody Berry Cupcakes by Vegan Yack Attack are frightfully fun Halloween desserts for a party. Streaks of berry compote mingled with a chocolate drizzle give these cupcakes a deliciously gory appearance.
23. Easy Homemade Peanut Butter Cups
Skip the store bought and make your own Halloween desserts and candies like these Easy Homemade Peanut Butter Cups by Minimalist Baker. Create the iconic ridged edges using paper or reusable cupcake liners or create fun candy shapes with a silicone mold.
24. Meringue Ghosts
These adorable Meringue Ghosts by The Slow Roasted Italian are made with just four staple ingredients and a classic French technique. Enjoy these light and airy apparitions on their own or use them as cute toppers for other Halloween desserts.
25. Tapioca Pearls
These squishy and sweet Tapioca Pearls from Ahead of Thyme are essential for homemade boba tea and an eerie addition to Halloween desserts. You can control the level of sweetness in these tapioca pearls by adjusting the amount of brown sugar in the recipe.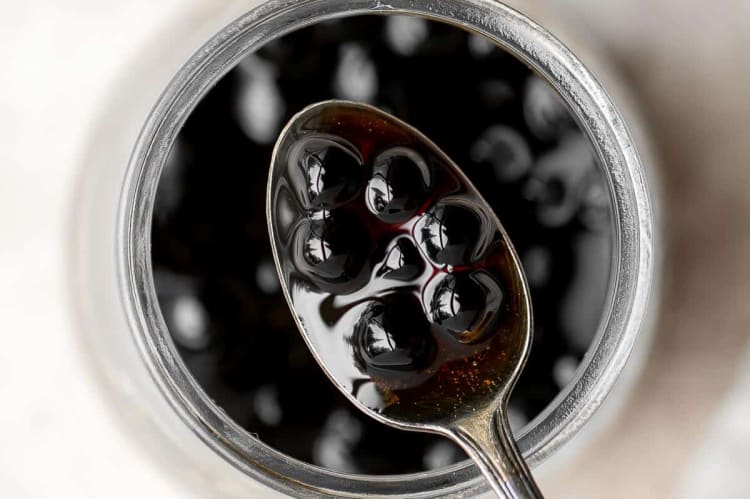 26. Pumpkin Fluff Dip
With only four simple ingredients, Halloween desserts don't get much easier than this light and airy Pumpkin Fluff Dip from The Girl Who Ate Everything. Serve with fresh fruit and your favorite gluten free pretzels, graham crackers or cookies.
27. Soft Batch Apple Cider Gingersnap Cookies
Oozing with autumnal flavors, these Soft Batch Apple Cider Gingersnap Cookies by Iowa Girl Eats warm the soul with the aromas of cozy spices and a pleasant ginger bite. The finishing touch of rolling these soft, gluten free cookies in sugar gives a crunchy textural contrast.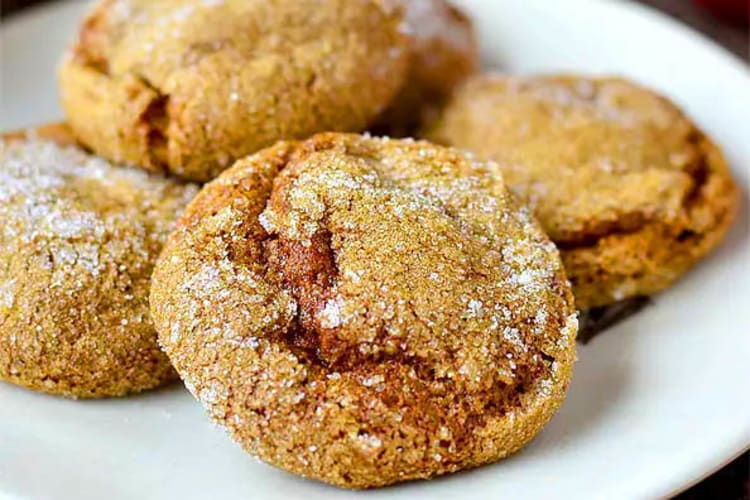 28. Blackberry Pate de Fruit (Blackberry Vanilla Fruit Jellies)
Set aside the everyday gummy candies for these elegant Blackberry Pate de Fruit by Baking Sense. The blackberry fruit jellies are made with real fruit and are finished with a crunchy coating of vanilla sugar.
29. Mexican Candied Pumpkin
This sticky-sweet Mexican Candied Pumpkin by Dora's Table, also known as calabaza en tacha, is a popular fall treat and a traditional dessert during Dios de los Muertos celebrations. Fleshy wedges of pumpkin are layered in a large pot or Dutch oven, then simmered in a fragrant mixture of piloncillo, cinnamon, clove and orange peel until soft and tender.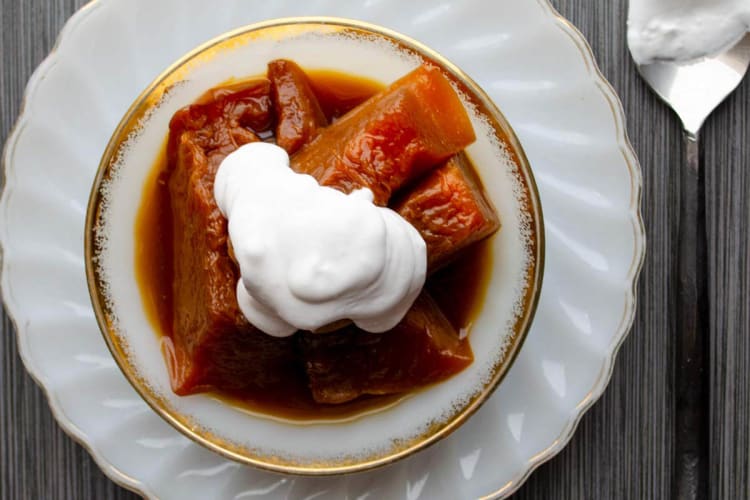 Healthy Halloween Desserts
30. Mangonada
The vibrant colors and fiery flavors of this spicy and sweet Mangonada from Dora's Table are sure to catch the eyes of Halloween party guests. These refreshing mango and chamoy slushies get their natural sweetness from the fruit with no need for additional sugar or sweeteners.
31. Chocolate Dipped Halloween Apple Rings
Halloween dessert recipes don't have to be chock full of not-so-great-for-you ingredients to still be festive and delicious. These Chocolate Dipped Halloween Apple Rings by Inside BruCrew Life disguise tart and juicy apple rings into chocolatey ghosts, ghouls and creepy crawlies for creative and healthy Halloween desserts.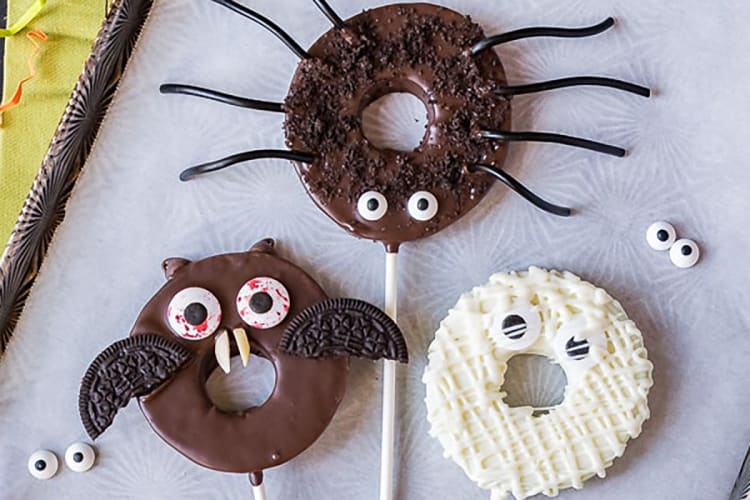 32. Pumpkin Spice Air Fryer Baked Apples
These Pumpkin Spice Air Fryer Baked Apples from Glue & Glitter combine two classic fall flavors into one healthy dessert. Spiced apples are stuffed with a nutty oat filling sweetened with a dash of maple syrup then air fried until tender.
33. Fudgy Black Bean Brownies
The Fudgy Black Bean Brownies by Live Eat Learn might trick you into eating good-for-you ingredients with these decadent chocolate treats. Guests will never suspect that these moist, seemingly indulgent Halloween desserts are made from fiber-rich black beans.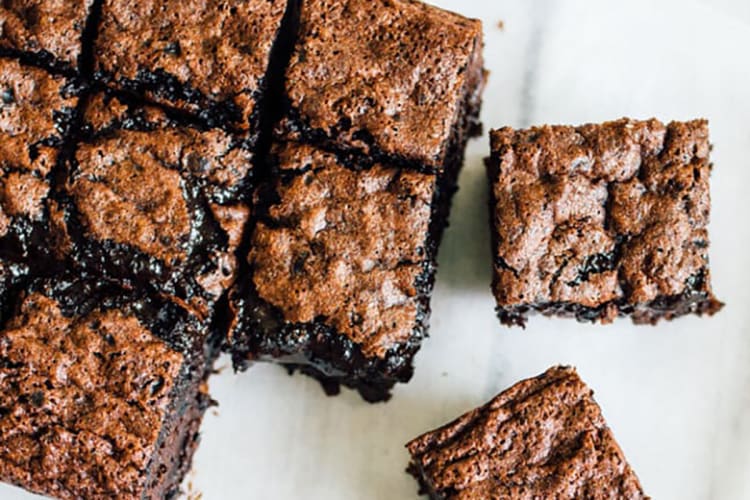 34. Sour Patch Grapes
Swap the Sour Patch Kids and gummy worms for these easy and healthy Sour Patch Grapes from Spend with Pennies. With just two ingredients, you can get creative mixing and matching flavors for a fun and colorful Halloween treat.
35. Halloween Banana Popsicles
Fresh bananas materialize into ghostly treats with these Halloween Banana Popsicles from Well Plated by Erin. With a drizzle of peanut butter, the ghosts become cute banana mummies.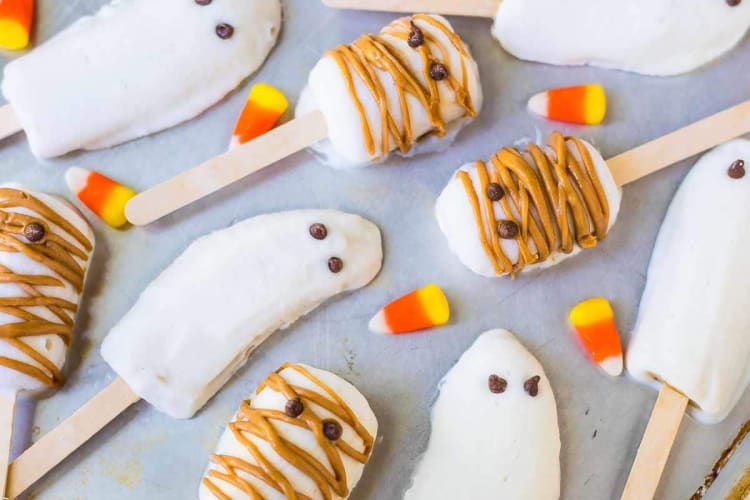 36. Fruit Pizza
For a lighter alternative to the devilishly indulgent cookies, candies and cakes that often make up Halloween desserts, try this refreshing Fruit Pizza from The Girl Who Ate Everything. With a variety of colorful fruits to choose from, design your pizza to fit the Halloween theme with a ghoulish monster face, scary skulls or a classic jack-o'lantern.
37. Peanut Butter Apple Lanterns
Stuffed with smooth, maple-cinnamon peanut butter, these adorable Peanut Butter Apple Lanterns by Vegan Yack Attack are healthy Halloween desserts that will light up the party. Just like carving a jack-o'lantern, you decide if you want the faces to be scary or sweet.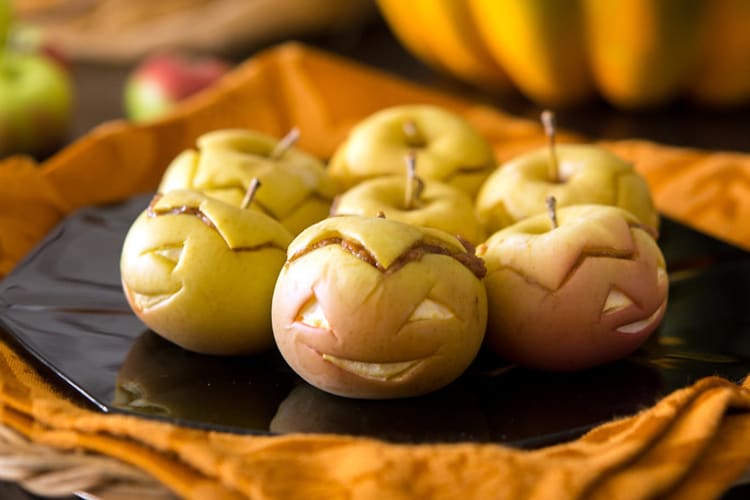 38. Chocolate Pumpkin Fudge
This six ingredient Chocolate Pumpkin Fudge by Chocolate Covered Katie is a satisfying, nutrient-dense treat suitable for paleo, gluten free, raw and vegan diets. This incredibly easy fudge can be prepared in a loaf pan or made into fun shapes with a themed candy mold.
39. Eyeball Ravioli
These slightly unsettling Eyeball Ravioli by Olives for Dinner bring spooky sweets with a healthy twist. With a little mad science, also known as molecular gastronomy, this gelatinous dessert is formed from vegan yogurt, fresh blueberries and a handful of chocolate chips.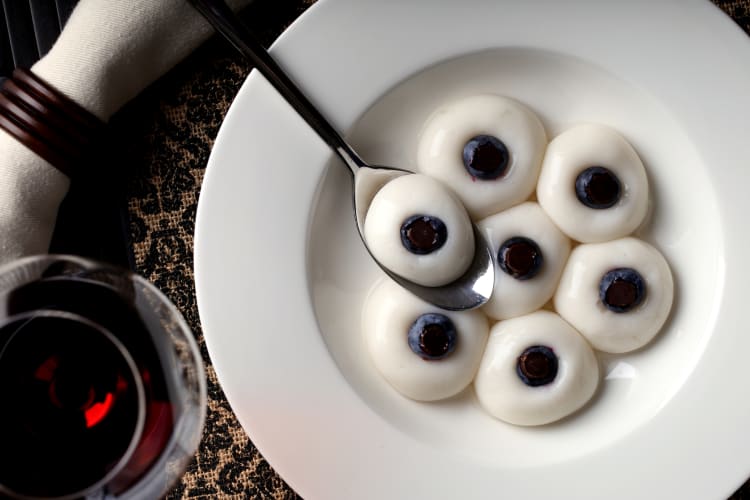 40. Green Smoothie Popsicles
Just like Frankenstein's monster, these Green Smoothie Popsicles by Live Eat Learn boast a strikingly verdant hue. Packed with spinach, ginger and tropical fruit, these bright and refreshing Halloween desserts come with a full serving of vegetables.
41. Vegan Butternut Squash Sugar Cookies
While zucchini might appear in sweet loaves and desserts, butternut squash is probably not the first ingredient that comes to mind when creating tasty Halloween desserts. These mummified Vegan Butternut Squash Sugar Cookies from Healthy Nibbles and Bits showcase the natural sweetness of the squash accented with warm seasonings and the intriguing addition of Chinese five spice.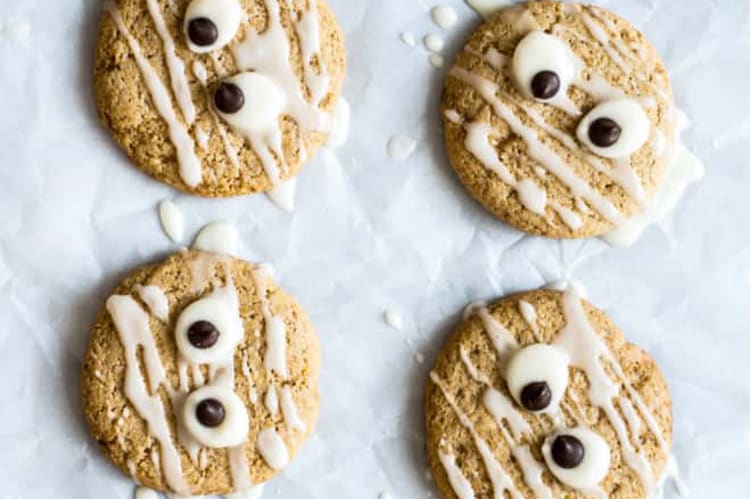 42. Healthy Pumpkin Bread
Made with whole wheat flour, this moist and tender Healthy Pumpkin Bread from Well Plated by Erin is bursting with fragrant fall spices. Each piece even boasts a little extra protein from the inclusion of Greek yogurt.
Cute Halloween Desserts
43. Dirt Cups
Dirt Cups are not too scary Halloween dessert ideas that kids will love digging into. Finished with gummy worms, candy pumpkins and cookie gravestones, these nostalgic desserts are a crowd-pleasing, festive treat.

Try our Dirt Cups recipe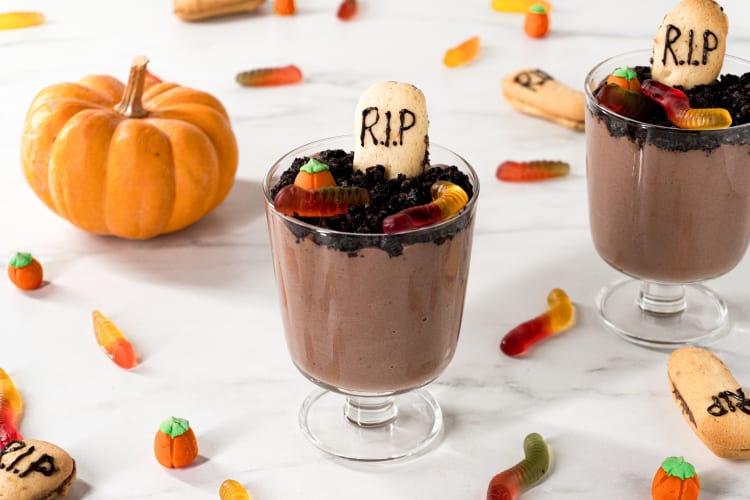 44. Oreo Cupcakes
Cookies and cream-flavored Halloween desserts will always be crowd-pleasing treats. Each element of these Oreo Cupcakes is infused with the beloved sandwich cookie.
45. Pumpkin Pie Cookie
This adorable Pumpkin Pie Cookie captures the signature flavors of the iconic dessert in a flaky hand pie. Use a food processor to incorporate cold butter into the dry ingredients to form a shortcut rough puff pastry dough.

Try our Pumpkin Pie Cookie recipe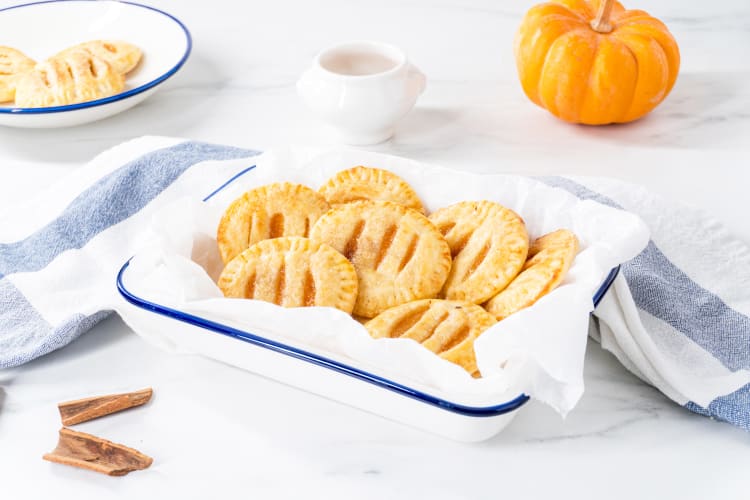 46. Funfetti Cookies
These upgraded Funfetti Cookies amp up the flavor of the classic with bright orange zest and a hint of nutmeg. Swap the traditional rainbow sprinkles for Halloween-inspired colors such as purple, green and orange or a moody red and black.
47. Soft and Chewy Monster Cookies
Classic monster cookies deserve a spot on this list for the name alone, but these Soft and Chewy Monster Cookies from Adventures of Mel take the Halloween theme to the next level with the addition of cute candy eyeballs. Mixed with trick-or-treat favorites like chocolate bars and colorful candies, these fun and festive Halloween desserts are ready to party!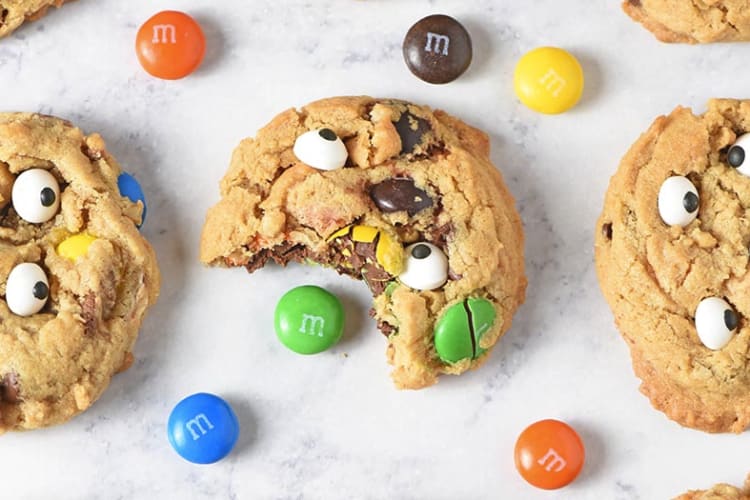 48. Candy Corn Sugar Cookies
Candy corn is an iconic treat during the spooky season, but not everyone enjoys the waxy, sugary morsels. These adorable Candy Corn Sugar Cookies by The Girl Who Ate Everything recreate the classic look in a soft, buttery sugar cookie.
49. Browned Butter Mummy Rice Krispie Treats
Dress up the average marshmallow treat in a little Halloween flair with these Browned Butter Mummy Rice Krispie Treats from Broma Bakery. Rich browned butter gives these cute, mummified treats a deeper, slightly nutty flavor.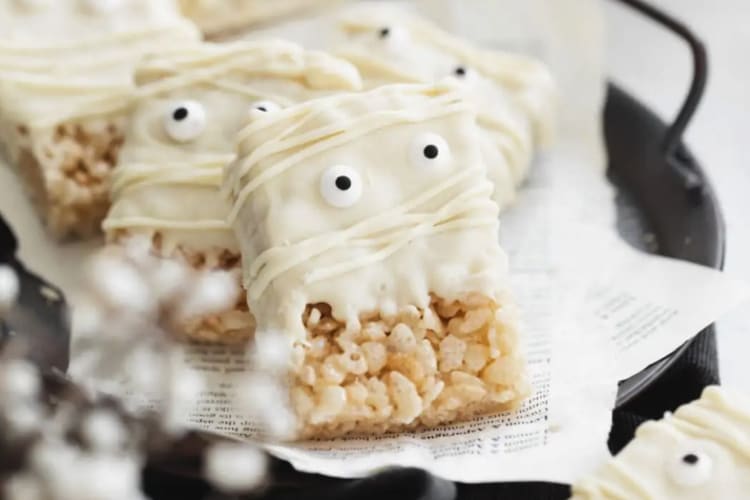 50. Vampire Bat Marshmallow Pops
Crafty and cute Halloween desserts are perfect party treats for getting into the spirit of the holiday. These Vampire Bat Marshmallow Pops by Cooking with Janice are easy to make and to eat, minimizing sticky, chocolate-covered fingers.
51. Black Cat S'mores Cheeseball
You'll be glad to have a black cat cross your path once you dip into this Black Cat S'mores Cheeseball by The Girl Who Ate Everything. You can make one big, chocolatey cat or smaller, kitten-sized cheeseballs to serve individually.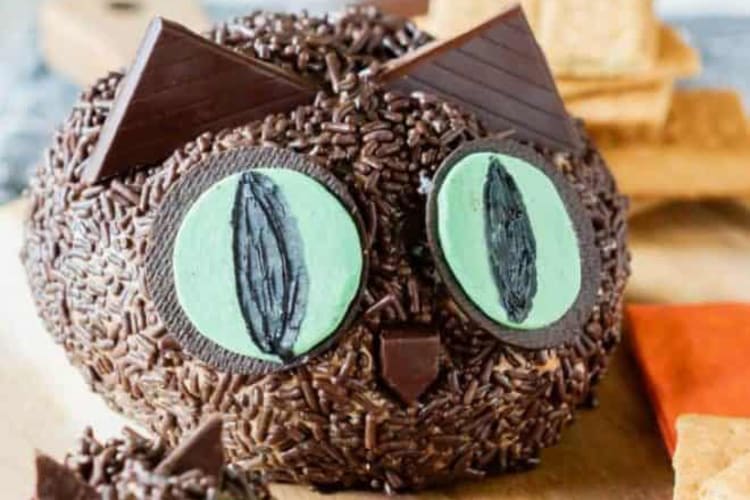 52. Monster Pudding Cups
A colorful twist on the classic dirt cup, these Monster Pudding Cups from Eat Drink Love transform plain little cups into friendly monsters. Top these Halloween desserts with crushed cookies and sprinkles for a festive finish.
53. Halloween Chocolate Bark
This Halloween Chocolate Bark from Homemade Hooplah is certainly an eye-catching treat. Vibrant swirls of neon are mixed with colorful sprinkles, candies and sugary eyes to create these fun Halloween desserts.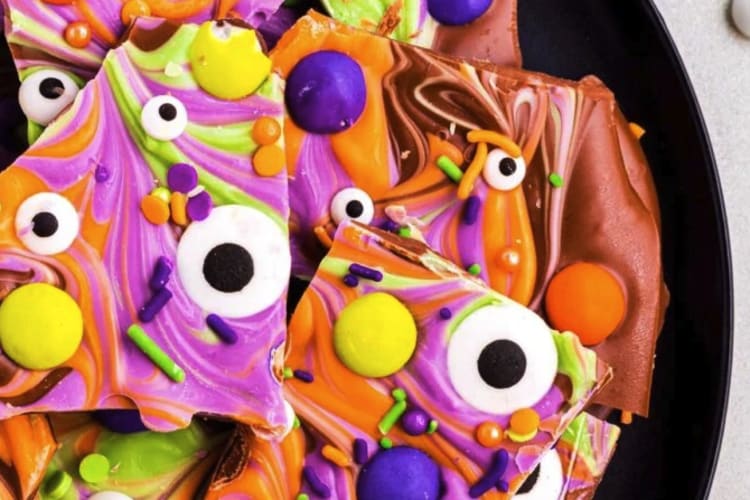 54. Spider Web Brownies
Bite-sized Spider Web Brownies by Inside BruCrew Life are baked in a jumbo muffin pan to create perfectly portioned individual servings. Top these rich, chocolatey Halloween desserts with gummy spiders for a creepy and cute addition to the party.
55. Vegan Halloween Shortbread Cookies
With a few stencils and a bit of artistry, these Vegan Halloween Shortbread Cookies by Vegan Yack Attack transform plain cookies into striking Halloween desserts. The cookie base is simple to make and an excellent canvas for getting creative with cookie cutters, icing and decorations.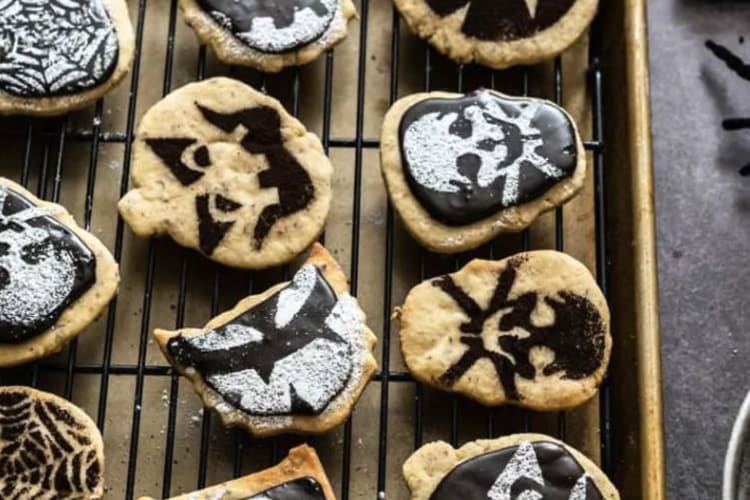 56. Mini Caramel Apple Cheesecakes
The Mini Caramel Apple Cheesecakes from The Girl Who Ate Everything are tiny, tasty treats that pair signature fall flavors with smooth, creamy cheesecake. This Halloween dessert recipe is even better when given time to chill, so feel free to make them ahead and store them in the refrigerator.
Spooky Halloween Desserts
57. Red Velvet Brownies
Dark and moist Red Velvet Brownies set the mood for a spooky, seasonal soirée. Topped with a tangy cream cheese swirl, these Halloween desserts capture the indulgence of red velvet and the chocolate satisfaction of a brownie.

Try our Red Velvet Brownies recipe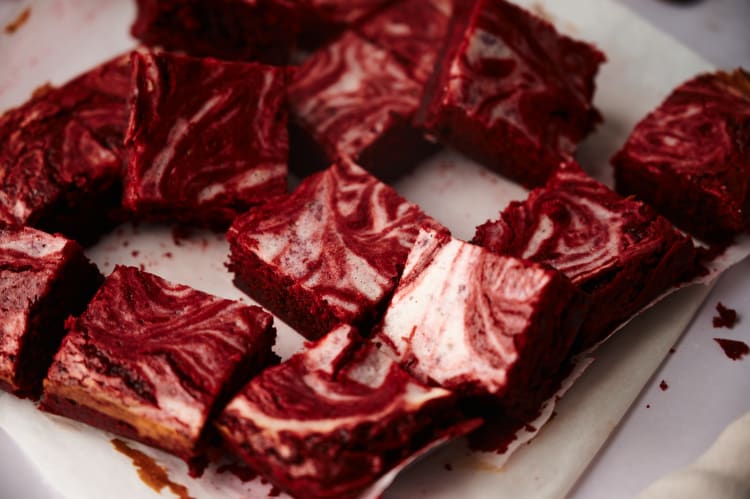 58. Brownie Brittle
Like the crisp edges on a pan of brownies, this crunchy Brownie Brittle has loads of texture and a deep, caramelized cocoa flavor. Enjoy these chocolate shards on their own or with soft treats like ice cream for a delightful contrast.
Try our Brownie Brittle recipe
59. Red Velvet Crinkle Cookies
While they may look unassuming on their crackly powdered exterior, these soft and chewy Red Velvet Crinkle Cookies uncover their spooky secret when you bite through to reveal the blood red inside. Rich and complex, these tender Halloween desserts balance the chocolate flavor with a tangy hint of buttermilk.

Try our Red Velvet Crinkle Cookies recipe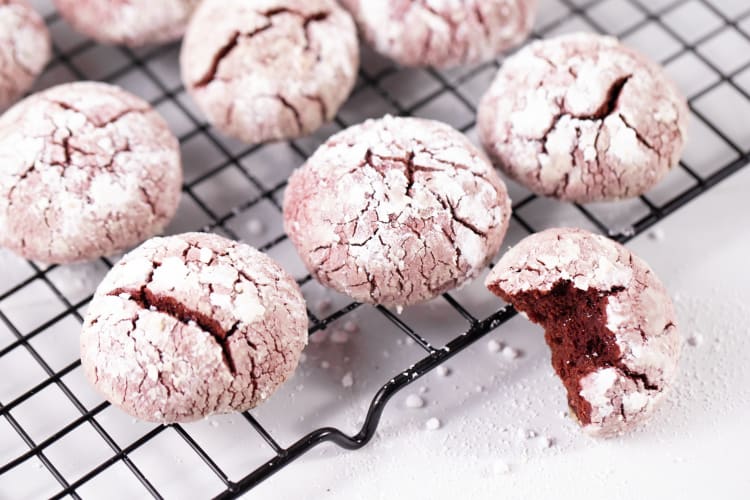 60. Jell-O Worms
Jiggly, slimy and almost too convincing, these Jell-O Worms by Spend with Pennies are deliciously spooky Halloween desserts. Slurp up a bowl as they are or add them to dirt cups for an ultra-realistic treat.
61. Witch Finger Cookies
With shriveled almond fingernails and a bloody raspberry jam, these Witch Finger Cookies by Ahead of Thyme are sure to amp up the ick factor of your Halloween dessert table. These creepy fingers are made from an easy shortbread base and can be decorated with as much lifelike detail as you dare.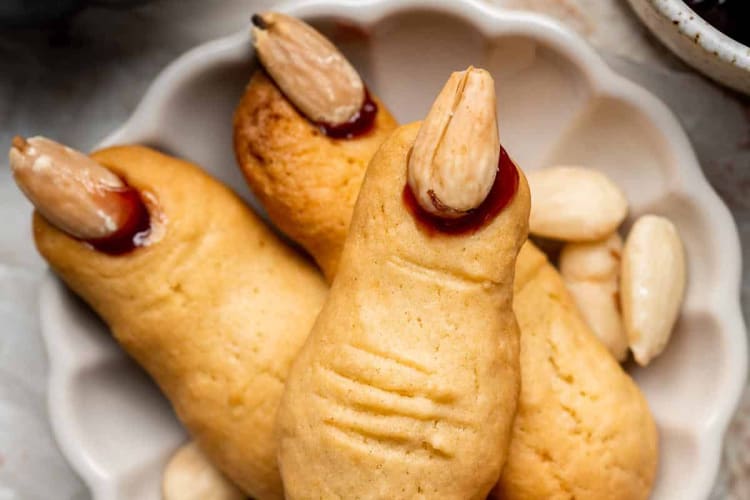 62. Apple Hand Pies
Bursting with autumnal apple flavor, these Apple Hand Pies from Sally's Baking Addiction can be made creepy or cute with jack-o'lantern features or even fun, seasonal shapes. For a gory filling, swap the apples for dark blackberries or deep red cherries.
63. Dracula's Dentures
Sink your sweet tooth into these creepy Dracula's Dentures by The Girl Who Ate Everything. Mini marshmallow teeth and two almond sliver fangs are sandwiched between two halves of a chocolate chip cookie spread with blood red icing to make these Halloween desserts that will leave guests grinning.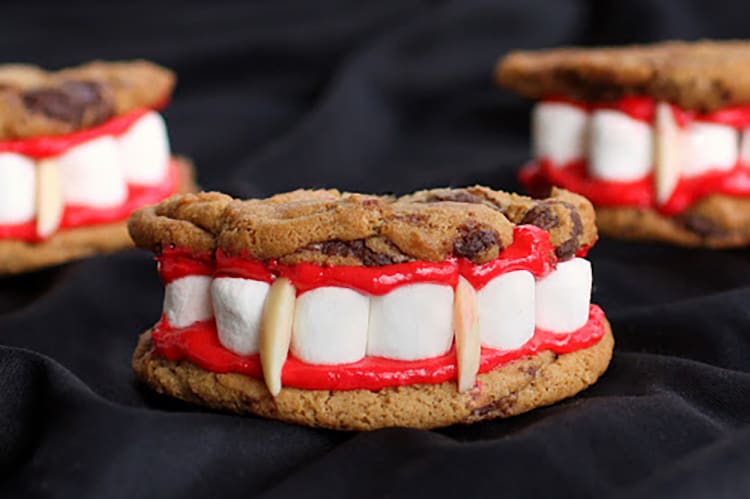 64. Blood Orange Bars
Buttery, sweet and tart Blood Orange Bars from Inside BruCrew Life showcase the deep burgundy red of the sanguineous citrus. These rich and vibrant custard bars make striking Halloween desserts.
65. Vegan Creepy Crème Truffles
Crack into the chocolate shell to reveal a gooey green surprise in these Vegan Creepy Crème Truffles by Vegan Yack Attack. These sweet, oozy treats make fun Halloween desserts or spooky party favors.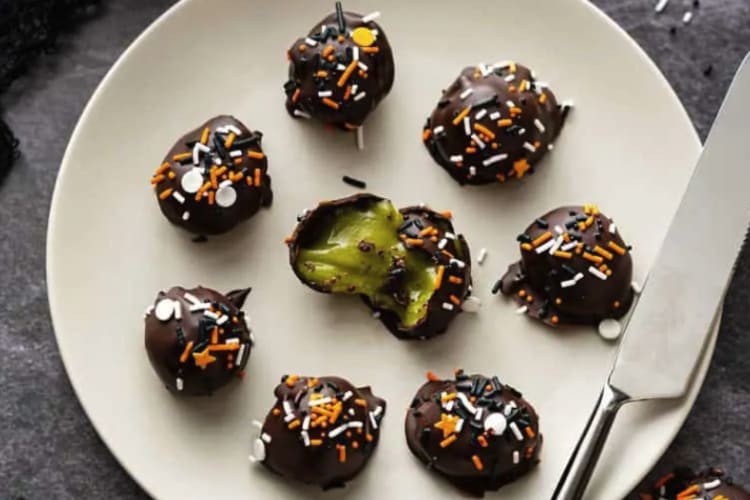 66. Blackberry Apple Spooky Sangria
Dark and inviting, this Blackberry Apple Spooky Sangria from In Katrina's Kitchen steps up the creepiness with black ice cubes and spiralized apple worms. Swap the wine for grape, cranberry or cherry juice for a non-alcoholic concoction.
67. Peanut Butter Halloween Eyeballs (Zombie Eyes)
No bake Peanut Butter Halloween Eyeballs by Inside BruCrew Life are ghoulish make-ahead Halloween desserts or even easy party favors. Finish these creepy zombie eyes with red gel icing veins for an extra spooky touch.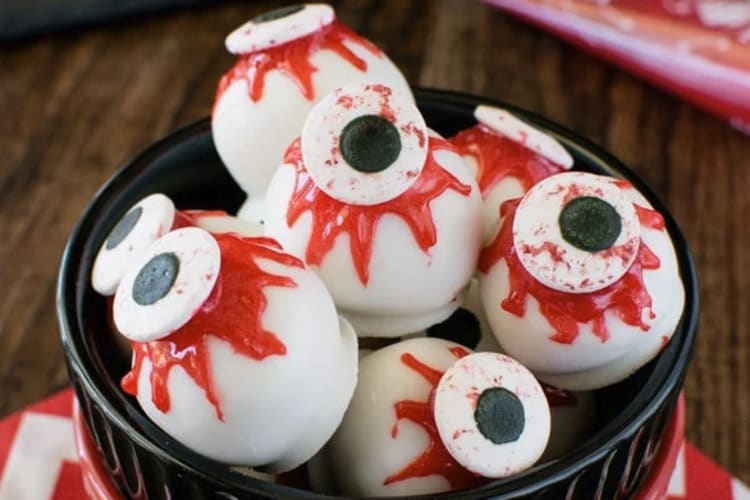 68. Cherry Cheesecake Egg Rolls
Cherry Cheesecake Egg Rolls from Spend with Pennies are deliciously gruesome Halloween desserts. A gooey mixture of blood red cherries and cream cheese oozes out of its crisp, bubbly shell with each bite.
69. Spooky Halloween Cake Pops
Classic cake pops take a dark turn with these Spooky Halloween Cake Pops by Ahead of Thyme. These handheld treats are dipped in a dark chocolate coating and decorated with festive Halloween sprinkles.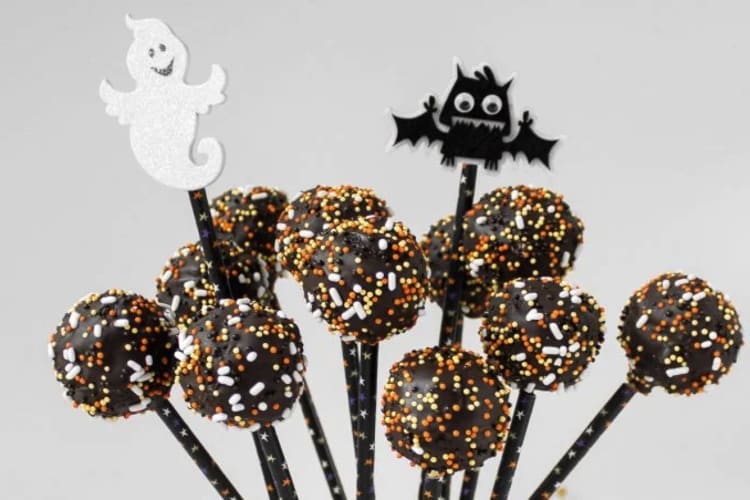 70. Nana's Devil's Food Cake
Guests will think you struck a deal with the devil to create a Halloween treat as light and moist as Nana's Devil's Food Cake from Seasons and Suppers. A touch of coffee emphasizes the rich chocolate flavor of this classic cake.
71. Skeleton Hot Cocoa Bombs
These macabre Skeleton Hot Cocoa Bombs by Ruffles & Rain Boots look exquisite as part of a gothic hot beverage bar or as take home gifts for guests. With a half-sphere chocolate mold, these cocoa bombs come together easily for an impressive Halloween treat.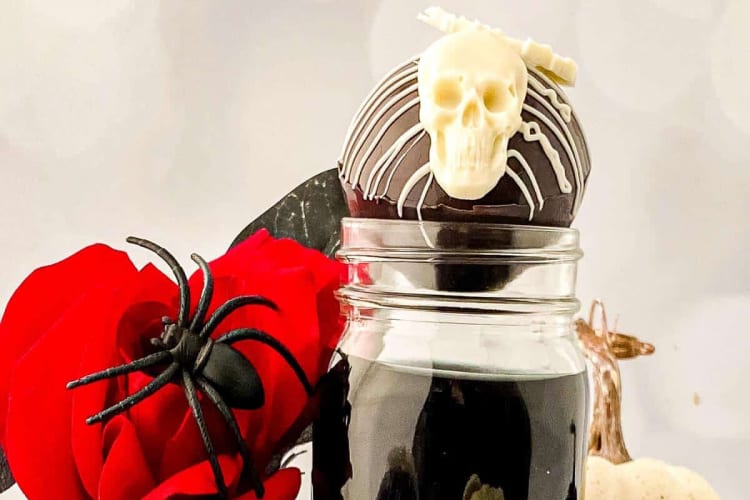 72. Easy Sesame Candy
Featuring toasted black sesame seeds, this Easy Sesame Candy from Healthy Nibbles and Bits is a dark, mysterious addition to your collection of Halloween desserts. Sandwich the candy mixture between two silicone mats to roll it into an even layer before chopping the candy into individual pieces.
Halloween Desserts for Adults
73. Halloween Punch
Fruity and sweet Halloween Punch, loaded with lychee eyeballs, squishy worms and icy severed hands makes an enticingly grisly brew for a Halloween party. This bubbly concoction is alcohol free but could easily be spiked with your favorite spirits.

Try our Halloween Punch recipe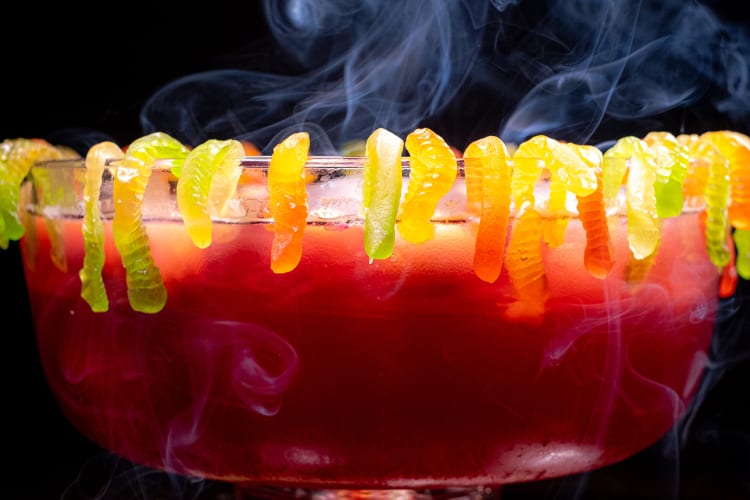 74. Nutella Cookies
Nutty and chocolatey with a hint of sea salt, Nutella Cookies are easy, one bowl Halloween desserts to tantalize the palate. From the creamy filling to the crunchy hazelnuts, these decadent cookies are a textural delight.
Try our Nutella Cookies recipe
75. Dark Chocolate Chip Cookies
Vegan and gluten free Dark Chocolate Chip Cookies elevate the classic treat with delicately bitter chocolate and fragrant lavender. The infusion of lavender gives these decadent cookies a sophisticated complexity.

Try our Dark Chocolate Chip Cookies recipe
76. Brownie Bites
These indulgent Brownie Bites are miniature Halloween desserts perfect for a festive gathering. Topped with a swirl of rich ganache, finish these bite-sized morsels with candy skulls, a dusting of black cocoa powder or other spooky decor.
77. Homemade Twix Bars
With these Homemade Twix Bars from Broma Bakery, adults won't have to raid the kids' trick or treat bags to satisfy that candy bar craving. After trying these homemade bars, you might never go back to store bought again.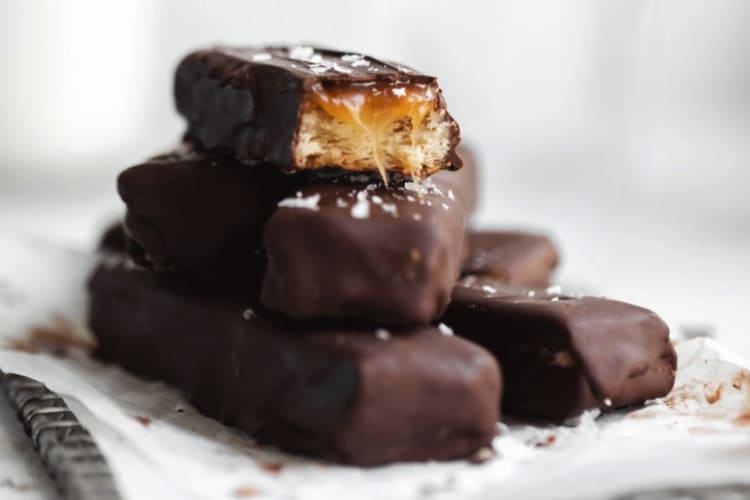 78. Death by Chocolate Magic Cookie Bars
Once guests have tasted these Death by Chocolate Cookie Bars from Spend with Pennies, the macabre name won't deter them from returning for another bite. Full of texture and draped in a fudgy sauce, these wickedly delicious Halloween desserts are a chocolate lover's dream.
79. Pumpkin Spice Truffles
Set aside the pumpkin spice latte for these luxurious Pumpkin Spice Truffles by Sally's Baking Addiction. The smooth, spiced pumpkin filling in these Halloween desserts is packed with fall's signature flavor and coated in white or dark chocolate.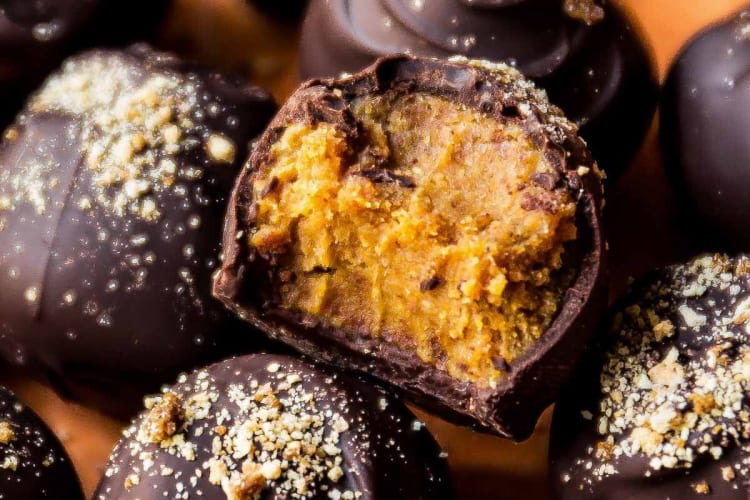 80. Black Forest Cake
A nod to another popular fall festival, Black Forest Cake like this one from Plated Cravings is a staple of Oktoberfest celebrations. The rich flavors and dark color palette of this traditional cake make it a fitting inspiration for Halloween dessert ideas.
81. Pumpkin Spice Latte Biscotti
Especially if serving coffee along with Halloween desserts, consider adding these Pumpkin Spice Latte Biscotti by Seasons and Suppers to the lineup. These crunchy, twice-baked cookies are the perfect complement to an after-dinner coffee or tea.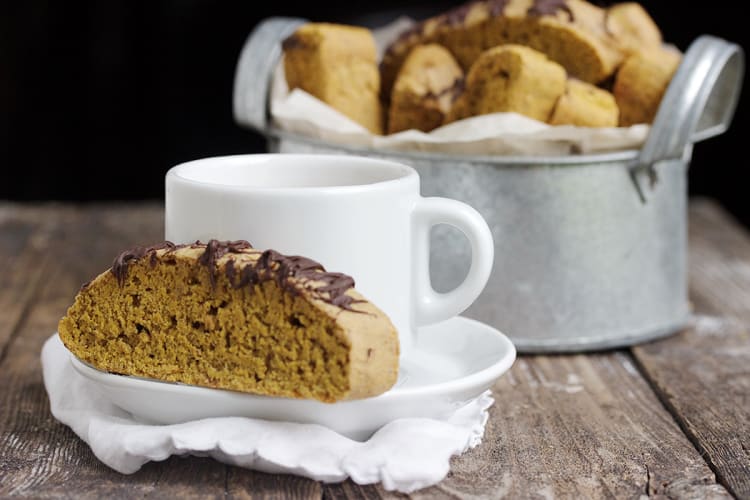 82. San Sebastian Cheesecake (Basque Burnt Cheesecake)
Challenge expectations with this San Sebastian Cheesecake from Baking Sense. The Basque burnt cheesecake turns American-style conventions on their head to create an ultra-custardy, slightly bitter delight.
83. Thai Black Sticky Rice Pudding
With its inky hue, the Thai Black Sticky Rice Pudding from RecipeTin Eats is a mysterious and eye-catching idea for Halloween desserts. This exotic treat is vegan, gluten free and nut free for a spooky sweet to accommodate a wide range of dietary needs.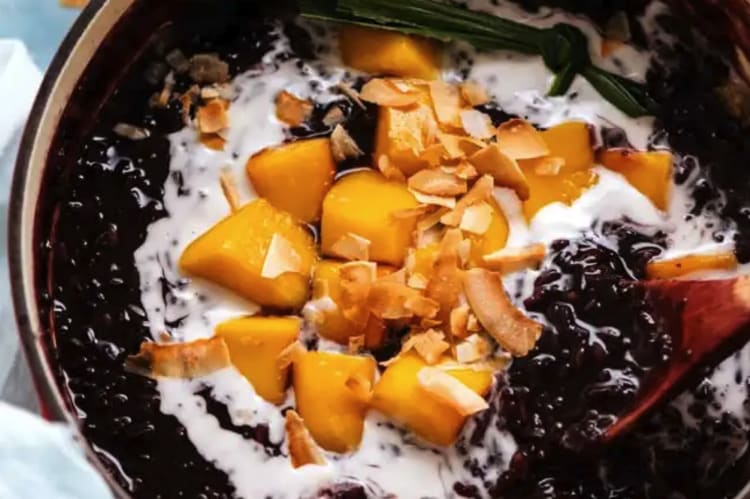 84. Apple Filled Cider Donuts
These light and airy Apple Filled Cider Donuts by Baking Sense are imbued with apple cider flavor and warm seasonal spices. Stuffed with a fresh apple filling, these mouthwatering Halloween desserts are finished with a crunchy coating of cinnamon sugar.
85. Ube and Coconut Cream Pie
Popular in Filipino cuisine, ube is a type of yam known for its stunning violet hue. This vibrant Ube and Coconut Cream Pie by Love & Olive Oil is an elegant way to bring a pop of color to a collection of Halloween desserts for adults.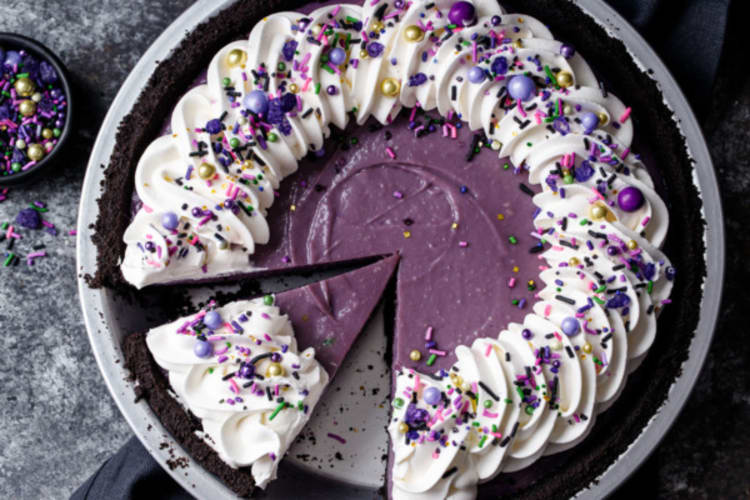 86. Pumpkin Pie Parfaits
Who says pumpkin pie is exclusive to Thanksgiving? These vibrant orange Pumpkin Pie Parfaits by Spend with Pennies are layered with silky pumpkin mousse and crunchy golden cookie crumbs in Halloween's signature color.
87. Spiced Apple Cake with Honey Cider Glaze
Enriched with olive oil and Greek yogurt, this Spiced Apple Cake with Honey Cider Glaze by Bowl of Delicious draws inspiration from Mediterranean baking traditions. The moist cake is studded with tender chunks of apple and beautifully presented with a drizzle of honey cider glaze.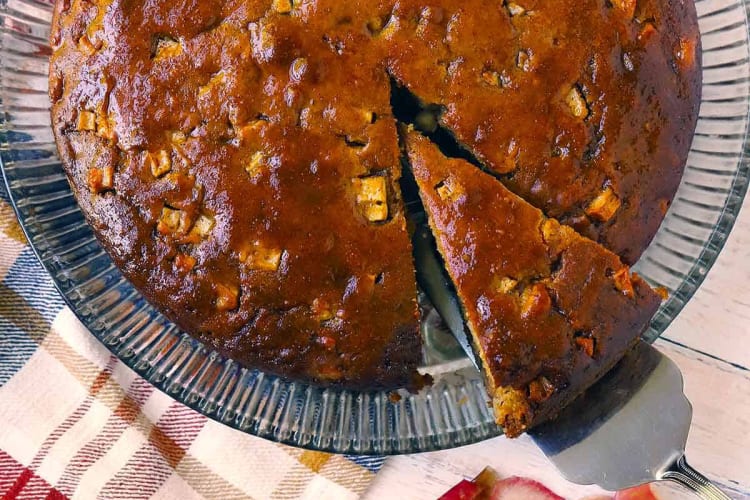 Creating Halloween party desserts is a fun and festive way to get into the spirit of the spooky season. Whether disguised as ghouls, monsters and creepy crawlies or inspired by seasonal celebrations from around the globe, the best Halloween desserts capture the whimsical, mischievous spirit of the holiday.
Helpful tools, cookware and appliances from the Cozymeal Shop bring your Halloween dessert recipes together with ease so you have time to make the most of the frightfully fun festivities. Explore Cozymeal Recipes to discover more ideas to include in your Halloween desserts spread as well as delicious dishes for other holiday feasts.