41 Engagement Party Ideas to Celebrate Your Love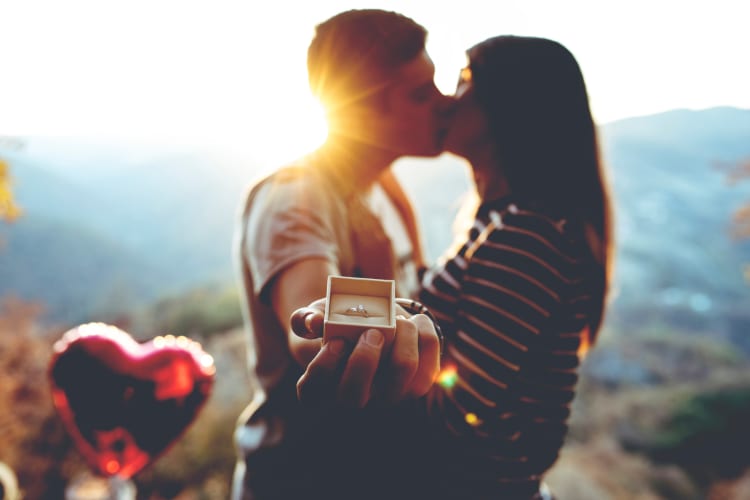 You've just gotten engaged, and the engagement party ideas are already flowing. But with so many different engagement party ideas out there, it's hard to know where and how to start your planning.
Not only is there the party itself, but on top of that there are all sorts of different engagement party themes, engagement party decorations and engagement party favors. So where and how do you even begin to start your wedding engagement planning?
Which engagement party ideas do you actually go with? Here is a list that breaks it all down and provides some engagement party ideas to help guide you towards the celebration of your dreams.
Jump to Section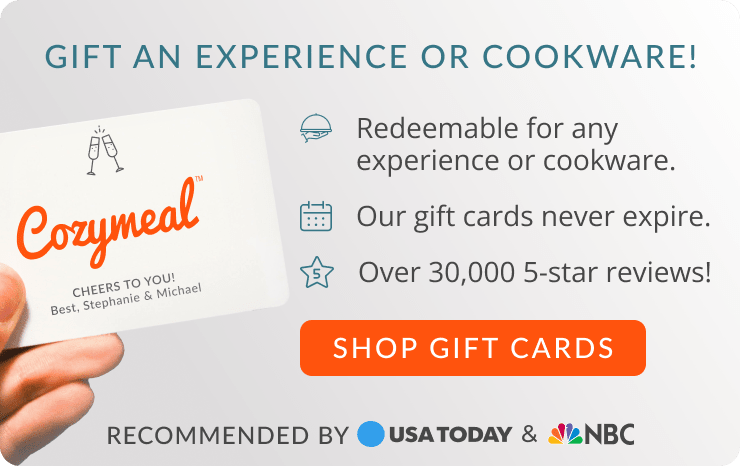 Engagement Party Ideas for Foodies
1. Cooking Classes
Sometimes the way to one's heart is through the stomach, so what better way to celebrate your love than with a flavorful and fulfilling meal? Gather your engagement party guests for online cooking classes or for cooking classes near you. You have myriad menus and cities to choose from, including cooking classes in New Orleans, cooking classes in Toronto and beyond. You and your guests will whip up a new favorite meal and learn a new skill thanks to the city's best-rated chefs.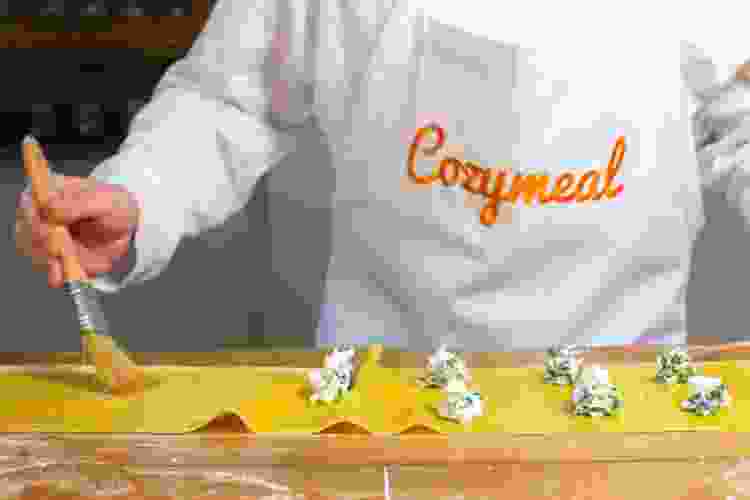 2. Private Chef Experiences
If you're looking for engagement party ideas at home or backyard engagement party ideas, a private chef experience is a great way to go. Whether you want a sushi dinner, a traditional French meal or some classic Italian, a private chef can come to your home and make your engagement dinner dreams a culinary reality. Not only do the private chefs cook, but they also provide all necessary ingredients, service and clean-up. That means you can truly sit back and enjoy celebrating with this engagement party idea that makes the night easy on you. Take a look at the private chefs in San Diego, private chefs in Austin and private chefs near you.
Gourmet Cooking Classes Near You

Take your culinary skills to new levels with guidance from five-star chefs.

Book Now
3. Food Tours
Want to throw an engagement party, but don't necessarily love the backyard engagement party ideas or engagement dinner ideas? Then a food tour for you and your guests sounds like it could be for you. Food tours in Los Angeles, for example, offer an exciting culinary experience along with a taste of culinary history. Or you could enjoy local flavors and market tours with food tours in Milwaukee. No matter your location, you can find food tours near you that offer the best food your city has to offer.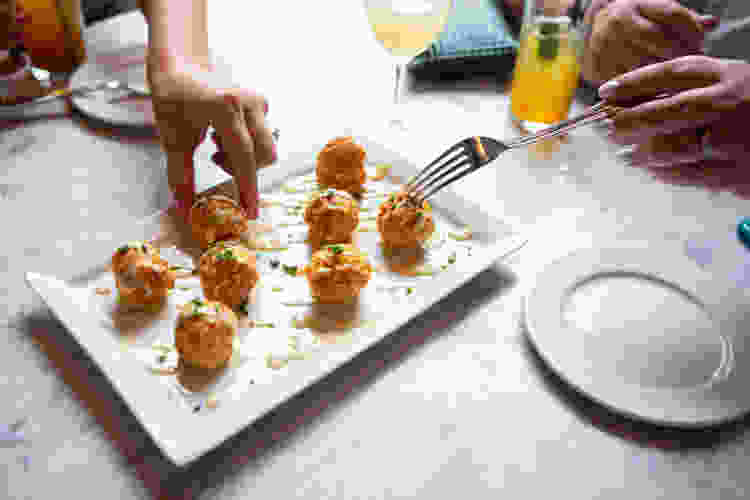 4. Virtual Experiences
If you are looking for a backyard engagement party idea or an engagement party idea at home, there are a whole slew of virtual experiences to fit the bill. If you're looking to expand your bartending skills, sign up for online mixology classes. Feel like having a personal sommelier for a night? Check out these virtual wine tastings instead.
Book a Local Food Tour Now
Explore your city's best bites, esteemed eateries and hidden gems with a top-rated tour guide.
5. Dessert Tables
Why limit your dessert options to just one when you can have all the desserts with a full on dessert table? With this engagement party idea you should order some cake, fruit pies, freshly baked cookies and a candy bar so everyone can get a little taste of their favorite sweet treat.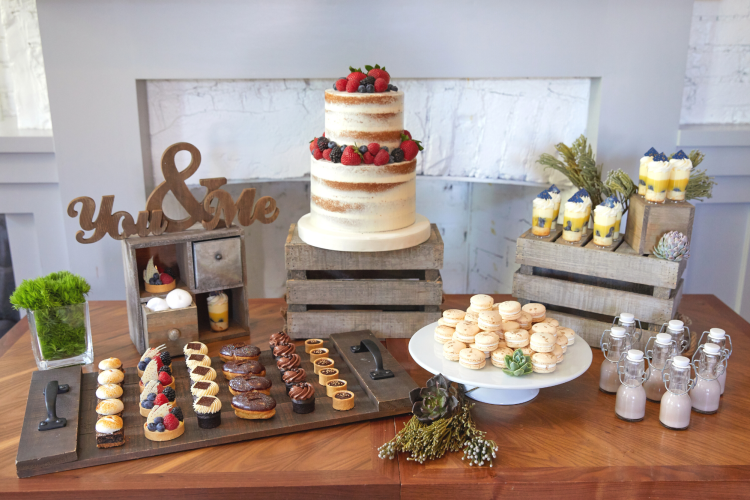 6. Light Up the Grill
A celebration where someone is at the grill flipping burgers and hot dogs is typically intimate and laid back. Plus who doesn't love a good burger or hot dog every now and then? Take it to the next level with a selection of different kinds of French fries (truffle fries, anyone?) or a mac and cheese bar. It's hard to imagine anyone being unhappy with this engagement party idea.
7. Create a Massive Charcuterie Board
It's no secret that charcuterie is very right now. Not only does a charcuterie board offer some kind of food for everyone (which makes them an appealing engagement party idea), but they are also a great way to add to your party's decor. They are always nice on the eyes, always hit the spot and there are ways to play them into the engagement theme (think heart shaped pepperoni).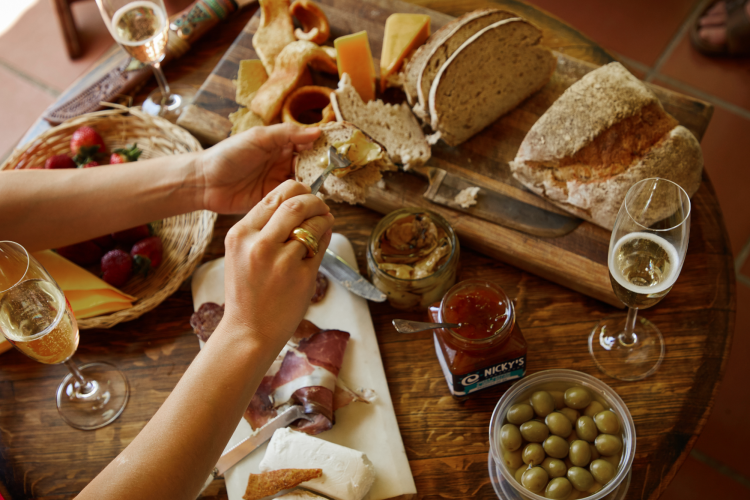 8. Ice Cream Sundae Bars
Some people's favorite food is ice cream, and that's more than okay. In fact, playing up your love for ice cream is the perfect engagement party idea. Top off your wedding engagement celebration with a make-your-own ice cream sundae bar. Provide several flavors of ice cream, tons of different toppings, fresh waffle cones and your party guests are sure to be happy (and full).
Backyard Engagement Party Ideas
9. Pop the Bubbly
For many, there's no better way to celebrate a special occasion than by popping a bottle of Champagne. If you're one of those people and consider yourself a bit of a Champagne aficionado, set up a Champagne bar in your backyard where your party guests can create the bubbly beverage of their choice with different juices and fresh fruit. For something a little extra special for your glass of bubbles, add a refreshing fruit pop. To go even further, up the display with a Champagne wall, which is a unique and fun engagement party decoration idea.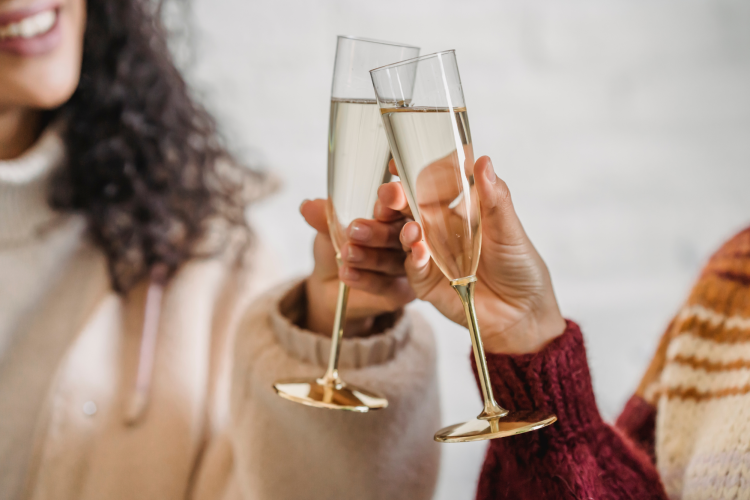 10. Add Live Music
Live music adds to a backyard celebration and lets you and your guests feel like you're at your very own private concert. Whether you get a DJ or a multi-piece band, live music is a great engagement party idea that will help get the party started so that everyone can get their dance on.
Book a World-Class Private Chef Now
Five-star fine dining from the comfort of home. Find your favorite private chef experience starting at $59/person.
11. Put Out Some Games
A backyard engagement party is the perfect place for your guests to play fun outdoor games like croquet, bocce ball, cornhole, giant checkers and putter ball. You can also never go wrong with some board games. Jenga, What Do You Meme? and Scrabble are all sure to provide some healthy competition and some laughs, which makes having them out for your guests a fun engagement party idea.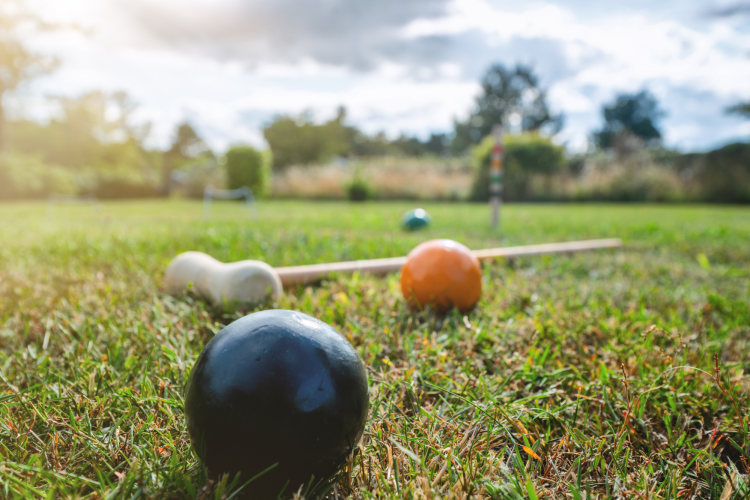 12. Stream Your Love Story
If you've got photos of you and your now fiancé that you want to share or an amazing video of your actual proposal, rent a projector for your backyard engagement party and invite guests to watch your love story unfold. This is a great way for people to learn about how you met, how you fell in love and how you got engaged. If you are showing any kind of video, hand out some movie theatre-style popcorn and candy to add to the viewing experience.
13. Have a Picnic
If a typical sit down meal is not your style, another engagement party idea is to lay out some picnic blankets across your lawn and serve food out of individual picnic baskets. This spin on a picnic date idea keeps things super casual and fun while also giving your guests more of a chance to mingle than they normally would at a seated dinner.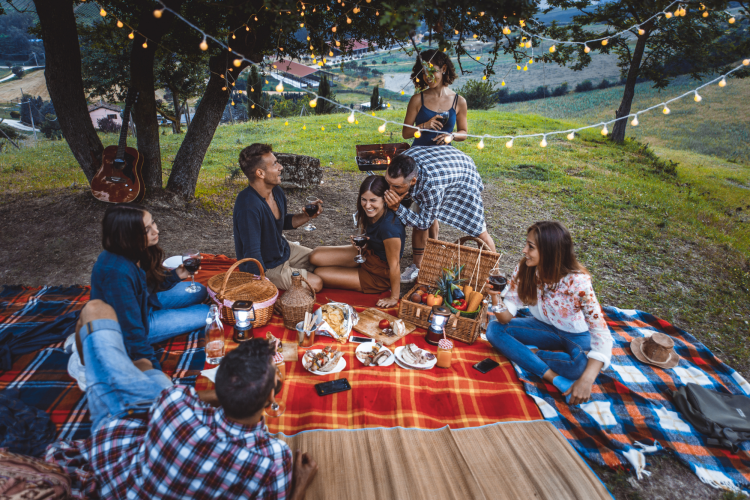 14. Throw a Pool Party
Perhaps this is obvious, but here's a fun engagement party idea: if your backyard has a pool, take advantage of it and throw a pool party. Load up the water with all sorts of fun floats, create some poolside cabanas, hand out some sunglasses with your wedding hashtag and enjoy a day in the sun (just don't forget the sunscreen!).
15. Make S'mores
Sure they're messy, but they're also incredibly delicious and satisfying. Plus, roasting a marshmallow definitely brings many people back to their youth, which makes this activity a great engagement party idea. Elevate your s'more making experience by providing an array of different chocolate like dark, white and bittersweet.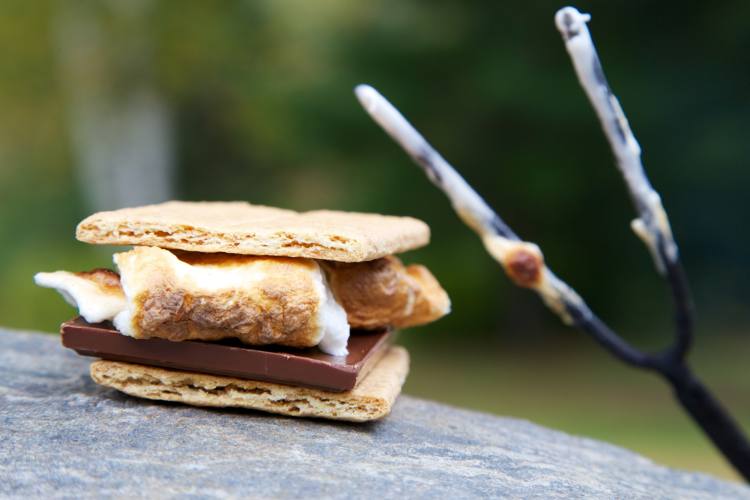 16. Create a Beer Garden
Beer lovers can unite in their own private beer garden. Load up on all different kinds of beers (some bottled, some canned, some on tap), down a freshly baked soft pretzel and raise your beer-filled glass for a toast!
Book Your Virtual Wine Tasting
Bring the winery home with an unforgettable live virtual wine tasting. Your personal sommelier is standing by.
Engagement Party Themes
17. Vegas Night
If you can't make it to Vegas, have Vegas come to you by creating your personal Vegas casino night. If you don't want to risk throwing money away on your special night, substitute with fake money to take the pressure off. Even if the stakes aren't high, everyone is still sure to have a good time playing some blackjack, roulette and poker with this engagement party idea.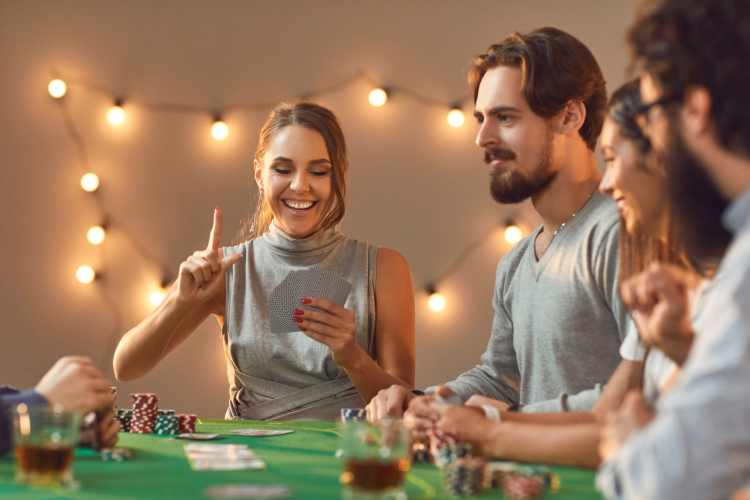 18. Boozy Brunch
Is there anyone who doesn't love brunch? Not only is brunch food always a hit (French toast, omelette stations, bloody marys, mimosas...), but host a late morning or early afternoon boozy brunch and you'll be cozy in bed by 7:00 p.m. Sounds like the perfect engagement party theme, the perfect engagement party idea and the perfect day. Come to think of it, this would be an outstanding bachelorette party idea, too!
19. Trip to the Tropics
So many people dream of having their wedding in a warm and sunny locale. If you want to give your guests a little preview of your destination wedding, create a full-on tropical-themed experience. Decorate with coconuts, give out brightly colored sunglasses and add mini paper umbrellas to all drinks to help your guests escape to a tropical getaway.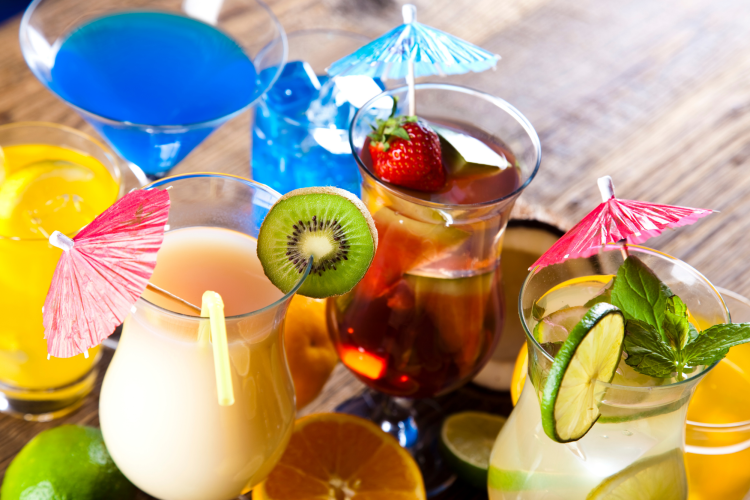 20. Classic Rom-Com
This engagement party idea is for fans of rom-com movies. You got your happy rom-com ending so why not lean into that as an engagement party theme? Ask your guests to come dressed as characters from their favorite rom-com movies, see how creative they can get and add a little extra love to the air.
21. Taco Bar
You go together with tacos just as well as you go together with your now fiancé, so throw yourselves a proper fiesta. Offer up a selection of flavored margaritas (frozen and on the rocks), a make-your-own nacho station and, of course, tons of chips and fresh guacamole. A mariachi band can only add wonders to this engagement party idea.
22. Jet Set
If you're part of a newly engaged couple who loves to travel the world, have the travel come to your engagement party by executing a jet-setting engagement party idea. Make different areas of your party venue represent different countries and cities with both decor and all different kinds of cuisine. You could even provide your guests with "passports" that they get stamped throughout the party. Everyone will feel like they not only just went to a great engagement party but also like they just took a really great trip.
Book an Online Cooking Class Now
Ready to perfect your homemade pasta, paella or pad thai? Join a world-class chef from the comfort of your kitchen.
23. Play to the Season
Hosting your engagement party in the fall? Serve apple cider, warm donuts and decorate with pumpkins. Is it winter? Think about playing into the après ski vibes, complete with spiked hot chocolate. Early spring? Go all out with cherry blossoms. No matter the time of year, you can definitely find a great theme for your gathering.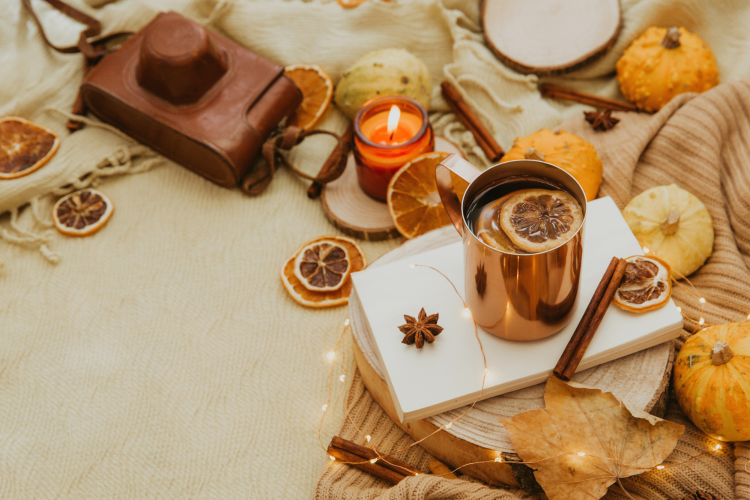 Engagement Party Favors
24. Mini Champagne Bottles
Everyone loves a party favor that they will actually use. That's why a mini bottle of Champagne is the perfect giveaway and the perfect engagement party idea. Personalize the label with your wedding hashtag or you and your significant other's initials for an added special touch. If your guests aren't Champagne people, you can execute this same idea with a bottle of wine.
25. Flip Flops
Lots of couples give out flip flops at their actual wedding for people to change into once their heels and dress shoes become uncomfortable. But why not get your future wedding guests excited for your big day by handing out the flip flops as an engagement party favor? There are tons of options out there for this engagement party idea, including ones that say "Best day ever" from The Knot Shop.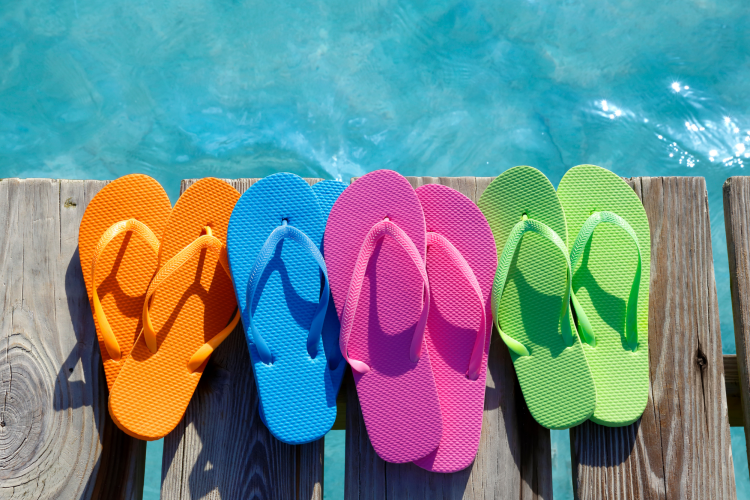 26. Personalized Matchboxes
Is there a cuter favor to give away at an engagement party than a matchbox that says the happily engaged couples' names with "A perfect match" underneath? Not only is this a useful item, but your guests will definitely let out a little "aw" when they see this party favor, which makes it a hit of an engagement party idea.
27. Candles
Candles always make a great gift or party favor and your engagement party is no exception. Homesick Candles even has a scent called "Let's Toast," which works perfectly for a wedding celebration.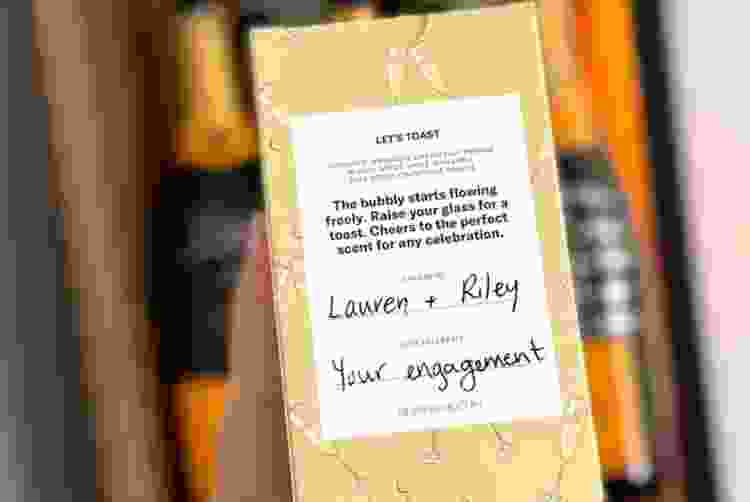 28. Mr. and Mrs. Golf Balls
Many people spend a lot of their free time golfing. If this is the case for you and your significant other, giving away personalized golf balls like the ones from The Knot Shop is a great engagement party idea. Add Mr. & Mrs., your names, your wedding date or your wedding hashtag for that special personalized touch.
Book a Gourmet Cooking Class Now
Kick-start your culinary confidence with help from a world-class chef. See what's cooking in your city today.
Engagement Party Decoration Ideas
29. A Floral Backdrop
Floral backdrops, or flower walls as they're sometimes called, not only add a beautiful element of decoration to any party, but they also create a great backdrop for photos, which makes them a great engagement party idea. Choose your favorite flower (or a few of your favorite flowers) and your party will look gorgeous and smell heavenly.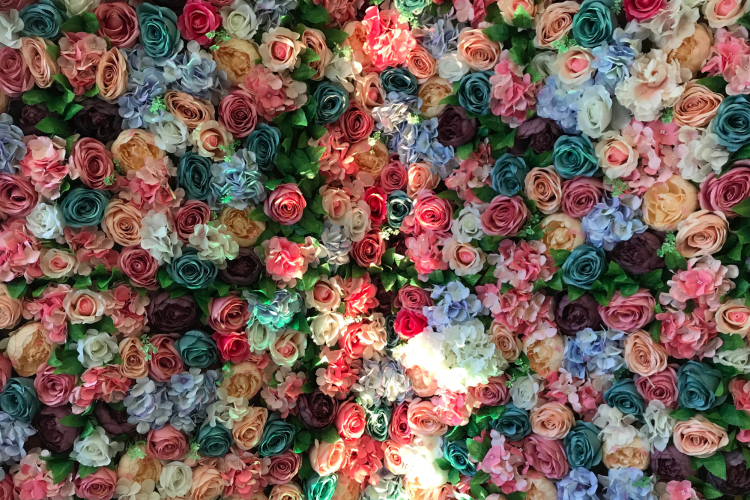 30. Engraved Tree Carvings
An engagement party decoration idea that works perfectly if you have a backyard engagement party idea is an engraved tree carving. Just get a piece of wood that looks similar to a tree trunk, carve in your initials and your significant other's initials and hang them all around your party. These are also great to keep post party as a memory from the special day.
31. A Donut Wall
The concept of a donut wall is simple — basically, get a piece of wood, install some hooks and hang some donuts from said hooks. While the concept itself is simple, a donut wall provides decoration, snacks and a backdrop for photos. No wonder it's an incredibly popular trend and engagement party idea.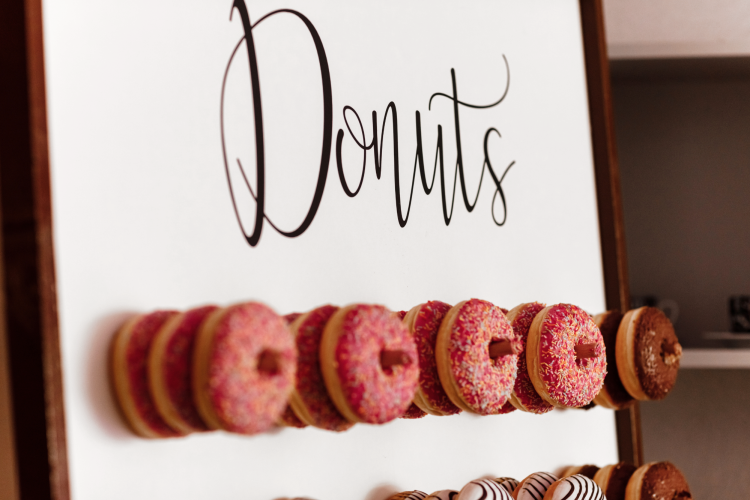 32. Specialty Napkins
Print some facts about you and your significant other on paper napkins for this engagement party idea. These facts can cover how you met, your favorite activity to do together, where you had your first date and beyond. They are functional and a great way for your guests to learn more about you as a couple.
33. Vintage Lanterns
If you don't want to spring for floral centerpieces, think about using a vintage lantern instead. These add a classic rustic look to any tablescape and let you incorporate some natural candlelight.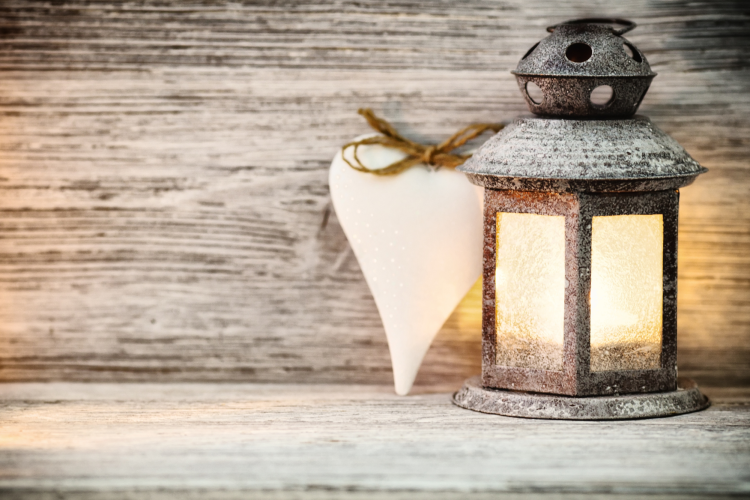 34. Banners
These days, you can find banners that say anything and there are tons of options for engagements and weddings. You can buy ones that say "Love," "Engaged," ones that are shaped like engagement rings or more personal ones with specific names. No matter what they say, banners are a nice addition to your engagement party decorations.
Book an Online Mixology Class Now
Master the art of mixology from home with live online mixology classes. Embrace your inner craft cocktail connoisseur.
35. String Lights and Photos
String lights add a warm and inviting element to any party. To give them even more pop, use them to hang some photos of you and your other half. Take this one step further by having some Polaroid cameras out during your party and encourage your guests to hang the pictures they take throughout the night from the lights. These will turn into a nice memento that you get to take home and you'll be happy that you executed this engagement party idea.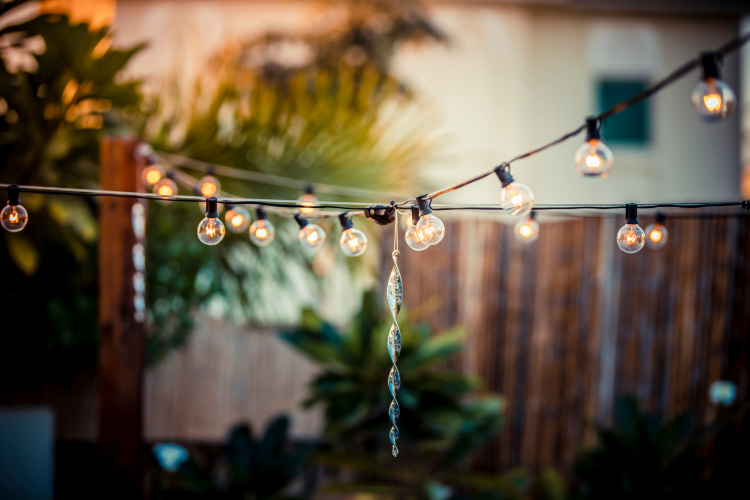 36. An Advice Jar
Set up a couple of large mason jars throughout your party and ask your guests to drop in a piece of marriage advice (think Don't go to bed angry" or "Do one thoughtful thing for each other a day"). Then when you get home, crack open a bottle of wine and read the advice through as a couple.
37. Succulents
Another way to stay away from traditional floral centerpieces is to use succulents instead. Depending on the size, they may not get as in the way as flowers sometimes can. Plus, they can double as party favors if you encourage your guests to take them home at the end of the night, which makes them a functional engagement party idea.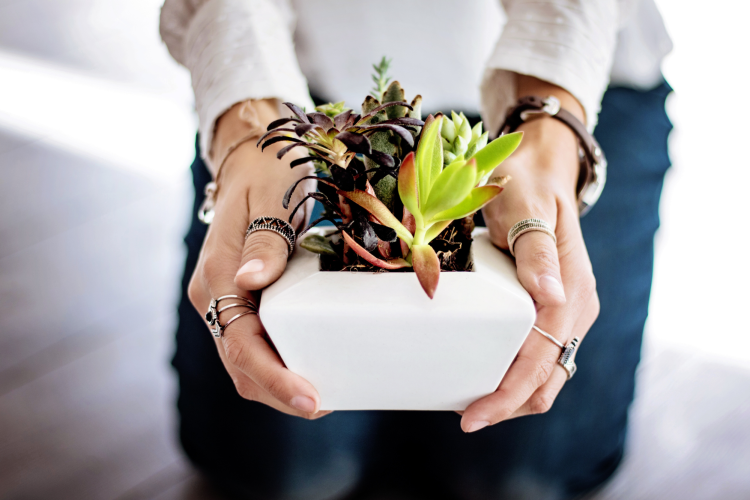 Low-Key Engagement Party Ideas
38. Host Your Celebration at a Bar
If you feel like celebrating in a super low-key way that doesn't require typical hosting, just invite friends and family to a favorite bar and enjoy a relaxing, stress-free night. No one is going to be upset about keeping it casual and just hanging out at a local watering for the evening.
39. A Beach Bonfire
Invite your friends and family down to the beach for a low-key evening complete with a cozy bonfire, refreshing cocktails, some simple bites and s'mores. If you plan accordingly, your guests can be there to watch the sun go down and snap some Instagram-worthy sunset pics.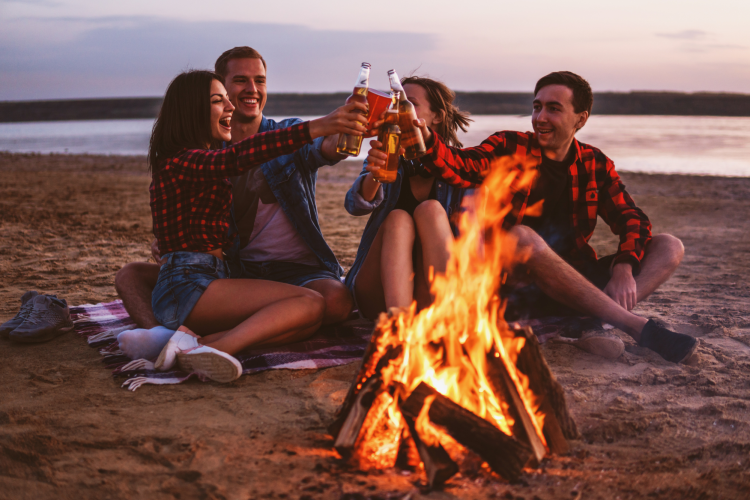 40. Take Your Guests to a Sporting Event
This is another engagement party idea that doesn't require typical hosting. You don't have to worry about decorations or people overstaying their welcome. The entertainment is provided by whatever sport you're watching. If you rent a box suite, food and drinks might even be included. The casualness also allows guests to easily mingle with each other, sometimes more easily than they would if you executed a more typical engagement dinner idea.
Book a World-Class Private Chef Now
Five-star fine dining from the comfort of home. Find your favorite private chef experience starting at $59/person.
41. Order Some Pizzas
Another low-key engagement celebration idea is to call up your favorite pizza joint and have them deliver a bunch of pies to your home-based party (or to a bar if they allow outside food). This is a simple and easy engagement party idea that usually satisfies everyone.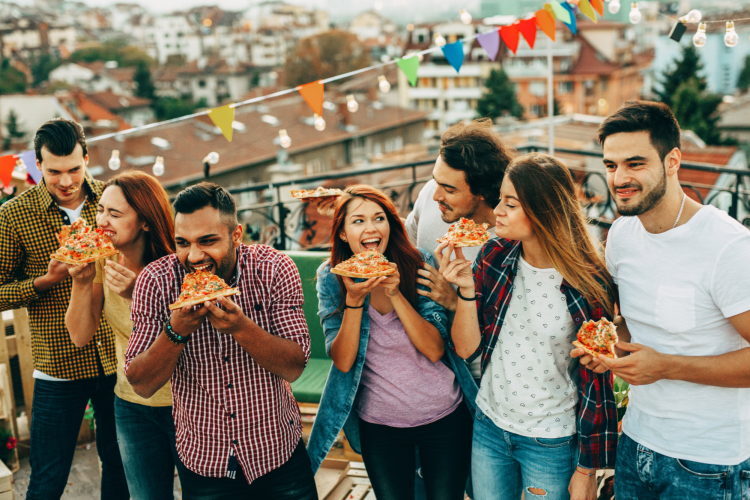 Join 200,000+ Culinary Enthusiasts
Exclusive deals, recipes, cookbooks, and our best tips for home cooks — free and straight to your inbox. PLUS: 500 Rewards Points.
Hopefully you're feeling inspired by these engagement party ideas, ready to start your planning and have an answer to "What is an engagement party?" While organizing an engagement party can certainly be stressful, keep in mind that you're planning a celebration of your love — so try not to lose sight of the fun and what the party is truly all about!
For even more engagement party ideas, check out other experiences happening on Cozymeal.