Celebrate National Grilled Cheese Day on April 12, 2023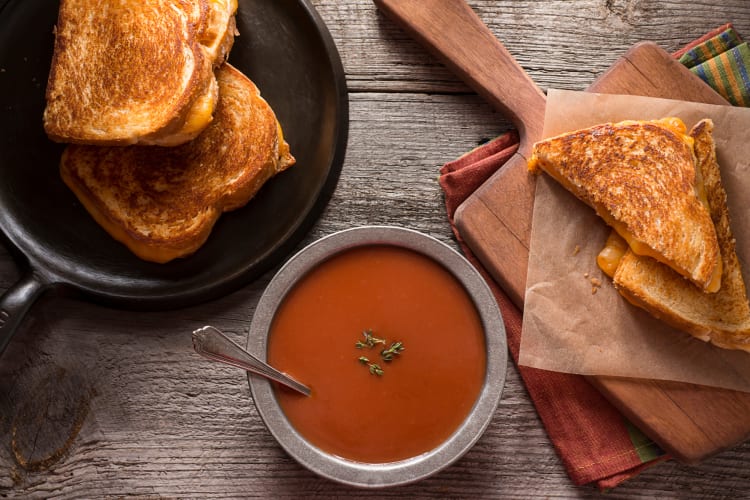 National Grilled Cheese Day is right around the corner and you know what that means: It's time to enjoy one of the best, cheesiest, crunchiest and most comforting sandwiches around. Whether you love a plain grilled cheese sandwich or you prefer to make it into a "toastie" by adding some fun extras, there are so many ways to eat this tasty lunchtime treat. What will you do during National Grilled Cheese Day?
If you haven't thought about it yet, don't worry! We've come up with a few fun (and delicious) ways you can celebrate this food holiday (as well as a few fun facts about grilled cheese). Read on to learn more!
Jump to Section
Book a Gourmet Cooking Class Now
Kick-start your culinary confidence with help from a world-class chef. See what's cooking in your city today.
5 Ways to Celebrate National Grilled Cheese Day
1. Make Your Own Grilled Cheese in a Cooking Class
Look, we know there's something special about a classic grilled cheese sandwich on white bread with American cheese, but why not take some cooking classes near you before National Grilled Cheese Day so you can learn how to elevate it?
You'll be making chef-quality grilled cheese sandwiches after taking cooking classes in DC, cooking classes in Toronto or even just online cooking classes from the comfort of your own home.
Your future grilled cheese sammies can be as fancy as you'd like them to be! Impress your friends and dates with a high-class sandwich.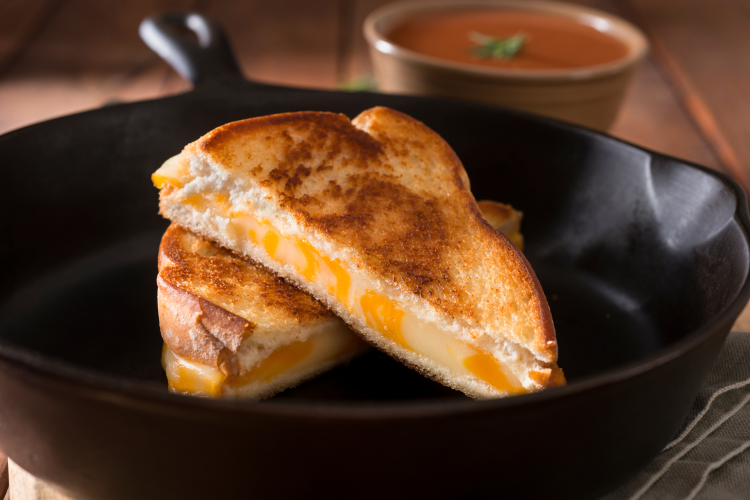 2. Throw a Grilled Cheese Party
Does the idea of a grilled cheese party for National Grilled Cheese Day sound confusing? Trust us. It can be a lot of fun if you do it right.
No, you're not just going to make a bunch of plain grilled cheese sandwiches for your guests (though, honestly, who would turn down a delicious grilled cheese sandwich made by a friend?). Instead, you're going to set out various types of bread, cheese and toppings like a grilled cheese "bar" so everyone can make custom grilled cheese sandwiches. We recommend using small pieces of bread and making tiny sandwiches so you can try as many combos as possible.
Ask everyone to bring in their favorite grilled cheese filling and at least one type of cheese. We recommend tomatoes, kimchi and spinach to start, but get creative during this National Grilled Cheese Sandwich Day!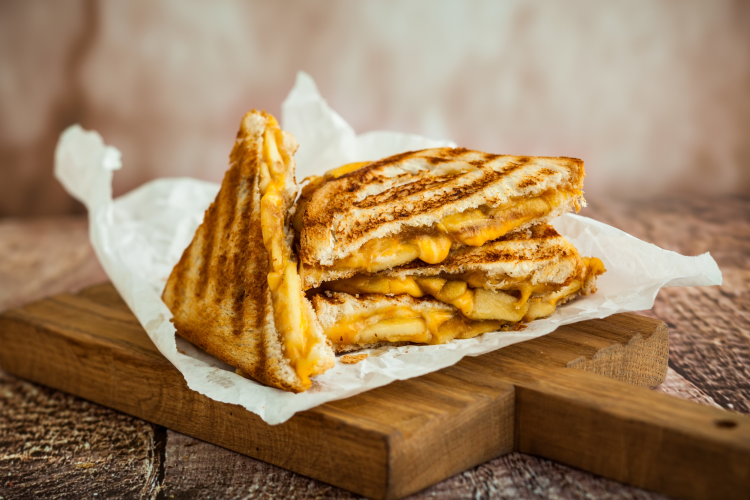 3. Have a Fancy Fondue Night
Okay, so this isn't exactly grilled cheese in a conventional sense, but we think it counts. Do a fancy cheese fondue night with different types of crusty bread and melty cheese for National Grilled Cheese Day.
Fondue is delicious and indulgent and no one is going to turn it down. For an extra treat for dessert, trade your cheese for chocolate and your crusty bread for chilled cheesecake cubes that you can dunk right into one of the best fondue pots.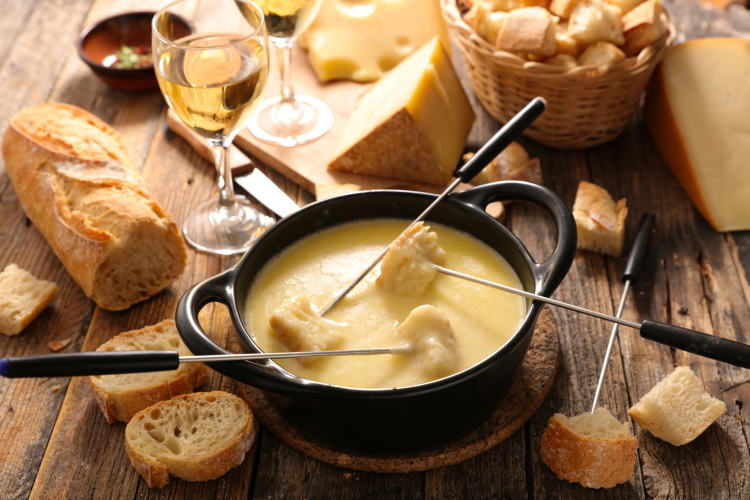 Gourmet Cooking Classes Near You
Take your culinary skills to new levels with guidance from five-star chefs.
4. Do a Grilled Cheese Soup Pairing Night
The only thing that can make grilled cheese better is some warm and comforting soup to go with it. Whether you're a sandwich dunker or you prefer to enjoy each part of your meal separately, you can't deny that soup and sandwiches make the perfect pair.
Plan a soup flight tasting for National Grilled Cheese Day this year. Again, this is best done with a group of friends. Everyone can bring in their favorite type of soup while you provide the grilled cheese. You'll all have a fun (and delicious) National Grilled Cheese Day filling up on this comforting meal.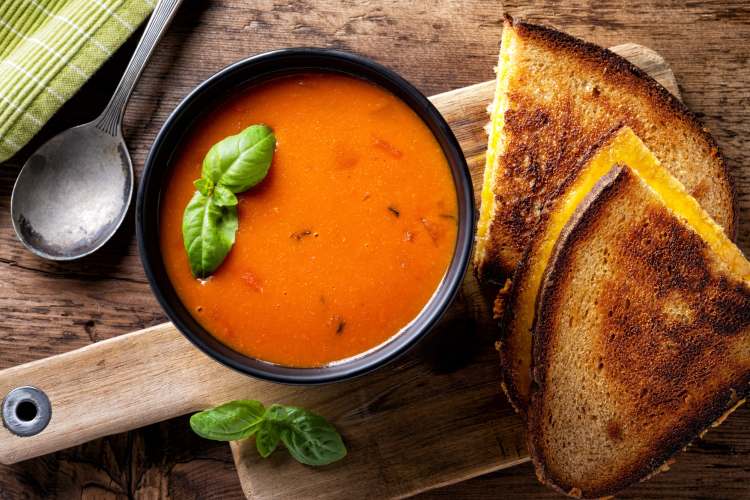 5. Set Up a Cheesy Charcuterie Party
Again, this isn't exactly grilled cheese, but we're not going to turn down any combination of cheese, bread and add-ins for National Grilled Cheese Day. It's time for a cheesy charcuterie party.
Instead of crackers, make sure you use crusty bread to pile high with delicious cheese and fun add-ons like apples, grapes, mustard and jam. Get creative with your cheeses. A delicious baked brie is perfect for National Grilled Cheese Day.
Bonus tip: Pair your cheese board with wine! Our guide to wine and cheese pairings will get you started.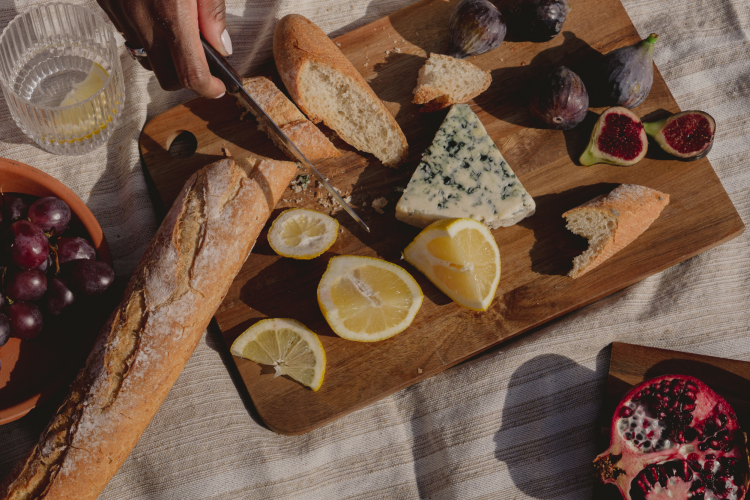 3 Fun Facts About Grilled Cheese
1. One Has Sold for $28,000
No, that's not a typo. It's true. There has been a grilled cheese sandwich sold for $28,000 back in 2004, according to the Miami Herald.
But why? Was it super delicious? Was it created by a superstar chef? No, not at all. A woman put her 10-year-old grilled cheese sandwich (minus a single bite) on eBay because it bore a resemblance to the Virgin Mary. An online casino, GoldenPalace.com, placed the winning bid of $28,000 and bought the now-inedible sandwich.
You probably won't get that lucky on National Grilled Cheese Day, but perhaps take a look at your sandwich to see if it's "special" before taking a bite. You might make a quick buck!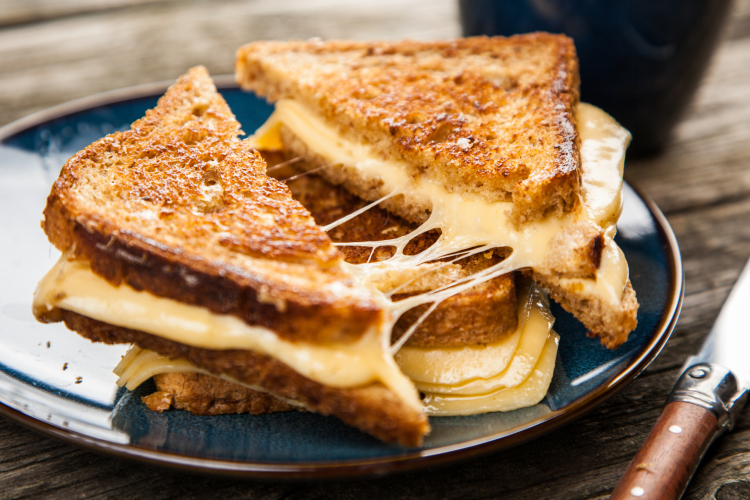 2. It Didn't Start as a Sandwich
What? No way! Originally, a grilled cheese was just a single slice of bread with a piece of cheese on top. The cheese would be melted and the bread would potentially be crispy, but not necessarily. This made a quick, cheap and filling snack or meal.
It wasn't until later that people started putting that top slice of bread on to make the grilled cheese sandwiches we know today.
Book a Gourmet Cooking Class Now
Kick-start your culinary confidence with help from a world-class chef. See what's cooking in your city today.
3. Americans Eat Billions of Grilled Cheese Sandwiches Per Year
It's no secret that Americans love cheese and bread. So much so, in fact, that NPR notes they eat 2.2 billion grilled cheese sandwiches every year according to market research! How many of those sandwiches do you contribute yearly? How many will you be eating on National Grilled Cheese Day?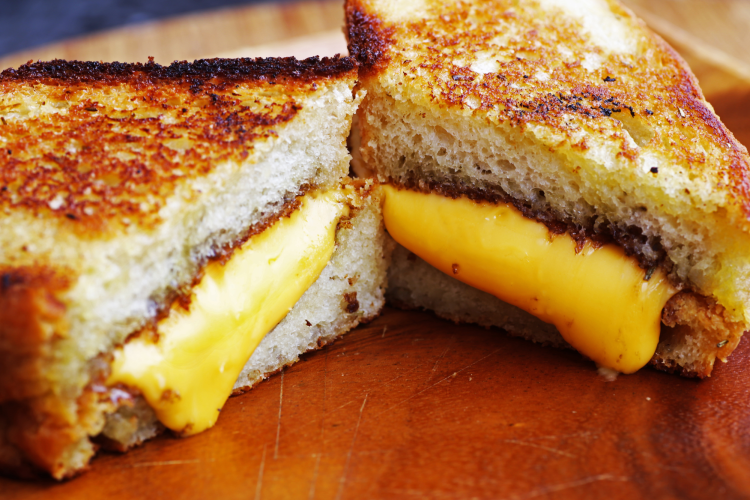 Join 200,000+ Culinary Enthusiasts
Exclusive deals, recipes, cookbooks, and our best tips for home cooks — free and straight to your inbox. PLUS: 500 Rewards Points.
Our Favorite Grilled Cheese-Related Recipes
Ready to celebrate National Grilled Cheese Day in your own kitchen? Here are some of our favorite grilled cheese-inspired recipes:
So which of our favorite ideas will you try on National Grilled Cheese Sandwich Day? Whether you're throwing a grilled cheese party, taking a fun and cheesy cooking class, pairing your cheesy sandwiches with tasty soups or any other cheesy activities. National Grilled Cheese Day is sure to be a blast!
For even more fun ways to explore your favorite foods, check out other experiences happening on Cozymeal