The Best Cheeses for Grilled Cheese According to Chefs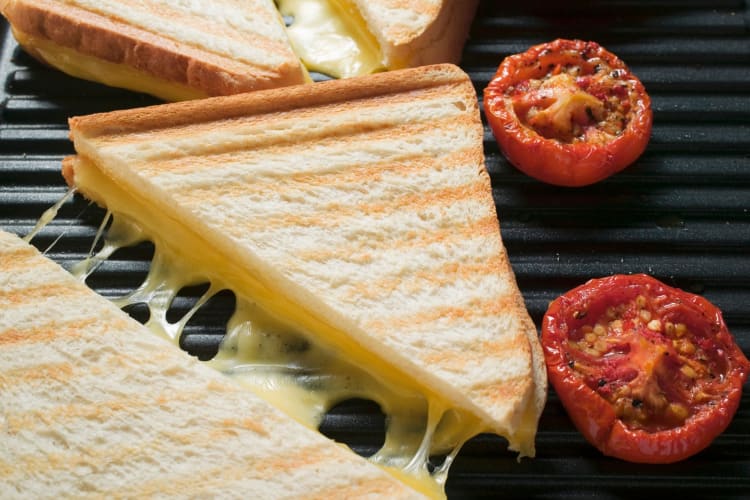 Our editorial team recommends the best products through independent research, selection and careful review. If you make a purchase through one of our affiliate links, we may earn a commission. Prices are subject to change.
There are so many options when it comes to melty cheeses, but what is the best cheese for a grilled cheese sandwich? A grilled cheese sandwich is the ultimate comfort food. It's that simple but perfect treat that mom made for you on a rainy day after school and that you make for your own kids now. What is it about cheese melted between two slices of bread that's so darn special?
Maybe it's the buttery crust? Or maybe it's the joy of pulling two halves apart and seeing that gooey cheese stretch out just before your first bite. But what's the best cheese for grilled cheese? Everyone has their own idea of what constitutes the ultimate grilled cheese sandwich, including chefs.
Like the Brussels sprout, grilled cheese has enjoyed a renaissance in recent years. There are restaurants dedicated to the craft. Menus include anything from simple single-cheese sandwiches to masterpieces using artisanal bread, gourmet cheeses and fancy fillings. If you were to ask any of these restaurants if their particular culinary creation features the best cheese for a grilled cheese sandwich, you'd get a hearty yes.
In search of some clarity, we asked two chefs for their take on everything from the best cheeses for grilled cheese to the best breads and sides. Their answers were deliciously simple.
Warning: Before reading any further, you might want to ensure you have the fixings for your own version of the best grilled cheese on hand.
Jump to Section
Gourmet Cooking Classes Near You
Take your culinary skills to new levels with guidance from five-star chefs.
The 9 Best Cheeses for Grilled Cheese
1. Cheddar
For most of us, our first grilled cheese sandwich was made with American cheese. Those individually wrapped plastic slices were just right. But at some point in our formative years, we learned about cheddar, and we've left those cheese packs with the eternal shelf life behind.
The best cheese for a grilled cheese sandwich that is as close to your childhood delight as it gets is cheddar. It's perfect for melting, and you can find it in mild or moderately sharp variations. Pair it up with a simple sliced white bread properly coated in butter, and you're just a few minutes away from perfection.
Professional chef and cookbook author Tiffany LaForge admits, "I have to be honest, I am an absolute purist when it comes to grilled cheese. I always use mild or medium cheddar for that perfect gooey, classic grilled cheese. It was my favorite childhood food so I keep things classic and just like mom made: extra crispy, extra gooey — and don't skimp on the butter."
When it's been a day, a traditional grilled cheese sandwich made with cheddar can cure just about anything. And what's the perfect medicine? Try Murray's Irish cheddar. You can thank us later.
2. Mozzarella and Pepper Jack
Every now and then, it's nice to change things up a bit. Mozzarella is delicious on just about anything, and it's one of the best cheeses for a grilled cheese sandwich. Mozzarella is a good choice if you want to throw a thick slice of fresh heirloom tomato and a few basil leaves into the mix.
Pepper jack cheese is crowd-favorite Monterey Jack cheese with red pepper flakes built in. When you want the best cheese for grilled cheese that will spice things up, pepper jack is a great choice.
"I personally love my grilled cheese extra gooey with a picturesque cheese pull," explains chef and recipe developer Giselle Park. "To achieve this, I pair a mild-flavored stretchy cheese with a flavorful melting cheese. My go-to pairing is shredded mozzarella with Maple Leaf pepper jack cheese. The pepper jack gives a mild kick."
Sometimes the best cheese for grilled cheese is a power combination.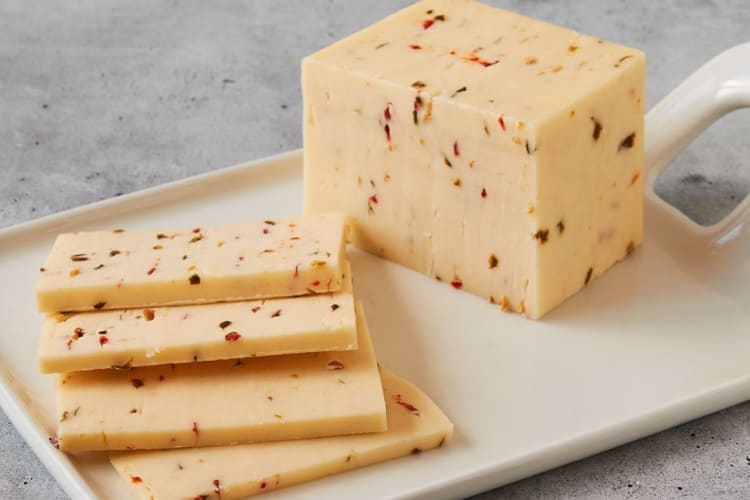 Join a Live Online Cooking Class Today
Your kitchen is now your own culinary classroom. Connect with chefs from around the world right from the comfort of home.
3. Gouda
Nutty but sweet gouda is the best cheese for a grilled cheese sandwich when you want to get fancy with fillings. The complex flavor of gouda is the perfect complement to a crisp green apple or roasted red bell pepper. Gouda is also the best cheese for grilled cheese with ham. Be sure to use a younger, mild gouda like Maple Leaf Red Wax gouda versus the robust aged gouda used on cheese boards. The aged versions are much harder and are crystalized, which makes them hard to melt.
Gouda doesn't usually come in slices, so you'll want to have a grater on hand if you don't know how to cut cheese. Try adding just a touch of honey inside, and you'll agree that gouda is one of the best cheeses for a grilled cheese sandwich. Or, for a milder twist, combine gouda and Monterey Jack.
4. Fontina
Fontina may be an unfamiliar style to some people. It's a buttery, mild cheese that melts easily. Fontina is often combined with other cheeses in gratins or macaroni and cheese variations, and it is easily one of the best cheeses for a grilled cheese sandwich, too.
Fontina Val d'Aosta makes a great choice if you want to add mild flavors like pear or fruit chutney to your grilled cheese. Sautéed broccoli rabe and a sprinkle of red pepper flakes is another winning combination using fontina.
As with Monterey Jack, fontina is also the best cheese for grilled cheese combinations that involve stronger flavored pairings like gouda or a bold bleu.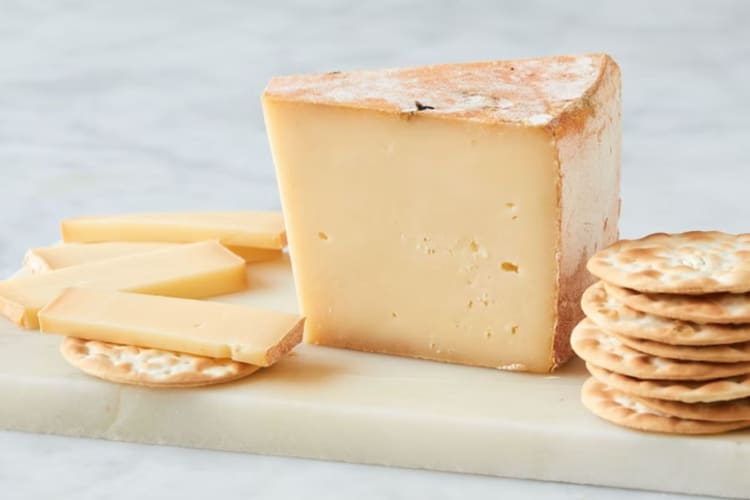 5. Gruyère
Gruyère cheese is a signature ingredient in dishes like potatoes or cauliflower gratin. It's nutty but not harsh, with just the right amount of salt. Gruyère is the second best cheese for a grilled cheese that will include ham (gouda is the best). Don't forget the caramelized onions on this version (think croque madame). You can also combine Gruyère with cheddar for a very grown-up grilled cheese.
Gruyère is your best cheese for grilled cheese sandwiches that include jumbo lump crabmeat because it isn't greasy and won't overpower the delicate crustacean.
And if you're seeking something that will add a little dimension to your sandwich, Murray's cave-aged Gruyère is the cheese for your needs, especially with French onion confit and a few cornichons for extra crunch.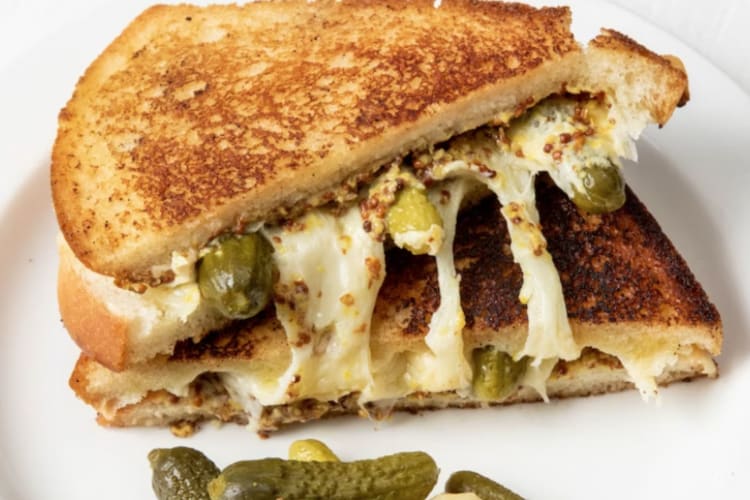 Book a Gourmet Cooking Class Now
Kick-start your culinary confidence with help from a world-class chef. See what's cooking in your city today.
6. Havarti
The pride of Denmark is creamy and easy-to-love havarti. It's very similar to mozzarella, but it gets aged where mozzarella does not. Aging allows for just a subtle ripening of flavor and gives havarti that soft but sliceable texture. Since havarti is commonly used in all kinds of sandwiches, it definitely is one of the best cheeses for grilled cheese.
Think of havarti when you want to add ham, bacon or even barbecued pork. Havarti provides the creaminess you need but allows those meat flavors to shine through. Alternatively, havarti is the best cheese for a mild grilled cheese that features just a little Fallot smooth Dijon mustard, some fruit preserves or fresh herbs like basil or dill. Better yet, make your ingredients multi-task by using an herby havarti like Grand Ost havarti with dill.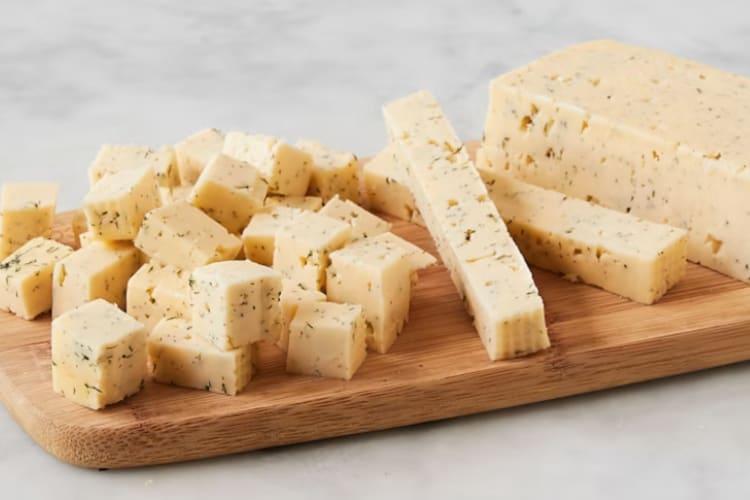 7. Provolone
There's something about the simple pleasure of provolone cheese, and it's one of the best cheeses for grilled cheese when you want to add something mild and melty. This cheese makes a great substitute for a straightforward grilled cheese when you don't have cheddar or American on hand. It's very affordable compared to the more artisanal cheese, making it a good cheese for grilled cheese if you're thinking about saving money on groceries.
Provolone also comes in smoked versions, and it tends to carry that flavor well. A smoked provolone would be the best cheese for a grilled cheese that includes pulled pork or other grilled meats paired with a slice of tart apple or a sweet fruit jam.
If you're looking for something more adventurous than the typical provolone, this Buonatavola Provolone will add a spicy zest to a grilled cheese sandwich.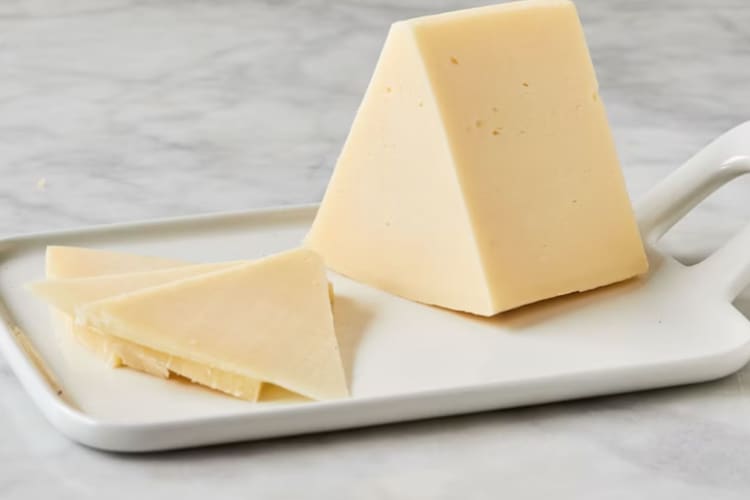 8. Swiss
Similar in texture to havarti but with a much more distinct taste, Swiss cheese can really be a palate-pleaser when it's used for grilled cheese. The best cheese for a grilled cheese tuna melt is definitely Swiss, and it's a natural partner for caramelized onions or broccoli rabe.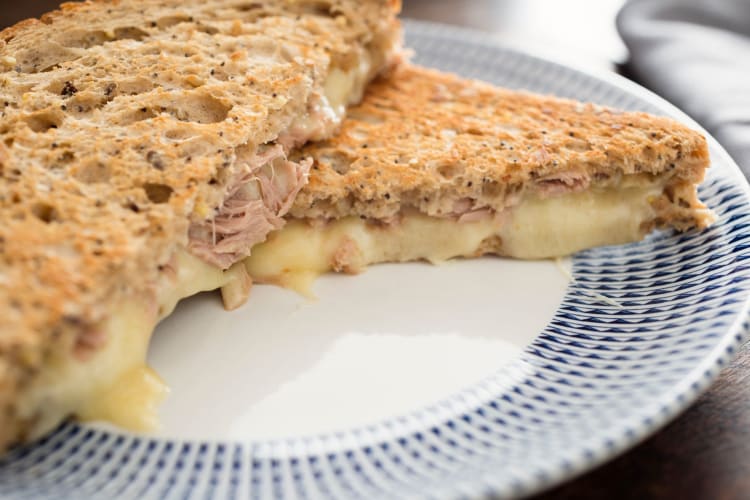 9. Blue Cheese
Last but never least is blue cheese. People have strong opinions on whether blue is the best cheese for grilled cheese. It's not likely to be your go-to combination on a rainy day. But any grilled cheese connoisseur has to have it in their repertoire.
The most balanced combination is a creamy blue cheese like the Point Reyes Original Blue Cheese with fresh pears or a fig jam and a few arugula leaves. If you want to go big, pile some caramelized onions on and add some Gruyère to balance the blue out. Finish with a drizzle of balsamic.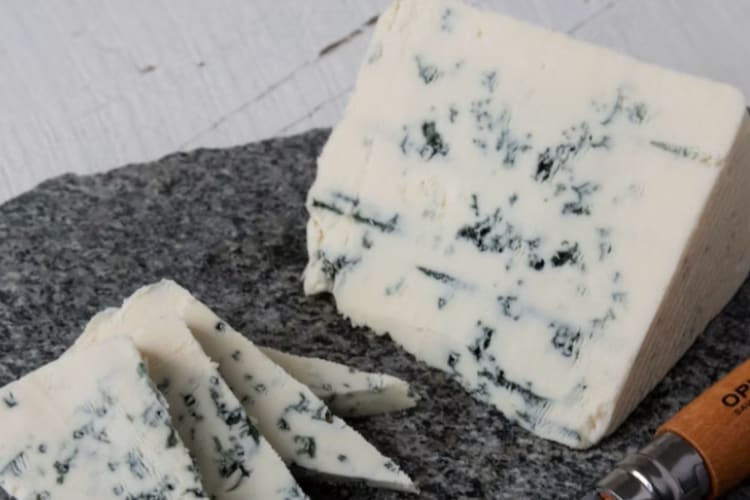 Book an Online Cooking Class Today
Five-star chefs. Step-by-step coaching. Flexible menus. Come see what's cooking in a live online cooking class.
Best Bread for Grilled Cheese
1. Sourdough or Brioche
Chef Tiffany may be a purist when it comes to using cheddar cheese, but she's less traditional in her choice of bread. "For me, the bread used is just as important as the cheese — and sourdough or brioche are the best (depending on my mood)."
Sourdough is a versatile crowd-pleaser and works perfectly for pretty much any hot sandwich that's going to spend some time on a skillet, grill pan, panini press or in an air fryer (you have to try this air fryer grilled cheese). The slightly sour flavor is a good match for sweet and salty cheese, and the texture holds up extremely well.
Brioche isn't just for your fancy French toast anymore. Now that sliced versions are available in stores, there's no reason not to incorporate it into your grilled cheese routine.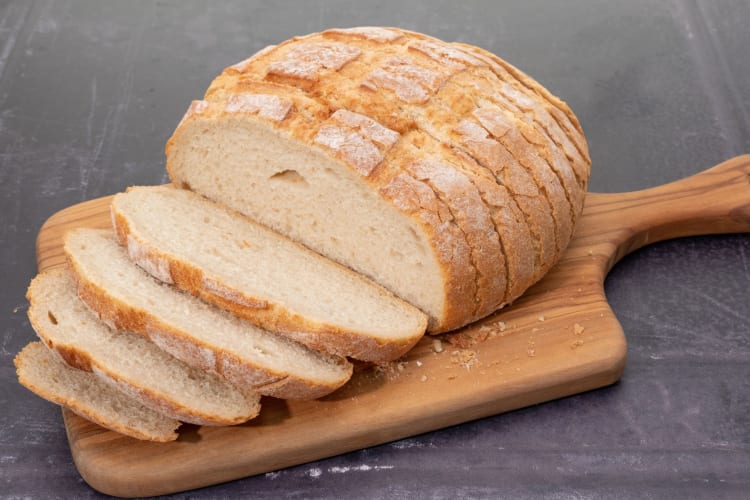 2. White Bread
Society has pretty much shamed us into feeling guilty when we eat anything white, especially white bread. But the OG is the OG. Plain white sandwich bread, crusts cut off, will always be the best bread for grilled cheese.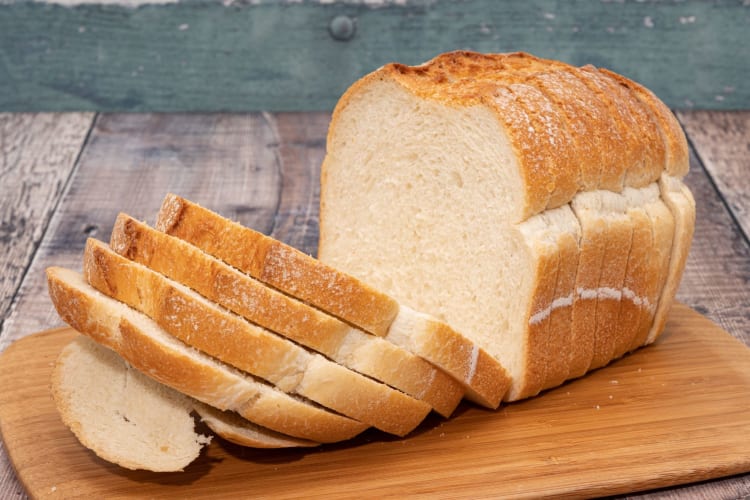 3. Rye Bread
There's a reason the Reuben has been around for as long as it has (a Reuben is technically a grilled cheese, isn't it?) But a Reuben isn't a Reuben without toasty rye bread. Whether you pick caraway-studded Jewish rye or marbled, toasted rye bread, it just makes grilled cheese better.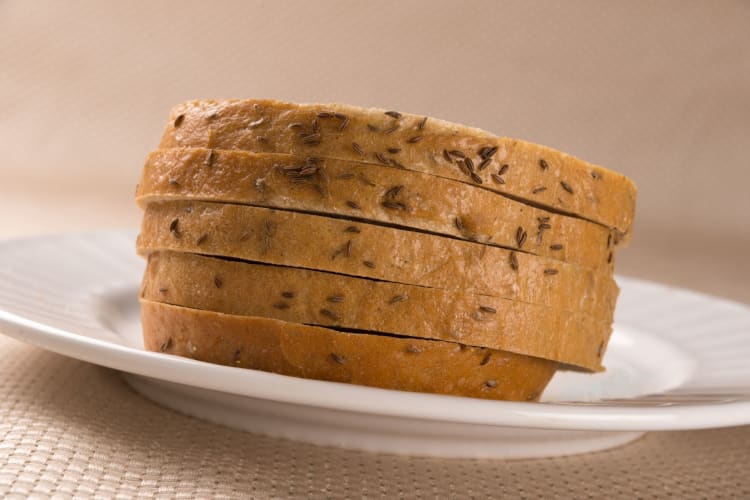 4. Pumpernickel
Pumpernickel is sweeter in flavor than rye but an equally good bread for grilled cheese. The dark color also lends itself to beautiful presentations. This is a good choice for your gouda and sautéed broccoli rabe or your Gruyère, ham and caramelized onion grilled cheese.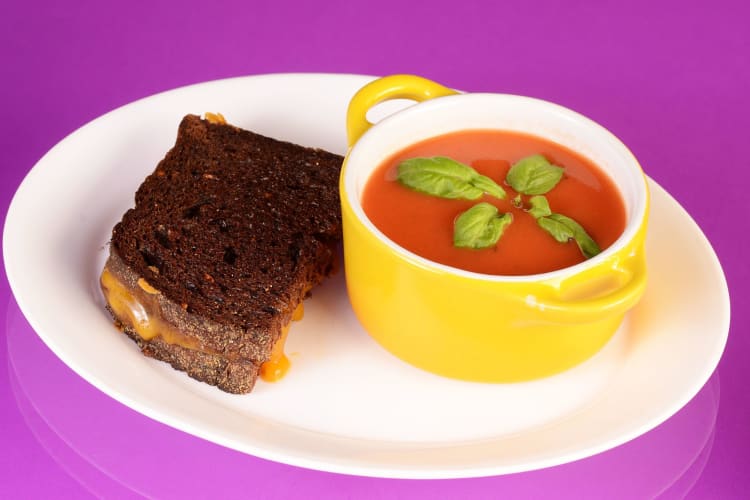 5. Ciabatta
Ciabatta is becoming more popular as the best bread for grilled cheese. It doesn't lend itself as easily to pan-frying, so you'll want to have a panini press if you're using ciabatta. Ciabatta is a good choice for grilled cheese combinations that may include oily or greasy ingredients because it can handle the load.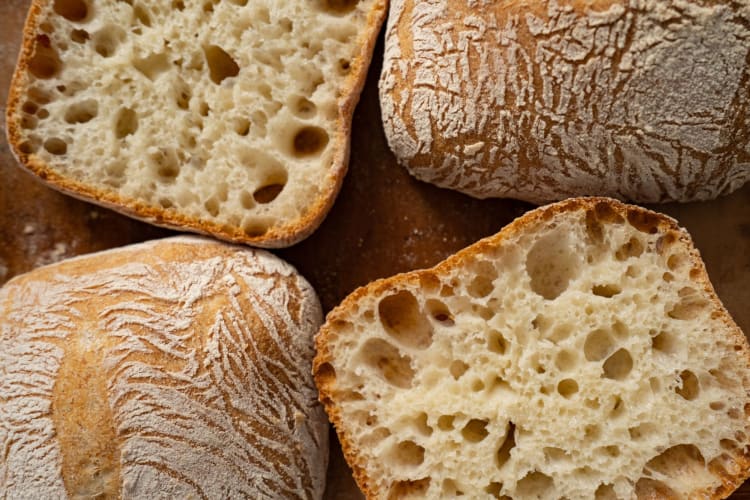 Gourmet Cooking Classes Near You
Take your culinary skills to new levels with guidance from five-star chefs.
Best Grilled Cheese Sides
1. Creamy Tomato Soup and a Drizzle of Sriracha
While our beloved grilled cheese is heaven enough itself, it does occasionally like to share the plate with a complementary side. No combination is more classic than grilled cheese with tomato soup.
You can stick to the soup straight out of the can. But Chef Giselle likes to kick things up a notch. "To dial up the spice, I like to eat my grilled cheese with a drizzle of Sriracha. The spicy, garlicky pepper flavor plays nicely with the milky mozzarella that subdues the heat. Coupled with a creamy tomato soup, it's the perfect comfort food."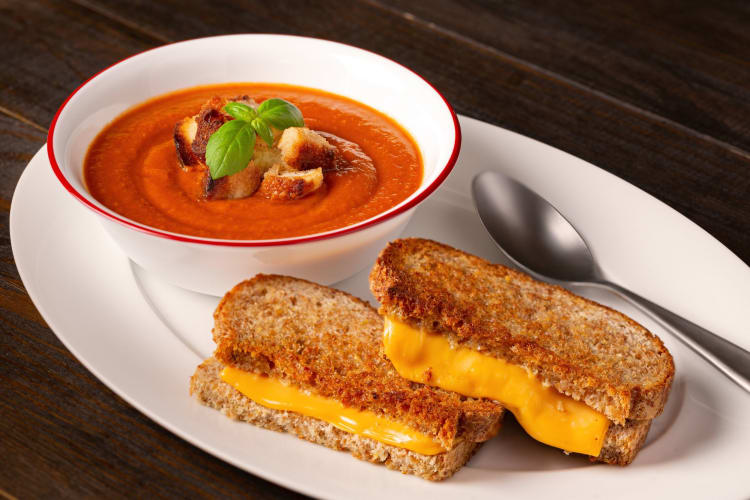 2. French Fries
Do we need to explain? Of course not.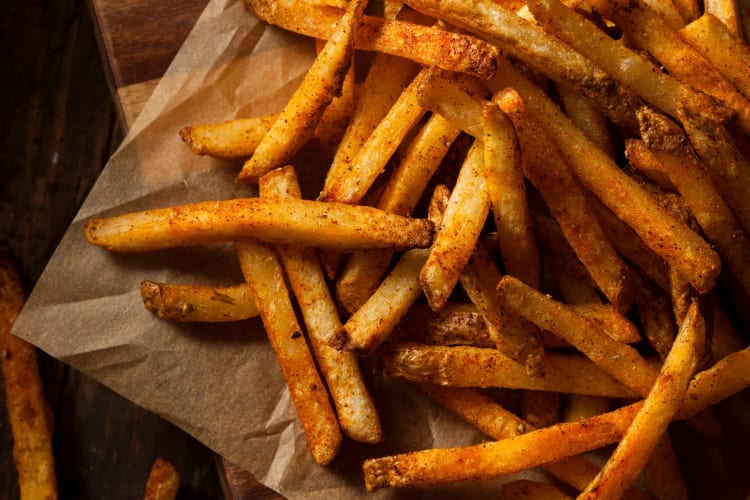 3. Fresh Sliced Tomato
Whether you put it on the side or right in the sandwich, a sliced tomato provides just the right amount of fresh to balance out the savory. A thick slice of raw yellow onion is also surprisingly perfect with grilled cheese.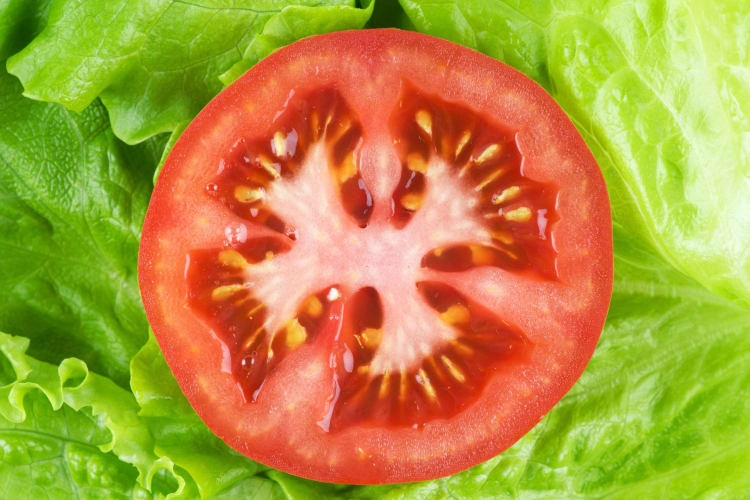 4. Jam or Chutney
When you order a cheeseboard, it almost always comes with some sort of sweet condiment on the side. That's because sweet and savory just work. Adding a smear of Divina Fig Spread, strawberry, peach or mango preserves to your grilled cheese is very adult. Go for it.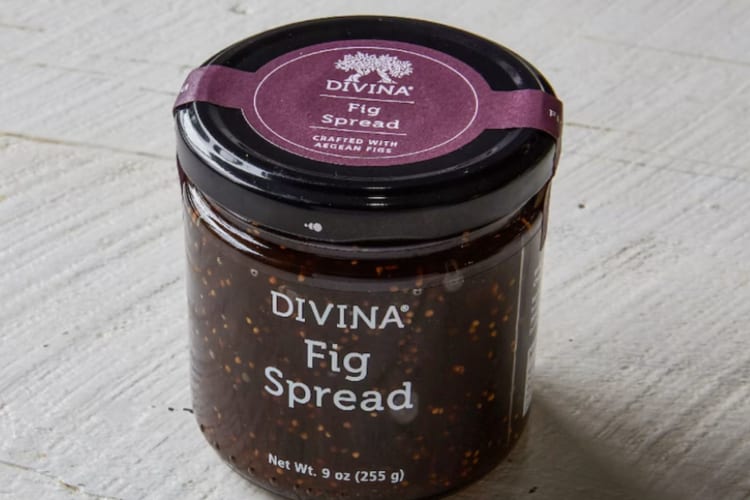 5. Kimchi
When you need your savory and your fermented all at the same time, kimchi is the answer. Skeptics prepare to convert.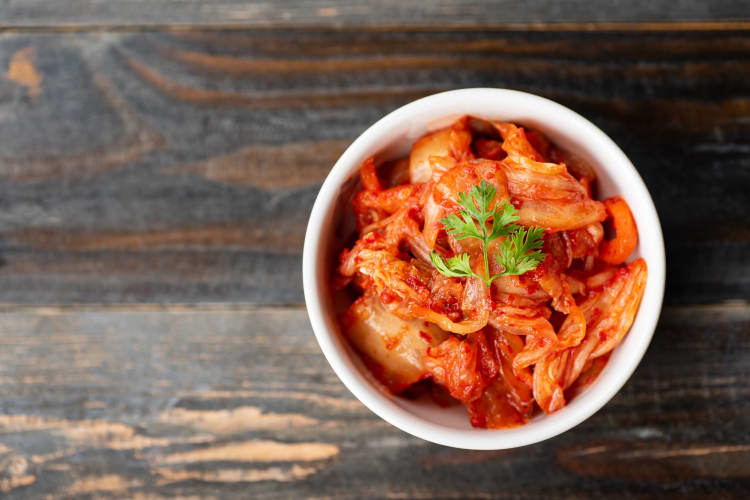 6. Brussels Sprouts
We just love them so much that they automatically go with everything. But for real, a side of maple bacon Brussels sprouts in a sweet, sticky sauce makes the perfect side dish for grilled cheese.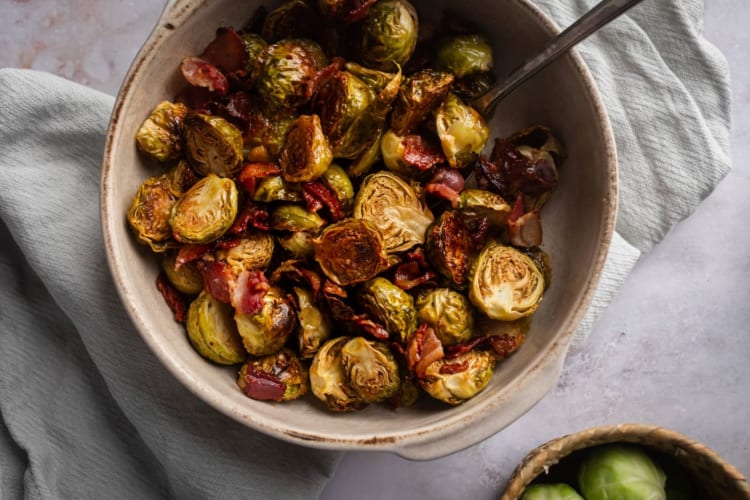 7. Broccoli Rabe or Broccolini
As with your tomato, you can either serve this on the side or fold it right on in. If broccoli rabe is too sharp for your taste, try using sautéed broccolini and a pinch of red pepper flakes instead.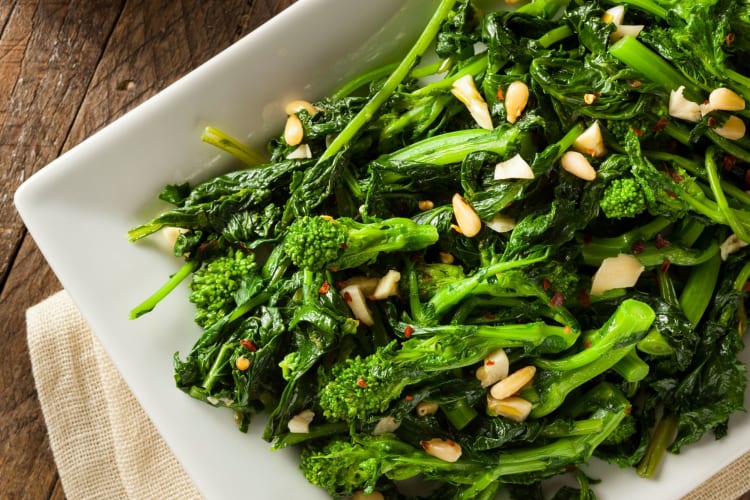 8. Pulled Pork or Barbecue Jackfruit
Macaroni and cheese belongs next to anything barbecued, especially pulled pork. So why wouldn't that work with your grilled cheese? And if you're vegetarian, opt for BBQ jackfruit, the ultimate plant-based, pulled pork copycat. (Or should we say "copypig?")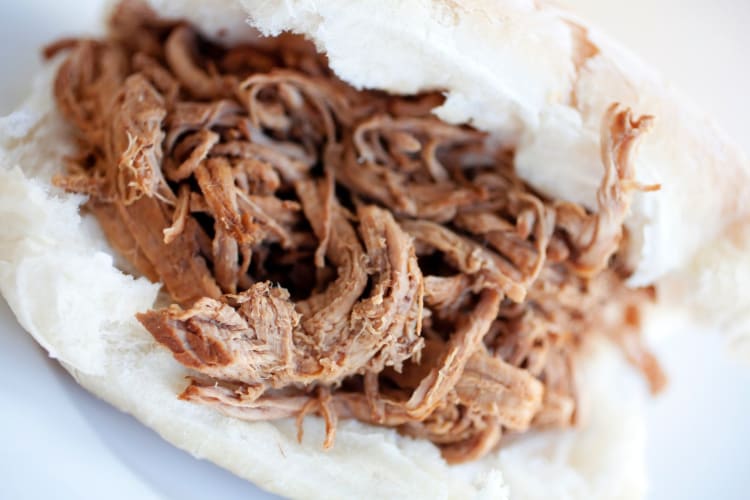 Join a Live Online Cooking Class Today
Your kitchen is now your own culinary classroom. Connect with chefs from around the world right from the comfort of home.
9. Sautéed Mushrooms
Who doesn't love a mushroom Swiss burger? Do you see where this is going?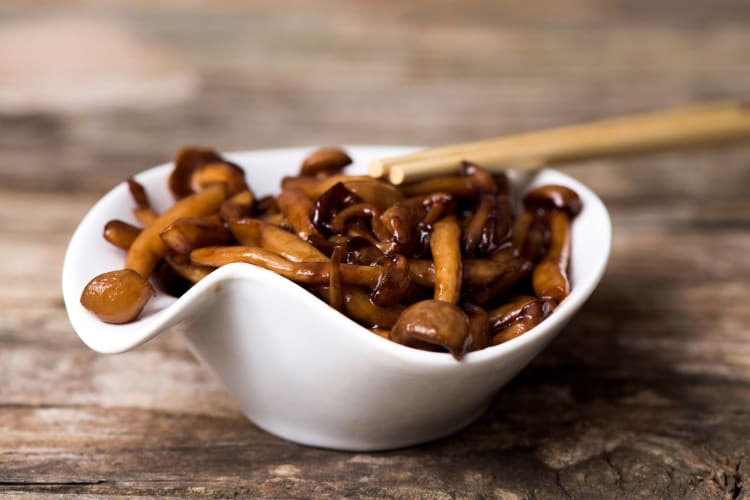 10. Potato Salad
A great sandwich deserves a great salad. Try this potato salad with bacon as a side to your grilled cheese.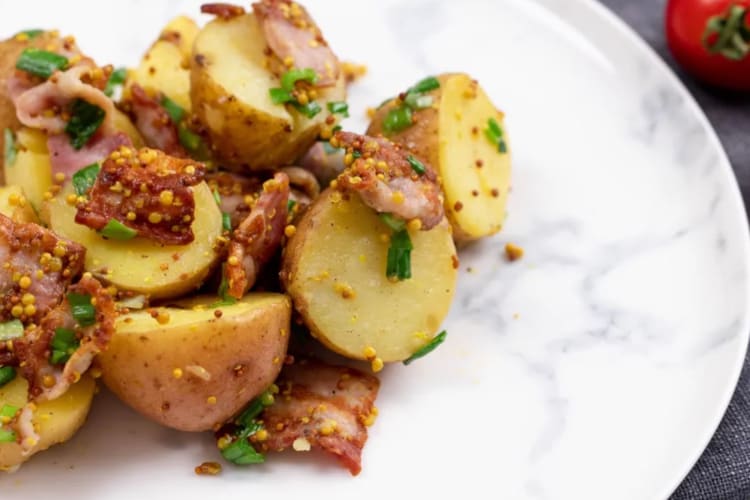 Master the Grilled Cheese With Gourmet Cooking Classes
While anyone can make a simple grilled cheese, there's an art to learning about the fancier versions. How do you pair the cheeses? How do you get that perfectly crispy crust? Check out cooking classes in NYC or cooking classes in Orlando to learn about interesting food combinations and preparation techniques that you can apply to your favorite comfort food.
Cooking classes near you will offer tips and tricks for how to prepare regional dishes that end up being the perfect leftover for a grilled cheese experiment. Or try online cooking classes to explore something new. As we've learned already, pretty much anything can become grilled cheese.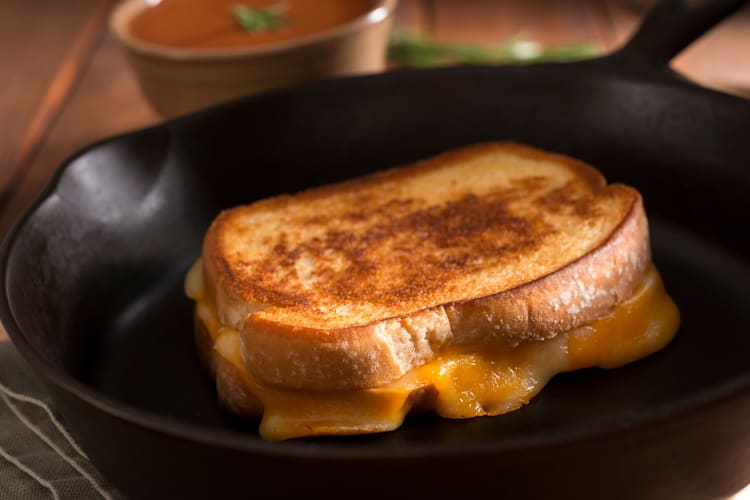 Join 200,000+ Culinary Enthusiasts
Exclusive deals, recipes, cookbooks, and our best tips for home cooks — free and straight to your inbox. PLUS: 500 Rewards Points.
After delving into this list of the best cheeses for a grilled cheese, your mouth is surely watering, and you're ready for the happy handheld delight that is a grilled cheese sandwich. Get crumbs on your chin. Lick your greasy fingers. Feel the smile on your face and peace in your heart. The only question now is which grilled cheese are you having tonight?
For even more ways to explore your favorite foods, check out other experiences happening on Cozymeal.