What Are Cornichons? All About This Fun Little Pickle
You may think of all pickles as the same, but if you take a dive into the world of pickling, there will be one specific type of pickle you'll want to look out for: cornichons. Cornichon pickles are dainty, tasty little pickles that can bring a spark of life to all your appetizers, sides and sandwiches.
The name cornichon might be new to you, but these special little pickles have probably popped up in some of your favorite charcuterie boards and other savory treats. A classic French-style pickle, cornichons are definitely worth adding to your culinary vocabulary. Here's a quick guide to the basics of cornichon pickles.
Jump to Section
Gourmet Cooking Classes Near You
Take your culinary skills to new levels with guidance from five-star chefs.
What Are Cornichons?
Cornichons are small pickles, usually about the length of one finger. You can differentiate them from mini dill pickles by the bumpy skins, a natural feature of the cucumber varieties from which cornichons are made.
Aside from the vegetable variety, the defining trait of cornichons is how they are pickled. Cornichons are salt-cured and soaked in vinegar. The pickling mixture that gives the cornichon its unique taste consists of ingredients such as clove and tarragon, which results in a versatile pickle that can be paired with a range of savory flavors.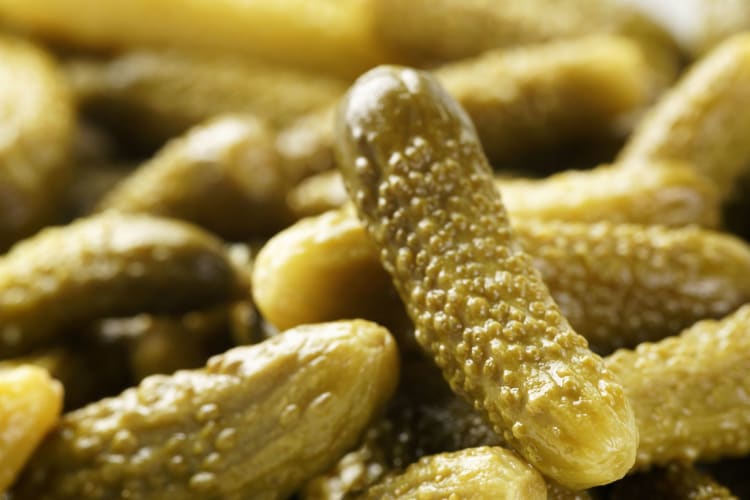 What Do Cornichons Taste Like?
Cornichons have a distinctive taste that sets them apart from other pickle types. A cornichon will taste sweet and tangy, with a bit of an herbal flair. The flavor is relatively strong and has the general briny taste you'd expect from any pickle. A good cornichon will have a slight crunch that's comfortable to bite into.
The sweet, herbal flavor of cornichons makes them the perfect pairing for meat, cheese and other heavy savory foods. Because each little pickle packs a punch, cornichons can hold their own against other strong flavors.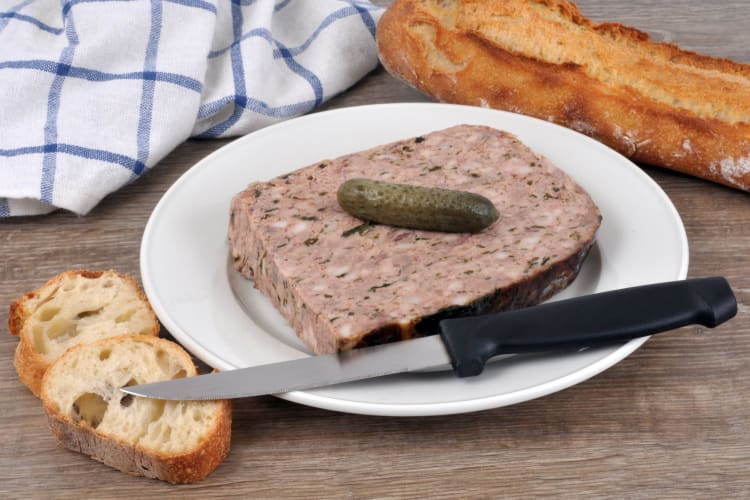 Uses for Cornichons
Cornichons have lots of uses, but they're probably most well-known as the ideal pickle for a charcuterie board. If you make a charcuterie board at home, you'll take your spread to a professional level if you include some authentic cornichon pickles. The cornichon taste is such a staple for charcuterie boards that you can easily add it to practically any kind of flavor profile or theme, such as a Mediterranean olive plate or a Halloween charcuterie board.
Aside from charcuterie, you can also prepare cornichons with deviled eggs, a classic combination. They go well with most sandwiches and meat dishes, too. Cornichons blend beautifully with other savory foods, but they also work extremely well as palate cleansers: The burst of sweet aromatic flavor clears your nose and mouth before transitioning to the next course.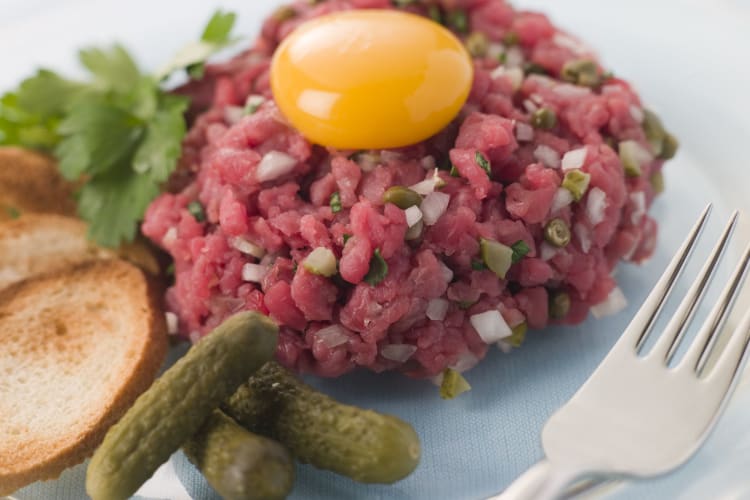 Where to Buy Cornichons
Cornichons aren't as difficult to find in stores as you might think. If you go to the pickle section of any mid-sized or large grocery store, you should be able to find a few options for cornichon pickles. You can also look for cornichons in the deli or salad bar section of your grocery store. And if your regular grocery store doesn't have any cornichons, a specialty grocery store is sure to have them in stock. Finally, for a more artisanal pickle experience, you can look for cornichons from independent vendors at your local farmers market.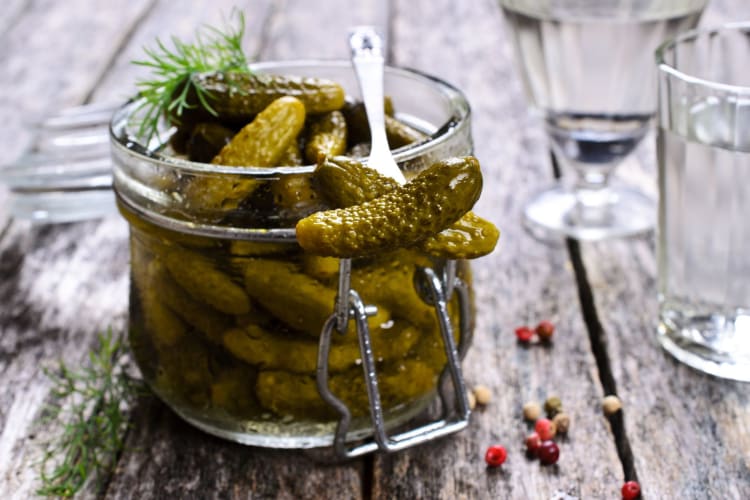 Join a Live Online Cooking Class Today
Your kitchen is now your own culinary classroom. Connect with chefs from around the world right from the comfort of home.
Storing Cornichons
Since pickles are made to be preserved, storing cornichons is quite simple. Open jars of pickles should always be stored in the refrigerator, with the lid tightly on. Keep the cornichon pickles submerged in the brine they came in. Once the jar is opened, pickles can keep in the refrigerator for up to three months, per the USDA.
For an unopened jar, it's a little trickier to give a precise cutoff point for food safety, since they could theoretically last for a couple of years. However, you usually should be on the conservative side and adhere to the expiration date on the label.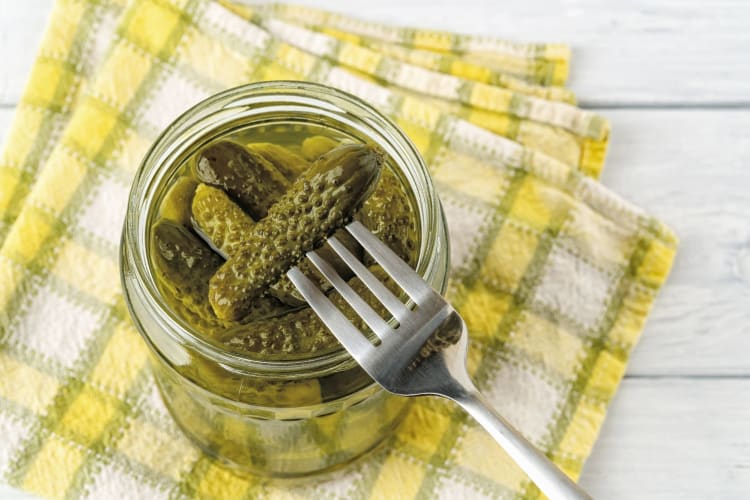 Are Cornichons Good for You?
Just because cornichons are made from produce doesn't mean they are the healthiest snack. As with all pickled vegetables, cornichons have a mix of health benefits and disadvantages that should be weighed when you consider their role in your diet.
Nutritional Benefits
Fermented foods help your gut: Cornichon pickles are a fermented food, which means they are loaded with probiotics. Per the NIH, probiotics can help maintain your body's microbiome, which supports your gut and immune health.

Cucumbers contain important vitamins: A cornichon pickle is made from a cucumber and therefore still has some of the nutritional qualities you would get from a regular cucumber, including vitamins. For instance, cucumbers (and pickles) contain vitamin K, which strengthens your bones (via Cleveland Clinic).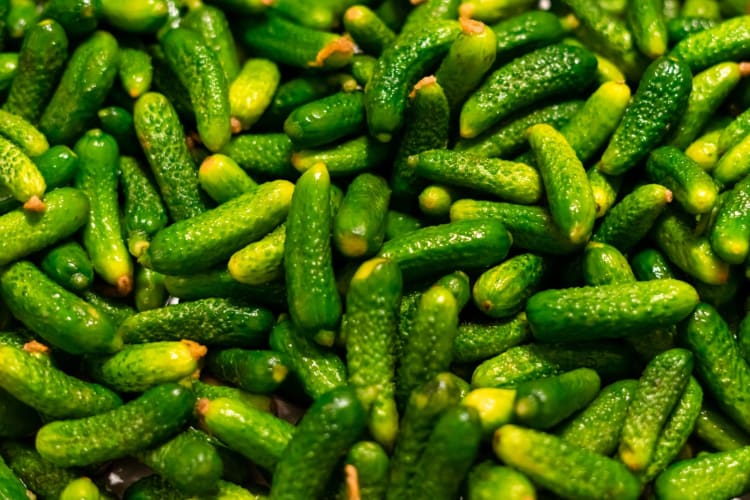 Disadvantages
Pickles are high in sodium: Cornichon pickles are going to give you a lot of sodium with each serving. Depending on your health situation, you may need to limit the amount of cornichons and other pickled foods you eat if you're trying to avoid sodium.

Some pickles have preservatives: As with many foods, the store-bought version of cornichons may be less healthy than the pickles you'd make at home. In addition to regular pickling ingredients, processed pickles will often contain preservatives and other chemicals that could be detrimental to your health.
Key Takeaway
Barring any specific health concerns, cornichons are a reasonable treat to have on occasion. As with nearly any food, moderation is the key to enjoying the benefits while avoiding the disadvantages.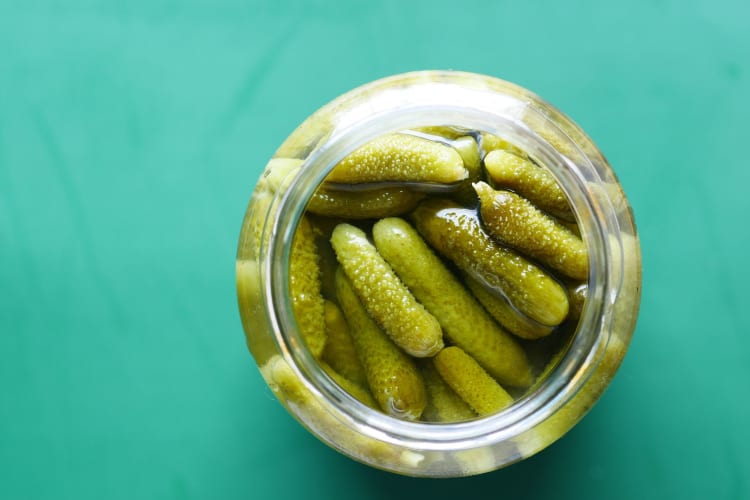 Join 200,000+ Culinary Enthusiasts
Exclusive deals, recipes, cookbooks, and our best tips for home cooks — free and straight to your inbox. PLUS: 500 Rewards Points.
Cornichons are a classic pickle that add a tart twist to a charcuterie board or main dish. Whether you're a culinary novice or a seasoned home chef, exploring this fun pickle variety will surely elevate your next foodie project.
For even more ways to explore your favorite foods, check out other experiences happening on Cozymeal.