Foodie Guide: What Is Omakase?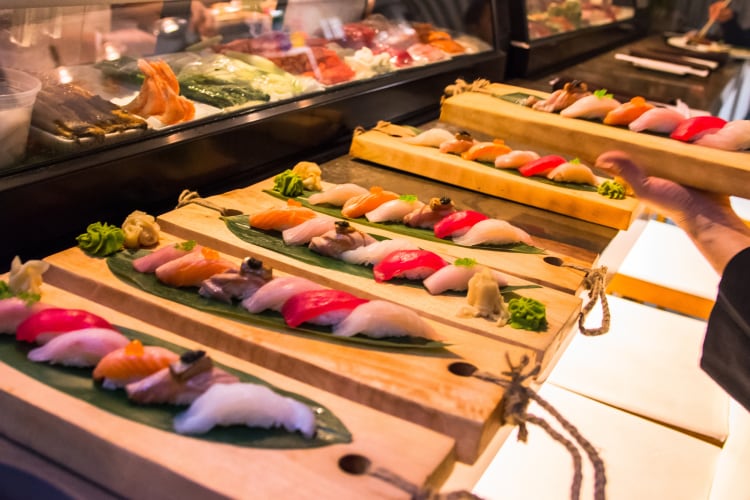 Our editorial team recommends the best products through independent research, selection and careful review. Prices are subject to change.
When it comes to formal dining, omakase is one of the most sought-after; but exactly what is omakase? For those who love their weekly sushi nights at their favorite Japanese restaurant, they know their go-to sushi chef knows how to prepare a plate they love. But how much do you trust a sushi chef to present a one-of-a-kind dining experience? With omakase, you're doing exactly that. And as sushi becomes one of the most popular dining options, omakase is gaining popularity as a dining experience.
It can be intimidating to give up control over what you have for dinner. But for those who like some adventure along with their meal, omakase can be a fun experience to try. So what is omakase, where do you find it, and how do you do it? You can learn how to create your own rolls during sushi making classes in San Francisco or try the best sushi making kits. And if you're ready to put your trust in a chef's hand, this guide will help you through your first and future omakase experiences.
Jump to Section
Book a Gourmet Cooking Class Now
Kick-start your culinary confidence with help from a world-class chef. See what's cooking in your city today.
What Is Omakase?
So, exactly what is omakase sushi and what does omakase mean? The Japanese phrase means "I'll leave it up to you" and comes from the Japanese word for entrust. Basically, you're leaving what you're eating during the meal up to the chef. When you sit to have an omakase meal, you won't have a menu to choose any of the courses from. Instead, the chef will prepare the first courses using fresh ingredients of the day. Depending on how you like that dish, the chef will determine what the next courses are. Omakase chefs often create a menu on the spot to ensure they serve you a meal you'll love and remember.
Omakase gained popularity in the 1990s as sushi gained popularity. Since the dishes were new to many people and sometimes unpronounceable, omakase became an easy opportunity for novice sushi eaters to try a variety of dishes, learn their names and discover their favorites. But now that sushi is one of the most popular cuisines, omakase has become more of a unique dining experience. It allows chefs to create new dishes and innovate old favorites. It's still a great way to learn about sushi for beginners. And for those who love sushi and Japanese cuisine, it's a great way to experience new dishes.
So, what is an omakase dining experience? Along with sushi, omakase experiences also feature dishes made with Japanese culinary techniques. You'll often find nigiri, hassun, sashimi and dashi coming out during your omakase dining experience. As for price, omakase experiences can vary. In general, omakase can be on the pricier side, especially when it comes to higher-end Japanese restaurants. However, there are more affordable options making their way onto cities' local food scenes. Omakase experiences are usually paid per person; $100 per person is the average for these meals.
4 Things to Expect at Omakase
1. You'll Interact With the Chef
Though they may be a surprise, omakase experiences can be a very personal dining experience. At many omakase experiences, you'll sit at the counter and be able to interact with the chef. They'll often ask how you're enjoying your meal and you can give your thoughts and feedback.
But this is also an opportunity to talk about more than just the food. You can talk to the sushi chef in a more personal way. Many will often be happy to talk about their experience, travels and favorite dishes. Ask how they developed the dishes and the ingredients that inspired them. The close interaction is what sets omakase apart from other dining experiences.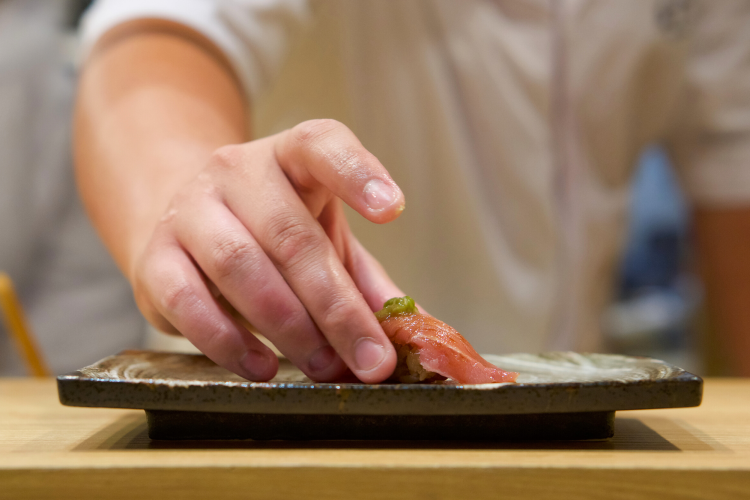 Gourmet Cooking Classes Near You
Take your culinary skills to new levels with guidance from five-star chefs.
2. The Meal Will Be Long
Omasake is the kind of dinner you have when you have time to spare. What is omakase dining without being long and luxurious? This isn't the kind of meal you go to when you're trying to see a movie after dinner. Omsake dishes are intricately prepared and served and feature multiple smaller dishes. And don't expect to receive the next course immediately after finishing the last.
Omsake is meant to be savored and the experience enjoyed. So, you'll want to take your time appreciating the flavors in each dish as well as enjoy the show of chefs preparing each course. Plan to set aside at least two hours for the meal. The restaurant you choose can give you an estimate of how long their experiences last.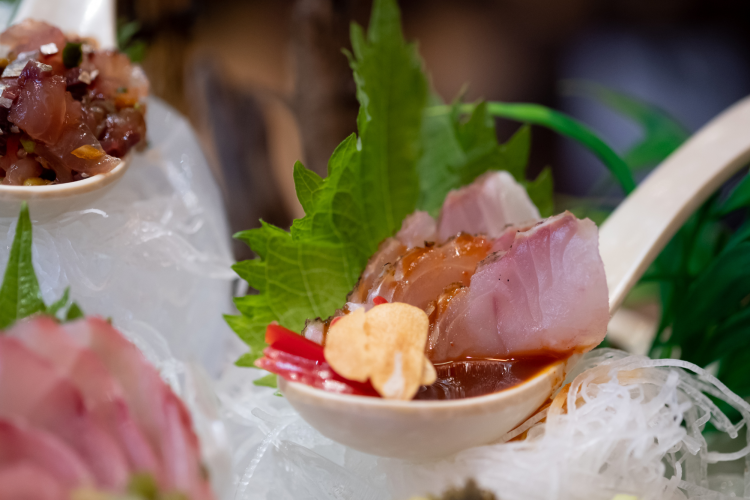 3. Be Honest and Ask for Opinions
The experience is personal, and in order to get a meal that you'll love, you have to be willing to be honest. Don't be afraid to ask the chef what is the omakase sushi they're offering and what ingredients they use. When the chef asks how you liked the last course, provide your honest opinion on the flavors and textures so they're able to provide you with a meal you'll continue to love.
If you don't look what you are, tell the chef; and if you love it and want more, let that be known as well. You should also be willing to ask for opinions. If you're new to sushi or like being adventurous with your food, don't be afraid to ask the chef what types of sushi suggest or what their favorite meal to create is. Their opinion might lead you to your favorite dish of the night.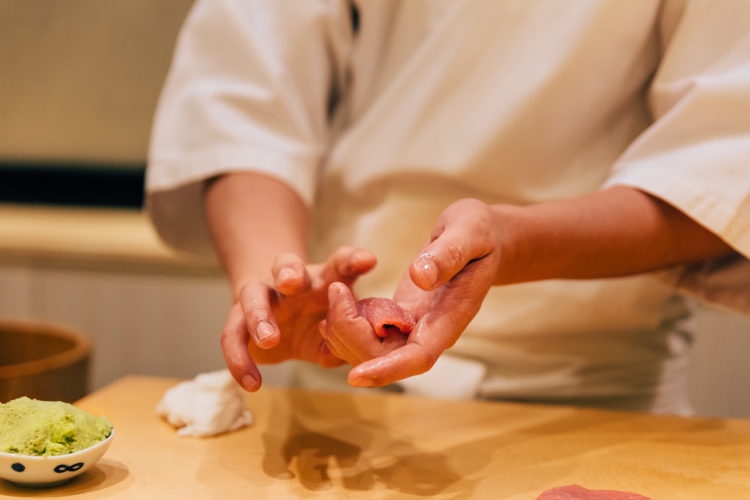 4. You're Gong to Be Surprised
Go into an omakase experience knowing that you're going to be surprised by what you eat. You won't be able to order, so you will obviously be surprised about what dishes will be set in front of you. But you also may be surprised about what you like and what you don't.
What is omakase style of cuisine? The food served during an omakase dining experience uses seasonal ingredients to create artistic and elegant dishes. Whether you love the dish or not, know that you're getting the finest ingredients and you should give each course a try. With omakase, it's most important to go into the experience with an open mind.
Book a Gourmet Cooking Class Now
Kick-start your culinary confidence with help from a world-class chef. See what's cooking in your city today.
Our Favorite Sushi Making Tools
If you're taking your first steps toward making and enjoying sushi at home, or perhaps you're getting ready for an online sushi making class, we've highlighted a few favorite products to get you started:

Join 200,000+ Culinary Enthusiasts
Exclusive deals, recipes, cookbooks, and our best tips for home cooks — free and straight to your inbox. PLUS: 500 Rewards Points.
What does omakase mean? It's a little bit of luxury and a little bit of adventure and a lot of incredible dishes. This Japanese dining experience is a great way to broaden your culinary horizons and enjoy a unique dining experience while you eat. Not only will you get great food, but you'll also enjoy up close and personal interactions with the chef. If you're one who loves unique and intimate dining experiences, omakase should definitely be on your list.
For even more ways to enjoy your favorite foods, check out other experiences happening on Cozymeal.