What Is Oshinko and How Do You Use It?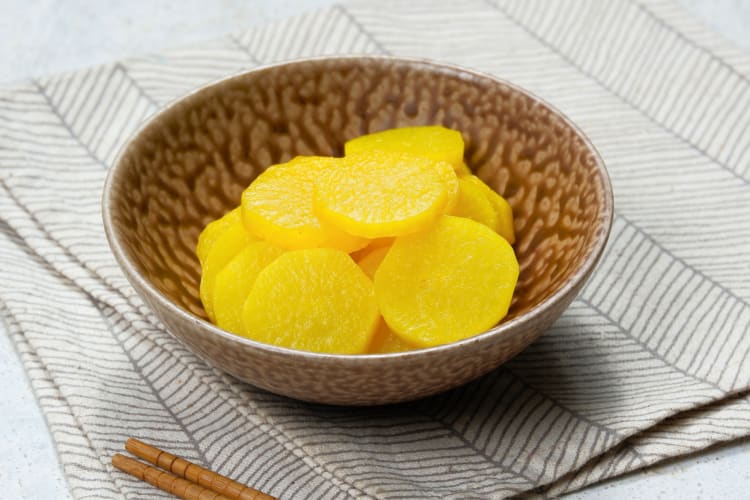 Sushi aficionados: you know your nori, nigiri and sashimi. But have you heard about oshinko?

The love of sushi starts with conquering a California roll and becoming comfortable with the briny, chewy texture of the nori it's wrapped in. Then you graduate to a spicy tuna roll, fresh salmon sashimi and yellowtail nigiri. When you're ready to branch out and embrace a broader flavor profile at the sushi counter or your favorite Japanese restaurant, reach for oshinko.

Notably, if you love pickles, you'll love oshinko! This unique ingredient offers a sweet and sour balance to the savory flavors of fish and rice. Middle Eastern and Mediterranean cultures typically serve pickled vegetables to balance out a savory meal. Oshinko is the Japanese equivalent. Best of all, waking up your taste buds with oshinko will add a new layer of complexity to your usual sushi spread.

If you want to learn more about what oshinko is, keep reading! This helpful guide also answers many common questions like what is oshinko sushi? We also delve into whether this Japanese pickled vegetable is suitable for vegans and vegetarians.
Jump to Section
Gourmet Cooking Classes Near You
Take your culinary skills to new levels with guidance from five-star chefs.
What Is Oshinko?
So, what is oshinko? In Japanese cuisine, many sauces and condiments are used to complement and enhance the unique flavors of raw fish. In your early days of becoming a sushi lover, you might have shied away from some of those unknown shapes and colors on the side of your plate, favoring a simple soy sauce.

Wasabi is generally the first exotic experience that sushi newbies try and learn to love. Then there's the tiny green or orange bubble-shaped fish roe (called tobiko or masago) that decorates your shrimp tempura roll. You were nervous but trusted that it had its place and purpose.

Your next unique ingredient to try, oshinko, falls under the category of tsukemono. This is a general term that refers to pickled condiments used in Japanese cooking. Your sushi roll is almost always served with a little pink or white pickled ginger on the side.

And why is that? Because pickled ginger both cleanses the palate and wakes it up. The goal is to prime the taste buds for maximum appreciation of what's to come. Pickled ginger is a tsukemono, and so is oshinko.
What is Oshinko Made Of?
Oshinko is a specific type of tsukemono typically made from daikon radish. Daikon is a very commonly used ingredient in Asian cooking. While daikon is in the radish family, it doesn't look like the cute little radish bulb you're used to. Daikon radishes look more like parsnips or other root vegetables and have a milder, less noticeable taste than traditional red radishes.

Have you ever been served a bed of dry, white noodle-ish stuff with your Thai food and wondered if you were even supposed to eat it? That white nest is daikon radish, and it is paired with spicy and savory foods as a fresh, tangy counterpoint: a palate cleanser.

Daikon that is sliced into thin peels and pickled with rice or white wine vinegar, salt and sugar is what becomes known as oshinko.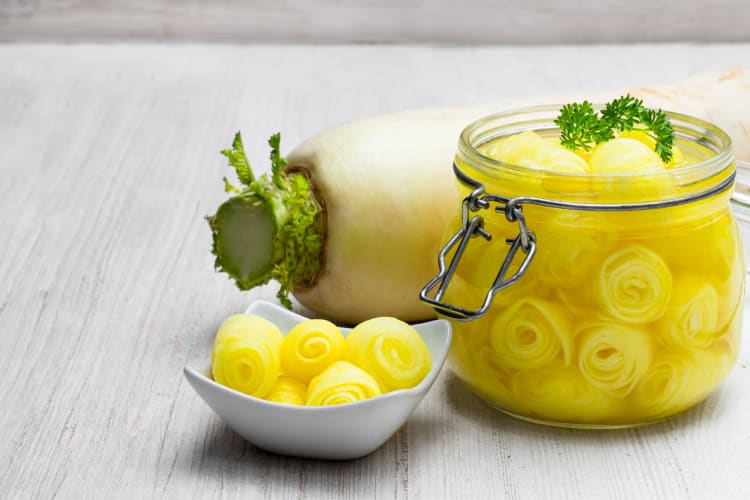 What Does Oshinko Taste Like?
The purpose of serving oshinko with food is to add a crunchy texture and sweet and sour elements. Oshinko tastes similar to other pickled vegetables like carrots or cucumber. A cold-brined oshinko will have more crunch and zing than a hot-brined one, which features a more mellow flavor.

If herbs or spices are used during the pickling process, the oshinko may have more kick. It is also common to see yellow oshinko. This yellow color is usually the result of adding a pinch of turmeric to the brine. Oshinko pairs well with almost all types of sushi or can be the star ingredient in its own sushi roll.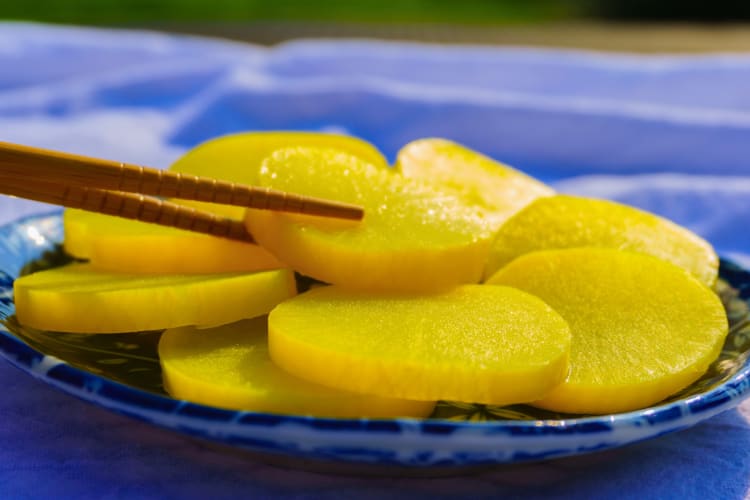 Join a Live Online Cooking Class Today
Your kitchen is now your own culinary classroom. Connect with chefs from around the world right from the comfort of home.
Is Oshinko Healthy?
Because oshinko is simply a Japanese pickled vegetable, it is a healthy ingredient that you can eat free of guilt. Oshinko will have a somewhat high sodium content, but unless you really go to town or have been advised by your doctor to avoid high-sodium foods, that should not be of concern.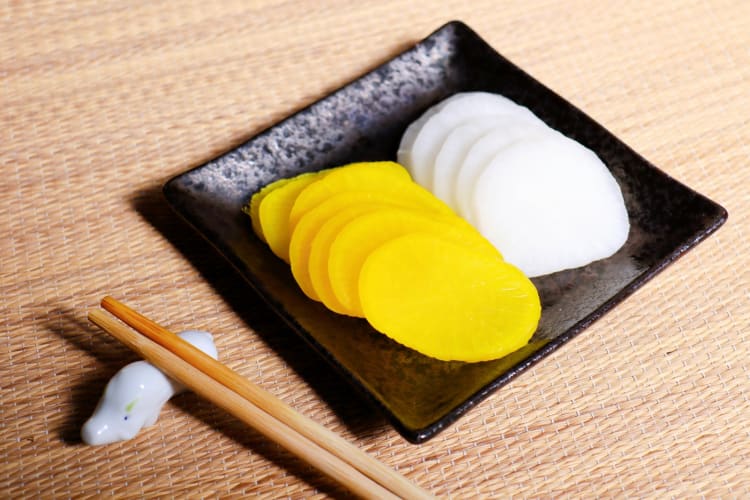 What Is in an Oshinko Sushi Roll?
While oshinko is typically served as a condiment or side to sushi, you might see it as a roll (maki). In fact, the oshinko roll is good sushi for beginners because it doesn't include any raw fish.

Oshinko maki is simply made from pickled daikon radish with sushi rice and nori. It is also sometimes included in sushi rolls with other ingredients, like vegetable rolls.

If you are thinking about making oshinko rolls and other sushi at home, the best way to get started is with a sushi-making class. From cooking classes in Toronto to cooking classes in Los Angeles, there is an array of options for beginner sushi-making lessons. You may even find cooking classes near you that offer more advanced sessions if you already have the sushi making basics down.

Nothing close by? Try online cooking classes. You could also consider purchasing one of the best sushi making kits on the market, like an AYA Eco Sushi Making Kit, and you'll be on a roll in no time.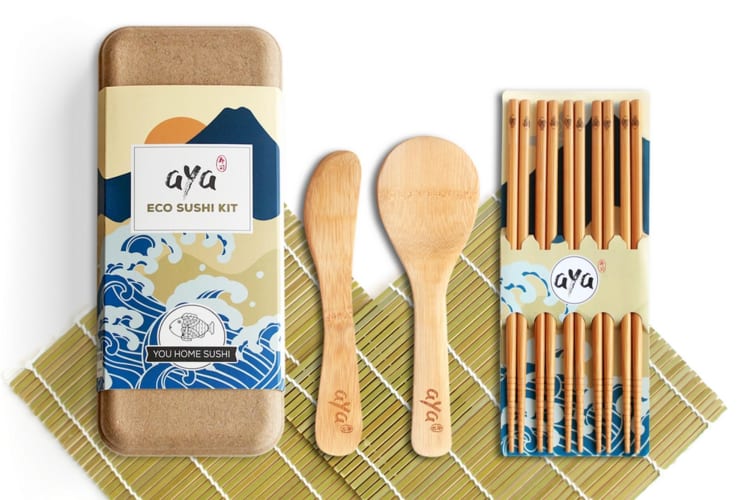 Is Oshinko Vegetarian?
Japanese cuisine offers a wider variety of options for vegans and vegetarians than many other cuisines. This is due to the array of fruit and vegetable ingredients that are incorporated into dishes. Oshinko is one of these ingredients and is both vegetarian and vegan, meaning almost everyone can try it.
Are Oshinko Rolls Vegetarian?
It stands to reason that an oshinko roll is also vegetarian. In the majority of cases, oshinko rolls are considered vegetarian and vegan. However, always check with the restaurant before ordering to make sure the nori and rice were also prepared without any animal additives.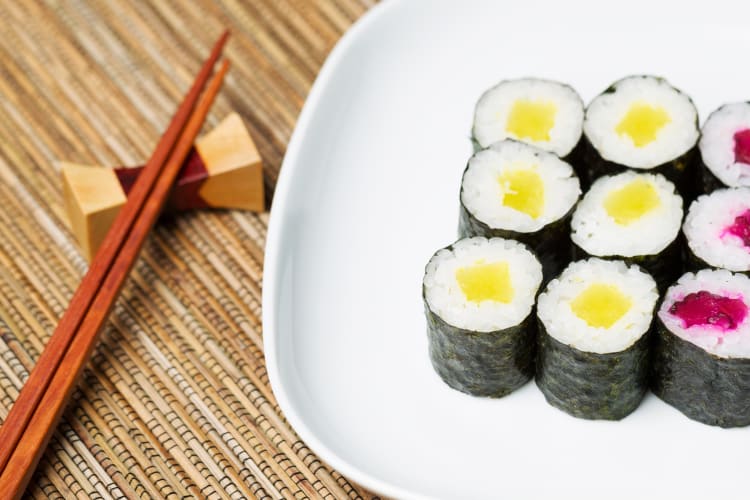 Where to Buy Oshinko
Oshinko is still making its way onto the grocery store scene, so you may have trouble finding it in your usual store. If you want to purchase some of these Japanese pickles, Asian markets are your best bet.

Conveniently, Oshinko is also very simple to make at home. Cold-brining might require that you prepare your oshinko a day or two in advance in order for the flavors to penetrate. On the other hand, the hot-brined variation can be prepared at home in a matter of minutes.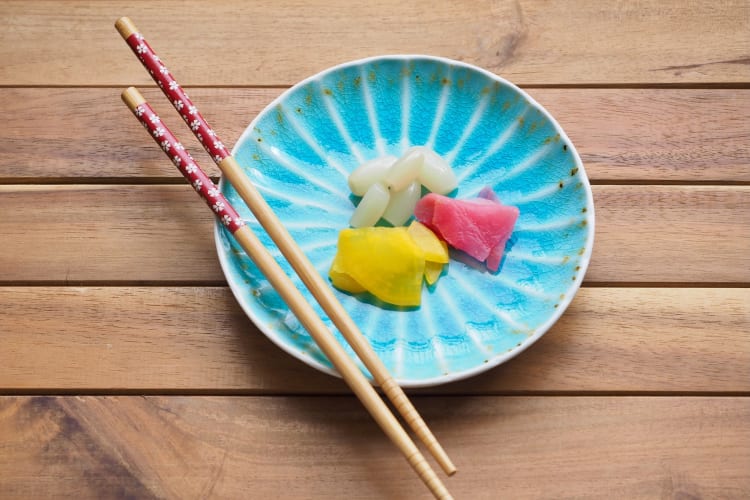 Join 200,000+ Culinary Enthusiasts
Exclusive deals, recipes, cookbooks, and our best tips for home cooks — free and straight to your inbox. PLUS: 500 Rewards Points.
The world of Japanese cuisine is incredibly diverse and can even be intimidating at times due to many unfamiliar flavors and textures. But the rewards of trying new foods almost always outweigh the risks! You might not be ready to embrace uni (sea urchin) or tako (octopus) right away, but oshinko is easy to love. Giving it a try is guaranteed to enhance your next sushi experience.

For even more ways to explore your favorite foods, check out other experiences happening on Cozymeal.