How to Cut Cheese Like an Expert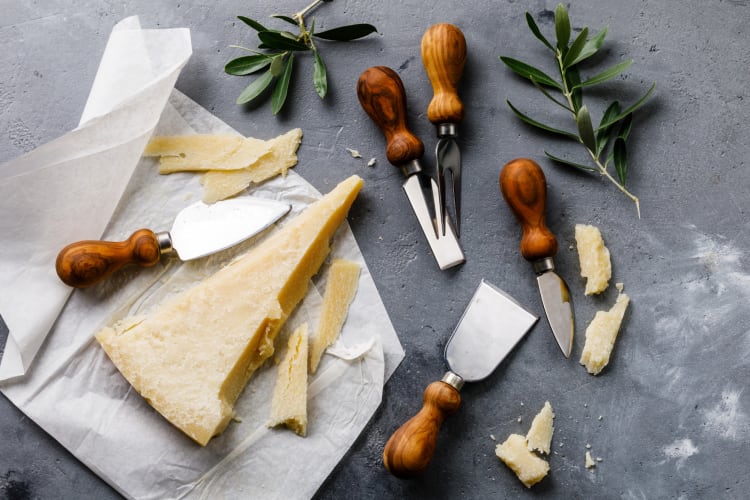 Our editorial team recommends the best products through independent research, selection and careful review. Prices are subject to change.
If your cheese plates are looking rather square, it may be time to learn how to cut cheese like an expert. Cheese plate pros know how to put specialty cheese knives to work cutting cheeses into rustic crumbles, creamy rounds or even slices. And these techniques aren't just about aesthetics; properly slicing cheese creates the perfect rind-to-cheese ratio for a delicious eating experience.
To learn how to cut cheese like an expert, start by getting to know common cheese knives and slicing techniques. Once you have a basic set of knives and an understanding of the tips laid out in this article, you'll be building beautiful cheese boards in no time.
Jump to Section
GET UP TO $50 IN COZYMEAL
CASH™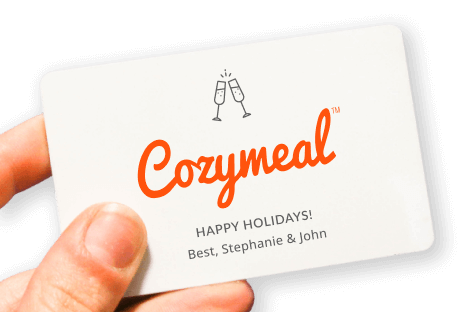 GET UP TO $50 IN COZYMEAL
CASH™
$100 or more, get $10 Cozymeal Cash™
$250 or more, get $25 Cozymeal Cash™
$500 or more, get $50 Cozymeal Cash™
How to Cut Cheese
How to Cut Wheels and Rounds
Wheels or rounds of cheese are simple enough to cut: just slice the cheese into wedges like you would a round cake or pie. Using a sharp, thin knife, cut wedges from the center to the edge to ensure that each slice of cheese contains both rind and the creamy center. Slicing the wheel of cheese this way evenly divides the cheese and prevents waste from uneven slicing.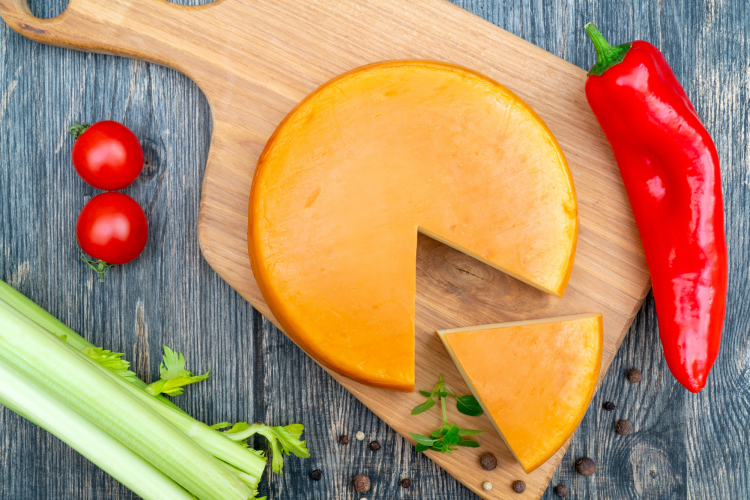 Shop Top Cutlery Loved by Chefs

Update your cutlery collection with knives a cut above the rest. Shop chef's knives, steak knives, paring knives and more.

Shop Now
How to Cut Cheese Blocks
There are two things to keep in mind when learning how to slice cheese blocks: maximizing surface area and creating bite-sized slices. It's more enjoyable to eat a slice of cheese rather than a cube because slices maximize the surface area when placed in the mouth. Additionally, each slice should be a manageable size so you or your guests aren't struggling to eat too-large pieces of cheese.
To cut cheese off of a block, first cut the block horizontally to create two smaller hunks of cheese, then cut each piece into 1/8" slices.
How to Cut Wedges
A wedge of cheese is cut off of a wheel and has rind on the top, bottom and side of the wedge. First, cut off the top and bottom rind. Then slice the cheese into 1/8" slices from rind to end. If the cheese is very crumbly (like Parmesan), instead use a heart knife to cut the wedge into rustic chunks.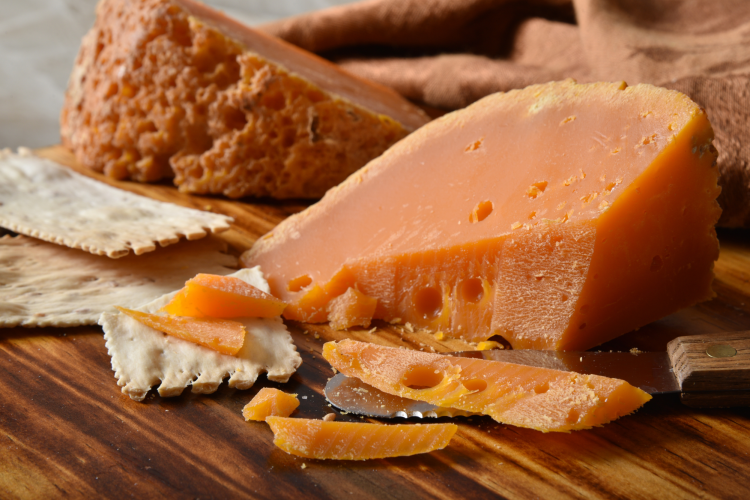 How to Cut Pyramids
Slicing a pyramid of cheese into even slices may look complicated, but it's easier than it seems.
First, stand the cheese on the larger end, then cut into quarters by slicing straight down from top to bottom. Then, turn each quarter onto its side and slice evenly. This method ensures a fairly even rind-to-cheese ratio.
How to Cut Cheese Logs
Use a sharp, thin knife to slice a log of cheese into even rounds down the long end of the cheese. The result is even coins of cheese.
As logs are usually soft cheeses, use a soft cheese knife or cheese wire to do this delicate job. In a pinch, unflavored dental floss will also do the trick.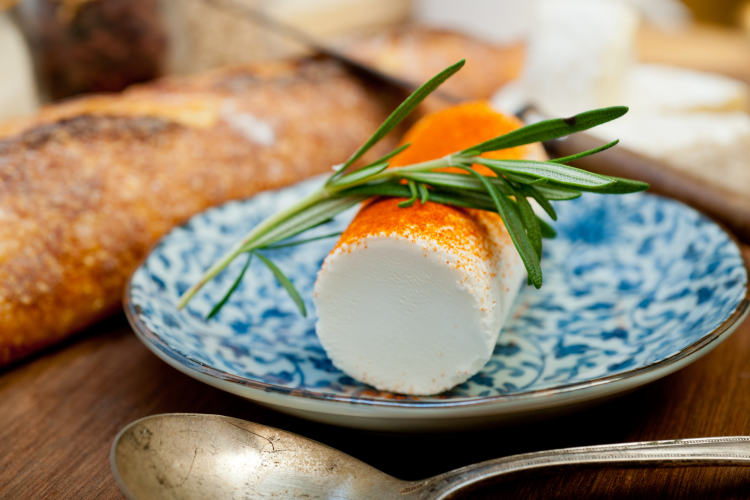 Shop Like a Chef in the Cozymeal Shop
Shop premium knives from the brands you love, used and approved by world-class chefs.
Best Cheese Knives and Tools
Cheese Planer
A cheese planer is shaped like a spatula and is designed to create thin, even slices of cheese. To cut cheese with this knife, you slide the planer along the top or side of the cheese. The slice settles onto the spatula, making plating easy. A stainless steel cheese planer like the Zwilling Pro Tools Stainless Steel Cheese Slicer is a top-notch knife to add to your cheese knife collection because of its sturdy yet sleek design. This kind of cheese knife works best on semi-soft to semi-hard cheeses like Muenster or Havarti.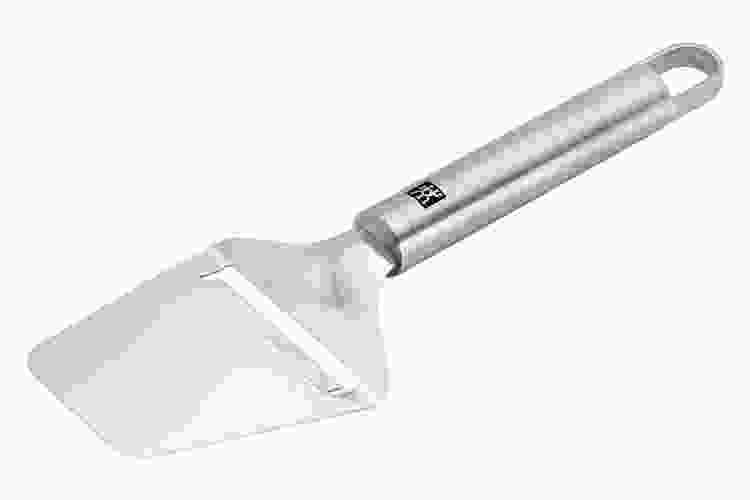 Cheese Wire Cutter
Wondering how to cut cheese that's very soft? Wire cutters are used for soft cheeses and are designed to slice the cheese without crushing or spreading it across your cutting board. Some cheese wire cutters come in a bow shape while others feature a wire attached to a board, like the beautiful Maison du Fromage Marble Cheese Slicer. The Maison du Fromage cheese slicer has a sleek marble board with an attached stainless steel wire, making it an elegant addition to any kitchen. While cheese wire cutters are perfect for slicing soft cheeses, they can also be used to slice semi-hard cheeses or even cold butter.
Soft Cheese Knife
Soft cheese knives often have holes cut out of the blade to reduce the blade's surface area and therefore prevent soft, creamy cheeses from sticking. If you've been wondering how to cut Brie, this is the knife to use. These knives are also perfect for cutting cheeses like mozzarella or Camembert. You may also see a soft cheese knife with a pronged end for use when cutting harder cheeses.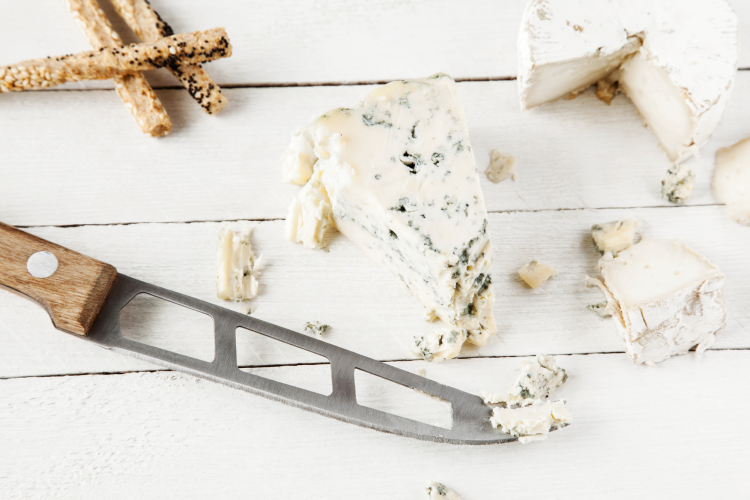 Spreader Knife
The spreader knife is almost self-explanatory; this knife is not used to cut cheese, but rather to spread very soft cheeses onto bread or crackers. The dull, rounded blade is ideal for spreading creamy cheeses like goat, Boursin or very soft Brie onto charcuterie-plate accouterments like water crackers or crusty French bread.
Shop Top Cutlery Loved by Chefs
Update your cutlery collection with knives a cut above the rest. Shop chef's knives, steak knives, paring knives and more.
Fork-Tipped Knife
The versatile fork-tipped knife has a thin, sharp blade ending in two prongs. The thin blade slices easily through semi-soft to hard cheeses, and the fork-tip is ideal for picking up a slice of cheese. Fork-tipped knives are often found in knife sets, like the Zwilling 3-Pc Cheese Knife Set, because it is a staple cheese knife to have around. You'll also find soft cheese knives and heart knives in some of the best knife sets for slicing soft to hard cheeses.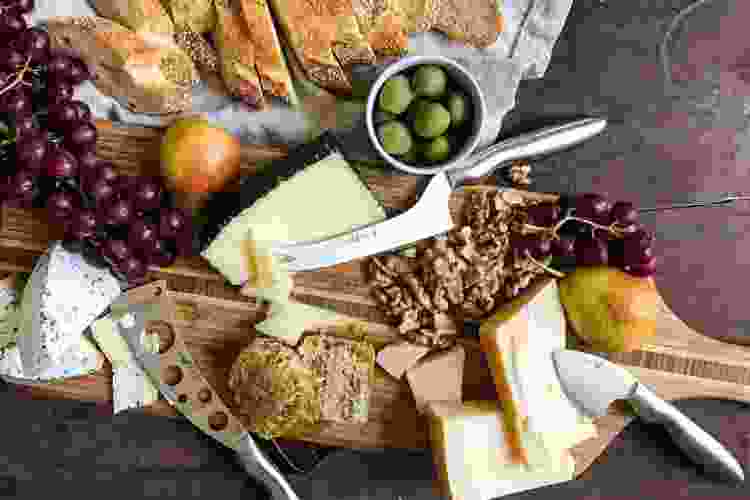 Thin Plane Knife
If you're wondering how to cut Gouda cheese or similar semi-hard cheeses like cheddar, a thin plane knife is sharp on both edges and the flat end, making it the knife of choice for semi-hard cheeses. To cut cheese with this knife, drive the end of the knife into the top of the cheese and then use the edge to slice.
Heart Knife
The heart knife goes by many names (almond knife, Parmesan knife, bell knife…) but it is clear in purpose: cleaving and cutting chunks and slices from harder cheeses. This is the best knife to cut cheese that is very hard or crumbly. The sharp tip of the heart knife is perfect for cleaving chunks of Parmesan off the block, and the blade slices open rinds with ease.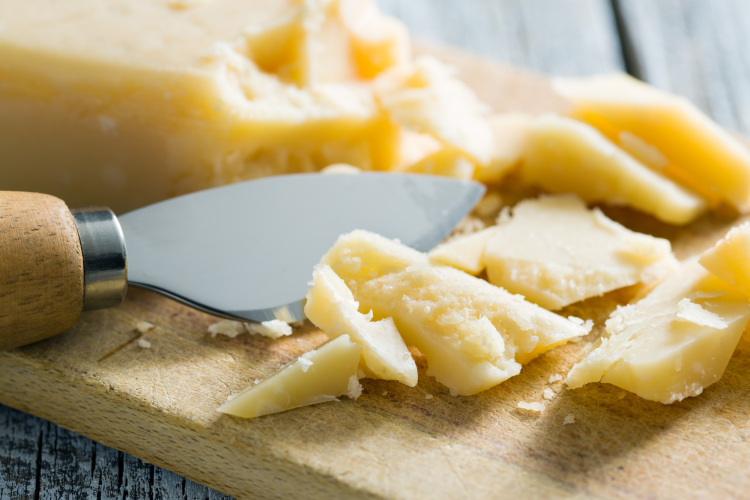 Chisel Knife
A chisel knife, also known as a flat knife, has a wide blade with a sharp edge. This kind of knife is best used for breaking off pieces of crumbly cheeses like blue cheese or for slicing aged cheeses like Swiss. The paddle-like blade can also be used to spread softer cheeses after slicing.

Join 200,000+ Culinary Enthusiasts
Exclusive deals, recipes, cookbooks, and our best tips for home cooks — free and straight to your inbox. PLUS: 500 Rewards Points.
With your new knowledge of how to cut cheese and the best cheese knives for the job, you're ready to take on the snack board at your next event. Crumble that Parmesan, slice up some Brie and put your cheese planer to use. Then dive in and enjoy your handiwork! And don't worry about cutting too much. You can freeze cheese — some types, at least.
For even more fun ways to explore food, check out other experiences happening on Cozymeal.