The 39 Best Hanukkah Gifts for All Ages in 2023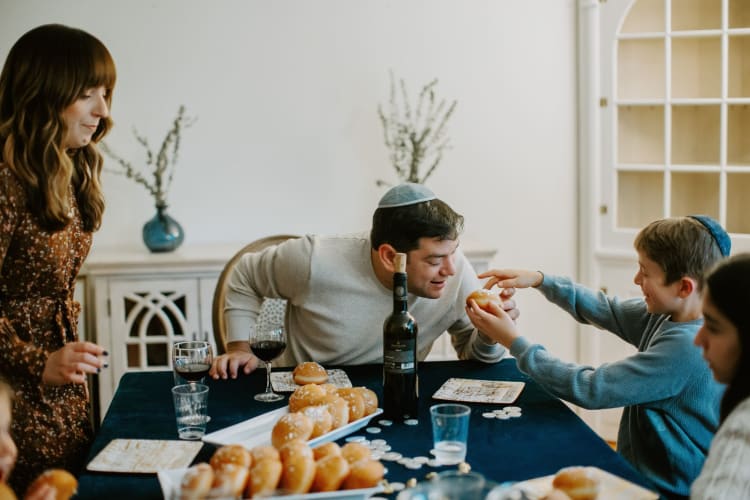 Our editorial team recommends the best products through independent research, selection and careful review. If you make a purchase through one of our affiliate links, we may earn a commission. Prices are subject to change.
Are you searching for Hanukkah gifts for a friend, family member or colleague? Also known as the Festival of Lights, Hanukkah lasts for eight days and nights. Jewish families celebrate Hanukkah by lighting the menorah, playing games, giving gifts and savoring traditional Hanukkah foods like latkes, sufganiyot (jelly doughnuts), gelt (chocolate coins covered in gold paper), rugelach, challah (a braided loaf of bread) and brisket.
The 2023 Hanukkah season begins on Thursday, December 7 and ends on the evening of Friday, December 15. Now is the perfect time to get started.
Whether you're looking for one lavish gift, traditional gifts like menorahs and dreidels or small tokens for each of the eight nights, it's not necessary to schlep all over the place. We've collected a list of fun, thoughtful and unique Hanukkah gifts for all ages.
Jump to Section
Gift a Local Cooking Class Now
Give your favorite gourmand the gift of world-class cooking lessons with the best chefs in their city.
Foodie Gifts for Hanukkah
1. In-Person Cooking Classes
In-person cooking classes make terrific Hanukkah gifts for friends and family who enjoy bustling about in the kitchen. From cooking classes in NYC to cooking classes in Los Angeles, there are sure to be cooking classes near you to book for a fun and interactive experience for your recipient. Participants join top local chefs who lead sessions on everything from Italian bread to French pastries to holiday sweets and regional favorites.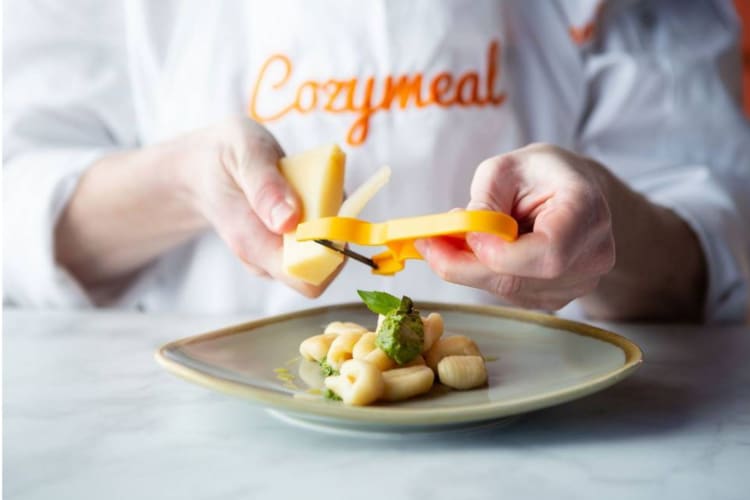 2. Private Chef Meal
Treat a loved one to the luxury experience of a private chef meal for a luxury Hanukkah gift. Expert local chefs arrive ready to prepare and serve a gourmet meal in your own kitchen (clean-up included). Check out private chefs near you to arrange one of these exclusive experiences for an unforgettable gift.
3. Food Tour
Consider a food tour for a fun and interactive Hanukkah gift for your parents, best friend or favorite neighbor. Experienced guides lead tours around town while sharing regional lore, pointing out interesting architecture and explaining the local food scene. Participants get to sip and savor samples at restaurants, bars and cafés as they walk. Food tour cities span the continent, from food tours in NYC to food tours in Portland. Check out food tours near you today.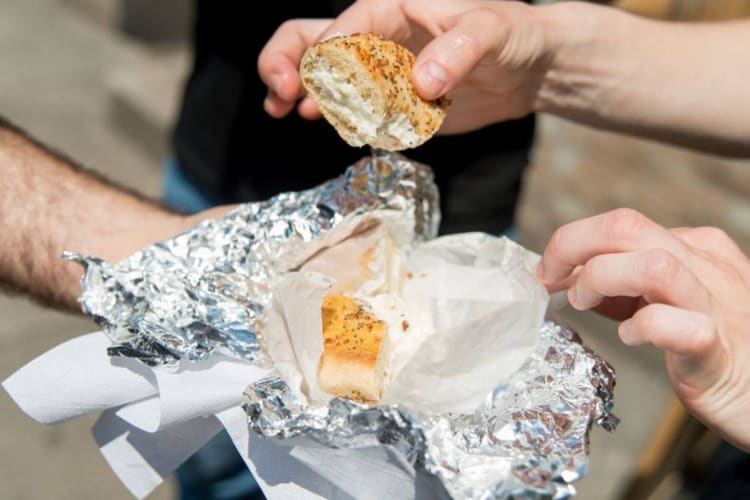 4. Virtual Culinary Experience
For a Hanukkah gift that keeps giving, friends who enjoy the comfort of their home kitchen or bar may love a virtual culinary experience. They can choose to learn all about wine varieties in virtual wine tastings, mix and shake creative cocktails in online mixology classes or explore a vast range of cuisines and cooking techniques in online cooking classes.
5. Foodie Gift Card
If you're unsure what kind of experience your gift recipient would like best, foodies will always appreciate a thoughtful foodie gift card. Gift cards can be used for cooking classes, private chef meals and other experiences as well as top-quality cutlery, bakeware and more in the Cozymeal Shop. Cards are available in any amount over $10 and never expire.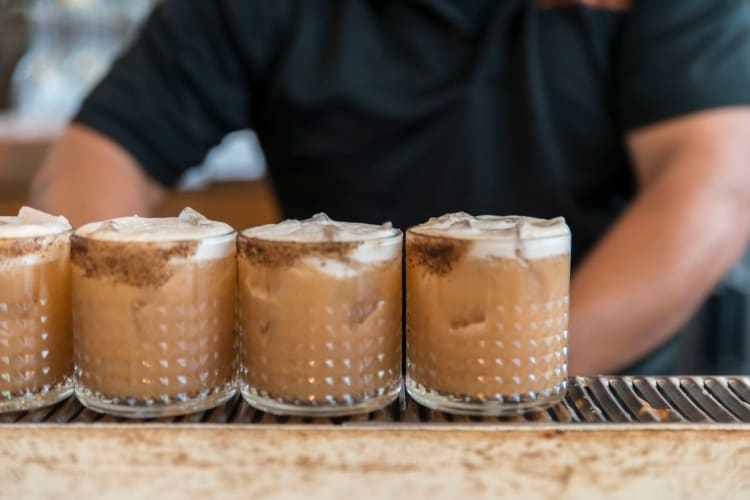 6. Knife Block Set
Treat the chef in the group to the elegant Henckels Solution 15-PC Knife Block Set. This quality set includes a paring knife, serrated utility knife, hollow-edge santoku knife, bread knife, a set of steak knives and more. Knives feature full tangs and ergonomic handles for comfort, strength and durability whether slicing brisket, paring apples or cutting through challah.
Gift a Private Chef Experience Now
Treat someone special to gourmet fine dining at home. Gift a private chef experience starting at $59/person.
7. Flaviar Whiskey Club Tasting Box
For the connoisseur of spirits, consider a Flaviar Whiskey Club tasting box. This unique Hanukkah gift allows the recipient to try a variety of spirits ranging from international whiskeys, specialized brandy and more. And if you know your giftee would savor a regular box of new spirits to try out every month or so, our Flaviar Review discovered that a membership to this fun club is just as educational and communal as it is delicious.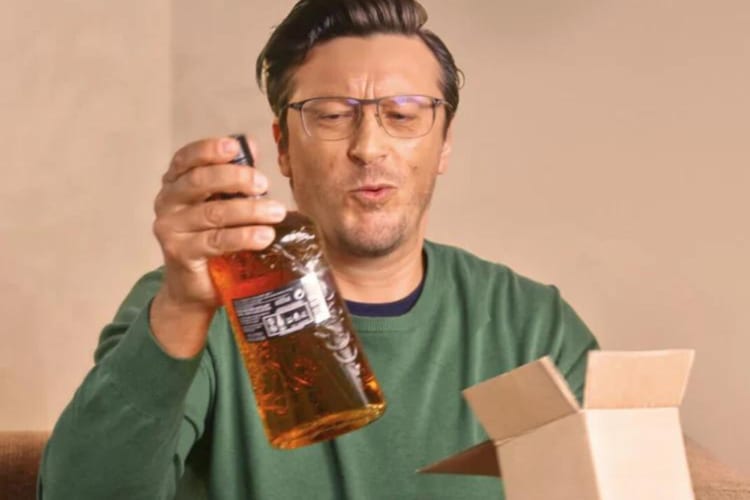 8. Modern Jewish Comfort Food Cookbook
The Modern Jewish Comfort Food Cookbook is an excellent Hanukkah gift for a foodie friend or loved one who takes joy in cooking traditional food. Whether it's a full meal or a quick nosh, they'll find recipes detailing how to make kugel, kreplach, latkes and other authentic Jewish cuisine.
9. Trivet Set
Trivets are a necessity in the kitchen. This cork trivet set features traditional Hanukkah symbols such as the Hamsa, a menorah, a Star of David and a dreidel. Use these handy helpers for hot dishes during feasts for Hanukkah, Yom Kippur, Shabbat, Passover and Rosh Hashanah.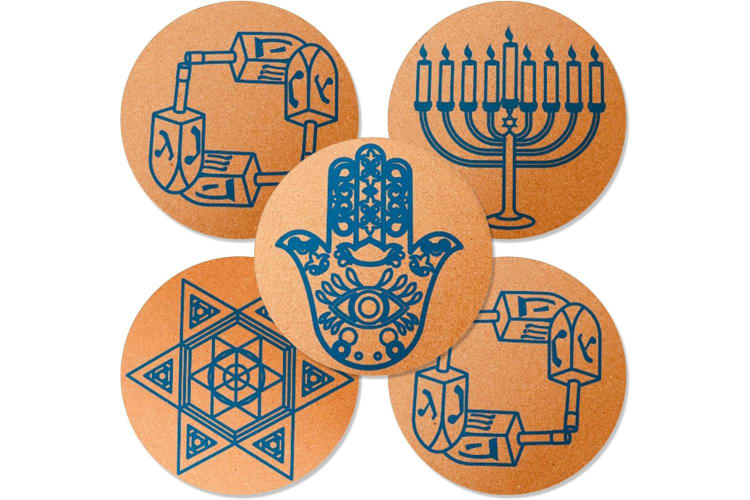 10. Charcuterie Board
A personalized charcuterie board makes an easy and attractive way to serve appetizers, crudité and meat and cheese platters. Grooves around the outer edge hold small items like nuts and fruit, while a pull-out tray safely stores knives. Personalize this bamboo board with a name, monogram or date for a customized and thoughtful Hanukkah gift.
11. Rolling Pin
Your favorite baker will be able to roll out beautiful pastries, cookies and more with this embossed rolling pin. Made of beechwood, it features designs such as menorahs and the Star of David, making it both functional and significant.
Hanukkah Gift Baskets
12. Hanukkah Cookie Box
The Hanukkah Cookie Box will quickly become a favorite, making it perfect for a hostess gift or Hanukkah gift. The elegant blue and white box includes six vanilla shortbread cookies with blue sugar, four vanilla shortbread cookies with gold sugar and two Star of David cookies.
13. Hanukkah Tea Gift Set
Presented in a lovely box, the Hanukkah tea gift set features four unique blends of loose-leaf tea. Enjoy flavors such as vanilla spiced masala chai, turmeric spiced herbal tea, hibiscus rush black tea and chocolate vanilla herbal tea.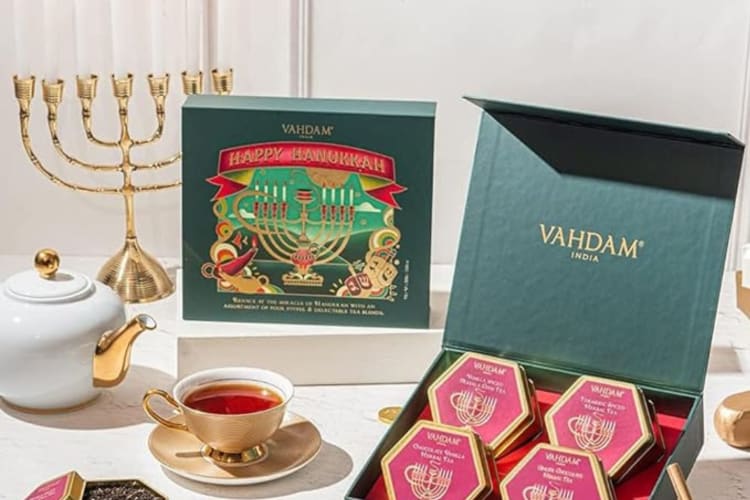 Gift a Local Food Tour Now
The perfect gift for every gastronomist. Discover an abundance of culture and culinary delights with a five-star local guide.
14. Kosher Gift Basket
The deluxe kosher gift basket offers pears, apples, Jordan almonds, wildflower honey, peanut butter pillows and chocolate-covered pretzel twists and more, all tucked into a woven willow and wire basket. It's an excellent hostess gift or family Hanukkah gift basket.
Hanukkah Gifts for Adults
15. Hanukkah Puzzle
Surprise the puzzle lovers with the colorful Hanukkah cookie puzzle. Featuring 1,000 pieces, random-cut pieces and shades of blue, white and gold, this puzzle will keep them busy throughout the season.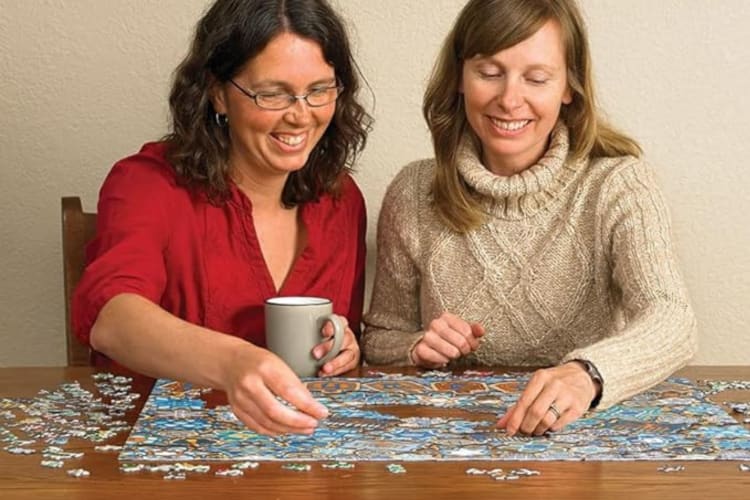 16. Modern Menorah
For the modern home, this wrought iron menorah makes a stunning statement on the holiday table. Hand-forged in a centuries-old tradition, it includes nine wide candle cups and nine inserts for thinner candles.
17. Board Game
Hanukkah celebrations usually involve fun, games and family time. A Scrabble set is a terrific gift to put some competition into the evening events. This deluxe version has a carrying handle, a rotating game board and recessed game spaces to keep tiles in place.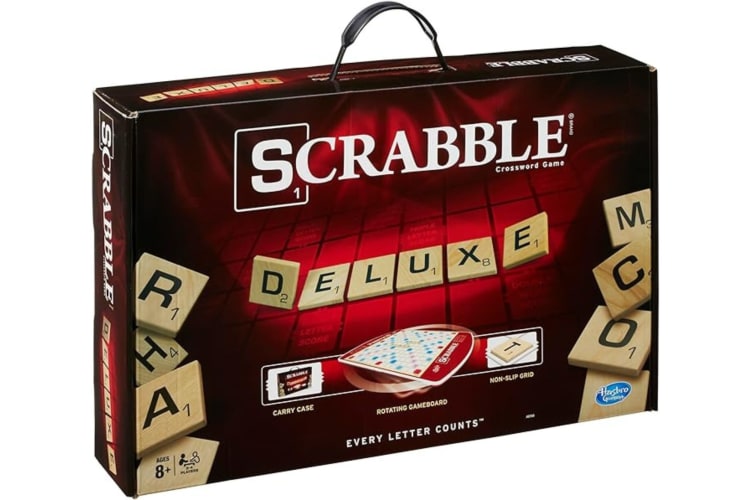 18. Electric Tea Kettle
Enjoy hot chocolate, cider and mulled drinks during your Hanukkah celebration. The copper-colored electric tea kettle heats quickly and features a stainless steel precise-pour spout, lid and interior. Overheating and boil dry protection as well as auto shut-off make this a functional and safe Hanukkah gift for friends and family.
19. Dinner Plates
Keep the Hanukkah theme going with tableware. This melamine plate set is decorated with the Star of David. Plates are 11 inches in diameter and make great dinner or serving plates for Hanukkah celebrations.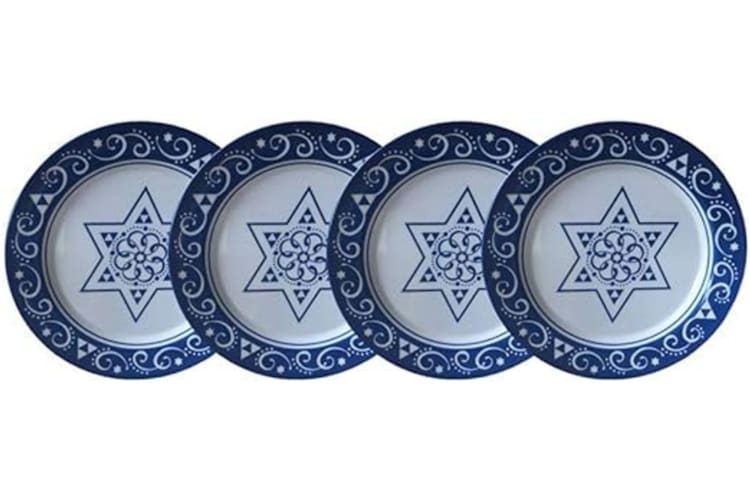 20. Menorah Candles
These blue and white blue and white Hanukkah candles come in a set of 45 candles to keep you covered through all eight nights. At 5.25 inches in length, they burn for about an hour. They fit most standard menorahs and make a wonderful Hanukkah gift.
21. Hanukkah Mug
Sip cider, hot chocolate, herbal tea or that morning cup of coffee with the adorable Happy Hanukkah gnome mug. It's sure to be a hit when given as a Hanukkah gift to anyone on your list.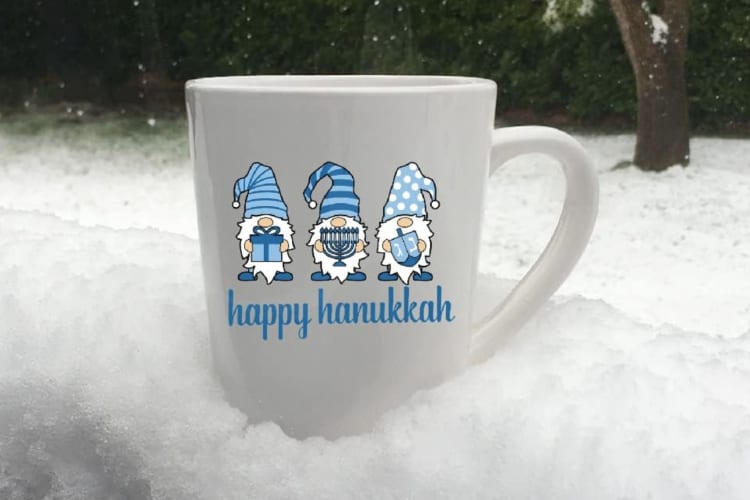 22. Cufflinks
Dad, Grandpa or another man in your life will wear the Star of David cufflinks with pride. These silver-tone cufflinks are about 1 inch long by 7/8 inches wide and come in a gift box.
Gift an Online Mixology Experience
Raise a toast to the perfect gift. Enjoy craft cocktails, bartending basics and more taught by five-star mixologists.
Hanukkah Gifts for Teens
23. Gift Basket
The Hanukkah Festive Gift Basket features a collection of sweet and salty treats teens will love. This delicious Hanukkah gift idea comes in a snowflake-embellished tin filled with chocolate-covered blueberries, chocolate chip cookies, Pop! popcorn, Moose Munch and other goodies.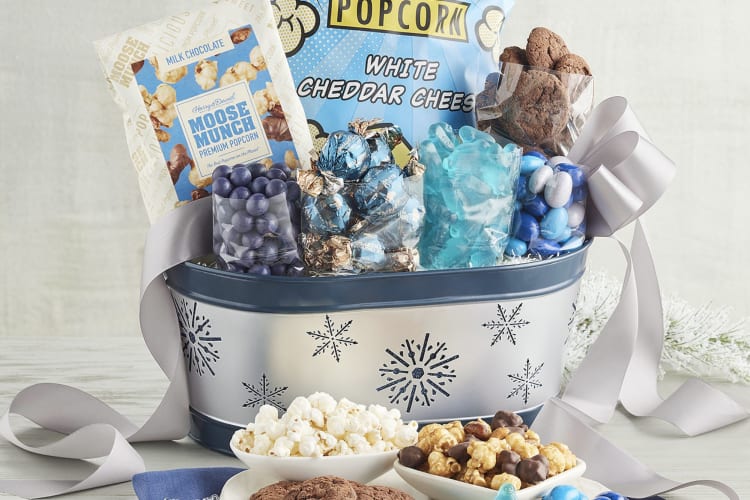 24. Flannel Pajamas
Surprise the lounge-loving teen in your life with a Hanukkah-themed PJ set. This set features cute pooches alongside menorahs and the Star of David. A Happy PAWnukkah sentiment makes it even more fun to add to your list of best Hanukkah gifts.
25. Fun Socks
Teens and tweens alike flip for patterned socks. These Hanukkah-themed crew socks come as a set of four and feature dreidel, menorah and star designs on a blue, white and gray background.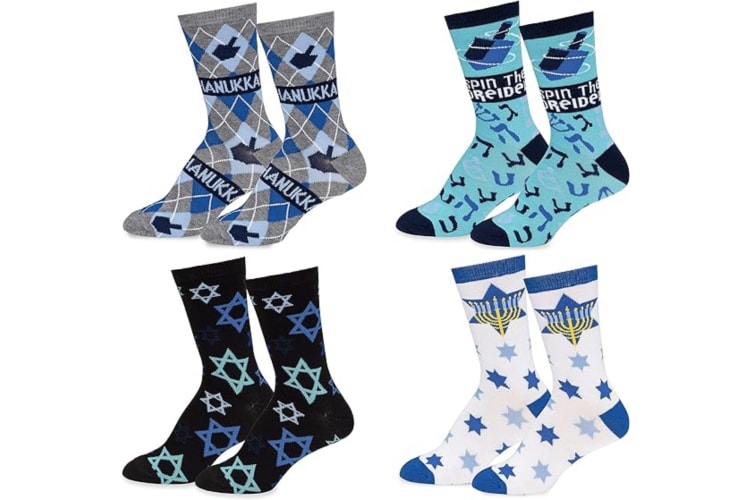 26. Stainless Steel Tumbler
For smoothies, coffee and water, you can't beat a great tumbler. This 20-ounce stainless steel Hanukkah-themed tumbler features a blue and white gnome and the phrase "I Love You a Latke," putting a humorous touch on gift giving. Double walls with vacuum insulation allow it to stay cold for up to nine hours and hot for three hours.
27. Star of David Necklace
For sweet and simple Hanukkah gift ideas, the Star of David necklace makes a special sentiment. It's available with a gold or silver tone chain and comes with a cute gift box.
28. Makeup Organizer Bag
This hanging makeup organizer bag from the Sephora Collection makes a fantastic Hanukkah gift for any makeup-loving teen. It's made of vegan leather and has multiple pockets for organizing everything from brushes to blushes. The hook allows you to hang it from a door handle and open it any time for easy access to all the fun stuff inside.
29. Amazon Echo Dot
Surprise the technology-loving teen on your list with an Amazon Echo Dot. They can play music, set timers, get weather updates, listen to Alexa's hilarious jokes and pair other in-home smart devices.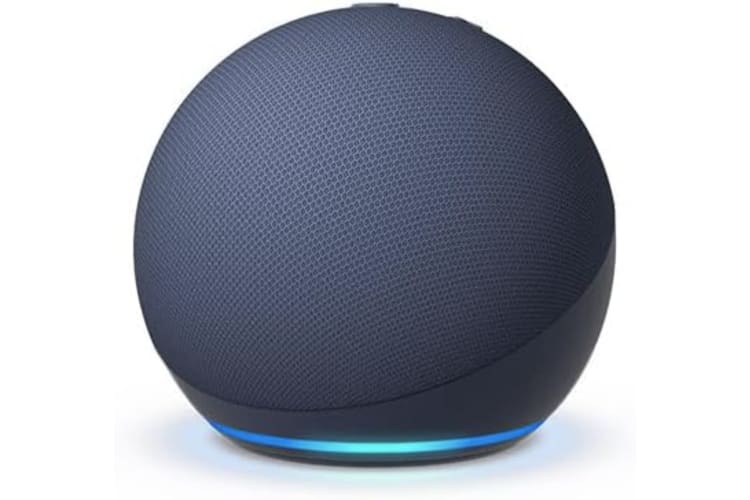 Hanukkah Gifts for Kids
30. Mad Lib Games
Everyone loves a good game of Mad Libs. For a fun and engaging Hanukkah gift for kids, consider the Hanukkah Mad Lib game. Everyone will get a laugh as they fill in nouns, verbs and adjectives to create Hanukkah-themed stories.
Gift an Online Cooking Class Now
Give your favorite gourmand the gift of world-class cooking lessons right from the comfort of their own kitchen.
31. Hanukkah Gift Box
Engage and delight the youngsters with the Eight Nights of Hanukkah Gift Box. This gift includes a star-shaped box of goodies. Eight compartments, one to be opened on each night, include goodies like Jordan almonds, chocolate-covered pretzels, dried fruit and gelt coins.
32. Hanukkah Game
The Hanukkah tic tac toe game is a fun way to keep the little ones entertained while taking part in Hanukkah activities. The wooden board has dreidel and menorah pieces in place of Xs and Os.
33. Hanukkah Book
The Story of Hanukkah, by David Adler, is a terrific way to share the history of Hanukkah with young children. They'll learn the story of the Maccabees and be delighted by bright, colorful artwork featuring the temple of Jerusalem and the miracle of the oil that burned for eight nights.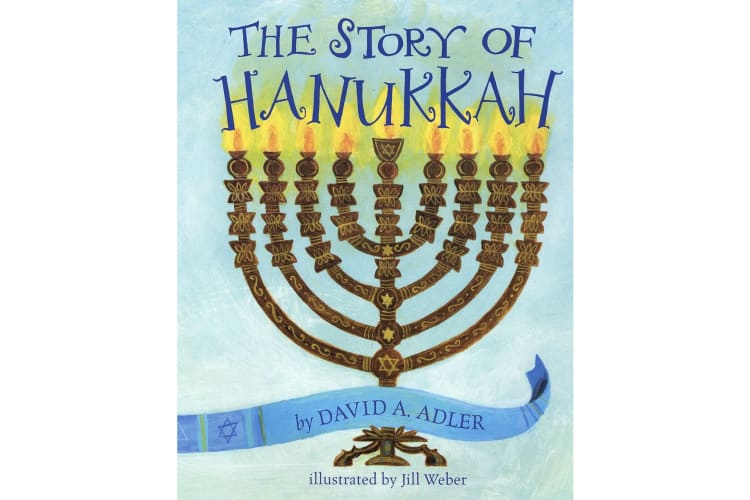 34. Dreidel Fidget Toy
The dreidel poppit fidget toy is a great Hanukkah gift or grab bag item for kids. Sporting fun popping dots, it's made of safe and eco-friendly silicone. Use as a stress reliever or a game.
35. Dreidel Game
The dreidel game makes for one of the best traditional Hanukkah gift ideas. These wooden dreidels are three inches in height and sport blue and white designs with foil-embossed letters. Add a package of gelt for a ready-to-go gift.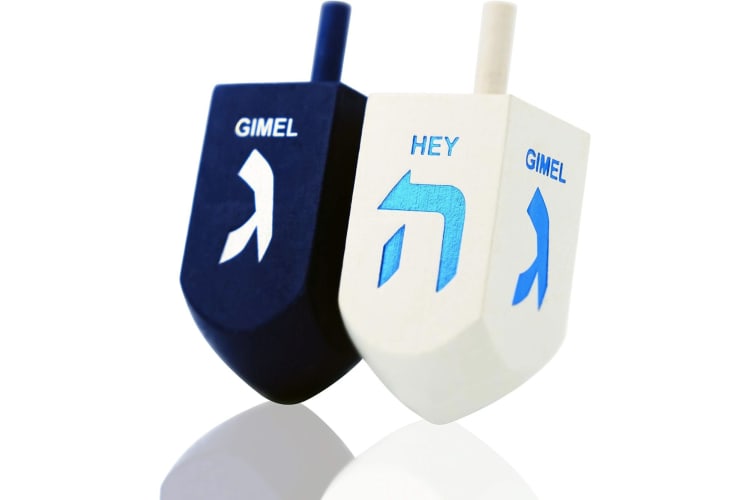 36. Scratch Art Cards
Kids will love these Hanukkah scratch art cards. Black on the surface, the cards sport rainbow colors when scratched. There are 24 cards in shapes such as a menorah, a gift box, a dreidel and a Star of David. Wooden sticks and hanging strings are included.
37. Hanukkah Stamp Set
This box of Hanukkah stamps offers 12 multi-colored stamps of Hanukkah symbols like a dreidel, a menorah, a Star of David and gelt. Stamps make a fun, colorful and creative addition to gift bags and boxes.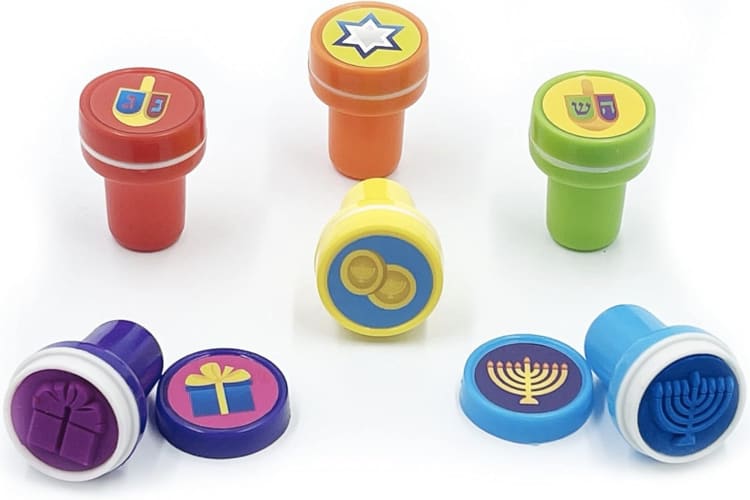 38. Coloring Book
Keep the youngsters entertained with the Hanukkah coloring book. Easy-to-color-images include scrolls, stars, presents and winter scenes. Made of high-quality paper, there's an inside margin line to cut out and hang masterpieces on the wall or fridge.
39. Dreidel Crayons
Add a package of dreidel-shaped crayons to make the best Hanukkah gifts or party favors. Large red, yellow, blue and orange crayons are perfect for toddlers to hold onto.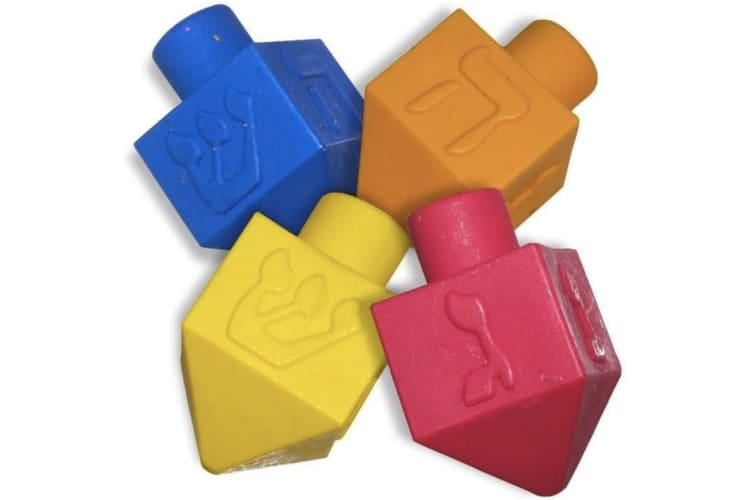 Don't get overwhelmed at the thought of choosing Hanukkah gifts. With some thought, creativity and our helpful list, you'll be all set to deliver the perfect gifts to family and friends.
Now it's time to break out the blue and white décor, string up an elegant and sparkly Star of David on the wall, light the menorah and get this Hanukkah celebration started. Chag urim sameach!
For even more ways to explore Hanukkah gifts, check out other experiences happening on Cozymeal.