What Is Girl Dinner and Why Do You Deserve It?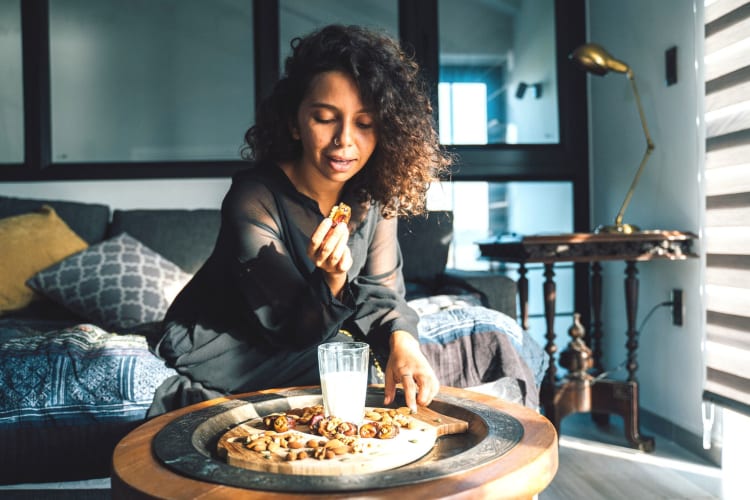 When Girl Dinner became a thing on TikTok recently, many of us raised an eyebrow. What's so novel about Girl Dinner? Girl Dinner is what you and your girls did on Friday night after exams while box-coloring everyone's hair. You made a feast of whatever was left in the communal fridge.
Girl Dinner is what happens at a sleepover when everyone gets hungry around 2 a.m. You raid the kitchen and surprise yourselves with your incredible culinary creativity. And yes, boys eat Girl Dinner too. Wife out playing Bunco? Found yourself solo for Monday night football? Got big plans to feed your video game addiction all weekend? Boy, it's going to be a Girl Dinner kind of night.
So we've all done Girl Dinner before, but we had some questions about the Tik Tok version of this eating style. How often can you do Girl Dinner? How much effort can you put into a meal until it's not Girl Dinner anymore? And why isn't wine being talked about as part of Girl Dinner?
Whether you're a foodie who has burrata, leftover duck confit and truffle oil in your fridge or you're more of the microwave and frozen dinner type, any combination of flavors goes for Girl Dinner. In the interests of saving you the time and energy it takes to brainstorm meals, here are 21 Girl Dinner recipes to get you started on embracing your food freedom. Don't worry; none of them involve cooking.
Jump to Section
Gourmet Cooking Classes Near You
Take your culinary skills to new levels with guidance from five-star chefs.
What Is Girl Dinner?
If you haven't heard about Girl Dinner on TikTok, let's get you up to speed. Girl Dinner isn't a complicated concept, and most of us have been doing it for years. Girl Dinner is when you get to put whatever you're in the mood for on a plate and call it dinner. It's the ultimate "me" meal. Minimal effort, maximum satisfaction. It's a mixy-matchy food plate.
Girl Dinner is what you eat when you want to give yourself a break from the type of cooking the word "adulting" conjures up. It's the ultimate feel-good meal because it's about what you can do to nourish yourself with minimal effort. That's not shameful; that's prerogative.
And that's the whole idea behind Girl Dinner: To give yourself a few moments of joy. To feel like you got away with something.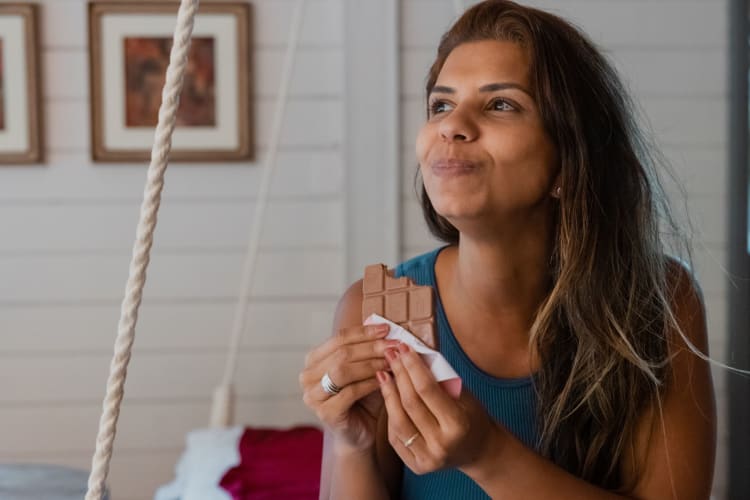 Girl Dinner is about self-care. Should you do it every day? That depends. You probably shouldn't be choosing Popeye's Chicken Girl Dinner five nights a week. But if your Girl Dinner includes copious amounts of hummus, celery sticks and peanut butter or pickled vegetables, maybe you should be eating that way every night.
In some ways, embracing the Girl Dinner trend is a way to learn how to start eating healthy because the foundation of Girl Dinner is small portions. It's also a lesson in saving money on groceries because it challenges us to use what we already have.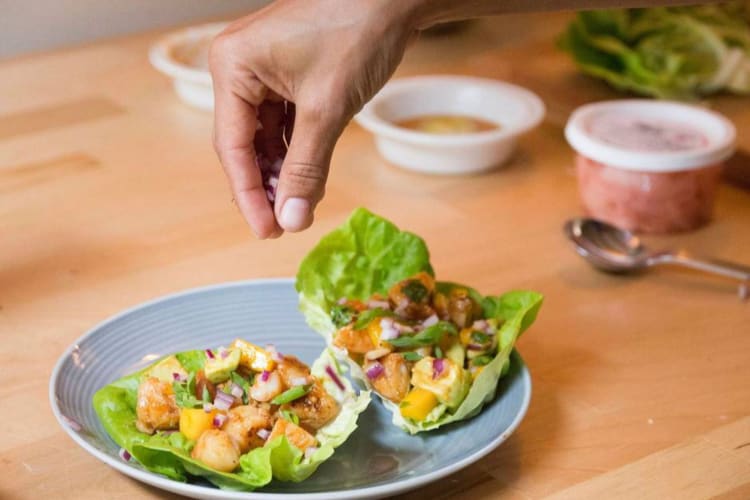 The Girl Dinner Shopping List
So what are the most popular things to reach for when you want Girl Dinner?
Just because the TikTok Girl Dinner shows cheese and crackers doesn't mean that's the only option. Girl Dinner is about nibbling and noshing whatever tempts your taste buds; it's about nourishing yourself your way.
Here's a shopping list to get you started. Just add this to your normal weekly run and you'll always be ready for Girl Dinner when the need hits.
Healthy Ideas:
Hummus, guacamole, salsa
Artisanal cheeses and deli meats
Fruit and yogurt
Nuts and nut butters
Olives, pestos and tapenades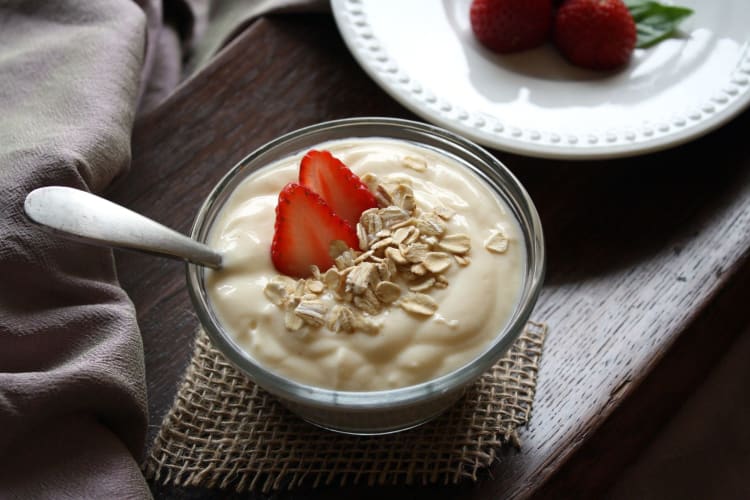 Indulgences:
Chocolate
Cheap frozen pizza
Ramen noodles
Box macaroni and cheese
Takeout Chinese
Chips and dips
Foods designed for kids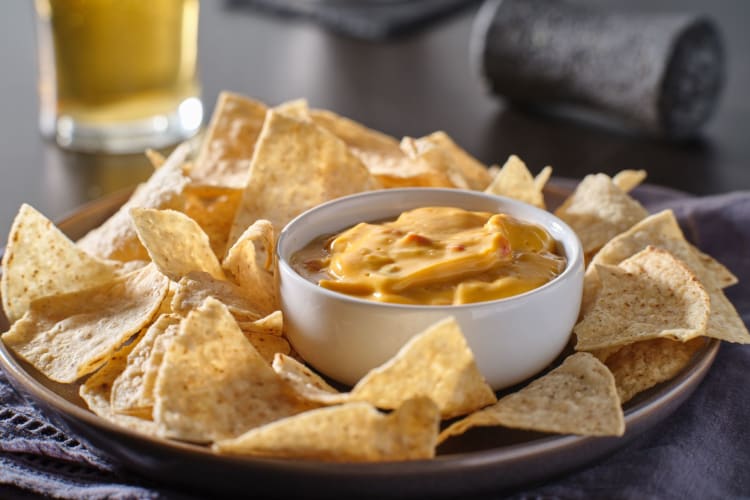 Optional (or is it?):
Wine or beer
Soda (regular or sugar-free)
Tea
Fruit juice
Sparkling water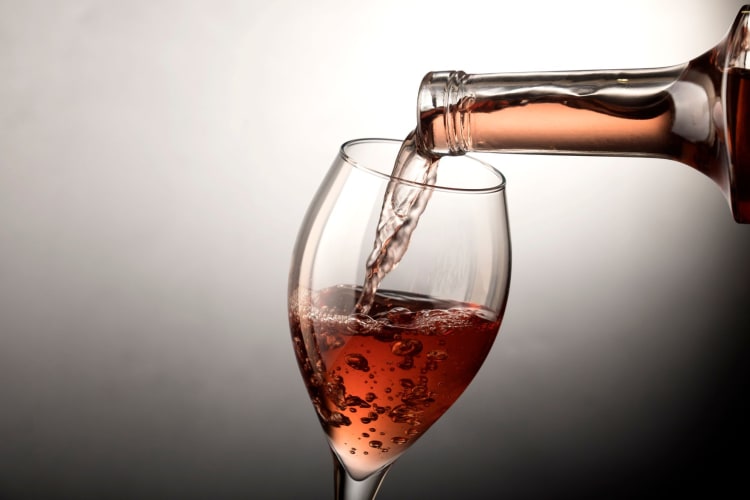 Join a Live Online Cooking Class Today
Your kitchen is now your own culinary classroom. Connect with chefs from around the world right from the comfort of home.
Moderate-Effort Girl Dinner Ideas
Girl Dinner is about not spending too much time in the kitchen. That said, Girl Dinner might require you to turn on an appliance, boil water or do some slicing. Let's call those "moderate-effort" meals. They still qualify as Girl Dinner.
1. Air Fryer Grilled Cheese, Tomato Soup and Guacamole With Chips
Suggested Pairings: Natural Lime White Claw; Sprite
Grilled cheese is something any cook can conquer, but for Girl Dinner this counts as "moderate effort" since you have to butter the bread and turn on an appliance. If you leave the butter out on the counter to soften in advance, the only real effort required is deciding what else you can pile in with your melty air fryer grilled cheese. If you don't have American slices on hand, the best cheese for grilled cheese is the one you do have.
Don't forget to cut the crusts off and then cut your sandwich into sticks. And maybe nuke a cup of your favorite tomato soup for dipping. You'll need something cool and creamy to round it out. Guac and chips, baby! Pair with a carbonated beverage like White Claw. Now, that's a Girl Dinner.
2. Macaroni and Cheese With Hot Dogs and Hot Sauce
Suggested Pairing: Ice-cold beer or root beer
If the universe is in alignment, you'll have some quality leftover restaurant macaroni and cheese to work with. But a box of Kraft or your kid's favorite frozen mac will do for this Girl Dinner in a pinch. Heat up some hot dogs, cut into bite-sized pieces and mix them in. Season with a couple of shakes of your favorite hot sauce and some cracked pepper. Don't share with the kids.
If hot dogs aren't your thing, add half a can of black beans instead. A small spoonful of salsa makes a good substitute for hot sauce. Pairing this with a cold craft beer elevates it to a true Girl Dinner.
Book a Gourmet Cooking Class Now
Kick-start your culinary confidence with help from a world-class chef. See what's cooking in your city today.
3. Canned Chicken Noodle Soup and Chickpeas
Suggested Pairing: Buttery chardonnay or alcohol-free sparkling chardonnay
Chicken noodle soup is comfort food for the soul, but it's even better if you dump a can of (drained and rinsed) chickpeas in before you heat it up for Girl Dinner. Raid the fridge while you're at it. Throw in baby carrots or some diced tomato. Stir in a tablespoon of pesto if you have it. Finish with a drizzle of olive oil (foodies approve). Toast a bagel for dunking.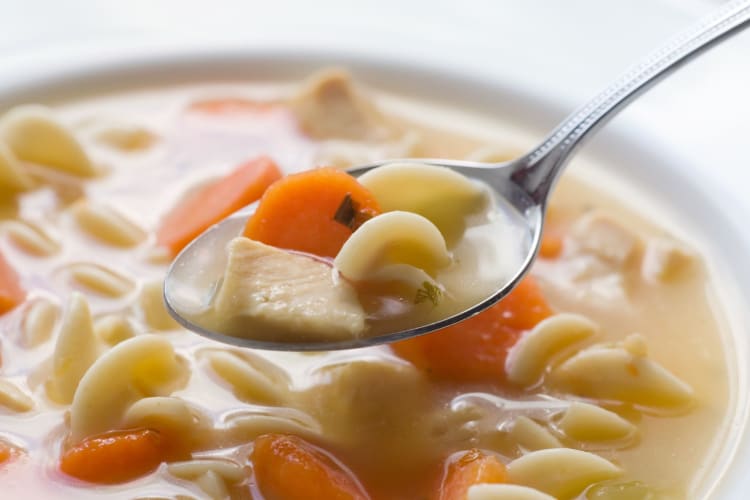 4. Leftover Benedicts
Suggested Pairing: Bloody Mary or Virgin Mary
Omelettes are too much hassle. Quiche is a commitment (unless you bought one premade). But the fried egg is fast and easy, and who doesn't love breakfast for dinner? Grab whatever leftover rice, meat, vegetables or pasta from the fridge and heat it up. Then put a fried egg on top. A warm, runny yolk can transform pretty much anything into Girl Dinner.
5. Pasta With Butter and Parmesan
Suggested Pairing: Pinot grigio or prosecco; iced chamomile tea
Willing to boil water for Girl Dinner? Good. Toss in whatever pasta needs using up. Drain and add a couple of tablespoons of butter. Savor the joy of sprinkling a generous handful of Parmesan on top. Need color? Toss some frozen peas in for the last 2 minutes of boil time. If you have cold cuts like bologna or ham (foodies, you know you have prosciutto or smoked salmon somewhere), dice and toss them in.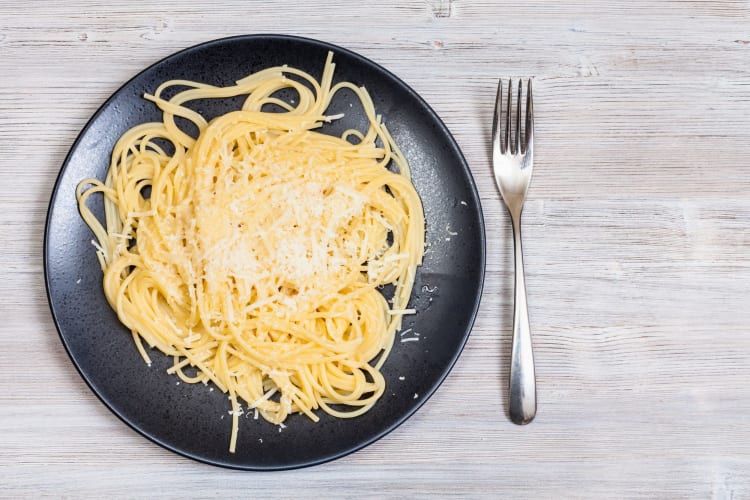 6. Naan Pizza
Suggested Pairing: Samuel Smith's Nut Brown Ale; Zevia cream soda
You could certainly order a whole pizza and have it delivered, but that's a lot of pizza, and you know you'll overindulge. There are a thousand ways to make Girl Dinner pizza at home. Naan bread is the perfect size for personal pizza. Just heat your oven to 450° F and throw on some toppings. You don't even need cheese if you rub the naan with a little olive oil first.
Prosciutto, arugula and goat cheese are a classic combination (finish with a squeeze of lemon juice), so fingers crossed these items are on hand. Hummus is an excellent base for naan pizza too. Check for any leftovers that might offer options for meat and vegetables. It doesn't take much to top a naan pizza. Bake directly on the oven rack for about 6 minutes.
Book an Online Cooking Class Today
Five-star chefs. Step-by-step coaching. Flexible menus. Come see what's cooking in a live online cooking class.
7. Kale Salad With Cashew Butter, Lime and Cashews
Suggested Pairing: Viognier; white grape juice
It sounds fancy, but it's easier than you think. This Girl Dinner requires you to whisk lime juice and olive oil together (season with salt and pepper) so you can toss your sliced kale in it. Walk away for ten minutes to let the kale marinate if you are using lacinato (dinosaur) instead of curly kale. Put a smear of cashew butter on a plate, top with the kale salad and a handful of cashew halves. If you're lucky, you'll find some pomegranate arils in the refrigerator to sprinkle on top.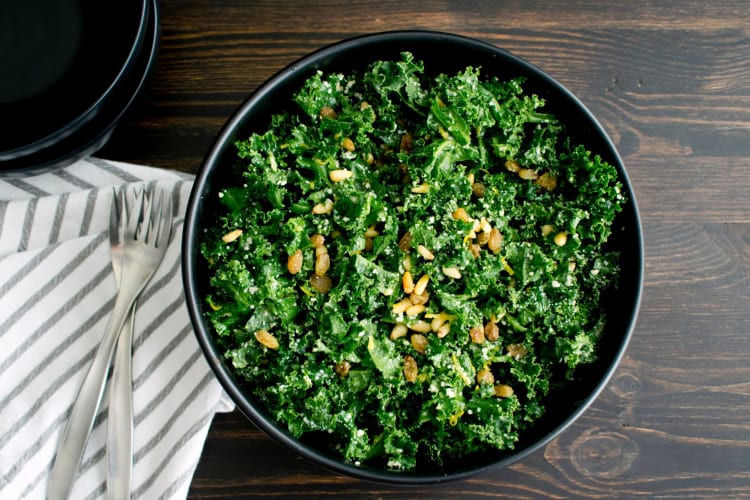 Minimal-Effort Girl Dinner Ideas
Sometimes even turning on the air fryer is too much work. The best Girl Dinners are the ones you can make (and eat) with nothing but your hands. Okay, and maybe some chopsticks.
8. Meat and Cheese Snack Pack, Fruity Jam and Pickles
Suggested Pairing: Pinot noir; Dr. Pepper
Those adorable little grab-and-go charcuterie packs are everywhere. Even Starbucks sells them (if picking up your snack pack here, you can also treat yourself to a decadent Starbucks secret menu drink). Charcuterie packs make a great after-school snack for the kids, but they make an even better Girl Dinner. Grab your jar of whole grain mustard, your best fruit jam and some pickles, and you've got a charcuterie plate worthy of you.
9. Big Bowl of Cereal
Suggested Pairing: Whole milk
A big bowl is key to this Girl Dinner, and whole milk is ideal if you have it. Add some sliced fruit on top. No cereal in the house? Use granola! No milk? Mix your cereal or granola with your favorite yogurt instead.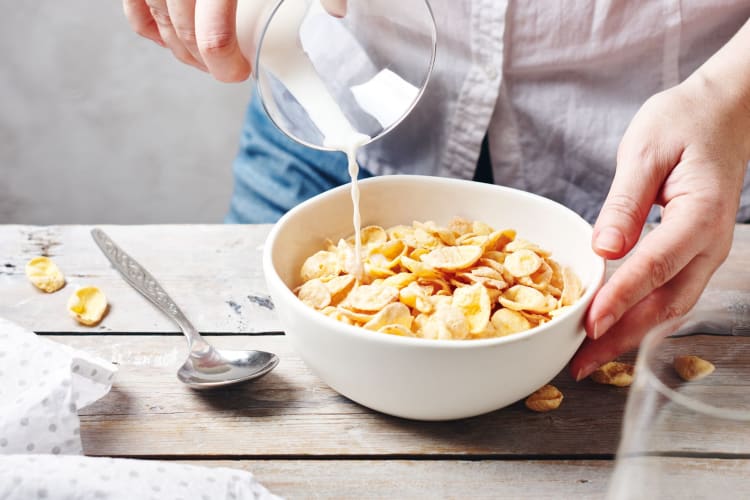 10. Avocado, Cucumbers, Goat Cheese and Pepitas
Suggested Pairing: Spanish albariño; frozen lemonade
Here's an irresistible and healthy Girl Dinner idea. Top slices of avocado and cucumbers with crumbled goat cheese and pepitas. One of the best products to use for this Girl Dinner is Go Raw Sprouted Organic Pumpkin Seeds with Sea Salt. Finish with a generous drizzle of good olive oil. Substitute pistachios if you don't have pumpkin seeds.
11. Chicken or Egg Salad Lettuce Cups and Crushed Mary's Gone Crackers
Suggested Pairing: Poppi Raspberry Rose or a glass of rosé
There's something comforting about putting things in lettuce leaves. It feels light and healthy yet no-fuss, which makes it perfect for Girl Dinner. Most of us have romaine or Bibb lettuce in the refrigerator. Put a dollop of your favorite egg or chicken salad on a lettuce leaf and finish with a crumble of whatever crackers are in your pantry. Pro-tip: Try Mary's Gone Crackers Seaweed & Black Sesame.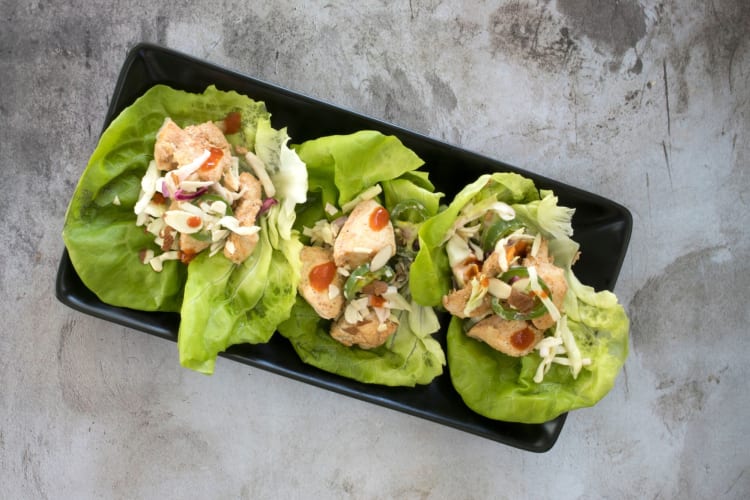 Gourmet Cooking Classes Near You
Take your culinary skills to new levels with guidance from five-star chefs.
12. Sliced Tomato, Fresh Mozzarella and Pesto With Garlic Bread
Suggested Pairing: Cabernet sauvignon; virgin margarita
Fresh sliced garden tomatoes and fresh buffalo mozzarella are a solid go-to for Girl Dinner. You could make those cute little skewers with cherry tomatoes and mini mozzarella balls, but that seems like unnecessary work, and who has skewers lying around? Just dump them in a bowl.
Elevate this dish by drizzling some store-bought basil pesto over the top. No tomatoes? Fresh peaches, nectarines or even mangoes work just as well. No pesto? Try some olive salad or honey. A slice of Texas Toast garlic bread on the side bulks this Girl Dinner up if you've got an appetite and the strength to turn on an oven.
13. Peanut Butter, Butter and Banana Sandwiches
Suggested Pairing: Milk
Yes, that says butter and peanut butter. Trust us. Go with toasted whole grain bread and serve this Girl Dinner sandwich open-faced. Or you might feel like sticking to simple white bread and building the full sandwich.
Put the butter on first, then a thick layer of your favorite nut butter. Then add sliced bananas. It seems like no one uses plain peanut butter anymore, so use whatever you've got. Look for Big Spoon Roasters Vanilla Caramel Almond & Cashew Butter next time you're at the store, or buy it online.
Need more pizzazz? Drizzle some honey onto those bananas and dust with powdered sugar. Nutella? Sure, why not? Milk to wash it down.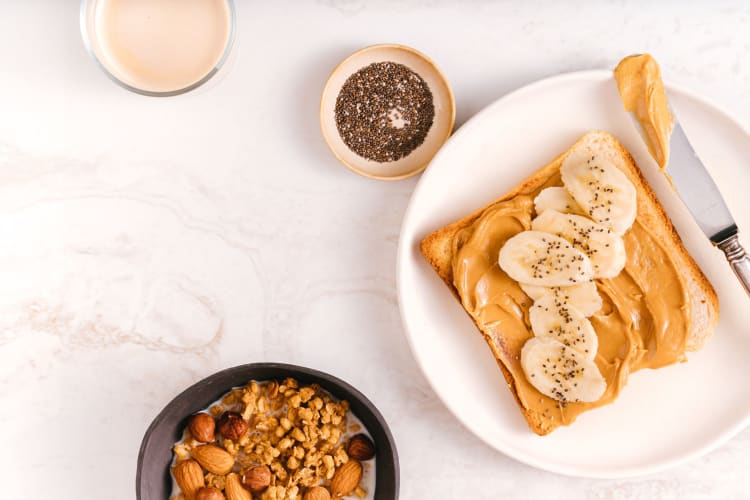 14. Sushi, Edamame and Pot Stickers
Suggested Pairing: Cold unfiltered sake; hot green tea
The ultimate happiness for many of us is enjoying a simple sushi roll. Order delivery or grab and go from the grocery. Check the freezer for a bag of pot stickers and some frozen edamame that you can pair with it.
Zero-Effort Girl Dinner Ideas
It's been a day. We got you.
15. Fruit and Cream Cheese
Suggested Pairing: Grapefruit Splash or Strawberry JuneShine
This Girl Dinner is mostly nice with a little naughty on the side. The naughty factor on this one depends on how deep into the strawberry cream cheese container you go. Check the refrigerator carefully because all kinds of things that go well with cream cheese are hiding in there. Olives, pickled jalapeños, maple syrup, nuts, peppers. Everything works.
16. Bag of Popcorn and Gummy Worms
Suggested Pairing: Sauvignon blanc; Zevia ginger ale
It's the ultimate movie night indulgence. Pop that bag in the microwave. Wait for the smell to hit you. Don't bother trying to hide that little smile. It's all for you. Yes, you can eat gummy worms for dessert.
Join a Live Online Cooking Class Today
Your kitchen is now your own culinary classroom. Connect with chefs from around the world right from the comfort of home.
17. Vegetables and Hummus
Suggested Pairing: Sauvignon blanc; iced lemonade
Grab all of the vegetable odds and ends from the fridge and your favorite hummus. Add some Wheat Thins, Triscuits, breadsticks or potato chips — whatever you have that will add crunch to your Girl Dinner. Got tortillas? Turn it into a wrap. Don't want the carbs? Lettuce wraps.
18. Pint of Häagen-Dazs and Whipped Cream
Suggested Pairing: Bailey's; coffee your way
This Girl Dinner falls in the category of "don't do this every night." But definitely do it now and then. If need be, pick your favorite light or dairy-free version. It's up to you. But there's just something about having a whole pint of full-fat Häagen-Dazs to yourself.
Take two paper towels and fold them in half lengthwise. You now have the perfect koozie for your pint. Bring your spoon and the whipped cream to the couch with you. Reload as needed.
19. Chinese Delivery
Suggested Pairing: Chenin blanc; Pelligrino (swig it straight from the bottle tonight) with a lime wedge floating inside
This is the night you've been waiting for all month. Whether your roommate's out on a date or your kids and partner are at sleepovers or on a work trip, respectively, get in your comfiest clothes, get your best blanket out and hit the couch. It's the ultimate you night. Your Doordash app is anxiously waiting for you to make your choices. Will it be pork fried rice, Chinese chicken wings and General Tsao's or shrimp lo mein, crab rangoon and chicken with snow peas? This Girl Dinner is certain to bring good fortune.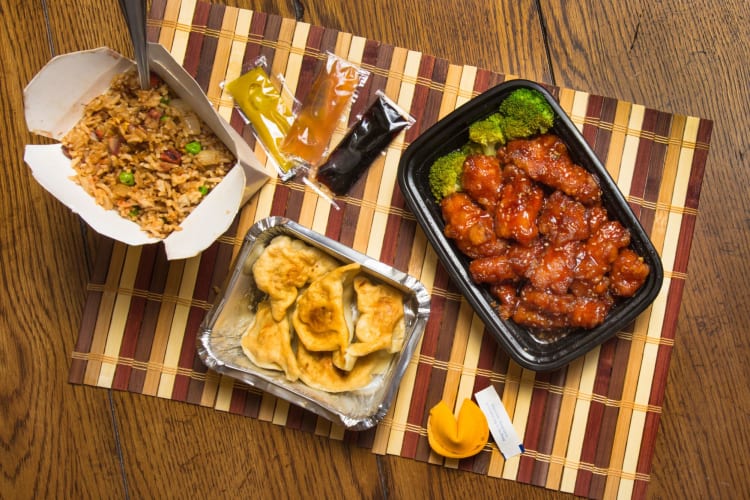 20. Popeye's Chicken Girl Dinner
Suggested Pairing: Sweet iced tea
You'll need to plan in advance because Popeye's Chicken Girl Dinner can only be ordered through their website. But that's still better than cooking. This combination of all the things is worth the effort, especially if you're able to pick it up on your way home from work or the soccer field.
The meal includes Popeye's favorites like mashed potatoes, coleslaw, macaroni and cheese, Cajun fries, biscuits and red beans with rice. Don't forget the sweet iced tea and napkins.
Book a Gourmet Cooking Class Now
Kick-start your culinary confidence with help from a world-class chef. See what's cooking in your city today.
21. Frozen Pizza
Suggested Pairing: Olipop Vintage Cola
Technically this isn't zero-effort because you have to turn on the oven. But for frozen pizza, it's worth it. When it comes to Girl Dinner frozen pizza, the cheaper the better. If the Dollar Store sells it, it's a winner. Are you a pizza snob? Try the Whole Foods Sweet & Spicy Wood-Fired Pizza or their Zucchini and Rapini version. Premade flatbreads, bagel bites or pizza rolls count for this category, too.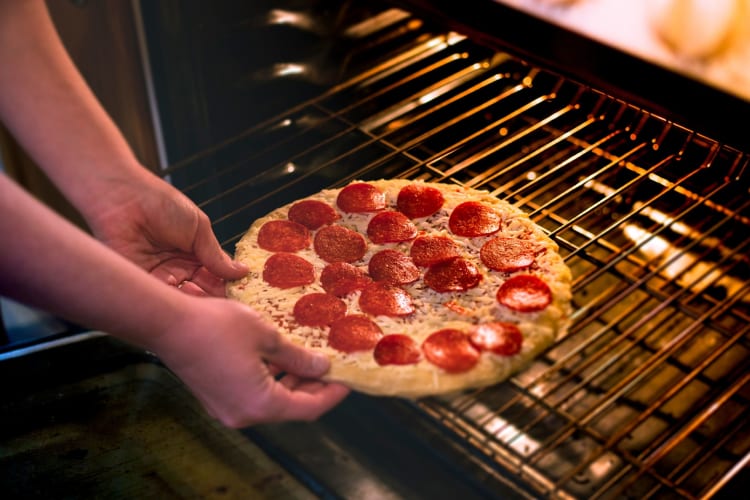 Join 200,000+ Culinary Enthusiasts
Exclusive deals, recipes, cookbooks, and our best tips for home cooks — free and straight to your inbox. PLUS: 500 Rewards Points.
The TikTok Girl Dinner trend is just another example of how good things never go out of style. Sometimes we just need a little reminder and a little permission to enjoy them. Don't get too caught up in trying to match your meal to exactly what you see online. Girl Dinner is all about your own personal pleasure.
For even more ways to explore what's happening in the world of food, check out other experiences happening on Cozymeal.