Everything You Need to Know About Edamame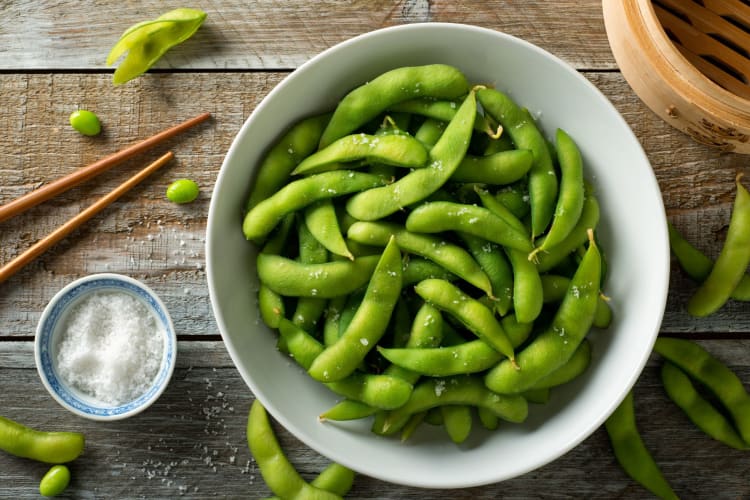 If you've eaten at an Asian restaurant recently, chances are good that you found edamame listed somewhere on the menu. You may have enjoyed a plate of pods as an appetizer or found it sprinkled among the other ingredients in a salad or side dish. It's a fairly familiar element of so many beloved recipes, yet it seldom gets the chance to shine in the culinary spotlight.
For as much as you may have indulged, how much do you really know about this humble plant-based treat? This legume keeps a pretty low profile in the world of cooking, even as it demonstrates versatility and value around the kitchen. To get a better understanding of edamame's true worth, we dug up the facts and found out what's really popping with this pea-sized powerhouse.
Jump to Section
Book a Gourmet Cooking Class Now
Kick-start your culinary confidence with help from a world-class chef. See what's cooking in your city today.
What Is Edamame?
Edamame is a member of the legume family, the same group that includes beans, peas and peanuts. In fact, the plant itself is a bean — a soybean, to be exact, harvested early to prevent hardening in the pod. Though the term has come to be synonymous with soybeans in general, edamame is actually a prepared dish featuring soybeans that have been steamed or boiled in the pod. And while the recipe is a staple of traditional Japanese cuisine, soybean plants have their origins in China as far back as the 11th century B.C.
In more familiar forms, soybeans are used to make tofu, plant-based and textured substitutes for meat products. Whole soybeans are often roasted and serve as a tasty replacement for traditional nuts, while edamame beans make use of the whole pod in the cooking process. You can often find bags of beans either in or out of the pod in the frozen food section of your local grocer, an easy ingredient to have on hand for adding to your favorite recipes.
For a number of reasons that we'll get into below, edamame features frequently in plant-based dishes. If you're seeking culinary inspiration for these wonderful little beans, plant-based cooking classes near you or online cooking classes can show you a myriad of delicious ways to use edamame in your meals.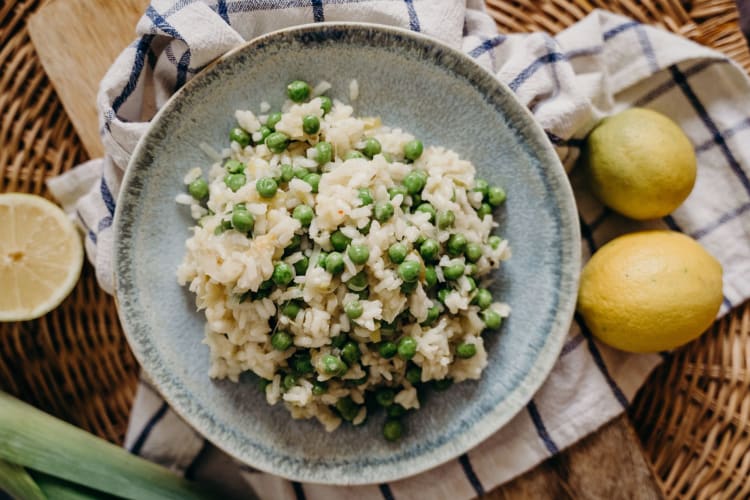 How to Eat Edamame
There are few foods as fun to eat as this slippery soybean, no matter what the cuisine! The pods soften during the cooking process, making it easy to pop the beans loose. You can break them open with your fingers or slide them between your teeth to free the beans. Because they're so small, it isn't unusual to eat an entire pod in a single go. Though usually salted and dipped in sauces to add flavor to the subtle taste of the beans inside, the pods are too tough to eat and should be left on the plate.
Using the beans as an element of larger recipes helps you find new ways to eat these tasty morsels without including the pods in the process. You can strip cooked beans from the shells or use pre-shelled beans in everything from mixed greens to risottos. Their cooperative texture and unassuming flavor make them ideal partners for just about any dish you can dream up. There may even be a world of new dishes ready to be invented that feature these simple legumes in a starring role. Feel free to experiment and see how far your kitchen inspiration can take you!
Gourmet Cooking Classes Near You
Take your culinary skills to new levels with guidance from five-star chefs.
Seasonings and dips are a big part of enjoying this beautiful bean. Because the flavor is so adaptable to whatever it comes into contact with, you can top them with just about anything you like, from fiery sriracha sauce to tangy rice wine vinegar to creamy mayonnaise-based sauces. Some recipes even call for fresh Parmesan and truffle oil, taking the modest pod into the flavor stratosphere. And of course, to maintain the purity of flavor in the bean itself, you can always keep things simple and add a sprinkle of coarse salt to the bowl. But if your taste buds are up for a bit of an adventure, don't be afraid to try the flavorings you like best to see how well they pair up.
How to Cook Edamame
As simple as it is to prepare, edamame can actually be cooked in a number of ways. The most popular method is steaming, which softens both the outer shell and the beans inside in a single process. Steaming helps keep the texture of the bean intact and prevents the flesh from becoming too soft. Adding pods to a steamer basket and steaming them in a pot with an inch of simmering water for 5 to 10 minutes is enough to get your edamame ready for the table.
Boiling — the technique used in this wonderful recipe for spicy edamame — is another simple cooking process that takes edamame beans into an edible state. Start a pot of salty water on the stove and bring it to a rousing boil before adding your pods. Both pods and beans should soften in 3 to 5 minutes, so be sure to keep an eye on the time and check them as they cook.
Test the texture to make sure it's to your liking, then remove the pods and drain the water. Rather than rinsing the pods in cold water, cool them by fanning to halt the heat and prevent overcooking while retaining maximum flavor.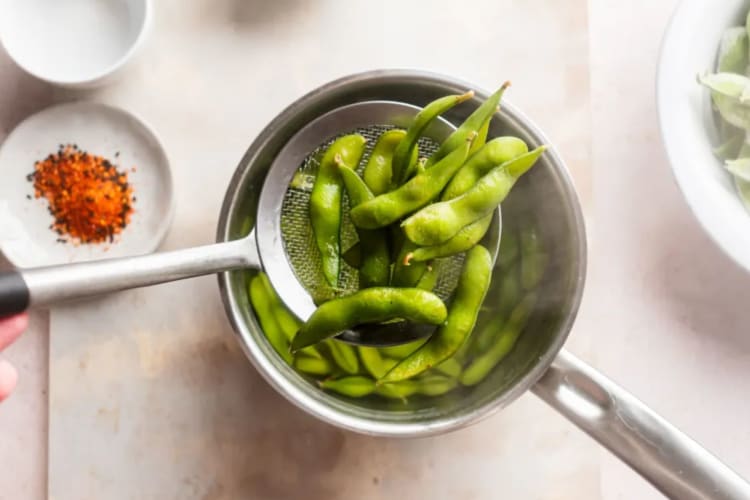 If you're pressed for time, your trusty microwave oven will provide you with perfectly cooked beans in no time flat. Splash a bit of water over fresh pods in a microwave-safe bowl and cover with a paper towel to create a steamy environment. Cook in one-minute increments, testing after each until they reach the desired softness. Then salt and season pods and enjoy. This is a great way to cook up a few pods at a time when hunger strikes but the urge to fire up the stove doesn't.
For a more gourmet cooking method, you can pan-fry the pods with zesty aromatics and transform them into a smoky, tender treat. Heat oil in a wok or frying pan and incorporate your flavorings, then mix in your pods and fry for several minutes. Drain them on a paper towel to remove the excess grease, and dig in!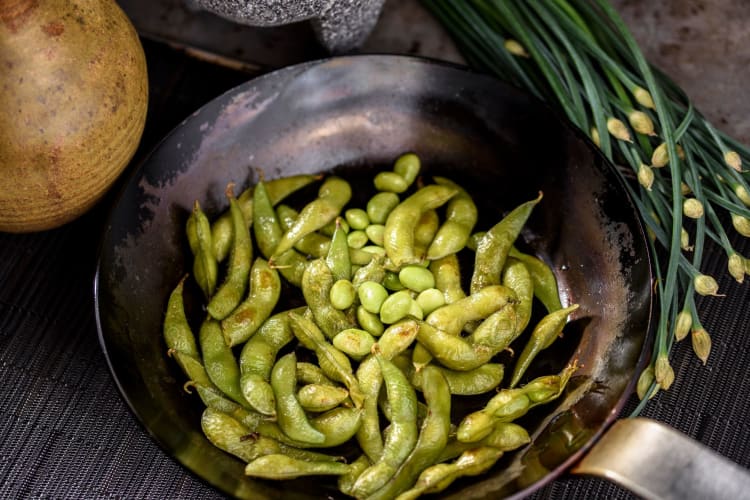 Join a Live Online Cooking Class Today
Your kitchen is now your own culinary classroom. Connect with chefs from around the world right from the comfort of home.
Edamame Nutrition
The trove of health benefits found in these tiny beans makes them one of the most powerful plants in the nutritional garden. Healthline explains that not only are they low in calories at around 224 per one-cup serving, they also deliver plentiful macronutrients in a compact package that can take mindful eating to new heights of healthful good flavor. For anyone wondering how to start eating healthy, the incredible nutrients you'll find in these bite-sized bits will open your eyes to the delicious possibilities!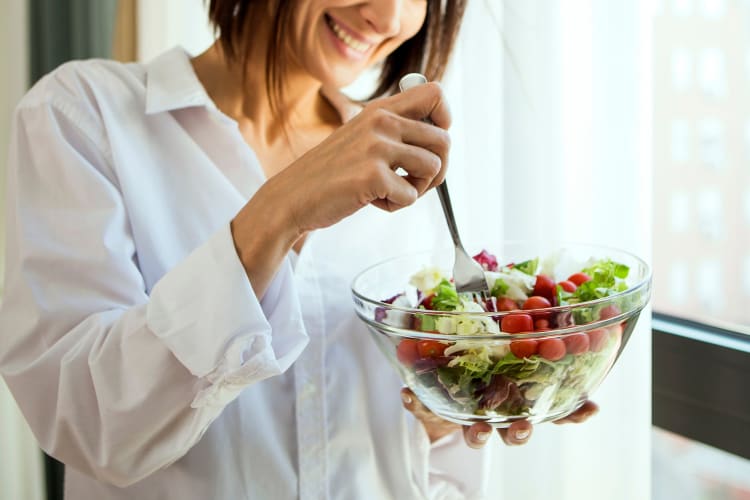 Vitamins and Minerals
With a profile that includes iron, phosphorus, potassium, thiamine and magnesium, these nutritious beans are a highly beneficial addition to most diets. These vital nutrients all occur in concentrations that transform a one-cup serving into a savory superfood. According to Healthline, the most prevalent of the vitamins and minerals is folate, coming in at a whopping 115% of the daily recommended allowance.
These helpful legumes also contain a fair amount of vitamin K, which Harvard School of Public Health explains is necessary for helping your body synthesize proteins required for processes such as creating bone tissue and promoting blood clotting. A one-cup serving delivers a generous 56% of your recommended daily allowance of this vital nutrient, according to Healthline. There's a ton of great stuff going on in this tiny bean!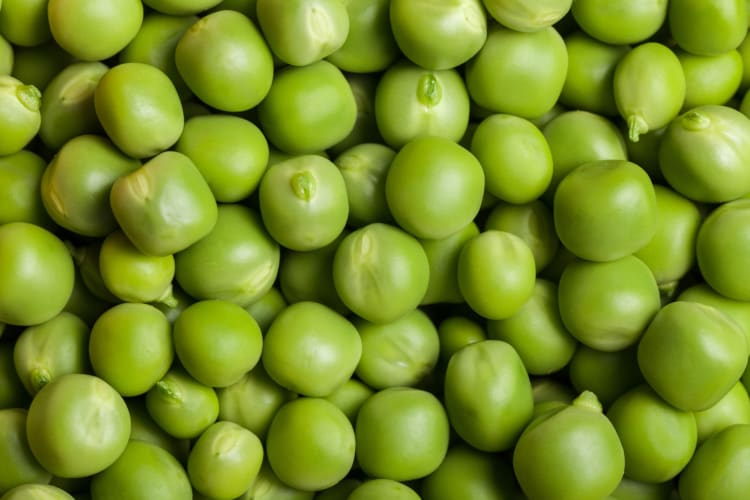 Fiber
If you're looking for a clean, high-fiber ingredient to incorporate into your daily diet, this luscious legume is a power player. Per Healthline's breakdown, at eight grams per one-cup serving, you'll be getting roughly one-third of the daily recommended fiber intake for females and one-fifth of that for males. As well, these beans contain both soluble and insoluble fiber, the latter of which passes through your digestive tract to help cleanse your system. If you suffer from IBS, however, this kind of fiber can cause discomfort and other symptoms, and you may want to limit your edamame intake.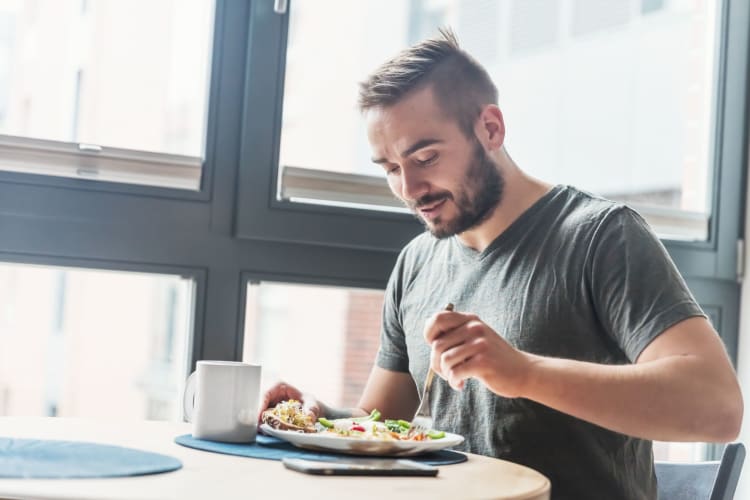 Fat
The minimal amount of fat found within the husk is both monounsaturated and polyunsaturated, which are considered healthy fats, with a one-cup serving offering a modest eight grams. As the American Heart Association explains, the benefits of both types of unsaturated fat include potential regulation of bad cholesterol levels, which can protect you from stroke and heart disease. This presumes that the cooking and serving process doesn't add extra fat from oils or dairy-based ingredients.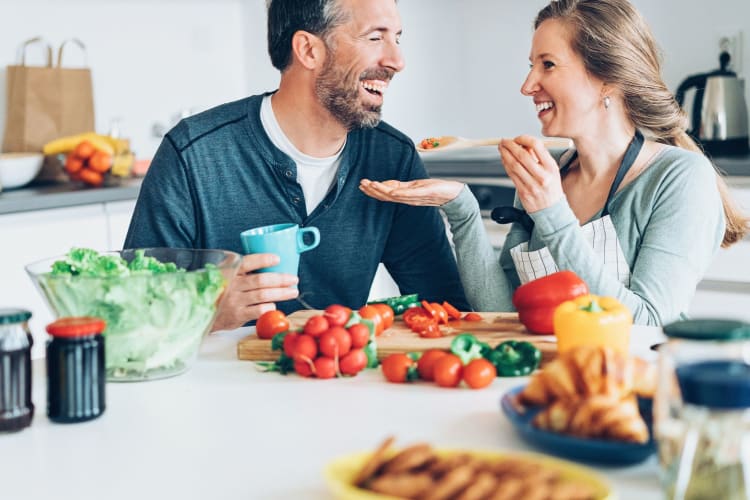 Gourmet Cooking Classes Near You
Take your culinary skills to new levels with guidance from five-star chefs.
Carbohydrates
In addition to containing healthy fats, this wonder food is also low in carbohydrates, providing 15 grams per one-cup serving. Quantities like this make it a prime candidate for a low-carb diet. The website Ketogenic even holds these beans up as a keto-friendly food in spite of being legumes, which are usually forbidden from a keto diet. As with all dietary restrictions, however, it's always best to work with your doctor to determine what to add or subtract from any eating program.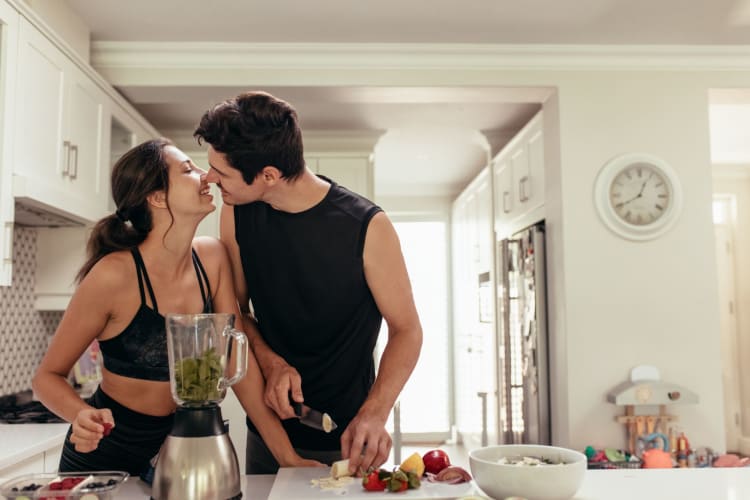 Protein
As with all soybeans, edamame is also one of the precious few plant-based sources of complete protein, providing a power-packed 17 grams in a one-cup serving, per Healthline's nutrient listing. This means they contain all nine essential amino acids needed to create muscle tissue, and they offer it in considerable quantities. For the same reasons tofu and tempeh — both soy-based products — are valued for their protein content, these beans are also celebrated as a clean source of protein for plant-centered diets.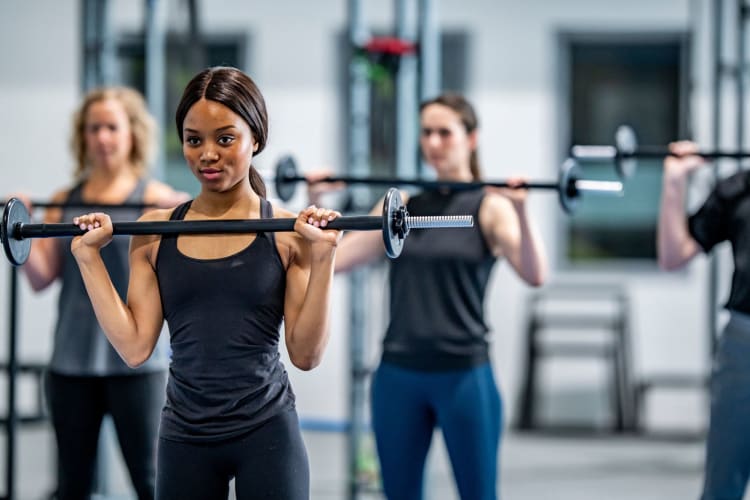 Isoflavones
In addition to its other incredible nutrients, edamame is also a rich source of isoflavones. According to Very Well Health, isoflavones imitate the effects of estrogen and may help with menopause symptoms. They can also be useful in preventing osteoporosis in postmenopausal women.
However, studies published by the National Library of Medicine explain these compounds have been a source of concern for the medical community in regard to breast cancer. While high estrogen levels and increased risk of breast cancer are linked, more research is needed to determine the effect plant-based phytoestrogen like isoflavones may have on breast cancer risks.
Edamame FAQs
Is Edamame a Vegetable or Protein?
Yes and yes! Being a form of soybean pods, edamame is a vegetable from the legume family that contains a fair amount of protein. It's also one of the few plants with protein that holds a complete set of the nine amino acids required to build muscle.
Is Edamame Soy?
Yes — it's a version of soy harvested before it reaches maturity, while the pods are still green.
Is Edamame Good for You?
Generally, yes, it is! For such a tiny and humble legume, edamame packs a powerfully nutritious punch. It also tends to take on whatever flavor it encounters, which makes it extremely easy to incorporate into familiar recipes in your home cooking line-up as well as expanding your repertoire to include new dishes that feature this welcome addition to the kitchen.
As with nearly every food, however, edamame isn't for everyone. If you suffer from IBS, you may want to tread lightly with edamame at first to see how it agrees with your system. If you have concerns about breast cancer, consult your primary care physician before adding edamame to your diet on a regular basis.
Otherwise, enjoy these versatile little beans because they're a nutritional powerhouse!

Join 200,000+ Culinary Enthusiasts
Exclusive deals, recipes, cookbooks, and our best tips for home cooks — free and straight to your inbox. PLUS: 500 Rewards Points.
Now that you know the real deal about this seemingly simple bean, you can dive headlong into the world of edamame and incorporate it into your dining routine. No matter how you choose to cook and serve it, you'll reap the benefits of an enjoyable bite that brings a generous serving of good health to every plate it graces. By providing nutrition, flavor and flexibility in abundance, this loveable legume proves itself to be worthy of a seat at the table.
For even more ways to explore your favorite foods, check out other experiences happening on Cozymeal.