How Does DoorDash Work? 2023 Guide to the Delivery App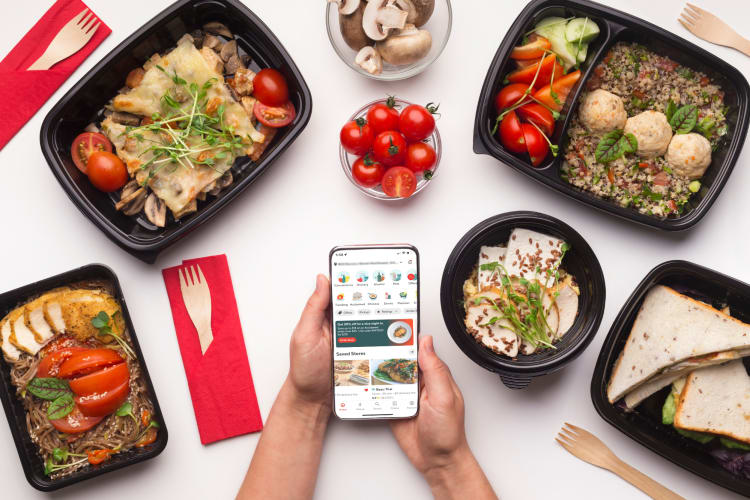 Our editorial team recommends the best products through independent research, selection and careful review. If you make a purchase through one of our affiliate links, we may earn a commission. Prices are subject to change.
You may have seen the commercials or the ads on your phone and wondered how does DoorDash work? Whether you're looking for a quick dinner you don't have to cook or trying to find a meal all your friends will love, DoorDash is a great option. Or, if you're looking to try a new dish for breakfast, lunch or dinner, DoorDash is a great app for discovering your next favorite restaurant.
But for those who have never used the app, figuring out how DoorDash works can be quite confusing and the many options can be intimidating. Luckily, DoorDash is very user-friendly for both customers and drivers. If you've been wondering how does DoorDash work, look no further than this hands-on DoorDash review.
Jump to Section
Book a Gourmet Cooking Class Now
Kick-start your culinary confidence with help from a world-class chef. See what's cooking in your city today.
What Is DoorDash?
DoorDash is one of the most popular food delivery services and apps on the market today. To understand how DoorDash works, you first must understand how the app came to be. The company was founded in 2013 in San Francisco, California by four Stanford University students who were seeking feedback on a mobile app for small businesses. A business owner told Tony Xu, Stanley Tang, Andy Fang and Evan Moore about the challenges small businesses face in meeting the demands for deliveries.
The company first launched as PaloAltoDelivery.com in January 2013 and then incorporated as DoorDash in June of 2013. After initially receiving $120,000 in seed money, DoorDash exploded as a food delivery platform, becoming the largest food delivery service by 2019. The platform has over 450,000 merchants and 20,000,000 customers on the platform. It's available in all 50 states and Washington, D.C., and Canada, as well as Australia, New Zealand, Japan and Germany.
How Much Is DoorDash?
The cost to use the DoorDash app is free unless you upgrade to the subscription service DashPass. So, how does DoorDash work in terms of pricing? Customers can expect to pay the price of the food from wherever they order, as well as fees and tips. Some restaurants may have the same prices for their in-person and DoorDash menus, and some may set the prices to be more expensive when ordering via the app. But most restaurants have the same prices in person and on the app.
As for fees, each order is subject to a delivery fee and a service fee. Delivery fees can vary depending on many factors such as the restaurant, demand and location. Sometimes delivery fee can be waived and be $0; other times the fees can be a few dollars. The service fee starts at $0.60 and is subject to increase based on the subtotal.
There are also local feels like a regulatory response fee, in which case local authorities cap charges and DoorDash adds a fee to continue to offer the service. These can range from $0.10 to $3.40. Outside of fees, customers can also add a tip that goes to the DoorDash driver. Tips can range from 15% to 20% of the subtotal, or you can enter a custom amount. You also have the option to add another tip after delivery.
So, how much is DoorDash if you upgrade to the paid version? DashPass is the app's subscription service, which costs $9.99 per month. With this subscription, you receive unlimited deliveries from eligible restaurants with a $0 delivery fee. This is a great option if you regularly order from DoorDash, as it can save you money in the long run on delivery fees.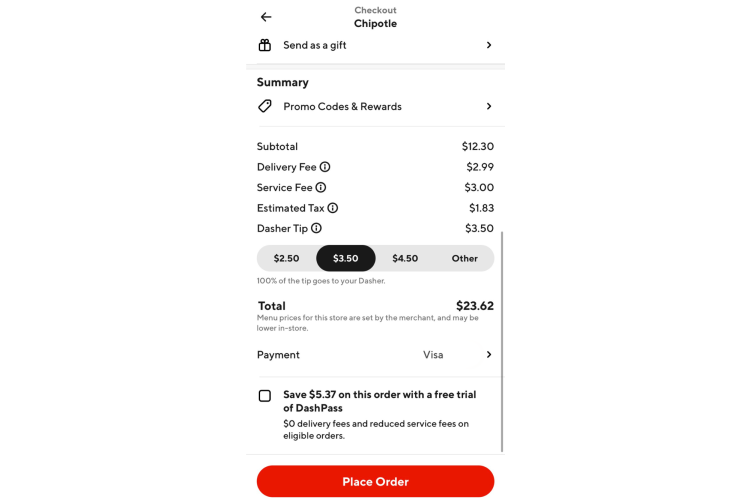 How Does DoorDash Work?
DoorDash can be accessed from a computer or from a mobile app. But exactly how does DoorDash work? Customers can order from local restaurants, convenience stores and in some areas, grocery stores. DoorDash drivers, who work as independent contractors for the company, will pick up the order and deliver it to the customer.
The app requires the customer to make an account where their name, address and payment information are locally stored. The account will also save previous orders and allow the customer to save their favorite restaurants and stores for easy access in the future. You can also leave delivery instructions, such as where to deliver your meal, a code to get into an apartment complex or to hand it off to you.
All the drivers on DoorDash are independent contractors who apply to work for the company. They use their own cars and have a separate app to accept and make deliveries. Drivers will only have to take deliveries when they set themselves as available to work. That means you won't be pinged in the middle of the night if you don't want to. In order to make the most money, it's recommended to deliver at peak hours like lunchtime and dinner time. Drivers are paid with a base pay between $2 and $10, plus 100% of the tips they make from each delivery.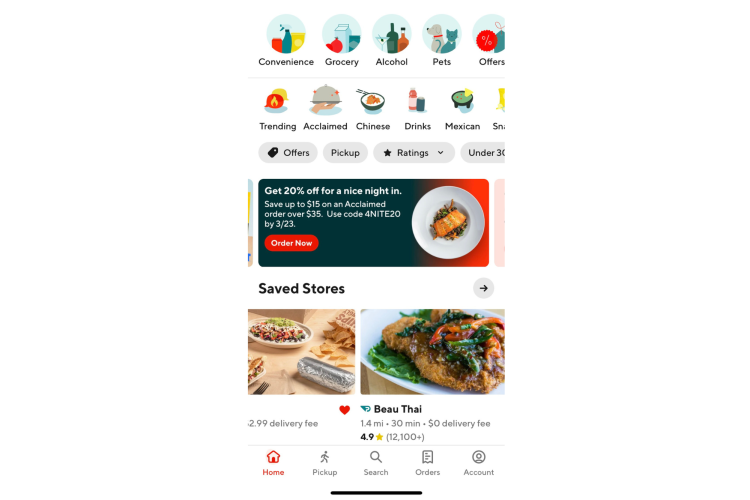 Gourmet Cooking Classes Near You
Take your culinary skills to new levels with guidance from five-star chefs.
How to Order on DoorDash
How DoorDash works with ordering is pretty simple. To make an order, log onto the website or into the mobile app. The front page will show you categories of different cuisines, your saved stores, affordable delivery and popular restaurants. You can also find restaurants by the search feature. Once you choose a store, you can add menu items to your cart. If you've ordered from the restaurant before, you have the option of adding what you previously ordered without having to scroll through the menu.
Then, select your delivery. You can choose from standard or express delivery. Express delivery has a shorter delivery time and ensures the delivery driver comes straight to you without making more stops to pick up or drop off another order before getting to you. You can also schedule an order for later in the day, the next day or days in advance.
For those who want to save on delivery fees, you can change the order to be picked up from the restaurant. The store will prepare your order and set it aside for you to grab. This is a great option if you're already out of the house and want to bring dinner home, like coming home from work or a night out with friends.
But what about if you're ordering for a group? If you're wondering how DoorDash works for multiple people, there's an option to do a group order where you can set a spending limit per person and send it to selected people. This is a great option for office lunches, hanging out with friends or splitting a meal with family.
The app will provide updates as the restaurant prepares the order, and the driver goes to pick it up and deliver it to your door. Once delivered, the DoorDash driver will send a picture through the app of where the order was left and then you can enjoy your meal.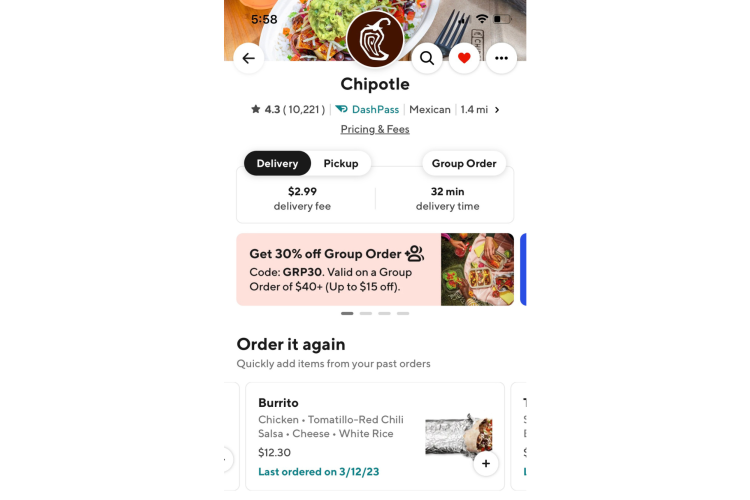 Book a Gourmet Cooking Class Now
Kick-start your culinary confidence with help from a world-class chef. See what's cooking in your city today.
Is DoorDash Worth It?
Now that you know how DoorDash works, you're probably wondering if it's worth it to make an account. If you're comparing meal delivery services and wondering if DoorDash is worth it, know that this app usually comes on top. DoorDash is well worth it if you're looking for a convenient food delivery service. Both the app and the website are user-friendly when it comes to searching for restaurants, browsing menus and ordering a meal. DoorDash is very upfront about the fees and total you'll pay, so you should never be blindsided. And being able to watch the progression of your order can provide peace of mind and allow you to see exactly when your order is delivered.
The company also has great customer service. If an order goes wrong — it was not delivered, you received the wrong order or the order was extraordinarily late — you can contact customer service to alleviate the situation. They usually offer a refund either on your credit card or as a credit on your DoorDash account. You can also have the meal reordered at no cost to you. You also get plenty of bang for your buck. While fees may not be every customer's favorite feature, compared to other food delivery apps, DoorDash is less expensive.
Overall, DoorDash offers great service and a wide selection of restaurants to choose from. It's a great option whether you're looking for a quick meal when you don't feel like cooking or you're ordering lunch for a large group in the office. It's a convenience that can be a great time saver if you have a busy day, especially when ordering ahead. With plenty of other food delivery services and apps available, DoorDash stands out from the crowd.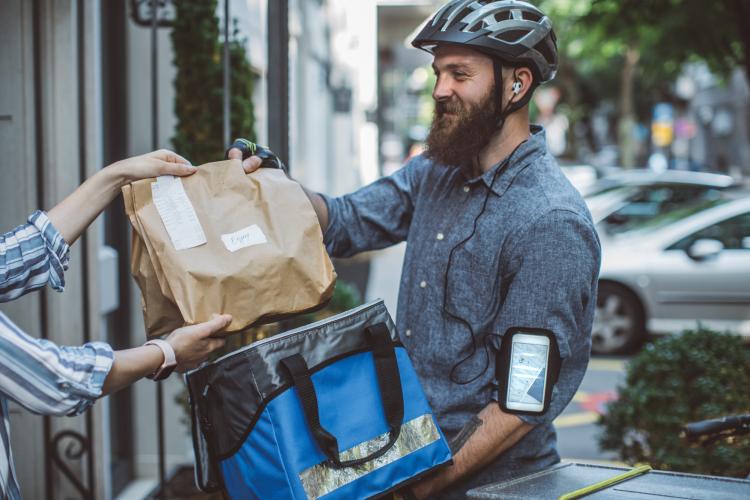 Join 200,000+ Culinary Enthusiasts
Exclusive deals, recipes, cookbooks, and our best tips for home cooks — free and straight to your inbox. PLUS: 500 Rewards Points.
DoorDash is one of the best ways to discover new food in your local area. On the app, you can browse restaurants by cuisine, so you can find the best of the best of your favorites. You can also find places by area, so you can discover your new go-to restaurant in your neighborhood.
For even more ways to explore your favorite foods, check out other experiences happening on Cozymeal.