41 Delicious Keto Lunch Ideas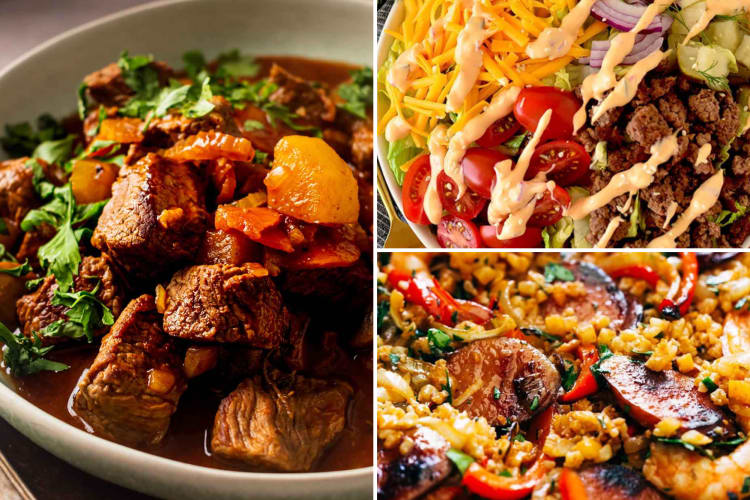 Whether you are following a ketogenic diet or looking for ways to change up your lunch routine, keto lunch ideas offer a variety of quick, healthy and delicious options for your midday meal. What can you eat on a keto diet? The popular keto diet focuses on low carb, high fat meals by incorporating plenty of proteins, high fat dairy and low carb vegetables like leafy greens while limiting starchy foods such as bread, pasta, potatoes, legumes and high carb fruits like mangos and bananas. Although the keto guidelines might sound limiting, there are plenty of traditional and innovative keto lunch ideas that will keep you full and inspire your culinary creativity.
What are good keto lunches to take to work? Eating away from home can be one of the most challenging aspects of following any special dietary guidelines whether it is keto, gluten free, vegan or any other specific dietary need. Keto lunch ideas that are easy to prep ahead of time, freeze or put together quickly are excellent options for a workday meal. From Asian-inspired stir fry to hearty, low carb soups, here are 41 keto lunch ideas to keep you full and satisfied throughout the day.
Jump to Section
Easy Keto Lunch Ideas
1. Keto Beef and Broccoli
This Keto Beef and Broccoli is a satisfying take on the classic Chinese takeout dish that comes together with just a handful of ingredients. Enjoy this hearty marinated steak and tender broccoli dish on its own or served over cauliflower rice to soak up the delicious, umami-rich sauce.

Try our Keto Beef and Broccoli recipe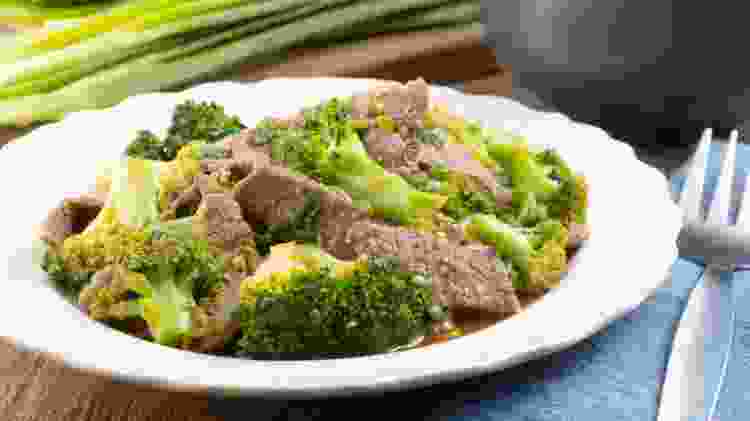 2. Keto Salmon
Fragrant garlic and dill give this Keto Salmon a punch of flavor as the centerpiece of a variety of easy keto lunch ideas. Serve the salmon whole paired with your favorite vegetable sides, sliced over a fresh salad or flaked over low carb pasta or rice.
3. Keto Enchiladas
Keto Enchiladas utilize innovative crepe-like tortillas to put a low carb twist on the classic Mexican dish. Great for meal prep or to enjoy as leftovers throughout the week, these enchiladas are quick and easy to make with plenty of bold flavor from the seasoned chicken filling and creamy avocado sauce.

Try our Keto Enchiladas recipe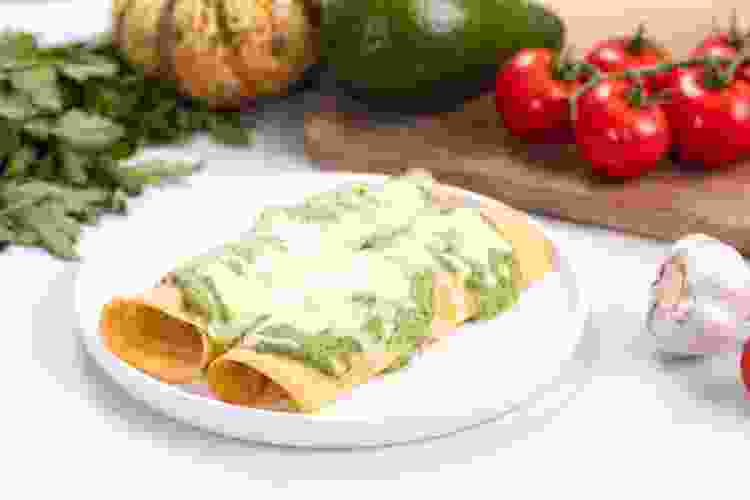 4. Easy Low Carb Keto Chili
Soups, stews and chili are some of the easiest keto lunch ideas, requiring little more than a sturdy stock pot and always yielding plenty of leftovers. This beanless Easy Low Carb Keto Chili by Inside BruCrew Life is packed with hearty beef and colorful vegetables in a bold, spicy broth that is ready to serve in just 30 minutes!
5. Shrimp Scampi with Zucchini Noodles
Satisfy your pasta craving with a light and colorful swap in this Shrimp Scampi with Zucchini Noodles from Ahead of Thyme. A spiralizer or vegetable peeler transforms fresh zucchini into a bed of colorful noodles to enjoy with the bright, buttery shrimp.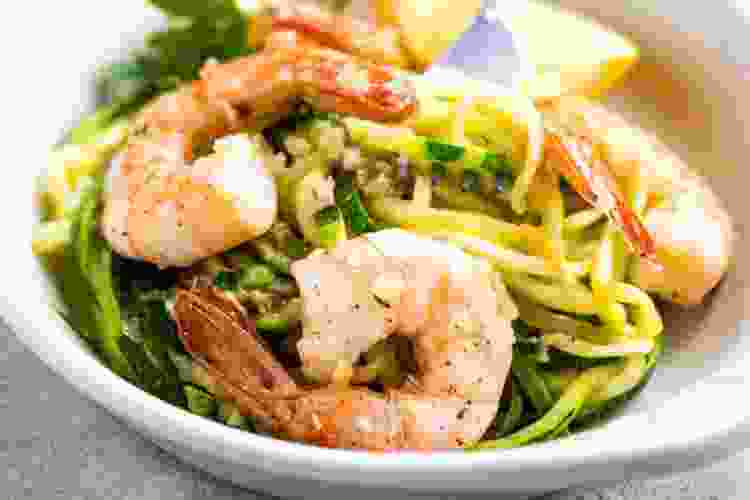 6. Thai Peanut Curry
An iconic Thai takeout dish gets a keto twist with this Thai Peanut Curry by Joy Filled Eats. Packed with protein and vegetables, Asian-inspired stir fry dishes like this one are easy, healthy and customizable options for keto lunch ideas.
7. Keto Ramen
Made with low carb noodles, this Keto Ramen from The Big Man's World brings the convenience and versatility of the classic dish with a lightened up twist. Traditional ramen noodles can be swapped for low-carb shirataki noodles as the base for cozy keto lunch ideas like this one.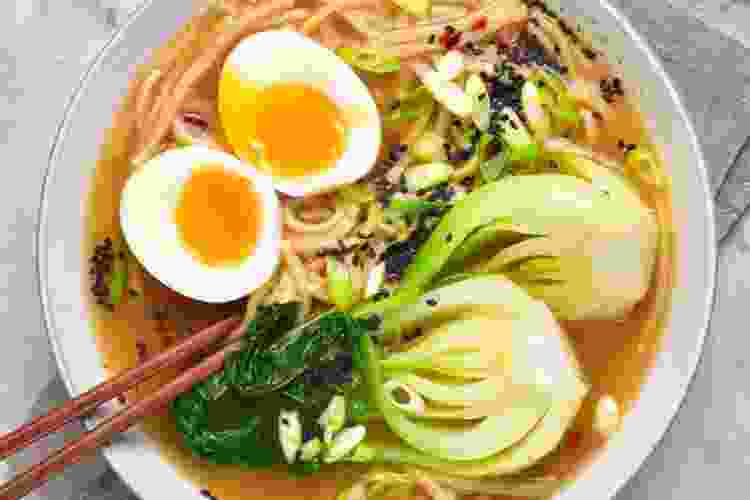 8. Keto Zuppa Toscana
A low carb dupe of an Olive Garden favorite, the Keto Zuppa Toscana by The Girl Who Ate Everything is a cozy soup perfect for a cool or rainy day. Savor this creamy soup on its own or paired with a fresh, crisp salad for a simple, Italian-inspired keto lunch.
9. Sheet Pan Jambalaya
Sheet pan bakes are great options to meal prep easy keto lunch ideas. For this Sheet Pan Jambalaya by Pinch of Yum, simply spread your ingredients on a sheet pan and bake for a flavorful, low carb lunch inspired by the Big Easy.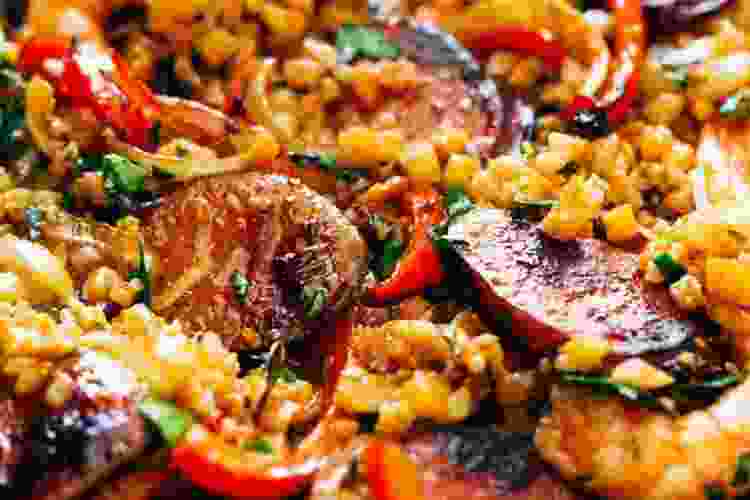 Cheap Keto Lunch Ideas
10. Crack Slaw (Egg Roll Bowl)
Crack Slaw, also known as an Egg Roll Bowl, has become a popular choice for keto lunch ideas thanks to its simplicity, versatility and affordability. This quick and filling meal is loaded with vegetables and protein (including a tofu option!) that can be cooked all together in one pan.
Try our Crack Slaw (Egg Roll Bowl) recipe
11. Instant Pot Broccoli Cheddar Soup
Is there anything easier than making soup in the Instant Pot? Just steam your vegetables, blend and add cheese to create this simple yet satisfying Instant Pot Broccoli Cheddar Soup. Pro tip: make a big batch and freeze individual portions for convenient keto lunches.

Try our Instant Pot Broccoli Cheddar Soup recipe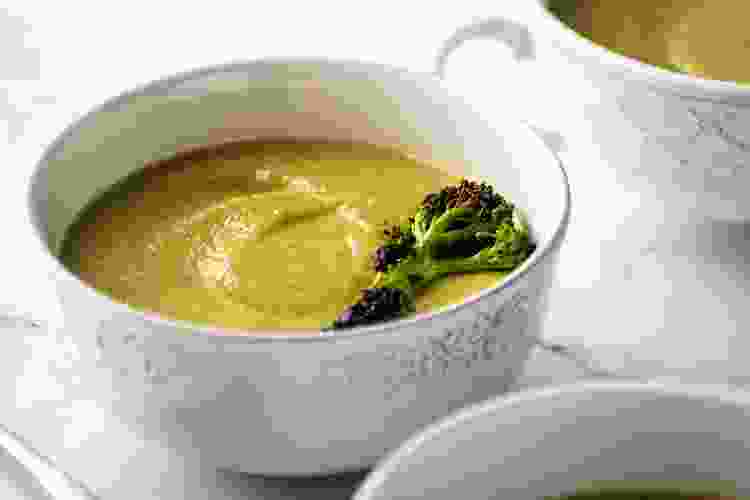 12. Keto Salsa Chicken
Combining just a few accessible ingredients, the Keto Salsa Chicken by Joy Filled Eats makes a flavorful addition to a variety of keto lunch ideas. This creamy, seasoned chicken can be eaten as a filling or in a casserole, topped with your favorite vegetables and sauces or served over cauliflower rice or salad.
13. Shakshuka
Popular for breakfast, brunch or lunch, this Shakshuka from Live Eat Learn is based on a traditional North African dish that uses simple ingredients to create a filling and flavorful meal that is also suitable for vegetarians. Eggs are the perfect protein for cheap keto lunch ideas and pair beautifully with the tangy tomato sauce.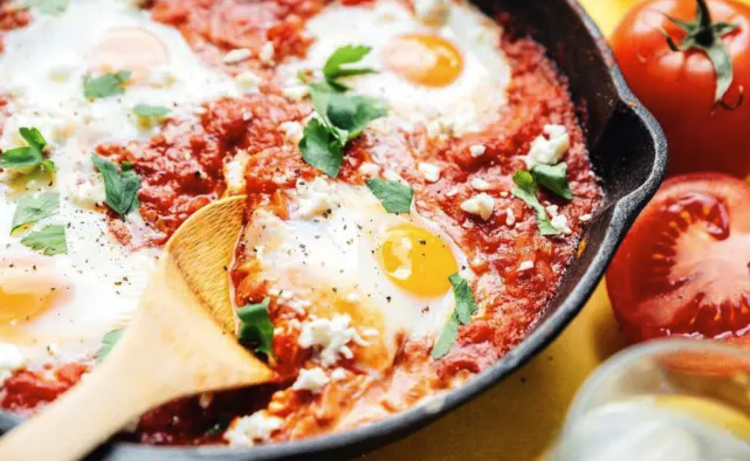 14. Big Mac Salad
The Big Mac Salad by Iowa Girl Eats features iconic fast food flavors without overloading on carbs. Made from simple, accessible ingredients and finished with a creamy, tangy sauce, keto lunch ideas like this one satisfy those drive thru cravings without weighing you down.
15. Buffalo Chicken Stuffed Peppers
A creative take on a familiar favorite, the Buffalo Chicken Stuffed Peppers from Well Plated by Erin add a kick of spice to the classic dish. With just a few ingredients, the simple filling for this dish is easy to make in advance or freeze for convenient and budget-friendly keto lunches.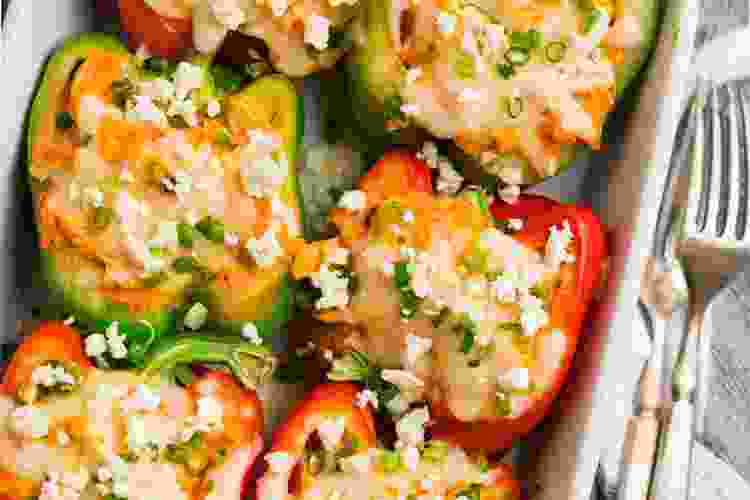 16. Chicken Thigh Curry
One of the most affordable cuts of meat, chicken thighs are a versatile and flavorful protein perfect for a wide range of keto lunch ideas. Served with cauliflower rice, the Chicken Thigh Curry from Joy Filled Eats utilizes moist, tender thighs for a low carb meal inspired by Indian butter chicken.
Quick Keto Lunch Ideas
17. Keto Chicken Salad
Go-to tuna or chicken salad recipes are an excellent staple for quick keto lunch ideas. This Keto Chicken Salad is elevated with homemade tarragon dressing, salty black olives and crunchy roasted pepitas for an easy afternoon meal that is ready in just ten minutes.

Try our Keto Chicken Salad recipe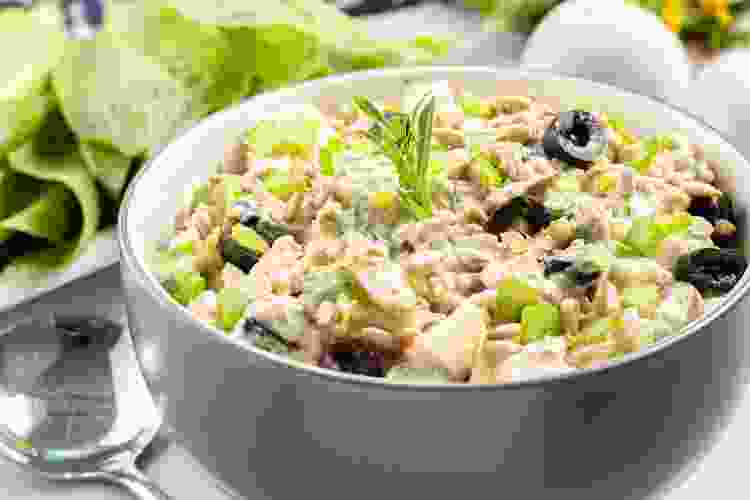 18. Keto Alfredo Sauce
Having a delicious sauce ready to go is a smart way to expedite preparing your keto lunch ideas. This easy Keto Alfredo Sauce adds a creamy texture and a punch of garlic to enhance your low carb lunches. Drizzle the buttery sauce over steamed vegetables, chicken or shirataki noodles for a cozy and convenient meal.
Try our Keto Alfredo Sauce recipe
19. Salmon with Dill Sauce
Salmon and dill are a match made in heaven. This easy Salmon with Dill Sauce pairs perfectly with low carb pasta, cauliflower rice, salad or vegetables for quick keto lunch ideas.

Try our Salmon with Dill Sauce recipe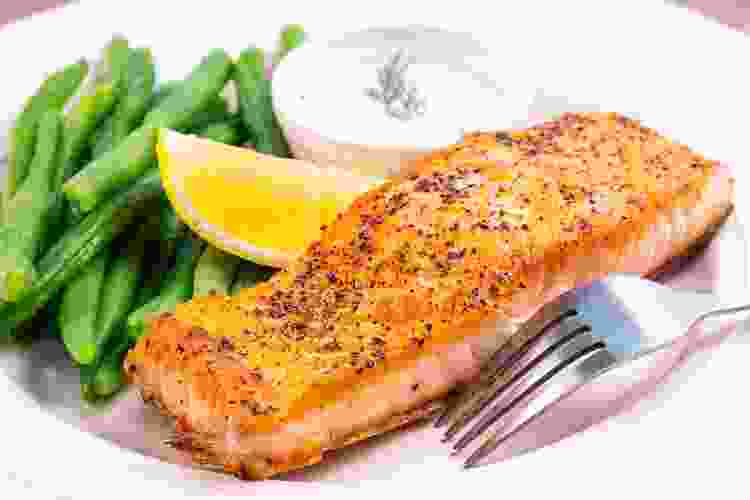 20. Everything Tuna Salad
This Everything Tuna Salad from Inside BruCrew Life gives avocado toast vibes without the extra carbs. The creamy, protein-packed salad comes together in a matter of minutes and is a perfect filling for stuffed avocados and low carb wraps or scooped over a bed of fresh spinach.
21. Keto Meatballs
Juicy Keto Meatballs by The Big Man's World are a hearty centerpiece for keto lunch ideas that come together in just a few minutes. These versatile meatballs store, freeze and reheat well for quick and convenient meal prep.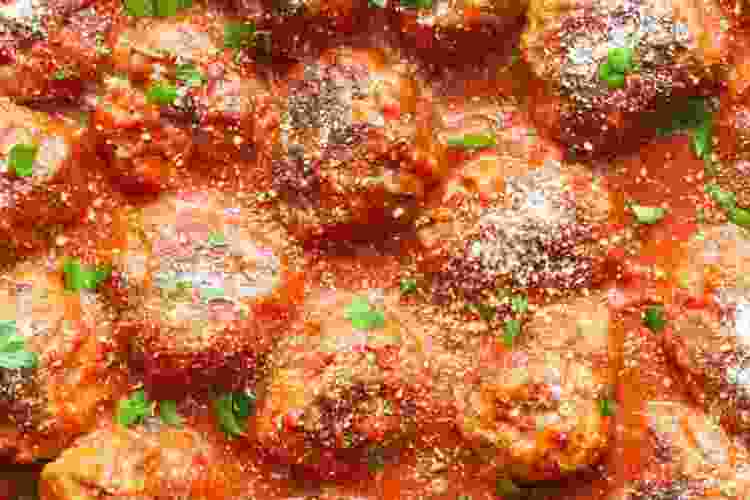 22. Keto Pizza
Hearing the words low carb and pizza in the same sentence might have you raising an eyebrow until you try this Keto Pizza from The Girl Who Ate Everything. Crispy, cheesy and satisfying, the base dough can be combined with your favorite ingredients to create endless varieties of quick, pizza-inspired keto lunch ideas.
23. Taco Skillet
Grab your favorite frying pan to make this savory Taco Skillet by The Girl Who Ate Everything. Topped with guacamole, sour cream and cheese, this hearty combination of seasoned meat, bell peppers and tomatoes is one of the quickest and easiest keto lunch ideas with practically no clean up.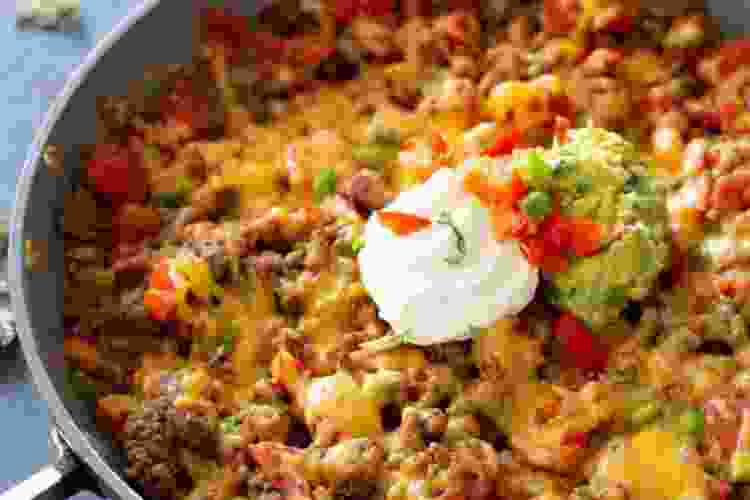 24. Keto Strawberry Smoothie
When you need keto lunch ideas on the go, grab a blender and whip up this refreshing Keto Strawberry Smoothie from The Big Man's World. The base recipe requires only three ingredients plus ice, but can be easily customized with your favorite add-ins for a quick, personalized meal.
Healthy Keto Lunch Ideas
25. Bok Choy Stir Fry
Crisp on the edges and tender in the center with aromas of garlic and ginger, this Bok Choy Stir Fry is a great addition to or centerpiece for healthy keto lunch ideas. Enjoy this dish with a side of cauliflower rice for a vegetable-packed vegan meal.

Try our Bok Choy Stir Fry recipe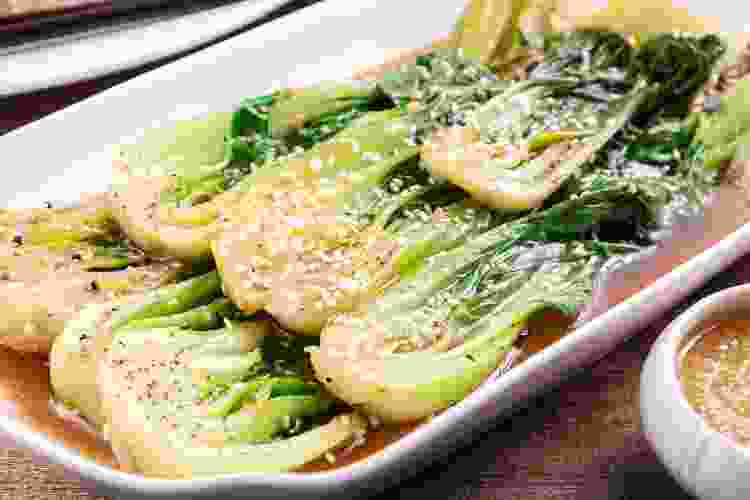 26. Lemon Kale Salad
A sturdy salad that won't weigh you down, this Lemon Kale Salad is finished with a bright citrus dressing, toasted pine nuts and a kick of spice. With a base of lacinato kale, this salad holds up well when made ahead and the spice level can be adjusted to suit your preference.
Try our Lemon Kale Salad recipe
27. Grilled Kale Salad with Chorizo
This Grilled Kale Salad with Chorizo from Every Last Bite puts a fun and fiery twist on the classic Caesar salad. Grilling the kale and adding chorizo give this hearty salad a unique smokiness that sets it apart from the average keto lunch ideas.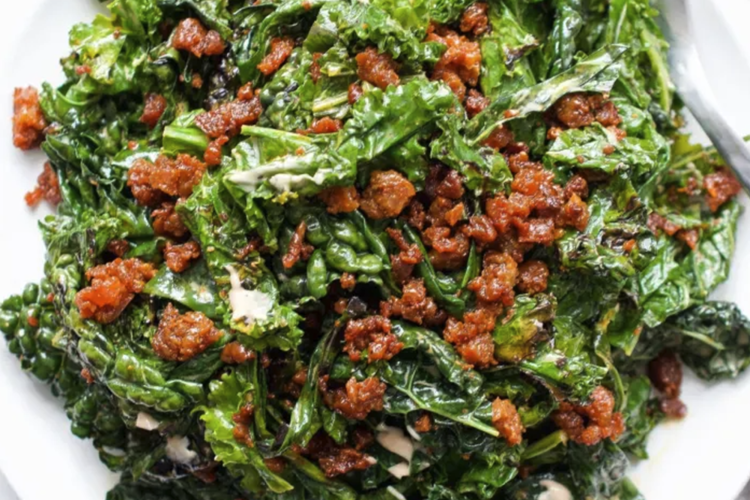 28. Zucchini Enchiladas
Mexican cuisine inspires some of the best keto lunch ideas, like these Zucchini Enchiladas from Well Plated by Erin. These healthy enchiladas swap tender slices of zucchini for the tortillas in a delicious, cheesy bake stuffed with seasoned chicken and vegetables then smothered in a zesty sauce.
29. Sesame-Shiitake Kelp Noodles with Homemade Peanut Dressing
Kelp noodles are a low carb ingredient that make an excellent alternative for pasta-based keto lunch ideas like these Sesame-Shiitake Kelp Noodles with Homemade Peanut Dressing by Glue and Glitter. Drawing inspiration from traditional Asian ingredients, this umami-rich dish delights with its contrasting textures, enticing aromas and layers of flavor.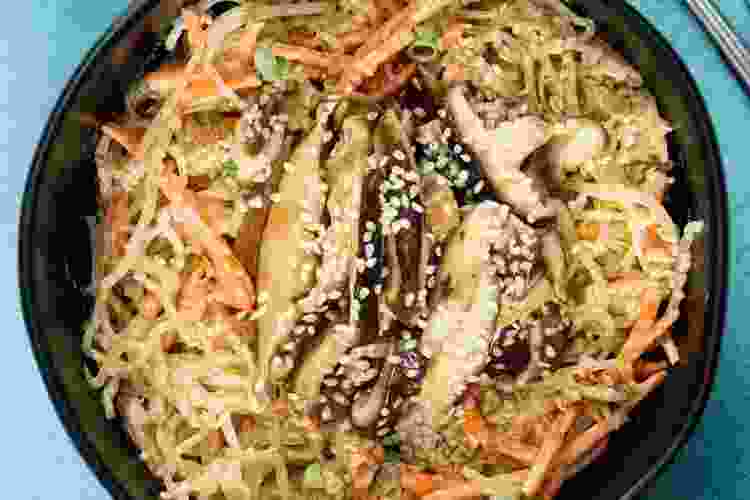 30. Sheet Pan Mediterranean Shrimp and Vegetables
The colorful Sheet Pan Mediterranean Shrimp and Vegetables by Iowa Girl Eats transforms seafood and fresh produce into quick and nutritious keto lunch ideas. Ready in just fifteen minutes, this healthy tray bake showcases the satisfying simplicity of Mediterranean cooking.
31. Thai Chicken Larb Gai
A classic Thai dish becomes the inspiration for fresh and flavorful keto lunch ideas with this Thai Chicken Larb Gai from Every Last Bite. This quick and easy lunch combines the signature spicy, sour and fresh flavors of Thai cuisine for a healthy and satisfying afternoon meal.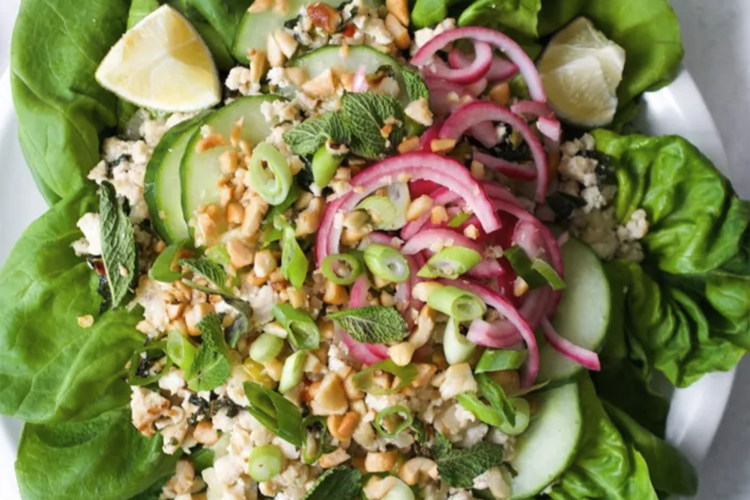 Keto Lunch Ideas for Work
32. Keto Stir Fry
Whether you work from home or bring your lunch to the office, Keto Stir Fry is a healthy, quick and easy-to-make-ahead option for keto lunch ideas. This version uses chicken in a garlic, soy and ginger sauce, but you could swap in tofu or another protein along with your favorite vegetables to create your own iteration of this nutritious meal.
33. Keto Beef Stew
This hearty Keto Beef Stew skips the potatoes for a cozy, low carb version of the classic dish. Loaded with tender beef, mushrooms and vegetables, this rich stew will make you the envy of the lunchroom, especially on a cold, winter day.

Try our Keto Beef Stew recipe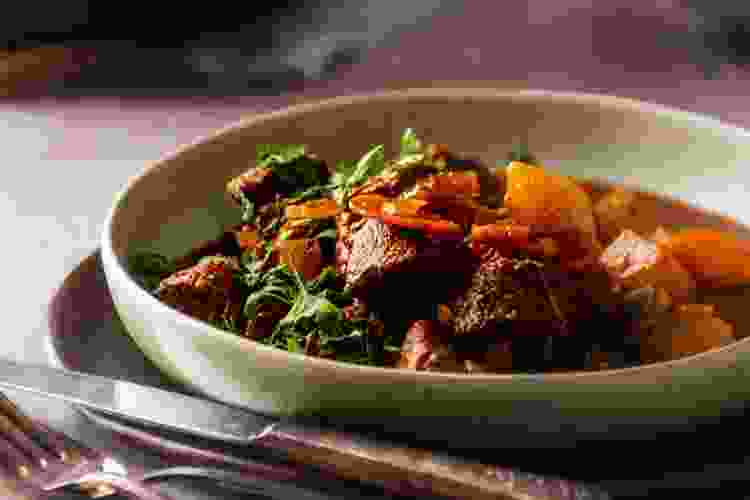 34. Low Carb Greek Chicken Bowl
Grain bowls have stepped into the spotlight and become a popular trend for healthy, aesthetically-pleasing work lunches. This Low Carb Greek Chicken Bowl by Iowa Girl Eats tops tender, seasoned cauliflower rice with juicy, grilled chicken, fresh Mediterranean vegetables and a dollop of tzatziki sauce for fresh keto lunch ideas that can be assembled in just a few minutes or easily prepared ahead of time for the week.
35. BLT Cauliflower Salad
A cross between the classic BLT and low carb potato salad, the BLT Cauliflower Salad from Every Last Bite elevates these common dishes to offer an innovative twist on keto lunch ideas. Drizzled with homemade ranch dressing, this hearty salad surprises and delights with familiar flavors in an exciting and creative mash-up.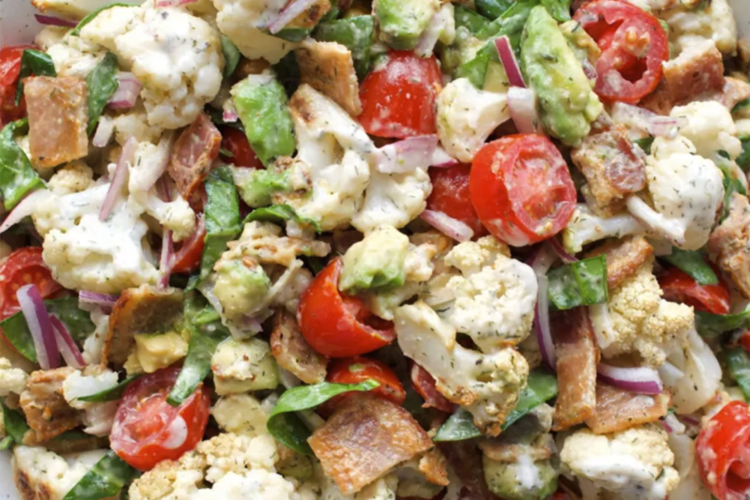 36. Sausage and Ricotta Egg Bake
With just six ingredients and a casserole dish, this Sausage and Ricotta Egg Bake by Joy Filled Eats comes together to create a light, yet filling keto lunch. Pair this dish with a fresh side salad for a well-rounded, low carb meal.
37. Antipasto Salad
Inspired by the traditional Italian platter, this Antipasto Salad from The Girl Who Ate Everything is a fresh and filling option for keto lunch ideas for work. Rich cured meats, briny olives, savory vegetables and soft cheeses present an array of textures and flavors to enjoy with each bite of this low carb lunch.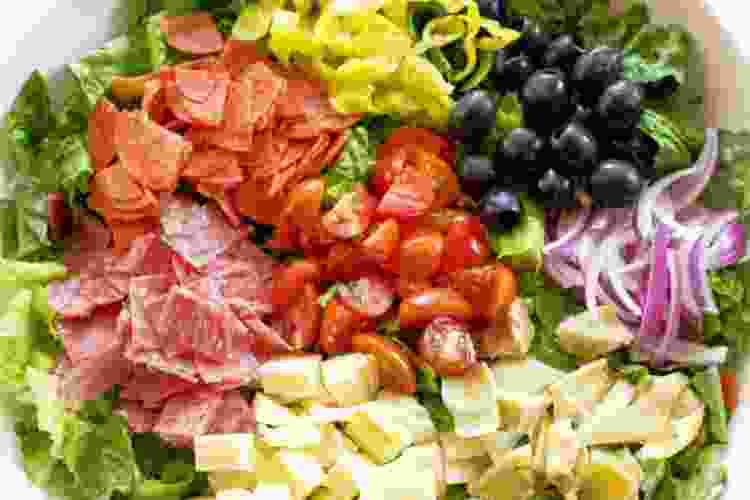 38. Dynamite Shrimp Sushi Bowl
Bringing together the signature flavors of your favorite sushi rolls, the Dynamite Shrimp Sushi Bowl from Every Last Bite features fresh, crunchy vegetables, succulent fried shrimp, tender cauliflower rice and a creamy, spicy sauce. This grain free bowl can be enjoyed hot or cold, so you won't have to wait in line for the microwave and waste precious minutes of your lunch break.
39. Keto Stuffed Peppers
Make-ahead keto lunch ideas like these Keto Stuffed Peppers by The Big Man's World are a great way to make the work week a little bit easier. This quick, healthy meal freezes well for convenient meal options and can be easily customized with different flavors and fillings.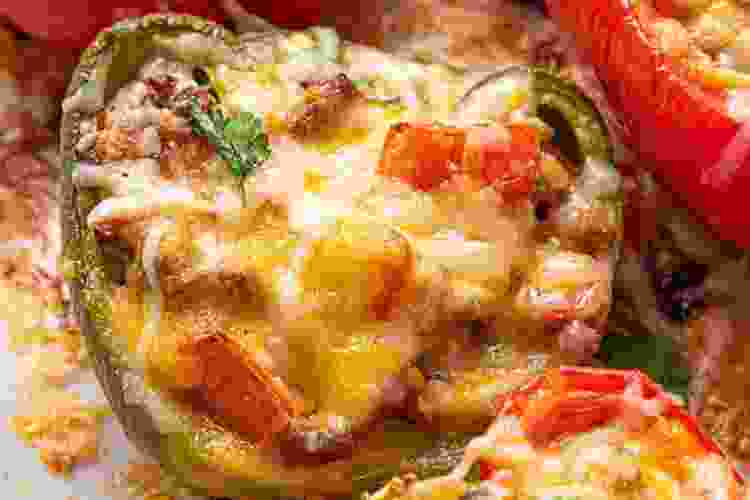 40. Keto Chicken Parmesan Casserole
Keto lunch ideas don't have to lack in flavor, texture or taste, and this Keto Chicken Parmesan Casserole from Joy Filled Eats proves that low carb meals can be just as comforting as their carbohydrate-laden counterparts. Paired with a fresh salad or vegetables, this hearty casserole will keep you satisfied throughout your workday.
41. Tandoori Chicken Burgers
Trade in your regular burger for these bold Tandoori Chicken Burgers from Every Last Bite. Wrapped in a lettuce bun with fresh tomatoes, onions, cucumber and a creamy yogurt sauce, these tandoori-spiced patties bring a bright burst of flavor to your typical lunch routine.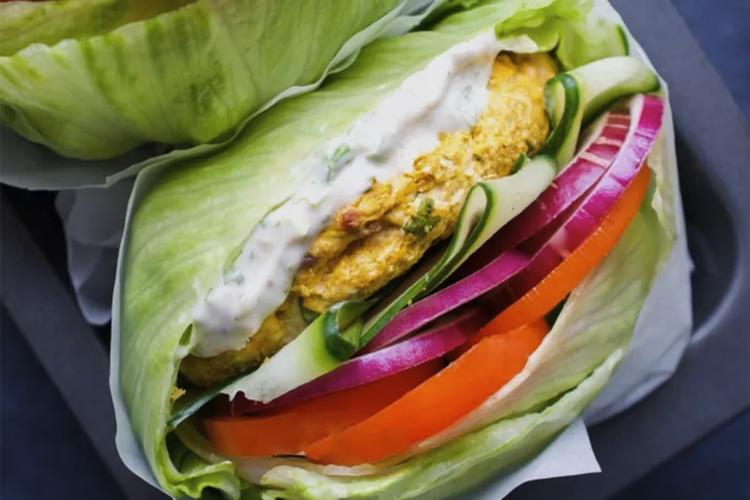 From make ahead casseroles to smoothies on the go, these keto lunch ideas highlight the wide variety of low carb options to inspire quick and creative midday meals. Whether you are searching for keto lunch ideas that won't blow your budget or fresh new meals to take to work, there are dozens of innovative keto recipes and clever, low carb updates of traditional dishes to explore.
For more keto lunch ideas and culinary inspiration, check out Cozymeal Recipes, and visit the Cozymeal Shop to find helpful cookware and accessories for your kitchen.