What Is an Executive Chef?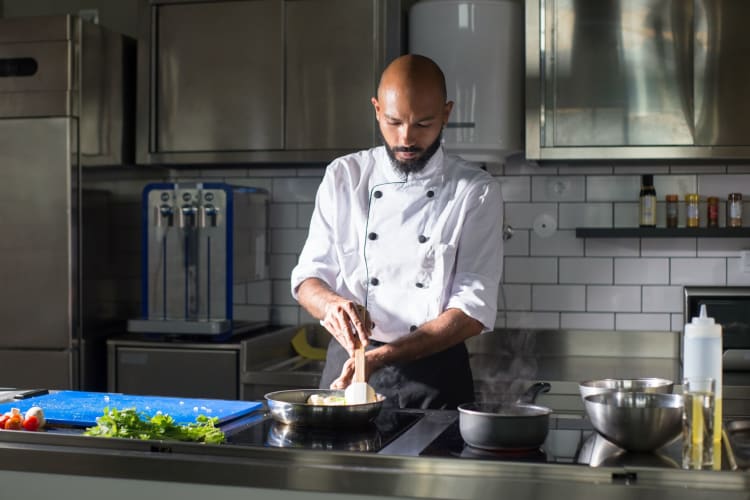 What is an executive chef? If you've ever wondered about this, you're in the right place! This guide will dive deep into this culinary profession and all of the roles and responsibilities that come with it. We'll discuss the job requirements of the role as well as the typical salaries to expect. So, whether you are thinking about making a career of being an executive chef or you're just curious about the profession and culinary jobs in general, read on to learn more.
Jump to Section
Book a Gourmet Cooking Class Now
Kick-start your culinary confidence with help from a world-class chef. See what's cooking in your city today.
What Is an Executive Chef?
Let's start with the basics. What does executive chef mean? Just as companies typically have a chief executive officer (CEO), an executive chef is at the top of the kitchen hierarchy, responsible for running and maintaining the functionality of a restaurant's kitchen.
What this looks like can vary depending on the environment. In a large kitchen or fine dining space, an executive chef might oversee a whole team of different types of chefs and kitchen staff, while in small restaurants or cafés, the executive chef handles much of the cooking his or herself. In larger kitchens, executive chefs might be a separate role from the head chef (or chef de cuisine), with the head chef dealing with the food on a daily basis and the executive chef playing a more administrative and creative role, designing the menu and dishes to suit their vision for the establishment.
Either way, in terms of exactly what an executive chef is, the answer is: The person that's ultimately responsible for the quality of your meal and your dining experience.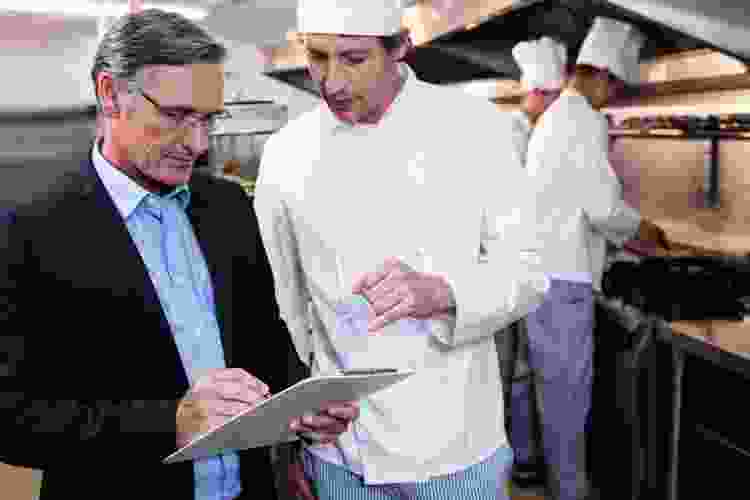 What Does an Executive Chef Do?
What does an executive chef do? The answer is: A little bit of everything. They need to be well-rounded and well-versed in every aspect of the kitchen's operation.
First, they are ultimately responsible for the entire kitchen staff. From hiring everyone from sous chefs to dishwashers and managing the interactions between these crucial players, executive chefs must be masterful managers. This means that they must also navigate and mediate any employee conflicts that may arise. They also must serve as an extension of human resources, and that means, unfortunately, they might be responsible for terminating employees as well.
What does an executive chef do in terms of food preparation? From start to finish, the meals served are under their control. Many times, the executive chef is responsible for ordering ingredients and estimating inventories needed. They also may develop new dishes or overhaul entire chef-driven menus by seasonal or area trends. Executive chefs are also responsible for training staff on proper food preparation. They oversee the handling and cooking of each meal's component, from inspecting ingredients to artfully plating dishes.
Being an executive chef also means that the kitchen is both their domain and responsibility. These leaders must ensure that equipment is working properly and make any needed maintenance requests. They must also make sure that the area meets all safety and sanitation standards. When it comes to what an executive chef's role is in the kitchen, it's to make sure it's a safe and productive work environment for everyone working there.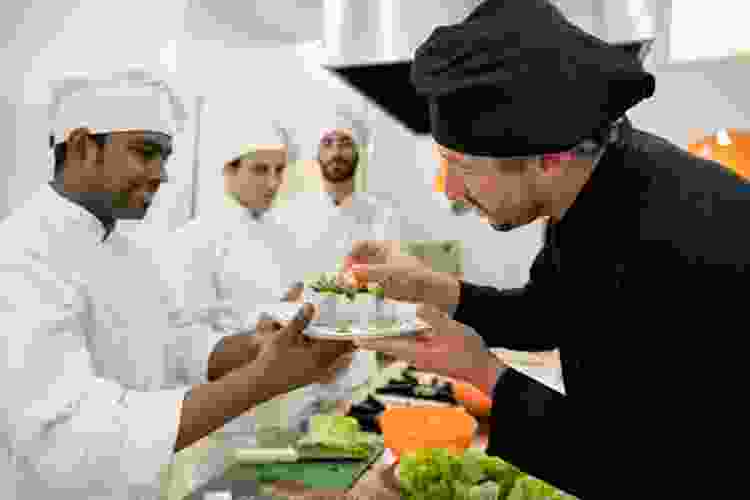 Book an Online Cooking Class Today
Five-star chefs. Step-by-step coaching. Flexible menus. Come see what's cooking in a live online cooking class.
What Is an Executive Chef's Career Trajectory?
The career trajectory of many executive chefs has them working their way through every type of chef role in the kitchen hierarchy, from various chef de partie positions all the way up to sous chef. They generally spend about four years as a sous chef, where they gain an incredible amount of knowledge and experience working closely with an executive chef before achieving the dream of having their own kitchen.
Culinary school can provide a firm foundation for this role. However, real experience in kitchens and diverse experience in the culinary world is the best way to excel in this career path.
If your goal is to become an executive chef, there are many great places to start. High school and college students can look for classes at their schools or technical learning centers in their districts to learn to cook. This can provide a solid foundation to move on to culinary school. When attending a culinary education institute, students gain skills and techniques from some of the industry's most seasoned experts. They not only learn to cook like a chef but also take classes in subjects like finance and business communications to support an executive chef's all-encompassing role.
Maybe you're an adult looking for a career change and thinking, "What is an executive chef, and is it the right job for me?" If this sounds like you, check out some cooking classes. This will allow you to work with a trained chef and gain hands-on experience in the kitchen. With classes, you'll get a good idea if culinary pursuits are your true passion.
If you're on the West Coast, there are cooking classes in San Francisco to help you learn more about the culinary arts. There are even cooking classes in Vancouver for budding Canadian chefs. Wherever you are located, look for cooking classes near you to dip your toes in the world of cooking. There are also online cooking classes so you can test the waters from your very own home.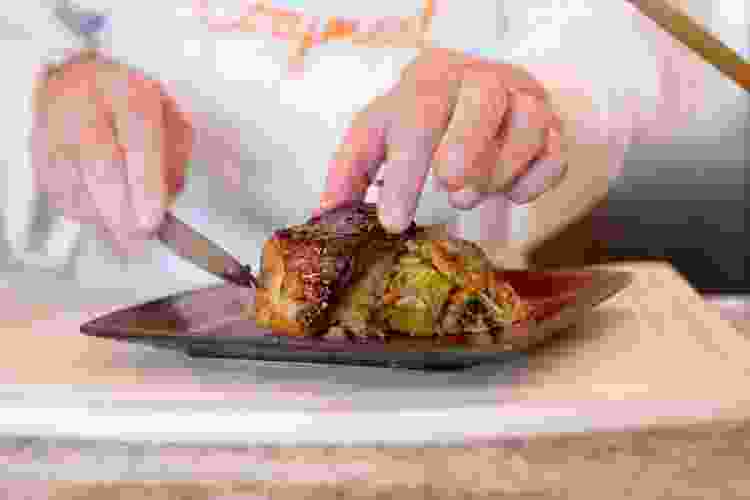 What Are an Executive Chef's Job Requirements?
So what are an executive chef's job requirements? When it comes to the role, the desired skills are multi-faceted. Because the responsibilities of an executive chef are so diverse, the requirements for the role are as well. The first (and hopefully most obvious!) skills an executive chef requires are a deep understanding and appreciation of food, flavors and cooking techniques and the ability to create menus and dishes that showcase this knowledge.
Gourmet Cooking Classes Near You
Take your culinary skills to new levels with guidance from five-star chefs.
Beyond the realm of cuisine, certain soft skills are also crucial to success as an executive chef. For one, executive chefs must have top-notch problem-solving skills. They must be able to handle whatever situation arises with minimal interruption to the diners' experience. This could be everything from a ruined dish or a late supply delivery to an employee conflict. Either way, executive chefs must think fast on their feet to nip problems in the bud.
Management and delegation are also important skills. In order to keep the kitchen running smoothly, all of the employees must adequately complete their roles. It's the executive chef's responsibility to both assign and oversee these roles.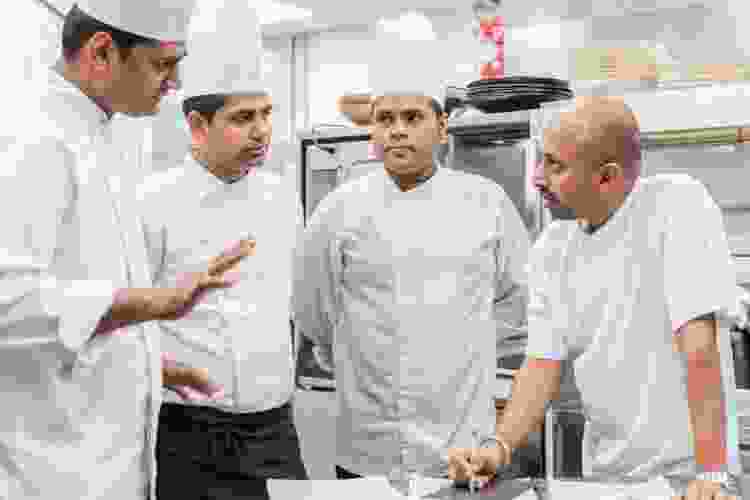 Communication and business skills are also required, and basic computer skills are needed for inventory ordering, budgeting and communication with vendors. There is also likely restaurant and employee management software that will need to be utilized. And when a high-profile diner asks to give praise to the kitchen staff, the executive chef will be tasked with greeting this patron and ensuring their satisfaction.
What are an executive chef's educational requirements? Well, that depends on the employer. Many prefer that their chefs have a bachelor's degree in Culinary Arts or a similar field. However, some establishments will hire a chef with a high school diploma if they're the right fit.
A lot of times in the service industry, experience is key. Gaining as much experience as you can in all aspects of kitchen operation can go a long way in showing that you're qualified. This could mean that working for years as a sous chef or a senior chef can help prepare you for the role. Showing that you're passionate about both growing your career and being in the culinary field is a big plus as well. Stay up to date on current culinary trends, gain additional licenses and attend training and trade shows to show you have a true commitment to continued learning.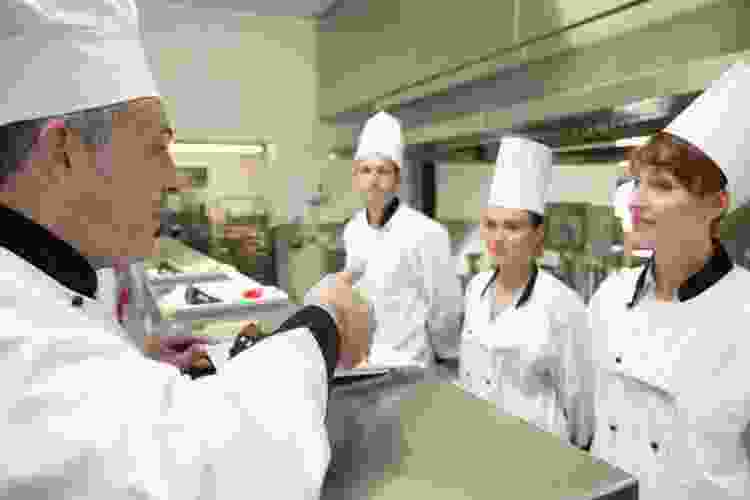 What Is an Executive Chef's Salary?
What is an executive chef's average salary? That depends largely on the establishment, their skills and their experience in the industry. However, as their role is vital, restaurants are often willing to extend impressive salaries to highly sought-after candidates.
According to Salary.com, the average salary of an executive chef in the United States is $87,022. While executive chefs can make anywhere from salaries of under $60,000 to well over $100,000 a year, the majority make between $75,006 and $100,417. Typical pay can also vary widely based on geographical region and cost of living as well.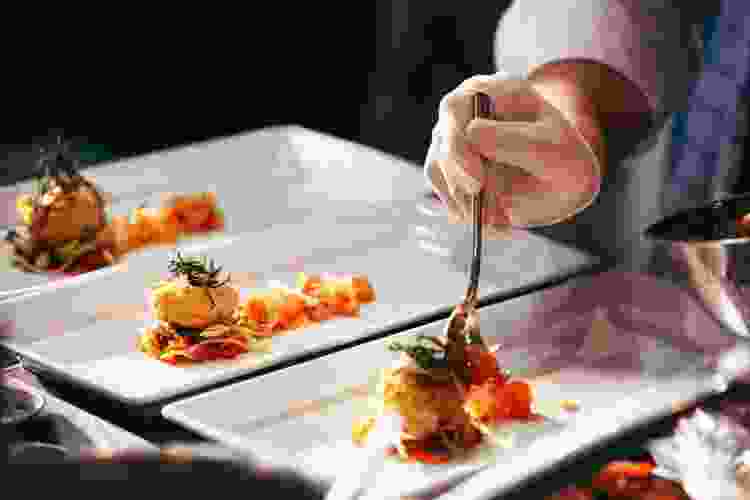 Join 200,000+ Culinary Enthusiasts
Exclusive deals, recipes, cookbooks, and our best tips for home cooks — free and straight to your inbox. PLUS: 500 Rewards Points.
When it comes to the world of dining, executive chefs are the ultimate masterminds. From developing menus and ordering ingredients to making sure each dish is prepared just right, they're responsible for the meal on your plate. So, next time you're out enjoying a delectable meal, know that, although the entire kitchen worked to bring you that meal, you ultimately have the executive chef to thank.
For even more culinary inspiration, check out other experiences happening on Cozymeal.