How Much Do Chefs Make?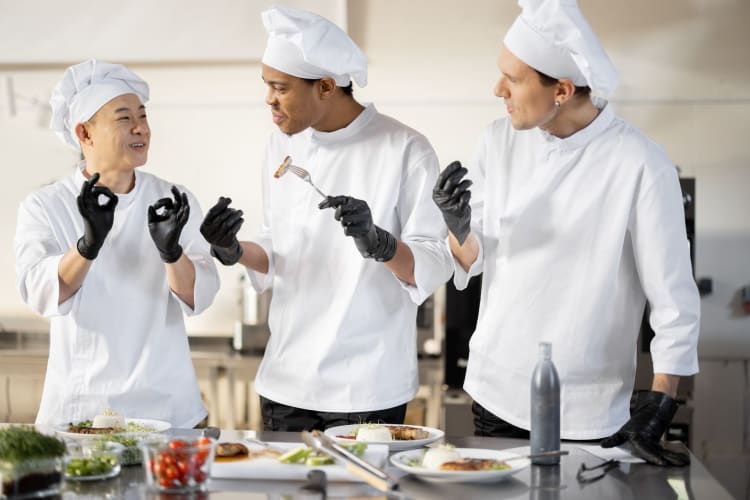 Chefs toil over hot stoves for us, slicing and dicing and braising their way to food that makes us come back for more, but how much do chefs make in return for delighting us with their culinary talents?
Many chefs enter the culinary industry not so much for the money but because of their love of food and wanting to share their creations with people. Still, it's a fascinating question. Where do chefs land in the salary range?
The truth is, how much chefs make depends on a number of factors. From celebrity chefs in big cities to the chef running the kitchen at your favorite local spot, there are different chefs working in a variety of restaurants.
So just how much do chefs make a year? Whether you took a cooking class near you and are now interested in becoming a chef or you're simply curious as to the salary range of this fulfilling occupation, this guide on how much chefs make will answer all your questions.
Jump to Section
Gourmet Cooking Classes Near You
Take your culinary skills to new levels with guidance from five-star chefs.
How Much Do Chefs Make?
There are many factors that can affect a chef's salary. Because of that, there isn't a single, solid answer to how much chefs make. There are different types and levels of chefs, and as with many occupations, a higher rank in the kitchen often means a higher salary.
Geographic location can also affect how much a chef makes. Similarly, the type of restaurant can also play a role in a chef's salary, with those in higher-end restaurants often earning a higher wage. The size of the venue and the daily responsibilities of the chef may also be factors in how much they make. A chef's background, including education and prior experience, may also impact their salary.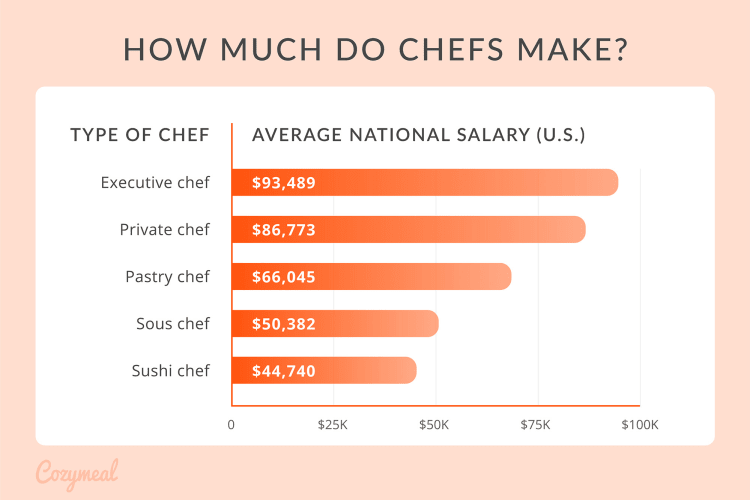 So, how much do chefs make a year? The most basic answer offers a range from $30,000 to $100,000. How much do chefs make an hour? Those figures equal about $14.42 to $48.08 an hour, respectively.
Since you're probably looking for a more detailed answer than that, let's break it down:
Type of Chef
Chef is an overarching term, and restaurants often have different types of chefs. Chef roles are hierarchical, meaning there are higher and lower levels. The chef hierarchy, in descending order, is generally as follows:
chef de cuisine or head/executive chef

sous chef

chef de partie or station chef
The higher in the hierarchy the chef is, the more money they will typically make. Rising in the hierarchy often comes with experience and education, which can also factor into salary.
There are also specialty chefs who may or may not work in a restaurant kitchen, such as a sushi chef, pastry chef or private chef. In a professional kitchen, a pastry chef may be lower in the hierarchy, but if they run their own bakery, they may be paid more. Similarly, private chefs may be able to set their own prices and earn a higher salary than they would in a kitchen.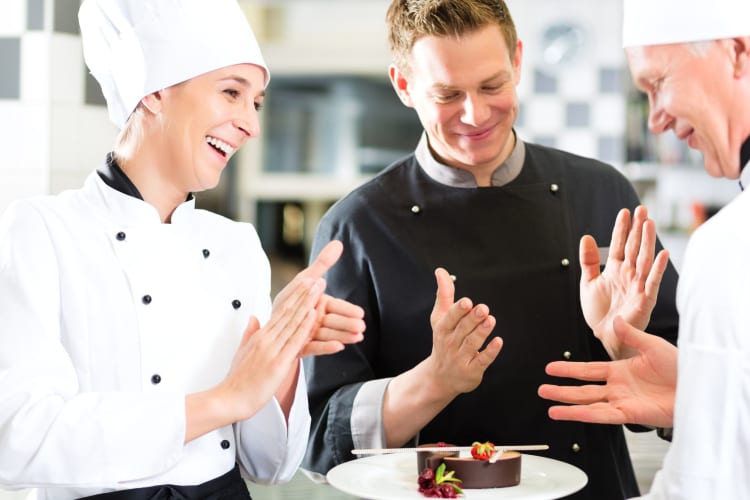 Location
Where the chef is located can also affect their salary. Chefs in larger, cosmopolitan cities such as New York and Los Angeles may make more than those in small towns because of the higher cost of living. According to Indeed, chefs in Los Angeles make, on average, between $44,549 and $100,147, with an average base salary of $66,794, which is 25% above the national average. Nearby cities Santa Monica and San Francisco have an average base salary of $90,238 (69% above national average) and $88,143 (65% above national average), respectively.
Join a Live Online Cooking Class Today
Your kitchen is now your own culinary classroom. Connect with chefs from around the world right from the comfort of home.
Compare that to smaller cities like Columbia, Missouri, which has an average base salary of $54,869, which is about par with the national average. In Idaho Falls, Idaho, the average base salary is $34,165 for chefs, about 36% below the national average.
A city's culinary scene can also play a role. Cities with bustling, unique or very active culinary scenes may mean a higher salary for chefs.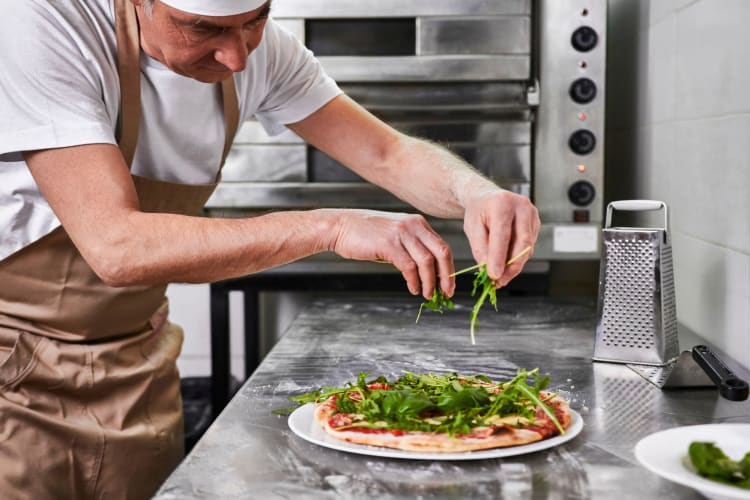 Place of Work
What type of place a chef works at can also affect their salary. Restaurants are not the only places chefs work. They can also work at hotels, resorts and casinos. They may work for an event or catering company. They may teach at chef academies. There are also private chefs that may work in people's homes.
And just as salaries vary among restaurants, they can also vary among these other types of workplaces. In general terms, luxury and fine dining locations will pay more — think of a fancy restaurant for date night or an upscale resort or hotel. Private chefs who cook for families, individuals or even celebrities can also earn a high salary.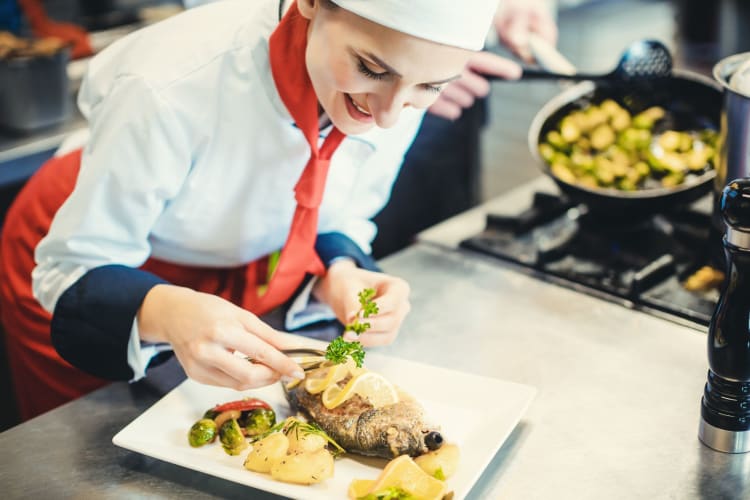 Education
Education and experience also factor into a chef's salary. Most chefs have a high school diploma or the equivalent. After this, they may decide to go to a culinary school, which provides formal training and can offer chef apprenticeships that can help further their career.
Here, they also have the opportunity to earn certificates in a certain culinary expertise. These can lead to experience and opportunities to work with renowned chefs, which can improve the chances of a higher salary.
Other new chefs opt instead to take a cooking job to gain experience and knowledge rather than attending culinary school. However, this doesn't mean the chef is destined to earn a lower salary their entire career. While they may not have the formal training or easier access to opportunities, they still have the chance to prove themselves and work their way up the hierarchy in the kitchen or move on to more luxurious places. In general, though, a formal education and more experience can lead to a higher-than-average salary.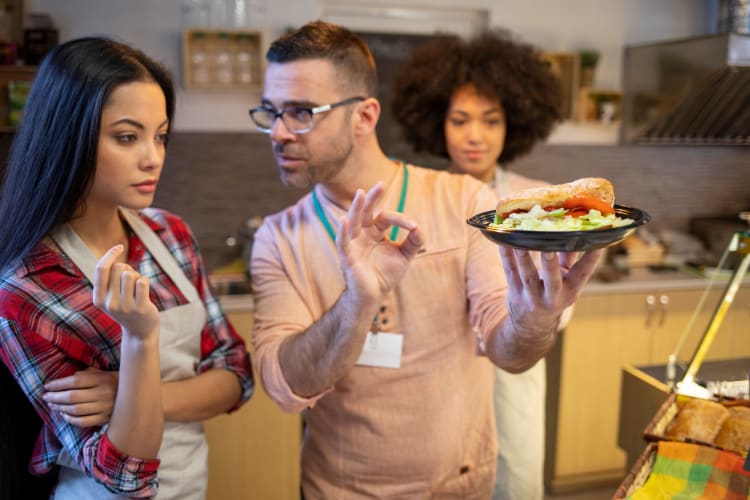 How Much Do Executive Chefs Make?
An executive chef runs the kitchen and is the highest level of chef in most commercial establishments. So, how much do executive chefs make? In the United States, the salary of an executive chef ranges from $80,478 to $107,985, with an average salary of $93,489. The 90th percentile can make $121,184 or more, while the lowest 10th percentile can make $68,632 or less.
Book a Gourmet Cooking Class Now
Kick-start your culinary confidence with help from a world-class chef. See what's cooking in your city today.
How Much Do Sous Chefs Make?
In a commercial kitchen, a sous chef is the second in command, working directly under the executive chef. Sous chef salaries, on average, range from $43,448 to $59,302, with a median salary of $50,382. The lowest 10th percentile earns $37,135, and the 90th percentile makes, on average, $67,423.
How Much Do Pastry Chefs Make?
Pastry chefs specialize in making desserts and pastries. How much do pastry chefs make for their sweet creations? Pastry chefs can make, on average, between $56,906 and $75,237. The median salary typically falls at $66,045. The 10th percentile can make as much as $48,586, while the 90th percentile can make as much as $83,607.
How Much Do Sushi Chefs Make?
Sushi chefs specialize in creating sushi rolls in Japanese restaurants. How much do sushi chefs make? The median salary is $44,740 and typically ranges from $36,615 to $51,977. However, the lowest 10th percentile can make $29,218, while the highest 90th percentile can make $58,565.
How Much Do Private Chefs Make?
Private chefs often work for a family or individual, creating meals or snacks, often in the home of their clients. How much do private chefs make for the customized meals they create? The typical range for a private chef is $74,869 to $100,459, with a median salary of $86,973. The lowest 10th percentile can make $63,849, while the highest 90th percentile makes as much as $112,737.
How Much Do Michelin-Star Chefs Make?
Michelin stars are awarded as a way to recognize culinary excellence and exceptionally high standards. They're hard to get and highly coveted.
Michelin stars are technically awarded to the restaurant and not the chef. While chefs themselves do not receive a Michelin star, working at a Michelin-starred restaurant — or even having worked at one before — can factor into a chef's salary.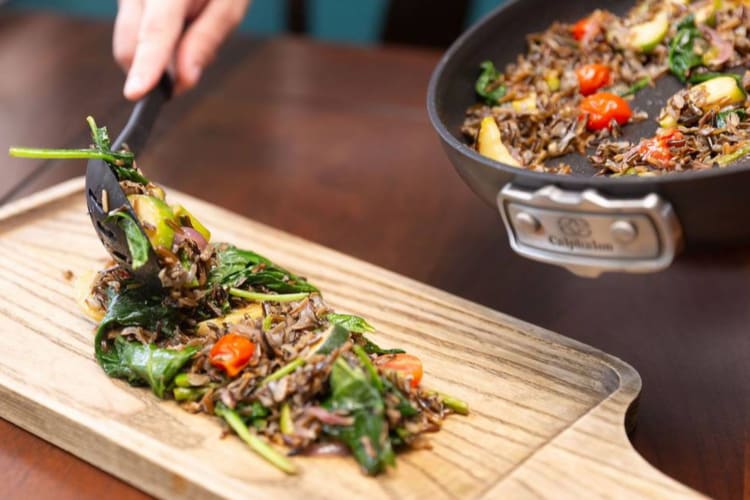 Executive Chefs
Executive chef salaries in Michelin-starred restaurants can range from about $62,000 to $100,000 a year. The location of the restaurant can be a factor in the salary. In London, Michelin-star executive chefs typically make about £50,000, which equals about $62,443.50. In Paris, the salary, on average, is around $75,154.45. Executive chefs in Japanese Michelin-starred restaurants can make about $92,000 a year, and those in NYC can earn as much as $100,000.
Sous Chefs
Sous chefs in Michelin-starred restaurants can range from about $50,000 to $80,000. Those in London may earn about £40,000, which is equal to just under $50,000. However, sous chefs in Michelin-starred restaurants in New York City may earn between $70,000 and $80,000.
Pastry Chefs
Similar to other kinds of chefs, pastry chefs in Michelin-starred restaurants often earn more than those in non-Michelin-starred restaurants. The top-earning pastry chefs can earn up to $91,000 per year.

Join 200,000+ Culinary Enthusiasts
Exclusive deals, recipes, cookbooks, and our best tips for home cooks — free and straight to your inbox. PLUS: 500 Rewards Points.
Now that you know how much chefs make, does it change the way your favorite restaurant meals taste? Probably not! Maybe you've considered learning to cook like a chef and starting your culinary career. If so, you've probably wondered how much chefs make in an hour or a year. The truth is, the answer is as varied as the positions available.
For even more ways to explore becoming a chef, check out careers on Cozymeal.