Different Types of Chefs: Complete Kitchen Hierarchy
Behind every great restaurant lies a team of different types of chefs working together to create your incredible meal. From one chef designing every recipe on the menu to another chef testing the sauces, each chef has their own responsibilities in the kitchen to ensure a successful experience for each guest. While the chefs all work together, the hierarchy in the kitchen helps to ensure organization and high-quality meals.
If you'd like to learn to cook like a chef, joining exciting cooking classes near you is one of the best ways to get started. Whether you're looking for cooking classes in Napa or cooking classes in Mississauga, there are a variety of hands-on classes that allow you to learn from professional chefs. You can even level up your cooking skills with online cooking classes.
By understanding the different types of chefs in the kitchen and improving your cooking skills, you'll have a better understanding of how to have a successful career as a chef or simply how to better savor chef-prepared meals.
Jump to Section
Book a Gourmet Cooking Class Now
Kick-start your culinary confidence with help from a world-class chef. See what's cooking in your city today.
Executive Chef
The executive chef resides at the top of the hierarchy in a professional kitchen. As one of the most well-known types of chefs, this role is also known as the head chef and can even be the owner of the restaurant.
The executive chef's primary responsibility is managing the kitchen. From planning the menu to creating the recipes from scratch, this type of chef has the most responsibility in the restaurant.
Executive chefs should ideally have a bachelor's degree in Culinary Arts or Hospitality, and they also learn to cook with plenty of restaurant or catering experience to improve their craft. According to Indeed, this type of chef can make over $65,000 per year.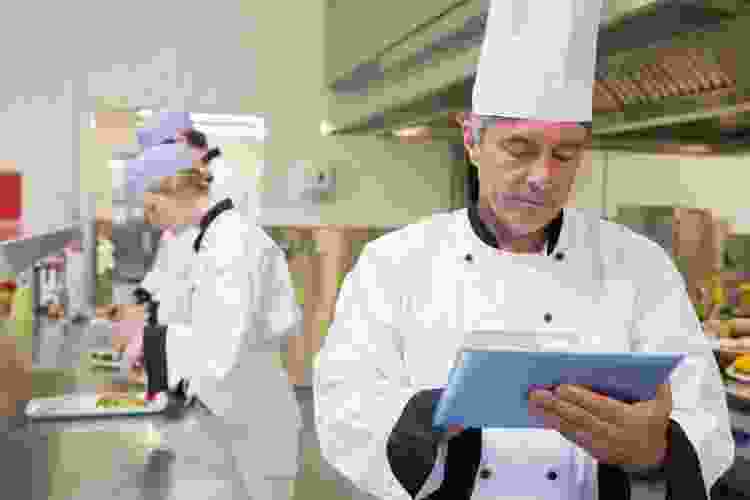 Sous Chef
A different kind of chef you might already be aware of is the sous chef. What is a sous chef? This type of chef is the executive chef's right hand. They're tasked with managing the team of chefs and keeping the kitchen on time. They are sometimes more involved in decision-making, as they ensure the chefs are working collaboratively and fulfilling their responsibilities.
In addition to having a culinary education, a sous chef should have great leadership and team management skills. They are often tasked with training the new chefs and helping oversee the executive chef's vision for the restaurant. Salary.com mentions that the median salary for this type of chef is just under $50,000 per year.
Chef de Partie
The next important role in the kitchen is the chef de partie. This type of chef is in charge of station management and specializes in a particular dish on the menu. They often start as a line cook before being promoted to a chef de partie.
This type of chef will sometimes partner with the executive chef to create menus and also helps to prep important ingredients for the meal. A chef de partie reports to both the executive chef and sous chef for a successful day in the restaurant. A career as this type of chef requires graduation from a culinary school and extensive experience working in a kitchen. According to Zippia, these types of chefs average just under $40,000 per year.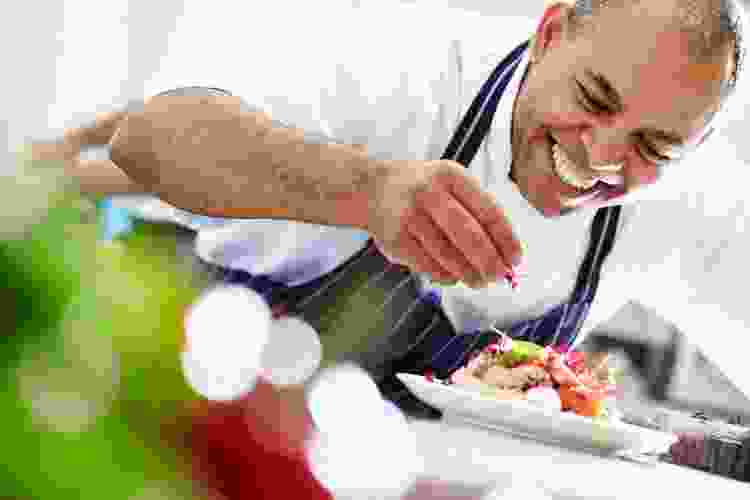 Book an Online Cooking Class Today
Five-star chefs. Step-by-step coaching. Flexible menus. Come see what's cooking in a live online cooking class.
Pastry Chef
The following different types of chefs are equally important in the kitchen, including the pastry chef. This type of chef creates beautiful pastries and desserts in the restaurant. Depending on the size of the restaurant, there can sometimes be one person or a whole team of pastry chefs.
These types of chefs might partner with the executive chef to create the dessert menu, or they might be delegated to take on the task on their own. The most successful pastry chefs specialize in a particular dessert, from baking breads to crafting candies. In addition to attending culinary school, these types of chefs can start in the kitchen as a cook or baker before being promoted to pastry chef.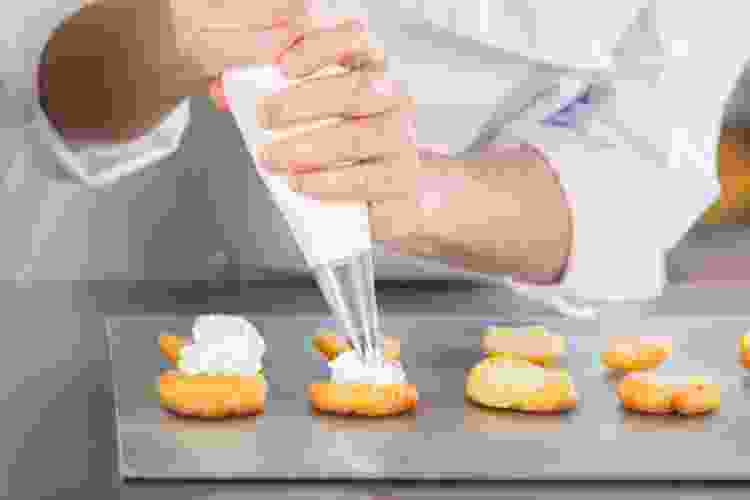 Saucier
Another different type of chef in a kitchen is the saucier. This type of chef is responsible for ensuring quality sauces, soups and stews in a restaurant. They are most often hired in fine-dining French establishments.
The saucier chef may also partner with different kinds of chefs to develop flavors that complement other dishes on the menu. Like other types of chefs, the saucier reports to the executive chef and sous chef. To start a career as a saucier chef, a combination of culinary school and kitchen experience guarantees a qualified role in the kitchen.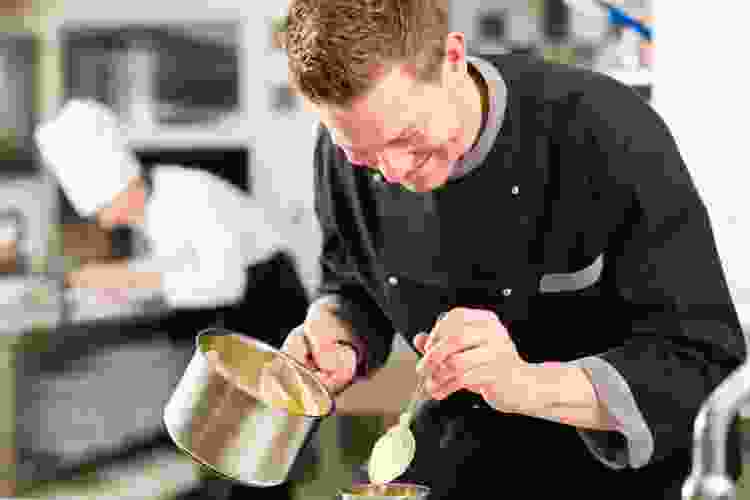 Fish Chef
One type of chef that might also exist in the kitchen is the fish chef. This chef is responsible for sourcing, preparing and cooking sustainable seafood for the menu. From creating sushi to baking tender halibut, fish chefs ensure quality flavor and complementary sides for every dish. They might also form relationships with local vendors for the best-caught fish in the restaurant.
Most fish chefs receive a culinary education and restaurant experience to earn this position. They also report to the executive chef and sous chef while working closely with different types of chefs in the kitchen.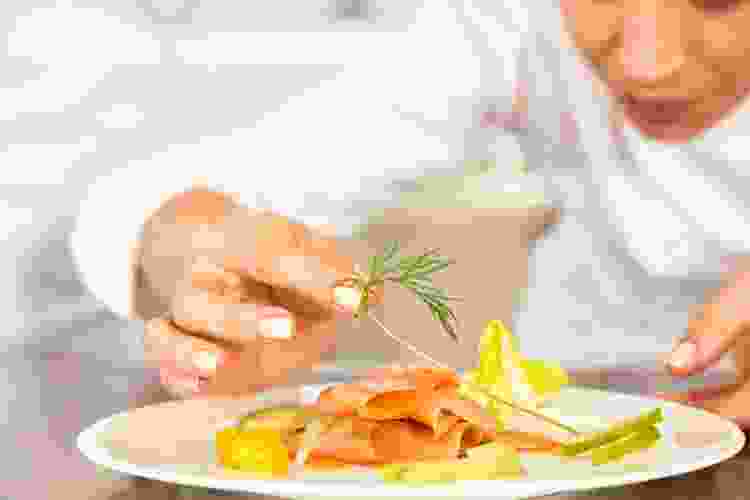 Vegetable Chef
An important role in every professional kitchen is the vegetable chef. This type of chef is in charge of preparing and cooking all vegetables and starches for every meal. From tossing salads with zesty dressings to chopping vegetables for a side dish, they ensure that every vegetable complements the flavors of each dish. They might also create vegetable soups, toppings or stand-alone vegetable dishes for a quality meal.
Most vegetable chefs attend culinary school, especially if they would like to pursue specializing in vegetarian and vegan cuisine. Other vegetable chefs describe experience in a professional kitchen as being pivotal to their education.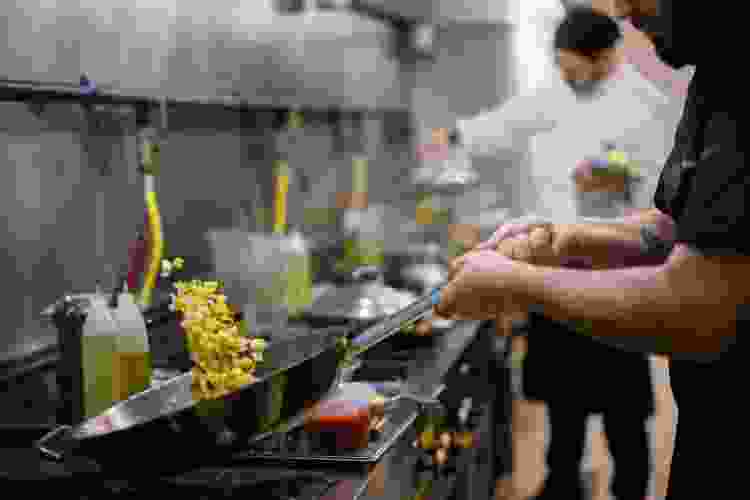 Gourmet Cooking Classes Near You
Take your culinary skills to new levels with guidance from five-star chefs.
Meat Chef
The meat chef, also called a rotisseur or roast chef, is another type of chef in a restaurant kitchen. These chefs roast, braise or broil different types of meat to bring about the executive chef's vision. Meat chefs sometimes also source meat from local suppliers or retailers to supply the kitchen.
These chefs might pursue a degree in Culinary Arts, or opt for elevating their skills in professional kitchens. They report to the executive chef and sous chef to make sure the meat is up to the restaurant's standards.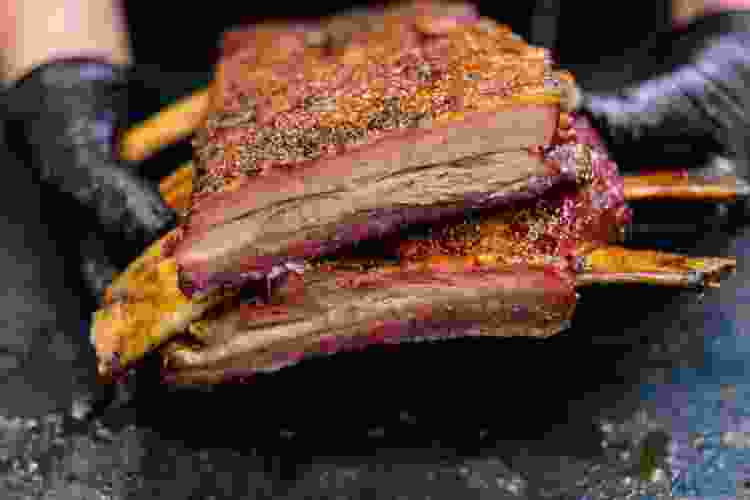 Pantry Chef
The pantry chef is responsible for stocking and preparing cold dishes. They ensure that each ingredient is kept fresh and retains quality for the restaurant's customers. These types of chefs might also decorate culinary centerpieces or displays for the buffet table.
There is typically one pantry chef per kitchen, but larger establishments might have two chefs in this role. They work with different kinds of chefs to incorporate cold dishes but mostly report to the executive and sous chefs.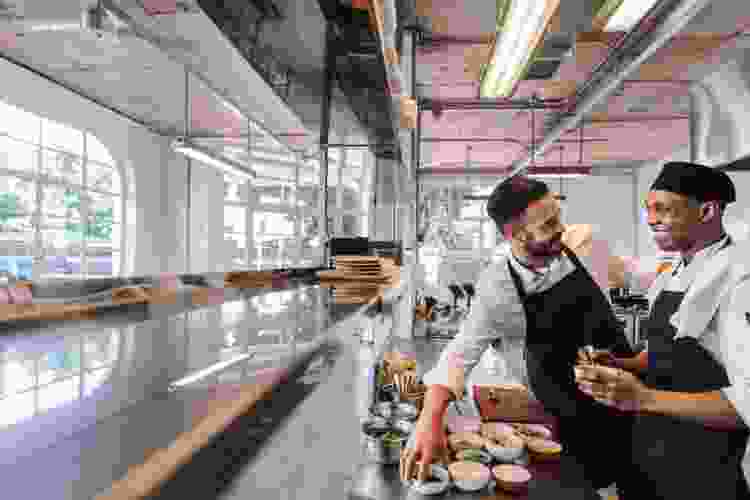 Fry Chef
The fry chef is primarily responsible for operating the fryer in the kitchen. They might bread or batter ingredients before frying them for fried dishes on the menu. These types of chefs also deep clean the fryer to maintain a clean and efficient station.
A fry chef might also attend culinary school, but most gain extensive experience working with a fryer in a restaurant. Along with reporting to the executive and sous chef, they might also collaborate with the vegetable chef or butcher chef to prepare fried foods from the menu.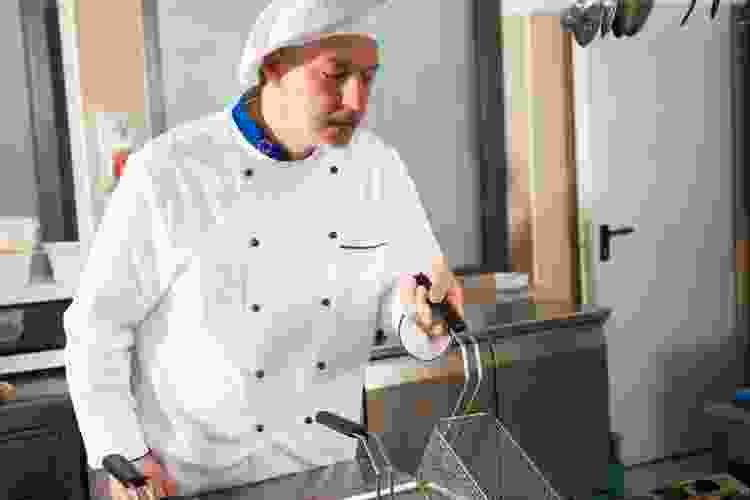 Grill Chef
Another common type of chef in a professional kitchen is the grill chef. This role grills meat, seafood and vegetables for certain dishes on the menu. There is usually one grill chef in a restaurant but sometimes two if the restaurant is a larger establishment.
In addition to reporting to the executive and sous chefs, the grill chef commonly works alongside the vegetable chef and the butcher chef to consult and prepare meals for the restaurant.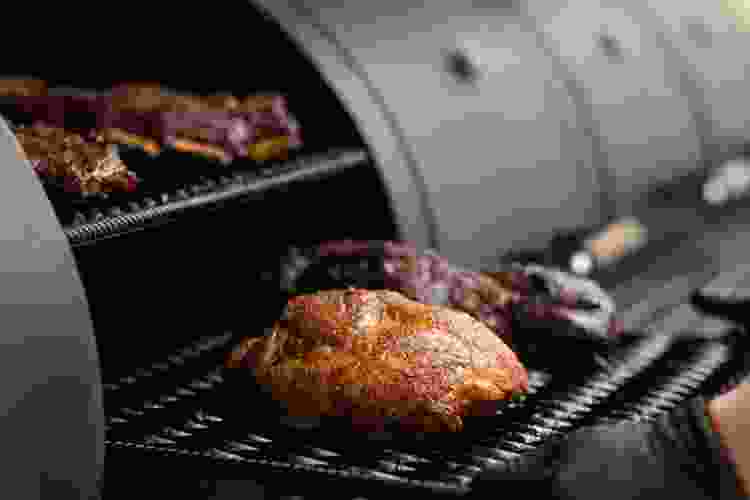 Butcher Chef
The butcher chef is another type of chef that exists in professional kitchens. These chefs are most common in larger restaurants to help plan and prepare different types of meats. They are responsible for sourcing meat for the kitchen, either from local meat suppliers or retailers.
A butcher chef's primary purpose is to prepare the meat for each station, usually for the grill chef and meat chef. They source and slice the right type of meat and monitor the kitchen's meat inventory. Not all kitchens have a butcher chef, but they are a great resource for the executive and sous chef in each kitchen.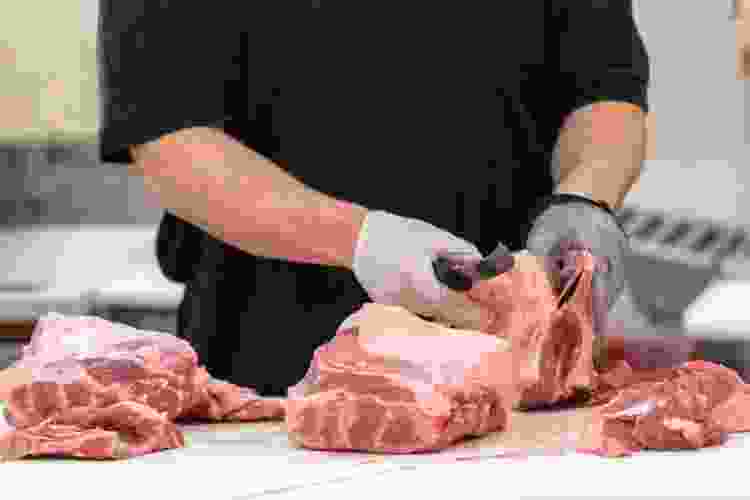 Join 200,000+ Culinary Enthusiasts
Exclusive deals, recipes, cookbooks, and our best tips for home cooks — free and straight to your inbox. PLUS: 500 Rewards Points.
From preparing vegetables as the vegetable chef to designing the menu as the executive chef, there are many types of chefs that play an important role in a professional kitchen. Although some chefs credit culinary school to their success, most types of chefs agree that experience in a working kitchen has been vital to their career. While each chef has their own station and responsibilities, they all must work together to ensure organization in the kitchen and a delicious meal for their guests.
For even more culinary inspiration, check out other experiences happening on Cozymeal.