How to Become a Spanish and Italian Chef: An Interview With Chef James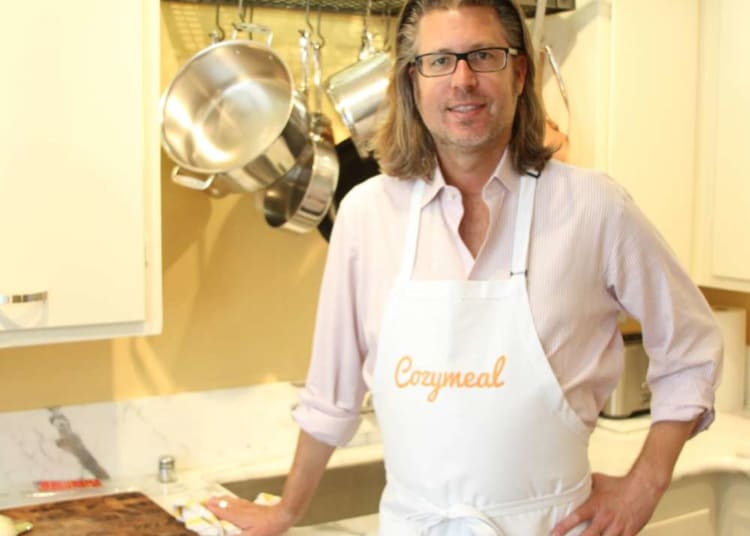 Drawing on his time cooking in Spain and Italy, Chef James offers a wide assortment of hands-on cooking classes, teaching everything from paella to pasta to pizza. He started as an underground chef by hosting dinner parties with friends and then transitioned to working as a full time chef after his guests raved about his food and his home.
Below, see our interview with Chef James as he shares insight into his culinary background and journey to become a Spanish and Italian chef.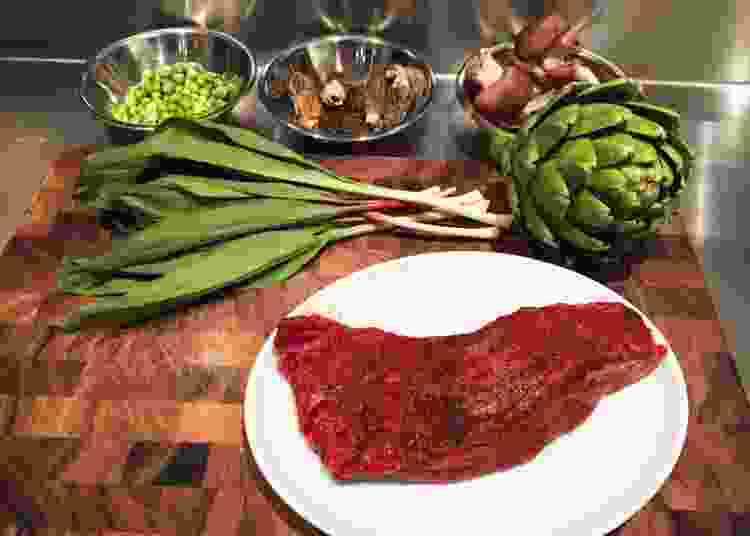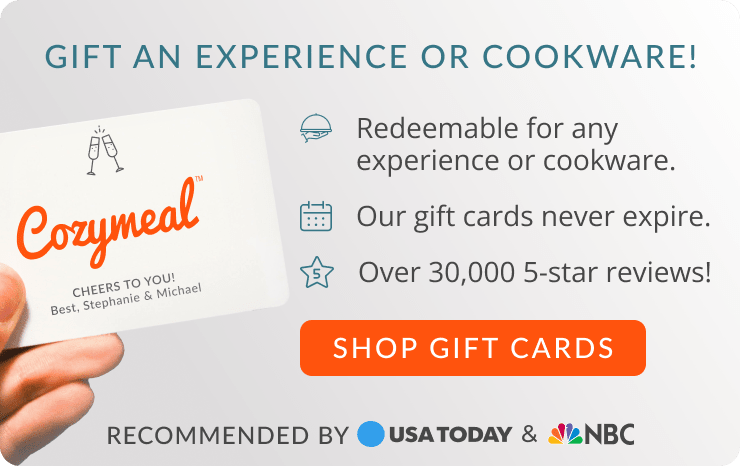 Cozymeal: What inspires your cooking?
The amazing produce and farms that we have up here in Northern California inspire me a great deal; I love going down to the market in the Ferry Building on the weekends. It's incredible; we're so lucky. I would say that our produce and our farms rival anything that the Italians have.
Is an Italian farmers' market your gold standard?
I suppose so. I've never thought about it that way before. There are some great farmers' markets in Florence, Rome and all over Italy. It's the idea that you have access to so many amazing products, and everything is seasonal, and it's just so fresh. Of course, I also do a lot of shopping at Bi-Rite Market.
Gourmet Cooking Classes Near You

Take your culinary skills to new levels with guidance from five-star chefs.

Book Now
You teach several different cooking classes. Where did you learn to cook all those things?
I learned from different sources. I lived in Spain for a total of two years including my junior year of college abroad, and while I was there, I lived with a family. Lola is like my second mother. She took me to one of my first farmers' markets in Spain. She taught me everything I know about Spanish cooking. I try to go back every year or two to spend time with her, and I've filmed several cooking videos with her. That experience taught me to make a really good paella.
The Spanish dessert I make often is from the town of Santander in the Basque country; it's called la quesada, that's kind of like cheesecake meets flan. None of my guests have ever heard of it, but they love it. I learned all of that from Lola.
Then I spent a lot of time in Italy; I was married for a time to a woman from Naples, and we also had an apartment in Florence. We spent a lot of time in Naples, Florence and Rome, where I learned from her mother, brother and family. That's where the Italian piece comes in.
The rest is mainly self-taught. I did stage for about eight months at Quince with Michael Tusk when it first opened, and I learned a lot there. On the corner of Bush and Octavia in the old Meetinghouse space back in 2004, and he's grown, he's moved, he's got two Michelin Stars. When I was there, it was a really small restaurant, and the menu would change 100% every day. It was a beautiful 45-seat restaurant with a beautiful dining room and small Murano chandeliers. It was really charming. That was a great place to hang out and learn.
Book an Online Cooking Class Today
Five-star chefs. Step-by-step coaching. Flexible menus. Come see what's cooking in a live online cooking class.
What would you cook there?
I didn't do the actual cooking. I was there every morning doing all the prep. You learn by doing whatever needs to be done: Helping break down animals, proteins, peeling, breaking down buckets of baby artichokes, making aiolis, making soups or making pasta.
I think the first thing he asked me to do was to make gnocchi. He taught me how to do it, and I was so afraid I'd screwed it up, but it turned out fine. It took me about six hours to make enough gnocchi for just that night's dinner service by myself. It's a lot of work.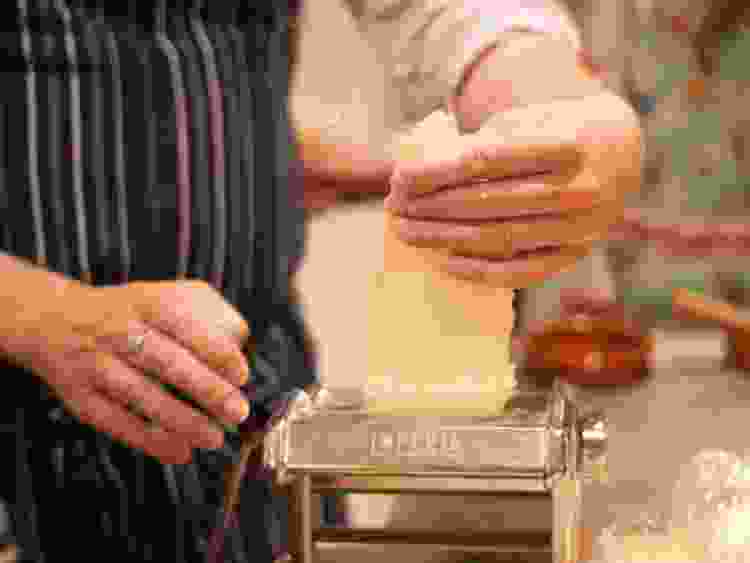 Gnocchi is a pain; that's for sure.
I used to do a lot of classes around gnocchi, and I stopped for a while. However, now I'm offering these classes again. But his gnocchi is beautiful. It's light as air; it's ethereal. It lifts off the plate. So I did a bunch of stuff like that. It's better than going to culinary school.
Really?
Of course. You learn really quickly. I had a good base; I knew how to cook, but I had never worked in a commercial kitchen. I wanted to see what that was like. I wanted that experience and to see what it takes to make it in a commercial kitchen. That was not just any commercial kitchen, though. That was a small commercial kitchen where the menu would change every single morning.
Each of the cooks would take a set of dishes and then make them. We had all day to do it, but time goes by fast, and then everything had to be ready, prepared and served to him at 4:30 for a tasting. He'd taste each dish then pass it down to the rest of us, even the servers, so we could taste what would be on the menu that night and could understand. Then it was 5:30, and people started coming in.
That's crazy.
It is crazy. It's fun, but it's hard. It's exhausting. You're working at least 10 or 12 hours, you're on your feet all day, you're sweaty, you're stinky and you just have to keep going. You do have this sense of adrenaline when everything comes together, and dinner service starts, and plates start coming out. It's beautiful, but it's not sustainable. I was a lot younger then.
Book a Gourmet Cooking Class Now
Kick-start your culinary confidence with help from a world-class chef. See what's cooking in your city today.
If you were to start a restaurant like that, what kind of restaurant would it be?
I think I realized after that experience that I don't really want to start a restaurant. I would be open to it with the right partners because I wouldn't want to be doing all the cooking myself day in and day out. I might do that for the first six months, but I'd want to be in a position where I could hire someone to be the chef with my menu.
I wouldn't want to be slogging through it every day. I would rather be managing things and running the house. I'd still be on my feet all day, just not doing the heavy lifting. It's just too hard. it's a young person's job.
But to answer your question: I think I would do something unique and that hasn't been done well here. We don't have any truly Spanish restaurants in San Francisco. There's Zarzuela, which has been around for a long time, and that's probably the closest thing we have to real Spanish food. They're good. There's Contigo, The Commissary, Tracy Des Jardins' place in the Presidio. It's a beautiful restaurant, but it's really more like California Spanish. The dishes really aren't Spanish. There's no pincho de tortillas, no croquetas, nothing that reminds me of the Spain that I love.
So, I would want to do a tapas-type place, but do real tapas. You can find these places in New York, but for some reason, no one has done it in San Francisco. There's one place in the Mission called Esperpento, but that's just one, and it's really casual. That's what I would focus on. Doing something truly Spanish, not halfway Spanish or French-Basque.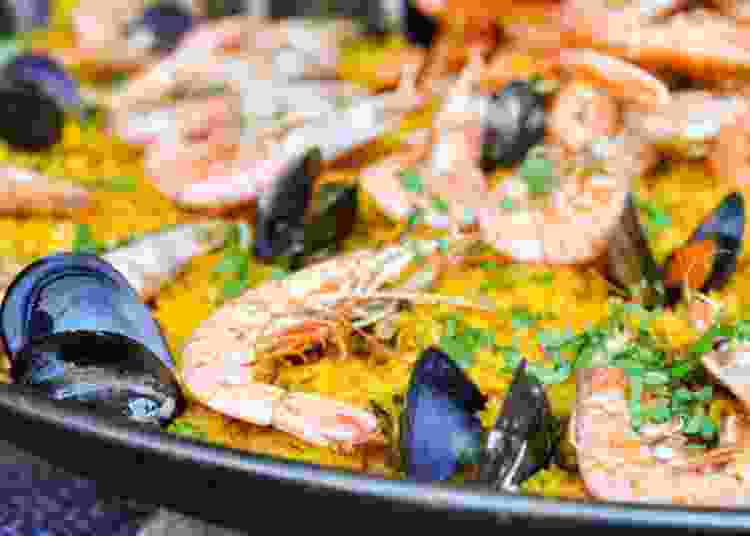 What's one trick that home cooks need to know? Something that most people in cooking classes don't do well.
I don't know if there's a common thread between all of my clients and students. I think a lot of people don't understand or are afraid of getting the pan really hot for searing a protein, like searing a steak. I think people underestimate that, so they end up cooking bland food or not getting that caramelization when you need it.
Book an Online Cooking Class Now
Ready to perfect your homemade pasta, paella or pad thai? Join a world-class chef from the comfort of your kitchen.
I think, across the board, there's a fear of cooking with extra virgin olive oil because everyone hears about the smoke point or that it's not healthy, so they use something else. Extra virgin olive oil is one of the healthiest oils and one of the most delicious, and all you have to do is not go beyond that smoke point. If you're frying, then you might not use it because it's expensive. As long as you keep the temperature correct, you're fine.
I sauté in extra virgin olive oil all the time, and once it starts to smoke, you should add what you're going to add, your mushrooms or whatever, which will lower the temperature in the pan, and you won't reach that smoke point. There seems to be a fear or a misunderstanding of cooking with olive oil.
People are, in general, surprised at how simple it is to put a dish together that tastes great if you're using really pristine ingredients. You don't need really complicated techniques or ingredients. I served a salad last night with some beautiful little radicchio from Bi-Rite. I washed them, dried them, put them in a bowl, sprinkled a little coarse sea salt, a couple glugs of really good Spanish sherry vinegar for the acidity, some olive oil and mixed it really well.
One of the guests said, "This is so fresh and so clean," and she took a picture of the bottle of vinegar. Then I explained to her about different types of vinegar. This particular type I actually get from The Spanish Table, a specialty Spanish shop up in Strawberry Village, which is across the Golden Gate Bridge up in Tiburon. You can get sherry vinegar in most markets, and most of it is really good, but sometimes it's too sharp. This particular one that I found has a nice roundness to it. It's acidic, but it's soft and pleasing. So using those kinds of ingredients you can do a lot really easily.
So you would tell people at home to honor the ingredients and understand what they can do?
Keep it simple. My whole philosophy towards cooking is really the Mediterranean approach. I prefer really good, clean ingredients, lots of olive oil and nice presentation without being too fussy. That's why I gravitate to Italian and Spanish cuisine.
It's not that I don't enjoy other cuisines. I'm a big fan of Japanese and of Thai; China fascinates me. For my own cooking, however, it'll be Italian or Spanish.
Gourmet Cooking Classes Near You
Take your culinary skills to new levels with guidance from five-star chefs.
Why did you start working with Cozymeal?
Samad approached me when Cozymeal first started. To be honest, I was a little skeptical because there were several sites like Cozymeal that were acting as a third party brokerage connecting people with chefs in their homes. He was still working full time, but I liked him, and I liked the idea, so I thought I would give it a try.
Honestly, I have been surprised about how quickly everything has come together with the company. I didn't expect to have so much business driven my way via Cozymeal. I've been in business full time for five years now, and I've got my own customers, repeat customers and people who found me through my website, Google and Yelp.
Cozymeal has really helped fill in the gaps. I think if I wanted to, I could be booked seven nights a week, but of course that's not practical for me. I've done a little bit of work with EatWith, Feastly, but I like the fact that Cozymeal focuses on professional cooks and chefs. It's better for my brand to be associated with that. The other sites tend to have lower price points since they work with amateur cooks. I'm out here to run a business and make a living, too, so I have to keep my prices where they are.
Have you had any amazing experiences with Cozymeal or any horrible ones?
People ask me that question all the time. Usually it's phrased like this: "Well, you never know who's coming over till they get through the door unless they're a repeat customer. How does it feel to have strangers in your home every night?"
My answer is that, at first, it was odd. But I used to throw so many dinner parties for friends and friends of friends that many people would come over whom I didn't know. It feels the same way; I'm meeting them for the first time, but they're there to enjoy the food and wine. Anyone who's interested in that is usually an interesting and cool person, especially if they're going to spend that kind of money to really enjoy the experience. They're in that right mindset. They're old or new friends who've come over for dinner.
Book an Online Cooking Class Today
Five-star chefs. Step-by-step coaching. Flexible menus. Come see what's cooking in a live online cooking class.
Most of the experiences are great. I had a couple last night who was really fun and engaging; they'll probably come back. I've had a few bad experiences. Once in a while, a group of frat guys barges in, and they're not respectful of your home. In general, though, people respect my home and my space, and it's never been an issue. Nine times out of 10 it's a positive experience.
Along those same lines: Have you ever experienced a huge failure professionally as a chef? Or before that? What did you do before you were a chef?
I was in advertising and marketing. I worked for 12+ years at various ad agencies and in a client services capacity. I was an account director role with technology clients. At Razorfish most recently, we pitched and won Williams-Sonoma's business; we redid their whole front end website; that was my flagship account for two years. I was the perfect person for that because Williams-Sonoma is all about cookware, and I really understand the product and the brand.
That was a great experience, and I also had Brevill, the Australian kitchen appliance manufacturer. They're a great company with really passionate and creative people. That was a really nice contrast to working with Microsoft or HP. Those accounts pay the bills, but they're not very exciting.
Have I had any major failures? Sure, I've tried to do dishes that failed. Usually, I test things on myself or on friends before I push it to clients. I'm usually pretty confident that I can pull off a dish. Desserts are challenging. Last year I was trying this Spanish arroz con leche, rice pudding, from Jose Andres, the Spanish chef, and I tried it two or three times, and I just could not get the right consistency. At the end, you use a blowtorch to caramelize it. When it comes out, it's beautiful. But I just kind of gave up. It tasted good, and I might go back to it, but it's on the shelf for now.
As for actual dinner parties, I've never had any disasters. The only thing that happens is that someone doesn't tell me they have a food allergy ahead of time, and I don't have anything for them. I just feel bad about that.
Book a Gourmet Cooking Class Now
Kick-start your culinary confidence with help from a world-class chef. See what's cooking in your city today.
One time I did get confused and make a big mistake: They were coming over for dinner, and I thought they were coming for the handmade pasta and ravioli class, but they had booked paella. These two guys from China who were super cool, and they were really disappointed. I thought, "How can I turn this around?" so I said to them, "Do you guys have all evening free?" And they said yes. So I said, "We're going to do paella. We're going to get in the car, go to Bi-Rite Market and you're going to shop with me for all the ingredients, we'll come back and we'll make paella."
They were really excited, they came to Bi-Rite with me and we did paella.
Did it work out?
It worked out great.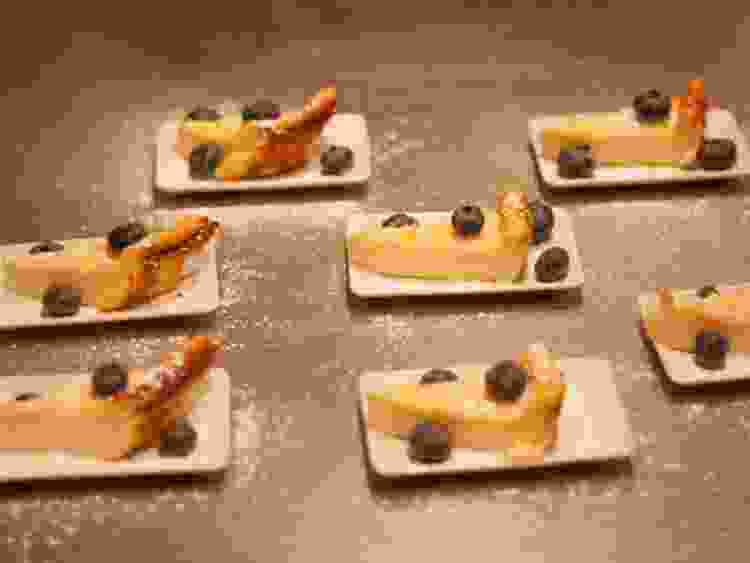 Have you ever invented a dish and it was perfect?
I'm always trying new things, and it's so exciting when something comes out well. I love looking at cookbooks and recipes; I don't always follow them, but I get ideas and inspiration from them. I get the NY Times cooking newsletter every day, and about a year ago, they launched cooking.nytimes.com. It's really well done.
Anyway, about a month ago, the editor was talking about spring lamb. Take a whole leg of lamb, create a paste of garlic and cured anchovies with a mortar and pestle, make incisions in the leg, stuff them, then you take butter and more anchovies to make a paste and rub it all over the protein, then squeeze lemon all over it, put it in an oven with a little bit of wine and you roast it until it's perfect. What happens is that the anchovies add this incredible umami flavor and keep the meat moist and help it caramelize.
I thought, "I'm going to try this for myself." I wasn't going to get a whole leg of lamb for myself, so I bought a beautiful lamb leg roast and applied that technique. It was incredible. I never thought of combining anchovies with lamb, even though I love anchovies. It's very Roman, and I've always known about it but for some reason it was not top of mind.
Join a Live Online Cooking Class Today
Your kitchen is now your own culinary classroom. Connect with chefs from around the world right from the comfort of home.
For people who don't like anchovies, the recipe suggested using Dijon mustard, which I could also see working. The anchovies are brilliant. I also recently got some cheddar and cauliflower and roasted that with this Istanbul grilling spice I get from Spanish Table, added a little salt, a little cream, breadcrumbs and baked it all. That was a delicious dish, too. It's a delicious dish even though it's just cauliflower. So simple. Those were a couple of recent "Aha" moments.
And what about creating an experience for your guests. What was a mad success?
I'm fortunate to have a beautiful home, and that's part of the experience, so every time people walk in for the first time, they say, "Oh my gosh, your home is beautiful." Right out of the gate, I've got the right ingredients for a special occasion.
Over the years, I've learned to try new things. I always have candles on the table, and sometimes I'll have a log on the fireplace. Lighting is very important. Music, too. I do little things. Where you put the appetizers and nibbles make a difference. It all adds to the experience. They're all unique experiences. I don't know if there's been just one that blew the others out of the water. Everybody is usually happy.
That's a good indicator. Well, my last question is open-ended: Tell us a great story about a time you were cooking.
I had a group a few months ago that wanted to go to the farmers' market, so I met them at the Ferry Building Plaza, and there were six of them, and I talked through the menu I had in mind. I said, "Let's go around to all the farms I like to do business with. I'll introduce you, we'll talk about the farm; we'll talk about the ingredients; and we'll talk about the meal."
They came over later, and we made a really nice multiple-course lunch. That was nice. It's fun to combine the shopping, the market, that is, seeing where things come from, seeing the raw ingredients, with cooking them. It's definitely a more extended experience. That was a good one.
I've done fun events like cooking in my wood fireplace with a Tuscan grill. I can cook steaks or quail, so sometimes I do that for smaller groups. That's usually really exciting for guests to see.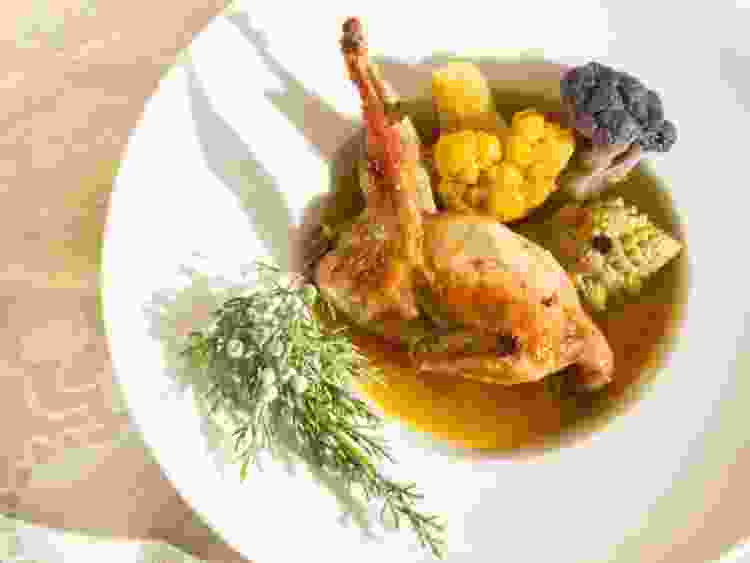 Book a Gourmet Cooking Class Now
Kick-start your culinary confidence with help from a world-class chef. See what's cooking in your city today.
I can imagine. I would never think of doing that in the middle of a huge city.
Right. It's kind of crazy to see. It's crazy to think you can do this. The fireplace isn't very big, but it's big enough. I've got this Tuscan grill that slides in, and it has slats, so you build a fire first, put the grill in. When you cook meat on there, the flames kiss the meat, and the woodsmoke really adds a level of flavor.
Speaking of the city, I find that I look forward to having strangers in my home. I'm always cooking anyway, so it's fun to have people over. Like anything, there is a balance with this. I've been trying to get better about scheduling a day off in between larger events. You can't go at it every night, all the time, seven days a week. I want to make sure every experience is as unique as possible. It's not just the cooking and the cleaning: The pieces that are the most demanding and the most beneficial to the clients are the interactive components. It's not just the teaching and the hands-on component. It's the engagement.
I'm always very engaged, and usually my guests have lots of questions, and they're really excited and it can be exhausting. But that piece is a really important component, and that's why I think a lot of professional cooks, chefs and restaurants probably can't do what I do and what the other people on Cozymeal do because they don't have the social component because they're either recluses or they don't want to deal with the customer. They just want to be back there cooking and swearing and doing their thing, which is totally fine.
But this is just to say that I don't think I could have created my business and made it successful without my advertising and marketing background. It's enabled me to market the business and engage with the social component. If I wasn't interesting to people, if I didn't talk and just showed them how to cook, I don't think they would be very happy.
Join a Live Online Cooking Class Today
Your kitchen is now your own culinary classroom. Connect with chefs from around the world right from the comfort of home.
Why did you leave advertising and marketing?
Well, there was a big crash in 2008, and we lost a bunch of accounts, so many of us ended up without a job around that time. I was planning to take some off before finding a job, and I was tired of the advertising game and the corporate lifestyle.
I had been doing it as an underground supper club. Though there was nothing underground about it; I just made that up to make it sound cool. I'd been doing this since 2002 just to learn how to cook better. I was only trying to cover my food costs. People brought donations, wine and had a great time. I never thought of it as a business.
But when I left Razorfish, I thought, well, maybe I can add a more interactive or teaching component to these dinners, and they can be cooking class dinners, for lack of a better word. So that's what I did. I redid my website, launched a better one and marketed it a different way, and it started to take off.
I got a writeup by DailyCandy, a popular newsletter, especially amongst women. Most of my clients are women, at least the ones who organize it. Men are starting to do it more now to surprise their wives or girlfriends. I had a couple last night where the guy surprised her. DailyCandy's writeup really jump-started the business. The phone just kept ringing for weeks. I had to really scramble to keep up.
I started doing all these dinners, and I started to really learn what works, what doesn't work, and that's how it evolved. I thought, "I'm just going to keep doing this for as long as I can. Maybe I don't have to go back to the ad world!" What I do now isn't always easy, but, knock on wood, hopefully I can keep doing it.
I also write about food. It doesn't really pay the bills, but I write the monthly food column for the print edition of the Nob Hill Gazette. I just submitted my column today. I enjoy that a lot because I get a lot of perks. I get invited to restaurant openings, media events and I work with a lot of PR people who represent various restaurants. That's a fun dynamic with the main business.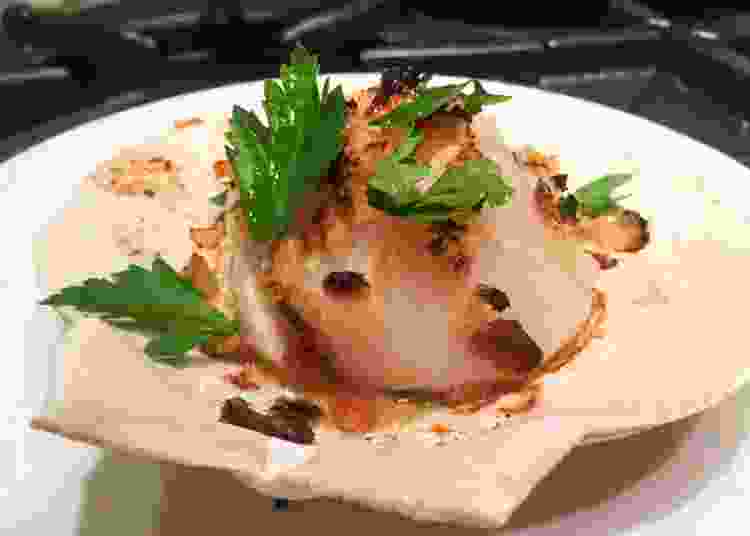 Gourmet Cooking Classes Near You
Take your culinary skills to new levels with guidance from five-star chefs.
I also wanted to talk about the kind of cookware that I use. That's something that a lot of my clients ask about. They ask, "What kind of olive oil do you use? Where do you buy it? What kind of knives do you use? What kind of cookware is best? Do you like non-stick?"
I love my Le Creuset for searing and braising, and I love to collect antique cookware, so I've got a bunch of old cast iron pans that I keep really well oiled. I use those for steaks, pork chops and stuff like that. I use several carbon steel pans, which aren't necessarily old, but I love them for quick sautés.
I've also got a bunch of stainless steel, some aluminum from Italy made by Lagostina, so I've got an eclectic mix, but I find myself using the cast iron and the carbon steel a lot. It's fun. I've also got a big yellow stove; it's a Blue Star. They're an offshoot of Gardener: 22,000 btu burners, no electronics, no bullshit, just a workhorse. The top burner rings come off, so you can put a round bottom wok on there. It's fabulous.

Join 200,000+ Culinary Enthusiasts
Exclusive deals, recipes, cookbooks, and our best tips for home cooks — free and straight to your inbox. PLUS: 500 Rewards Points.
How to Become a Spanish and Italian Chef
Find Chef James' experiences on Cozymeal for a hands-on lesson in how to become a Spanish and Italian chef. There are also plenty of online cooking classes or hands-on cooking classes near you.
For even more culinary insight, browse through inspiring articles like how to infuse olive oil, or find exciting Italian recipes to try at home (like the crowd-pleasing Italian rice balls or decadent lobster ravioli sauce).