27 Gifts for Meat Lovers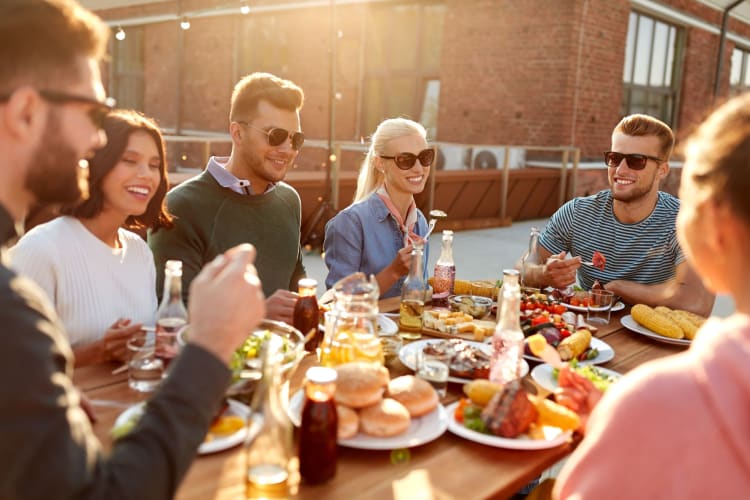 Our editorial team recommends the best products through independent research, selection and careful review. If you make a purchase through one of our affiliate links, we may earn a commission. Prices are subject to change.
Are you searching for the best housewarming, birthday or Father's Day gifts for meat lovers? Holidays, summer gatherings, tailgating parties and beachfront barbecues are just a few of the reasons to fire up the grill or stove. Whether the carnivore on your list enjoys sizzling slabs of sirloin, ribeye and T-bone or lean cuts of chicken, turkey and venison, we've got you covered with excellent ideas.
To get started, think about the types of meat they like as well as preferred prep and cooking methods. Take a peek into their kitchen or grill gear stash to see what they already have and what might need to be replaced or added to. Consider cooking methods such as broiling, braising and sautéing or roasting, rotisserie and searing. Sous vide is another up-and-coming method of cooking tender, nutritious and flavorful meat recipes.
Jump to Section
Gift a Local Cooking Class Now
Give your favorite gourmand the gift of world-class cooking lessons with the best chefs in their city.
Experience Gifts for Meat Lovers
1. Interactive Cooking Classes
Choose from cooking classes in NYC, cooking classes in Kansas City or any cooking classes near you for a unique gift for meat lovers. They'll join gourmet chefs and expert grillmasters while learning how to roast, sauté, grill or sear a wide array of meat recipes. Or check out online cooking classes to book fun and interactive classes from your own home kitchen.
Price: $65+, $29+ for online classes
2. Food Tour
Exploring the farmers markets, restaurants and cafés around town or while on vacation is a terrific way to gain inspiration in the kitchen. Experienced guides know all the ins and outs of the local food scene. Learn about the best hot chicken in Nashville with food tours in Nashville or down-home Southern cooking on food tours in Savannah. Book food tours near you for a thoughtful and engaging gift for meat lovers.
3. Private Chef Experience
Deliver an indulgent gift of a private chef experience to the meat lover on your list. Private chefs in Los Angeles, private chefs in Vancouver and private chefs near you are ready to plan, purchase, prepare and serve a delicious and nutritious meal at your own table. Customize the menu as much as you like. All you have to do is invite some guests and enjoy the company. Chefs even clean up afterward.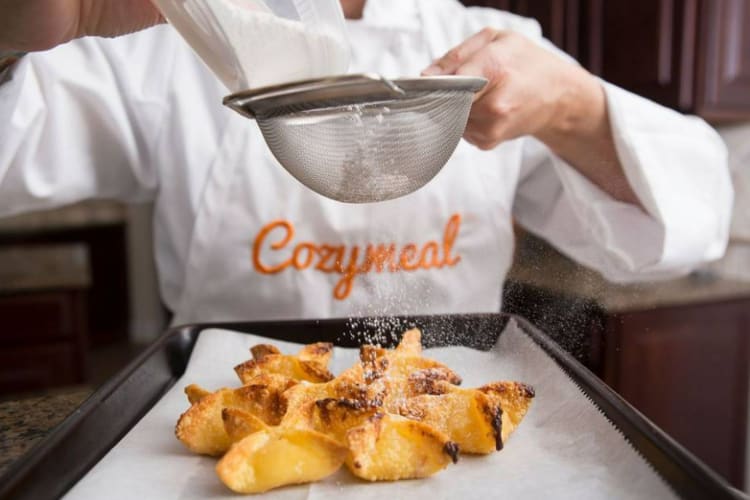 4. Online Beverage Tasting
Every meaty meal needs a good glass of wine or creative cocktail to go along with it. With the gift of virtual wine tasting classes, your meat-loving friend can learn how to pair the best wine with steak, chicken or pork as well as pick up tips for serving, swirling and storing reds, whites and rosés.
An online mixology class is another way to learn how to stir, muddle and mix delicious margaritas, mojitos and martinis to complement savory meat meals. World-class bartenders and sommeliers lead these fun and interactive sessions.
5. Foodie Gift Card
A foodie gift card is just the gift for the meat lover whose tastes you just can't predict. Available in any amount over $10, they'll be able to choose from cooking classes, private chefs, food tours or cookware from the Cozymeal Shop.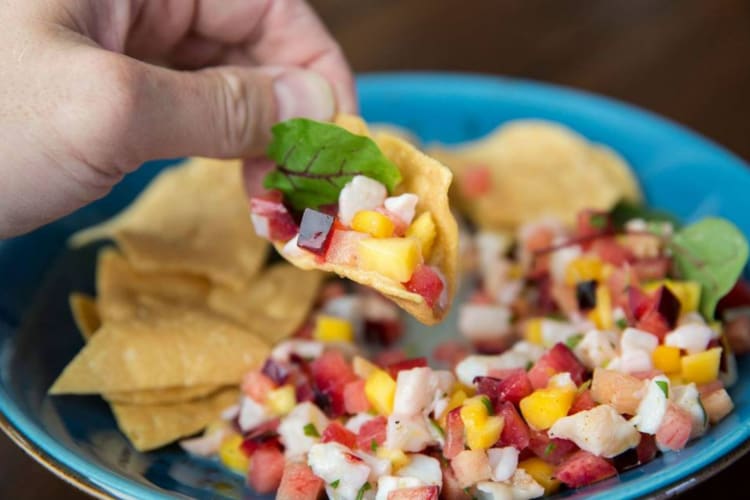 Cookware Gifts for Meat Lovers
6. Steak Knife Set
If there's one thing all meat lovers need, it's a quality set of the best steak knives. Sleek and streamlined in design, the Miyabi Koh 4 Pc Steak Knife Set has beautiful pakkawood handles for comfort and versatility in cutting methods. The blades are made of ice-hardened stainless steel for strength, durability and balance whether cutting into a tender filet or slicing vegetables, fish and thick cuts of beef.
Gift a Local Food Tour Now
The perfect gift for every gastronomist. Discover an abundance of culture and culinary delights with a five-star local guide.
7. Induction Skillet
An induction skillet is a terrific gift for meat lovers who like to fry bacon, sear steaks, brown ground beef and braise chicken. The elegant Hestan CopperBond Induction Copper Skillet is made of stainless steel with a copper core for even heat retention and temperature control. Perfect for the stovetop, it's also oven and broiler safe.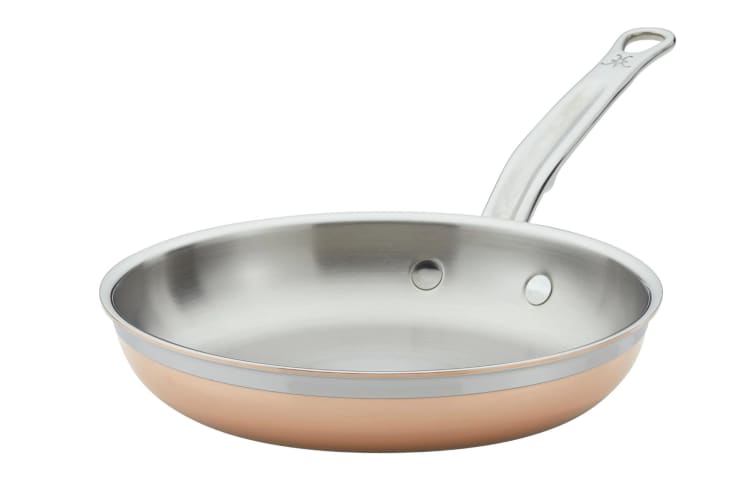 8. Roasting Pan
Anyone who loves cooking meat needs a quality roasting pan in their cookware collection. The Demeyere Industry Stainless Steel Roasting Pan perfectly blends versatility and functionality and has the space for even the largest joints of meat. Made of stainless steel with an aluminum core, the pan allows for quick and even heat distribution. With an integrated grate, fats and liquids drain out effortlessly, leaving your meats with a beautiful, crisp crust.
9. Cast Iron Skillet
Introduce your carnivore friends to the beauty and consistency of cast iron. The KitchenAid Seasoned 12-inch Cast Iron Skillet is one of the best pans for steak. It delivers for even browning and hot spot prevention for making pancakes, braising beef or frying bacon and eggs. It has two built-in pour spouts to drain liquids and gravies as well as a helper handle. Best of all, it can be used on a grill for camping and tailgating.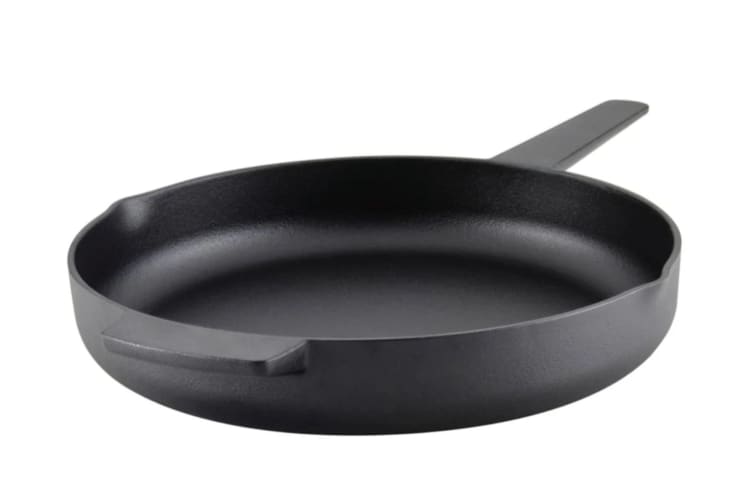 10. Cast Iron Grill Pan
The Finex 10" Cast Iron Grill Pan combines a skillet and a grill to create a great gift for meat lovers. Wide ribs bring out flavor in chicken breasts, juicy burgers and lean turkey and fish filets. Made for indoor or outdoor use, this unique pan comes pre-seasoned and ready to go on the stovetop or grill.
11. Portable Gas Grill
The Weber Traveler Portable Gas Grill makes the perfect gift for grillmasters who go camping, backyard grilling and tailgating. The large grilling surface can accommodate up to 15 burgers at a time. A variety of temperature ranges makes it convenient to prepare eggs, chicken, fish, vegetables and more. It's made of cast aluminum, folds up for compact storage and has wheels for easy transport to the backyard and beyond.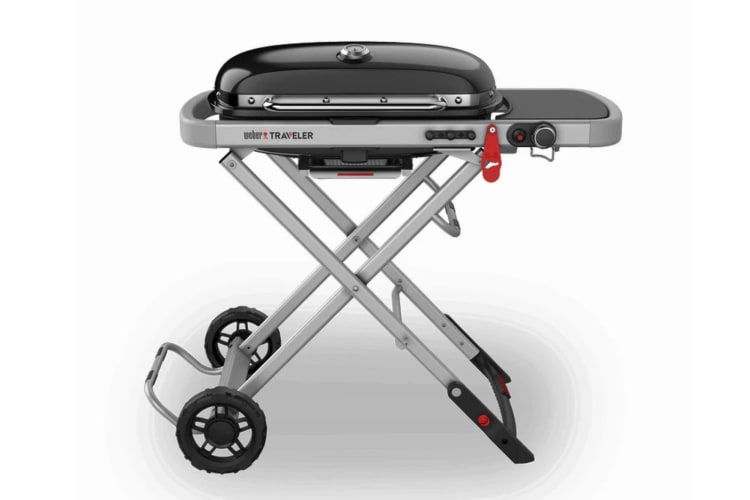 12. Smoker Box
Looking for a gift for meat lovers who like to experiment with the grill? The Weber Smoker Box infuses the smoky flavors of hickory, cherry, oak or apple into chicken, steak, turkey, vegetables and even cheese.
Gift a Private Chef Experience Now
Treat someone special to gourmet fine dining at home. Gift a private chef experience starting at $59/person.
13. Cutting Board
One of the best gifts for meat lovers is a versatile cutting board. Made of eco-friendly bamboo, Helen's Asian Kitchen 14 X 10 Bamboo Cutting Board is lightweight, durable and water resistant. The 14" X 10" size is perfect for all types of cutting needs. A two-tone design looks beautiful on display or while slicing, dicing and mincing vegetables, garlic cloves and cubes of meat.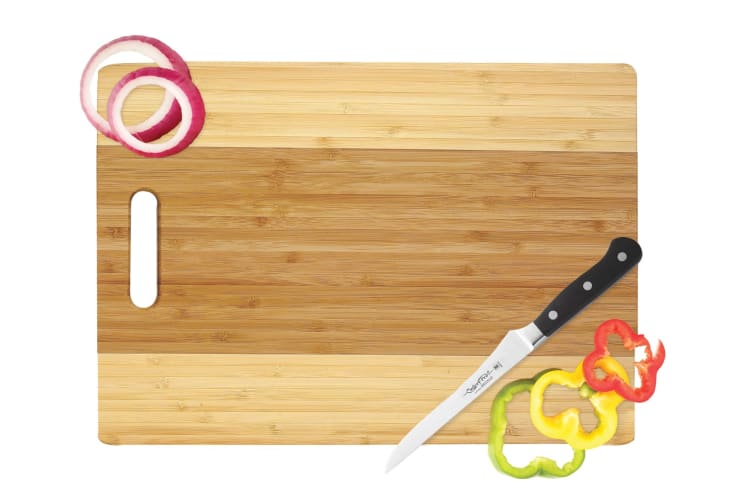 14. Sous Vide
Sous vide is an excellent gift for meat lovers. The sous vide starter pack comes complete with bags, a vacuum-seal pump, pan clips, bag clips, a cookbook and the sous vide pod. Cook steak, chicken, fish and vegetables at a perfectly even and consistent temperature. The pod is quiet, easy to clean and features an LED touch panel for easy use.
15. Branding Iron
Bring a personalized and fun factor to the grill game. The classic branding iron puts a distinctive touch on steak, buns, burgers, wood or leather. Choose letters or a heart symbol to get your meat eater's name or initials out there where it matters most!
16. Kitchen Towels
These fun BBQ-themed kitchen towels are the perfect gift to keep on hand. They can clean up spills or be used to transport hot plates from the stove to the tabletop. Choose from designs such as "All up in my grill," "So, we meat again" or "Baby got back." Combine with other grilling gifts for fun and functional gifts for meat lovers.
Edible Gifts for Meat Lovers
17. Hydroponic Herb Garden
The indoor hydroponic herb garden is a terrific gift for carnivores. They can grow lettuce, basil, cilantro, parsley and more to add accent to meat recipes. The herb garden has a large water tank, a water shortage alarm, an automatic memory and a full range of lights for optimum growing. It comes with 10 planting baskets, 10 planting domes, 10 growing sponges, 10 labels and plant food.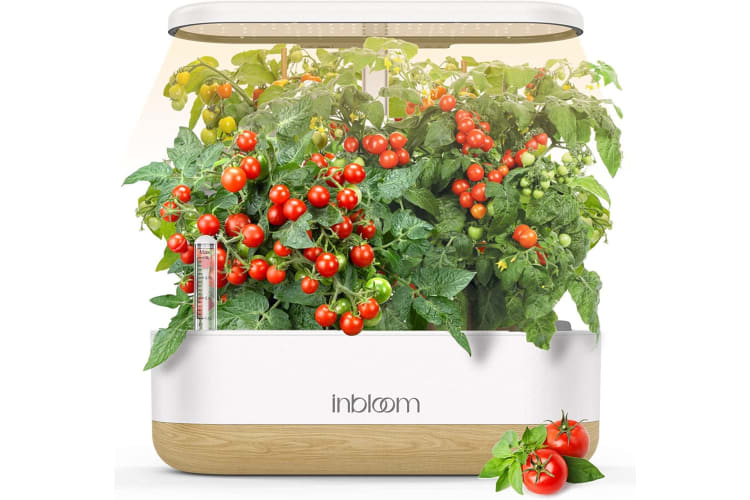 18. Japanese A5 Wagyu Steak
Wagyu beef is the best in the world, and Japanese A5 wagyu is the best of the best. Choose from a selection of premium quality steaks on Crowdcow to give the meat lover in your life a gift they will never forget. From ribeye to tenderloin cubes to Denver steak, imagine the look on their face when they see that unparalleled trademark color and marbling and realize what an experience they're in for.
Gift an Online Cooking Class Now
Give your favorite gourmand the gift of world-class cooking lessons right from the comfort of their own kitchen.
19. Meat Subscription
The Carnivore Club Gift Box is a wonderful gift for meat lovers who like to sample different types of meat and prepare charcuterie boards. This gift box comes with selections such as Salame Di Manzo made of wagyu beef, Nduja (spreadable salami), pepperoni, chorizo and sopressata dolce.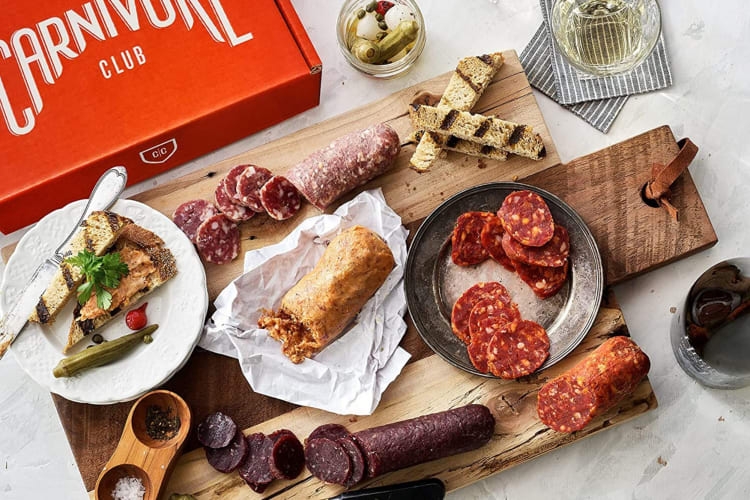 20. Beef Jerky Box
Surprise the carnivore in your life with a jerky gift basket. Snack sticks include beef, ham, turkey and meat and cheeses. Everything comes in a canvas gift bag that can be reused.
21. Barbecue Rub Set
The Smokehouse BBQ Rub set includes grilling spices and rubs in flavors like Cajun, Caribbean, Southwest and Memphis BBQ. Vegan, all-natural and dairy-free, they're a perfect gift for meat lovers who like to experiment with different flavors. Combine and customize to add flavor to chicken, beef, pork and fish.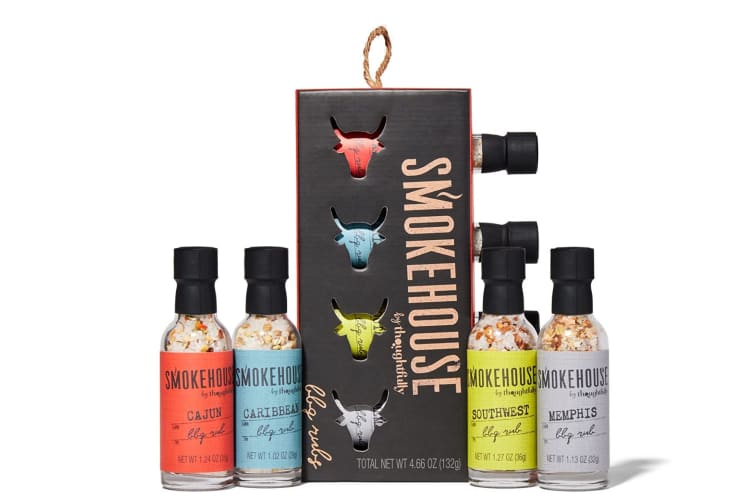 Humorous Gifts for Meat Lovers
22. Meat Socks
These butcher shop-inspired meat socks are decorated with prints of a cow, pig, chicken and sheep, all artfully sectioned off with names of the cuts, such as chuck, rib, loin and leg. These fun and fashionable socks have a seamless toe, thick heel cushioning and elastic rubber bands at the calf.
23. Carne Diem T-Shirt
Seize the day with the humorous funny carnivore t-shirt. Adorned with "Carne Diem" across the front, it's available for men, women and kids. It comes in a wide array of colors to make the perfect funny gift for meat lovers.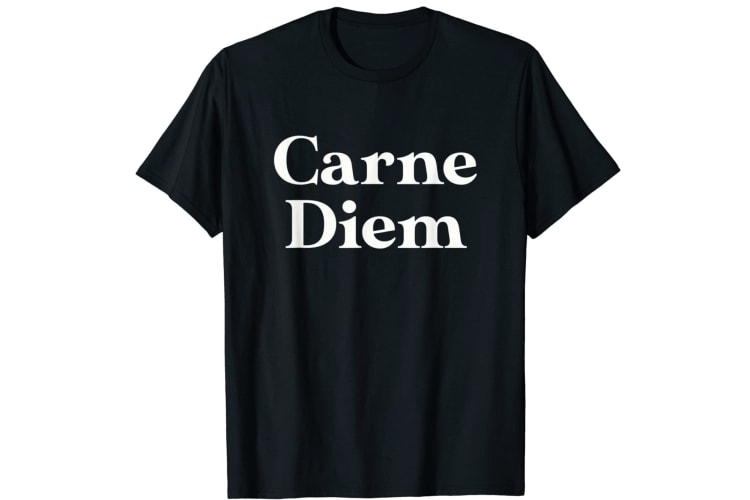 24. Bacon Apron
Safety in the kitchen is always a top priority. They'll get a kick out of the bacon apron that wisely proclaims, "That's too much bacon. Said, no one ever." Combine it with a matching oven mitt for the perfect gift for meat lovers to keep grease away.
25. Caffeine and Carnivores
The meat mug proudly tells everyone their stance on meat with its snarky message saying, "Every day thousands of innocent plants are killed by vegetarians. End the violence. Eat meat."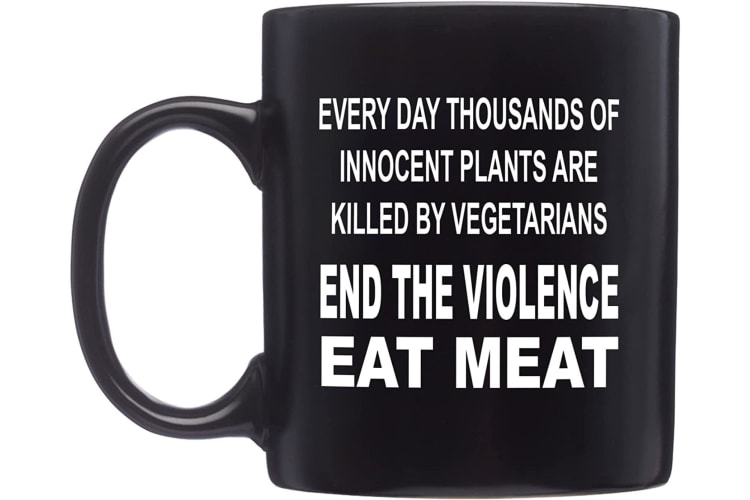 26. Tin Chicken Cuts Chart
For the culinary whiz who does incredible things with poultry, this tin chicken cuts chart would be perfect on their wall. You see cut charts all the time for beef, but we think chicken deserves representation too.
Gift a Virtual Wine Tasting Now
The ultimate gourmet gift for any wine lover on your list. Virtual wine tastings bring a virtual vineyard experience right to you.
27. Bacon Bandages
These bacon emblazoned bandages make humorous gift ideas for meat lovers who get too close to the fire. The metal pocket tin contains 15 bandages designed to look like everyone's favorite meat. These bandages look so much like real bacon that they'll elicit double-takes!
Choosing the best gifts for meat lovers doesn't have to be a stressful task. It can even be fun. Peruse our list of functional, tasty and humorous ideas to find just the right gift for meat lovers.
From filet mignon and Cornish game hens to pulled pork, hot dogs and smash burgers, meat lovers can always use new tools, gadgets and gear to boost their BBQ skills. Don't forget to request an invitation to the next backyard barbecue, tailgating party or beachfront bash.
For even more gifts for meat lovers, check out other experiences happening on Cozymeal.