7 Popular Cuts of Steak and How to Cook Them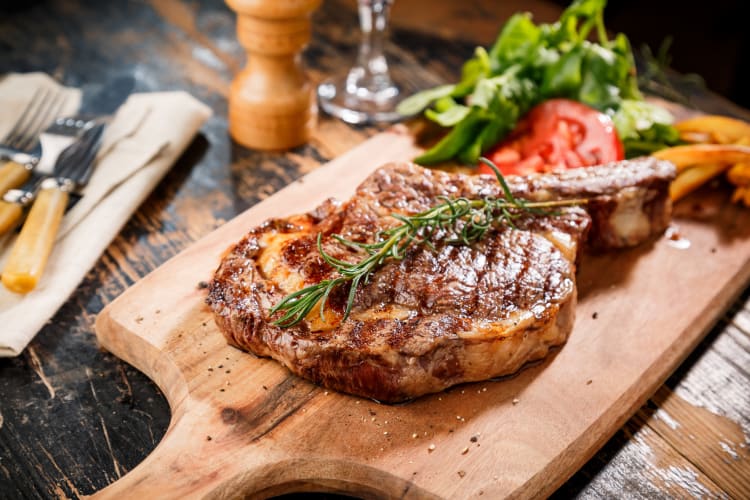 Tender, juicy and prepared with savory sides, the best cuts of steak feel like a luxurious meal. You may have a go-to order when dining out at a restaurant or you may follow the waiter's recommendation. But, at times, when it comes to how to cook the perfect steak yourself, you can easily be overwhelmed by the choices. And when it comes to preparing them correctly to get the best flavor, it can seem like an even more formidable feat.
Here's the good news, you don't have to go to culinary school to prepare cuts of steak like a chef. You just have to know how to bring out the flavor of each unique cut and how to choose a cut of steak like a chef would. Most professional chefs opt for thicker cuts — between one and one and a half inches — because they're less likely to overcook and become dry, regardless of the method you use. Cooking it slower also allows for a richer flavor to develop throughout the cut. First, it's best to understand when to choose different cuts of steak.
Jump to Section
Book a Gourmet Cooking Class Now
Kick-start your culinary confidence with help from a world-class chef. See what's cooking in your city today.
1. Filet Mignon
Filet mignon has a reputation for being the most luxurious cut, often served at upscale restaurants or reserved for special occasions. This cut comes from the tip of the tenderloin, an area where the meat is incredibly tender and the muscles do not get overworked. This leads to a cut of steak that is soft like butter, which makes it appealing to steak lovers who are concerned with texture.
But while the location of this cut means a tender bite, this cut has little to no fat, resulting in a milder flavor and less juiciness than other cuts of steak. While it might not be the most flavorful, the low fat content of this cut has its own benefits; it's one of the healthiest cuts of steak. In general, many enjoy this cut of steak for its tenderness as opposed to the incredible flavor.
How to Cook It
Because of the lack of fat, you want to be cautious about overcooking a filet mignon. Consider pan-searing until it's rare or medium-rare with seasonings, herbs or a flavorful sauce. You can use a cast-iron skillet so you have good control over the temperature the cut of steak cooks at.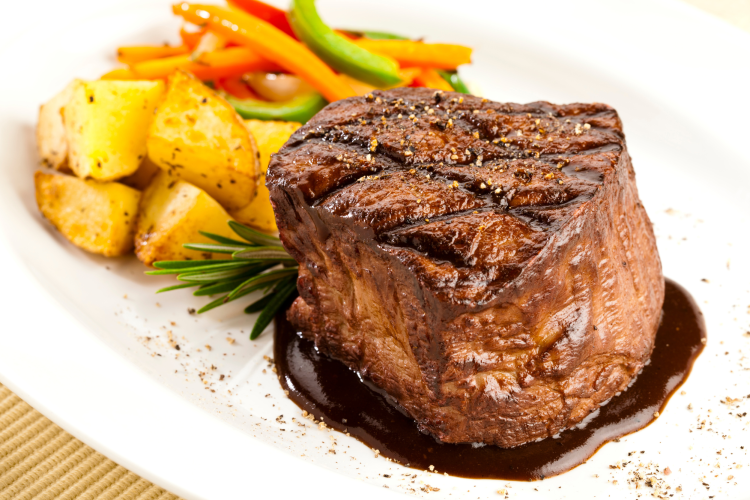 2. Ribeye
As the name suggests, a ribeye steak comes from around the cow's rib, typically between the sixth and 12th ribs. Commonly this cut comes boneless, but it can also have the rib bone attached, which is often nicknamed a cowboy steak. Ribeyes are often considered the best cut of steak for many beef lovers because it has a lot of fat marbled through the cut and around the edges, which leads to plenty of flavor. Because they're in a location to get used a little more, they're not a soft and tender cut, but it's the intense flavor that makes a perfectly grilled and seasoned ribeye an unbeatable gift for meat lovers.
How to Cook It
Thick cuts of ribeye and the ample fat content allow this cut of steak to be a little more forgiving to being cooked longer or even past a medium temperature. Try cooking classes in Chicago to learn more about cooking meat to temperature. The composition also makes it versatile for different cooking methods. Ribeyes can be grilled, boiled, pan-seared and more without the cut becoming dry or chewy.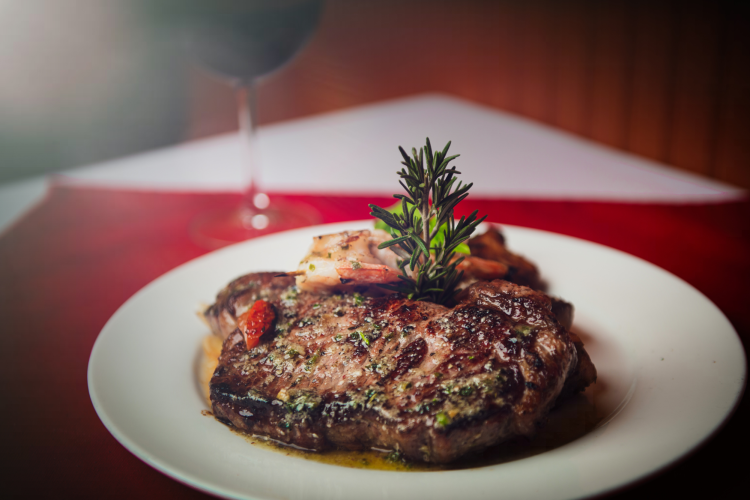 Gourmet Cooking Classes Near You
Take your culinary skills to new levels with guidance from five-star chefs.
3. Porterhouse
Porterhouse steaks are often referred to as T-bone steaks, though porterhouse vs. T-bone is larger. This cut of steak comes from the lower rib section and is actually a combination of a tenderloin and a strip steak separated by a T-shaped bone. So, with a porterhouse, you're actually getting two cuts of steak in one, making it one of the most expensive steak cuts whether you order it at a restaurant or buy it to cook at home.
But it's getting two different steaks that have distinct flavors and textures that make this a popular choice for steak lovers. In the argument of porterhouse vs. ribeye, for many beef lovers, porterhouse is the winner because of the two cuts of steak.
How to Cook It
While the two cuts of steak on one plate are appealing to the palate, it's also what makes this cut of steak difficult to cook. You have to take care to ensure that both sides cook properly, especially the tenderloin, which can easily overcook and become dry. The best method is to sear over high heat and then finish with indirect heat. Take care to keep the tenderloin from direct heat to prevent it from drying out.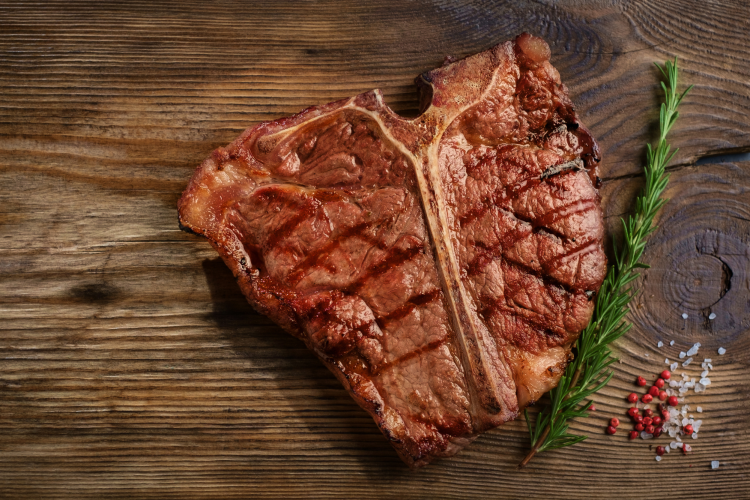 4. Strip
Strip steaks are, relatively, one of the most expensive steak cuts. Coming from the short loin, it's part of the loin primal, which is where the most sought-after cuts of steak, including filet mignon and the porterhouse, are also cut. Remember that strip steaks are the larger half of the porterhouse; that also makes it a more affordable cut than a porterhouse or T-bone. The strip is not the most tender steak cut, so it has a little more chew than neighboring cuts of steak and it also has a little less marbling. However, that doesn't mean it's lacking flavor; strip steaks are well-loved because they have just enough flavor and tenderness to please a wide variety of people.
How to Cook It
Strip steaks are pretty easy to prepare with just a dry rub or some herbs and cooked in a cast iron skillet. Cooking classes in Ottawa can teach you more about creating dry rubs that give your meat flavor. Cook until they reach a medium-rare to medium internal temperature over dry heat.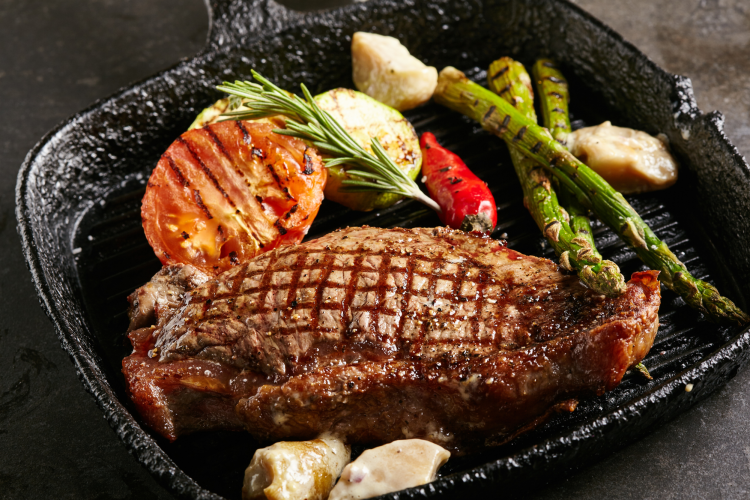 Book a Gourmet Cooking Class Now
Kick-start your culinary confidence with help from a world-class chef. See what's cooking in your city today.
5. Sirloin
Aptly named, this cut of steak comes from the sirloin region, which is near the rear of the cow. They're boneless steaks that are mild in flavor and tenderness. Sirloin cuts are inexpensive, which makes them a good option for daily meals as opposed to special occasions. Sirloin steaks have a beefy flavor though they don't have much marbling. But it's the low-fat content that makes it one of the healthiest cuts of steak available.
How to Cook It
Sirloin is one of the best steak cuts for grilling because it only takes about nine to 12 minutes, about four or five minutes on both sides, for the cut to reach a perfect medium-rare temperature. Thicker cuts can take between 15 to 18 minutes total to cook to temperature. But be careful with this cut as it can easily become tough if left to overcook because of the lack of marbling.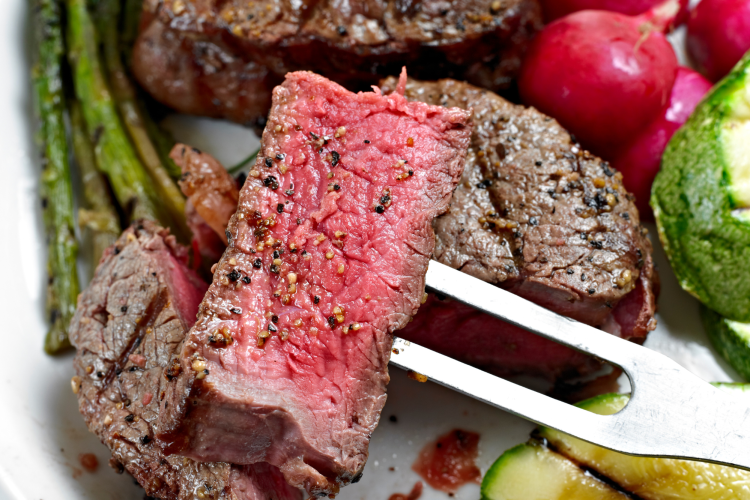 6. Flank
Move to the front portion of the cow and you'll find where flank steak is cut from. The lower chest and upper abdominal area provide one of the leanest cuts of steak. Though it has little fat, it has a bold beefy flavor and can be quite tender when cut against the grain and prepared properly. It's often cut thinly and usually enjoyed as an ingredient in another dish rather than as a cut of steak on its own. It's commonly used in dishes like fajitas, cheesesteaks or stir fry. Its tender steak cuts are also relatively inexpensive and you can get a large portion from one cut, so they're ideal for home cooking.
How to Cook It
Flank steak is one of the leanest cuts of steak, so it's great for anyone who doesn't want a lot of fat. But it's important to be cautious about cooking it too long so the cut doesn't become too tough or chewy. But because it's typically a thin cut, it marinades well. Use acidic ingredients in the marinade so the muscle fibers break down a little. Learn more about making flavorful marinades in cooking classes near you. You can then pan-sear them or grill a flank steak in about nine to 12 minutes to be medium-rare.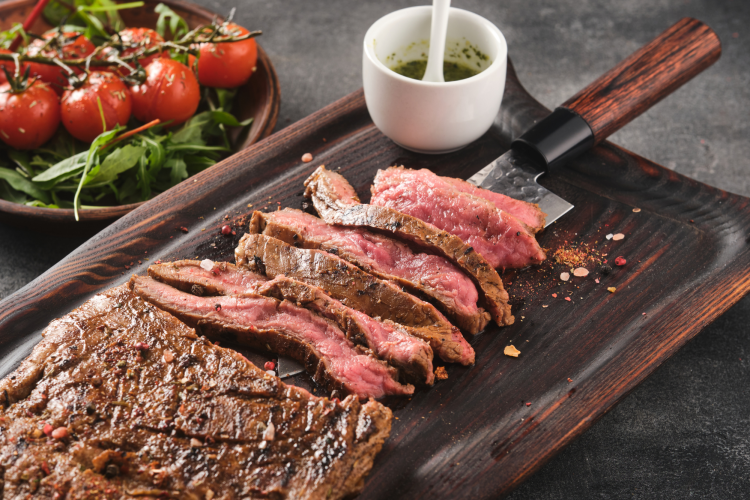 Gourmet Cooking Classes Near You
Take your culinary skills to new levels with guidance from five-star chefs.
7. Skirt
Coming from the belly, the skirt steak is long and thin, with more connective tissue than most cuts of steak. However, most butchers will remove the thick outer membrane before butt the cut of steak out for sale. When properly prepared, skirt steak can be tender and very juicy, but this is one the best cuts of steak if you're looking for a ton of flavor. Skirt steak is similar to flank steak in that it's not one of the most expensive steak cuts and that it's often used as an ingredient rather eaten as its own cut of steak.
How to Cook It
Skirt is one of the best steak cuts for grilling. Cook it on high heat for a tender and juicy finished product. Skirt steak can be grilled or pan-seared until it's medium-rare or medium. Because it's thin, this type of steak cut also marinades well, so it can take on a lot of different flavors for a variety of dishes. Marinade at least 30 minutes prior to cooking it. In online cooking classes, you can learn how to use skirt steak in a variety of world-inspired dishes.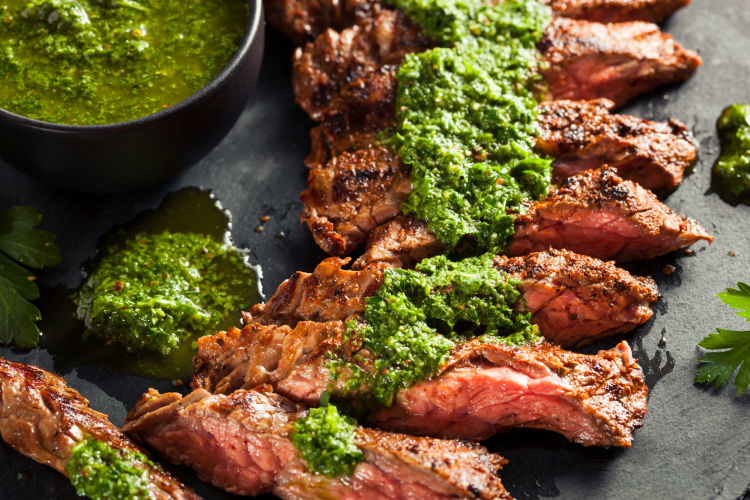 Learning how to cook different cuts of steak doesn't have to be an overwhelming or daunting task. While some cuts of meat can be luxuriously enjoyed on their own, others are best enjoyed as a part of a larger dish. Trying different cuts of steak will help you better understand what you like in terms of tenderness and flavor. If texture is most important, then the most tender cuts of steak should be your go-to. But if it's flavor you're after, more marbling or the ability to marinade well might be a better choice.

Join 200,000+ Culinary Enthusiasts
Exclusive deals, recipes, cookbooks, and our best tips for home cooks — free and straight to your inbox. PLUS: 500 Rewards Points.
Each type of steak cut has its own unique flavor profile and understanding that will make preparing and cooking each cut much easier. And to ensure you're preparing your steak properly, invest in a meat thermometer to take the internal temperature of all of your cuts. Lastly, don't be afraid to get bold with flavors and pairings because cooking should be about exploring as much as it is taste.
For even more fun ways to explore food, check out other experiences happening on Cozymeal.