How to Cook the Perfect Steak at Home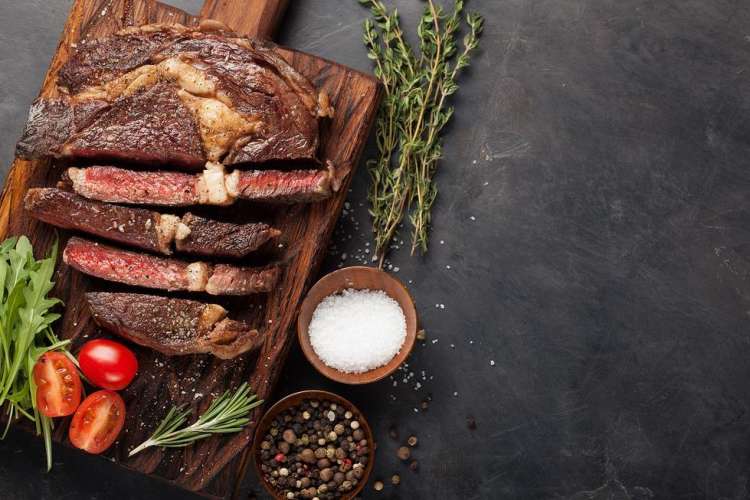 There's something special about a classic steakhouse dinner. The savory spectacle of a gourmet steak and sides promises to be a memorable meal.
While this steakhouse experience comes with a pretty high price tag at a restaurant, the whole kit and caboodle can easily be done at home at a cost that won't break your budget.
Cooking the perfect steak at home is actually easier than you might think. All you need is a high-quality steak and Cozymeal's simple step-by-step method to ensure a perfectly pan-seared steak with a gorgeous crust, juicy center, and a tender buttery flavor every single time.
Jump to Section
How to Cook the Perfect Steak at Home
Watch our video below on how to cook the perfect steak, and then scroll down for a step-by-step guide and easy pan sauce recipe video to pair with your steak.
Following these easy steps below will ensure a perfectly pan-seared steak every time.
1. Buy a Great Steak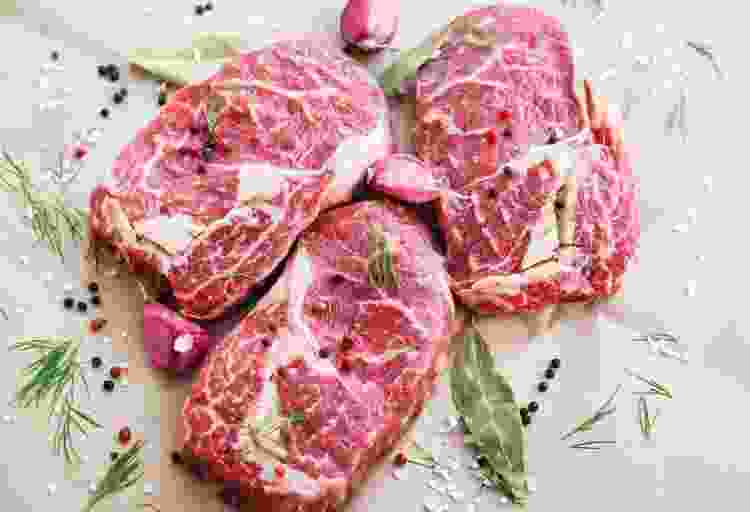 The first and most important step in cooking a great steak is to buy a great steak. Mosey on down to the local butcher or find a store that sources organic and grass-fed meat. Besides being a more ethical choice, this meat is usually of better quality and tastes significantly better. When cooking steak in a pan, the best cuts are boneless and at least an inch thick. Think New York strip or a boneless rib eye. Bottom line: buy the best steak you can. No matter how expensive it is, it will still be cheaper than eating out.
2. It's All in the Prep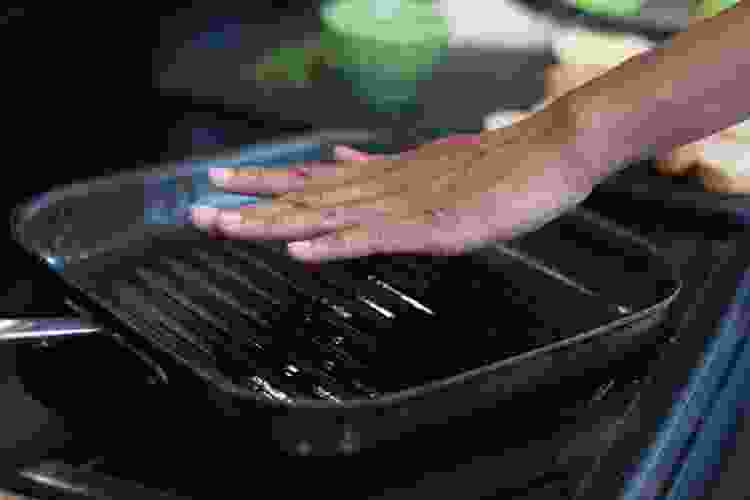 There are three simple steps you must take before cooking steak in a pan. First things first, take it out of the fridge ahead of time to "take the chill off" your steak. Secondly, pat it dry with paper towels. This helps the seasonings stick and also creates a nice dry surface (the secret to that beautiful crust). Finally, be sure to season your steak generously on every single side. These three steps will take you a mere 30 minutes, which leaves just enough time to gather your other ingredients, pour yourself a glass of wine and preheat your pan.
3. Cook in a Smoking Hot Pan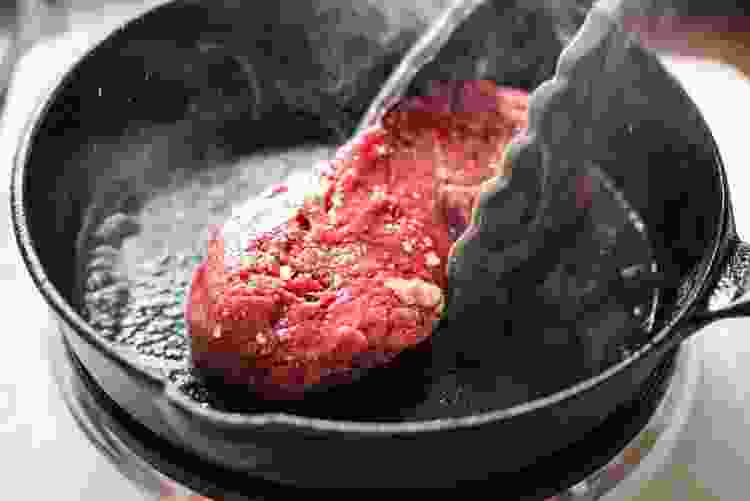 The key to a successful sear is to start with a fiery hot pan. So now that it's time to get cooking, heave out your heaviest pan (preferably cast iron) and place over high heat. Let it get hot enough that it smokes a little before adding the steak to the pan. The science of searing isn't about keeping moisture in — it's about creating a crisp crust on the outside that adds a ton of flavor to the finished pan-seared steak. Cook three minutes per side to create a thin and even crust. And don't forget the edges!
4. Make a Pan Sauce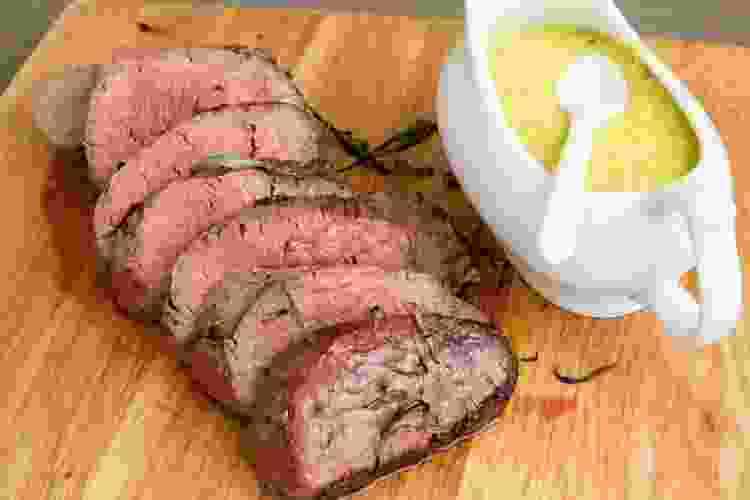 Book an Online Cooking Class Now
Ready to perfect your homemade pasta, paella or pad thai? Join a world-class chef from the comfort of your kitchen.
You did it! Now your perfectly cooked steak is waiting to be carved. But as you glance at the empty pan speckled with luxe, browned bits of steak, it seems like a true tragedy to waste any of that wonderful mess. Fear not, because you can turn those tasty tidbits into a sultry pan sauce to drizzle over the top of your steak with a little broth, red wine, a splash of balsamic vinegar, and a pat of butter.
Watch our video on how easy it is to make a pan sauce for steak below, along with the recipe:
Voila! Dinner is served.
Once you've mastered this basic technique for cooking the perfect steak at home and fashioning the perfect pan sauce to pour over your chef-d'oeuvre, you can start to play around with different ingredients and try your hand at some other sauces!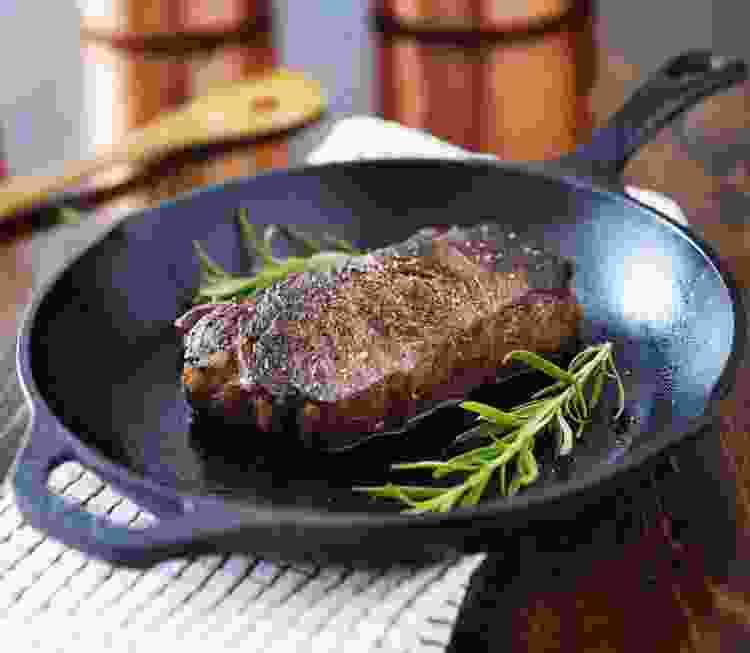 Learning to Cook the Perfect Steak
If you're dedicated to perfecting your culinary technique, sometimes it pays to learn from the professionals. You can find myriad hands-on cooking classes in cities across the U.S., each led by a world-class chef with years of experience in the kitchen. Browse cooking classes in Chicago, cooking classes in Dallas or other cooking classes near you in order to pick your favorite.
For a totally virtual experience, online cooking classes are live, fully interactive experiences you can do from the comfort of home. Talented chefs from around the world are standing by to teach you key culinary skills and industry secrets to creating the ultimate gourmet meal at home.

Join 200,000+ Culinary Enthusiasts
Exclusive deals, recipes, cookbooks, and our best tips for home cooks — free and straight to your inbox. PLUS: 500 Rewards Points.
For other ways to savor delicious meals, check out other experiences happening on Cozymeal.