85 Best Strawberry Desserts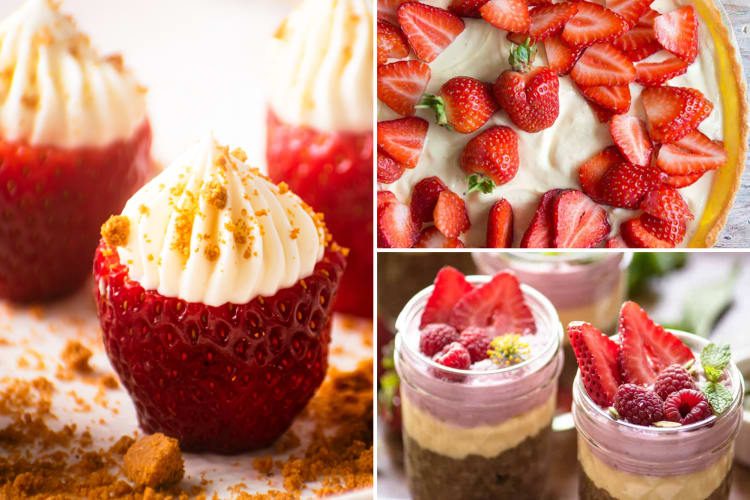 With their bright flavor and vibrant color, strawberry desserts appear everywhere from date night tables and Valentine's Day parties to summer picnics and festive holiday gatherings. Reaching their peak in late spring and early summer, fresh strawberry desserts such as strawberry shortcake are a highlight of the season while frozen or freeze dried strawberries bring a fresh taste of summer to any time of the year.
What are the best strawberry dessert recipes? The beloved strawberry is good with a wide range of ingredients from chocolate, cheesecake and almonds to wine, herbs and tropical fruit inspiring a variety of time-honored strawberry desserts and innovative sweet treats. Naturally sweet and rich in nutrients, strawberry desserts appeal to all kinds of dietary needs and preferences including keto, vegan and gluten free options. The best strawberry dessert recipes showcase the range and versatility of this special berry whether in simple, easy to make treats or show-stopping confections. From mousse and tarts to cupcakes and truffles, here are 85 of the best strawberry dessert ideas.
Jump to Section
Easy Strawberry Desserts
1. Cheesecake Stuffed Strawberries
These simple Cheesecake Stuffed Strawberries could not be easier to make. Fill fresh, juicy strawberries with the tangy cream cheese mixture, then sprinkle with graham cracker crumbs for elegant, and nearly effortless, bite-sized, quick strawberry desserts.

Try our Cheesecake Stuffed Strawberries recipe


2. Strawberry Ice Cream Sandwich
With just four ingredients, this semi-homemade Strawberry Ice Cream Sandwich is one of the easiest strawberry desserts. Full of flavor and texture, this strawberry treat elevates pre-made cookies and ice cream with the addition of salty, roasted pistachios and silky caramel syrup.
Try our Strawberry Ice Cream Sandwich recipe
3. Strawberry Donuts
With the help of a donut pan, making consistent and delicious Strawberry Donuts is both easy and efficient. These tender yeast-risen donuts are dipped in a shiny strawberry glaze and flecked with pieces of crushed freeze-dried strawberries for a burst of bold fruit flavor.

Try our Strawberry Donuts recipe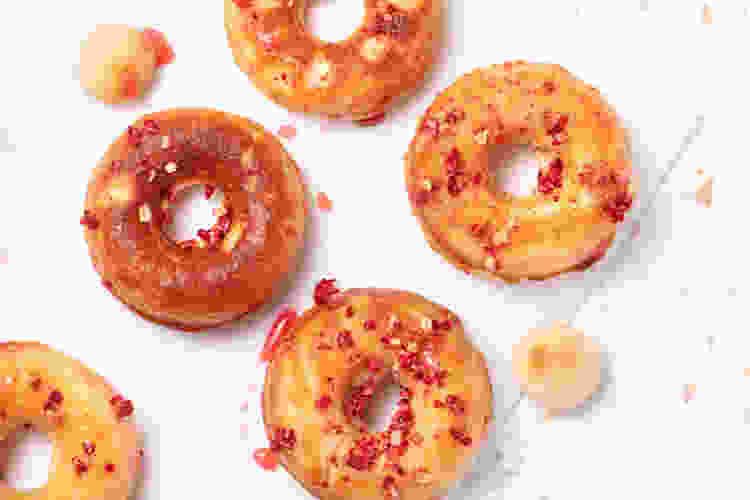 4. Strawberry Shortcake Cupcakes
Packed with the signature flavors of strawberry shortcake, these Strawberry Shortcake Cupcakes are cute and convenient strawberry desserts. The buttery cupcake base is topped with creamy strawberry frosting and finished with a fresh strawberry garnish.
Try our Strawberry Shortcake Cupcakes recipe
5. Strawberry Icebox Cake
Icebox cakes are crowd-pleasing, easy strawberry desserts with a few ingredients and don't require an oven. The Strawberry Icebox Cake by Simply Stacie can be assembled in just a few minutes with layers of crunchy graham crackers, silky whipped cream and fresh strawberries.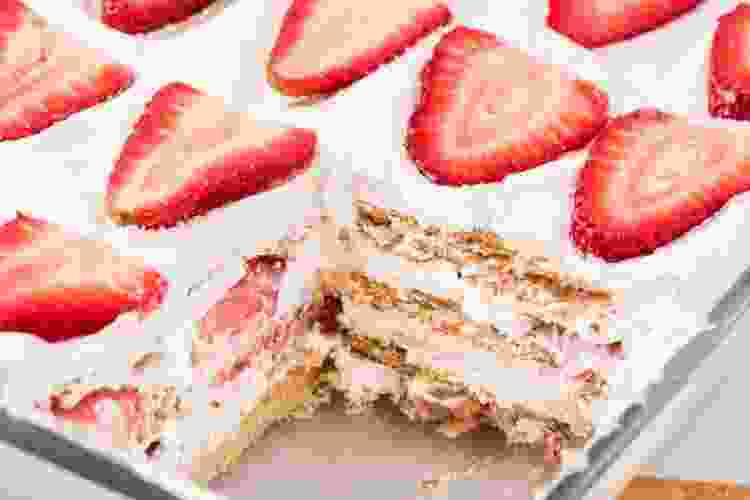 6. Strawberry Shortcake Cups
This sweet treat combines two classic strawberry desserts, berry cobbler and strawberry shortcake, into one tasty cupcake. These vegan Strawberry Shortcake Cups by Fried Dandelions feature a fruity cake with a crumbly crust topped with whipped buttercream and fresh strawberries.
7. 5 Ingredient Strawberry Cheesecake Truffles
These 5 Ingredient Strawberry Cheesecake Truffles from Sally's Baking Addiction are sweet, pretty and very easy to make. Crisp white chocolate on the outside with a soft, fruit-filled center, these delicate truffles are perfect strawberry desserts for spring holidays, baby showers and more.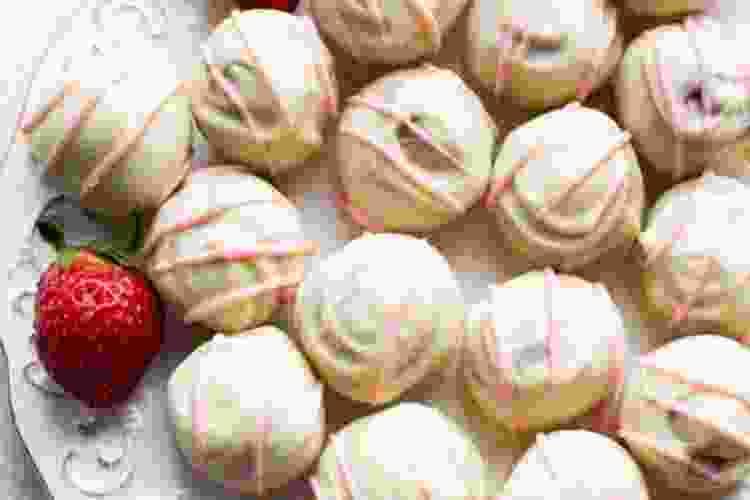 8. Strawberry Mug Cake
Mug cakes are the ultimate lazy day desserts, and this Strawberry Mug Cake by A Virtual Vegan brings bright strawberry flavor to the simple microwave treat. For extra decadent strawberry desserts, finish these easy cakes with sweet, oozy frosting.
9. Double Strawberry Cookie Butter Bites
These Double Strawberry Cookie Butter Bites by The Girl Who Ate Everything transform the classic pairing of peanut butter and jelly into easy, bite-sized strawberry desserts with a cookie butter twist. All you need are some buttery crackers, strawberry jam, cookie butter and fresh strawberries for a quick and satisfying treat.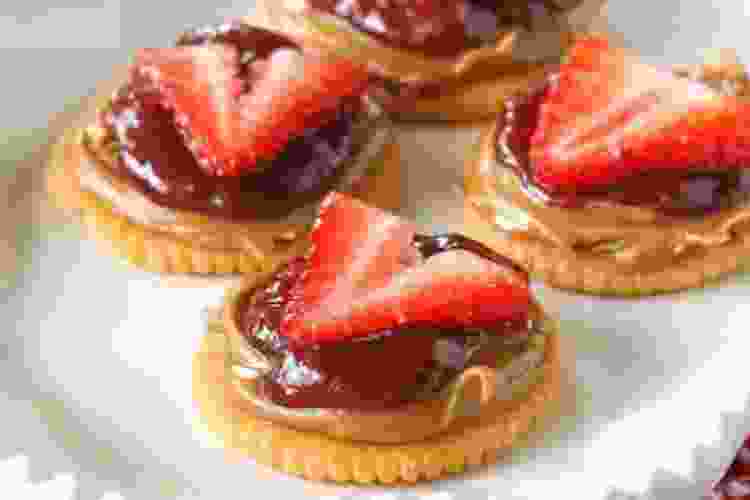 10. Strawberry Trifle
Based on one of Britain's signature strawberry desserts, this Strawberry Trifle by Spend with Pennies combines layers of light and airy angel food cake with fluffy whipped cream, luxurious cheesecake and fresh strawberries. This classic dessert can be made ahead and makes a beautiful centerpiece for a holiday table.
11. Eton Mess
Inspired by a traditional British dessert featuring layers of strawberries, whipped cream and meringues, the Eton Mess by Natasha's Kitchen comes together in just fifteen minutes. No bake strawberry desserts like Eton mess, truffles and icebox cakes are excellent summer strawberry desserts.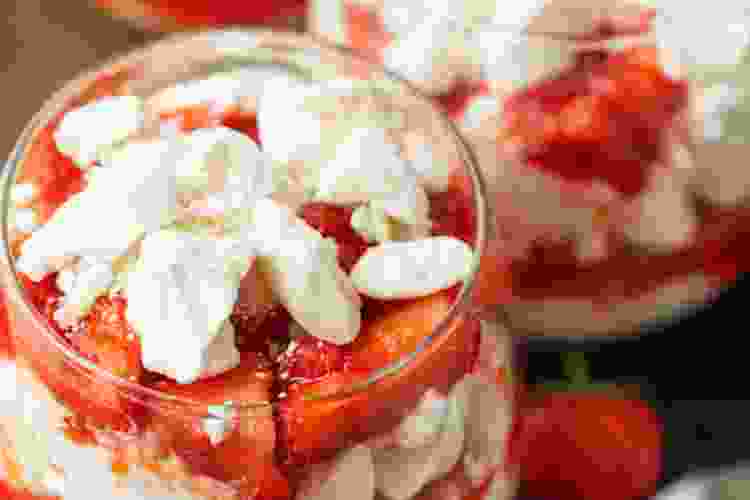 12. Easy Strawberry Cheesecake Bites
Simply blitz cream cheese and sugar together in a food processor and dip fresh strawberries in the creamy mixture along with some graham cracker crumbs for easy strawberry desserts. These versatile Easy Strawberry Cheesecake Bites from Momables are perfect for a quick sweet treat and work just as well on a dessert table spread for holidays and celebrations.
13. Strawberry Pretzel Salad
A Southern potluck staple, this sweet, salty and creamy combination has become one of the most popular strawberry desserts with its delightful contrasts of flavors and textures. The Strawberry Pretzel Salad by Spend with Pennies is a beautiful layered dessert that can easily be made ahead for barbecues, holidays and other gatherings.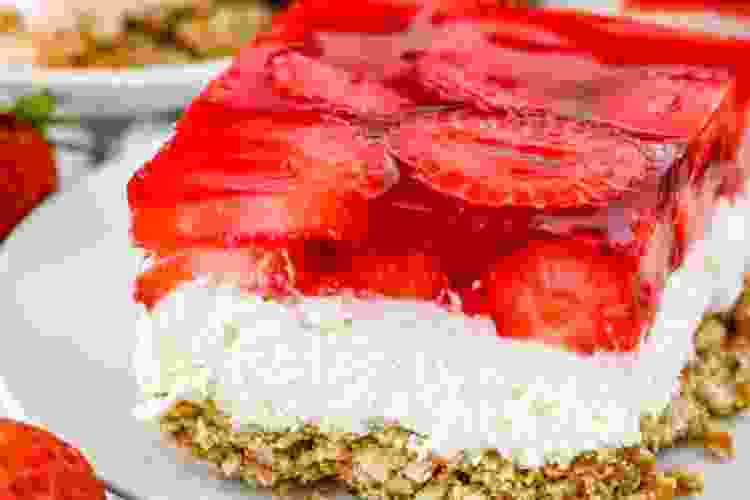 14. Strawberry Cream Flatbread Roll
A clever shortcut makes this Strawberry Cream Flatbread Roll by Easy and Delish one of the quickest strawberry desserts. With just six ingredients and fifteen minutes, you can enjoy this delicious and elegant strawberry treat.
15. Strawberry Soda Floats
Bring on the nostalgia with malt shop classics like these Strawberry Soda Floats by Eat Drink Love. These strawberry desserts are made with homemade strawberry syrup, rich ice cream and fizzy soda for a signature summer treat. Enjoy the kid-friendly version or add a shot of your favorite strawberry spirits for a boozy, grown-up dessert.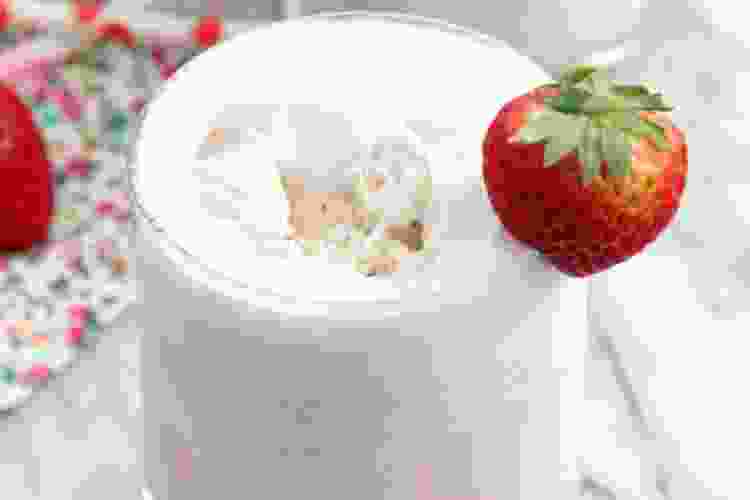 16. Easy Strawberry Milkshake
This Easy Strawberry Milkshake from Ruffles and Rain Boots is so simple, the kids can make it. With just four ingredients and a blender, you can make this creamy, fruity milkshake in just five minutes!
17. Glazed Strawberry Bread
A quick and easy recipe for brunch, tea time or an evening treat, this Glazed Strawberry Bread from Sally's Baking Addiction is bursting with chunks of fresh strawberries and finished with a sweet vanilla icing. This moist, fruity bread can be made in a loaf pan or muffin tin for easy and delicious strawberry desserts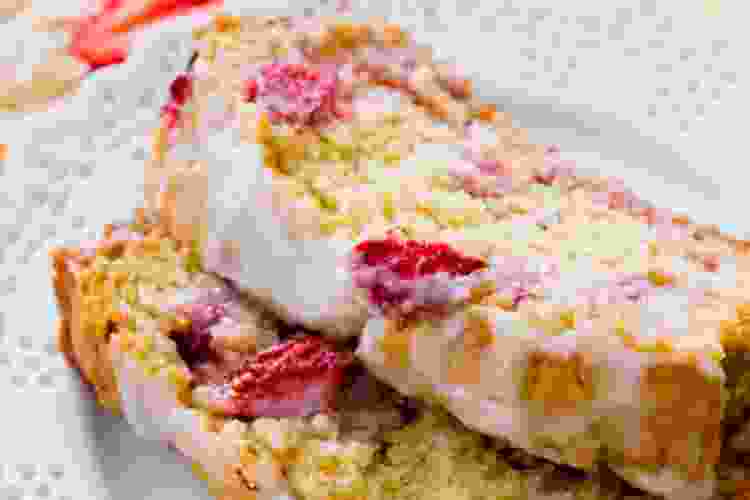 Fresh Strawberry Desserts
18. Strawberry Milk
Colorful and refreshing, Strawberry Milk is a simple sweet treat that celebrates the fresh flavor of strawberries. Pro tip: the strawberry syrup from this recipe is also delicious with ice cream, milkshakes, French toast, waffles and other strawberry desserts.
Try our Strawberry Milk recipe
19. Strawberry Crunch Cake
This beautiful Strawberry Crunch Cake is the perfect centerpiece for birthday parties, celebrations and springtime gatherings. With lots of fresh strawberry flavor and delightful textures, this gorgeous cake is sure to bring a smile to your face with each delicious bite.

Try our Strawberry Crunch Cake recipe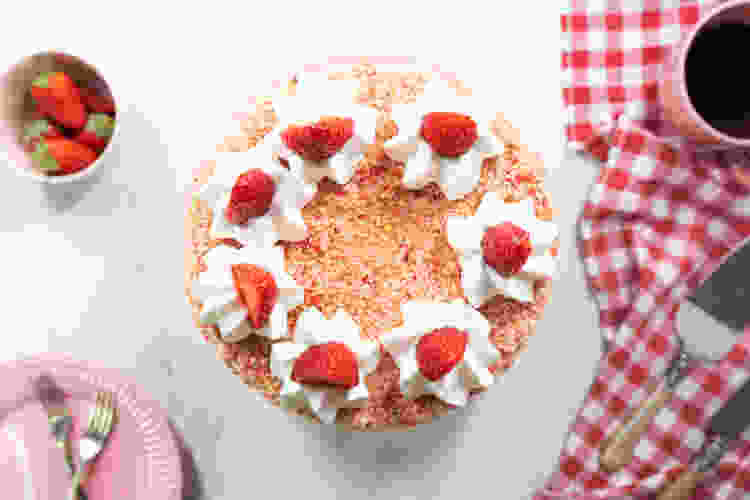 20. Stuffed French Toast
Whether served as a decadent breakfast or rich strawberry dessert, this Stuffed French Toast is sure to satisfy with its fresh strawberries, creamy mascarpone and crisp, buttery bread. A sprinkling of sugar gives this indulgent treat a delightfully crunchy coating.
Try our Stuffed French Toast recipe
21. Strawberry Hand Pies with Roasted Strawberry Filling
These Strawberry Hand Pies with Roasted Strawberry Filling from Baking Sense showcase an intense strawberry flavor in an adorable, handheld mini pie. Solving the problem of a soggy bottom, this recipe suggests roasting the fresh fruit to prevent an overly runny filling.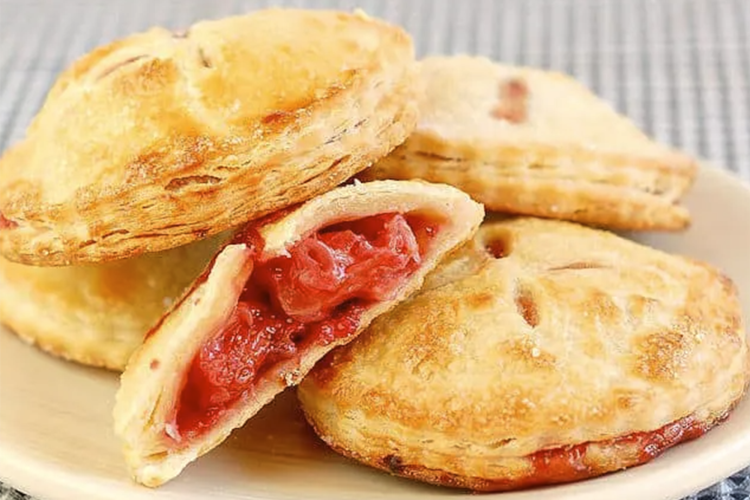 22. Strawberry Rolls with Lemon Glaze
Bring bright summer flavors to the classic cinnamon roll with these colorful Strawberry Rolls with Lemon Glaze by Sally's Baking Addiction. The tangy lemon glaze is a perfect complement to the fresh strawberry filling swirled inside the buttery pastry.
23. Strawberry Turnovers
Also known as hand pies, these flaky and fruit-filled Strawberry Turnovers by Feasting at Home are portable strawberry desserts perfect for potlucks, picnics and other gatherings. With no forks needed, these handheld treats are the ultimate strawberry desserts for enjoying on the go.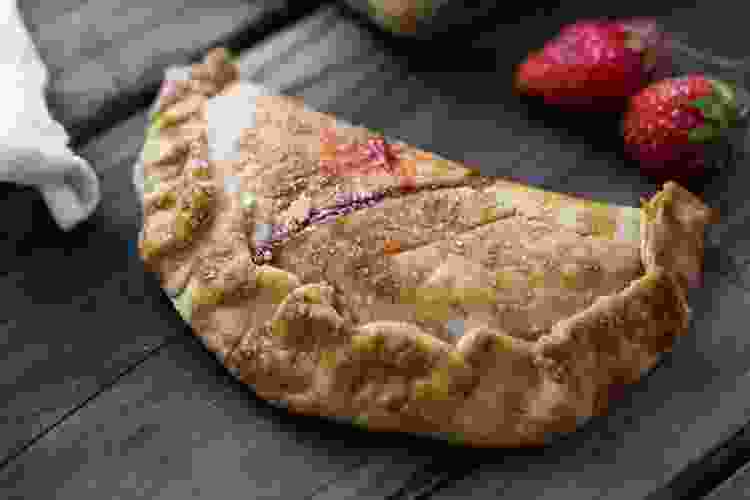 24. Mini Strawberry Scones with Red Bean Paste
From cream and chocolate to bananas and kiwi, strawberries are known for a number of signature flavor pairings. These Mini Strawberry Scones with Red Bean Paste by Healthy Nibbles introduce a new and exciting combination to try as sweet additions to brunch or afternoon tea and as tempting strawberry desserts.
25. Strawberry Lassi
Inspired by the classic Indian yogurt drink, this Strawberry Lassi by Little Spice Jar trades mangoes for fresh strawberries with a hint of rose for a refreshing twist on the traditional beverage. Sweet and creamy lassis are ideal strawberry desserts for combating summer heat.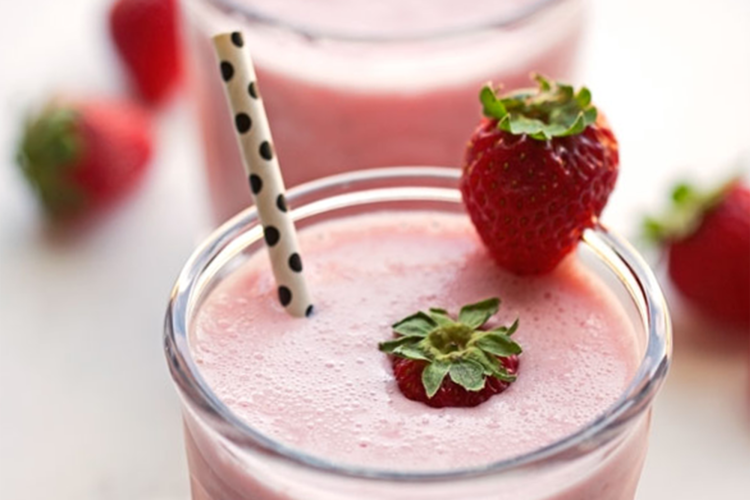 26. Strawberry Jello Cake
This decorative Strawberry Jello Cake from Natasha's Kitchen elevates humble ingredients into a decadent strawberry treat. With fresh strawberries and a creamy filling sandwiched between layers of cake, try crafting this dessert in glass bakeware or a clear serving dish to show off the beautiful design.
27. Strawberry Tall Cake (Strawberry Chiffon Cake)
This Strawberry Tall Cake by Baking Sense, also known as strawberry chiffon cake, features layers of vanilla sponge cake, whipped cream and fresh strawberries with a secret ingredient. This recipe elevates the classic cake with a splash of Grand Marnier liquor or orange juice for a zesty finish.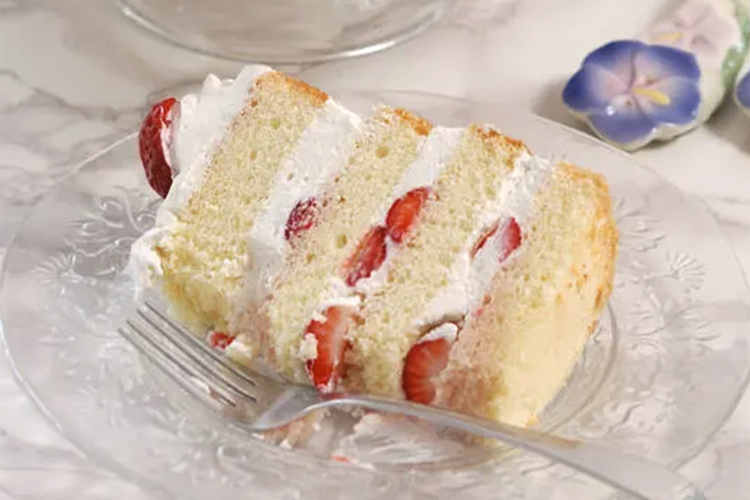 28. Strawberry Shortcake Kabobs
For fresh strawberry desserts that are quick, easy and delicious, try these adorable Strawberry Shortcake Kabobs from Momables. These sweet treats on a stick are drizzled with white or milk chocolate for a tasty finishing touch.
29. Strawberry Galette
Easier than pie with an attractive, rustic aesthetic, this Strawberry Galette by Ahead of Thyme is loaded with fresh berries wrapped inside a flaky, buttery crust. With its crisp pastry and fruity filling, each bite of this classic galette will transport you to the French countryside. Serve this strawberry dessert with a scoop of ice cream for a truly decadent treat.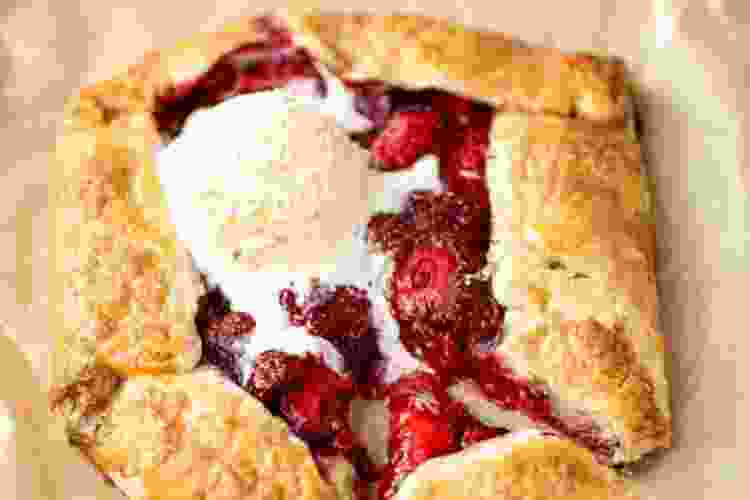 30. Strawberry Tea Bread with Whipped Strawberry Butter
A not too sweet dessert for strawberry lovers, this Strawberry Tea Bread with Whipped Strawberry Butter by Spend with Pennies is a refined treat bursting with fresh strawberry flavor and delightful textures. The whipped strawberry butter also makes a great addition to French toast, pancakes, scones and more.
31. Strawberry Rhubarb Coffee Cake
The quintessential pairing of fresh strawberries and rhubarb is a signature of springtime. In this Strawberry Rhubarb Coffee Cake by Vegan Yack Attack, the iconic duo becomes a bright, fruity filling for crumbly, cinnamon coffee cake.
32. Fresh Strawberry Peanut Butter Bars
These Fresh Strawberry Peanut Butter Bars by Iowa Girl Eats celebrate the iconic pair of peanut butter and jelly with a soft, nutty base and lots of fresh strawberries. These baked strawberry desserts elevate the traditional flavors of a peanut butter and jelly sandwich by transforming them into sweet, decadent dessert bars.
Frozen Strawberry Desserts
33. German Spaghetti Ice Cream
Also known as spaghettieis, the whimsical frozen treat, German Spaghetti Ice Cream, is a delightful strawberry dessert for the whole family to enjoy. Made by pressing vanilla ice cream through a potato ricer, the "noodles" are topped with a sweet strawberry sauce and a sprinkle of shredded coconut to create this fun faux spaghetti.

Try our German Spaghetti Ice Cream recipe
34. Strawberry Blintzes
Tender crepes are stuffed with creamy ricotta and sweet strawberry sauce to make these easy Strawberry Blintzes by Pinch of Yum. Made with fresh or store-bought crepes, these quick blintzes are simple, yet satisfying, strawberry desserts.
35. Dairy Free Strawberry Ice Cream Bonbons
Adding an ice cream maker to your kitchen collection opens up a world of possibilities for making cool and creamy strawberry desserts like these Dairy Free Strawberry Ice Cream Bonbons by Vegan in the Freezer. Using whole frozen strawberries to make strawberry ice cream, each bonbon is robed in rich chocolate to make these bite-sized frozen strawberry sweets.
36. Strawberry Hot Chocolate
Having frozen strawberries on hand is a great way to enjoy a taste of summer any time of the year. This Strawberry Hot Chocolate from Momables combines the iconic summer berry with a signature winter beverage to create this deliciously decadent dessert.
37. Strawberry Swirl Cheesecake
Frozen strawberries become a sweet, vibrant accent to this vegan and gluten free Strawberry Swirl Cheesecake by Vegan Yack Attack. The strawberry puree elevates the classic cheesecake while giving it a beautiful color and finish.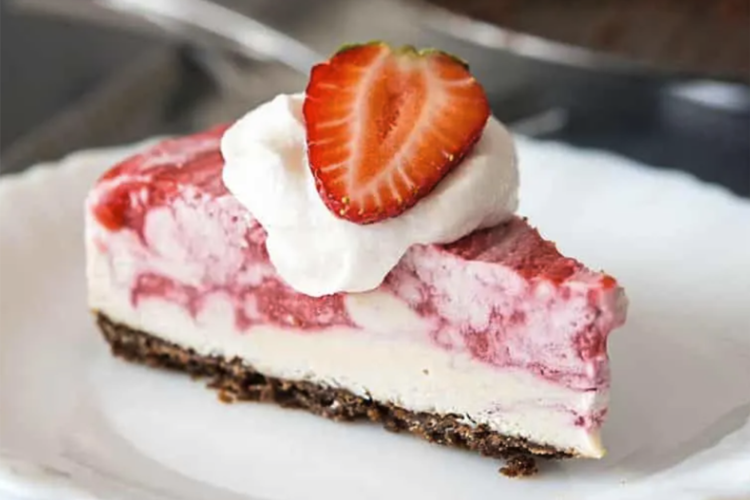 38. Strawberry Lemonade Madeleines
Beautiful and delicate strawberry desserts, these Strawberry Lemonade Madeleines by Crumb are a sweet treat to enjoy on their own or along with your favorite cup of tea. For an extra touch of indulgence, use a special madeleine pan to achieve the signature look, then dip or drizzle these soft little cakes with a generous amount of melted white chocolate.
39. Strawberry Ice Cream
What would this list be without a luscious ice cream? This Strawberry Ice Cream by Simply Stacie uses a hand mixer and ice cream maker to churn out ultra creamy ice cream bursting with strawberry flavor.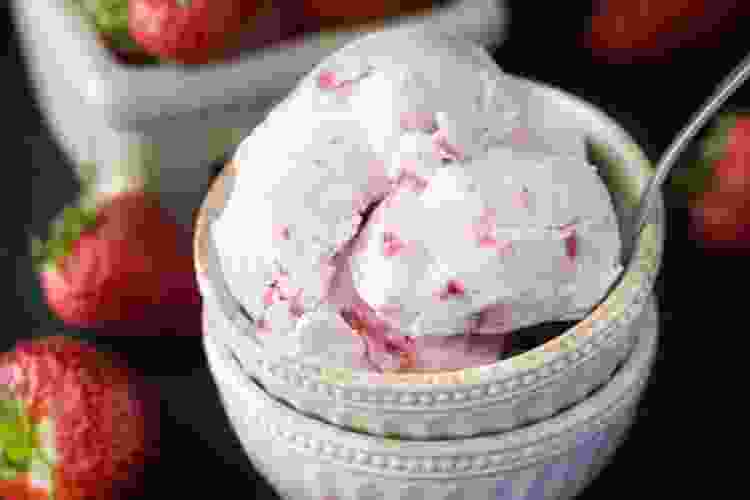 40. Homemade Sour Strawberry Gummies
Not all strawberry desserts are purely sweet. These Homemade Sour Strawberry Gummies by Love and Olive Oil balance the sweetness with a dose of tart citrus in this soft, chewy candy. Use a silicone mold to create fun, bite-sized shapes for these sweet and sour strawberry desserts.
Healthy Strawberry Desserts
41. Vegan Chocolate Chia Pudding Parfaits
These Vegan Chocolate Chia Pudding Parfaits by Healthy Nibbles are made with silken tofu and chia seeds flavored with chocolate, mango and berries for a healthy dessert that feels indulgent. Colorful layers of mousse stacked inside of a clear jar or serving dish showcase these strawberry desserts that are both beautiful and delicious.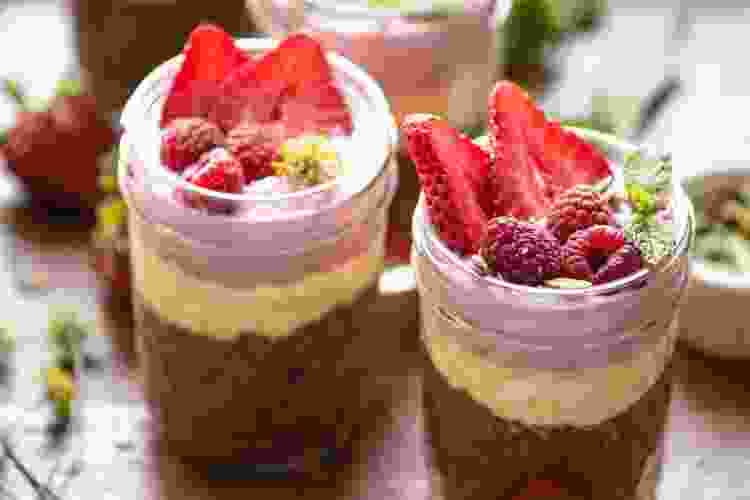 42. Strawberry and Lemon Cauliflower Cream Parfait
Cauliflower in dessert? As unexpected as it may be, the versatile, nutrient-rich vegetable transforms into a sweet, creamy layer of this Strawberry and Lemon Cauliflower Cream Parfait by Every Last Bite. Along with a bright strawberry puree, the tangy lemon cauliflower cream is stacked with a crunchy toasted pecan crumble for a surprisingly delightful strawberry dessert.
43. Strawberry Watermelon Sorbet
This Strawberry Watermelon Sorbet by Minimalist Baker is a quick and refreshing summer treat. All you need is some frozen fruit, coconut milk and a blender to create this bright, five-minute strawberry dessert.
44. Iced Strawberry Matcha Latte
Strawberries and matcha are quickly becoming an iconic duo as the delicate sweetness of the strawberry is highlighted by the herbal notes of the matcha. This Iced Strawberry Matcha Latte from Cooking with Janica showcases the individual flavors as well as how delicious they are together in this gorgeous layered beverage.
45. Dessert Strawberry Salsa with Cinnamon Chips
Traditional chips and salsa gets a sweet twist with this Dessert Strawberry Salsa with Cinnamon Chips from A Virtual Vegan. Crisp, cinnamon-dusted tortilla chips are the perfect vessel for scooping this fresh and tangy strawberry salsa.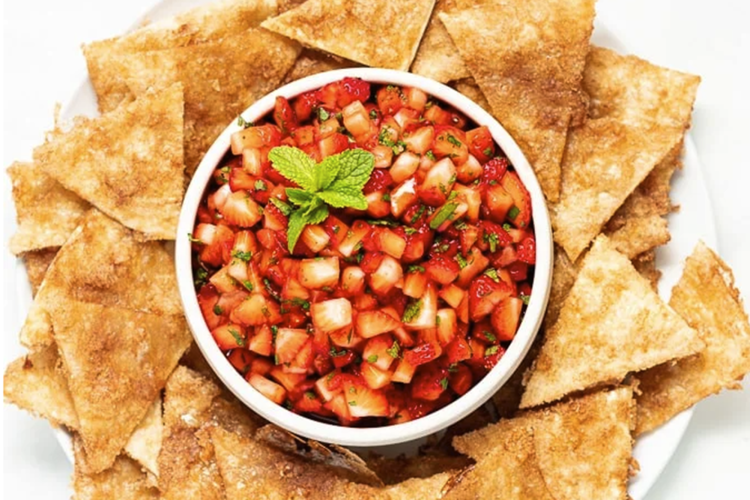 46. Baked Strawberry Donuts
These lightened up Baked Strawberry Donuts by Chocolate Covered Katie feature real fruit and are made without refined sugar for a healthier alternative to classic fried donuts. Bump up the flavor and sweetness with a glaze of jam, nut butter or vanilla yogurt.
47. Strawberry Chia Oatmeal Cookies
Made with healthy grains, fresh fruit and no refined sugar, these Strawberry Chia Oatmeal Cookies by Live Eat Learn are filling and energizing strawberry desserts. Seasoned with cinnamon, ginger and vanilla, these nutritious, bite-sized treats are packed with flavor.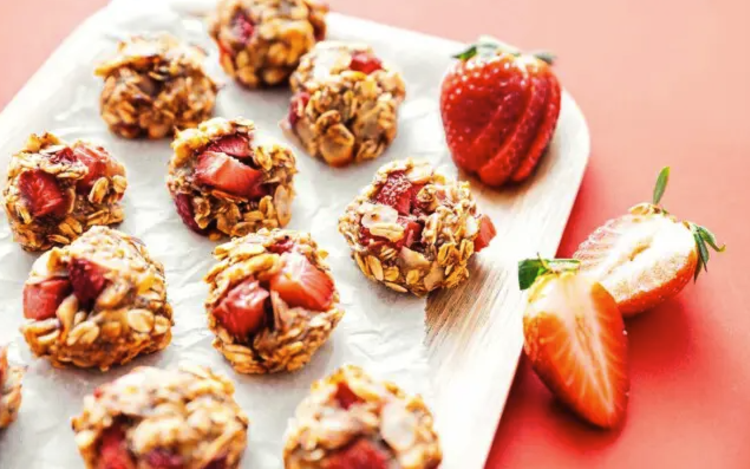 48. Healthy Strawberry Oat Squares
These Healthy Strawberry Oat Squares by Sally's Baking Addiction are nutty, fruit-filled strawberry desserts that are low in sugar, oil and butter. Easy and nutritious, these bars also freeze well for a healthy sweet treat whenever the craving strikes.
49. Skinny Strawberries and Cream Popsicles
There are few strawberry desserts that are more refreshing on a hot day than these Skinny Strawberries and Cream Popsicles from Ahead of Thyme. Made with real fruit, Greek yogurt and no refined sugar, these healthy strawberry desserts are fresh and creamy without feeling too heavy or overly sweet.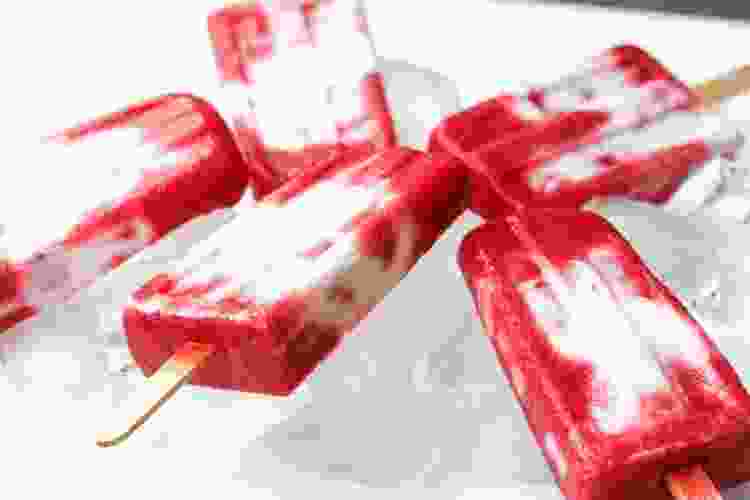 50. Strawberry and Cream Frozen Yogurt Bark
An easy and colorful dessert to enjoy any time of the year, this Strawberry Cream Frozen Yogurt Bark by Easy and Delish is simple to make, requiring just a few nutritious ingredients. These healthy strawberry desserts are perfect for serving at a summer barbecue or as a festive holiday treat and any time in between.
Chocolate Strawberry Desserts
51. Strawberry Brownies
These decadent Strawberry Brownies layer a fudgy brownie base with a sweet strawberry filling topped with a rich chocolate ganache to create irresistible strawberry desserts. This chocolate covered treat is as fun to look at as it is to eat.

Try our Strawberry Brownies recipe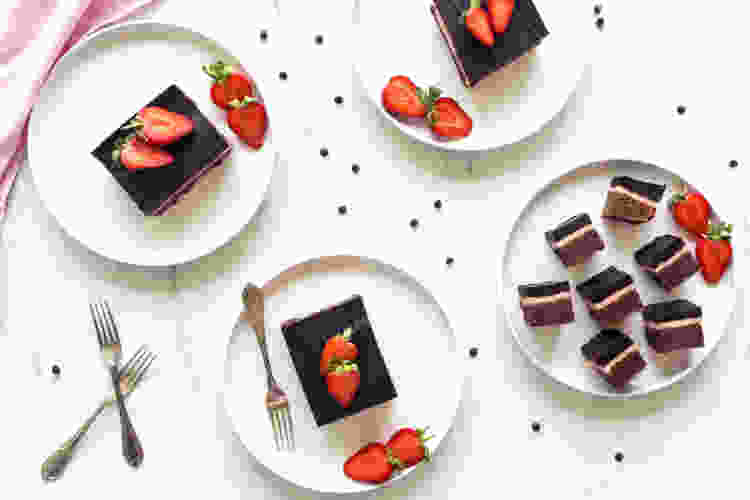 52. Chocolate Covered Strawberry Fudge Bars
Strawberry desserts don't have to be elaborate or packed with sugar to be incredibly satisfying. These vegan and gluten free Chocolate Covered Strawberry Fudge Bars by Chocolate Covered Katie are made with just a few ingredients and no added refined sugar to create a delicious and decadent treat.
53. Chocolate Covered Strawberry Cupcakes
Two classic desserts combine to create these delicious Chocolate Covered Strawberry Cupcakes from Sally's Baking Addiction. These moist chocolate cupcakes are filled with strawberry buttercream and finished with rich chocolate ganache and a fresh strawberry garnish.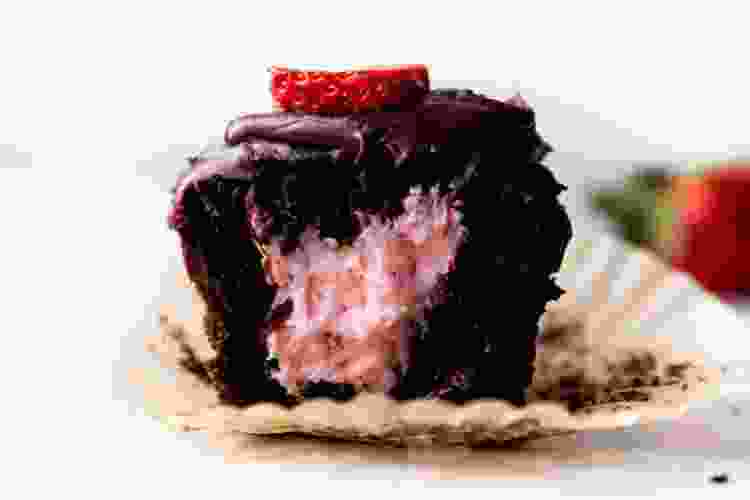 54. Strawberry White Hot Chocolate Bombs
The Strawberry White Hot Chocolate Bombs from Inside BruCrew Life are fun and interactive strawberry desserts that also make excellent gifts or favors for parties, holidays and other celebrations. Using a silicone sphere mold, shape the melting chocolates and fill the treats with strawberry powder, marshmallows and other surprises before decorating the finished sweets with colorful chocolate drizzles and sprinkles.
55. Chocolate Covered Strawberry Mousse Cakes
Chocolate and strawberries are synonymous with luxury and romance. These elegant Chocolate Covered Strawberry Mousse Cakes by Love and Olive Oil are almost too pretty to eat, filled with airy strawberry mousse and a rich, fudge brownie center enrobed in glistening chocolate ganache.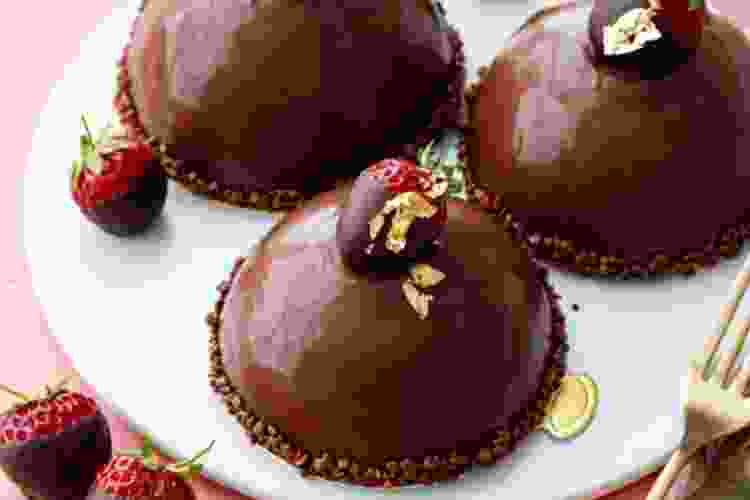 56. Chocolate Strawberry Tart
Putting a chocolatey twist on a classic strawberry dessert, this Chocolate Strawberry Tart from Baking Sense is a decadent dessert everyone will love. Crisp chocolate crust is topped with a luscious chocolate pastry cream, fresh strawberries and a glistening strawberry jelly glaze to create this beautiful strawberry treat.
57. Chocolate Baked Alaska
The Chocolate Baked Alaska from In Katrina's Kitchen proves that the notorious dessert doesn't have to be difficult to make, utilizing convenient swaps and clever tips. This elaborate confection made with layers of cake, ice cream and meringue even has a cute strawberry surprise waiting inside.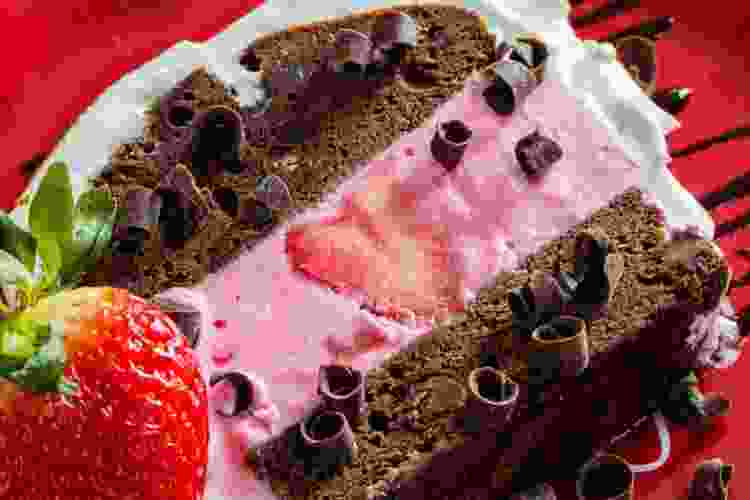 58. Chocolate Strawberry Slump
Slump might not be the most appealing name for a dessert, but adding strawberries and chocolate can make just about anything more enticing. Essentially a type of berry crumble, the Chocolate Strawberry Slump by Easy and Delish is made in individual servings for a perfectly portioned strawberry dessert.
59. Cupid's Cupcakes
Perfect for sharing with a loved one, the Nutella-filled Cupid's Cupcakes by Sally's Baking Addiction are finished with a strawberry-chocolate frosting swirl. The subtle hazelnut note adds a unique depth of flavor to these beautiful cupcakes.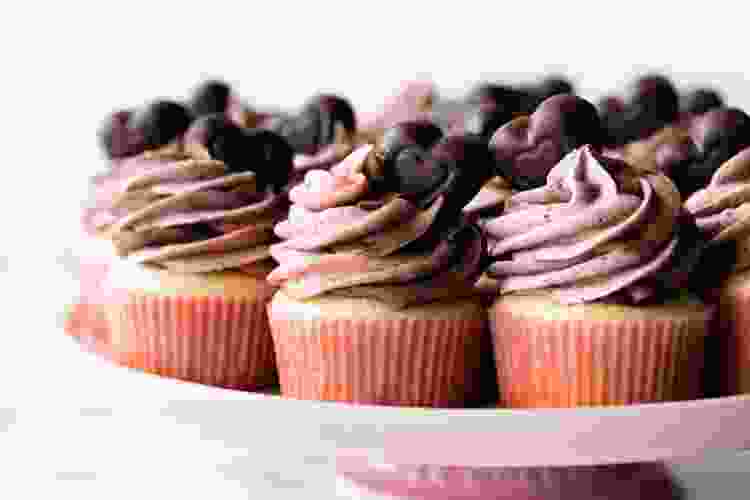 60. Vegan Chocolate Cake with Strawberry Buttercream Frosting
This festive Vegan Chocolate Cake with Strawberry Buttercream Frosting by Fried Dandelions is a perfect centerpiece for birthdays and celebrations. The moists, chocolate cake is layered and topped with luscious strawberry buttercream to create this show-stopping strawberry dessert.
61. Chocolate Covered Strawberry Eclairs
Nothing says luxury like patisserie-worthy strawberry desserts like these Chocolate Covered Strawberry Eclairs by Love and Olive Oil. To make these beautiful strawberry delights, airy choux pastry is filled with velvety strawberry pastry cream and dipped in a rich chocolate ganache sprinkled with crushed freeze-dried strawberries.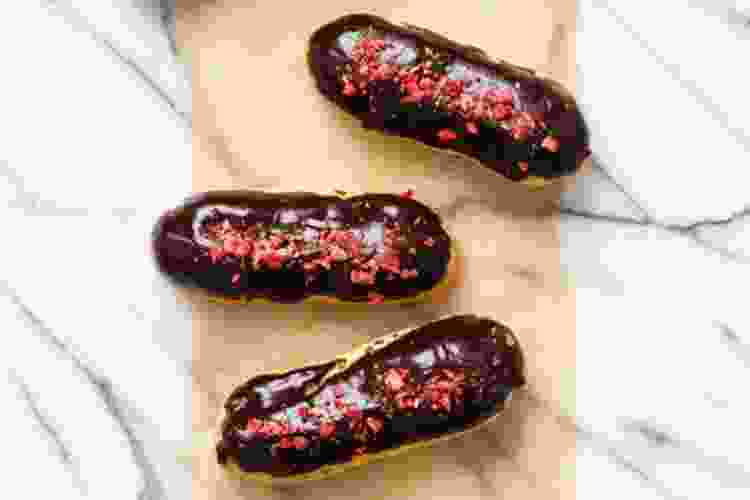 62. Strawberry Chocolate Chip Cookies
Keep your favorite baking sheet handy because you will want to make these Strawberry Chocolate Chip Cookies by Sally's Baking Addiction again and again. This semi-homemade recipe is quick, easy and absolutely delicious.
63. Strawberry Chocolate Cheesecake
The iconic Neapolitan flavor trio takes cheesecake form with this Strawberry Chocolate Cheesecake from Inside BruCrew Life. Layers of chocolate and vanilla cheesecake are topped with strawberry jelly to sweeten fresh strawberries to create this unique strawberry dessert.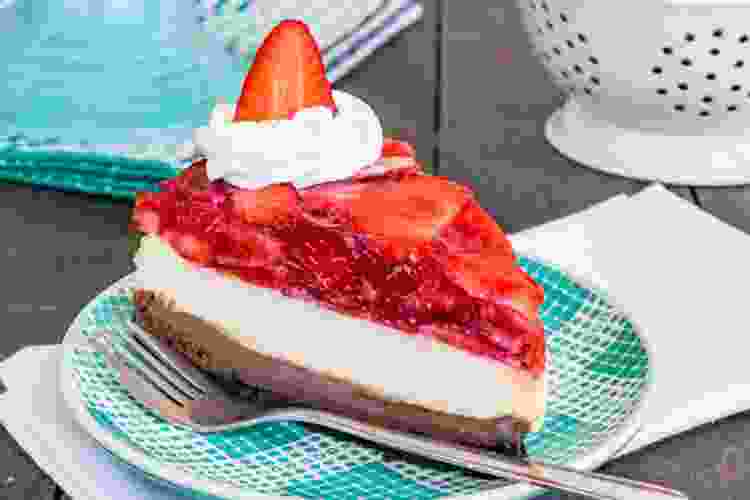 Keto Strawberry Desserts
64. Strawberry Mascarpone Tart
With a crisp coconut flour base, creamy mascarpone filling and fresh strawberries, this Strawberry Mascarpone Tart by Sugar Free Londoner is a decadent low carb and keto friendly strawberry treat. This quick dessert is easy to make and makes a beautiful addition to any dessert table.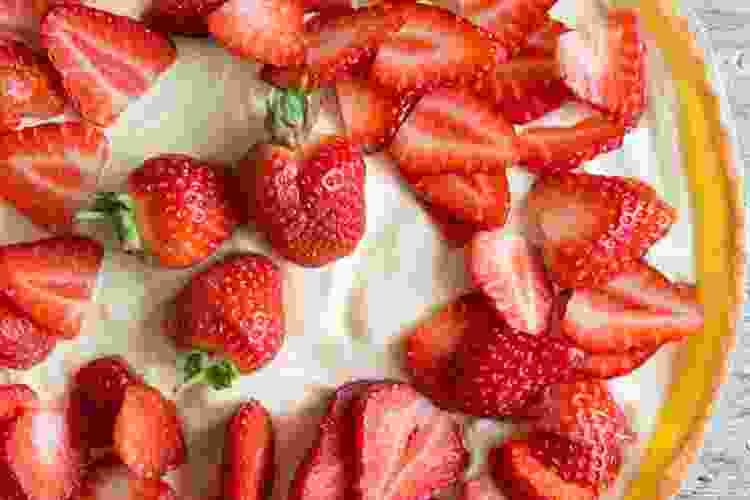 65. Keto Strawberry Buttercream
The Keto Strawberry Buttercream from Sugar Free Londoner is a delicious, sugar free topping that adds bright strawberry flavor to cupcakes, cakes and more. This creamy frosting can be stored in the fridge for several days or frozen for up to three months.
66. Keto Strawberry Smoothie
For low carb strawberry desserts on the go, try this Keto Strawberry Smoothie from Big Man's World. This creamy strawberry smoothie is made from just three ingredients plus ice and is easy to customize with your favorite add-ins such as nut butter, seeds or spices.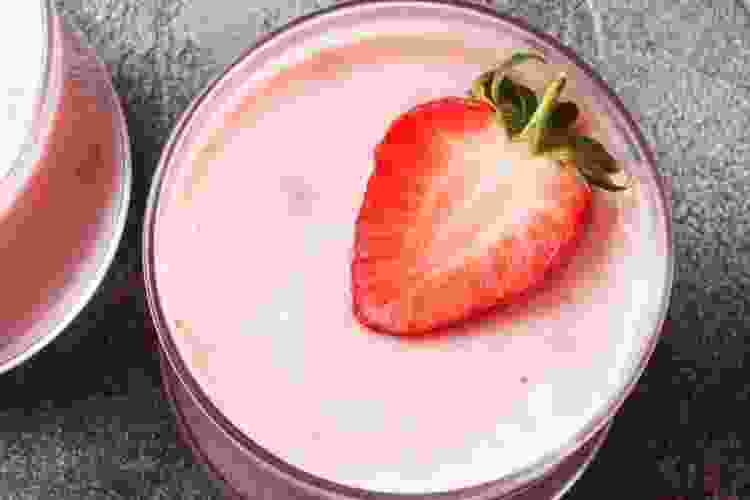 67. Keto Strawberry Mousse
Low carb and sugar free, the Keto Strawberry Mousse by Joy Filled Eats makes a simple, yet elegant strawberry dessert. This silky smooth mousse finished with fresh strawberries is both easy enough to make on a lazy evening and a beautiful dessert to serve at a dinner party or holiday gathering.
68. Strawberry Cheesecake Popsicles
The Strawberry Cheesecake Popsicles by Sugar Free Londoner are creamy and refreshing strawberry desserts finished with a toasted crumble for a unique added texture. The base recipe for this creamy confection can be frozen in popsicle molds or transformed into creamy soft serve with an ice cream maker for two delicious strawberry desserts.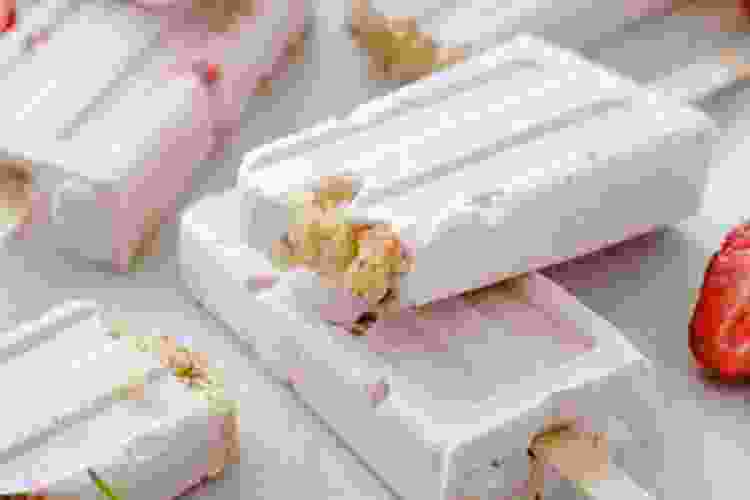 69. Keto Strawberry Sauce
This easy Keto Strawberry Sauce from Sugar Free Londoner is a great way to add vibrant strawberry flavor to your favorite low carb desserts. Drizzle this velvety homemade sauce over cheesecake, ice cream, mousse, pancakes and more.
70. No Bake Sugar Free Strawberry Cheesecake Tart
There's no oven required for this No Bake Sugar Free Strawberry Cheesecake Tart by Low Carb Maven. A hemp walnut crust is filled with a rich goat cheese and cream cheese mixture and finished with fresh strawberries to create this elegant, low carb tart.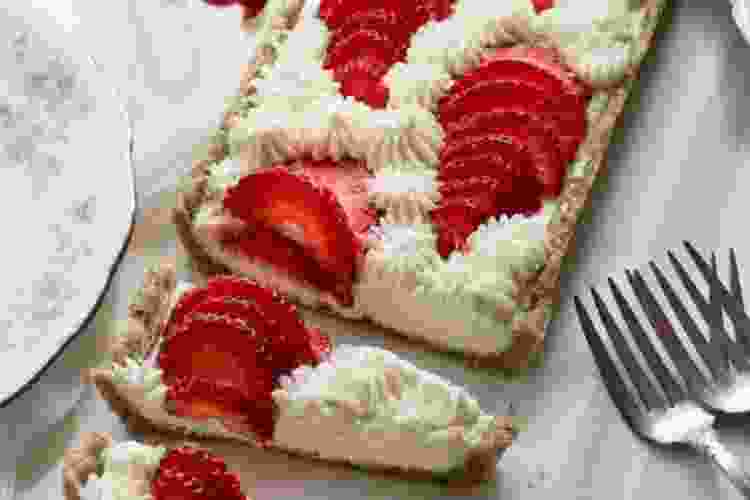 71. Strawberry Lemon Tea Cakes
Bright strawberries and tangy lemon are a perfect combination in these Strawberry Lemon Tea Cakes from Joy Filled Eats especially with the addition of creamy cheesecake filling. Prepare these delightful cakes in a muffin tin or a special scone pan for a signature tea-time look.
72. Triple Berry Keto Gummy Bears
Seeing healthy and candy in the same sentence might raise some eyebrows, but these Triple Berry Keto Gummy Bears by Sugar Free Londoner are made with real fruit and no refined sugar for a lighter version of the childhood treat. Use all three berries for the puree or go all in on the strawberry flavor while making these soft, chewy homemade gummy bears.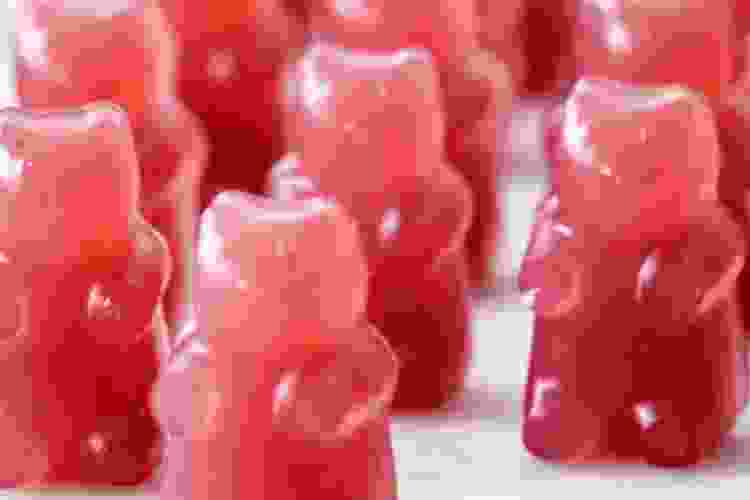 Gluten Free Strawberry Desserts
73. Candied Strawberries
Inspired by a popular Asian street snack, Candied Strawberries are sweet, fruity treats that are deceptively easy to make. These naturally gluten free strawberry desserts are excellent on their own or can be used to decorate cupcakes and other desserts or make into a glistening strawberry bouquet.
Try our Candied Strawberries recipe
74. Strawberry Mochi
Fresh strawberries are enveloped in sweet red bean paste and wrapped in a layer of pillowy mochi to create these bite size strawberry desserts. Strawberry Mochi is a naturally gluten free dessert that is easy to make and fun to eat.

Try our Strawberry Mochi recipe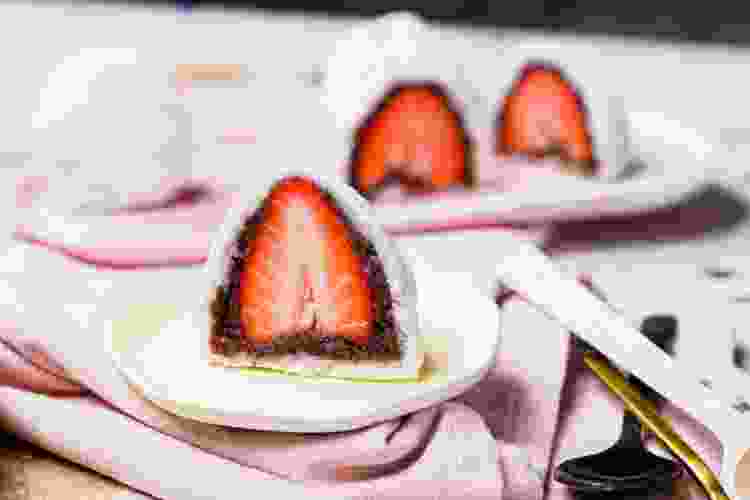 75. Strawberry Delight
Inspired by the iconic soft jelly dessert, Turkish Delight, these bouncy, ruby colored cubes are coated in flaky coconut for a unique flavor sensation. If you're not a fan of coconut, Strawberry Delight can be coated in powdered sugar, chopped nuts or even cocoa powder.
Try our Strawberry Delight recipe
76. Strawberry Paletas
These Mexican-style Strawberry Paletas from Dora's Table are refreshing strawberry desserts perfect for a hot summer day. Made with fresh strawberries, sugar, water and lemon juice, these frozen treats are simple and satisfying.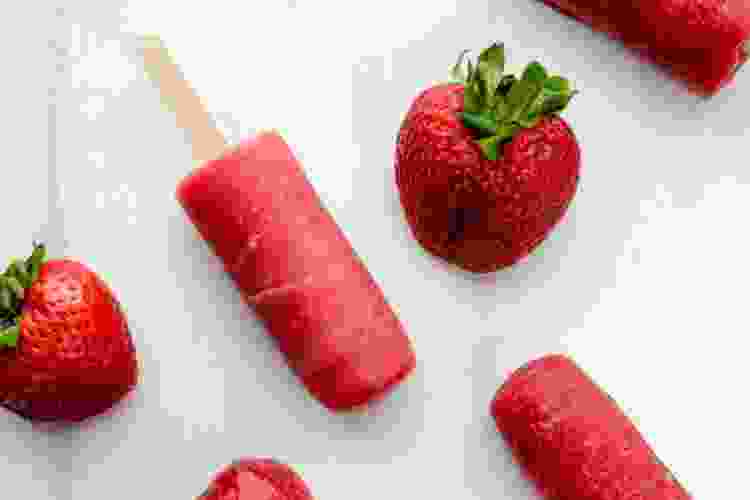 77. Strawberry Dole Whip
The signature pineapple dessert gets a refreshing strawberry twist with this homemade Strawberry Dole Whip by Chocolate Covered Katie. This healthy, gluten free, frozen treat can also be easily made low carb and vegan.
78. Grain Free Berry Crisp
Enjoy the flavors and textures of a classic berry crisp without the gluten in this Grain Free Berry Crisp from Minimalist Baker. Instead of flour, the crunchy topping on this strawberry dessert is made with almond flour, coconut and chopped pecans for a nutty complement to the soft, roasted berries.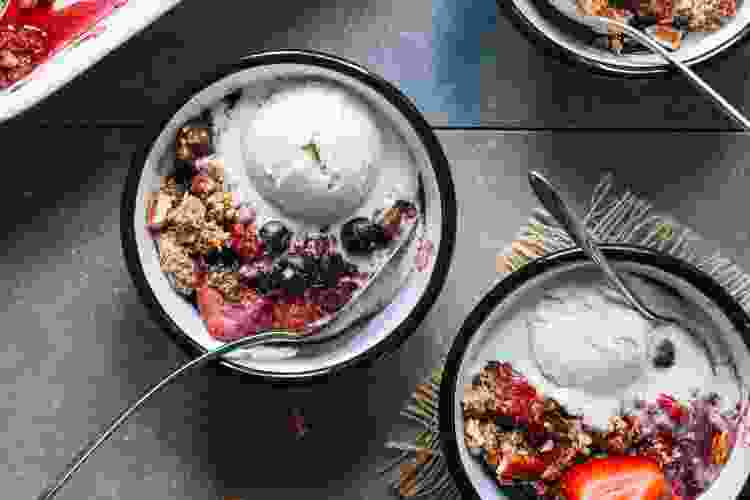 79. Strawberry Panna Cotta
This elegant Strawberry Panna Cotta from Baking Sense is a chic strawberry dessert that is surprisingly simple to make. These elevated strawberry desserts feature a splash of rose wine and fresh fruit puree for a bright and intriguing flavor.
80. Avocado Semifreddo with Strawberries and Basil
A classic Italian dessert gets an innovative update with the addition of creamy avocado and a touch of basil to pair with strawberries and pistachios in this decadent, semi-frozen treat. The Avocado Semifreddo with Strawberries and Basil by Healthy Nibbles brings a fresh new perspective to the traditional, chilled dessert.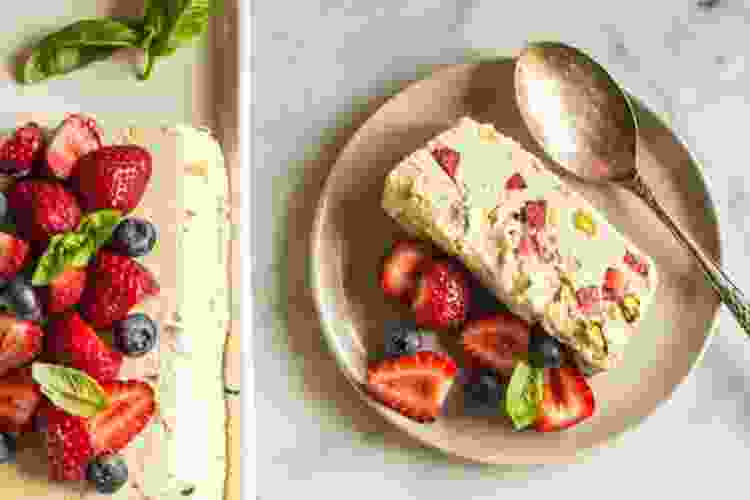 81. Strawberry Champagne Sorbet
Bubbly Champagne and fresh strawberries are a classic combination for celebrations and happy occasions. This Strawberry Champagne Sorbet by Eat Drink Love is a grown up treat featuring bright strawberry puree and boozy Champagne in a delicious frozen dessert perfect for festive summer events.
82. Strawberry & Rosé Wine Macarons
The Strawberry and Rosé Wine Macarons from Baking Sense are infused with vibrant strawberry flavor and the delicate notes of rosé to create unique and elegant strawberry desserts. The pillowy macarons are filled with strawberry-rosé buttercream with a jammy fruit center.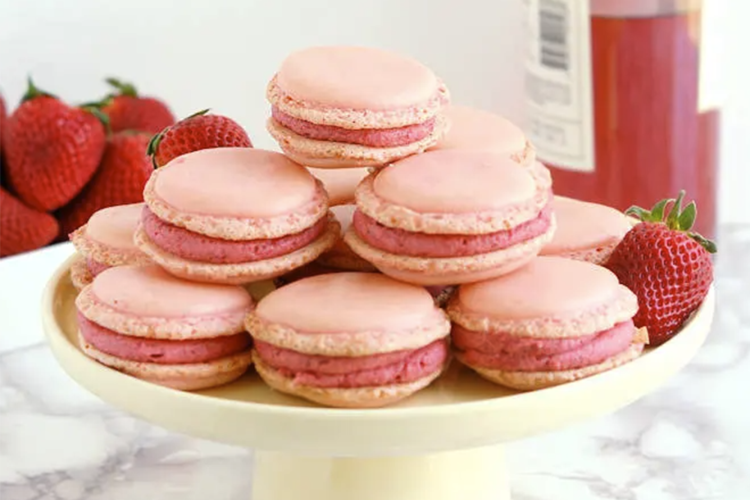 83. Strawberry Milk Tea
Bring the popular boba tea trend home with this Strawberry Milk Tea by Ahead of Thyme. This homemade strawberry dessert features chewy tapioca pearls, fresh strawberries and bold black tea mixed with milk and sugar for a creamy and sweet strawberry treat.
84. Strawberry Coconut Macaroons
Not to be confused with the delicate French sandwich cookies of a similar name, these Strawberry Coconut Macaroons from Sally's Baking Addiction are delightful bites of texture and flavor. Made with toasted coconut and fresh strawberries, these strawberry desserts are moist and chewy on the inside and slightly crisp and golden brown around the edges.
85. Strawberry Marshmallows
These adorable Strawberry Marshmallows by Eat Drink Love add a touch of strawberry flavor to hot chocolate, s'mores and other marshmallow treats. These fluffy strawberry desserts also make cute gifts for birthdays, holidays and other celebrations.

From quick and easy strawberry desserts to elegant, chocolate covered strawberry treats, these delightful strawberry dessert recipes highlight the versatility and range of the humble strawberry. Whether paired with silky cream, tangy citrus or herbaceous matcha, juicy strawberries star in a variety of classic and innovative sweet treats enjoyed all year round.
Check out Cozymeal Recipes for more fun and festive strawberry desserts and other sweet treat ideas. Expand your dessert repertoire and elevate your kitchen with premium bakeware and helpful appliances from the Cozymeal Shop.