How to Cook Scallops
Spice up your seafood palate and learn how to cook scallops. Are you tired of making the same salmon recipes? Are you looking for something to elevate your favorite surf and turf dish? Bring the extravagance of your favorite restaurant home by mastering three simple methods on how to cook scallops.
Scallops, known as the filet of the sea, are reputed as being a high-class, high-priced delicacy too decadent to make at home. On the contrary, this buttery shellfish makes for a quick and easy meal to serve at your table. Keep it simple and serve them alone or spice things up with a few easy side dishes. However you serve them, it's easy to learn how to cook scallops.
Jump to Section
What are Scallops
Like oysters, mussels and clams, scallops are a type of shellfish surrounded by two exterior shells. The muscle that opens and closes the shell is known as the adductor muscle, which when cooked properly, becomes the tender delight millions have come to enjoy.
The two most common varieties of scallops are sea scallops and bay scallops. While sea scallops tend to be much larger in size, bay scallops are sweeter in taste. Due to the amount of meat rendered from sea scallops, these are the more common class of scallops.
Scallops are regarded as one of the healthiest seafood you can eat as they sport a low content of fat, but pack in a lot of protein and are rich in vitamins, minerals and antioxidants. Not only would learning how to cook scallops be beneficial to your taste buds, but learning how to cook scallops would be beneficial to your health as well.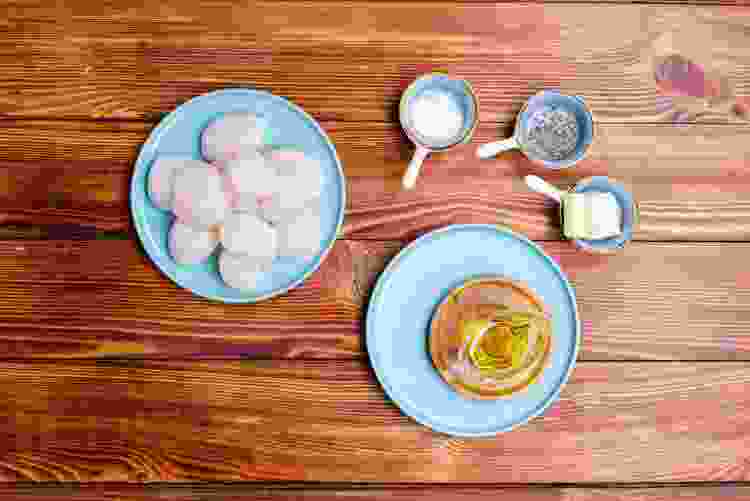 How to Cook Frozen Scallops
Scallops are freshest during the last few months of the year while frozen scallops are available year-round, and they last longer too. Fresh scallops will only last a few days in the coldest part of your refrigerator but will last up to 10 months in the freezer. They are just as easy to thaw as your favorite choice of beef. Use frozen scallops to make learning how to cook scallops a breeze.
Fresh scallops are also hard to come by unless you live near a coast, which makes frozen scallops the perfect alternative for those who dwell further inland. If you find yourself perusing the frozen seafood aisle at the grocery store, you'll also notice that frozen scallops are more affordable compared to their fresh counterpart.
Learning how to cook frozen scallops is simple if you follow these three steps:
Thaw. It may be tempting to pop them in the microwave for a quick thaw but in the case of scallops, it's always better to take the long road. Thawing scallops in the microwave will cook them prematurely and will lead to chewiness. Frozen scallops are best served after thawing for a few hours (or overnight if you are patient) in the fridge.
Rinse. Simply place the thawed scallops in a colander and rinse them under cool water.
Dry. Pat your freshly rinsed scallops with a paper towel. Make sure to dry them thoroughly or they will not brown properly no matter your choice of cooking.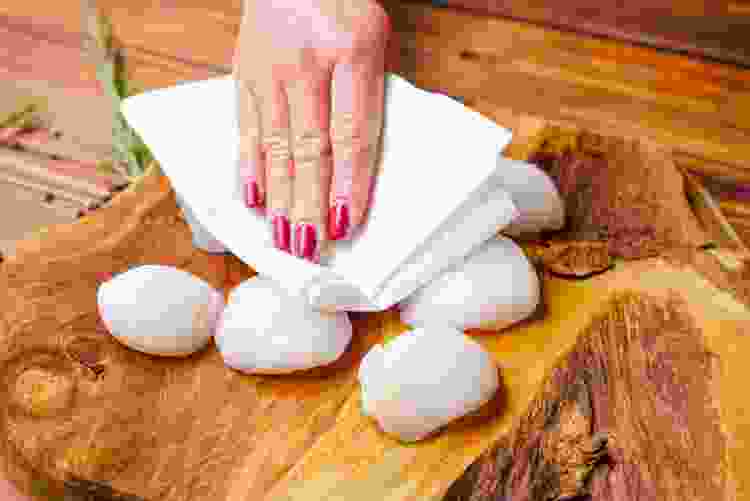 How to Cook Scallops on the Stove
While there are numerous ways to prepare scallops, a surefire method for how to cook scallops is on the stovetop. All you need is a skillet, olive oil, butter, one pound of fresh or frozen scallops and 4 minutes of your time.
After thawing, rinsing and drying your scallops, season your scallops liberally with salt and pepper. To achieve a sweet, caramelized exterior, cook your scallops at high heat in a heavy-duty skillet, preferably cast iron.
Add olive oil to the skillet and heat over medium-high for about 2-3 minutes. Before adding your scallops to the skillet, first check if it's hot enough by adding a large drop of water to the center of the skillet. If the water evaporates immediately, it's time to start searing.
Now it's time to add the scallops to the pan. You may want to cook them in half batches to avoid overcrowding or else they will not sear properly.
Cook scallops until golden brown and opaque on both sides. This takes about 2 minutes per side for a total of 4 minutes. If the scallops don't release from the pan when flipping, cook them for a few more seconds.
From here, you just have to add butter. Once cooked, add butter to the skillet and swirl to coat the scallops. Remove scallops from the skillet as soon as they are coated in butter, or they will keep cooking.
And voilà! You're officially a pro at how to cook scallops on the stove.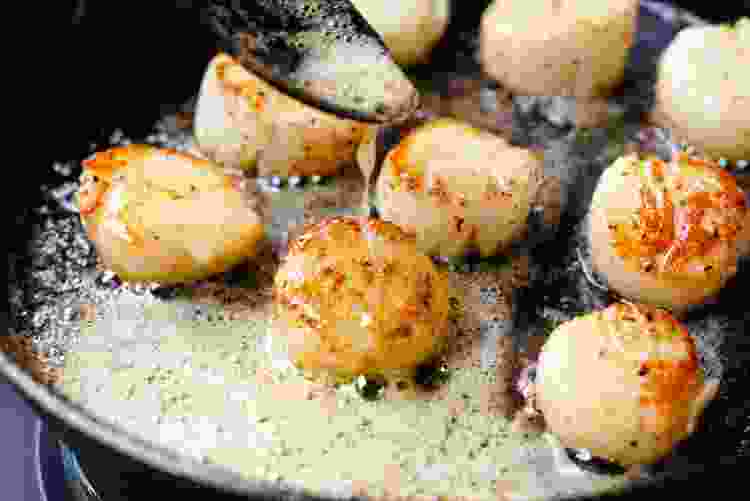 How to Cook Scallops in the Oven
Another simple method for how to cook scallops is in the oven. After thawing, rinsing and patting dry the scallops, season them liberally with salt and pepper. You can stop there or give them a little more zest by making a topping. In a bowl, mix:
4 crushed cloves of garlic
2 cups of panko
1 cup of Parmesan
sprinkle of lemon zest
3 tablespoons of melted butter
your choice of herbs
Add the scallops to a baking dish and scoop an equal amount of topping onto each scallop.
Make sure to leave about an inch of space between each one to ensure even cooking. Bake at 400°F for 15-18 minutes or until the panko mixture is golden brown and the bottoms of the scallops are nice and crispy.
Cooking scallops is all about direct heat, which makes the broiler another perfect option for how to cook scallops in the oven. To cook scallops in the broiler, place scallops on 8-inch metal skewers, leaving an inch of space between each scallop. Brush the scallops with a simple mixture of 4 tablespoons melted butter, ½ kosher teaspoon of salt, ¼ teaspoon coarse ground pepper and ¼ teaspoon paprika.
Once the broiler is preheated, place the scallops directly onto the ungreased broiler rack about four inches from the heat. Broil for a total of 8 minutes, flipping halfway through and brushing on the rest of your left-over melted butter mixture, until the scallops are opaque and tender.
Whether you choose the oven or the broiler, these two methods for how to cook scallops are perfect for this quick-heating shellfish.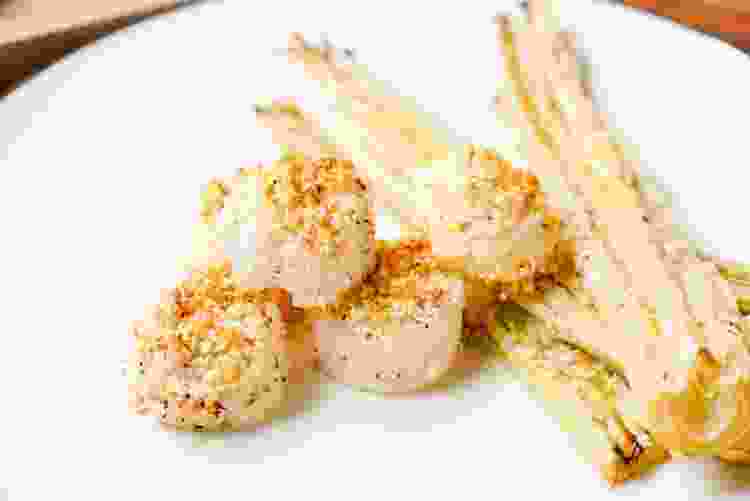 How to Cook Scallops on the Grill
Grill enthusiasts will love this how to cook scallops method. The grill is an easy way to keep them moist and tender until serving.
Thread scallops onto the skewers, leaving about an inch of space between pieces. Melt three tablespoons of unsalted butter on the stovetop or in the microwave and season with salt and pepper.
Preheat the grill or a grill pan to medium-high. Once the grill is preheated, grease the grates or grill pan by adding olive oil to a paper towel and using a pair of tongs to rub the oiled paper towels on the grates.
Brush the skewered scallops with half of your butter mixture.
Place the scallops directly onto the greased grates for about 2-3 minutes. Once cooked on one side, flip the scallops, brush on the rest of the butter mixture and grill for about 2-3 more minutes until the scallops are no longer translucent.
Serve with some lemon wedges and there you have it, you've now perfected a third method on how to cook scallops.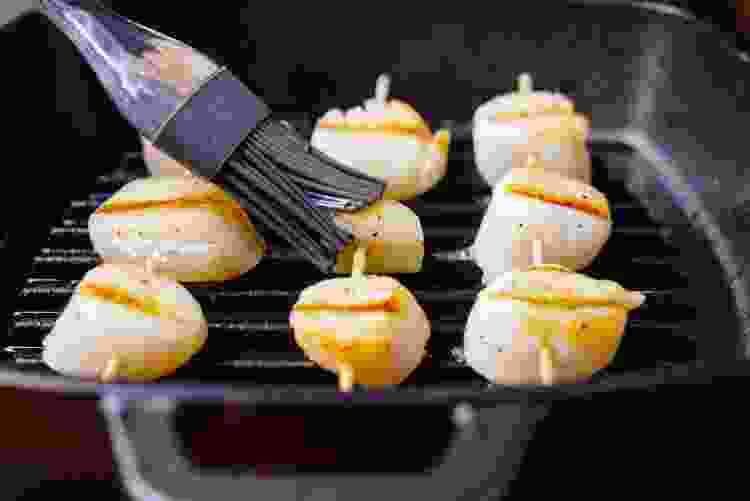 What to Serve with Scallops
Now that you've learned three simple methods on how to cook scallops, you can add some flavor to your meal with these succulent side dishes.
1. Cheesy Mashed Potatoes
Bulk up your scallop dish with these cheesy mashed potatoes. The robust and pungent flavor of sharp cheddar pairs perfectly with the light, caramelized flavor of scallops. It's the perfect balance of sweet and savory.
2. Roasted Beets and Carrots
Add to the nutritional value of your scallops by coupling them with these roasted beets and carrots. While beets can help reduce the risk of heart disease, carrots offer a healthy dose of vitamin A. The combination of vibrant pink and lively orange also makes for a colorful plating.
3. Lemon Kale Salad
Create a wonderfully textured meal by adding a delightful crunch of kale to your scallops with lemon kale salad. If you've chosen the grill method for how to cook scallops, the earthy flavor of kale topped with buttery pine nuts and citrusy lemon sauce will exaggerate that char-grilled flavor.
4. Garlic Butter Steak Bites
You can never have too much protein and these garlic butter steak bites are packed with a hearty garlic flavor. Enjoy the luxuries of the land and the sea by serving up these tender morsels of steak alongside your scallops for the perfect surf and turf.
5. Air Fryer Asparagus
Forget roasting asparagus in the oven. Instead, save that oven space for your how to cook scallops in the oven method and whip out that air fryer. This air fryer asparagus recipe will show you exactly how to cook perfectly crisp and tender asparagus in 10 minutes.
6. Scallop Scampi with Linguini
Leave out the shrimp and instead, prepare this scallop scampi with linguini. The aroma of garlic, white wine, lemon and shallots create a mouthwatering meal you won't be able to help but make time and time again.
7. Cucumber Tomato Feta Salad
Tap into some summertime freshness with this cucumber tomato feta salad. If you thought it was easy to learn how to cook scallops, here's a side dish that's just as simple, if not simpler, to prepare.
8. One Pot Mac and Cheese
As a universal classic, one pot mac and cheese brings a cheesy level of comfort and making this gooey, creamy meal just got a lot easier with this one pot method. It doesn't take too many appliances to learn to cook scallops so why make a mess of the kitchen when preparing your side dish?
9. Roasted Leeks
Boost the sweetness of your scallops with roasted leeks that are cooked until caramelized and topped with nutty Parmesan and dried potato flakes for some needed crunch.
10. Lemon Ricotta Pasta
This lemon ricotta pasta is packed with fresh ingredients and full of zest. Not only does it add to the perfect weeknight meal, but it only takes about 20 minutes to make. Just a hair longer than it takes to perfect how to cook scallops. The citrusy flavor of lemon and the creamy elegance of ricotta combined with the tender chew of scallops create a mouthwatering bite packed with flavor.
11. Smashed Red Potatoes
Butter? Parmesan? Garlic? What more could you ask for in a side dish? Luckily, these smashed red potatoes provide all three. But be careful, these aren't your average potatoes. These fluffy potatoes are flattened and baked until crispy. Making them just as fun to bite into as your scallops.
12. Wilted Spinach Salad
Sometimes the best side to an already decadent meal is a simple, lightly dressed salad. This wilted spinach salad will add an edge of savory to your meal without taking away from the succulence of the scallops. Focus on learning how to cook scallops and keep the side simple.
13. Mushroom Ragout
If you're looking to add some meaty flavor to your scallops without beef, this mushroom ragout recipe is just for you. The musty flavor of white button, shiitake and oyster mushrooms creates an earthy medley that will balance out the sweet nature of scallops.
14. Herb Rice
Scallops won't be the only feature with a crispy golden crust if you choose to pair them with this side. Loaded with fresh herbs and saffron, this Persian herb rice makes for a lovely counterpart to your scallop meal.
15. Green Bean Fries
Next to your frozen scallops, you may find yourself with a bag of frozen green beans. If so, you're in luck! These green bean fries are a healthy alternative to your regular side dishes and can be made with fresh or frozen green beans similar to how you can learn to cook scallops with fresh or frozen shellfish. Save yourself a trip to the store and use what you have in the freezer.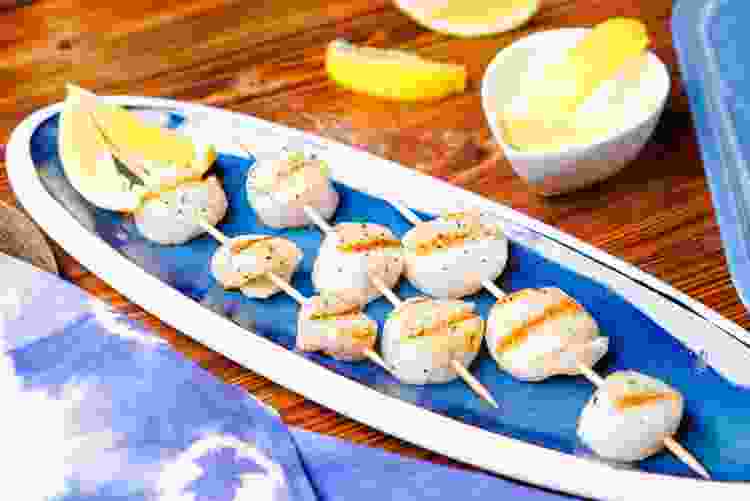 Scallop Recipe and Tips
While scallops may seem like a daunting shellfish to make, you don't have to be a professional chef to master how to cook scallops to perfection. No matter which method you choose for how to cook scallops, following just a few simple steps guarantees that they will become a staple at your dinner table.
Tip: It's important to make sure each scallop is relatively the same size so if there are a few that seem much bigger than the rest, simply cut them in half.
Ready to make delicious and tender scallops? Check out our easy and delicious scallop recipe below.
How to Cook Scallops Recipe
Learning how to cook scallops is a simple way to create an elegant dinner. In this video, we'll show you how to make golden-seared, tender scallops in your home kitchen.
Directions
7 steps | 9 Minutes
Step 1
Measure and prep your ingredients.
Step 2
If the scallops are frozen, make sure they are thoroughly thawed. Rinse and dry the scallops.
Step 3
Season the scallops with salt and pepper.
Step 4
In a heavy duty or cast iron skillet over medium-high heat, add the olive oil. Heat the olive oil for 2-3 minutes. Add the scallops to the pan. Sear for 2 minutes. (See notes 1.)
Step 5
Flip the scallops and cook for an additional 2 minutes.
Step 6
Add the butter to the pan. Coat the scallops in the melted butter. Remove the scallops as soon as they are covered in butter.
Step 7
Notes:
If necessary, add the scallops in batches to avoid overcrowding.