14 Types of Pans Every Cook Needs
Our editorial team recommends the best products through independent research, selection and careful review. If you make a purchase through one of our affiliate links, we may earn a commission. Prices are subject to change.
Whether you're just diving into the world of cooking or are a more experienced chef, it's important to have the right types of pans for your culinary creations. Not only will the proper types of pans make cooking easier for you, but using the right kind of cookware will also improve the quality, taste and even presentation of your dishes.
If you're feeling a little overwhelmed by all the different types of pans out there, we're here to help! In our guide below, we explain the different types of pots and pans and what they're best used for, as well as the differences between various cookware materials, such as stainless steel and cast iron.
With a better understanding of the types, uses and functions of cookware, you'll be ready to bring your culinary skills to the next level!
Jump to Section
Types of Pans
1. Stock Pot
Soup and stock pots feature a wide base ideal for browning and tall sides that reduce evaporation, so they're perfect for cooking soups, stews and pasta. Made of impact-bonded stainless steel with a durable non-stick interior, the Circulon Steelshield S-Series 7.5-Quart Stainless Steel Nonstick Stockpot With Lid combines all the benefits of stainless steel with the ease and convenience of non-stick, so you can quickly whip up all your favorite soups to share this season and beyond!
Why This Product Is Cozymeal-Approved
We love how versatile this high-capacity stock pot is. It works for everything from simmering homemade stock to cooking up big family meals.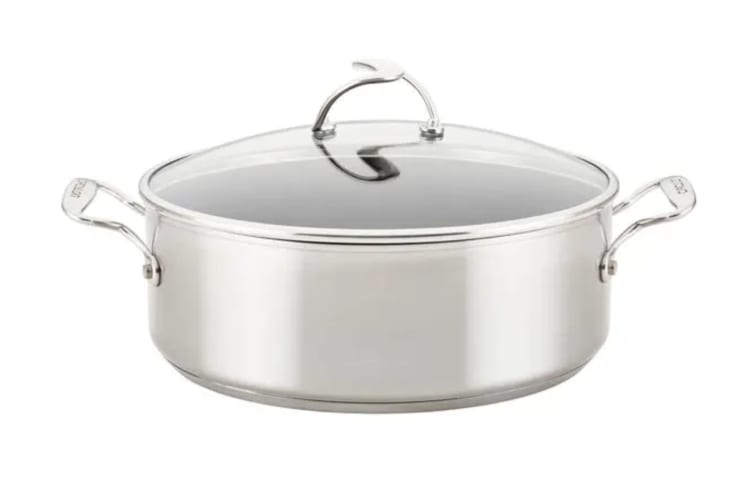 2. Fry Pan
Often considered the best pans for eggs, these types of pans have a long handle so you can easily maneuver them on the stovetop — for instance, shaking the pan to flip your omelette. Fry pans and skillets cook evenly and retain heat well, a feature most notable in the Caraway Fry Pan. This slick, non-stick ceramic fry pan conducts heat so efficiently that a low to medium setting is all it needs to fry eggs, sauté vegetables and so much more.
Why This Product Is Cozymeal-Approved
Our team is wowed by this fry pan's fast, even heat distribution and unparalleled non-stick qualities that make cooking (and even clean-up) a pleasure. It's non-toxic as well, a major plus in a non-stick pan, and comes in a range of cheery colors.
10% off exclusive for Cozymeal readers sitewide at Caraway!
3. Cast Iron Skillet
When it comes to the different types of pans, a cast iron skillet is a versatile kitchen must-have, especially since it adds even more depth of flavor to your food. With the Finex Cast Iron Skillet & Lid Set in your kitchen, you'll be able to steam, simmer, braise, poach, fry and bake almost anything, from vegetables and chicken to brownies and bread. See why this pan is loved by chefs in our Finex cast iron review.
Why This Product Is Chef-Approved
Chef Nick calls this his go-to pan for winter and fall. Great for searing protein and low-and-slow braises in the oven, this is a heavy-duty workhorse that can go to great use in any kitchen.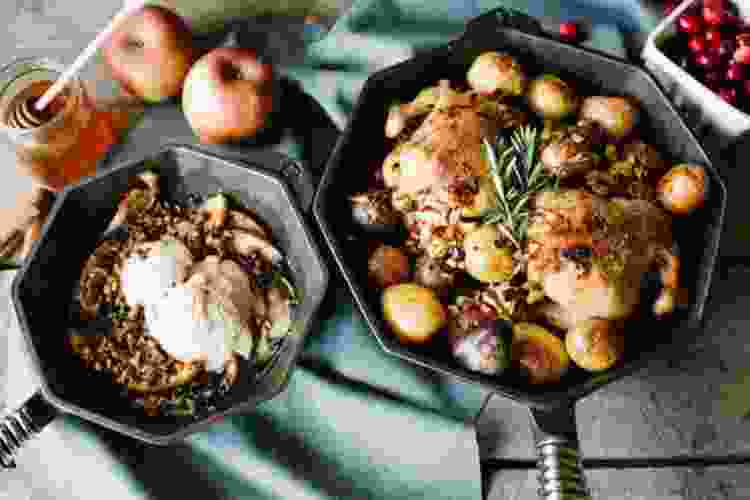 4. Sauté Pan
As the name implies, this type of pan is specifically meant for sautéeing, but it can also be used to brown, sear and fry vegetables, fish and meat. Whether you're cooking in a professional kitchen or at home, it's important that your sauté pan spreads and conducts heat evenly, as the Demeyere Industry 3 Qt Saute Pan With Lid does.
Why This Product Is Chef-Approved
In her hands-on review, Chef Angela-Michelle noted that this pan not only excels as a sauté pan, but is also deep and sturdy enough to fry chicken or make a large batch of oven-baked rice. If you're loking for a versatile product that serves double-duty, this is it.
5. Sauce Pan
While there are many types of pots and pans, a quality saucepot, like the Anolon Nouvelle Copper Luxe 3.5 Qt Covered Straining Saucepan, will let you cook, strain and drain all in one. So, you'll want to use this type of pan to make pasta, boil and mash potatoes, steam broccoli and more — the best saucepans and sauciers can do it all.
Why This Product Is Cozymeal-Approved
This innovative sauce pan is as stylish as it is functional. The built-in straining function means you can leave your colander in the cupboard!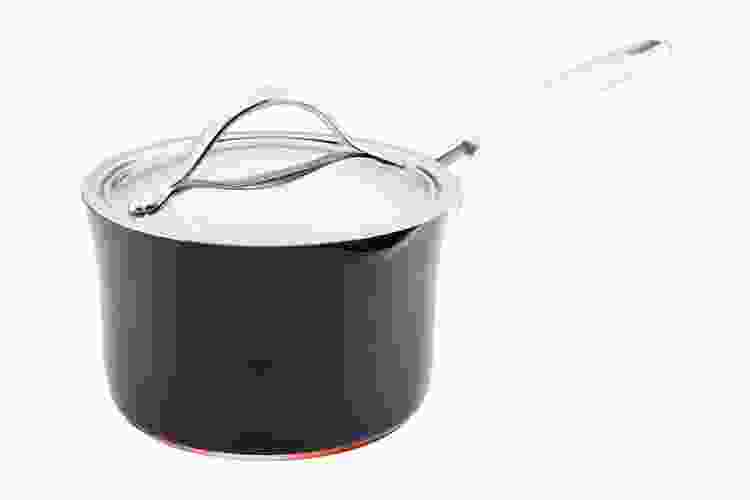 6. Braiser
When it comes to preparing delicate and tender meats or succulent one-dish suppers, the Staub 12" Braiser With Glass Lid is the type of pan you want. It has a combined cast iron and matte enamel interior to expertly retain heat and brown, and it's big enough for larger cuts of meat.
Why This Product Is Chef-Approved
Chef Kelly raves that this pan is perfect for one-pot meals, and the clear lid lets you see how everything is coming along while it's cooking. When you're finished, this braiser also makes a lovely serving piece at the table.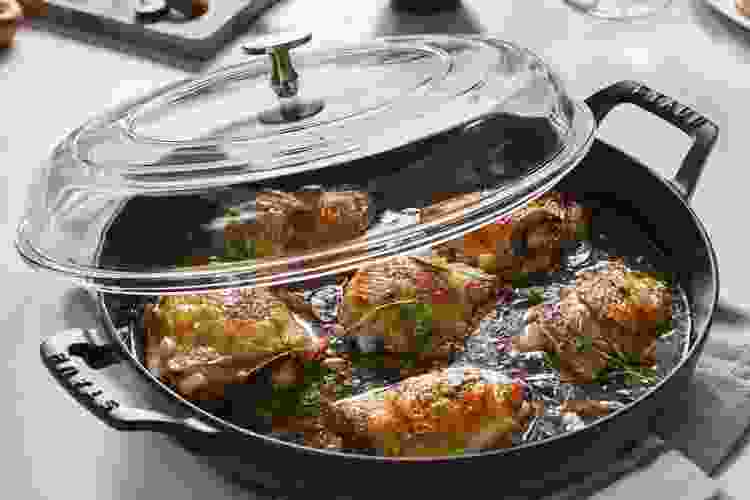 7. Grill Pan
The KitchenAid 11.25-Inch Hard-Anodized Non-stick Square Grill Pan is the perfect pan for cooking your favorite meats and vegetables to charred, sizzling perfection right from the stovetop. These types of pans feature a flat, usually ribbed grilling surface and are capable of withstanding high temperatures, especially since they're made from cast iron.
Why This Product Is Cozymeal-Approved
Our team loves the versatility of the KitchenAid 11.25-Inch Hard-Anodized Non-stick Square Grill Pan. Whether on the grill or stovetop, cooking anything from steaks, chicken, fish or vegetables is simple and easy.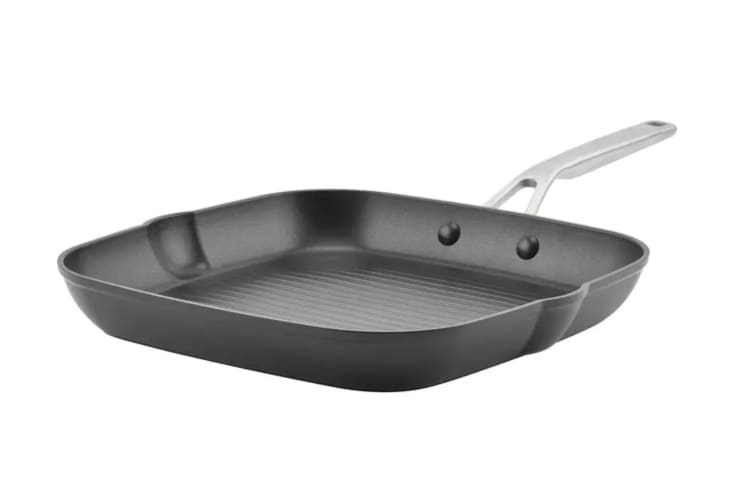 8. Wok
For anyone who loves Asian cuisine — stir-fry, curry, pad thai, noodle dishes and more — the best wok is a necessity. You can also use this type of pan for deep-frying and oven-roasting, especially if it has a two-handle design, like the Anolon Advanced Home 14" Covered Wok With Wood Spoon. As an added bonus, this particular wok also comes with a wood spoon, which is the perfect utensil for preparing these types of dishes.
Why This Product Is Chef-Approved
Chef Angela-Michelle calls this wok her secret weapon in the kitchen. Whether you're looking to make a classic stir fry or something else, the sturdy, non-stick wok is a dependable culinary workhorse.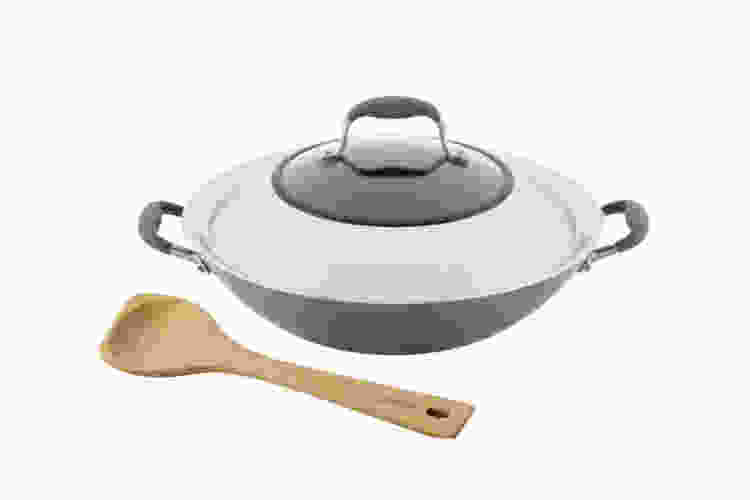 9. Roasting Pan
If you're hosting the family holiday dinner, you'll likely need a roasting pan to prepare the main course, whether it be turkey, chicken or prime rib. The Rachael Ray Premium Cast Iron 9" x 13" Roasting Pan won't let you down as one of the best roasting pans with its durable construction and nitro heat treatment technology that makes cleaning a breeze and maximizes performance and longevity.
Why This Product Is Cozymeal-Approved
This roasting pan has a superior design that allows for the most effective roasting process. Plus, it's super easy to clean and comes in two gorgeous colors.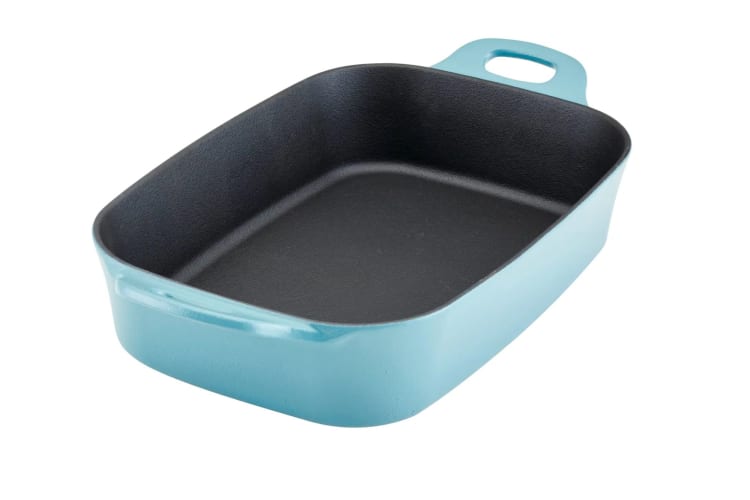 10. Crêpe Pan
Prepare thin and delicate crêpes with ease and sophistication when you use the nonstick Ballarini Crêpe Pan Set. Gently use the cream spreader to perfectly pour the batter and then when it's time, gently flip your crêpe with the wooden spatula. Then, enjoy with your favorite sweet or savory toppings. Although pans for cooking crêpes in particular are more of a specialty, you'll quickly discover it's worth it to have this type of pan in your cabinet!
Why This Product Is Chef-Approved
Chef Craig noted that this pan is lightweight and easy to maneuver, making it ideal for perfectly-sized crêpes. It's also incredibly sturdy and held even heating well.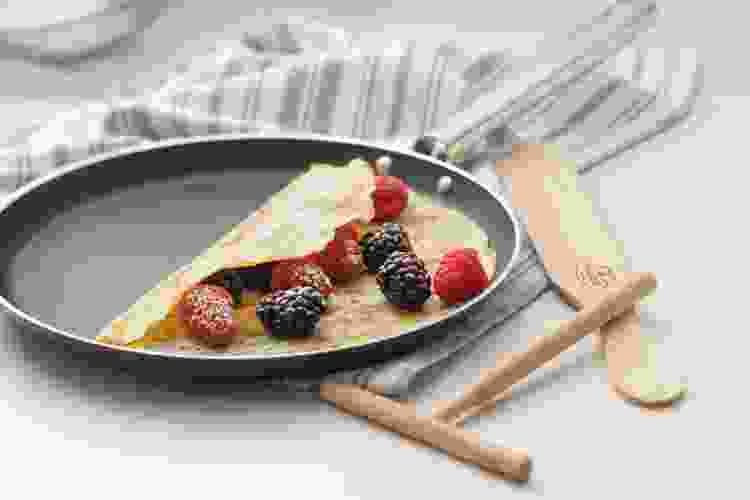 11. Casserole Dish
Casserole dishes are the best type of cookware for versatility. With these types of pans, you can cook all sorts of casseroles, lasagna, grain dishes and one-pot roasts, as well as desserts, and then serve them in the same dish right out of the oven. Make sure you have a variety of these elegant pieces of bakeware with the Staub 4-Pc Mixed Baking Dish Set; it contains a covered square baking dish and both a rectangular and oval baking dish, all of which have sturdy and sophisticated side handles.
Why This Product Is Cozymeal-Approved
You really can't go wrong with anything from Staub. We love the classic design that will never go out of style, not to mention the exceptional craftsmanship and quality behind every Staub piece.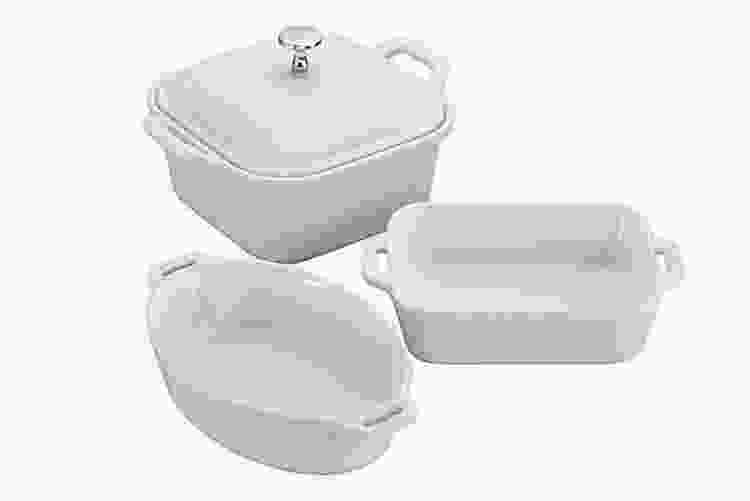 12. Dutch Oven
Dutch ovens and braisers are almost always made from cast iron and easily transition from stovetop to oven, which makes these types of pans not only ideal for casseroles and one-pan roasts, but also for soups, stews and of course, bread (especially sourdough). The Staub Tall Cocotte 5 Qt is particularly useful for preparing large quantities without taking up too much space on your stove, and it also makes an absolutely stunning serving dish.
Why This Product Is Chef-Approved
According to Chef Andy, the Staub Tall Cocotte is the perfect do-it-all pan for your kitchen. You can use it for frying, slow cooking and even baking — it's one of the best Dutch ovens for bread.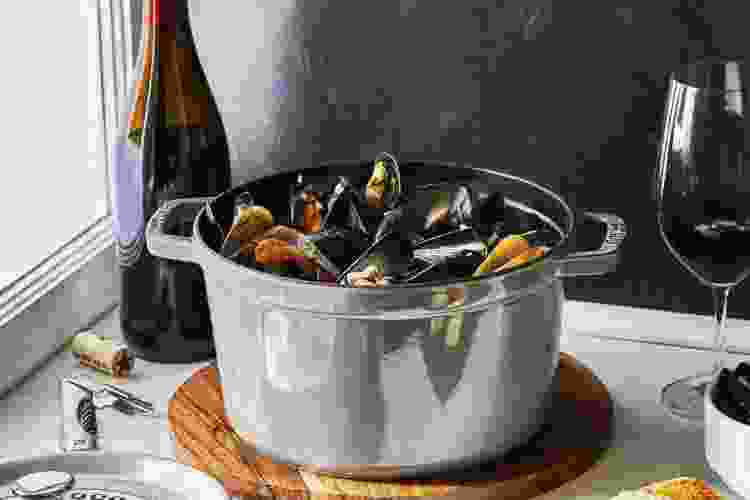 13. Paella Pan
In addition to whipping up incredibly flavor-packed paellas to share family-style, this type of pan is also excellent for frying, sautéeing and browning. Your best bet is to opt for one of the best paella pans made from cast iron, such as the Nordic Ware Paella Pan to get the best seasoning and heat distribution.
Why This Product Is Cozymeal-Approved
We love the Nordic Ware Paella Pan for its heavyweight durability and fantastic flavor retention.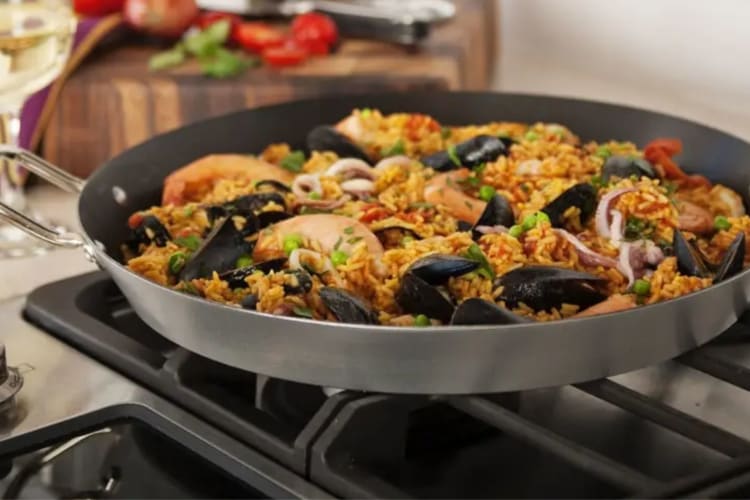 14. Cookware Sets
The best cookware sets are a simple and effective way to equip your kitchen with some of the basic types of pans and other essential pieces of cookware. An excellent cookware set for new and experienced chefs alike is the Ayesha Curry Home Collection 11-Piece Hard Anodized Cookware Set. With these high-quality and durable stainless steel and hard anodized aluminum pots and pans, you can confidently cook up pretty much anything your heart desires.
Why This Product Is Cozymeal-Approved
Efficient, durable and stylish. These are things that anyone shopping for a cookware set should count on, and the Ayesha Curry Home Collection 11-Piece Hard Anodized Cookware Set delivers on every level.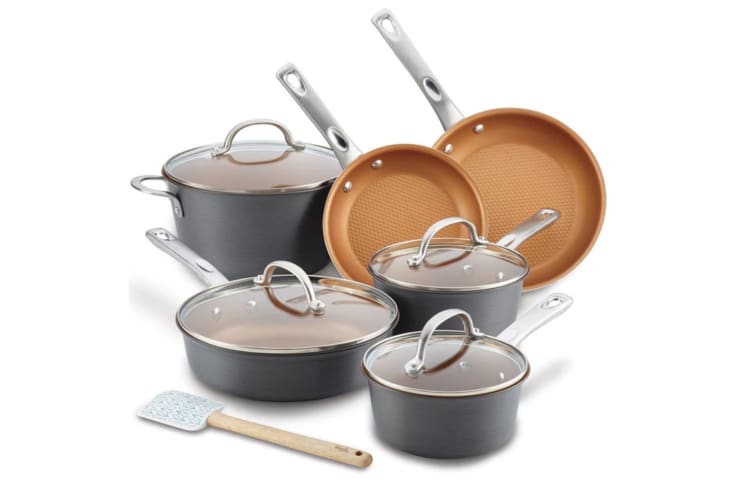 Types of Cookware Materials
Stainless Steel
Stainless steel heats up quickly and is non-reactive, meaning you don't have to worry about it affecting the taste of your food, even when you are cooking with very acidic or alkaline ingredients. Depending on the quality of the stainless steel, it can sometimes require intense scrubbing to remove burnt foods, although it is safe to put these types of pots and pans in the dishwasher.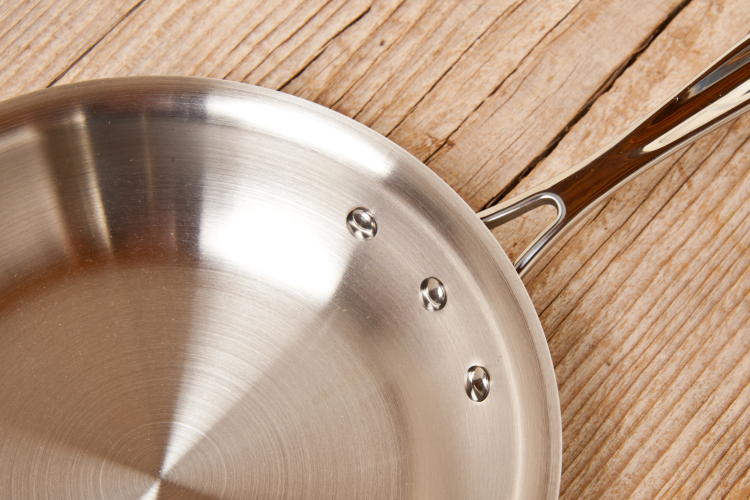 Aluminum
Similar to copper, aluminum retains heat well, but can also react with acidic and alkaline foods. It's generally more lightweight and cheaper than copper. Anodized aluminum cookware, however, is more durable, scratch-resistant and non-reactive.
Copper
In addition to its aesthetic look, copper boasts excellent heat-retention, cooking food fast and evenly. It generally needs to be polished with lemon or vinegar and salt. Copper will react with acidic and alkaline foods, which can sometimes give a slightly metallic taste.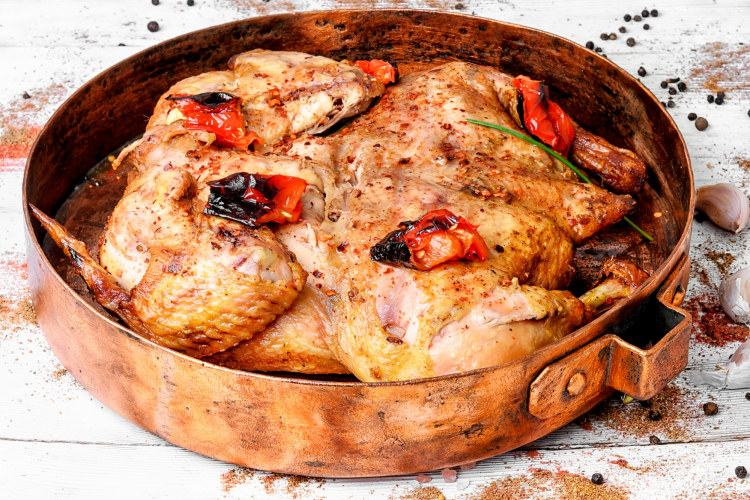 Stoneware
Similar to cast iron, stoneware can handle high heat very well and will cook your food evenly and with less chance of burning than other materials. It's often an ideal choice for cooking casseroles, lasagnas and other dishes in the oven, but be careful not to place it on a cold surface or fill it with anything cold when it's hot, as it could crack. It's largely considered to be one of the safest and best types of cookware on the market.
Cast Iron
One of the oldest types of cookware material, regular cast iron is known for being extremely durable and adding an extra dimension of flavor to food, as a result of its porous surface. In terms of how to clean a cast iron skillet, it needs to be washed with water only (no soap) and regularly seasoned, usually with vegetable or canola oil. Enameled cast iron features a nonreactive porcelain coat, which is easier to clean and doesn't require seasoning, and it's generally a better type of cookware for cooking acidic foods (regular cast iron will strip the seasoning of acidic foods).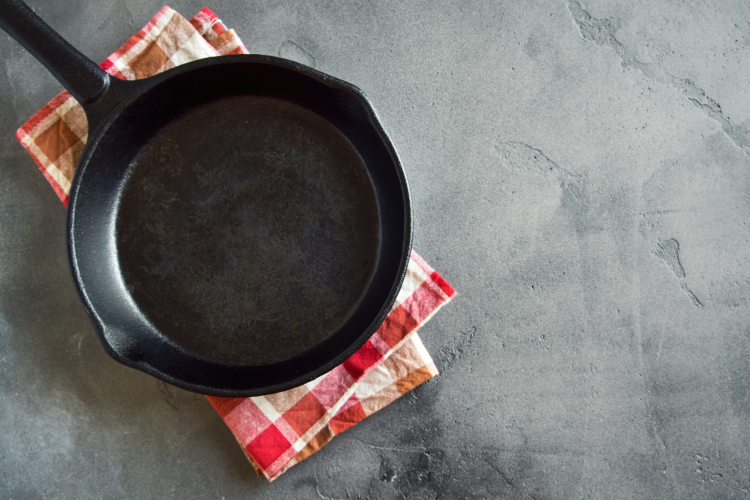 Join 200,000+ Culinary Enthusiasts
Exclusive deals, recipes, cookbooks, and our best tips for home cooks — free and straight to your inbox. PLUS: 500 Rewards Points.
There are a lot of different types of pans to choose from, but now you know exactly which type of cookware to use for each task in the kitchen! As you slowly build your kitchen cookware collection, you'll likely want to start with the types of pans that are best for the kinds of dishes you cook most often. Alternatively, investing in a more niche type of cookware, such as a paella or crêpe pan, might be just the push you need to start exploring and expanding your culinary skills in new ways!
For even more ways to elevate your kitchen, check out more chef-recommended cookware in the Cozymeal Shop.