15 Pumpkin Desserts That Aren't Pie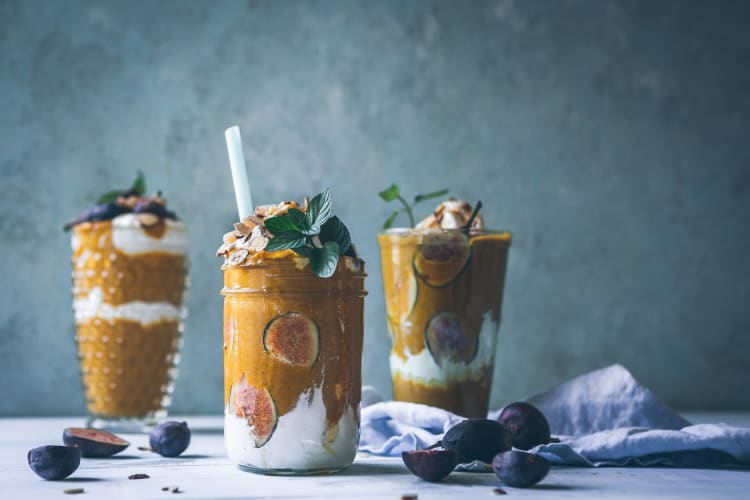 When the clock strikes fall and the world explodes with pumpkin, it's hard to find a dessert table without the requisite pumpkin pie holding its own as the centerpiece.
And while there is nothing wrong with the staunch tradition of a classic pumpkin pie, sometimes pumpkin desserts need a little nudge to spread their wings and fly the pie dish. Like a "let's make something that'll knock everyone's socks off" inspiration.
Pumpkin desserts like pie and bread are just the tip of the iceberg. While much-loved and delicious, it's time to branch out and get creative with wow-worthy pumpkin desserts. Pumpkin is such a versatile ingredient and is filled with so much potential just waiting to be tapped in your kitchen.
Get ready to diffuse that autumnal vibe throughout your kitchen, spice up your Halloween date ideas and fuel your fall spirit with these 15 in-season, out-of-the-box pumpkin desserts that aren't pie.
GET UP TO $50 IN COZYMEAL
CASH™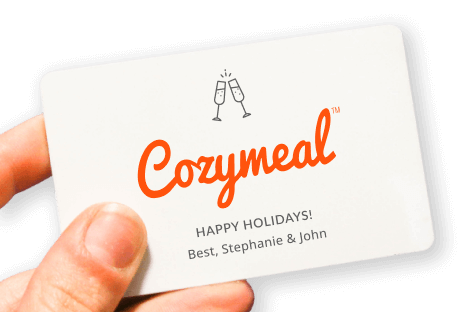 GET UP TO $50 IN COZYMEAL
CASH™
$100 or more, get $10 Cozymeal Cash™
$250 or more, get $25 Cozymeal Cash™
$500 or more, get $50 Cozymeal Cash™
1. Indian Pumpkin Pudding
While certainly not the world's most visually appealing dessert, trust us when we say that the taste more than makes up for the appearance of this pumpkin dessert. This creamy cornmeal and molasses porridge-like custard simply bakes until golden and slightly caramelized on top. One bite of this sloppy deliciousness with a dab of vanilla ice cream and you'll be in pumpkin dessert paradise.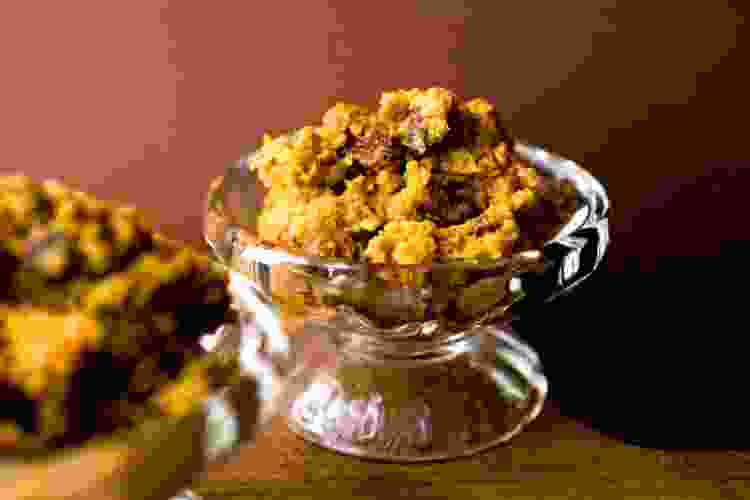 Book a Gourmet Cooking Class Now

Kick-start your culinary confidence with help from a world-class chef. See what's cooking in your city today.

Book Now
2. Pumpkin Dessert Lasagna
Pumpkin dessert lasagna is an easy make-ahead and swoon-worthy dessert ideal for the pumpkin spice lovers in your life. It has layers of gingersnap cookies, a cream cheese mousse, and pumpkin pudding enrobed in a spiced whipped cream. Each bite is a magical mix of all the best flavors and textures of autumn.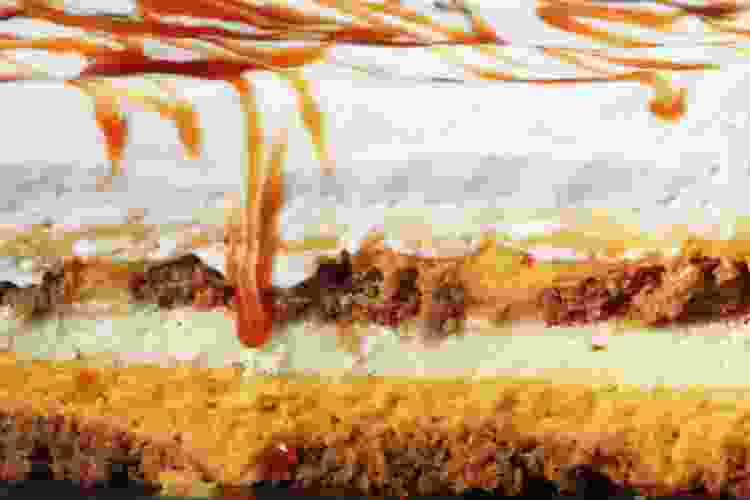 3. Salted Pumpkin Caramels
These salted pumpkin caramels elegantly embody the spirit of fall. The sweet, earthy pumpkin shines in every delicate bite, while the crunch of fleur de sal and toated pepitas balance out the indulgent sweetness.
4. Pumpkin Walnut Rugelach
In this Thanksgiving twist on rugelach, pumpkin is the cause for celebration. It's incredibly easy to make the basic pastry dough for these tasty treats (which is super buttery and flaky to boot) and you can keep it in the fridge for weeks in case you have any spur-of-the-moment pumpkin dessert cravings.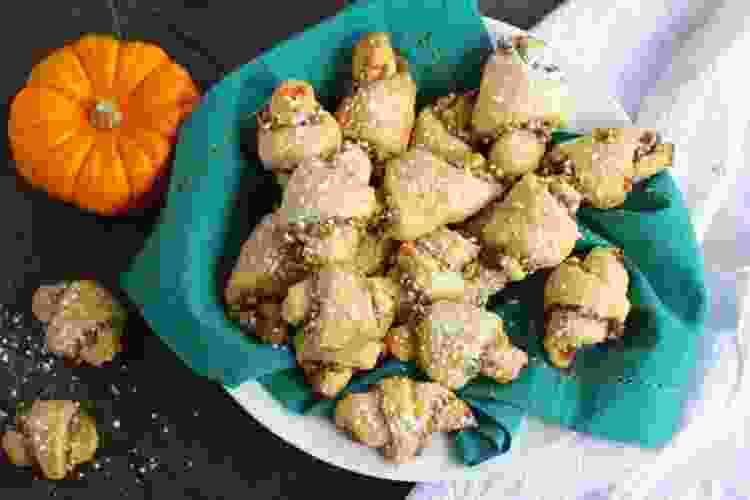 5. Pumpkin Seed Brittle
This sweet and salty pumpkin dessert has Halloween written all over. Pumpkin seed brittle has a delicious buttery flavor and hard and crunchy texture that seems to literally melt in your mouth. It's also perfect for holiday treats, gifts, or used as a crunchy garnish to spruce up a pumpkin pie.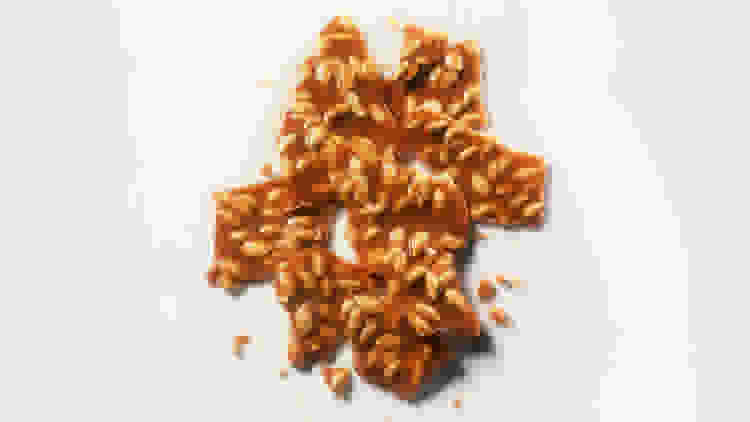 6. Pumpkin Cream Puffs
Classically light and crisp cream puffs filled with a decadent pumpkin pastry cream creates a dreamy contrast in textures, resulting in this soft and pillowy pumpkin dessert. These pumpkin-filled cream puffs are guaranteed to stop traffic on the way to the pies on the dessert table this Thanksgiving.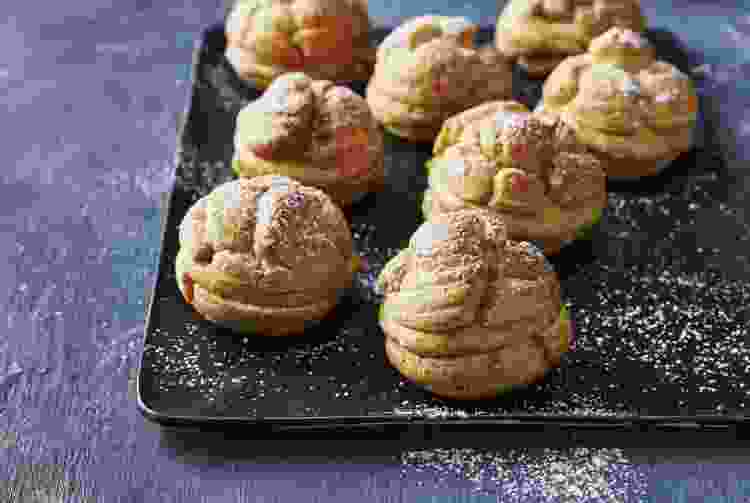 7. Pumpkin Tres Leches Cake
This traditional Latin American cake, soaked in three kinds of milk, is moist yet not at all soggy. And this pumpkin tres leches cake somehow transcends the laws of gravity with its light and airy texture. Not to mention its ease and simplicity makes it a cake you could pull out last minute to feed a crowd for an unplanned shindig.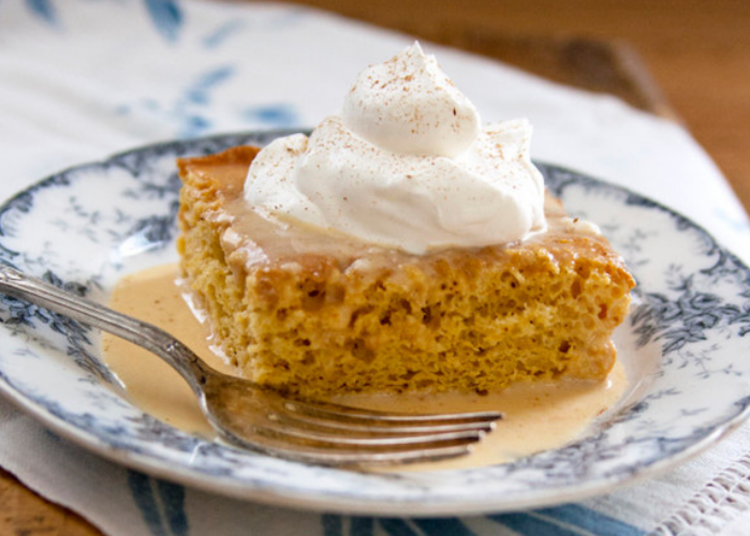 Book an Online Cooking Class Now
Ready to perfect your homemade pasta, paella or pad thai? Join a world-class chef from the comfort of your kitchen.
8. Pumpkin Cannoli
Put a fall-themed twist on one of the most popular Sicilian desserts to create handcrafted pumpkin-caramel cannoli. The fluffy pumpkin spice cannoli cream oozing out the ends of crisp, golden tubes of flaky pastry showered in powdered sugar is enough to convert even the strictest of sweets critics.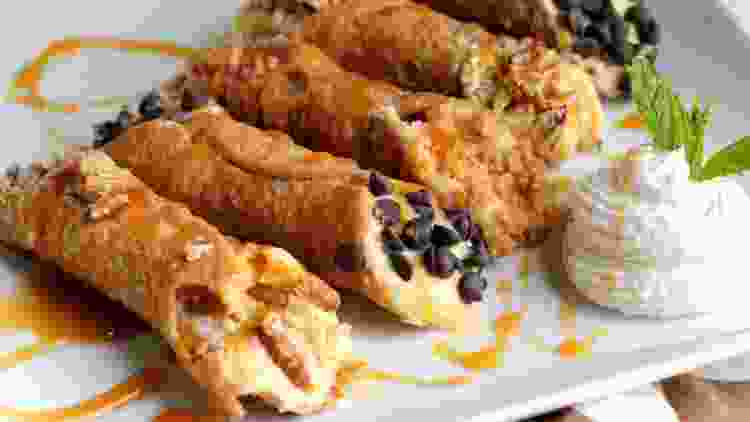 9. Pumpkin Cinnamon Rolls
These pumpkin cinnamon rolls are somewhat hypnotic with their deep orange exterior and spicy cinnamon aroma gently luring in the passersby. They're soft, fluffy and there's just enough pumpkin flavor, but not so much that it overwhelms the inherent beauty of a gooey, classic cinnamon roll.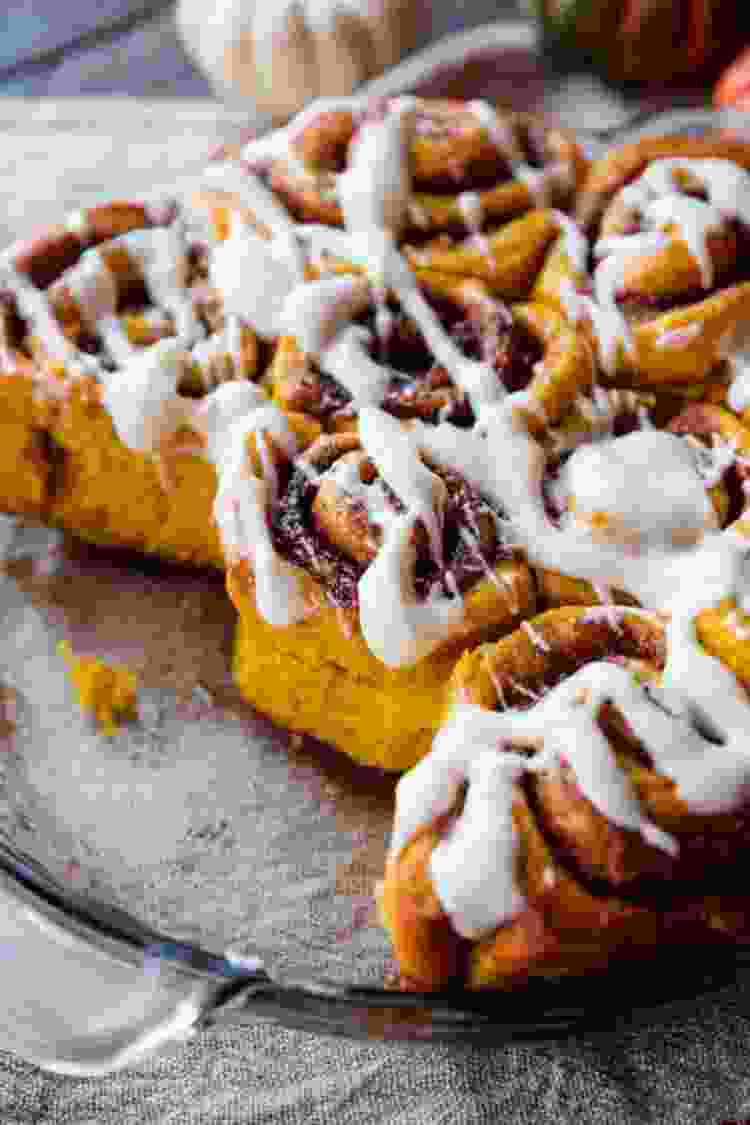 10. Pumpkin Whoopie Pies
Get ready to sink your teeth into the beauty of two moist pumpkin cake layers sandwiching together a spiky and luscious bourbon cream cheese filling in this pumpkin dessert. Reminders of the other iconic autumnal pie (let's hear it for pecan!) also turn up as crunchy chopped bits of candied pecans surround the raw edge of the filling.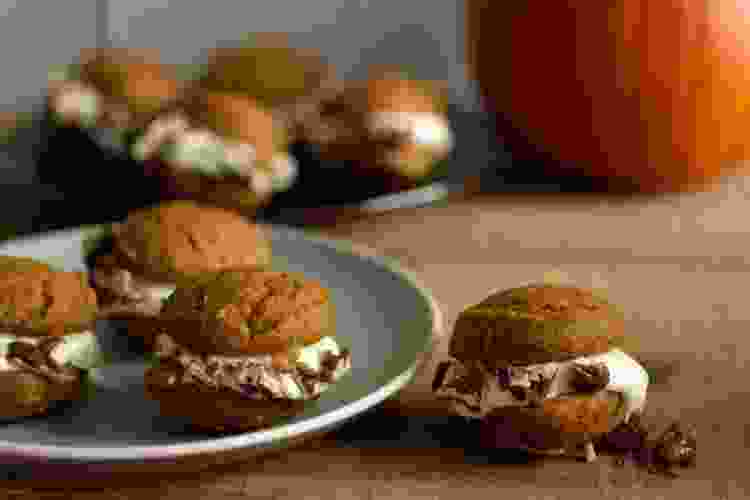 11. Pumpkin Crème Brûlée
There's nothing quite like the satisfaction of cracking through the hard caramel topping of a crème brulee to get your spoon into the creamy custard that lies beneath the surface. And the addition of pumpkin, well, this perfectly sweet pumpkin dessert is a custardy dreamboat you won't be able to wait to climb aboard.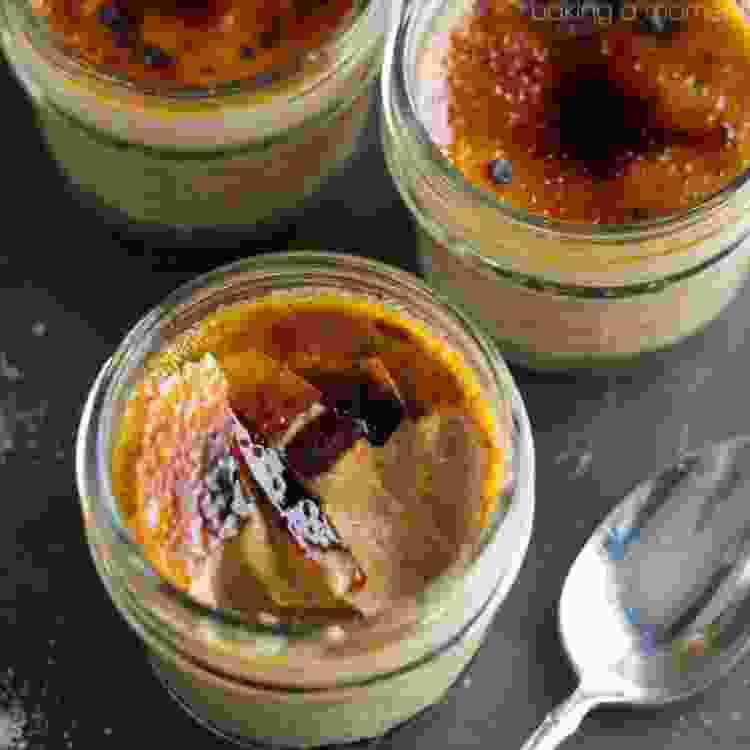 12. Pumpkin Churros
You've probably had your fair share of pumpkin cake donuts. But it's time to spice things up a little and get your donut fix with pumpkin churros. They're light and crispy and tender and the use of a star piping tip makes them look super fancy with minimal effort. Dust with cinnamon sugar and enjoy as an after-dinner treat or for breakfast.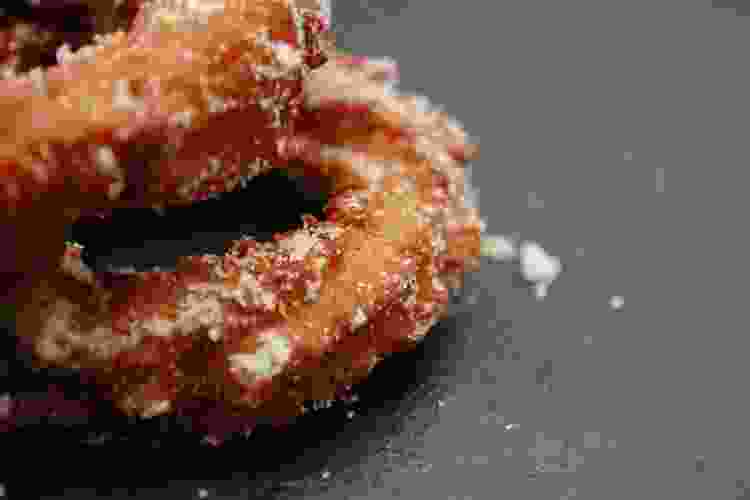 13. Pumpkin Peanut Butter Cups
These homemade pumpkin peanut butter cups are pretty much a slam dunk. Chocolate treats with a nugget of creamy sweet and spicy mixture of pumpkin and peanut butter in the middle is Halloween candy for kids, grown-ups, and everyone in between. Just be sure to have a few friends nearby so you aren't tempted to eat them all yourself.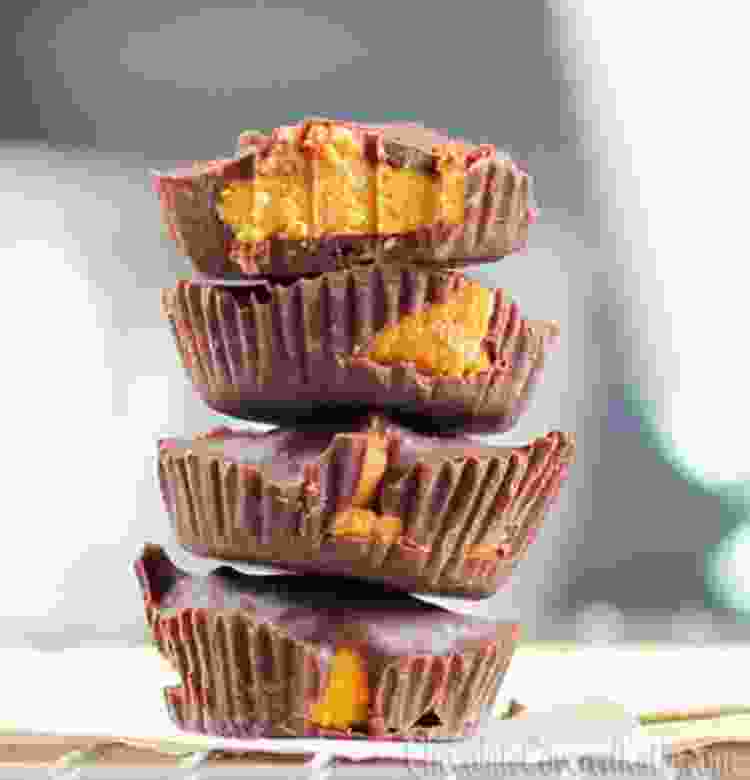 Gourmet Cooking Classes Near You
Take your culinary skills to new levels with guidance from five-star chefs.
14. Pumpkin Ice Cream
This creamy, luscious homemade ice cream combines all the classic flavors of pumpkin pie in one scoop. This pumpkin ice cream also calls for a topping of crunchy almond maple streusel and a swirl of brown butter pie crust to set it apart. This pumpkin dessert is nothing short of an explosion of fall flavors in your mouth.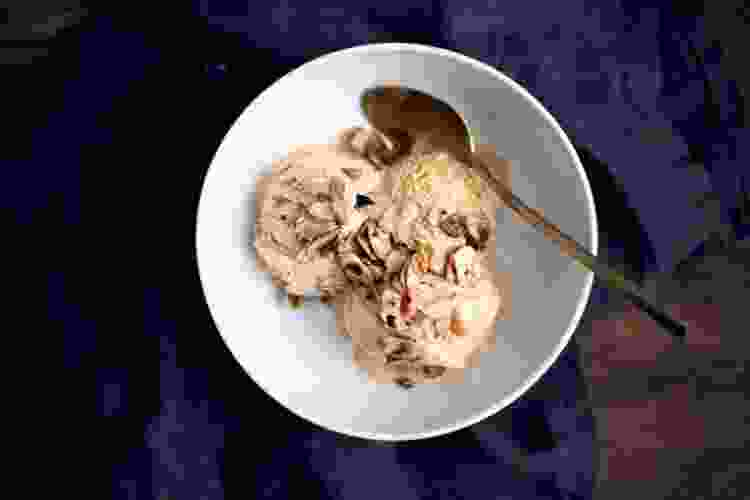 15. Thai Pumpkin Custard
This Thai-style inside-out pumpkin pie is essentially coconut custard cooked directly inside a hollowed-out pumpkin, ready to serve and beautiful to display as soon as it sets. In Thailand, a pumpkin that's commonly used is the kabocha squash with its edible skin and delicate orange flesh that creates a perfect balance of textures in this pumpkin dessert.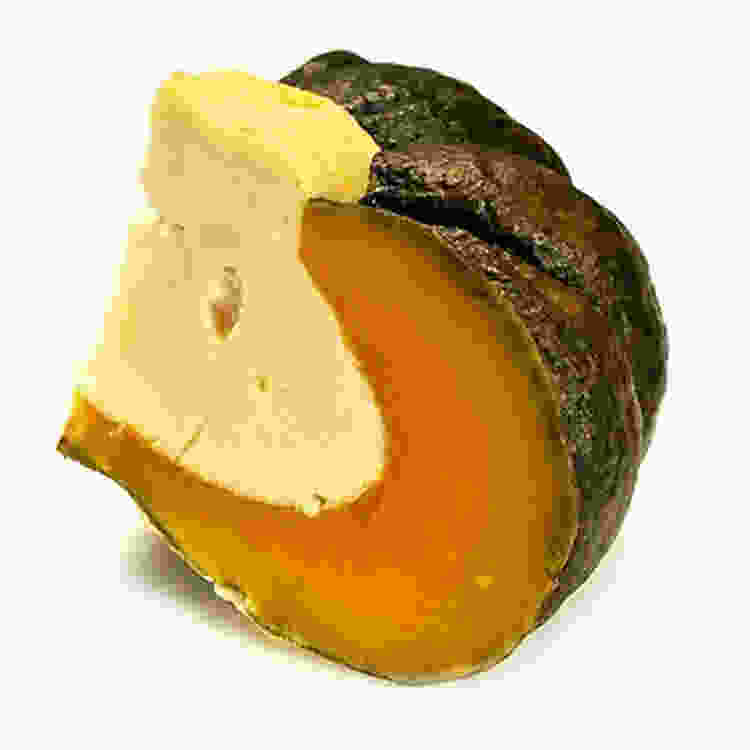 Join 200,000+ Culinary Enthusiasts
Exclusive deals, recipes, cookbooks, and our best tips for home cooks — free and straight to your inbox. PLUS: 500 Rewards Points.
There's no better way to dive into fall than with pumpkin-filled treats and desserts. Pumpkin desserts are emblematic of the season and serve as a perfect accent to the crisp autumn leaves, cool evening air and a tall glass of spiced cider.
Learn the Best Fall-Inspired Recipes
Intimidated by baking your own pumpkin desserts at home? Join us for one of many cooking classes near you to learn new skills just in time for the holidays!