51 Fun Galentine's Day Ideas Your Friends Will Love
It's time to start thinking about Galentine's Day ideas! That's right, Leslie Knope's favorite fictional holiday will be here before you know it. February 13 is the day to gather your gals together to celebrate friendship with festive flair.
The best Galentine's Day ideas incorporate things your friends love into the day, like thoughtful Galentine's day gifts, a delicious meal or an adventure.
Ready to learn how to host a Galentine's Day party for the ages? Here are 51 Galentine's Day ideas your friends will love!
Jump to Section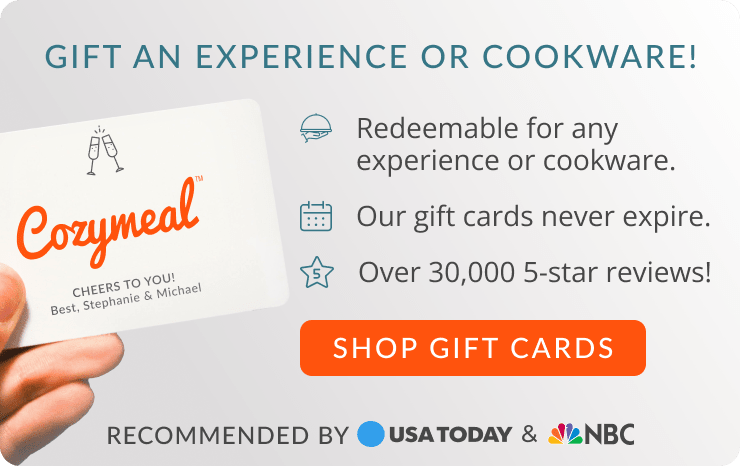 Foodie Galentine's Day Ideas
1. Take a Cooking Class
For food-loving gals (and isn't that all of us?), taking a cooking class together is the perfect Galentine's Day party idea. There are cooking classes with the best chefs around the nation, from cooking classes in Baltimore to cooking classes in Austin. After doing some research on cooking classes near you, all that's left to do is book a class! There are also online cooking classes if you'd rather gather your girls at home but still learn to cook from an expert chef.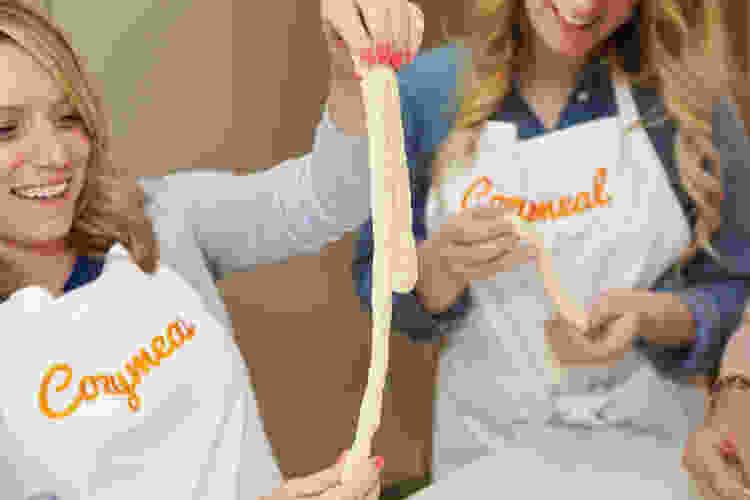 Gourmet Cooking Classes Near You

Take your culinary skills to new levels with guidance from five-star chefs.

Book Now
2. Book a Private Chef Experience
If you and your friends would rather sit back and enjoy a meal than take a part in cooking it, booking a private chef for your Galentine's Day celebration may be just the pampering experience you all need. From private chefs in San Diego to private chefs in Chicago, there are many world-class private chefs near you to book for an elevated dining experience.
3. Take a Food Tour
Experience the unique flavors and hot restaurants hiding in your city on a food tour! When brainstorming Galentine's Day ideas, do a quick search for food tours near you to discover what tours are available in your area. Midwestern gal pals could explore food tours in Milwaukee, and northeastern girls can take a trip to the city for food tours in NYC!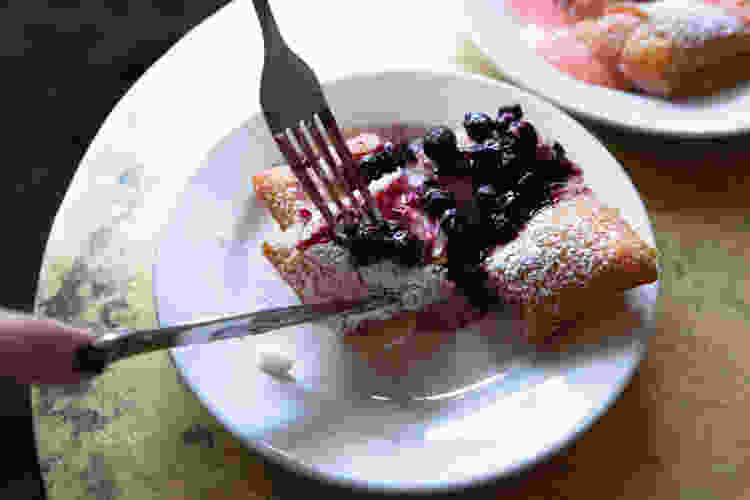 4. Host a Mixology Party
Gather your girls for an evening of making festive cocktails together! Load up on rosé, Champagne and plenty of mixers for an evening of fun drinks and even more fun memories.
5. Challenge Your Friends to a Bake Off
Pick a dessert recipe (the more challenging, the better) and see which of your friends pulls it off the best! The best part about this Galentine's Day idea? Enjoying the desserts together at the end of the evening! If you need some inspiration, we love this lemon blueberry pound cake, these walnut brownies and these chewy white chocolate chip cookies.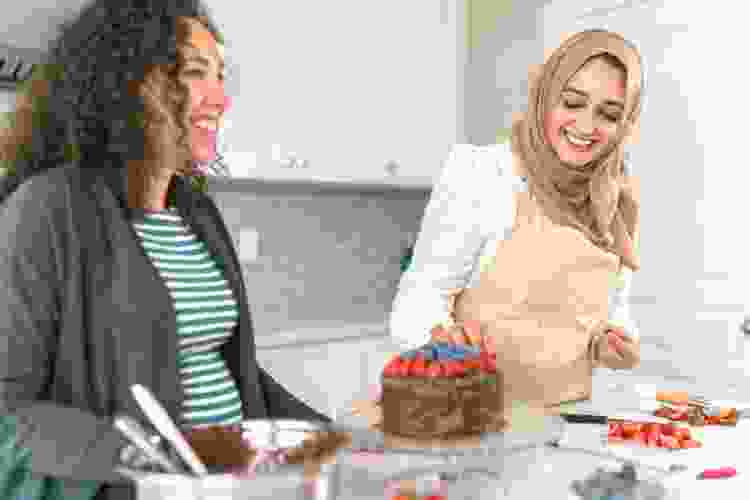 6. Have a Wine Swap
Pull together some snacks and grab your favorite bottle of wine for a wine swap with your girls! Ask each guest to bring her favorite bottle of wine, then spend the evening sipping on your friends' favorites and chatting.
Book a World-Class Private Chef Now
Five-star fine dining from the comfort of home. Find your favorite private chef experience starting at $59/person.
7. Charcuterie Night
Any respectable list of Galentine's Day ideas needs a charcuterie night. Create a spread of different cheeses, jams, meats, and other accouterments to enjoy with appropriate wine pairings.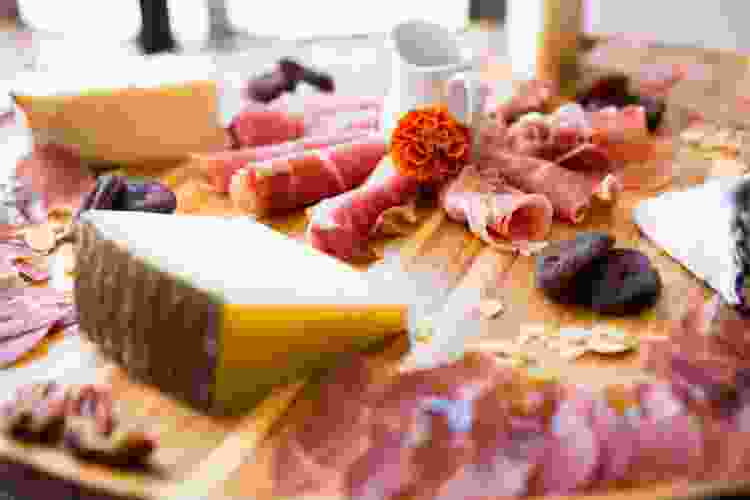 8. Fondue Night
The options are endless when it comes to fondue night. Go savory with a pot of melty cheese and plenty of salty snacks for dipping. Or if you and your girls have a sweet tooth, get a chocolate fountain with cakes, fruit and more for a sweet treat!
9. Go Out to Brunch
Treat yourselves to mimosas and waffles (a classic Galentine's Day idea a la Leslie Knope) for a Galentine's Day brunch.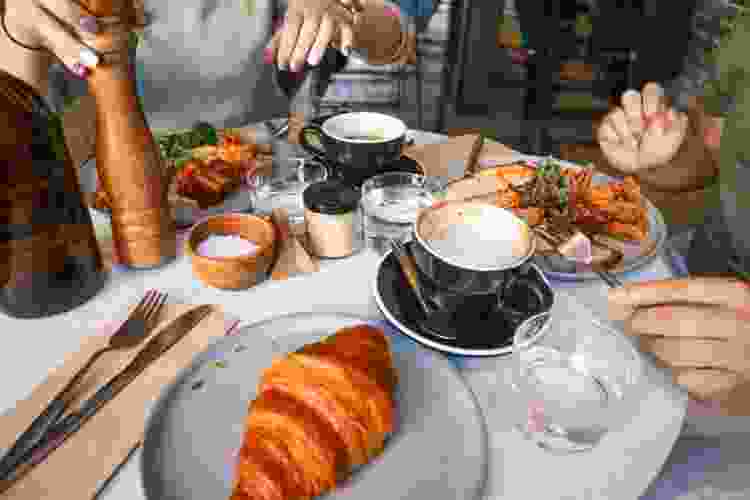 10. Take an Afternoon Tea
For a truly special Galentine's Day celebration, book a table at a local tea room for an elegant afternoon tea with your Galentines. You'll get to don your classiest day dresses for an hour of refreshment and friendship.
11. Go on a Coffee Date
Who said coffee dates are just for couples? Take a girlfriend or two out for an intimate Galentine's Day celebration over coffee! This is the perfect time to take advantage of the cozy couches you've been eying at your local coffee shop and settle in to catch up for an hour or two.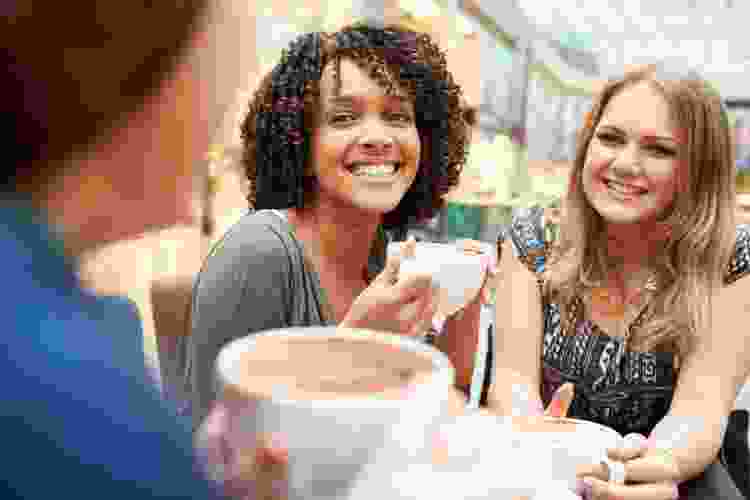 12. Go Out to a Fancy Dinner
No need for couples to own the fancy dinner idea; gather a few girlfriends to go out for a fancy dinner together to celebrate Galentine's Day!
13. Host a Cookie Swap
For a sweet Galentine's Day idea, throw a cookie exchange party. Assign each member of the group their favorite cookie to bake — chocolate chip, meltaways, oatmeal raisin, etc. Have them bring enough to give every person a sampling of what they baked, letting the whole crew leave with a delicious assortment of treats.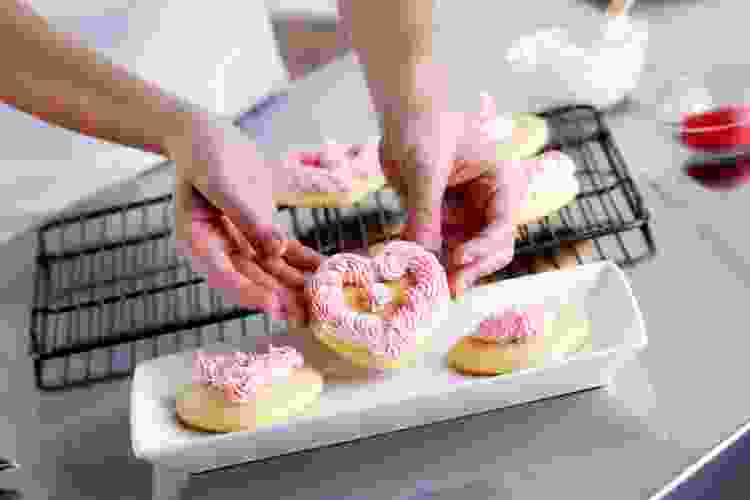 Virtual Galentine's Day Ideas
14. Book an Online Experience
If you're on the hunt for interesting virtual Galentine's Day ideas, an online experience could be the perfect fit. Gather over Zoom for online mixology classes to learn to make unique cocktails. You could also hone your tasting palates together with a virtual whiskey tasting or virtual wine tasting night!
Book a Live Virtual Wine Tasting Now
Indulge in all things wine with the best chefs and sommeliers in the industry. Virtual wine tastings bring a taste of the vineyard home.
15. Swap Galentines
This idea requires a little prep but has lots of sentimental impact. If your Galentines can't be together this year, arrange a Galentine's swap and ask every member of your friend group to send one another a sweet note for Galentine's Day.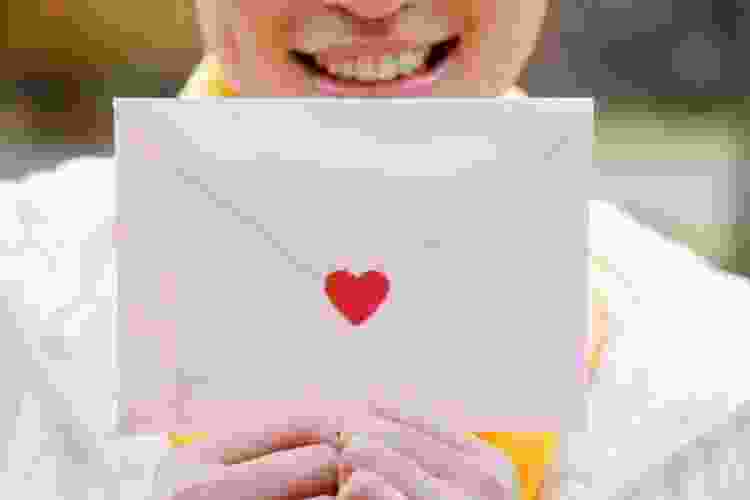 16. Send Them Lunch
What's better than a surprise food delivery? Show your Galentines how much they mean to you by arranging lunch to be delivered to them at their home or office.
17. Deliver Flowers
Surprise your Galentines with a flower delivery this Galentine's Day. Use a flower delivery service to send a stunning bouquet right to their door, or create an arrangement yourself and drop it on their porch with a personalized note!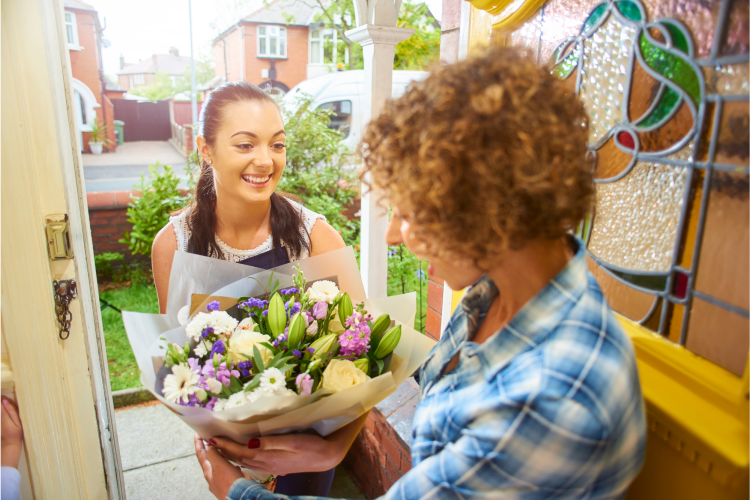 18. Secret Cupid
Familiar with Secret Santa? Well, Secret Cupid is the same idea. For this Galentine's Day idea, organize a gift swap between you and your friends. On Galentine's Day, each Secret Cupid delivers a gift to her friend's home!
Galentine's Day Gift Ideas
19. Nail Salon Certificate
Treat your girlfriends to an hour of pampering this Galentine's Day with a gift certificate to her favorite nail salon.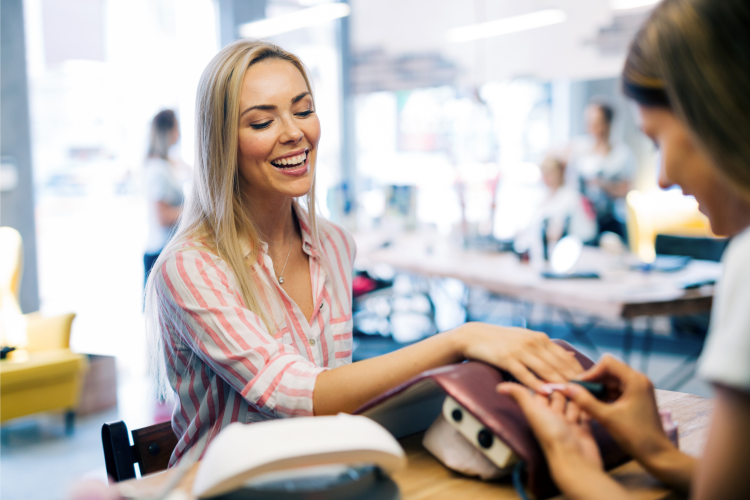 20. Coffee Gift Card
For a simple Galentine's Day gift idea, feed your best friend's cappuccino obsession with a gift card to her favorite coffee shop.
21. Personalized Goodie Bags
This Galentine's Day gift idea will make your girlfriends feel so special! Create a personalized goodie bag full of her favorite things. You could include a personalized mug, favorite candy, a book you think she'd like...whatever would make her day!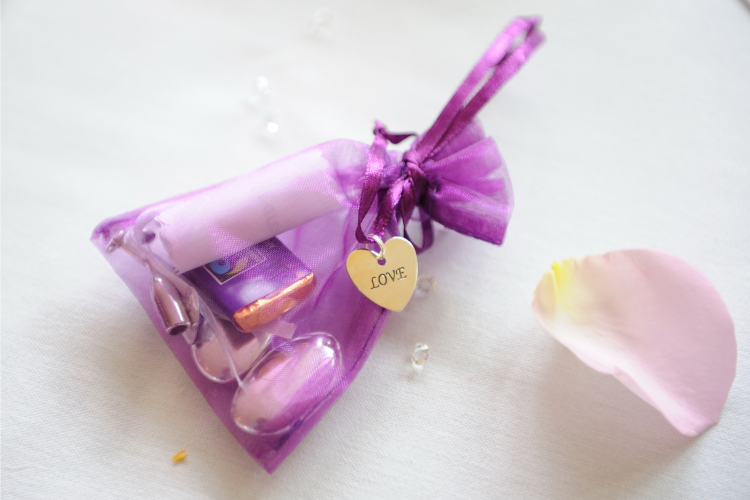 22. Valentine's Cookies in a Jar
Gift your Galentine's a sweet treat they can pull out at just the right moment! Fill a mason jar with all the ingredients she'd need to make sweet Valentine's Day cookies.
Artsy Galentine's Day Ideas
23. Paint and Sip Party
If you are looking for artistic Galentine's Day ideas, find a local paint-and-sip studio to spend the evening. You and your Galentines will get to try your hand at painting on canvas while sipping wine. There are bound to be plenty of laughs as each girl's artistic talent is revealed!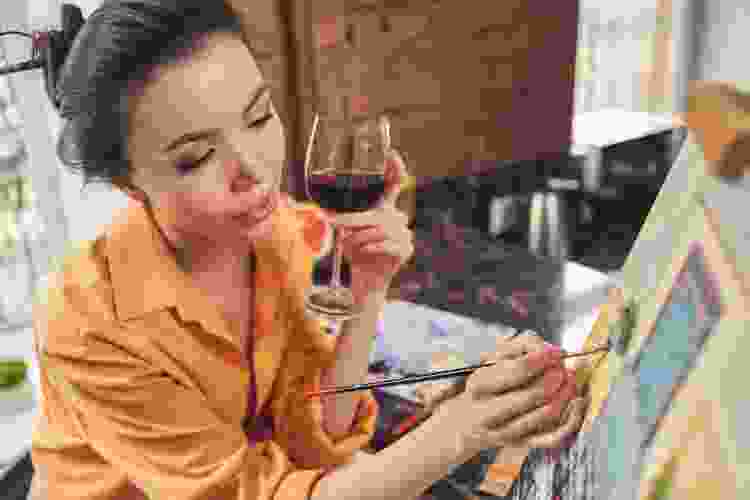 24. Make Candles
Have some candle-lovers in your group? Give candlemaking a go for a fun Galentine's Day activity! Find a candle-making studio in your area and attend a workshop together. You'll learn about the process of candle making and get to make your own custom-scented candles.
Join a Live Online Cooking Class Today
Your kitchen is now your own culinary classroom. Connect with chefs from around the world right from the comfort of home.
25. DIY Date
This Galentine's Day idea is perfect for a group of friends who love crafting or getting their hands dirty. Gather your girls for a "DIY Date" to work on your works-in-progress together. Or, you could come up with a few crafts to try together as a group. Just don't forget to provide plenty of snacks and beverages!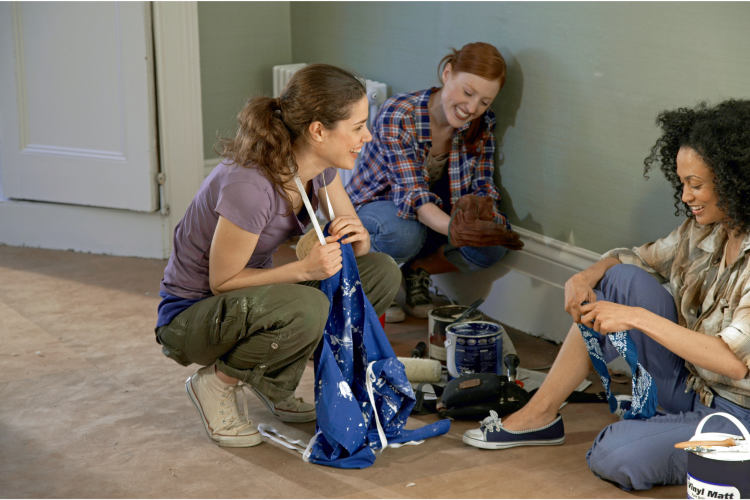 Girly Galentine's Day Ideas
26. Get Your Nails Done
If you're getting your nails done as a Galentine's Day activity, really go all out — book your appointments at a fancy boutique salon and enjoy the atmosphere, a special drink and your girlfriends.
27. Have a Spa Day
Invite your Galentines to a day at the spa! Book massages, facials and more for your crew at your favorite local spa and spend the day enjoying some pampering and one another's company.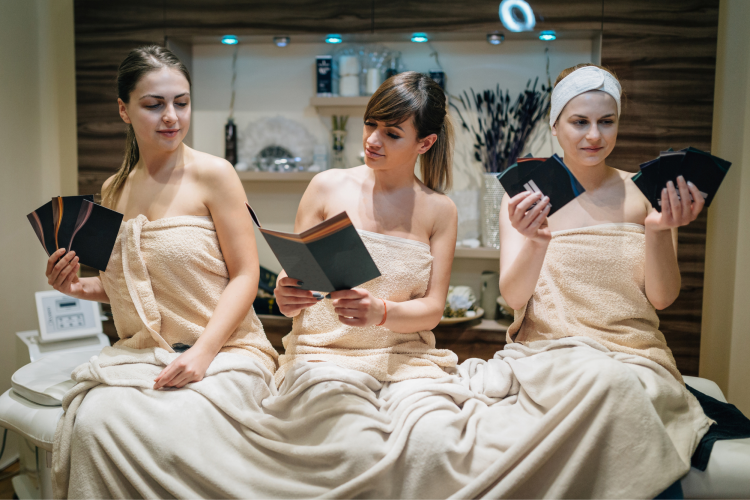 28. Book a Hotel for a Sleepover
Why not have an elevated sleepover for Galentine's Day? Book a hotel room and settle in for gossip, rom-coms and room service.
29. Have a Clothing Swap
For a free Galentine's Day idea, host a clothing swap with your girls. Invite everyone to bring some clothing items they would like to part with, then shop one another's closets as you snack on Galentine's treats and chit chat.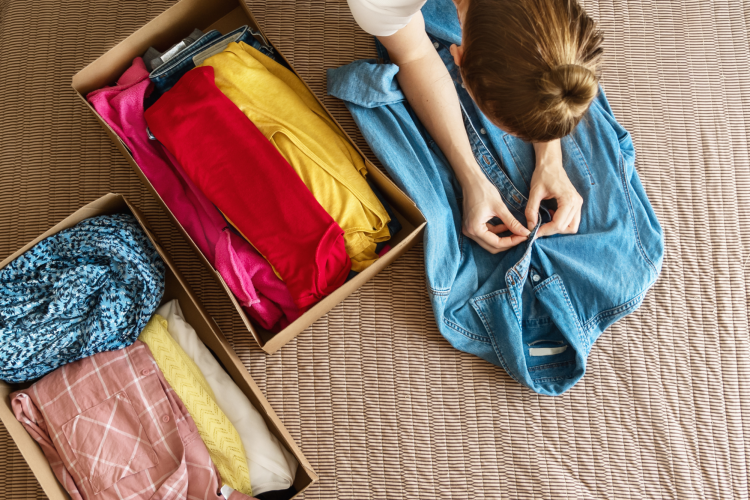 30 Go Thrifting
Hit up the local thrift store for a Galentine's Day activity. Simply enjoy browsing the unique assortment of items, or challenge your friends to see who can score the best pieces at the lowest price.
31. Go Shopping
Indulge in some retail therapy this Galentine's Day with your best friends and go on a shopping trip together.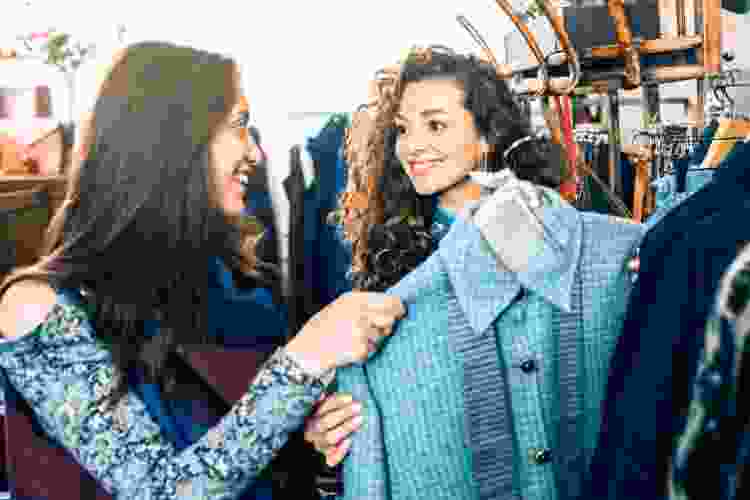 Adventurous Galentine's Day Ideas
32. Karaoke Night
Hit the town for a night out at a karaoke bar with your Galentines! This Galentine's Day idea is perfect for friend groups who aren't afraid of getting out there. Sing, have a drink or two and prepare for many laughs as you each take a turn bringing down the house!
33. Have a Game Night
If your girlfriends love a friendly competition and a night in, board game night may be the best Galentine's Day idea for them. Have your Galentines over for a cozy evening in competing to win board games, eating fun snacks and sipping on festive drinks.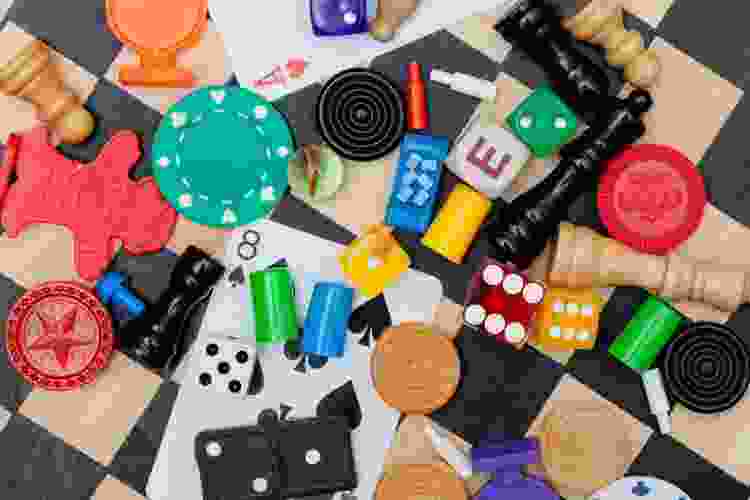 34. Drinks on the Town
Enjoy a classic girls night idea and go out for fancy drinks this Galentine's Day! Gather your girls at your favorite bar, or try the new spot you've all been dying to visit.
Book a Local Food Tour Now
Explore your city's best bites, esteemed eateries and hidden gems with a top-rated tour guide.
35. Bar Hop
Throwback to your college GNOs with a bar hop. Line up a list of bars and hit the town — or, go with the flow and see where the night takes you! This Galentine's Day idea is not complete without a few festive boas or at least coordinated outfits.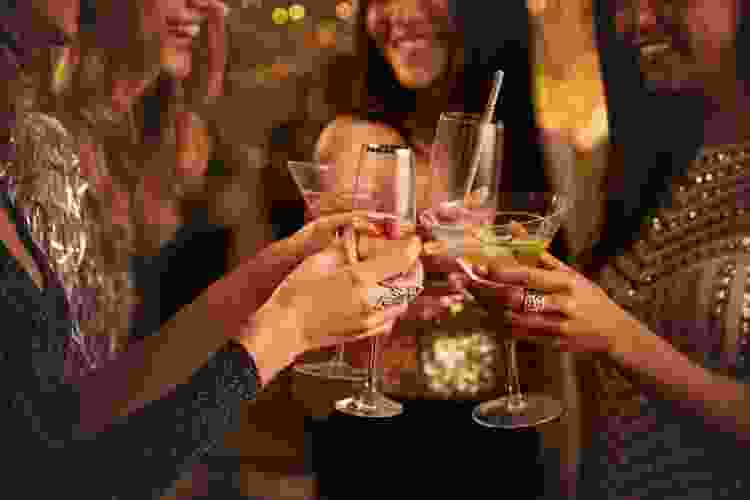 36. Take a Road Trip
Head out of town on a road trip with your best friends this Galentine's Day. What better way to get in some quality time than cruising down the highway together? You could road trip to a fun city or head out to the country for a winter outdoor getaway. Just don't forget to pack snacks and coffee for the road!
37. Go Bowling
Bowling alleys have become all-inclusive nights out, with full-service bars, great food and fun music. Find a new bowling alley in your city to host this year's Galentine's Day party, like Atlanta's The Painted Pin or Nashville's Pinewood Social.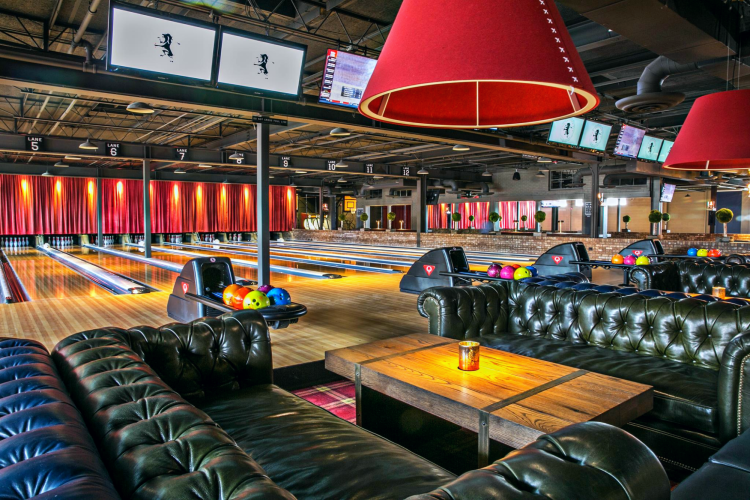 38. Visit the Aquarium
An afternoon at the aquarium is a unique way to spend Galentine's Day that your friends will love! Stand in awe over nature's amazing sea creatures, giggle at the penguins and feel spooked by the sharks as you wander the aquarium together.
39. Take a Swing at Topgolf
Play a round or two of golf-inspired games at Topgolf for a fun and competitive Galentine's Day idea. Enjoy elevated bar bites and drinks as you see who has the best swing. Make it festive by bringing some Valentine's decor to decorate your booth!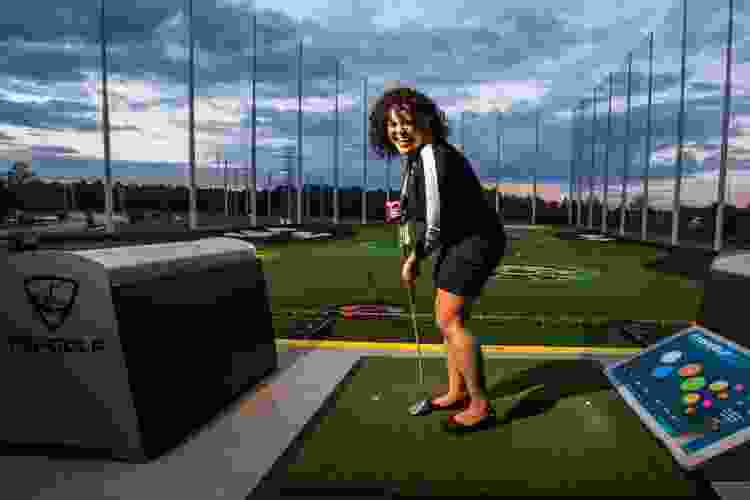 40. Go to a Concert
Whether your Galentines live for screaming out lyrics at loud concerts or prefer more laid-back acoustic shows, attending a concert together for your Galentine's Day party idea is sure to be a hit.
Active Galentine's Day Ideas
41. Plan a Hike
Get some fresh winter air with this active Galentine's Day idea — go for a hike! You'll have clear views through the bare trees, and lower traffic on the trails because of the season. Cross your fingers for a sunny day, and plan for a picnic at the end of your hike!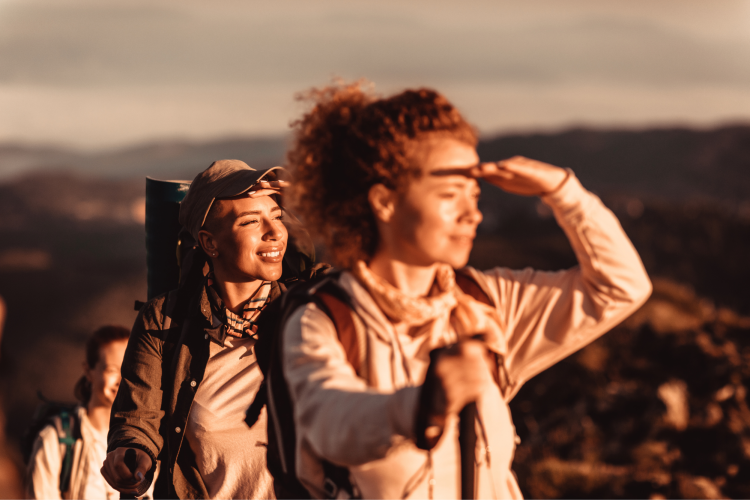 42. Go Sledding
Take advantage of the wintry weather and go sledding for Galentine's Day! After enjoying the rush of sledding down a snowy hill, head to a favorite local coffee shop to warm up with a hot drink.
Book a Gourmet Cooking Class Now
Kick-start your culinary confidence with help from a world-class chef. See what's cooking in your city today.
43. Take a Stroll Around the Neighborhood
This simple Galentine's Day idea is perfect for busy friends. There's no need to plan anything — just enjoy catching up while you stroll around the neighborhood together.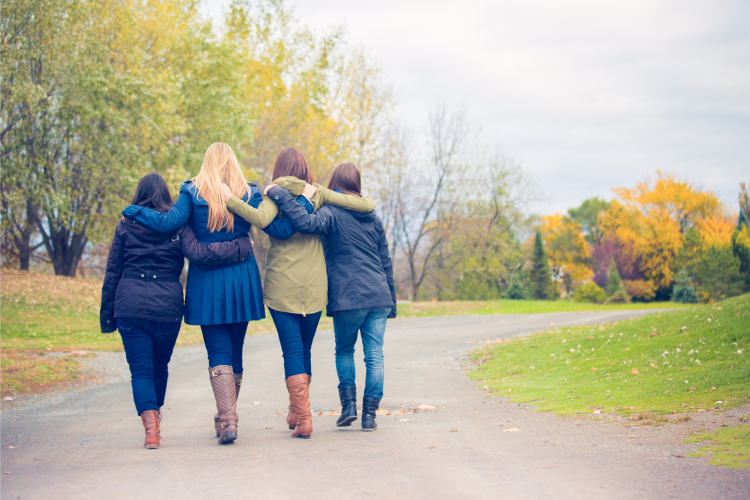 44. Try a Fun Exercise Class
For a Galentine's Day party idea that doesn't require sweet treats, try a fun exercise class with your Galentines! Whether you choose a dance class, barre workout or aquatic class, you'll break a sweat and likely into a few giggles, too.
45. Relax With a Yoga Class
Help Galentine's relax and refresh themselves by attending a yoga class together for Galentine's Day. After an hour of zen time, you'll all leave class feeling loose, centered and ready for the day.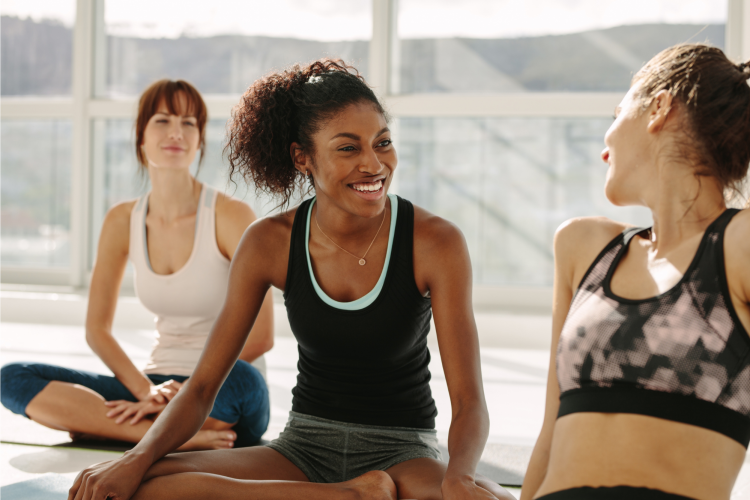 46. Fun Run 5K
A fun run is a great way to get some exercise in a fun environment. Food, music and the energy of the crowd is the perfect combination for an adrenaline-boosting run with your girls.
47. Volunteer Together
Give back to your community with this Galentine's Day idea. See if one of your friends has a cause close to her heart, then spend the day volunteering for the cause.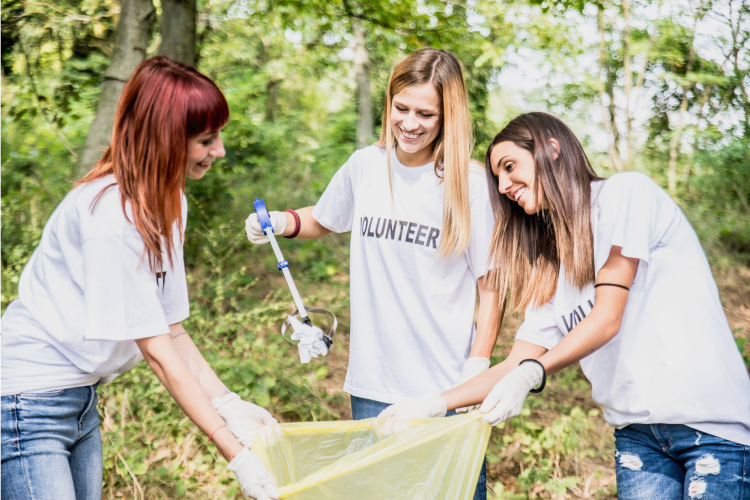 Relaxing Galentine's Day Ideas
48. Take Polaroids
A quick, relaxing way to celebrate Galentine's Day is to snap a few Polaroid pictures with your girls! Have a few friends over for a drink and pull out the Polaroid camera to capture your relaxing evening in just enjoying one another's company.
49. Make a Photo Backdrop
It's so easy to forget to take pictures with friends. To capture some memories, have your Galentines over to take pictures in front of a festive photo backdrop (think pink balloons, sparkly streamers, fun props). Add a few simple snacks, drinks and some music, and you have yourself a low-key party.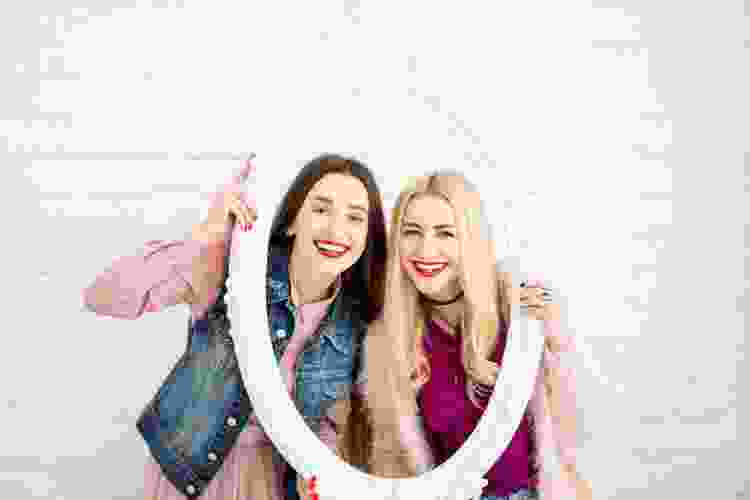 50. Watch a Movie
Galentine's Day is the perfect time to break out the Hallmark Channel for a cheesy rom-com binge with your best girls.
Join an Online Mixology Class

Craft cocktails. Palate-pleasing food pairings. Master mixologists. Skip the crowded bar scene and host your own virtual happy hour.

Book Now
51. Have a Sleepover at Home
The best Galentine's Day ideas are the simplest — just have your Galentines over for an old-fashioned slumber party! Face masks, nail polish and sinful snacks are no-brainers.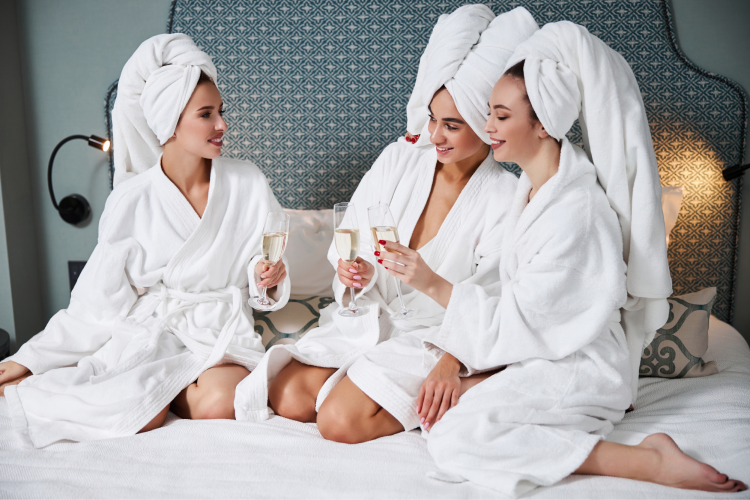 Join 200,000+ Culinary Enthusiasts
Exclusive deals, recipes, cookbooks, and our best tips for home cooks — free and straight to your inbox. PLUS: 500 Rewards Points.
Did a few of these Galentine's Day ideas strike a chord? Now that you're stocked up on Galentine's Day party ideas, it's time to get planning! The day to celebrate the friendship of the ladies you love the best is just around the corner.
For even more fun Galentine's Day ideas, check out other experiences happening on Cozymeal.