43 Mexican Dinner Ideas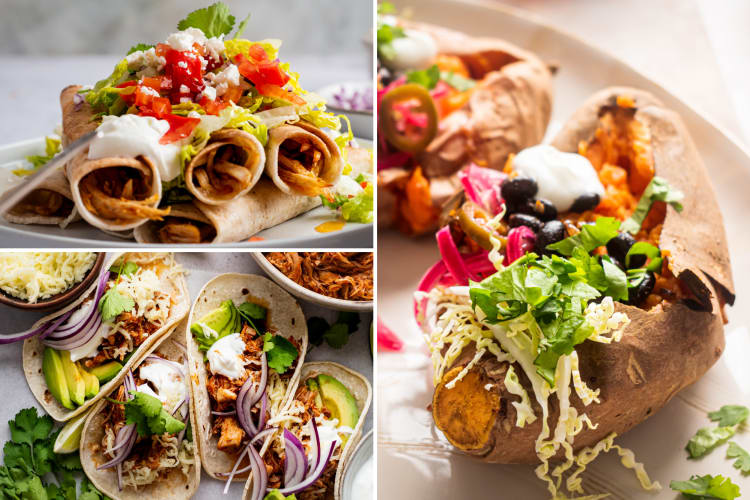 Whether you're preparing authentic recipes or drawing inspiration from this colorful cuisine for an easy weeknight meal, Mexican dinner ideas are a great way to incorporate the vibrant flavors, aromas and textures signature of this delicious style of cooking into your menu. What are the best Mexican dinner ideas for home cooks? Mexican dinner ideas can be so much more than throwing a few ingredients inside of a tortilla. The rich sauces, hearty fillings and bold chilies combine to create a wide range of quick, easy and healthy meals.
The versatility and diversity of Mexican dinner ideas and ingredients make them perfect for feeding everyone from meat lovers to vegetarians and vegans as well as those looking for gluten-free options or other dietary needs. Known for its slow-roasted meats, bold chiles and bright salsas, Mexican dinner ideas have become a staple at family tables and gatherings throughout North America and across the world. The iconic ingredients and flavors of Mexican cooking are so loved that they have been adopted and integrated into a variety of successful fusions from the quintessential Tex-Mex to the uncannily delicious blend of Korean and Mexican cuisines. From authentic to innovative, here are 43 of our favorite Mexican dinner ideas.
Jump to Section
Easy Mexican Dinner Ideas
1. Brisket Tacos
There is no doubt that tacos are one of the most beloved and versatile Mexican dinner ideas. They even have their own day of the week! These Brisket Tacos are a surprisingly simple way to put a unique spin on your next Taco Tuesday pairing the rich flavors of barbecued brisket with traditional Mexican ingredients like cotija cheese.

Try our Brisket Tacos recipe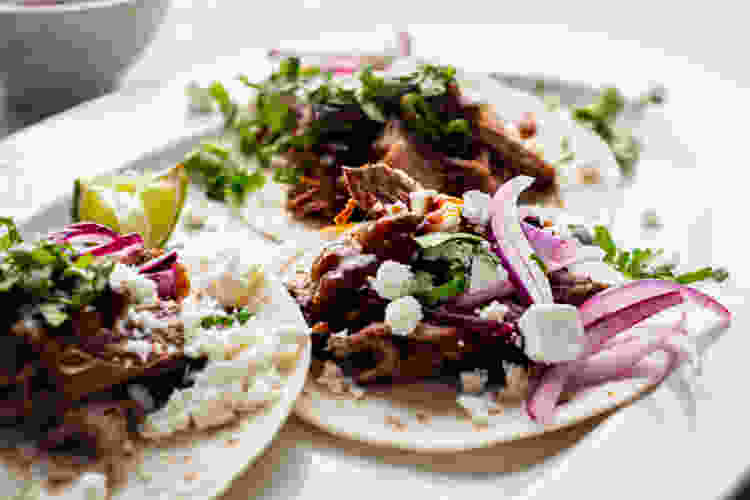 2. Carne en Su Jugo
Hearty and satisfying, Carne en Su Jugo, or "meat in its juices," is a classic Mexican comfort food. One of the coziest, authentic Mexican dinner ideas for a cool, autumn evening, this easy to make meal combines smoky bacon, beef and beans in a rich brown broth served with a spritz of lime, tortillas and your favorite toppings.
Try our Carne en Su Jugo recipe
3. Sheet Pan Nachos
For easy Mexican dinner ideas like these Sheet Pan Nachos, all you need is a sheet pan, some tortilla chips and your favorite toppings. This customizable tray bake is perfect for everything from a quick, kid-friendly meal to an easy, big batch dish for parties or game day.

Try our Sheet Pan Nachos recipe


4. Pulled Pork Tacos
These easy, one-pot Pulled Pork Tacos are tender, juicy and full of flavor. You could even use the hearty pork filling for other Mexican dinner ideas such as nachos, burritos or enchiladas.
Try our Pulled Pork Tacos recipe
5. Vegan Tortillas
Tortillas are a must have for many Mexican dinner ideas and are delightfully easy to make, especially if you have a handy tortilla press. These simple Vegan Tortillas require only four ingredients so you can prepare homemade tacos, burritos, wraps and more that everyone can enjoy.

Try our Vegan Tortillas recipe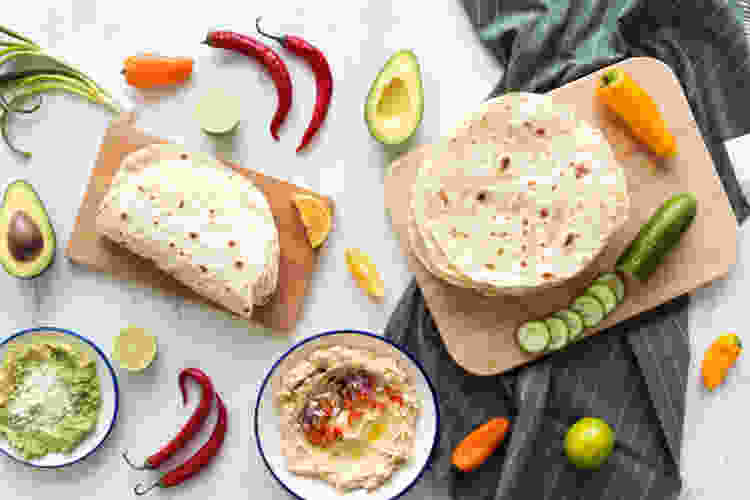 6. Totchos
Put a fun spin on traditional nachos by swapping the tortilla chips for a batch of crispy tater tots smothered with your favorite ingredients. These Totchos are loaded with colorful toppings such as spicy chorizo, hearty black beans, creamy cheese, fresh avocado, pickled jalapeños and more for an easy dinner bursting with flavor, texture and spice.
7. Birria Ramen
Two foodie favorites come together in a vibrant fusion of Asian and Mexican cuisines with this easy Birria Ramen. Curly ramen noodles in a bold birria broth are topped with a soft boiled egg, bright cilantro and crisp onions for a delicious way to transform leftovers into a satisfying meal. Don't forget the chopsticks!

Try our Birria Ramen recipe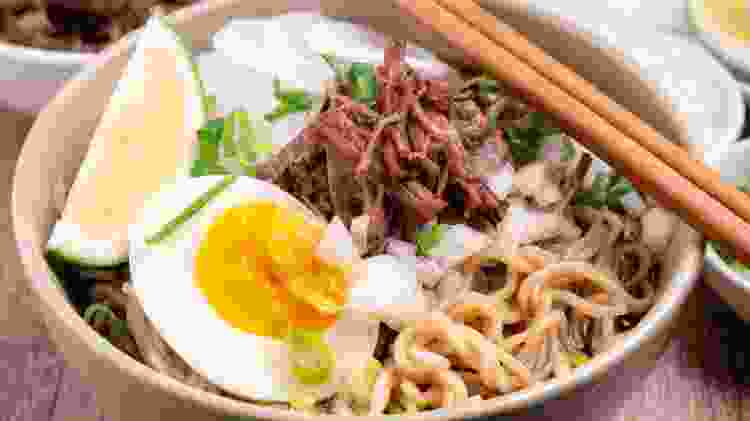 8. Atapakua (Mexican Vegetable Stew)
For those in search of authentic Mexican dinner ideas, try this recipe for Atapakua from Dora's Table which is based on a traditional Michoacan dish prepared for hundreds of years by indigenous people from the region. Simmered in a smoky guajillo sauce, this hearty vegetable stew showcases native ingredients such as sweet potato, corn and pumpkin seeds.
9. Sopa Tarasca (Pinto Bean Soup) with Jalapeño Corn Fritters
This Sopa Tarasca with Jalapeño Corn Fritters by Pinch of Yum is a creamy soup inspired by traditional Mexican cooking. Warm, aromatic spices are blended with a tangy base of tomatoes and pinto beans to create this vibrant, silky soup topped with crispy, sweet and spicy corn fritters perfect for soaking up every last drop.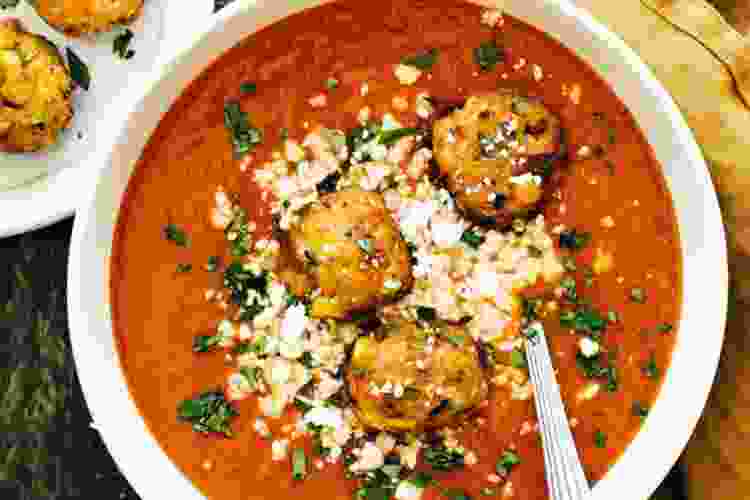 Quick Mexican Dinner Ideas
10. Pulled Pork Nachos
These quick Pulled Pork Nachos delight the palate with a variety of flavors and textures from crunchy, creamy and tender to tangy, salty and fresh. Bake all of the ingredients on a sheet pan for an easy way to feed a large family or party crowd with practically zero clean-up.
Try our Pulled Pork Nachos recipe
11. Vegan Burrito Bowl
Quick Mexican dinner ideas are great for busy evenings and those nights when you don't feel like spending a lot of time in the kitchen. This healthy and satisfying Vegan Burrito Bowl layers delicious, protein-rich ingredients and comes together in less than twenty minutes!
Try our Vegan Burrito Bowl recipe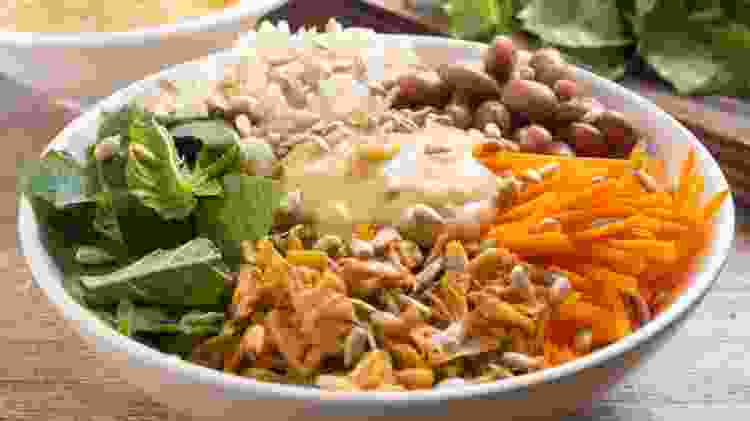 12. Buffalo Cauliflower Tacos
Crispy, spicy and satisfying, these Buffalo Cauliflower Tacos are quick and easy to make with gluten free and vegan options for preparing these Mexican dinner ideas. Adjust the seasonings and toppings to your preference for a speedy and delicious meal.
Try our Buffalo Cauliflower Tacos recipe
13. Grilled Shrimp Tacos
With quick-cooking seafood, these bright Grilled Shrimp Tacos are Mexican dinner ideas perfect for a summer barbecue or effortless weeknight meal. Succulent shrimp paired with smoky chipotle cream and crisp red cabbage come together for a fresh and flavorful bite.
Try our Grilled Shrimp Tacos recipe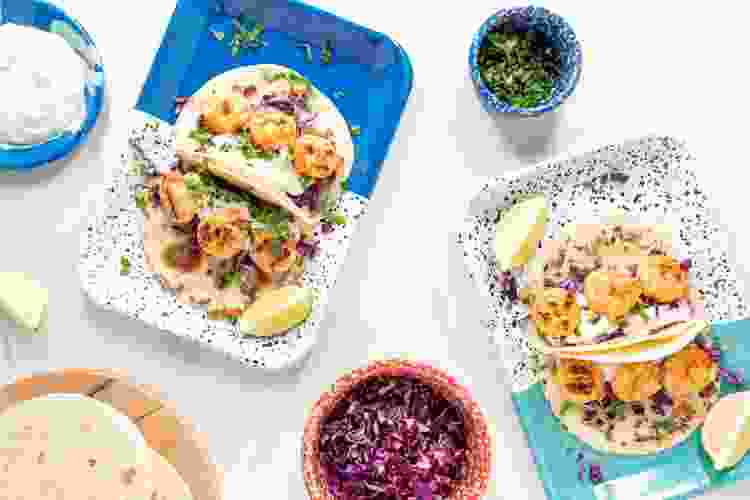 14. Mushroom Tacos
Hearty mushrooms are the star of this vegetarian-friendly Mexican dinner idea. Combining creamy refried beans, ripe avocado and queso fresco, these Mushroom Tacos are a quick and filling meal that can be put together in a matter of minutes.
15. Taco Pasta
This creamy, spicy Taco Pasta by The Girl Who Ate Everything combines the best of Italian and Mexican dinner ideas into one quick and easy dish. Enhance classic pasta shells with tomatoes and chiles, seasoning and cream cheese for a cozy weeknight dinner the whole family will love.


16. Walking Tacos
Inspired by Mexican flavors, these Walking Tacos from Spend with Pennies are a fun and quick dinner idea. Choose your favorite bag of chips as a base, then load it up with seasoned beef and your preferred toppings like shredded cheese, chopped onion, crisp lettuce, fresh salsa, guacamole and sour cream.
17. Mexican Shrimp Salad
Colorful, fresh and bursting with flavor, this Mexican Shrimp Salad from Little Spice Jar is ready to eat in just fifteen minutes! Refreshing Mexican dinner ideas like these come together in a few simple steps for a quick, healthy meal that will keep you full and satisfied.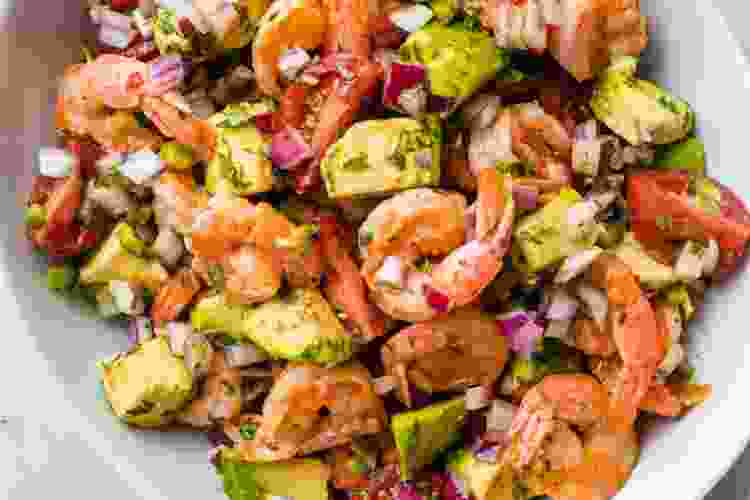 Healthy Mexican Dinner Ideas
18. Cod Fish Tacos
Flaky marinated cod and fresh cabbage slaw combine for a light yet satisfying filling in these colorful Cod Fish Tacos. Finished with sliced avocado and a drizzle of spicy Sriracha crema, these easy tacos are refreshing and healthy Mexican dinner ideas. Showcase colorful taco creations like these with a sleek taco holder stand for easy serving.
19. Stuffed Sweet Potatoes
Tangy pickled red onions and jalapeños give an extra burst of flavor to Mexican dinner ideas like these hearty Stuffed Sweet Potatoes. Sweet, smoky and savory, these tender potatoes are filled with protein-rich black beans, crisp green cabbage or lettuce and a sprinkle of cheese and crema for a nutritious and satisfying meal.
Try our Stuffed Sweet Potatoes recipe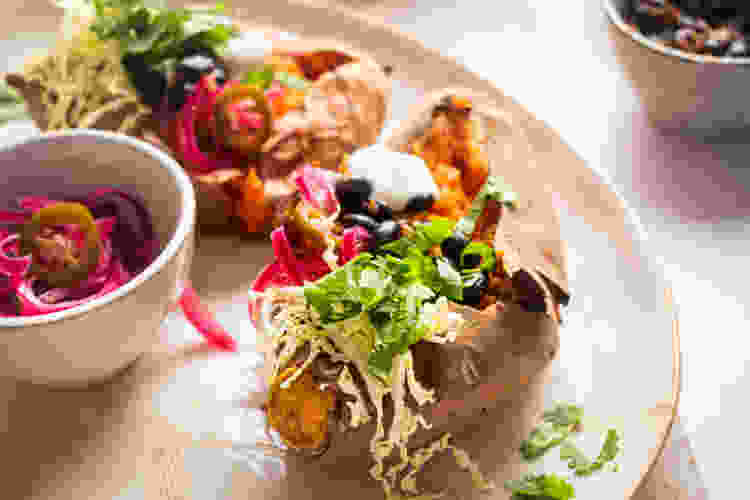 20. Vegetarian Fajitas
These Vegetarian Fajitas are Mexican dinner ideas that are big on flavor with hearty mushrooms, peppers and onions seasoned with smoked paprika, chili powder and cumin. Serve hot and topped with generous dollops of guacamole and sour cream for a quick, healthy meal.
Try our Vegetarian Fajitas recipe
21. Sweet Potato Black Bean Tacos
Spiced sweet potatoes and hearty black bean salsa create the filling for these healthy and satisfying Sweet Potato Black Bean Tacos. With fresh tomatoes, sweet corn, bold red onion and slices of avocado, these nutritious tacos are stuffed with a rainbow of delicious ingredients.
Try our Sweet Potato Black Bean Tacos recipe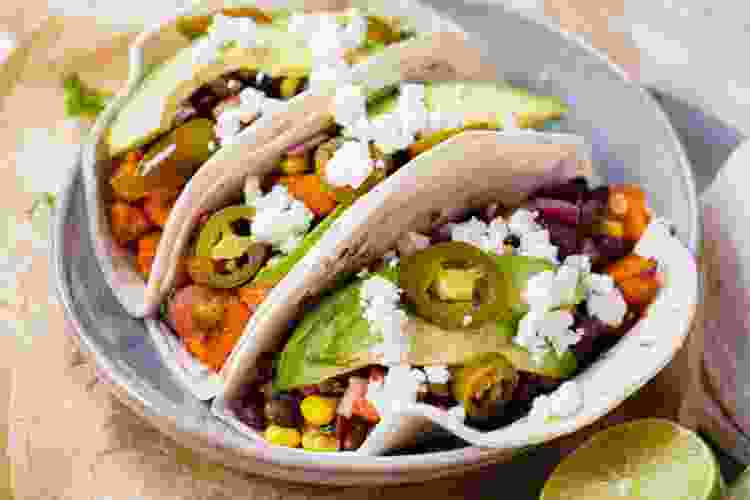 22. Butternut Squash Tacos
Set aside the meat or mushrooms and give these Butternut Squash Tacos a try for a fun vegetarian alternative at your next taco night. Roasted cubes of butternut squash are hearty and delicately sweet with crisp, caramelized edges. Paired with your favorite beans and a zesty chili-lime crema, you will want to come back to these tasty tacos again and again.
Try our Butternut Squash Tacos recipe
23. Keto Enchiladas
Featuring keto-friendly "tortillas" made with eggs and almond flour, these Keto Enchiladas are a healthy take on one of the most popular Mexican ideas for dinner. Heat up a non-stick skillet to make your keto tortillas, then fill them with a delicious combination of chicken, onions and spices. After a few minutes under the broiler, drench your enchiladas in a bright verde sauce and a generous helping of cheese for a nutritious Mexican-inspired meal.
Try our Keto Enchiladas recipe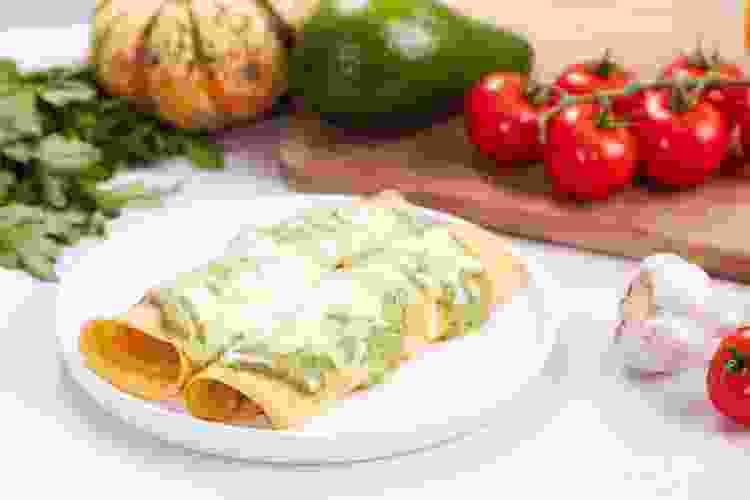 24. Shrimp Fajitas
Quick and easy Mexican dinner ideas, Shrimp Fajitas are a lighter alternative to the typical steak or chicken versions of the classic meal. Serve these tasty fajitas on their own or with a fresh side salad to round out this healthy meal.
25. Mexican Street Corn Salad with Quinoa
Traditional elote is a popular street food with its beloved flavors echoed in a variety of Mexican dinner ideas. This Mexican Street Corn Salad with Quinoa from Well Plated by Erin is a lighter version of the classic, mayonnaise-laden dish, that transforms the quintessential ingredients into a satisfying and protein-rich vegetarian meal.


26. Roasted Chile Relleno
This Roasted Chile Relleno with Black Beans by Feasting at Home is a lightened up version of the classic fried dish. Served with a bold ranchero sauce, the poblano peppers are stuffed with black beans and cheese then roasted until golden brown.
Mexican Dinner Ideas with Chicken
27. Chicken Flautas
Crispy, crunchy and full of flavor, Chicken Flautas are simple Mexican dinner ideas that kids and adults alike will adore. Seasoned shredded chicken is rolled inside of a tortilla and pan-fried to perfection then topped with your favorite ingredients like crisp lettuce, juicy tomatoes and cotija cheese.
Try our Chicken Flautas recipe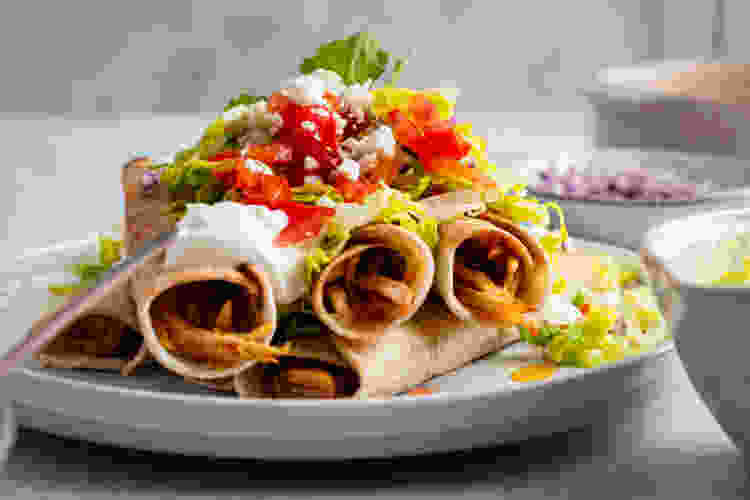 28. Chicken Taco Casserole
An easy family dinner with plenty of potential for leftovers or a hearty dish for feeding a crowd, Chicken Taco Casserole is filled with layers of simple, but delicious ingredients. The fire roasted green chiles and homemade spiced tomato sauce add just enough kick to this crowd-pleasing meal.
Try our Chicken Taco Casserole recipe
29. Instant Pot White Chicken Chili
This Instant Pot White Chicken Chili is ready in about 35 minutes instead of the usual couple of hours it takes to make traditional chili. With shredded chicken, green chiles and plenty of spices, this hearty stew is perfect for a cozy weeknight meal.
Try our Instant Pot White Chicken Chili recipe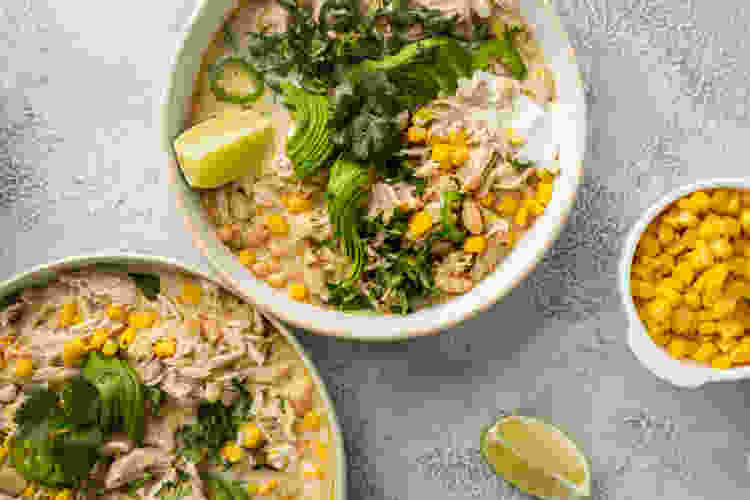 30. Enchiladas Verdes
Shredded chicken, melted cheese and vibrant salsa verde are a classic combination for Mexican dinner ideas. These Enchiladas Verdes are quick and easy to make, packed with flavor and deeply satisfying.
Try our Enchiladas Verdes recipe
31. Instant Pot Chicken Tacos
The signature slow-cooked meats common in Mexican cooking are easy to achieve with the help of kitchen devices like a pressure cooker or multi-cooker. For these Instant Pot Chicken Tacos, the machine does practically all the work leaving you with tender, spiced chicken that is ready to shred and serve.
Try our Instant Pot Chicken Tacos recipe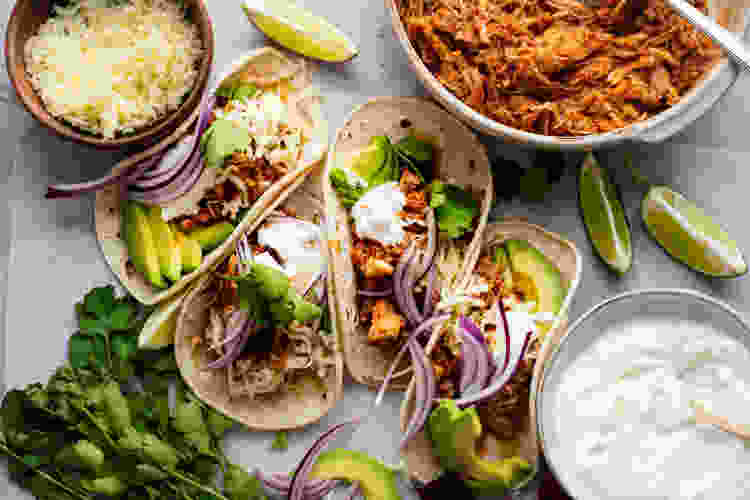 32. Chicken Tostadas
A spicy, crunchy Tex-Mex favorite, these Chicken Tostadas are piled high with an intriguing contrast of textures and flavors. Layer your preferred toppings over hearty chicken and beans for quick and customizable Mexican dinner ideas.
Try our Chicken Tostadas recipe
33. Mexican Pozole Verde
Pozole is a traditional Mexican stew made with hominy and meat in a flavorful broth, usually colored with red or green ingredients. This Mexican Pozole Verde by Feasting at Home features fresh tomatillos, green chiles and shredded chicken for a vibrant soup topped with a wide assortment of fresh ingredients like crunchy pepitas, crisp radishes, creamy avocado or crunchy tortilla strips.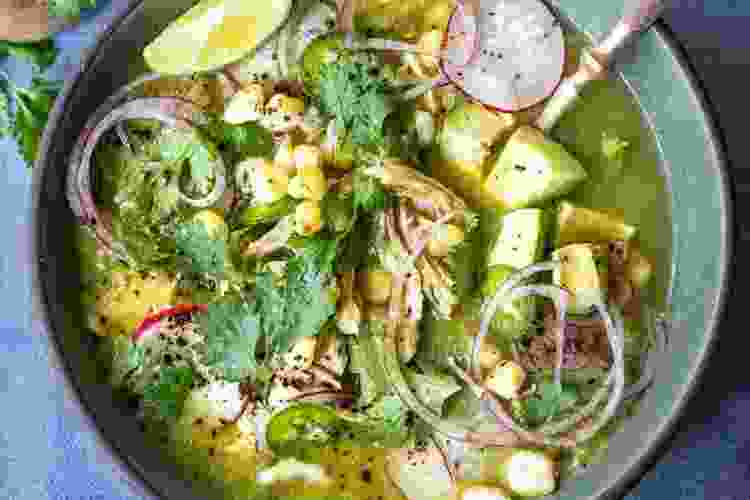 34. Salsa Chicken Casserole
This Salsa Chicken Casserole by Spend with Pennies could not be any easier to make and can be prepared and frozen ahead of time for a quick and comforting meal whenever you need it. With a classic combination of rice, beans, vegetables and chicken topped with a sprinkling of cheese, this simple casserole requires little prep and is ready to serve in under an hour.
35. Chicken Mole Negro
One of the most distinctive sauces of Mexican cuisine, mole is a rich and earthy blend of spices with a unique depth of flavor. Perhaps considered too complex for everyday Mexican dinner ideas, this Chicken Mole Negro by Feasting at Home makes the signature sauce accessible for home cooks to make and enjoy for a vibrant Oaxacan-inspired meal.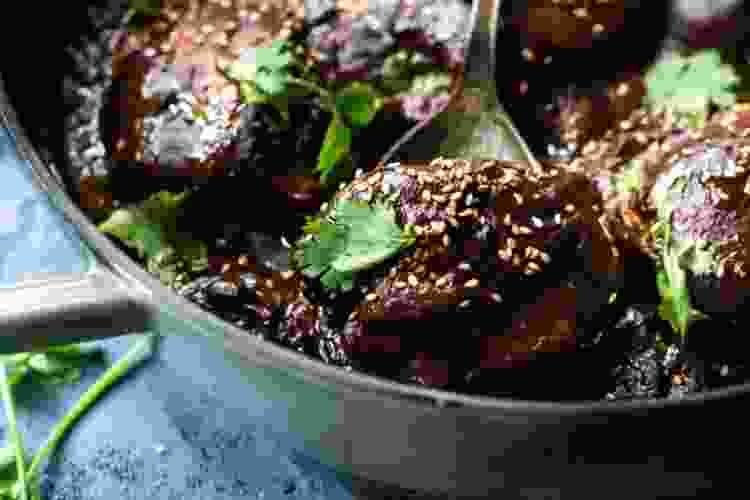 Mexican Dinner Ideas with Ground Beef
36. Red Chili
This bold Red Chili gets its vibrant color from a medley of beef, beans, tomatoes and spices simmered low and slow until it becomes a thick, hearty stew. Make a big batch and freeze the leftovers for a cozy meal ready to keep you warm all winter long.
37. Enchiladas Rojas
A vibrant salsa roja made from bold chiles and aromatics enrobes fried corn tortillas layered with rich ground beef to create these decadent Enchiladas Rojas. Mouth-watering, authentic Mexican dinner ideas like these remind us why we love Mexican cuisine.
Try our Enchiladas Rojas recipe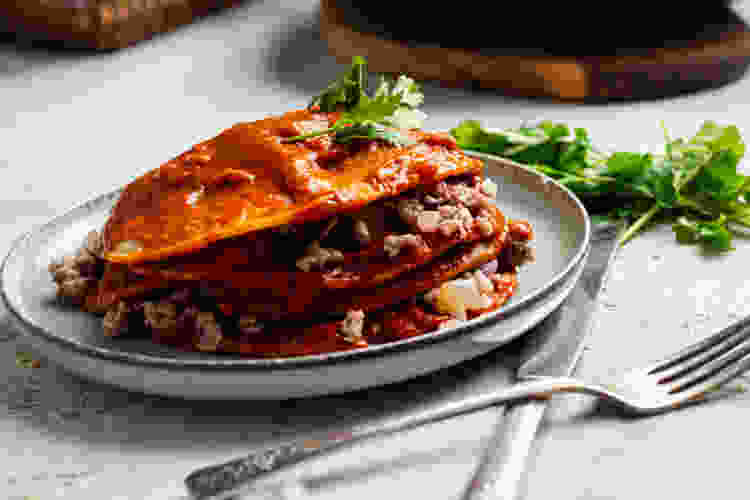 38. Mexican Meatball Soup
Mexican Meatball Soup, or albondigas, is a hearty soup loaded with colorful vegetables and flavorful spices. One of the best Mexican dinner ideas for a cold or rainy day, this comforting soup is both healthy and satisfying.
Try our Mexican Meatball Soup recipe
39. Stovetop Chili
Stovetop Chili is a classic Tex-Mex dish with a hearty serving of ground meat, beans and the perfect balance of spice. This rich chili is guaranteed to keep you warm and satisfied on a cold day.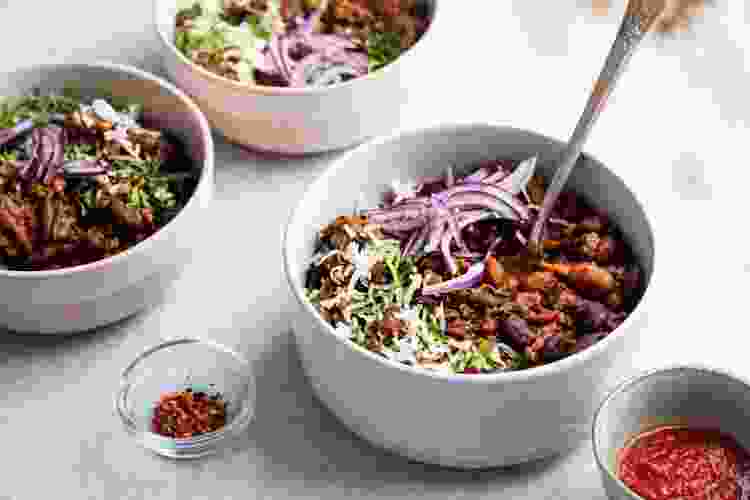 40. Copycat Crunchwrap Supreme
Indulge in a fast food favorite with this Copycat Crunchwrap Supreme by Spend with Pennies. This better-for-you version of the restaurant dish is surprisingly easy to assemble for Mexican dinner ideas that let you skip the drive-thru.
41. Mexican Stuffed Shells
For Mexican dinner ideas with a touch of Italian flair, try these Mexican Stuffed Shells from The Girl Who Ate Everything. The hearty, jumbo shells stuffed with seasoned ground beef and cheese are simple to make, freeze well and can easily feed the whole family.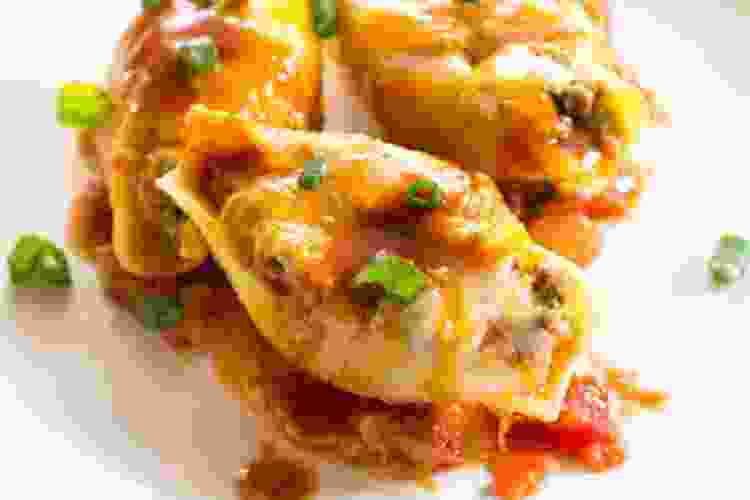 42. Mexican Stuffed Peppers
For healthy, delicious and satisfying Mexican dinner ideas, try these colorful Mexican Stuffed Peppers from Ahead of Thyme. Perfect for weeknight dinners, parties or freezing for later, the classic stuffed pepper gets a Mexican twist with black beans, corn and a kick of spice.
43. Beef and Bean Burritos
These Beef and Bean Burritos by Ahead of Thyme are one of the best Mexican dinner ideas for a quick meal or eating on the go. Seasoned beef, vegetables and cheese are wrapped in a warm tortilla that can be made ahead, frozen and reheated whenever you need a speedy, satisfying meal.
From traditional dishes inspired by classic Mexican cooking to creative culinary fusions, these Mexican ideas for dinner showcase the flexibility, versatility and diversity of the beloved cuisine. With bold ingredients, bright flavors and enticing aromas, it is easy to please families, friends and crowds with these fun and festive Mexican dinner ideas.
Whether drawing from global cuisines or creating something uniquely your own, elevate your meals with premium kitchenware and accessories from the Cozymeal Shop and check out Cozymeal Recipes for more Mexican dinner ideas and culinary inspiration.