Guide to Guajillo Peppers for 2023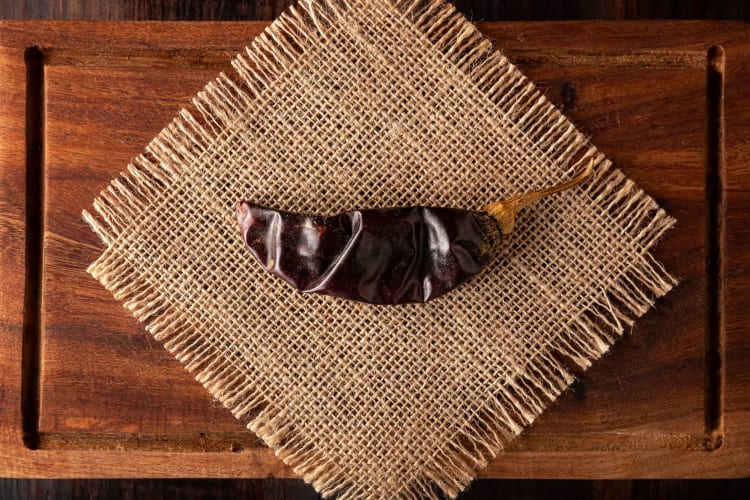 If you're looking for a primer on guajillo peppers, we can help. This unique dried pepper from Northern Mexico is a great addition to any salsas, moles or enchiladas you might be cooking up. We've covered all the basics of this unique pepper so that you can feel more confident in the kitchen.
Jump to Section
Gourmet Cooking Classes Near You
Take your culinary skills to new levels with guidance from five-star chefs.
What Is a Guajillo Pepper?
Guajillo (gwa-HEE-oh) peppers are one-third of the "holy trinity" of Mexican peppers. The other two, ancho and pasilla, carry more spice than the guajillo pepper. The guajillo is a dried version of the mirasol pepper and is typically a deep maroon or burgundy color. When shopping for guajillo peppers, you might also see guajillo peppers called chile guajillo.
Guajillo peppers range in size, but they are typically around one inch wide and can be up to six inches long. The dried peppers will have a slightly leathery texture but should still be pliable.
Just like ancho peppers, guajillo peppers come from the northern portions of Mexico, where they are frequently combined with other peppers and used to add richness and depth to salsas and other dishes.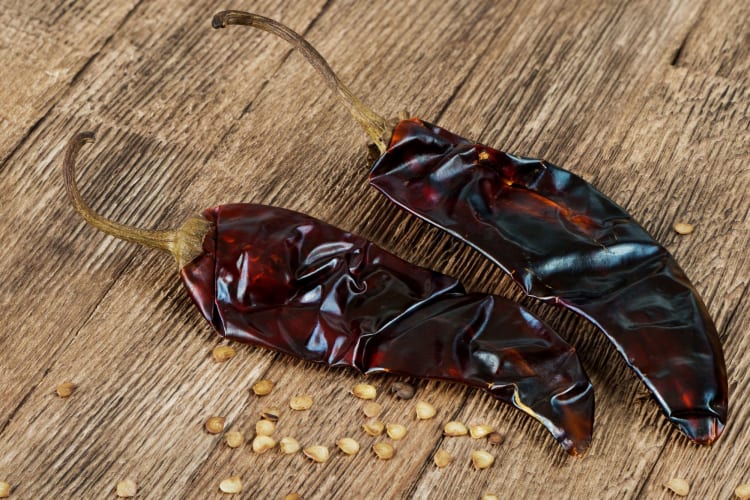 Are Guajillo Peppers Spicy?
When compared to other peppers you might have cooked with, the guajillo pepper is not going to be as high on the Scoville scale as other peppers. Typically, guajillo peppers are considered a low to medium heat pepper. They range anywhere from 2,500 to 5,000 Scoville heat units (SHU) and are typically bred to be sweet rather than spicy.
You can compare this range to that of another typical pepper, the jalapeño, for reference. Jalapeños typically range from 2,500 to 10,000 Scoville heat units, making them a spicier option than the sweeter guajillo pepper. Guajillos are considered by most to be a fairly tame pepper in terms of spiciness, so you don't have to worry too much about burning the taste buds of the guests at your next dinner party.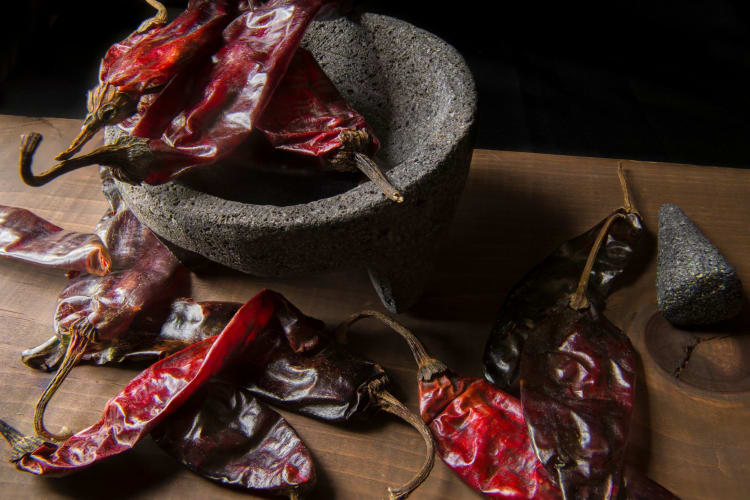 Join a Live Online Cooking Class Today
Your kitchen is now your own culinary classroom. Connect with chefs from around the world right from the comfort of home.
Guajillo vs. Ancho
In Mexican cuisine, you'll often find guajillo peppers and ancho peppers combined in recipes to really give a full-bodied flavor to the recipe. And while both of these chiles are dried versions of different peppers, you'll find that there are some key differences between these two types of peppers.
The first main difference between guajillo vs. ancho chiles is the origin of each pepper. As mentioned above, guajillo peppers are the dried version of the mirasol pepper, while ancho chiles are dried poblano peppers. That means guajillo peppers are also skinnier and much longer than ancho peppers, evident in the image below of the 'holy trinity' of Mexican peppers: pasilla, ancho and guajillo (from left to right).
The second main difference is spiciness. When comparing the Scoville heat units of each pepper, you'll find that ancho chiles are much lower on the list than guajillo chiles. The ancho clocks in at around 1,000 to 1,500 SHU, making it a milder pepper than the guajillo.
Don't let the numbers fool you, though. Even though the guajillo pepper starts at 2,500 SHU, it is still quite mild and palatable.
The final difference between these two types of peppers is their flavor. While it's true that you can substitute ancho peppers for guajillo in a pinch, you'll find that they do have slightly different flavor profiles. Both can have earthy, sweet hints, but the guajillo will be much lighter and have more hints of plum or other fruits than the ancho pepper.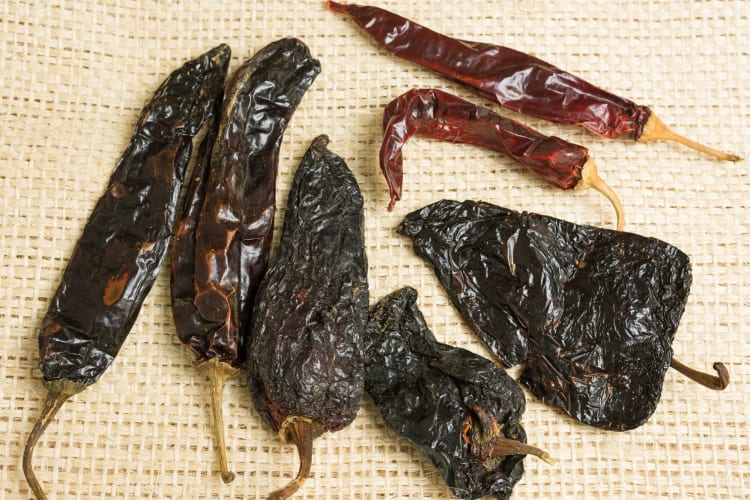 Where to Buy Guajillo Peppers
The best place to buy guajillo peppers is at an international grocery store that caters to Mexican cuisine. Because they stock more items like guajillo peppers, you have a better chance of finding fresher peppers at stores like this. If that's not an option for you, you can also typically find guajillo peppers at your supermarket. Just keep in mind that they might not be as fresh.
One way to tell if your guajillo peppers are fresh is to look carefully at the texture of the skin. Since the guajillo pepper is dried, it might be slightly wrinkled and leathery, but cracks are typically a sign that the pepper is losing some freshness. Another way to tell is to see if the pepper is still pliable. This is a good sign of freshness and flavor.
Book a Gourmet Cooking Class Now
Kick-start your culinary confidence with help from a world-class chef. See what's cooking in your city today.
This is also a good test for any dried peppers that may be hanging out in your pantry. While dried peppers do typically last around 1-2 years after you purchase them, it's always good to assess their quality before you incorporate them into your recipes. You'll want to be sure that when you do purchase these peppers, you keep them in an airtight container and away from any moisture. The longer a guajillo pepper sits in your pantry, the less flavor it is going to have when you try to incorporate it into a recipe.
If you don't have access to whole dried guajillo peppers, you can buy guajillo pepper flakes or powder, but bear in mind that these options have an even shorter shelf life than the dried peppers themselves.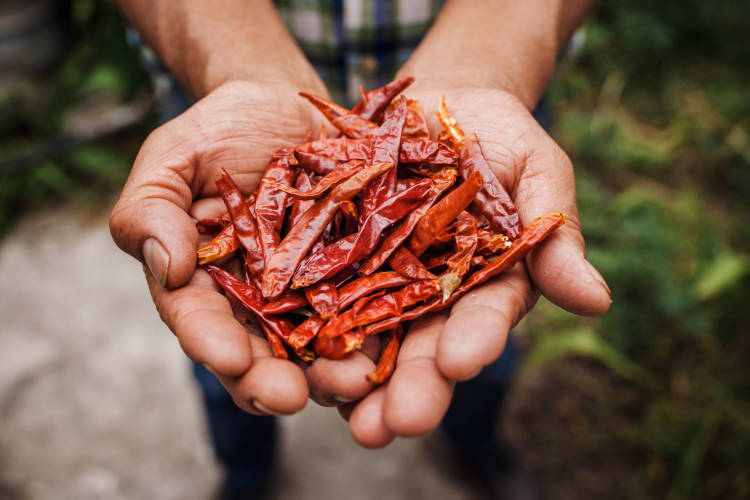 Cooking With Guajillo Peppers
Rehydrating Guajillo Peppers
One of the easiest ways to rehydrate guajillo peppers before using them is to remove the stems and place them in a heat-safe bowl. Then pour boiling water over your peppers. They will need to sit for about 15 to 20 minutes before you can drain the water and start using the peppers. Once they are rehydrated, they are ready to be toasted and incorporated into your dishes.
If you are looking for a different rehydrating method for your guajillo peppers, some chefs recommend slicing open your peppers and slightly toasting them in a skillet before you soak them in boiling water. If you choose to do this method, just be sure you don't burn the peppers while toasting — this makes them bitter. You can also save the water you used to rehydrate the peppers to add back into your recipes later, if you find that any of your sauces need thinning out.
Some cooks might tell you that this makes the recipe taste bitter, but it can be a great way to add a little more of that signature guajillo flavor back into your dish without watering down the spice.
Uses for Guajillo Peppers in Recipes
If you're new to trying authentic Mexican cuisine or are just trying to learn how to eat hot peppers, there are plenty of great recipes available that utilize the milder guajillo pepper. Often you will find these peppers used in combination with others to create a full-flavored dish.
You can use guajillo peppers to make delicious sauces and salsas like this salsa roja. The combination of peppers in this dish creates a stronger, more blended flavor that is really delicious! You could also try making enchiladas rojas, where the guajillo peppers are used to create a chunky salsa that coats the top of the enchilada.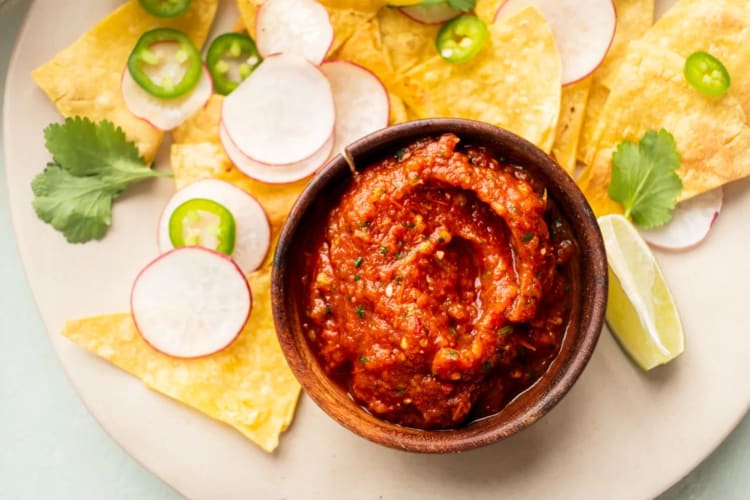 And while guajillo peppers are great for salsa and moles, you can also certainly incorporate them into an entrée like Mexican meatball soup (Albondigas), creating a healthy and hearty Mexican dish.
Gourmet Cooking Classes Near You
Take your culinary skills to new levels with guidance from five-star chefs.
Learn to Cook With Guajillo Peppers in a Cooking Class
One of the best ways to build your confidence in the kitchen is by taking a cooking class. Whether you're just looking to learn the basics of at-home cooking or you'd like to learn more about authentic Mexican peppers like the guajillo, cooking classes can be a great way for you to gain experience and grow more comfortable in the kitchen.
With classes available in almost every major city, like cooking classes in NYC and cooking classes in San Francisco, you're sure to find cooking classes near you. But if your busy work schedule or commute won't allow you to make it to an in-person cooking class, you don't have to give up your goal! There are plenty of online cooking classes available that can still give you expert instruction right in the comfort of your own home.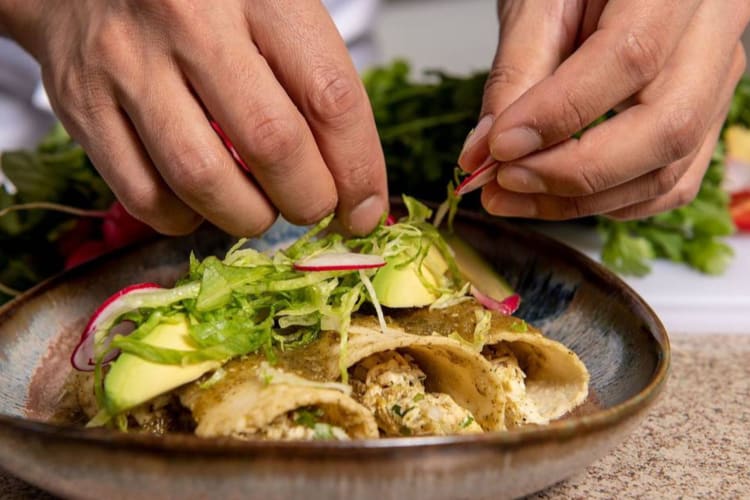 Join 200,000+ Culinary Enthusiasts
Exclusive deals, recipes, cookbooks, and our best tips for home cooks — free and straight to your inbox. PLUS: 500 Rewards Points.
We hope this guide to the guajillo pepper has been helpful. From deepening the flavors of your sauces and moles to providing sweet heat to your enchiladas, this versatile dried pepper certainly deserves its spot in the holy trinity of Mexican peppers.
For even more ways to explore your favorite foods, check out other experiences happening on Cozymeal.