The 2023 Foodie Guide to Pasilla Peppers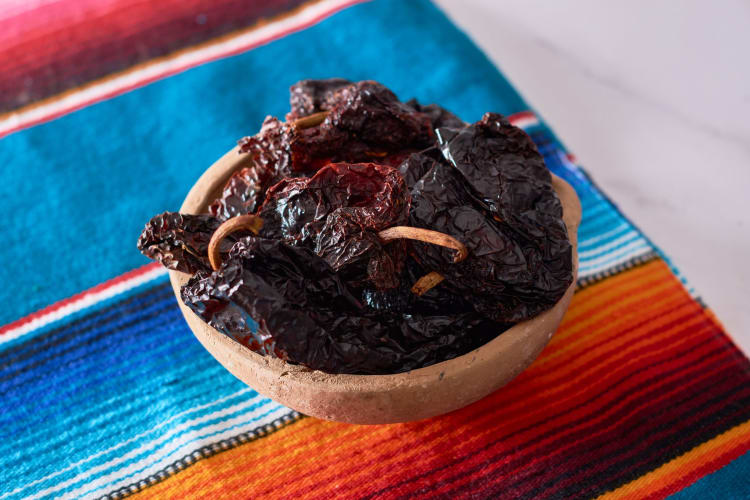 Pasilla peppers are an excellent mild pepper for anyone looking to add dimension to their next salsa recipe. But what's the difference between pasilla peppers and the other varieties of peppers that you find in the produce section of your grocery store? This guide will explain those differences as well as how to best utilize this tasty dried pepper in your favorite Mexican or Tex-Mex dish.
Jump to Section
Gourmet Cooking Classes Near You
Take your culinary skills to new levels with guidance from five-star chefs.
What Is a Pasilla Pepper?
The name "pasilla" translates to "little raisin," which is the perfect image for these dried peppers. Just as a raisin is dark in color, pasilla peppers, which are the dried version of a chilaca pepper, have a dark, earthy color and texture. These dried peppers range in length from 6 to 8 inches and have a unique flavor that carries some sweetness. They are also known as pasilla bajio or chile negro (based on their dark color).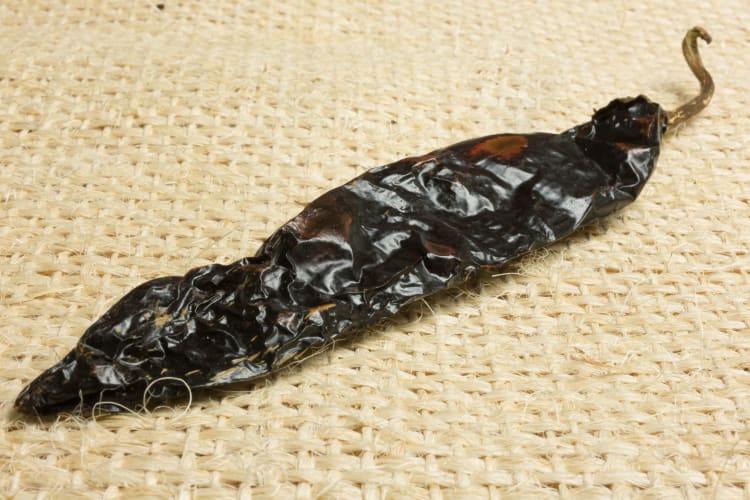 How Hot Are Pasilla Peppers?
Pasilla peppers are relatively mild, which makes them easily enjoyed by most people. They come in at around 1,000-2,500 on the Scoville scale, making them milder than other common peppers used for seasoning, like jalapeños and even cayenne pepper.
Because of their unique flavor, pasilla peppers are commonly used in moles and salsas to add dimension to the other ingredients.
And while they are a milder pepper, it's important to remember that they are dried chilaca peppers. These peppers are dried at the peak of their ripeness, meaning that some of them might carry a little more heat than you're expecting.
Pasilla Pepper vs. Poblano
Pasilla peppers can often be confused with poblano peppers (pictured below), and many supermarkets don't help; sometimes you will see these peppers mislabeled in the produce department.
The most important way to distinguish between pasilla vs. poblano is the texture. Pasilla peppers are dried, while poblano peppers are not. Another distinction is that pasilla peppers are often much longer.
When it comes to cooking with pasilla vs. poblano peppers, poblanos are commonly used as main elements of a dish. They can be stuffed and served as side dishes for entrées. Because pasilla peppers are dried, they work better as a way to add spice and dimension to salsas, moles and more. The somewhat chocolatey flavor profiles of pasillas also make them sweeter than other common peppers, so keep this in mind when choosing between pasilla vs. poblano or even pasilla vs. ancho peppers.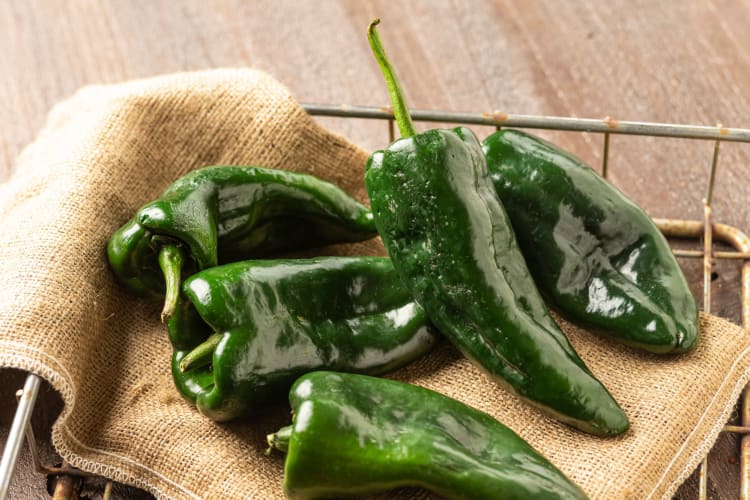 Buying Pasilla Peppers
Pasilla peppers are typically available in the produce section of your grocery store. If you can't find them there, check the Mexican food aisle. When shopping for pasilla peppers, look for a very dark (almost black) color and a somewhat pliable texture. If the pepper is cracked or broken, try to avoid it and look for one that is intact.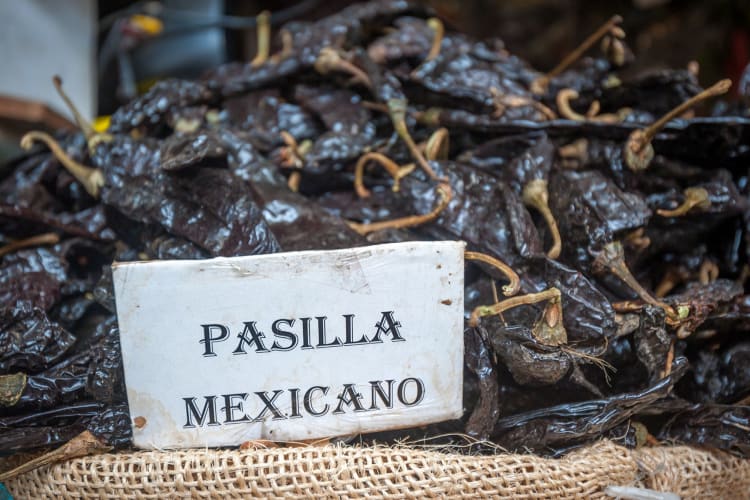 Join a Live Online Cooking Class Today
Your kitchen is now your own culinary classroom. Connect with chefs from around the world right from the comfort of home.
Cooking With Pasilla Peppers
With so many different levels of heat and spice, it can be difficult to know how to eat hot peppers, much less how to cook with them. Pasilla peppers have a flavor range that is often described as earthy, smoky and even raisin-like (hence the name!). You'll often find these peppers featured in the "holy trinity" of chile peppers: pasilla, guajillo and ancho (pictured in order below). They make great additions to salsas and sauces like mole or adobo.
In recipes like smoked baby back ribs with blueberry BBQ sauce, two of this holy trinity — pasillas and guajillos — are toasted and used to lend incredible spice and flavor to the sauce.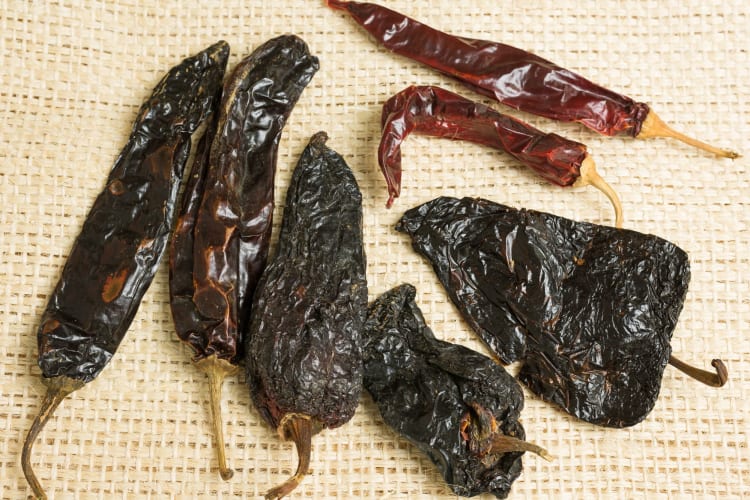 To learn more about cooking with these flavorful peppers, an excellent option is to sign up for cooking classes. You'll be taught by the best, and you'll learn how to maximize the flavor potential of ingredients that you might be unfamiliar with otherwise.
For those living in big cities, there are plenty of options for cooking classes in NYC or cooking classes in San Francisco to get you out of the house and learning more about different types of cuisine. There's also sure to be a cooking class near you no matter where you are. And if you prefer the familiarity of your own kitchen, live, interactive online cooking classes are the perfect way to learn how the smoky sweetness of pasillas can enhance your cooking.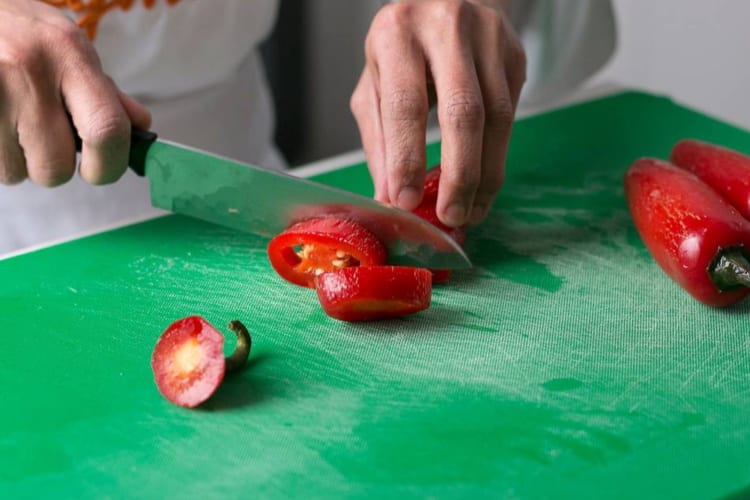 Join 200,000+ Culinary Enthusiasts
Exclusive deals, recipes, cookbooks, and our best tips for home cooks — free and straight to your inbox. PLUS: 500 Rewards Points.
We hope this guide to the pasilla pepper has been a helpful one. Though they are commonly confused with poblanos, pasilla peppers are truly unique in their flavor profile, not to mention the depth and dimension they add to Mexican dishes and sauces. Search for them in your produce section and add a "little raisin" to your next Mexican-inspired meal!
For even more ways to explore your favorite foods, check out other experiences happening on Cozymeal.