How Much Is a Personal Chef?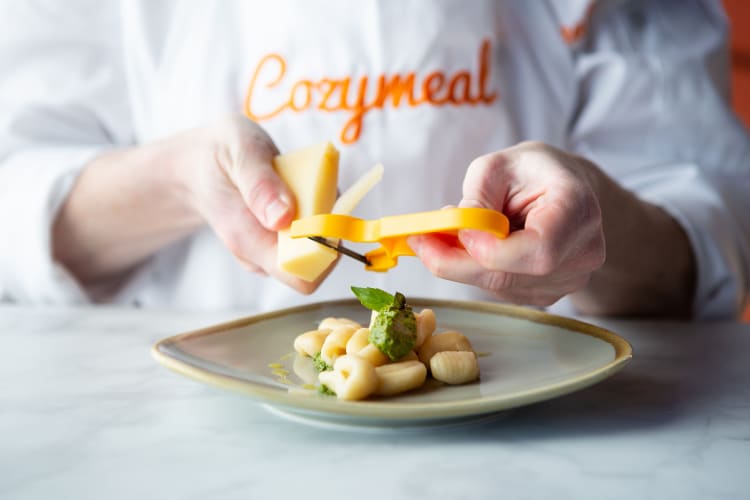 It's every culinary enthusiast's fantasy to have a bespoke, gourmet meal prepared in their home, but you may be wondering: How much is a personal chef? Are private chef rates reasonable? What can I expect from a private dining experience, and how much is a personal chef really worth?
Whether you are interested in how much a private chef is for a night or you'd like to incorporate one into your regular dining routine, we have the answers to all your questions about personal chefs' services and pricing.
Jump to Section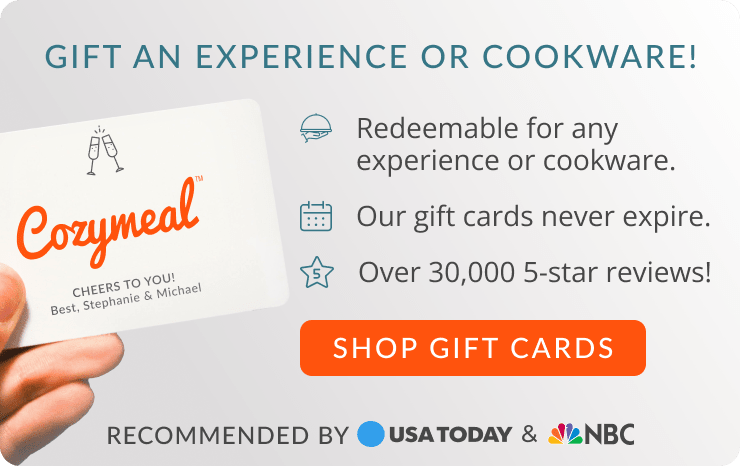 How Much Is a Personal Chef?
If private dining sounds like an unattainable luxury, the real cost of a private chef may surprise you. Many personal chef's prices are comparable to the cost of catering or dining out, and the experiences they offer entail so much more. Even the cost of a private chef for a dinner party may be much more accessible than you might think.
Just how much is a personal cook? Nationally, the average private chef cost starts around $60 per person, not including gratuity. Depending on the menu that you select, private chef experiences on Cozymeal range from $59 to $129 for each guest, with the price per guest decreasing as your party grows in size. There is also location to consider, with private chefs in NYC, private chefs in Los Angeles, private chefs in Chicago and beyond. Outside of the U.S., you can also find private chefs on the Gold Coast, private chefs in Madrid, private chefs in Vancouver and more. Most private chefs in Chicago, for example, tend to range from $59-$99 per person, while private chefs in Los Angeles more frequently range from $89-$189 per person. The cost of a private chef near you may vary, so you'll want to take that into consideration when budgeting your private dinner party cost.
When asking, "How much is a personal chef?" it is important to bear in mind that chefs on Cozymeal provide much more than meal preparation. Each experience includes an artfully designed multi-course menu, grocery shopping, elegant dinner service and kitchen cleanup.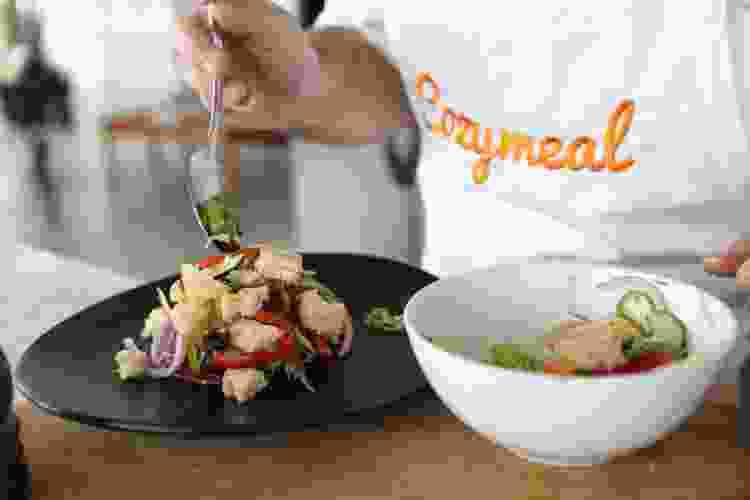 Considering adding a culinary branch to your household management team and curious about how much a personal chef costs per year? While prices can vary depending on your location, The Street estimates a cost of around $100-$400 for 12 servings of food. For three meals per week for a family of four, a personal chef could cost as little as $5,200 per year.
Particularly when compared to the expense of dining out, many families are surprised by the affordability of what seems like such a luxury service. For working parents, meal preparation and planning is one of the best reasons to consider hiring a personal chef. Not only can they make the dinner table an enjoyable, stress-free gathering space, private chefs are also able to plan weekly menus that allow every member of your household to have ready access to nutritious meals and snacks. In a world where time is money, you may be stunned by how much the cost of a personal chef can save you and your busy family in other ways.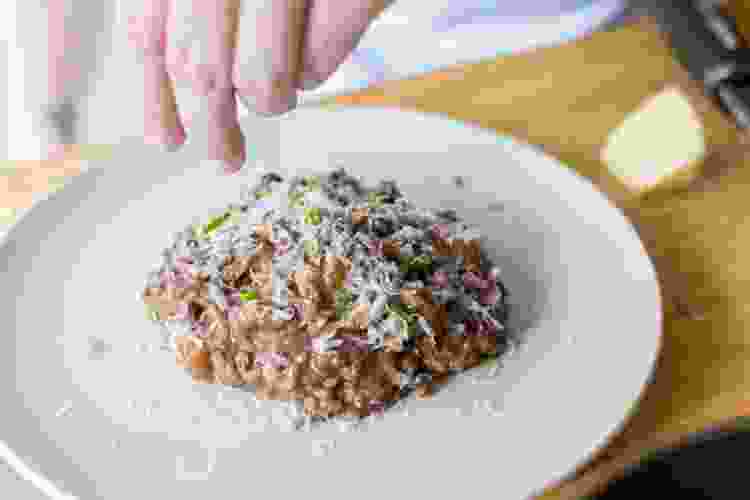 Private Chef Cost
How much does a personal chef cost for one night? Personal chef pricing structure varies according to a number of factors. The complexity of the menu you select will impact private chef prices, as well as the seasonality and availability of ingredients. The price tag on private dining experiences is also tied to demand around holidays, special requests and add-ons like wine or beer pairings.
How much is a personal chef for an intimate evening with your partner? Many private chefs have a minimum charge for their services. Romantic dinners for two that are a bit more involved, like indulgent surf and turf menus or gourmet Parisian fare, can come with a higher cost per plate. While luxurious, an evening in may be comparable to the cost of a high-end restaurant, which is an important factor to weigh when you consider how much a private chef costs.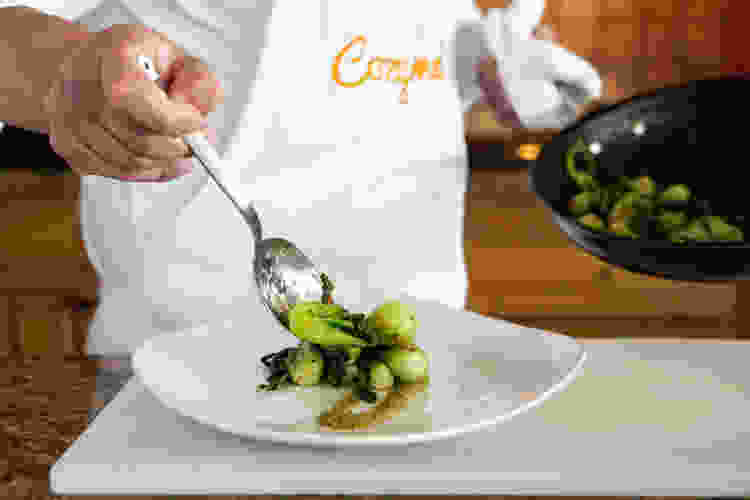 Personal Chef Services
Personal chefs' services entail so much more than meal preparation. When choosing a chef, take time to familiarize yourself with what is included in your experience. How much time your personal chef spends in the kitchen or how far they travel to reach you can factor into the overall price of your experience.
Beyond serving up a world-class meal prepared especially for you and your guests, chefs on Cozymeal source their own ingredients, present dishes one-by-one and always leave your kitchen pristine. Additional or premium services may be available upon request, so be sure to explore your options and ask plenty of questions during the booking process.
Grocery Shopping
Grocery shopping is a valuable service commonly included in personal chefs' pricing structures. With a deep understanding of what is required to prepare your personally selected menu, your chef will choose the freshest produce, most aromatic spices and finest cuts of protein.
Serving up more exotic fare for your next gathering? They are also prepared to source any specialty ingredients that may be required, leaving you free to relax and focus on your event.
For families that make a personal chef part of their household routine, grocery shopping services streamline meal planning and save working parents countless hours of errands. How much are a personal chef's weekly shopping services worth? While the price of your household groceries is not typically included in a personal chef's cost per year, many families find that the time and stress this service saves is well worth the expense.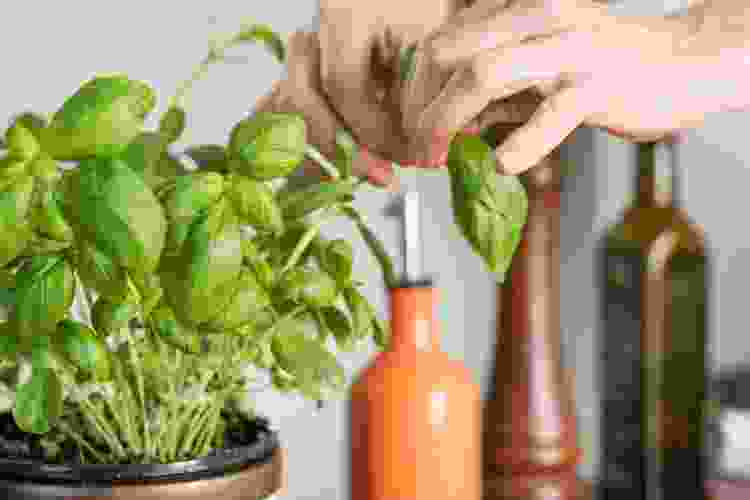 Meal Prepping
In the truest sense, private chefs bring the magic to you. If you have ever longed to peek into the kitchen of your favorite restaurant to satisfy your curiosity about how your dish was prepared or what ingredient added a particularly delightful, unexpected flavor, hiring a personal chef will be an unforgettable experience.
Private and personal chefs can prepare all components of your menu and gather the necessary tools of their trade prior to dinner service, ensuring that the process of cooking is as elegant as the meal itself.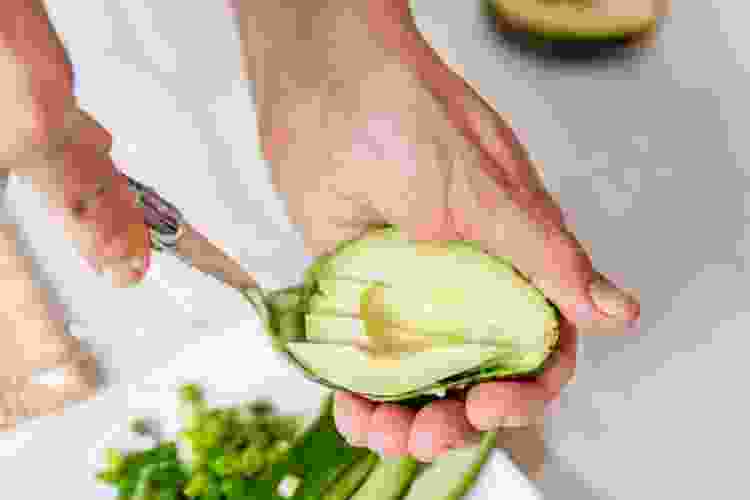 Specialty Menus
Engaging a personal chef's services is an excellent way to break out of a dull dining routine. Your chef will have an expert understanding of how to bring out the best in seasonal ingredients and marry familiar and exotic flavors to delight every guest at your dinner party.
Planning a themed event, romantic dinner or a nostalgic holiday gathering with friends and family? Chefs on Cozymeal present an incredible variety of artfully designed menus representing culinary traditions from around the globe. How much your personal chef is able to customize your meal depends on conversations during the booking process, so be sure to ask about options to personalize your experience and make your dinner service one-of-a-kind.
Private chefs are also at the ready with elevated versions of classic holiday dishes to make your gatherings memorable and worry-free. When evaluating how much a private chef costs for one night, be sure to factor in the cost of your own valuable time and how relaxing it can be to let someone else handle the menu.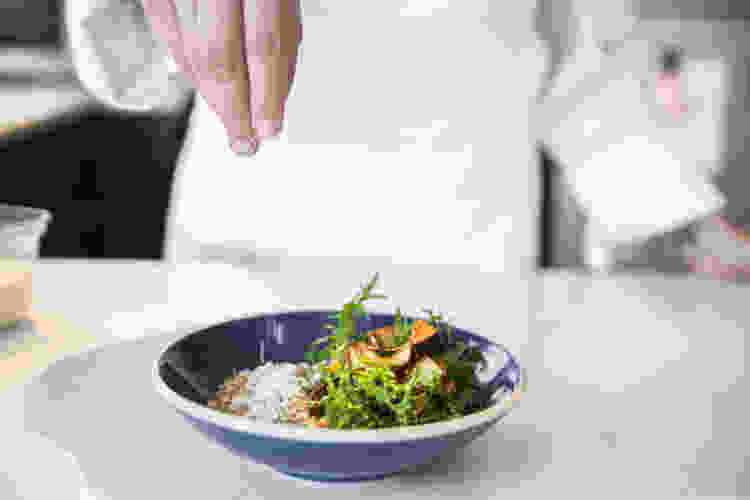 Dietary Accommodations
A fantastic feature of customized, private dining experiences is that they can accommodate the preferences and restrictions of anyone on your guest list. Whether you are concerned about an allergy or adhere to a particular dietary lifestyle, you may be surprised by how much a personal chef can design or modify your menu to your specifications.
Unlike restaurant dining or catered experiences where dishes are prepared offsite, personal chefs are much better able to source allergen-friendly ingredients and guarantee the safety of guests with food sensitivities. Whether you are vegan, gluten-free, pescatarian or simply eating clean, a private chef can offer you and your guests a luxurious dining experience tailored to your needs.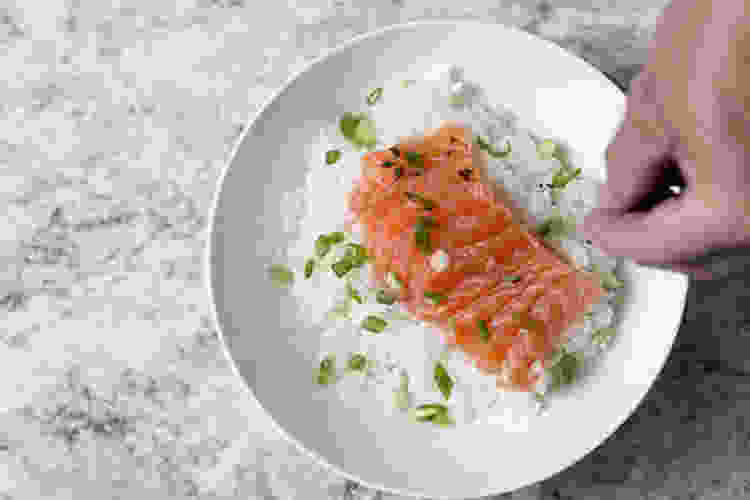 Equipment
When you hire a private chef, you don't need to worry about how well equipped your kitchen is. Private chefs on Cozymeal bring all of the tools and specialty gear they need to prepare a gourmet meal. From pasta machines to sushi rolling mats and more, everything is prepped ahead of time and packed for your service.
Each private chef experience is meant to be stress-free and all-inclusive. With even the cooking tools accounted for, there's nothing for you to do other than enjoy a hands-off night of five-star fine dining.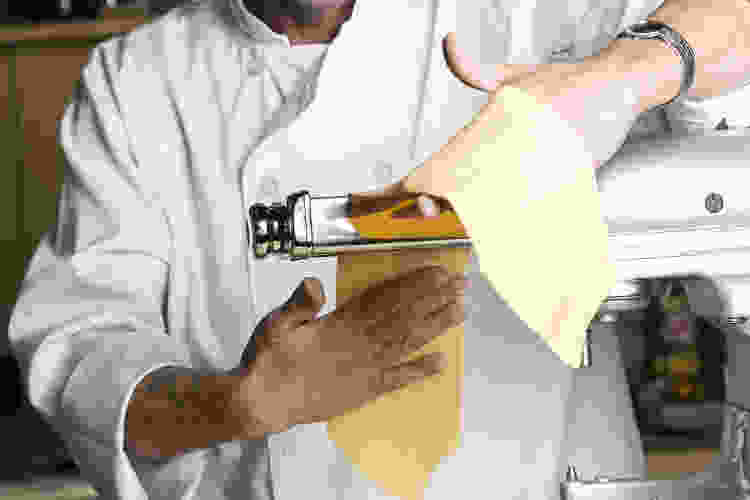 Cooking
Private chefs bring a wealth of training and experience to the comfort of a home kitchen. This allows you to spend time with your family, mingle with your guests or open a carefully selected bottle of wine with your loved one, all while your meal is prepared before your eyes.
Private dining experiences make meal preparation as lively and entertaining as dinner itself. Enjoy looking on while your chef showcases the best techniques and finest ingredients, masterfully composing each course. You'll be delighted by how much the personal chefs on Cozymeal are always prepared to engage with your guests, answer questions and make recommendations.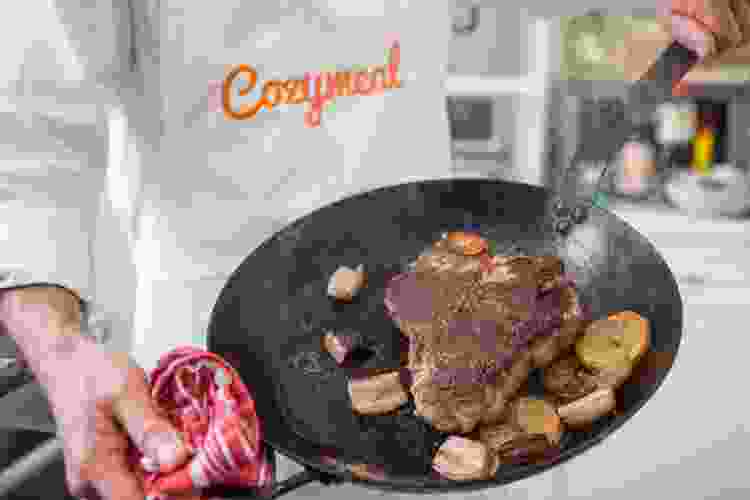 Service
When considering "How much is a private chef?" don't forget to factor in the exceptional service. With Cozymeal, private chef experiences always include an elegant meal service. As each course is completed, chefs will present the dish and tell the story of its unique flavor profile, ingredients and culinary history. They are also available to suggest wine or beer pairings and spark conversations about tasting notes. Your guests are sure to appreciate how much your personal chef's expertise adds to the meal.
With each show-stopping presentation, your private chef will take you on a journey course by course, from appetizers to a decadent dessert. With your chef standing at the ready to educate and answer questions from start to finish, your dinner is sure to be one to remember.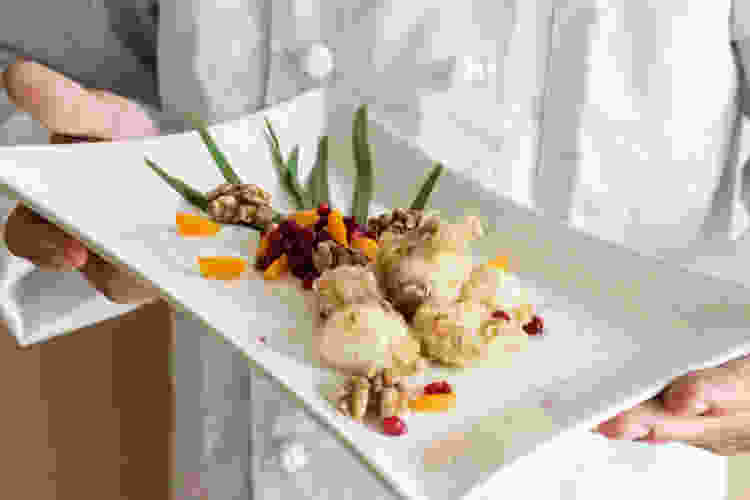 Cleanup
Dreading the heap of dishes that always follows a gathering with friends? Beyond an unforgettable dinner, you will love how much personal chefs facilitate the entire dining experience. Chefs on Cozymeal will handle all the pots and pans used to prepare your gourmet meal, leaving your kitchen sparkling clean, and you free to continue enjoying your guests.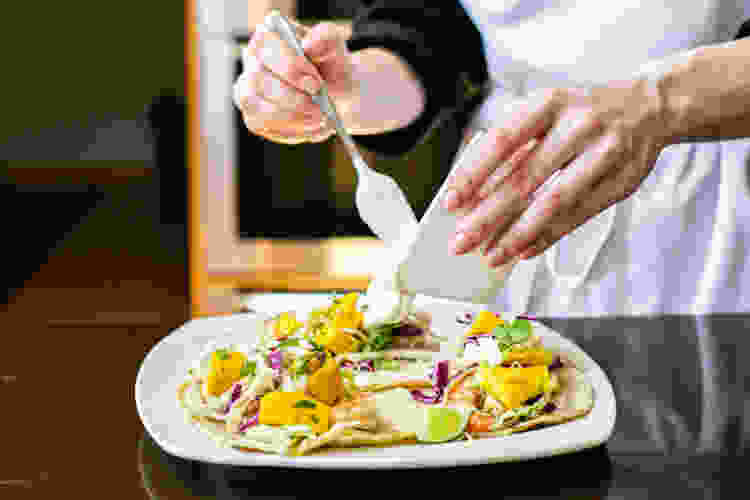 Why Should You Hire a Personal Chef?
Given how much a personal chef can elevate your dinner party beyond a classic, catered affair, private dining experiences are a must-try. It bears repeating, however, that personal chefs' services are perfect for so much more than your next soirée. Hire a personal cook for anniversaries, birthdays, life milestones or simply because you deserve it, and enjoy a privately prepared, world-class meal.
Private chefs can also make holiday gatherings more elegant, memorable and relaxing than you have ever thought possible. They bring their years of training and culinary expertise to your home kitchen so that you can spend more hours enjoying your friends and family while gourmet versions of your holiday favorites are prepared while you watch.
Thinking of engaging long-term services for your home, but skeptical of how much a personal chef costs? They are a tremendous asset to a busy household, and more affordable than you may expect. If a perpetually well-appointed pantry and nutrient-dense, kid-pleasing meals and snacks are your dreams for your family, consider adding a private chef to your team. Between managing household grocery shopping, menu planning and meal prepping, many working parents are stunned by how much a personal chef saves them in time and stress.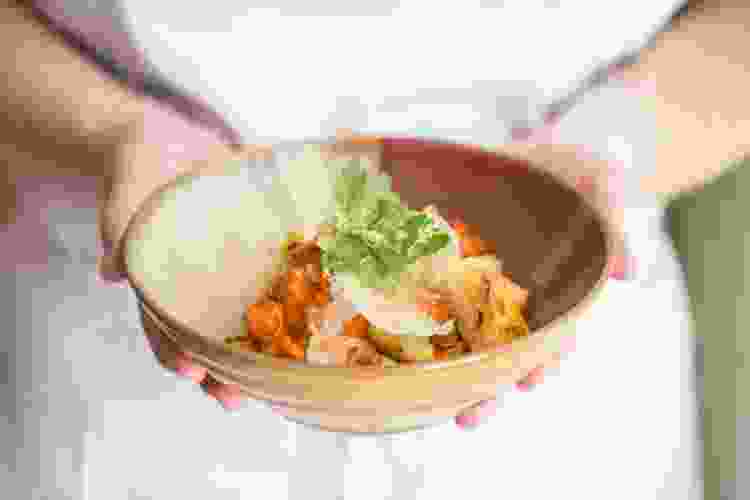 Are Personal Chefs Worth It?
So, how much is a personal chef? While the answer will vary depending on a number of factors, including the type of event you are hosting, the complexity of your menu and the number of guests you're expecting, the short answer is: absolutely worth it.
Private chefs on Cozymeal offer a tremendous variety of sumptuous multi-course menus waiting to be expertly prepared just for you. Whatever the occasion may be (or if there is no occasion at all), you will be blown away by how much a personal chef can do to make your meal unforgettable. Book yours today, and experience for yourself just how much a personal chef can elevate your dining experience.
For even more insight into gourmet dining, explore other private chef experiences on Cozymeal.