What Is Mochi Ice Cream?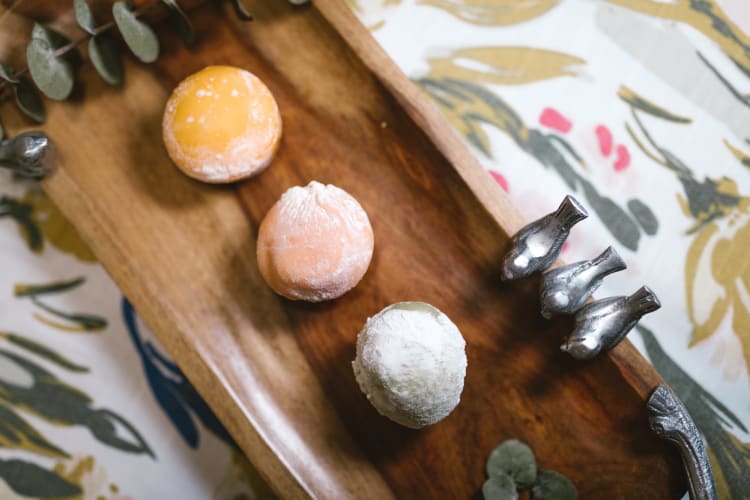 Our editorial team recommends the best products through independent research, selection and careful review. Prices are subject to change.
You may have seen mochi ice cream in stores or read about it on the internet and wondered, "What is mochi ice cream, anyway?" Sure, those pastel spheres look cute and colorful and delicious! But they can be somewhat mysterious to those who aren't familiar with this modern dessert superstar. What is mochi made of, exactly? And more importantly for a sweet frozen treat, what does mochi ice cream taste like?
So what is mochi ice cream, then? Put simply, mochi ice cream is one of the most unique inventions to hit the dessert scene. Though it's been around for almost 30 years, its popularity has reached new levels of mainstream success in recent years, in both store-bought and homemade forms. We've rounded up the info on these sweet frozen scoops to help you understand what mochi ice cream is and why it's caused such a buzz.
Jump to Section
What Is Mochi Ice Cream?
Mochi ice cream wraps a scoop of ice cream in the chewy dough used to make traditional mochi. Mochi is a Japanese cake made from glutinous rice. Its origins reach as far back as the 8th century, when it was used in religious ceremonies.
So where does mochi ice cream come from? Believe it or not, it was created in Los Angeles by a couple who spent 10 years perfecting their creation. By 1994, the invention hit the world, and by 2001 it was a growing phenomenon, showing up in freezer cases in Costco and Trader Joe's. It's now available in most grocery retailers, many restaurant chains and even boba bars.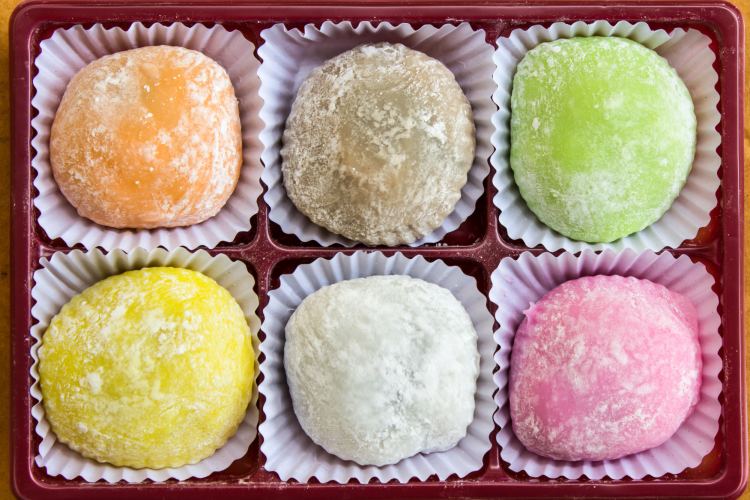 Shop Like a Chef in the Cozymeal Shop

Update your kitchen with top-rated cookware. Beloved brands, easy returns and guaranteed price-matching.

Shop Now
What Is Mochi Ice Cream Made Of?
If mochi is only the rice dough, then how is mochi ice cream made?
Thin layers of mochi dough are wrapped around small scoops ice cream and refrozen to keep the ice cream from melting. Though the original version only used vanilla, chocolate and strawberry, mochi ice cream can now be found in a wide variety of classic and unique flavors, including green tea, mango and taro. The dough often comes in pastel colors that make mochi ice cream look like bonbons or pastry treats.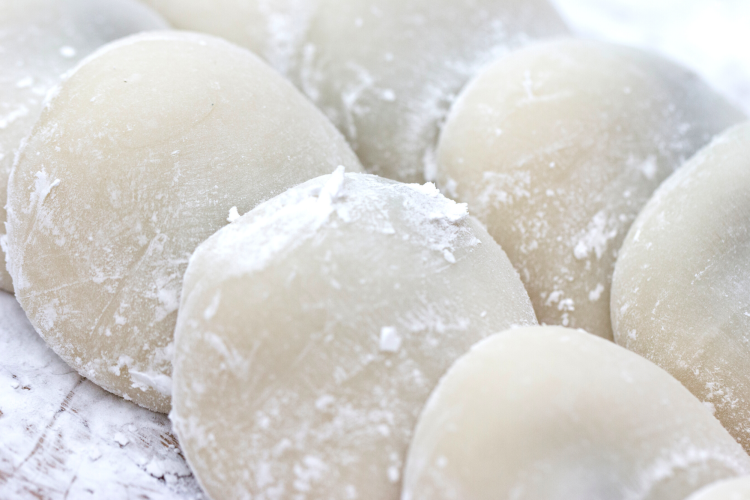 What Does Mochi Taste Like?
What is mochi ice cream if not a blend of two wildly different textures and flavors? Mochi dough has a chewy, marshmallowy texture that can be flavored in various ways. Plain mochi dough has an earthy taste that's slightly sweet, which lends itself to a variety of flavor possibilities when combined with ice cream.
Mochi dough flavored with green tea matcha ('What is matcha?' you may be wondering) or cocoa powder is also a popular alternative that adds an extra layer of unique sweetness to the dessert. The ice cream inside blends with the dough to add a creamy element to the overall mochi taste.
Is Mochi Healthy?
What is mochi ice cream's nutritional profile? Mochi dough contains so few ingredients that it's easy to identify this concoction as being relatively healthy.
Though it's made of glutinous rice, there's no actual gluten in the dough. It's low in cholesterol and saturated fat and high in vitamins and minerals, so it's definitely not a dessert villain! Pre-made mochi ice cream found in the freezer section can have full-fat ice cream in the center, which shifts the balance more toward the unhealthy side of the scale.
By making your own mochi ice cream at home, you can limit the calories and sugar for a healthier treat.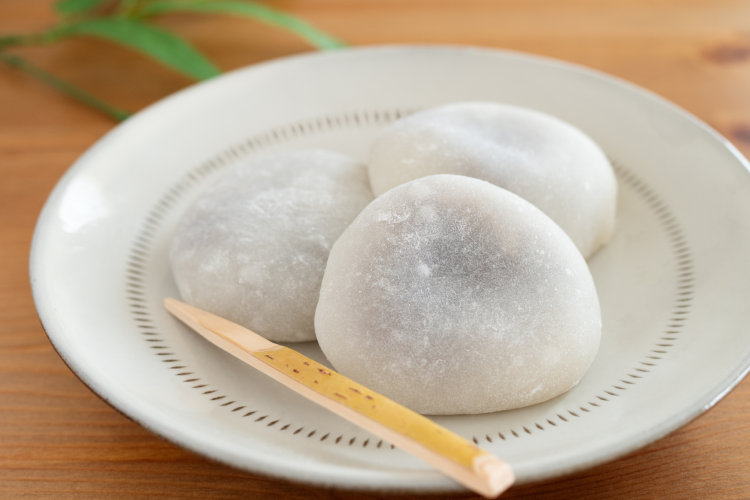 Shop Chef-Approved Cookware
Beloved brands. Easy returns. Price-match guarantee. Kick your kitchen confidence up a notch with cookware loved by chefs.
Where Can You Get Mochi?
What is mochi ice cream to the dessert world? It's a sweet treat you can find just about anywhere. The growing popularity of mochi has made it possible to find this fun treat in the ice cream case of most major grocery retailers and even in gourmet grocery shops. You'll also find mochi ice cream on the menu at many restaurants, especially Asian eateries. Mochi ice cream is even popping up in ice cream and yogurt shops, boba bars and shave ice stands.
Mochi is also a fun dessert you can make at home with one of the best best DIY food kits! The Global Grub DIY Mochi Ice Cream Kit provides all you need to experiment with mochi dough in your own kitchen. Use the silicone sphere mold included to freeze perfectly shaped orbs of your favorite ice cream ready for wrapping. The kit also includes sweet rice flour, dough cutters, cocoa powder and green tea matcha powder that let you try out a few fun flavors.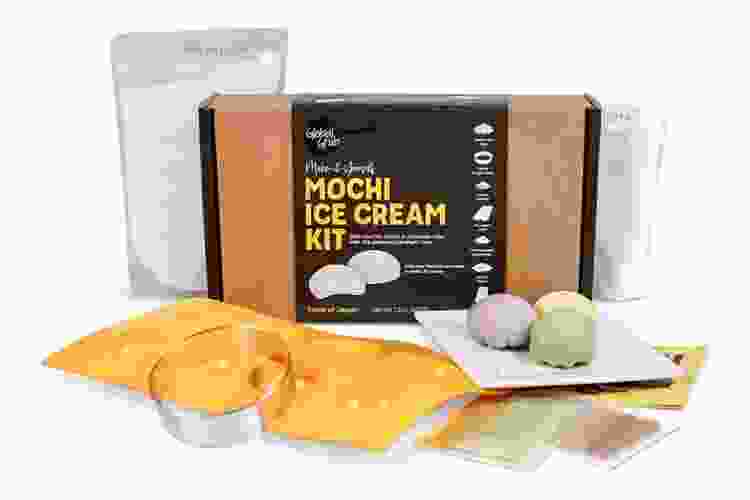 Join 200,000+ Culinary Enthusiasts
Exclusive deals, recipes, cookbooks, and our best tips for home cooks — free and straight to your inbox. PLUS: 500 Rewards Points.
What is mochi ice cream when it comes to food trends? Unlike other culinary fads, mochi ice cream is no flash in the dessert pan. It's only grown in popularity over the years as more lovers of sweet treats have discovered it and spread the word. Grab a carton of mochi ice cream at your local grocer or gourmet food shop to taste it for yourself. Or if you're feeling adventurous, try making your own at home so you can experiment with new flavors on National Ice Cream Day or any day of the week. Your invention could be the next combo that sets the frosty world of mochi ice cream on fire!
For even more ways to elevate your kitchen, check out chef-recommended cookware in the Cozymeal Shop.