What Is a Dry White Wine? Complete Guide for 2023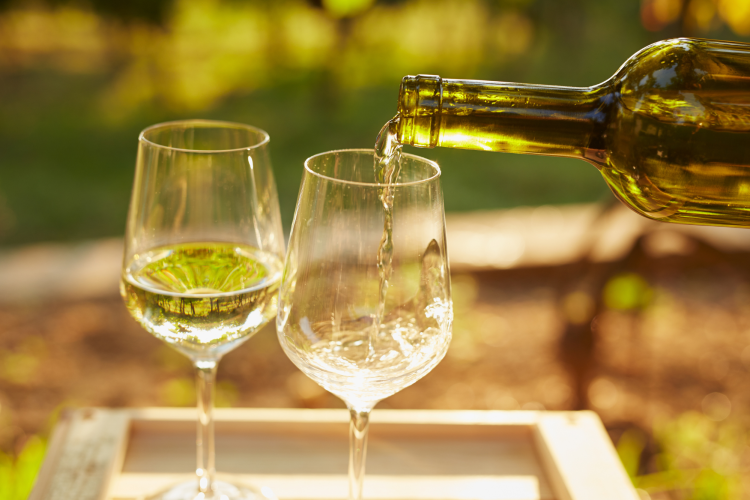 What is a dry white wine? Dry white wine is a light, crisp style of wine that is perfect for sipping on warm sunny days, adding brightness and complexity while braising a chicken or accompanying a dinner of spicy seafood pasta.
Dry white wines are often high in acidity with flavors and aromas ranging from grassy, herbaceous and floral to notes of citrus, apple, tropical fruit, stone fruit and even spicy hits of white pepper or ginger.
These fruity flavor profiles sometimes give an allusion of sweetness that may leave you wondering, is pinot grigio dry? Is sauvignon blanc dry? Find out more about your favorite dry white wines from origins and flavor notes to cooking tips and food pairings.
Jump to Section
What Is a Dry White Wine?
Wine ranges between very sweet and very dry depending on a number of factors. Sometimes misconstrued with a dry sensation in the mouth caused by tannins, the dryness of wine actually refers to the percentage of residual sugar per liter. While any grape variety used to make white wines can produce sweet or dry styles, the dryness of the wine is dictated during the fermentation process in which yeast turns the sugars in the grapes into alcohol.
Winemakers control the dryness of white wine by strategically selecting the grape variety and time of harvest. Based on these factors, what makes a dry white wine? Dry types of wines are made from grapes that have been fermented to a low sugar content of less than 1% or about 4 grams per liter. Chardonnay, sauvignon blanc and Champagne are popular examples of dry white wines. Contrast that with something as sweet as moscato, which the USDA estimates can have as much as 9 grams of sugar per 100 milliliters.
If you want to learn more about wine culture, wine tastings and tours are a great way to interact with professionals who love to share their knowledge and passion for the topic. Virtual wine tastings in particular allow you to connect with five-star sommeliers for an in-depth opportunity to ask questions and receive guidance on how to taste wine, all while sampling varietals from around the world.
Book a Live Virtual Wine Tasting Now

Indulge in all things wine with the best chefs and sommeliers in the industry. Virtual wine tastings bring a taste of the vineyard home.

Book Now
Medium Dry White Wines
What is a dry white wine that is medium or off-dry? Medium dry white wines contain around 5-12 grams of residual sugar per liter. These types of wines are generally crowd-pleasing varieties that should be served chilled to about 45-50° Fahrenheit.
Riesling
This popular wine originally from Germany is generally quite acidic with notes of apple, pear and stone fruits. Riesling wines can be found in both sweet and dry varieties, so be sure to check the bottle when selecting this type of wine.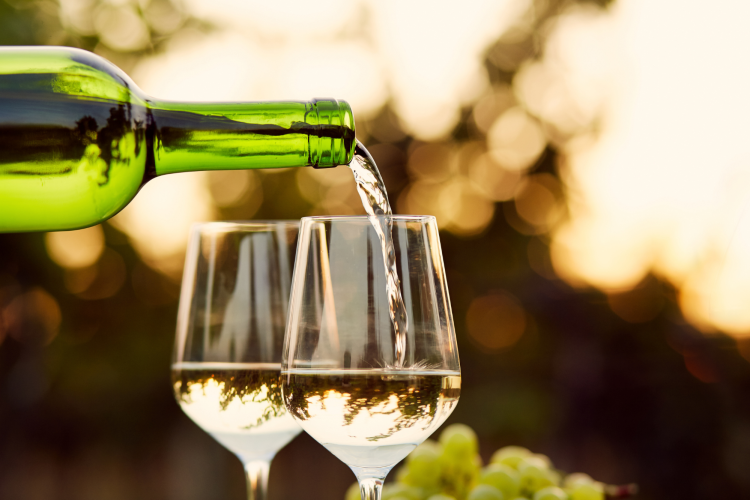 Viognier
The aromatic viognier is rising in popularity around the world thanks to its lower acidity and fruit-forward flavors. This fragrant, full-bodied white wine from Southern France often has flavors ranging from tangerine, peach and honeysuckle to vanilla and warm spices such as clove and nutmeg with a creamy palate similar to an oak-aged chardonnay.
Book a Virtual Wine Tasting Now
Bring the winery home with an unforgettable live virtual wine tasting. Your personal sommelier is standing by.
Champagne
Synonymous with celebration and luxury, Champagne is an effervescent wine that can be either dry or sweet. From the Champagne region of France, this type of wine has its own classification system for sweetness with Extra Brut, Brut and Extra Sec ranging from less than .6% to 2% residual sugar and considered dry to medium-dry, respectively.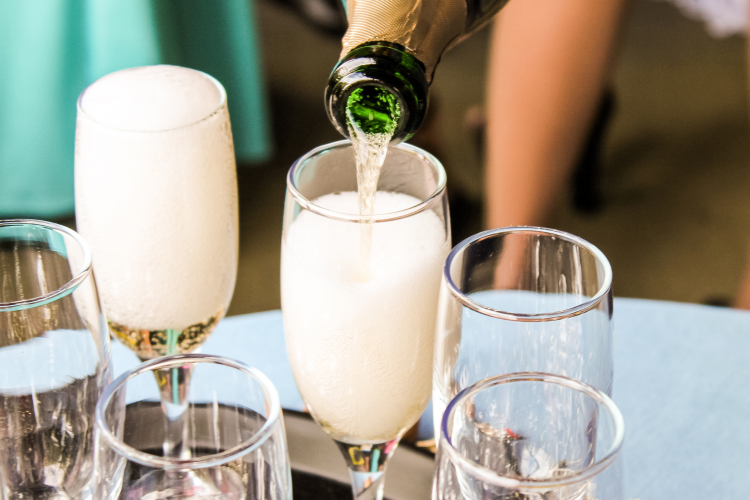 Pinot Blanc
Pinot blanc comes from the white grape mutation of pinot noir and is widely produced in Germany, Italy, France and Austria. Similar to chardonnay, this highly acidic dry white wine responds well to oak aging and often has notes of sour cherry, citrus, peach and raw almond.
Pinot Grigio or Pinot Gris
Known as pinot grigio in Italy and pinot gris in other regions, this dry white wine is generally light and crisp with notes of citrus, stone fruit, apple, honeysuckle or mineral depending on the region.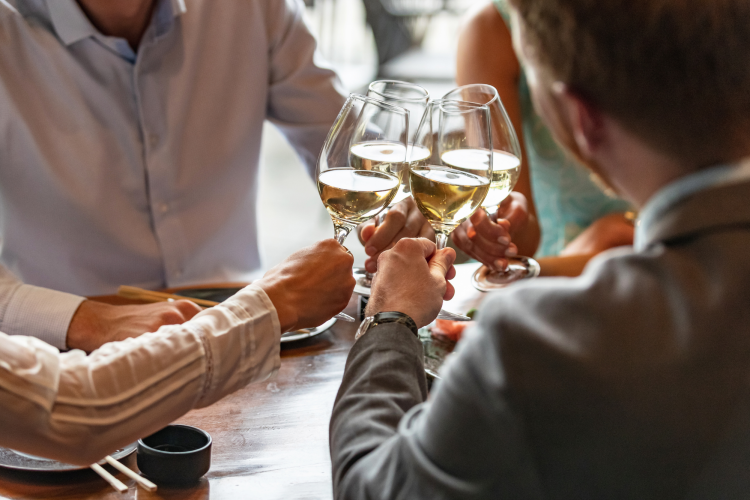 Chenin Blanc
Although originally from Loire Valley, France, chenin blanc is now largely produced in South Africa. The versatile, acidic chenin blanc can be found in very dry to sparkling wines and in oak-aged styles similar to chardonnay. Dry or off-dry styles of this wine often contain aromas and flavors of pear, quince, ginger, chamomile, jasmine, mineral, passion fruit or honeycomb.
Grüner Veltliner
Produced almost entirely in Austria, the distinctive acidity of grüner veltliner makes it stand out among other dry white wines. With flavors of lime, lemon, grapefruit, peach, green pepper and a hint of white pepper, this type of wine is regarded for its crisp and spicy notes.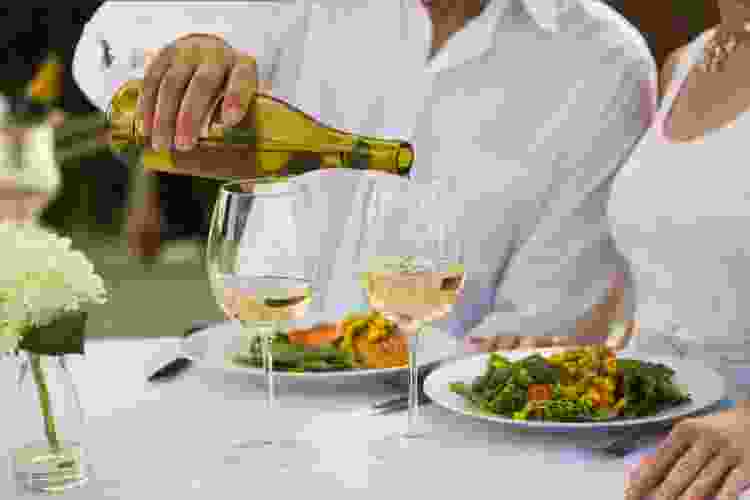 Gewürztraminer
An aromatic wine originating in the foothills of the Alps, gerwürztraminer is a unique wine with notes of lychee, rose, honey and ginger. The unique flavor profile of this wine pairs exceptionally well with Middle Eastern cuisine complementing common ingredients such as rosewater and spices.
Very Dry White Wines
What is a dry white wine that is very dry? Dry white wines are widely popular all around the world thanks to their crisp and refreshing aromas and flavors. From the popular sauvignon blanc and chardonnay to more regional styles such as albariño and torrontés, these wines offer bright acidity and fresh flavor profiles that will delight those who enjoy the driest white wines.
Book a Live Virtual Wine Tasting Now
Indulge in all things wine with the best chefs and sommeliers in the industry. Virtual wine tastings bring a taste of the vineyard home.
Sauvignon Blanc
Often considered the international standard for dry white wine, sauvignon blanc originates from the Bordeaux region of France and is now widely produced across the world. This crisp, acidic wine often has grassy and herbaceous notes as well as bell pepper and gooseberries.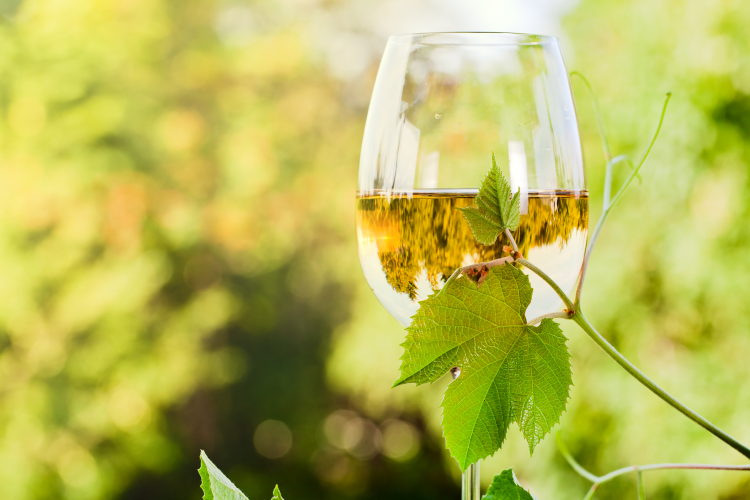 Chardonnay
This centuries-old French wine, now widely produced around the world, comes in two varieties, oaked and unoaked, each with its own signature flavor profile.
Unoaked chardonnay generally has tropical fruit and earthy notes with a sharp acidity while oaked chardonnay has buttery and vanilla notes with a creamy texture. With its fruity notes and smooth mouthfeel, some might question, is chardonnay dry? Although the fruity aromas and full body of this wine may seem more similar to sweet wines, especially some oaked varieties, chardonnay is a dry white wine with generally less than 10 grams of residual sugar per liter.
Muscadet
Made from the Melon de Bourgogne grape variety in Loire Valley, muscadet is a very dry white wine with a light body and crisp acidity. This type of wine carries a fruity flavor with notes of citrus, tart apple and mineral undertones.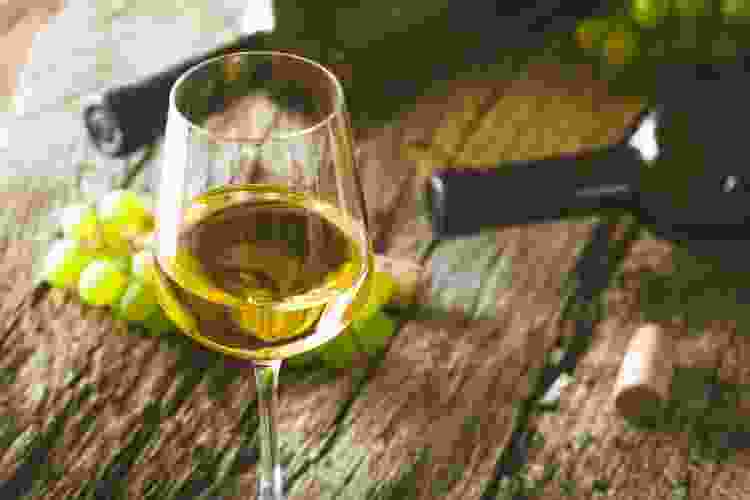 Torrontés
Especially popular in northern Argentina, torrontés wine is noted for its fresh peach and apricot aroma and smooth texture. The high altitude of the vineyards in regions that produce torrontés wine distinguishes this variety from anything else in the world.
Albariño or Alvarinho
This dry white wine from the Iberian Peninsula known as albariño in Spanish and alvarinho in Portuguese offers bright acid and refreshing notes of citrus, stone fruit and salty minerals. The unique coastal wine tends to be very dry with high levels of acidity, making it perfect for sipping with seafood or during a warm day on the beach.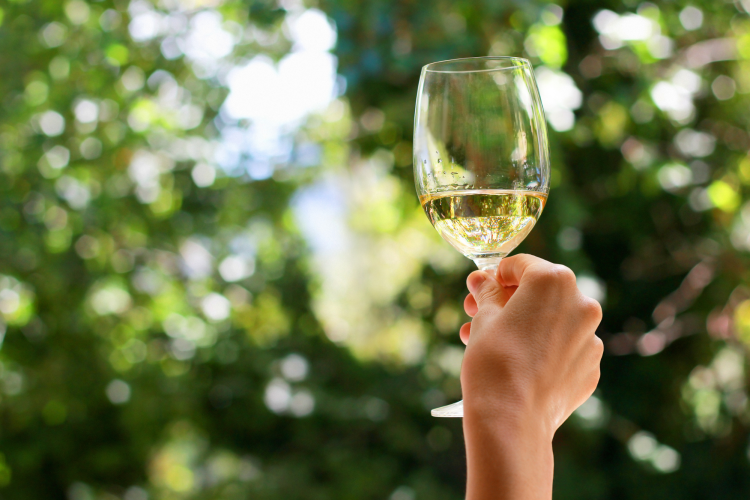 Sémillon
Sémillon is the third most planted white wine variety in France after sauvignon blanc and chardonnay. Similar to a sauvignon blanc, this type of wine grown in cool-climates presents notes of citrus such as lemon, lime and grapefruit. In hot-climate grown varieties, you might find the flavors and aromas of ripe fruits such as mango, peach and papaya, sometimes with moderate oak-aging adding buttery notes in the style of an oaked chardonnay.
Book Your Virtual Wine Tasting
Bring the winery home with an unforgettable live virtual wine tasting. Your personal sommelier is standing by.
What Is the Driest White Wine?
Although sauvignon blanc is often upheld as the standard for dry white wine, there are a few other types that could compete for the title of driest white wine.
Knowing that dryness in wine is characterized largely by residual sugar and to some degree, acidity, many sommeliers and wine professionals list French muscadet as the driest, noting its very dry palate and strong minerality with hints of citrus.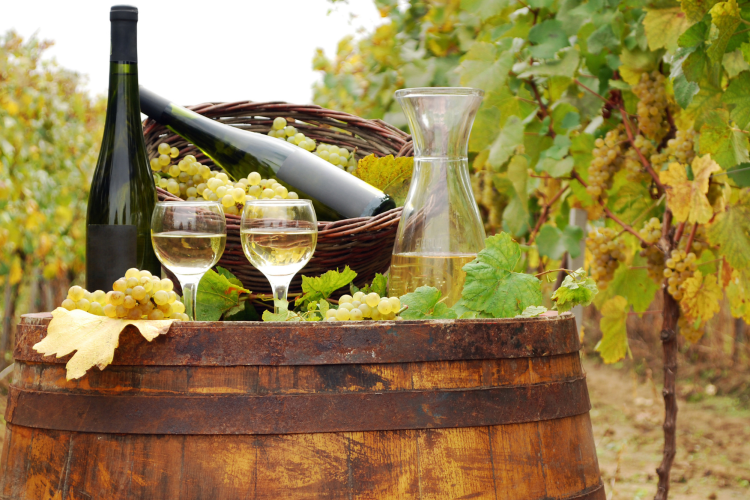 Dry White Wine Food Pairings
Dry white wines are excellent for pairing with a variety of foods, from light and fresh to vibrant and spicy to creamy and rich. Crisp dry white wines such as sauvignon blanc and pinot grigio are easy pairing choices for most dishes ranging from light seafood to spicy curries, but different types of food come with additional recommendations based on the textures and flavor profile of the dish.
What is a dry white wine that goes with fettuccine Alfredo? Reach for chardonnay or viognier with rich, creamy plates. What is a dry white wine that pairs well with chicken wings? Opt for an effervescent Champagne or sparkling wine to complement salty, fatty or fried foods.
While most dry white wines complement the following dishes well, you will want to consider the subtle differences in sweetness when selecting the perfect dry white wine and food pairing. One of the fun things about food and wine pairings is that there are no hard rules, so don't be afraid to throw the recommendations out the window, get creative and discover what you like best.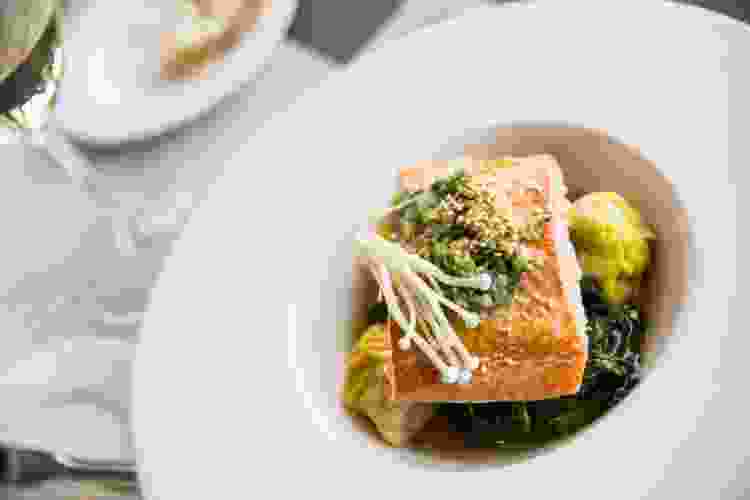 Seafood, especially white fish with lemon: Sauvignon blanc or pinot grigio
Shellfish, including lobster with butter: Chardonnay, viognier or pinot grigio, or muscadet
Sushi and sashimi: Albariño, gruner veltliner, Champagne or dry sparkling wine
Roasted vegetables such as zucchini or carrots: Sauvignon blanc or muscadet
Salads or herbaceous dishes: Sauvignon blanc or pinot blanc
Light chicken dishes: Sauvignon blanc, sémillon or chardonnay
Creamy or buttery sauces such as beurre blanc: Chardonnay or viognier
Pad thai, green curry and other spicy Asian dishes: Sauvignon blanc, riesling, torrontes, viognier or gewürztraminer
Spicy pasta dishes: Riesling, torrontes, viognier or gewürztraminer
Moroccan or Middle Eastern cuisine: Gewürztraminer
Fried fish tacos: Champagne or dry sparkling wine, or albariño
Deviled eggs: Champagne or dry sparkling wine
Peach cobbler: Muscat, riesling, albariño, chenin blanc or oaked chardonnay
Lemon bars: Oaked chardonnay
Apple pie: Gewürztraminer
Book a Live Virtual Wine Tasting Now
Indulge in all things wine with the best chefs and sommeliers in the industry. Virtual wine tastings bring a taste of the vineyard home.
Best Dry White Wine for Cooking
The best dry white wines for cooking include pinot grigio or pinot gris, sauvignon blanc, pinot blanc and dry sparkling wines. For a light seafood or chicken dish, add some brightness with a splash of pinot grigio or sauvignon blanc. Unoaked chardonnay and viognier with more body work well for gravies and cream sauces while oaked chardonnay with its buttery texture and notes of vanilla and caramel complements rich, creamy desserts.
Adding wine to a recipe can enhance your dish with a nuanced depth of flavor and bright acidity. However, not all wines are suitable for cooking. What is a good dry white wine for cooking? Popular wisdom advises that you do not cook with a wine you would not drink. Cooking will only accentuate poor qualities in the wine while reducing the nuances of a complex wine.
It's recommended to choose a crisp, good quality wine for cooking while saving the higher quality bottles for sipping. The best dry white wine for cooking is a wine with a low alcohol content that is not sweet and has a high level of acidity.
When cooking with wine of any kind, it's important to begin cooking the wine early enough to burn off the alcohol so you are not left with a raw wine taste in the dish. Cooking with highly acidic foods such as dry white wines, citrus or tomatoes may cause a reaction with some types of cookware leaving the dish with a metallic taste. Be sure to choose lined or non-reactive cookware such as stainless steel when using wine or other acidic ingredients.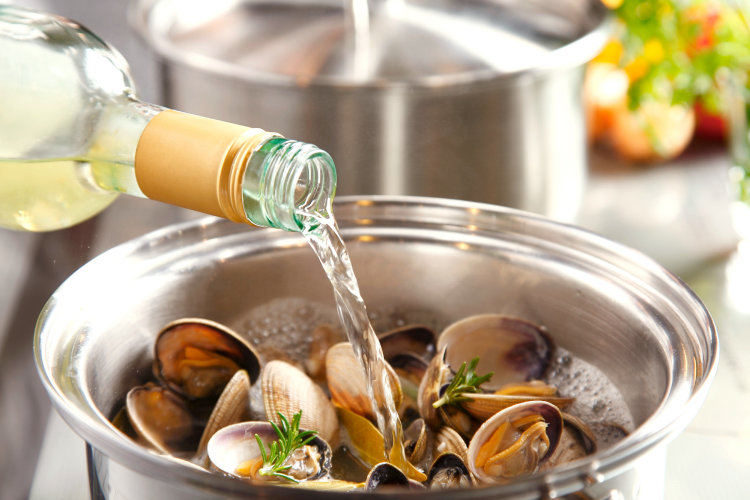 Join 200,000+ Culinary Enthusiasts
Exclusive deals, recipes, cookbooks, and our best tips for home cooks — free and straight to your inbox. PLUS: 500 Rewards Points.
With the knowledge of what makes a dry white wine, you can explore the nuances of each variety from sipping to cooking and pairing with your favorite foods. Whether you prefer a popular go-to variety or a less common, regional style with signature flavor notes, deepening your understanding of the process and characteristics of what is a dry white wine can enhance your enjoyment of every bottle.
For even more ways to learn about wine, check out other experiences happening on Cozymeal.