How to Choose the Best Wine Pairing With Salmon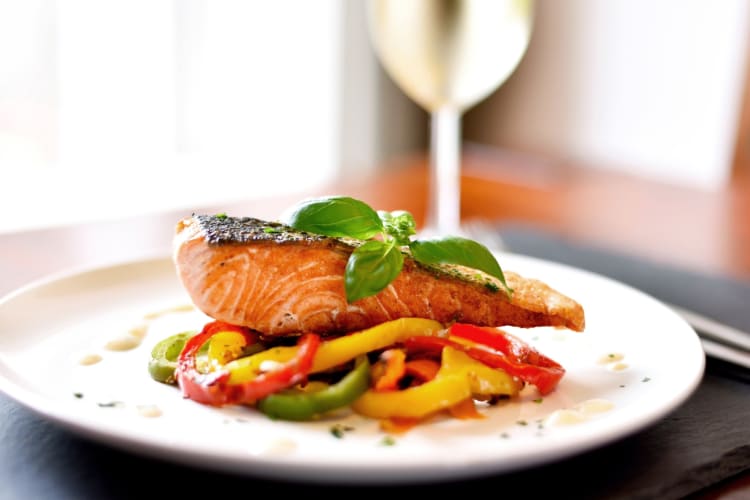 The traditional wine pairing rules mandate that white wines pair with white meat and red wines with red meat, but what about wine pairing with salmon?
Because salmon is incredibly versatile and can arrive on your plate in many guises, the answer to "What wine pairs with salmon?" can range from red to white to rosé. Read on to discover wine pairings with salmon that will take your weeknight dinners to the next level.
Jump to Section
What Wine Goes With Salmon?
From seafood to poultry to the best wine with steak, there are always wine pairing rules of thumb you can follow. When it comes to wine pairing with salmon, it's not simply the fish alone to be considered when choosing the right wine. As Decanter notes, the seasonings, sauces, preparation and even side dishes all convene in a savory synergy to dictate the best wine pairing with salmon.
As a general rule, full-bodied white wines and salmon go together wonderfully. However, salmon can also be paired with rosé as well as light-bodied, low-tannin red wines. Whether you're learning the basics yourself or following along in a virtual wine tasting, there are some key guidelines to know.
Book a Live Virtual Wine Tasting Now

Indulge in all things wine with the best chefs and sommeliers in the industry. Virtual wine tastings bring a taste of the vineyard home.

Book Now
White Wine With Salmon
White wines are typically the first port of call when salmon is on the menu. In general, the medium-bodied, floral aromas and apple character of many a pinot gris pair well with salmon prepared in a range of recipes, but different preparations can call upon different wines.
Salmon seasoned with herbs and citrus pairs well with a crisp, dry white wine like sauvignon blanc or Sancerre from France's Loire Valley. Sauvignon blanc's refreshing herby and citrus notes promise a tasty duo, while the depth and crispness found in a Loire Valley Sancerre also make for a beautiful wine pairing with salmon.
Salmon served with a cream sauce or béarnaise calls for a richer white wine like a lightly oaked chardonnay. The full body of the chardonnay complements the weight and richness of the fish, taking the pairing beyond flavors to textures. Rieslings are stunning with salmon featuring Asian-inspired flavor profiles and soy-based marinades as well as salmon that shows up on your plate in the form of sushi.
White Wine With Smoked Salmon
Perhaps one of the most popular combinations of wine and salmon, smoked salmon pairs well with vibrant, refreshing sparkling wines. The bright acidity of a brut bubbly is able to cut through the saltiness of smoked salmon. Prosecco is another good choice as it allows various preparation styles, spices and seasonings to shine. Apart from sparkling varieties, Chablis and rieslings are also great options with smoked salmon.
Book Your Virtual Wine Tasting
Bring the winery home with an unforgettable live virtual wine tasting. Your personal sommelier is standing by.
Best white wine pairings with salmon:
Sauvignon blanc
Sancerre
Chablis
Riesling
Chardonnay
Prosecco
Pinot gris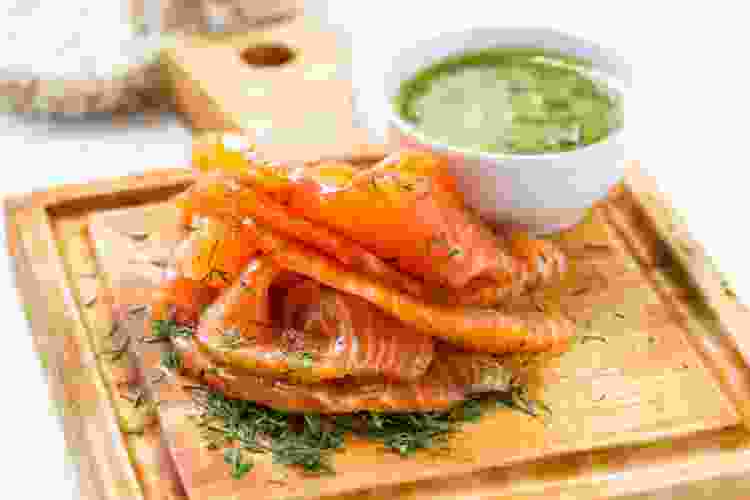 Red Wine With Salmon
While you'll want to steer clear of high-tannin reds like a cabernet sauvignon, salmon can hold its own against a wide range of red wines.
The number one red wine pairing with salmon is typically pinot noir. The satiny tannin structure, decadent notes of strawberry and raspberry, along with the earthy undertones, bring out the savory elements of an herb-crusted salmon.
Rosés are also an outstanding pairing with salmon in all its preparations. The medley of bright red berry notes and mouthwatering acidity in rosé wines refresh the palate between bites, making for an exceptionally accommodating wine pairing with salmon.
Red Wine With Grilled or Blackened Salmon
Light-bodied reds, such as Beaujolais, grenache, gamay and zinfandel, are also among top red wine pairings with salmon. Especially if you're firing up the grill. Blackened salmon or salmon featuring smoky or spicy notes pair seamlessly with these lighter red wines.
Best red wine pairings with salmon:
Pinot noir
Rosé
Zinfandel
Beaujolais
Gamay
Grenache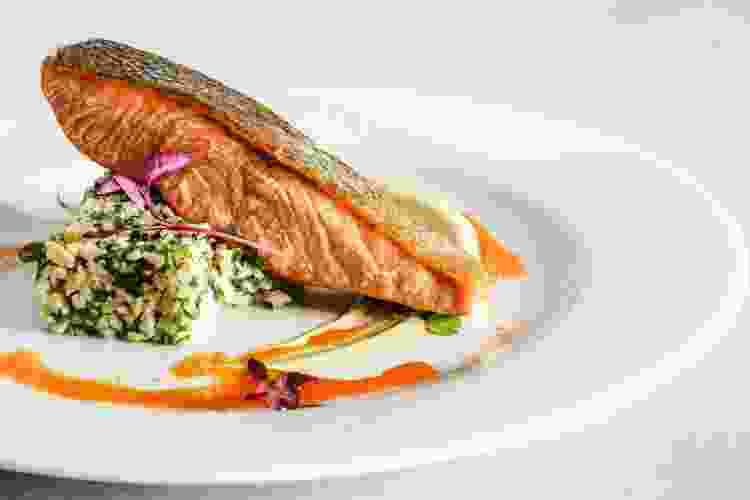 Join 200,000+ Culinary Enthusiasts
Exclusive deals, recipes, cookbooks, and our best tips for home cooks — free and straight to your inbox. PLUS: 500 Rewards Points.
Now that you have a better idea about what wines pair with salmon, it's time to experiment! Finding the best wine pairing with salmon is all about tuning in to your personal preferences and favorite flavor profiles.
For even more insight into wine pairing with salmon, check out other experiences happening on Cozymeal.