2023 Foodie Guide to Persimmons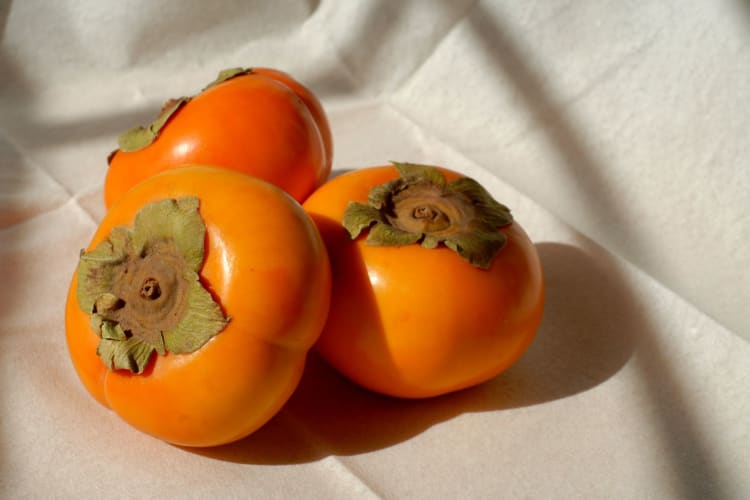 When the temperatures drop and you've had enough berries and watermelon for a while, keep an eye out for persimmons in your local grocery store. Persimmons are a seasonal fruit that usually appears around October just in time for Thanksgiving. Never heard of a persimmon fruit? You're missing out!
There are always new and exotic items to explore in the produce section, and persimmons are one of them. Unlike the elaborate dragonfruit or the awkwardly shaped star fruit, the persimmon is simple and approachable. If you are a fan of firm fruits like nectarines or peaches, you'll probably also love persimmons. So what do persimmons taste like? How do you use them? Keep reading to learn more about how to eat a persimmon and what health benefits you'll get from them.
Jump to Section
Gourmet Cooking Classes Near You
Take your culinary skills to new levels with guidance from five-star chefs.
What Is a Persimmon?
A persimmon is a fruit that falls into the berry family, but it doesn't look like a typical berry. Persimmons are cultivated in California and are usually found in stores late in the year when other fall produce arrives. When you see a small fruit that looks like a yellow or dark-orange tomato but still has some green leaves on top, you've found the persimmon.
The most common type of persimmon that you'll find in a store is the Asian persimmon. While persimmons may be new to you, they've actually been around in the West since the late 1800's but until recently were mostly a niche product available only in Asian grocery stores. Luckily, they finally made their way into the produce sections of big national supermarkets, letting more people have the chance to try them out.
Fun fact #1 about persimmons — old American folklore tells us that you can predict the outlook for this winter's weather by looking at the pattern of the seeds on the inside of a persimmon. Fun fact #2? The seeds of persimmons were used as buttons during the Civil War.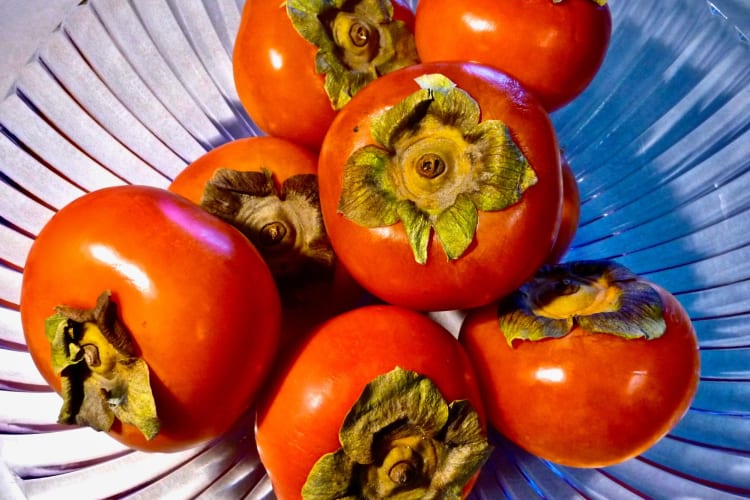 Types of Persimmons
While the tomato-shaped Asian persimmon fruit is the one most commonly found in stores (known as Fuyu persimmon), be aware that there are other kinds of persimmons, and knowing the difference before you take a bite is important.
Astringent Persimmons
Aside from the Fuyu persimmon, there is also the Hachiya persimmon. This fruit is oblong in shape, more like a plum tomato or what some describe as acorn-shaped. It is usually darker in color than a Fuyu.
The Hachiya persimmon is an astringent persimmon, meaning it contains high levels of tannins (yes, like red wine). This makes it very bitter to the taste, so they are essentially inedible if they are not fully ripe.
So why would you buy a Hachiya persimmon? If you come across this variety, bring it home and let it ripen on your countertop for a week or more until it's very soft. At that point, they become very sweet, much more so than Fuyu. Fully ripe Hachiya flesh makes a great addition to your menu of fall flavors and is often used in baked goods.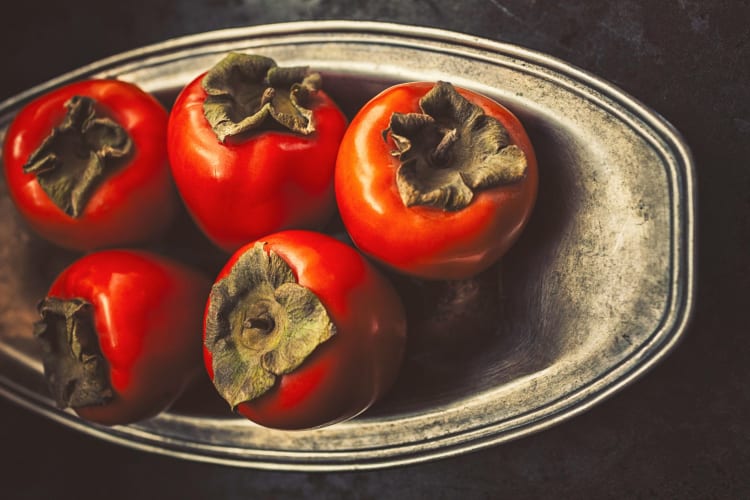 Join a Live Online Cooking Class Today
Your kitchen is now your own culinary classroom. Connect with chefs from around the world right from the comfort of home.
Non-Astringent Persimmons
Fuyu persimmons are the non-astringent variety that can be eaten when still firm or slightly underripe. Because these are easy to store and ship, you'll be more likely to find Fuyu persimmons in your produce section. They have an edible skin that is also similar to a tomato in thickness, and they are more palatable eaten raw than their astringent cousins.
So what do persimmons taste like? When a persimmon is at its peak ripeness, it has a mild but somewhat rich flavor with notes of honey. It crunches similar to an apple when still firm but becomes more peach-like as it ripens.
Persimmon Health Benefits
Persimmons are a healthy snack to add to your lunch box or to throw onto your dinner salad. They contain lots of fiber, which is beneficial to both cardiovascular health and digestive health. Persimmons also contain antioxidants, and one fruit can provide 55% of the RDI of vitamin A, which is good for eye health. Consuming persimmons has no downsides for most people, so they are a great food to add to your grocery list when you want to learn how to start eating healthy.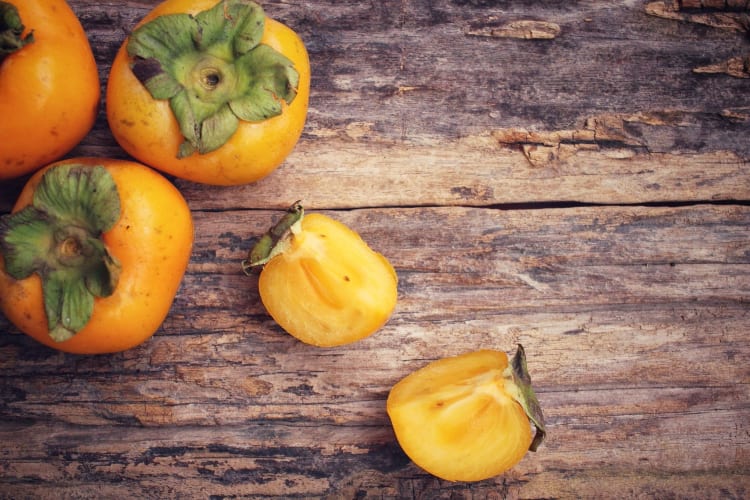 Where to Buy Persimmons
Persimmons are a seasonal item that usually hit stores around October or November. You'll find them in the produce section, where they usually sit next to plums and peaches. If they're not there, check next to the dragon fruit or papaya.
While Fuyu and Hachiya are the most commonly found persimmons on the shelf, it is possible you'll come across varieties like Sharon fruit or Rojo Brillante too. These are astringent persimmons that have undergone a process to remove the tannins so that the fruit can be eaten before becoming totally ripe. They are just as sweet as a Fuyu when firm and are grown in some places year-round, which means you may find these persimmons on the Costco shelf any time of year.
The most important thing when picking a persimmon is to try to get one as ripe as possible. For Fuyu, that means a tomato-shaped fruit that is dark orange instead of yellow and gives slightly to a squeeze. Follow the same guidance when choosing astringent varieties — the darker the skin, the better. Ripe persimmons are somewhat fragile, so avoid fruits that have damaged skin or bruising for best results.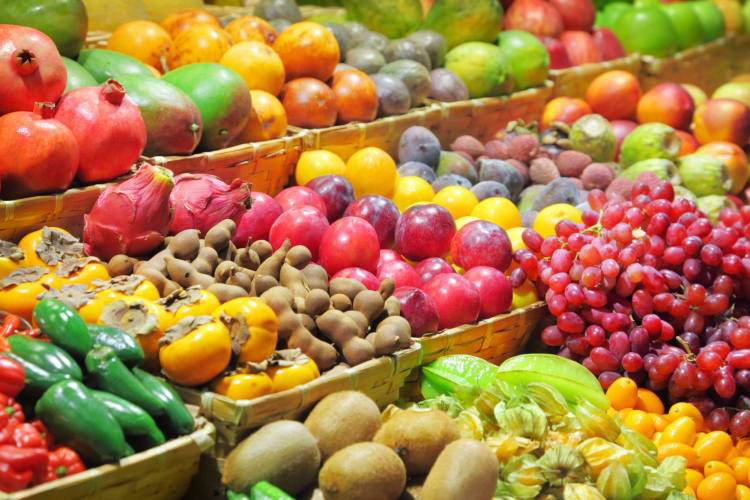 Book a Gourmet Cooking Class Now
Kick-start your culinary confidence with help from a world-class chef. See what's cooking in your city today.
Persimmon Recipes
So how do you eat a persimmon? Are they best eaten solo or can they be used in recipes? You can enjoy a persimmon just as you would an apple, but you can use slices as a salad topper or as the main ingredient for a pie. Persimmons can also be cooked and incorporated into breads, sauces or main dishes.
Pork and Persimmons With Mustard Greens: Pork always pairs well with stone fruit, and because the persimmon has a similar flavor profile, it's a natural match in this recipe for pork and persimmons with mustard greens from Martha Stewart.
Old-Fashioned Persimmon Pudding: The ripe flesh of persimmon is often used in holiday breads. This recipe for old-fashioned persimmon pudding found on Allrecipes ups the decadence factor for something more like a pumpkin pie.
Harvest Salad: Savor the flavors of fall in this harvest salad. Crisp pears and apples pair up with spicy-sweet persimmons on a bed of arugula for a delightfully festive salad.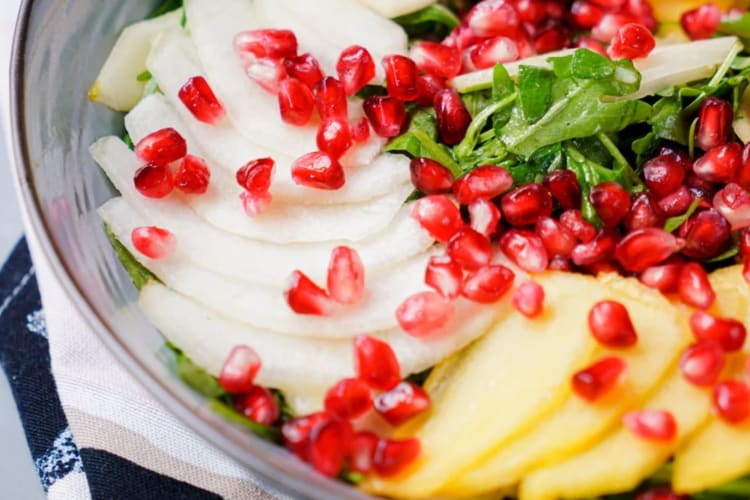 Kale and Persimmon Salad With Pecan Vinaigrette: Get all the healthy benefits of kale with a flavorful fall twist in this kale and persimmon salad with pecan vinaigrette from Food Network.
Persimmon Jam: Fall weather brings out the homesteader in all of us. When you discover a bumper crop of persimmons at your local store, grab them all and make this persimmon jam recipe from Sweet & Savory Meals.
Prosciutto Persimmons: You've wrapped melon in prosciutto before, but this fall appetizer from Food Network raises the bar. These prosciutto persimmons are paired with aged provolone cheese and basil plus a drizzle of white balsamic to satisfy even the snobbiest foodie.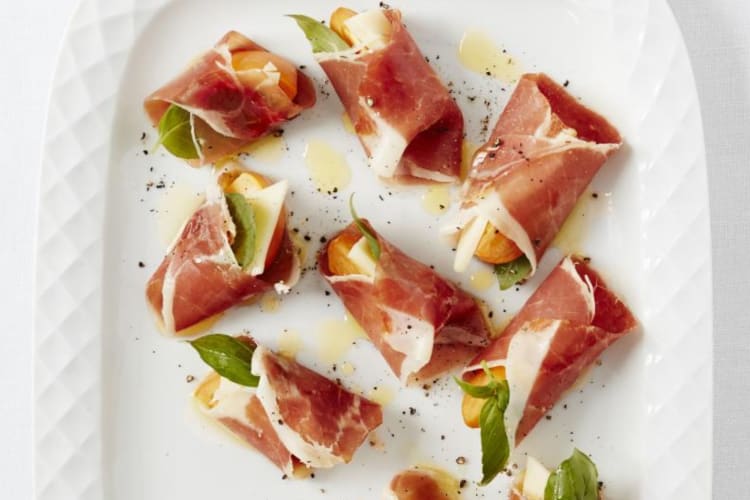 Join 200,000+ Culinary Enthusiasts
Exclusive deals, recipes, cookbooks, and our best tips for home cooks — free and straight to your inbox. PLUS: 500 Rewards Points.
Discovering new flavors is always exciting, especially when it's as healthy as persimmon. Whether you decide to experiment with some of the recipes above or just enjoy a ripe persimmon by itself is totally up to you. Best idea? A little of both.
For even more ways to explore your favorite foods, check out other experiences happening on Cozymeal.