Hungryroot Review: We Tried Hungryroot and Here's How It Went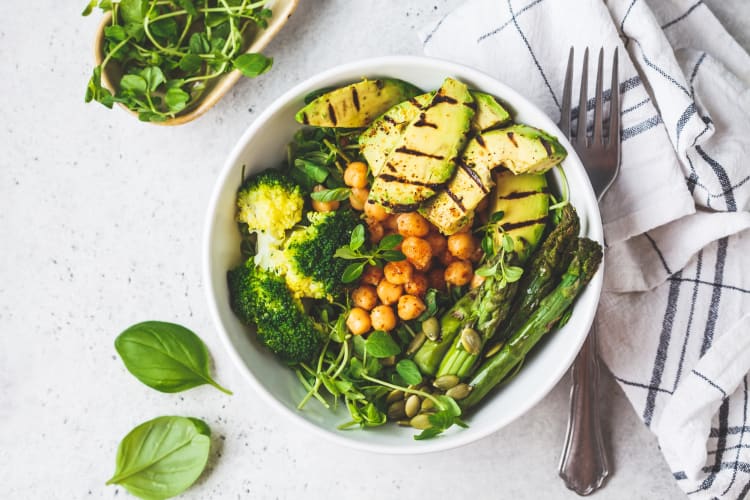 Our editorial team recommends the best products through independent research, selection and careful review. If you make a purchase through one of our affiliate links, we may earn a commission. Prices are subject to change.
If you're feeling bored with your everyday meal routine, frequently forget to go shopping or struggle to cook healthy meals during the week, you'll want to read our in-depth Hungryroot review. This meal delivery service is here to help you take the guesswork out of grocery planning and enjoy simple, fresh and healthy meals every day. Hungryroot offers a wide range of meal kits and grocery items to suit any dietary need, from omnivore to gluten-free, vegan and more.

But how does Hungryroot work? Do Hungryroot reviews believe that it's worth the cost? And most importantly, how does the food taste? As I was curious to answer these questions myself, I was very excited to receive a week's worth of meals and snacks for free from Hungryroot. Here's how it went, my honest Hungryroot review and what you need to know before starting your own subscription.
Jump to Section
Book a Gourmet Cooking Class Now
Kick-start your culinary confidence with help from a world-class chef. See what's cooking in your city today.
What Is Hungryroot?
Hungryroot is a meal delivery service that ships fresh ingredients, groceries and pre-made meals right to your doorstep. Hungryroot's mission is to make meal planning easier for their customers with simple ingredients and easy-to-follow recipes shipped directly to your doorstep.

Additionally, Hungryroot will make grocery and meal kit suggestions based on your personalized food profile, but you can always switch things up before the box ships out once per week. While Hungryroot isn't intended as a diet plan for weight loss or muscle gain, many Hungryroot reviewers appreciate that it can help you establish a routine of healthy at-home cooking.

For anyone who's just learning how to cook, trying out a new diet plan or curious about how to start eating healthy, Hungryroot can be a valuable service to start you off on the right foot. It will also help keep your fridge stocked so you're excited to eat in every night.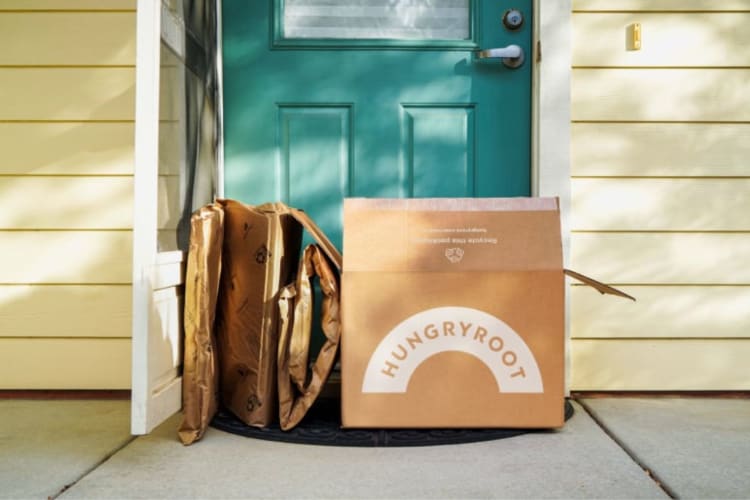 What Makes Hungryroot Different?
Unlike some other meal kit delivery services, Hungryroot allows you to "shop" from a wide range of recipe kits, ready-made meals, snacks, drinks and groceries. This is a customer favorite feature according to many reviews of Hungryroot.

Your weekly subscription rate is converted into a point-credit system, which allows you to customize your cart every week before delivery. Hungryroot does a great job catering to a wide range of palates and dietary needs, such as vegan, vegetarian, pescatarian or gluten-free.

Hungryroot reviews praise the fact that the meals are generally simple, nutritious and often vegetable-forward. Reviewers also appreciate that Hungryroot is committed to improved sustainability practices with recyclable packaging.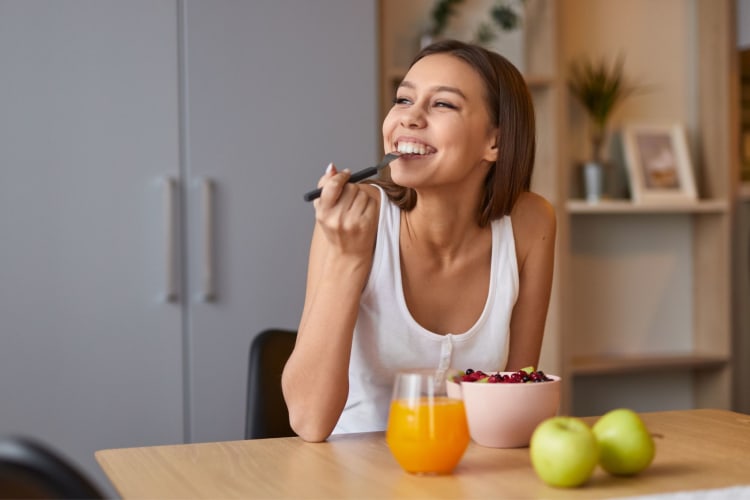 How Does Hungryroot Work?
Build Your Custom Profile
When first signing up for Hungryroot, you'll need to take a food profile quiz to help them understand your needs and preferences. If your preferences change, you can always update them later in your profile settings. Here are some of the steps in the quiz to help Hungryroot narrow down your needs:


Choose an omnivore, pescatarian, vegetarian or vegan diet plan.

Exclude any allergens, including peanuts, tree nuts, soy, dairy, eggs, shellfish or gluten.

Set nutritional preferences like low-carb, low-sugar or high-protein.

Select world cuisines that you like or dislike, from Italian, Indian, Korean and more.

Choose specific flavors you like or dislike, such as spicy and aromatic or creamy and cheesy.

Let them know how spicy you usually like your food: mild, medium, hot or no spice.
Book an Online Cooking Class Today
Five-star chefs. Step-by-step coaching. Flexible menus. Come see what's cooking in a live online cooking class.
Select the proteins you like, such as tofu, tempeh, chicken, turkey, lamb, pork or faux meats. This is great for omnivores who still avoid certain foods like seafood or pork.

Exclude some commonly polarizing foods, like eggplants, mushrooms or cilantro.

Select snack and sweet preferences, like chips, crackers, trail mix, smoothies, shakes, cookies, baked goods, juices, etc.

Estimate how much time and effort you'll want to spend on cooking and tell them what kitchen appliances you have, such as a stove, microwave, oven or air fryer.

Set your meal plan details. How many lunch and dinner recipes would you like to receive each week? And would you like two or four servings of each meal?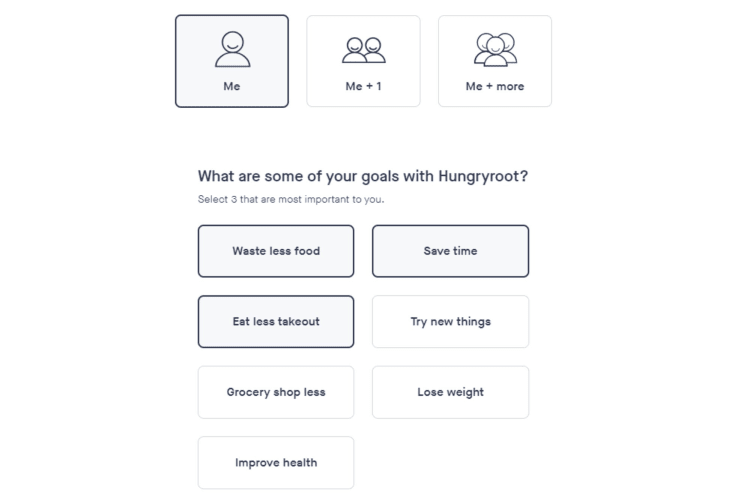 Edit Your Weekly Cart
Based on your food profile, Hungryroot will generate a basket with recommended meals, snacks and grocery items for the week. If you're like most Hungryroot reviewers, you'll likely want to edit this basket, removing items that don't appeal to you and adding others that sound interesting.
You must remember to edit your basket every week before the deadline to ship — one thing that Hungryroot reviewers wish had more notifications. If you forget to edit your cart, you'll still receive whichever tasty items they've chosen but may not get exactly what you want.
For the record, I am perhaps the world's least picky eater — aside from being vegan, of course. Olives, onions, pickles, mushrooms, eggplant, beets, cilantro, pineapples on pizza … I've been known to like it all. With that being said, I may have had a much easier time enjoying recipes from Hungryroot than some others might. Some Hungryroot reviewers dislike that you can't substitute specific ingredients. While nobody will force you to eat ingredients you don't like, they will come in your box.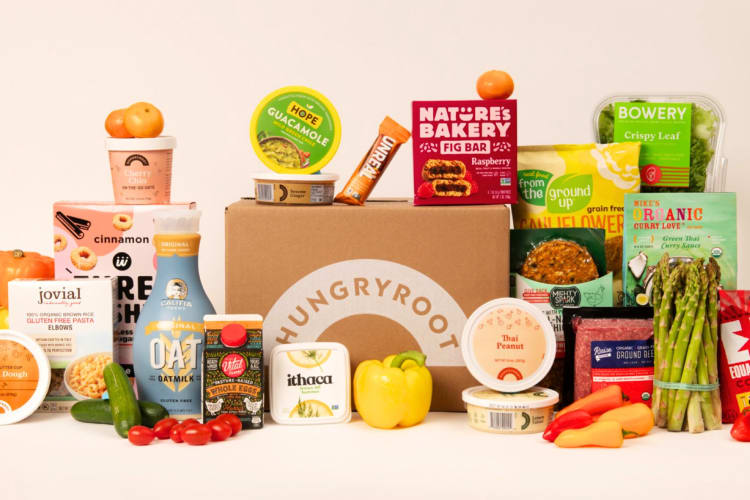 Receive Your Box and Get Cooking
After finalizing the items in your first box, the Hungryroot order generally ships out within a week. Your package should arrive within one to two days of leaving the facility and should be brought directly to your doorstep. According to most Hungryroot reviews, shipping usually falls within this time frame.

If you'd like to, you can leave an additional shipping note for the delivery service, such as asking them to ring the doorbell. Hungryroot reviewers appreciate that Hungryroot also allows you to track your package online and receive email or SMS/text updates when it arrives. This way, you can unpack your groceries and put them away as quickly as possible.
Gourmet Cooking Classes Near You
Take your culinary skills to new levels with guidance from five-star chefs.
When delivered, your food will arrive in a large cardboard box. Inside, you'll find a thick layer of packing insulation surrounding the walls, a booklet about Hungryroot, your groceries and an order form with recipes printed on the backside. You'll also find a few large ice packs tucked at the bottom of your box. Both Hungryroot and Hungryroot reviewers recommend unpacking immediately and enjoying your recipes within a week — just in time for your next box!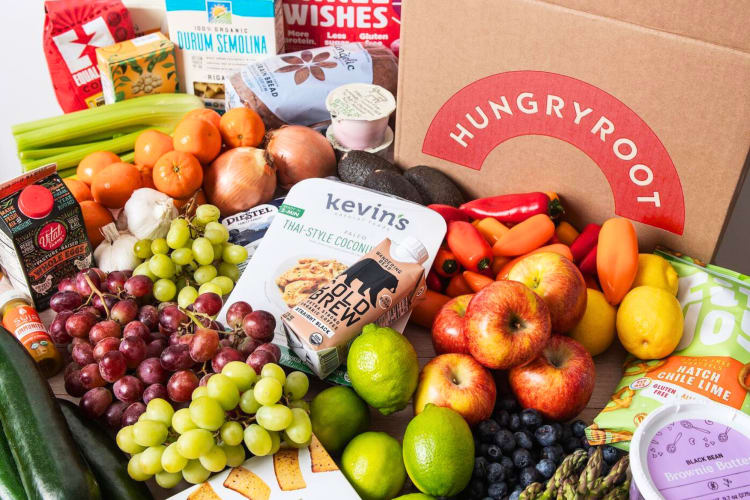 How Much Does Hungryroot Cost?
It can be difficult to determine exactly how much Hungryroot costs just by looking at Hungryroot reviews. That's because Hungryroot operates as a subscription-based service, so the price depends on how much or how little you want to receive per week. Your dietary plan (omnivore, pescatarian, vegan, etc.) won't affect the price of your subscription.

You must order a minimum of three two-serving recipes or two four-serving recipes with each box. Whether you choose lunch or dinner servings will not affect the price. Most Hungryroot reviews find that the price of their subscription is worth it for them as long as the food arrives fresh and in good condition.

On the lowest end, you can choose a plan for three recipes with two servings each (six servings total) and no breakfasts, snacks, sweets or fruits for $68.34 weekly, plus shipping. If you are only feeding yourself, that should cover dinner for almost an entire week.

Plans over $70 get free shipping, which isn't hard to achieve, considering the lowest plan is $68.34. As shipping is $6.99, it's worth it to go ahead and tack on another meal or some snacks to gain free delivery.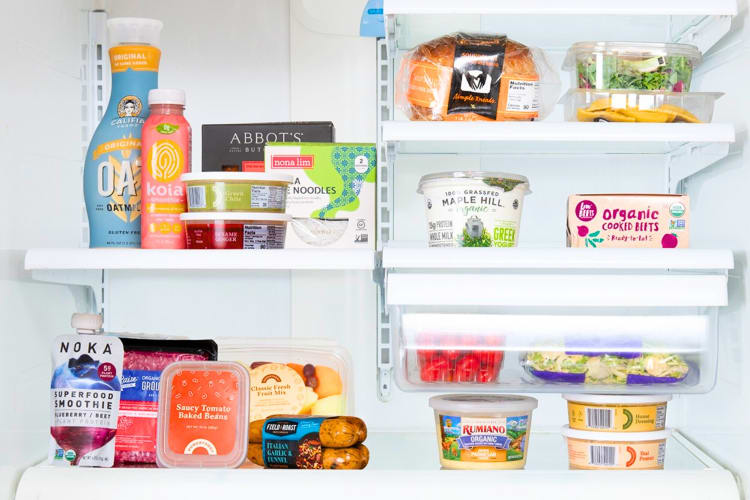 Most Hungryroot reviews are written by single people or small households, but it is possible to feed a family with the meal kit service. On the highest end, you can choose a plan for eight recipes with two servings each or four recipes with four servings each. In other words, 16 is the maximum number of servings that Hungryroot can send in a box.

For the maximum possible plan with 16 meal servings plus seven to 10 breakfast servings, 10 to 13 fruit servings, eight to 12 snack servings and seven to 10 sweet servings, you're looking at a weekly cost of $285.12.
Join a Live Online Cooking Class Today
Your kitchen is now your own culinary classroom. Connect with chefs from around the world right from the comfort of home.
Hungryroot converts your subscription cost into a point value system. You can go over your point balance if you choose to. Any additional cost will be charged to your credit card on file.

What if you need fewer groceries than normal next week? You can elect to skip a box, but the card on file will still be charged and converted to points —something Hungryroot reviews aren't thrilled about.

You must spend a minimum of 20 points with every box you order, but you don't have to use all your points every week. Going under your point balance will not save you any money on the subscription cost. However, unused points will roll into a "Wallet" on Hungryroot. These wallet points won't change your weekly subscription fee, but you can use the points from your wallet to cover extra grocery items in the future. Consider it like taking a rain check on this week's groceries.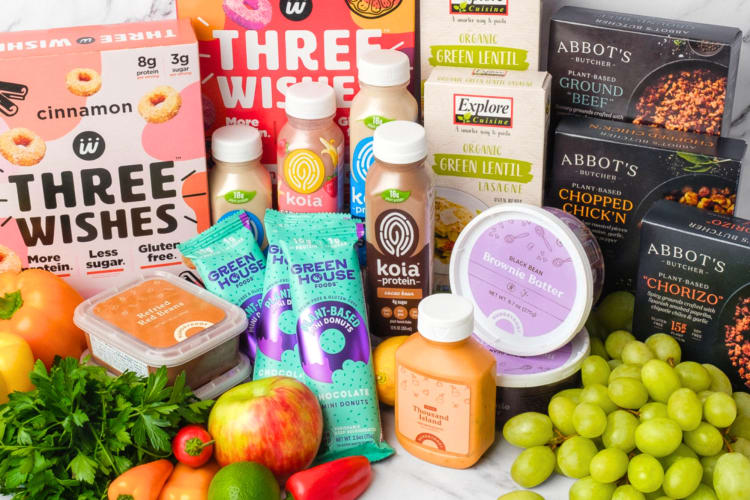 Hungryroot Food Review
Getting Started
Similar to many other Hungryroot reviews, I found that signing up for Hungryroot was remarkably easy. The food profile quiz was quick and simple, and I feel like it covered everything that most people would like to input, such as allergies, flavor preferences and spice level tolerance. You also get to choose what kinds of snacks and treats you gravitate towards, such as chocolates, chips, dried fruits, smoothies and nuts.

For the sake of this Hungryroot review, I opted for a modest middle ground on my subscription package. My subscription included five recipes in total: four lunch servings and six dinner servings. The "lunch" and "dinner" options really aren't so different, so don't get too hung up on this when you're signing up.

I also requested two to three breakfast servings per week, two to four snack servings and two to three sweet servings. This plan came to a total of $143.07 per week — a little more than I would normally spend on groceries for myself, but not outrageously more. Plus, I had the convenience of grocery shopping without ever leaving my house, something many Hungryroot reviewers enjoy about the service.

For $143.07, Hungryroot gave me a balance of 61 credits. They generated a cart that matched my subscription requests as closely as possible, but I decided to alter the cart to make sure I was trying a good variety of recipes and getting the best value for my points.

"Shopping" on Hungryroot was easy, and they had a surprising variety of recipes and grocery items. However, like many other Hungryroot reviews, I found that many of the vegan recipes weren't very revolutionary. Most of them contained some form of tofu or faux meat and a lot of carbs with a side vegetable or mixed greens. In the end, my 61 credits covered five recipes and 10 grocery items of my choosing. This translated to 31 items in total, or roughly $4.62 per item.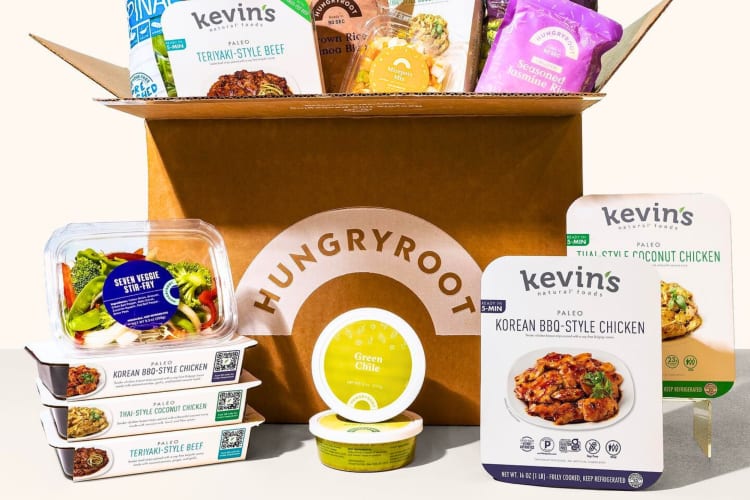 Book a Gourmet Cooking Class Now
Kick-start your culinary confidence with help from a world-class chef. See what's cooking in your city today.
Packaging
As stated in many other Hungryroot reviews, I can understand where shipping might be hit or miss with the company. My box was scheduled to be delivered very quickly via FedEx. Based on Hungryroot's online tracker, it was picked up at the facility on a Monday around midnight and made it to my address by Tuesday around 2:45 p.m. Unfortunately, no package was in sight — even my security cameras had miraculously missed the delivery driver. I was starting to worry that the negative Hungryroot reviews for shipping could be right.

I would later discover that the driver had left my Hungryroot package on a neighbor's porch, alongside several other people's boxes. There it sat overnight until I finally discovered it early on Wednesday morning. Of course, this wasn't Hungryroot's fault and was more the result of a lazy (re: exhausted) delivery driver, so I wouldn't count it against them. Still, I felt like this was worth mentioning in my Hungryroot review as a hazard of ordering fresh groceries online.

I toddled home with the box, which at that point was getting soggy from condensation. As I unpacked it, I feared everything would be ruined from the toasty Texas evening. But here's the thing: It wasn't.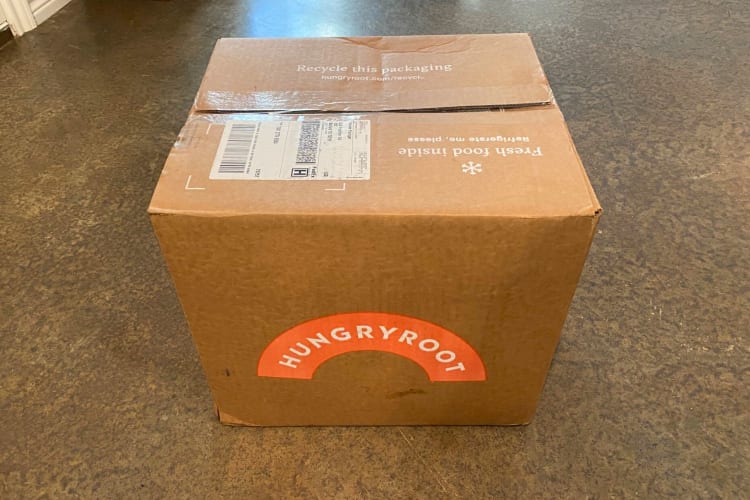 The Hungryroot review box itself was sturdy and the packaging design was minimal, with the Hungryroot logo emblazoned across the side. When I opened the box, it had a layer of insulation wrapped around the groceries to keep things cool. Inside, I also found an order form and a "Your Kitchen Guide" booklet, which had some helpful tips and information about Hungryroot in general.

Dry pantry goods were stacked at the top of the box, followed by produce, refrigerated goods and semi-frozen goods. Three large ice packs rested at the bottom of the box.

Everything in the Hungryroot review box was packed tightly and efficiently but undamaged. Although the ice packs were melting from sitting out all night, they were still surprisingly cool, and the groceries seemed perfectly fine — a bonus point for my Hungryroot review! Plus, I was happy to see that the liquid in the ice packs was non-toxic and could be used to water plants.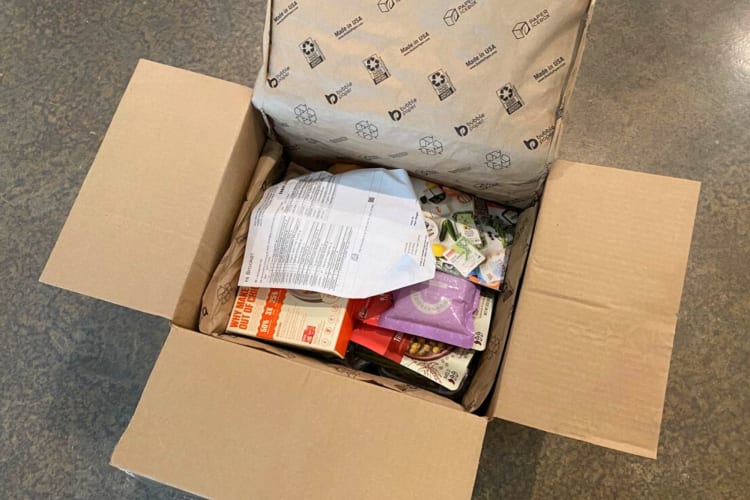 Freshness and Quality
The box for my Hungryroot review seemed well-packed and is supposed to last for up to 48 hours during shipping. From when it was picked up on Monday at midnight to when I finally found it on my neighbor's porch at 8 a.m. Wednesday would have been about 56 hours, and the box was still cool despite the warm night.
Book an Online Cooking Class Today
Five-star chefs. Step-by-step coaching. Flexible menus. Come see what's cooking in a live online cooking class.
If FedEx hadn't misplaced the delivery, I have no doubt that the groceries would have been perfect. But since this is an honest Hungryroot review, I wanted to include a word of caution to be on your toes when ordering Hungryroot. Try to be home during the time of delivery, especially in the summer, and make sure you bring your box inside ASAP.

By the time I unpacked my Hungryroot review box, the ice packs had melted and were still cool but not very cold. Some items like tofu and the Beyond Sausage seemed a little warmer than they would be in a fridge, but still about as cool as they would have been after driving home from the grocery store. I popped these items in the fridge immediately. Luckily, if anything had gone wrong, most Hungryroot reviews state that customer service is happy to help in the case of lost, missing or spoiled groceries.

The fresh produce I ordered included two bags of baby asparagus, one bag of baby broccoli, two containers of Hungryroot's rainbow veggie mix, rainbow baby carrots, a bag of bite-sized creamer potatoes, fresh thyme and two whole lemons. Everything looked fresh, firm and super colorful. The only exception worth mentioning in this Hungryroot review might be the lemons, one of which had a few deep brown dents on the peel but nothing that would affect its freshness.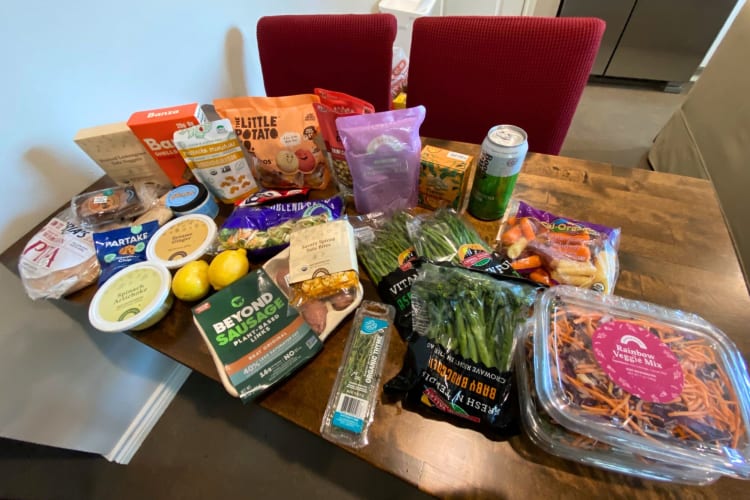 Flavor
One of the most common complaints in Hungryroot's honest reviews is that the recipes can sometimes be a little bland and simplistic. While I found this to be true, I wouldn't say it was true for every recipe. Another common concern from Hungryroot reviews is that they tend to use a lot of pre-cooked, prepared and individually packaged foods. This makes it super easy to throw items together but doesn't really make you feel like you're cooking anything special.

Overall, I think some Hungryroot reviews were a little overcritical. The meals from Hungryroot weren't boldly flavored, but they were still tasty and super convenient. Some meals were a little bland and simplistic in their ingredients but nothing a little salt and pepper or a dash of soy sauce couldn't fix. I found that the best way to jazz up the recipes was to use my own seasonings or add more sauce than the recipe suggested. I appreciated the variety of cuisine options available, keeping things interesting throughout the week with stuffed pita, bowls, pasta bakes and more.

I think Hungryroot has done an acceptable job of making nutritionally balanced meals, which can be especially tricky when it comes to vegan and vegetarian foods. As other Hungryroot reviews warned, some recipe options are nutritionally better than others—just keep an eye out for a good carb, vegetable and protein ratio, and be wary of high sodium content in pre-packaged goods.
Book a Gourmet Cooking Class Now
Kick-start your culinary confidence with help from a world-class chef. See what's cooking in your city today.
Gingery Spiced Tofu + Rainbow Veggie Bowl
This was the first Hungryroot review dish I decided to try. I loved the convenience of it having only four ingredients, all of which were basically pre-washed, pre-cut and pre-cooked. This was also a one-skillet meal, so it gets bonus points for saving me time on dishes.

In agreement with other Hungryroot reviews, I felt that the portions were very generous and the flavor of this dish was good. I loved the crunch of the fresh, colorful vegetables paired with the tender tofu and tangy sesame ginger sauce. However, it was a little bland when done according to the recipe, so I ended up adding extra ginger sesame sauce.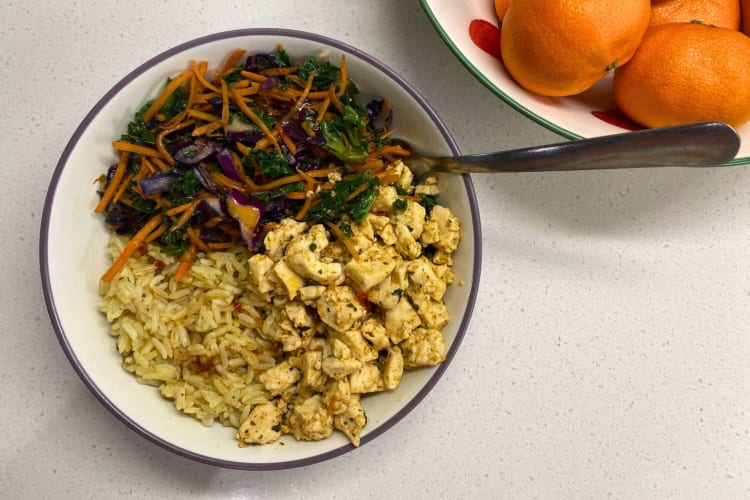 Tofu + Broccoli Black Lentil Dal Bowl
Since this is an honest Hungryroot review, I'll be honest: This was my least favorite meal out of the whole Hungryroot review box. For one, the black lentil dal was missing from my package, something I didn't notice when first unboxing it. Instead, it seems that Hungryroot included two pouches of chickpea curry instead. This was fine by me, but I found it a little odd that they didn't leave a note or let me know the lentil was out of stock.
I loved the firm, meat-like braised lemongrass tofu nuggets in this easy one-pan meal. However, the curry had an unusual sweetness and the baby broccoli wasn't great. I normally love broccoli, but this had a surprisingly bitter, sulfurous flavor.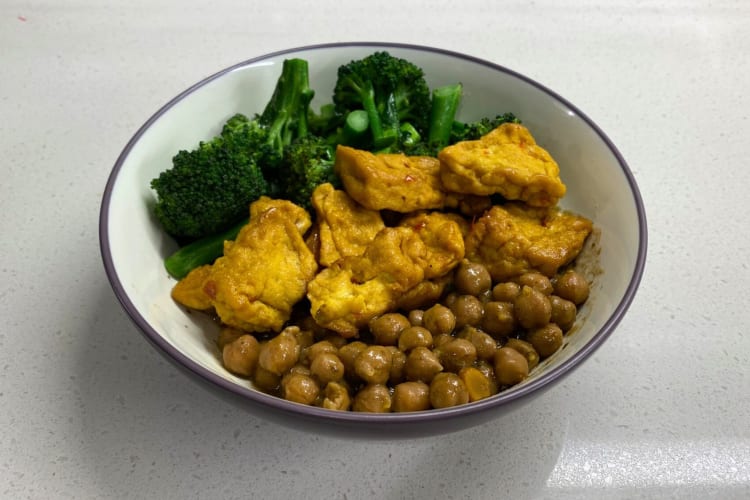 Beyond Brat with Garlicky Potatoes + Asparagus
Plenty of Hungryroot reviews complain about spoiled items, and I have to say, when I opened my package, the Beyond Brat was still cool but not the ideal temperature for food safety. Plant-based alternative meats should be treated the same as animal meats when it comes to safe storage, so out of an abundance of caution, I ended up throwing out the item and purchasing a fresh package for my Hungryroot review.

This recipe took a little more time than the others, but the results were delicious. The Beyond Brat tasted surprisingly "meaty" and didn't have the fake smoky flavor that faux meats can often have. The potatoes were soft and comforting but a little under-seasoned. The baby asparagus here was fresh and tender and complemented the flavors of the Beyond Brat perfectly.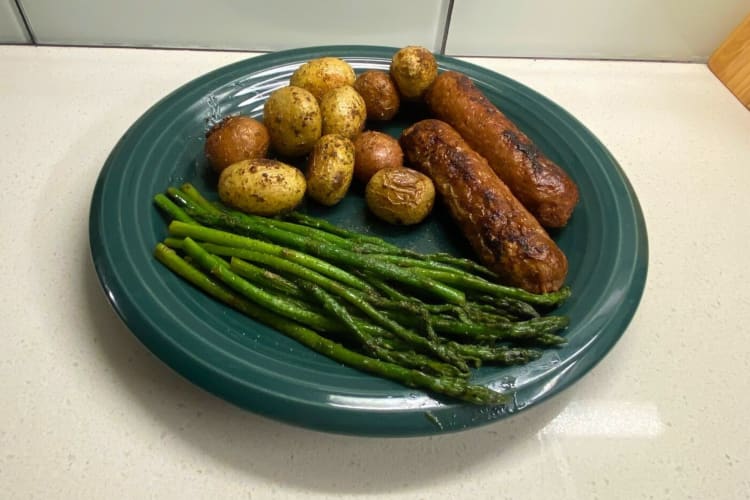 Join a Live Online Cooking Class Today
Your kitchen is now your own culinary classroom. Connect with chefs from around the world right from the comfort of home.
Tzatziki + Crispy Chickpea Pita Pocket
For this Hungryroot review meal, roasting the chickpeas for this recipe felt like a science experiment. I followed the directions carefully, but some of the chickpeas exploded into poofs when I opened the oven.

The pita pockets were a fun way to jazz up an average sandwich, and they were easy to cut and stuff with Hungryroot's rainbow veggie mix. The real star of the show for this dish was the Fabalish vegan tzatziki. The tzatziki beautifully married dill and cucumber flavors and helped to combat the dryness of the other ingredients inside the recipe. If I were to make this Hungryroot review meal again, I would toss the vegetables and chickpeas generously in tzatziki before stuffing.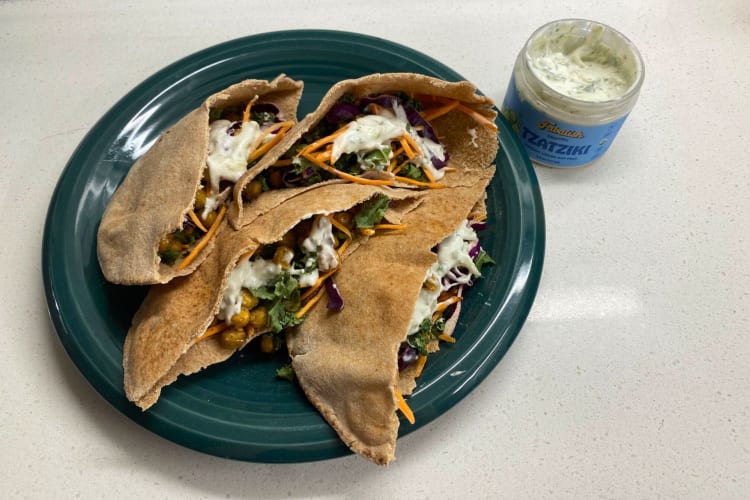 Springy Spinach Artichoke Pasta Bake
This meal took a little longer and was more dish-intensive than the others, requiring three pots and pans to get the job done. However, it was definitely my favorite meal out of the whole Hungryroot review. The fresh thyme turned this simple pasta bake into the perfect herbaceous comfort dish. Paired with a glass of white wine, it was just what I needed after a tiresome day of yard work. Plus, the chopped asparagus offered a unique and painless way to get in a daily serving of vegetables.

I ended up adding all of Hungryroot's spinach and artichoke sauce, but I still think a splash of oat milk or a tab of margarine would have made the recipe even creamier. This simple recipe left me feeling inspired, so I'm glad I tried the Hungryroot review for this if nothing else. I know my mom would love it!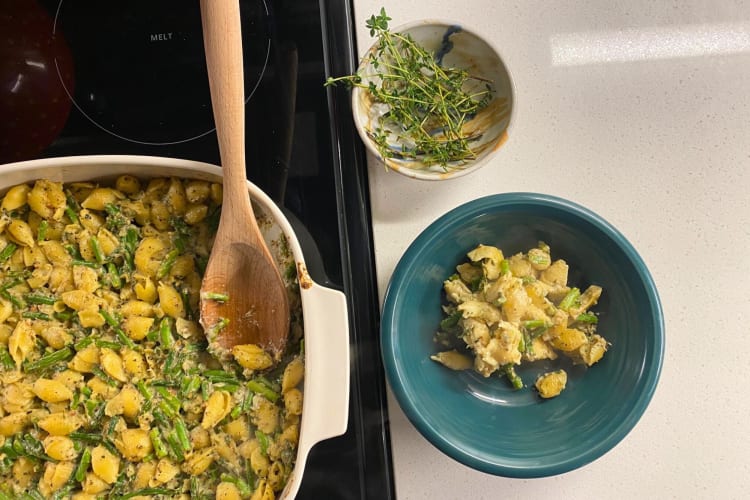 Cal-Organic organic rainbow baby carrots: Adorable, fresh and delicious.

Green Mustache organic cheddar crackers: Not the best vegan cheddar flavor I've had, but it satisfied my snack cravings anyway.

Chum strawberry fruit bites: Small portion but yummy, and I love the no added sugar.

Hungryroot's coconut cashew grain-free granola: This seemed more like mixed nuts than granola.

Abe's mini pumpkin bread loaf: Hungryroot called this a breakfast, but it was more like a sweet and cozy snack.

Partake mini crunchy chocolate chip cookies: Small portion but good and gluten-free.

Better Booch kombucha: Zingy and refreshing. I would absolutely try this again.
Gourmet Cooking Classes Near You
Take your culinary skills to new levels with guidance from five-star chefs.
Hungryroot Is for You If…
Hungryroot reviews can definitely appear mixed online, but I think it really comes down to what you want from a meal subscription service. Hungryroot may be a great solution if you're too busy to keep up with meal planning and grocery shopping but still like to have fresh, tasty foods on rotation.

If you want to try your own Hungryroot review, I think it helps to be open-minded about your dishes and look for easy recipe inspiration to try on your own. Notably, if you love healthy, vegetable-forward dishes, you're not too worried about a budget, and you live by yourself or in a small household, Hungryroot could be awesome for you.

Hungryroot is an excellent way to take some stress out of meal planning while enjoying something new. A Hungryroot subscription could also make a wonderful gift for newlyweds, new parents, senior family members or young adults living on their own for the first time.
Hungryroot May Not Be for You If…
You may not enjoy Hungryroot if you're extremely picky about the flavors and textures in your food, you're working with a very tight budget or you're trying to feed a large household. Some Hungryroot reviews also mention poor shipping conditions and food spoilage. Therefore, Hungryroot may not work for you if you live in a remote area where shipping takes longer than 48 hours.

Another reason Hungryroot reviews might not recommend the meal delivery service is if you're aiming for a low-waste or zero-waste lifestyle. While Hungryroot has taken some steps towards more eco-friendly packaging, there is still a high amount of single-use plastics that go into every shipment. Hungryroot doesn't offer anything besides weekly plans, except for the option to skip a shipment and receive store credits. Therefore, Hungryroot may not be for you if you frequently travel or prefer just to eat whatever you're craving that night.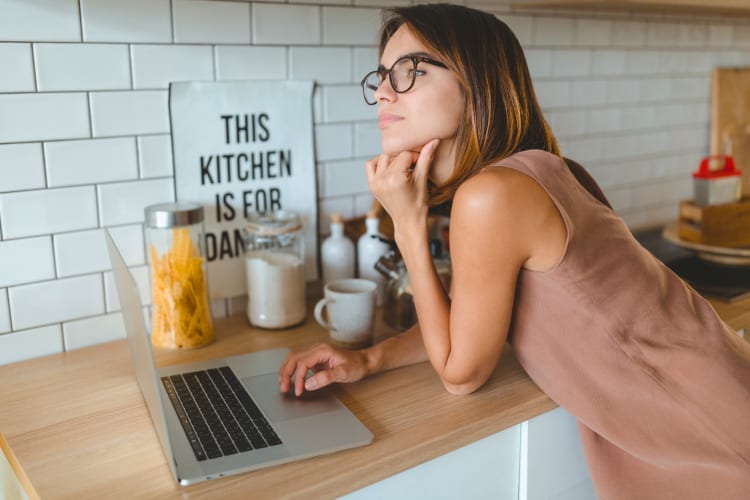 Is Hungryroot Worth It?
With all the Hungryroot reviews, shipping uncertainties and recipe taste-testing in mind, is Hungryroot worth it? Absolutely, I think it can be! There's always a risk that comes with shipping your groceries, but I think Hungryroot is a simple, efficient, cost-effective and delicious way to try something new and relieve some mealtime stress. After completing this review of Hungryroot, I would recommend focusing on their recipes and steering clear of the small-portioned snacks, unless you're just trying to spend a few extra points.
I thoroughly enjoyed having my dinner pre-planned and seeing what unique flavor combinations I was up for each night. With recipes that are easy to replicate on your own, I think Hungryroot is certainly worth it to help you simplify your meals and break out of a weekly dinner rut. Now that my Hungryroot review week is over, I'm already missing the convenience and considering my next box.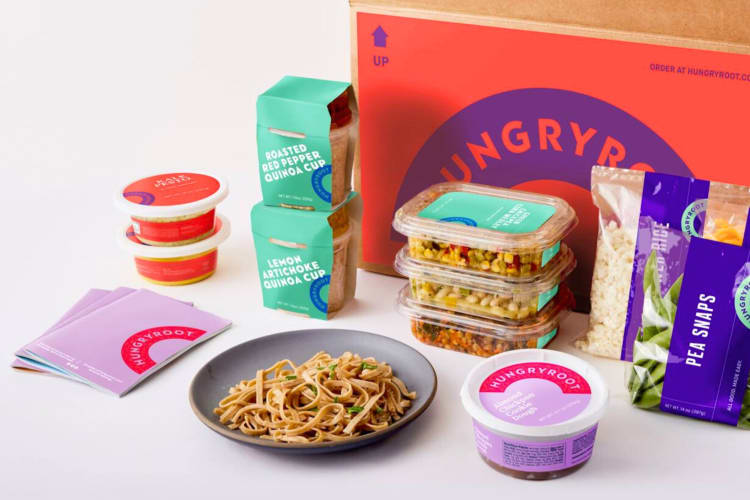 Join 200,000+ Culinary Enthusiasts
Exclusive deals, recipes, cookbooks, and our best tips for home cooks — free and straight to your inbox. PLUS: 500 Rewards Points.
In conclusion, my honest Hungryroot review is that the delivery service is worth it. For convenience, quick and simple meals and a plethora of recipes and grocery items to choose from, Hungryroot simply can't be beaten. If you're looking to simplify your weekly routine, try something new or learn how to cook from home, Hungryroot could be a great option for you.
For even more ways to explore your favorite foods, check out other experiences happening on Cozymeal.