27 Traditional Greek Foods to Taste in 2023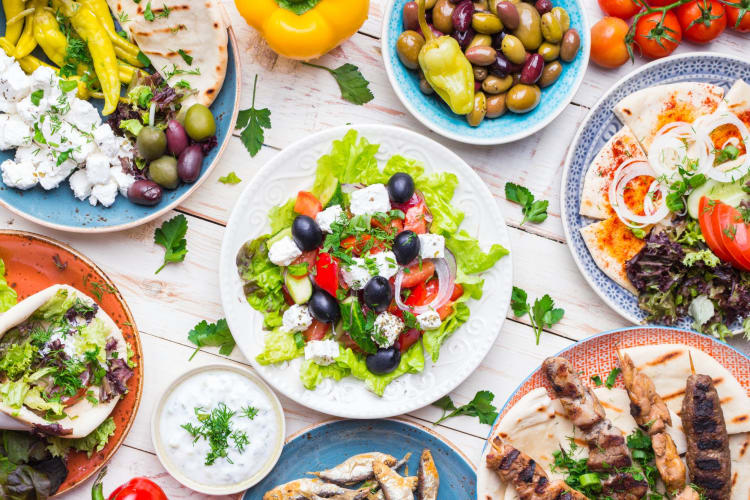 Greek foods are some of the most flavorful dishes in the world, with a wealth of tradition and significance behind every detail. Greek food in general uses a complex combination of spices and plant-based flavorings. Olives, cheeses, fennel, dill and oregano are some of the most commonly used ingredients in Greek cuisine, and many spices native to Greece have become popular all around the world.
With their strong use of vegetables, herbs and wholesome fats from olives and fish, Mediterranean and Greek foods are said to be some of the healthiest in the world, and they are also some of the most delicious.
Of course, these ingredients may seem like an unusual flavor palate to those not familiar with Greek food. Are you planning a trip to Greece? Curious about a new Greek restaurant in your city? These are the 27 traditional Greek foods you won't want to miss.
Jump to Section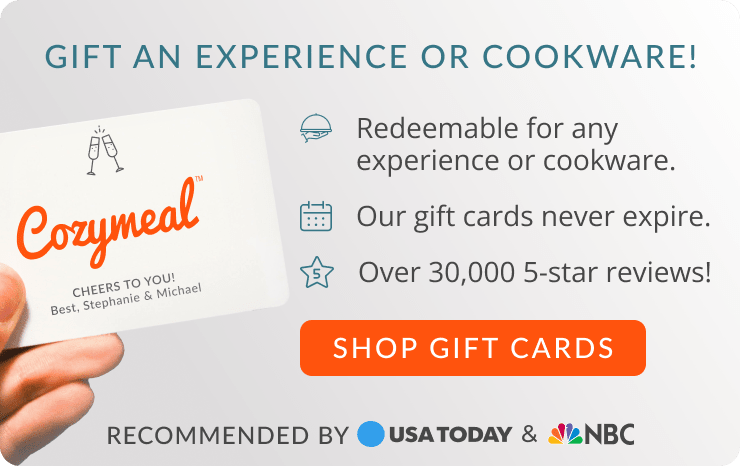 Get a Taste of Traditional Greek Foods
There's no better way to learn about Greek cuisine than to have hands-on experience. Luckily, it's easy to find cooking classes near you specializing in Mediterranean cuisine. Whether you're looking for Mediterranean cooking classes in Chicago or Mediterranean cooking classes in NYC, you're sure to find expert guidance that will help you craft your own Greek masterpieces.
If you're hoping for a cozy night in, sign up for live online Mediterranean cooking classes to discover delicious Greek foods from the comfort of your own home.
Greek Breads
1. Pita
Greek pita closely resembles Arabic pitta and Indian naan, but there are some elements unique to this Greek food. Greek pita, or flatbread, is typically leavened with yeast, and only contains flour, water, salt and yeast, while pitta and naan can contain other ingredients.
Pita is a simple, versatile food and a staple of Greek cuisine. Pita bread is stronger and leaner than other flatbreads, with a pocket in the middle ideal for stuffing. In addition to stuffing like a sandwich, pita can also be used to enjoy other traditional Greek foods like tzatziki and gyros.
Try It Yourself: Chef Romina's recipe for a falafel sandwich with homemade pita and garlic aioli is a symphony of delightful flavors and textures.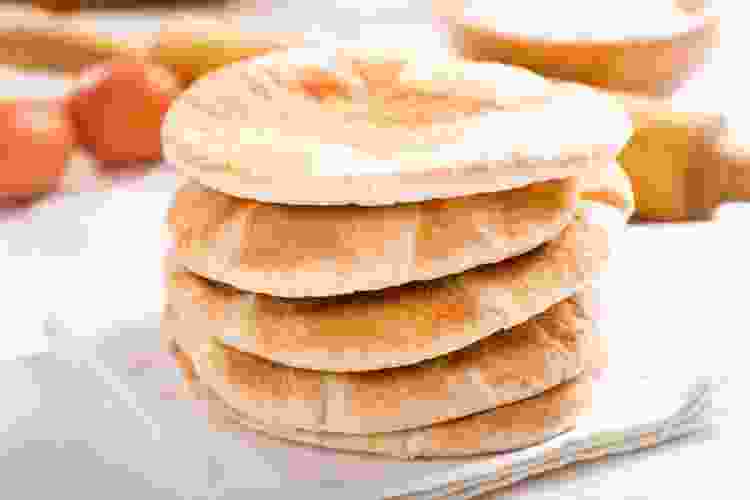 Gourmet Cooking Classes Near You

Take your culinary skills to new levels with guidance from five-star chefs.

Book Now
2. Eliopsomo
Eliopsomo is a traditional leavened Greek bread made with flour, water, salt, yeast and roughly chopped Kalamata olives. In some cases, eliopsomo may contain other ingredients like thyme, rosemary or honey.
Eliopsomo is most often cut into slices and used as sandwich bread, dipped into olive oil as an appetizer or paired with other Greek foods. People love eliopsomo for its unique sweet and salty flavors. The complex umami flavors from black Kalamata olives pair beautifully with the sweetness of honeyed dough, setting the perfect stage for fresh ingredients like tomatoes and basil.
Try It Yourself: A delightful depth of flavor awaits you with this recipe from Kopiaste for traditional eliopsomo bread.
3. Lagana Flatbread
Followers of Greek Orthodox tradition eat lagana flatbread only on one day of the year: Kathari Deftera, or "Clean Monday." A feast of Greek foods with lagana bread marks the first day of Lent, a 40-day period of fasting in Greek Orthodox culture.
Lagana is a fresh, soft, bouncy flatbread topped with fragrant sesame seeds. When baked at home, it has the potential to draw everyone into the kitchen with its sweet and nutty aroma.
Try It Yourself: Souvlaki for the Soul's recipe for lagana bread utilizes yeast to produce a chewier flatbread than the traditional offering.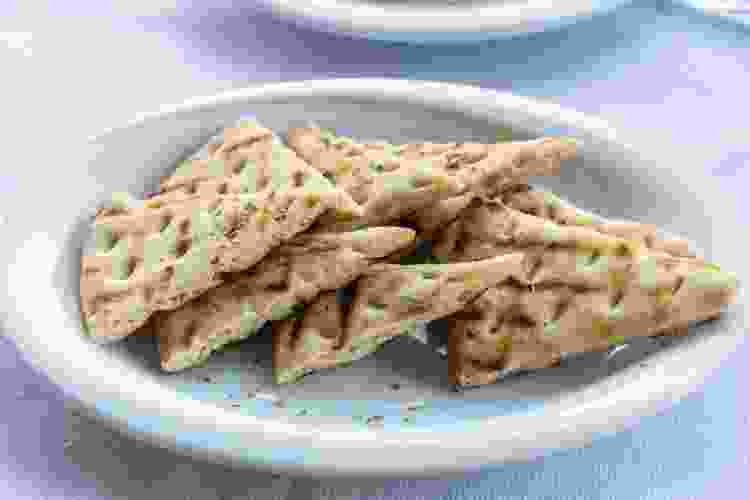 Join a Live Online Cooking Class Today
Your kitchen is now your own culinary classroom. Connect with chefs from around the world right from the comfort of home.
4. Tsoureki
Tsoureki, also known as Greek Easter bread, is a sweet, braided loaf with whole decorative eggs baked into the folds. Unlike lagana, tsoureki is a Greek food that can be enjoyed year-round, but it is a staple Easter food tradition in many households.
Tsoureki has a fluffy, citrusy taste and can be topped with sesame seeds or sliced almonds, glazed or left plain. The most striking feature of the bread is its bright, red-dyed eggs, which stand out between the folds of dough. Although they may be fully cooked from the oven, the whole eggs are for decorative purposes only.
Try It Yourself: Leftovers from this King Arthur Baking Company recipe for tsoureki make fantastic French toast.
5. Koulouri Thessalonikis
For such a long name, koulouri thessalonikis is one of the simplest Greek foods. A Greek take on Turkey's simit, koulouri is a ring-shaped bread made with wheat flour and coated in sesame seeds. Koulouri is thinner than a bagel or donut, with a texture more similar to that of a baked pretzel.
Koulouri rings can be enjoyed plain, but some less traditional varieties are served with cheese, tomatoes, chocolate or various dips. Crispy on the outside and soft on the inside, koulouri thessalonikis makes an ideal breakfast or on-the-go snack.
Try It Yourself: This My Greek Dish recipe for kouluri thessalonikis will transport you to the streets of Athens or Thessalonikis.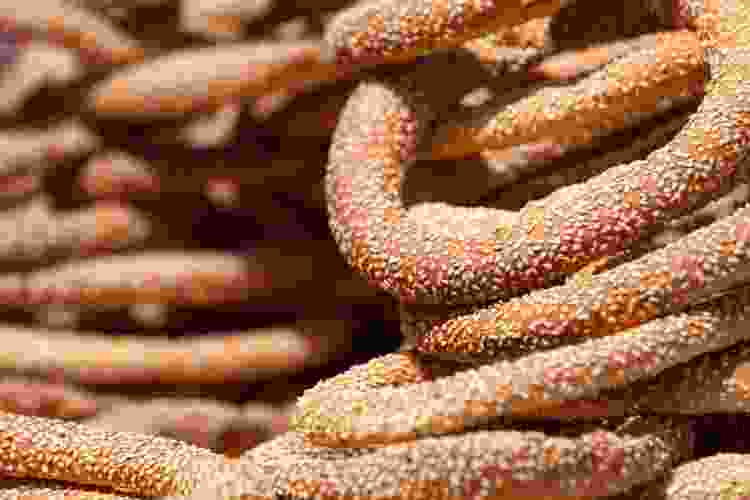 Greek Dips and Sauces
6. Greek Fava Dip
Hummus is a similar traditional Mediterranean dish, but fava dip is more specific to Greek food. Despite its name, Greek fava dip isn't made with any fava beans. In fact, fava dip is actually made with split yellow peas, garlic, olive oil and various seasonings and vegetables.
Fava dip is commonly served as an appetizer or meze platter with other Greek foods like dips, cheeses, meatballs and pita or crusted bread. Like hummus, fava dip is a versatile spread best served cold.
Try It Yourself: Gimme Some Oven has a wonderful Greek fava dip recipe that goes amazingly on any homemade meze platter, or even just as a snack with pita bread.
7. Tzatziki
It's hard to imagine Greek food without tzatziki. This sauce is beloved around the world for its perfectly creamy, tangy and herbaceous qualities. Tzatziki's base is made with thick Greek yogurt (sometimes derived from sheep or goat's milk), cucumber, olive oil and garlic.
Tzatziki pairs beautifully and is often garnished with lemon and dill. Served as a cold appetizer or dip, tzatziki is the perfect complement to falafel, gyro sandwiches, souvlaki and more.
Try It Yourself: For a twist on the original that everyone can enjoy, try out Chef Mike's recipe for creamy, zesty vegan tzatziki.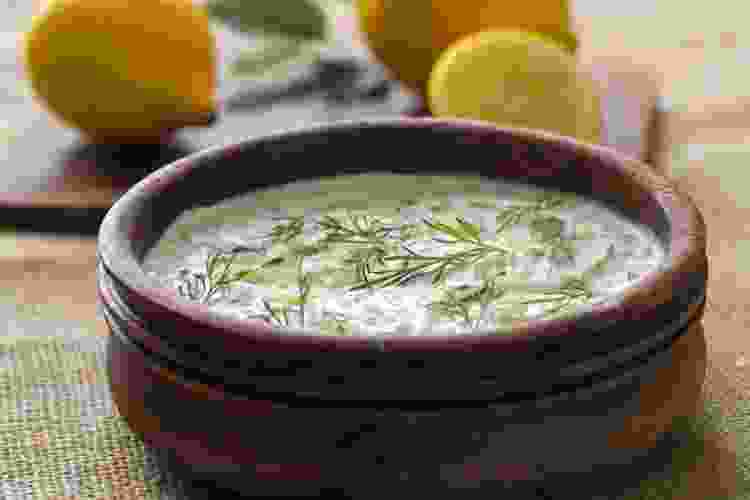 Greek Appetizers
8. Dolmades
When it comes to traditional Greek food, dolmades are one of the most unique dishes. Typically served as an appetizer, side dish or part of a meze platter, dolmades are small boiled wraps made with grape leaves, herbed rice and sometimes minced meat like lamb or beef.
Dolmades have a slightly lemony, oily flavor complemented by common Greek spices like dill, parsley and mint. The grapevine leaf and its contents are boiled and eaten whole, and sometimes dipped in a tzatziki sauce.
Try It Yourself: These dolmades from The Mediterranean Dish can be made vegetarian, too, so that everyone can enjoy this flavor-packed treat.
Gourmet Cooking Classes Near You
Take your culinary skills to new levels with guidance from five-star chefs.
9. Kolokithokeftedes
Kolokithokeftedes, also known as fried Greek courgette balls, are small, round fritters made with courgette (zucchini squash), onions, egg, flour, spices and breadcrumbs. These little fried balls are the perfect appetizer before diving into other Greek foods. Even picky eaters are guaranteed to love these vegetable-rich bites.
Kolokithokeftedes pair wonderfully with a refreshing tzatziki sauce. You won't want to miss out on these crispy bites, served hot and fresh out of the frying pan, next time you're sampling popular Greek food.
Try It Yourself: Eating European has a marvelous recipe for kolokithokeftedes with feta. They're crispy on the outside and creamy on the inside.
10. Tomatokeftedes
Tomatoes, peppers, squash and many other foods didn't arrive in the Mediterranean area until after the Americas were discovered. However, these plants quickly thrived in the pristine Mediterranean environment, and many became staple ingredients in traditional Greek foods.
Tomatokeftedes are a popular spin-off of kolokithokeftedes, made with tomatoes instead of zucchini squash. Fried with sweet tomatoes, feta cheese, basil and red pepper, these fritters have a flavor that can be described as similar to pizza.
Try It Yourself: These tomatokeftedes from Olive Tomato make as wonderful a meze as they do an indulgent lunch.
11. Cheese Saganaki
If you're a lover of all things cheesy, cheese saganaki is the Greek food for you. This simple fried appetizer consists of a pan-fried block of graveria, kefalotyri or kefalograveria cheese. These cheeses are firm enough to withstand the pan's heat without melting, resulting in a perfectly crispy outer layer and gooey, stringy inner layer.
Greek cheese saganaki is best enjoyed while it's still piping hot and served alongside crusty bread or fresh Greek salad. Of all the Greek foods on this list, this may be the easiest one to make at home!
Try It Yourself: This My Greek Dish recipe for a traditional saganaki is sure to be a crowd-pleaser, but if you're cooking for less adventurous eaters, this decadent fried mac and cheese is a respectable stand-in!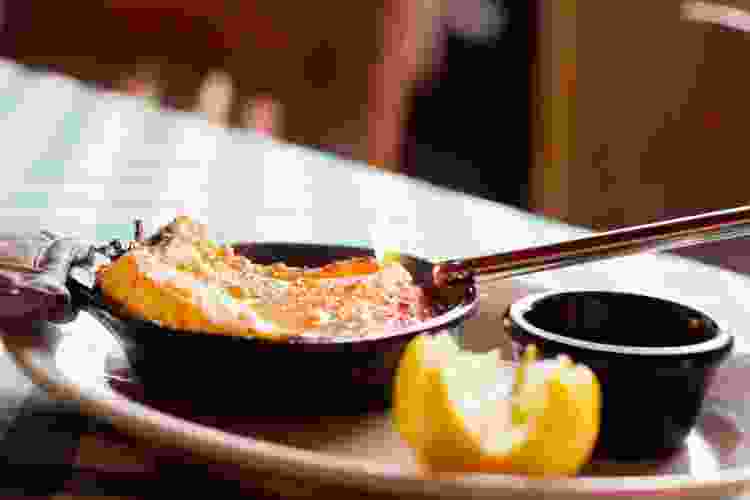 12. Kokoretsi
This Greek food is not for the faint of heart, but those brave enough to take a bite (or wise enough not to question its ingredients) are sure to be delighted by its flavor. Kokoretsi is a unique and laborious dish, typically only cooked for celebrations and special occasions like Easter.
Kokoretsi is made by wrapping lamb or goat organ meats, including heart, liver, kidneys and intestines, in a layer of caul fat. The caul fat is then wrapped in another layer of cleaned intestines, then skewered and slowly grilled to crispy, juicy perfection. Kokoretsi slices are typically served as an appetizer, but you may want a whole plate to yourself!
Try It Yourself: To be honest, making kokoretsi is a very involved and complicated process, and we recommend trying it during a trip to Greece over attempting it yourself!
Join a Live Online Cooking Class Today
Your kitchen is now your own culinary classroom. Connect with chefs from around the world right from the comfort of home.
Greek Dishes
13. Moussaka
If you're looking for the most comforting Greek foods, it's hard to beat a soothing bite of savory moussaka. Greek moussaka was originally adapted from a similar Arabic dish, but with a wide variety of ingredients, it has come to symbolize a mesh of cultures. Today, it is a flexible recipe, with every Greek family adding their own twist.
One of the most popular Greek foods, typical moussaka is a layered, oven-baked casserole made with potatoes, baked or fried eggplant, tomatoes, beef or lamb, melty cheese and French béchamel sauce. The result is a deliciously layered dish that reportedly tastes similar to lasagna.
Try It Yourself: This eggplant casserole from Chef Maria is a delicious spin-off of moussaka. We dare you to only eat one piece!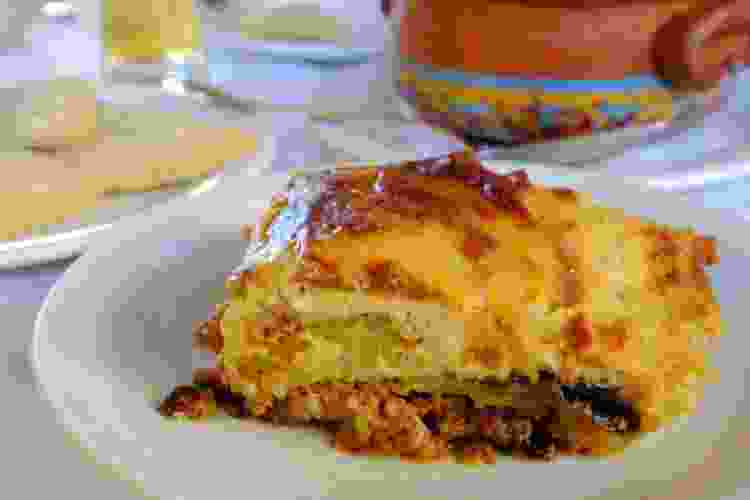 14. Gemista
Gemista, also written as yemista, is a Greek word that translates to "filled with," and as with many Greek foods, gemista is filled to the brim with flavor. Gemista refers to a baked dish made with various cored and stuffed vegetables, including tomatoes, bell peppers, zucchini, eggplants and more. This dish can easily be made vegetarian, and many people prefer it that way, but there are also recipes that contain beef or pork.
Each vegetable is stuffed with tasty rice and herbaceous sauce and filled with onions and spices, then put back together and baked in a rice stew until soft and savory. Gemista is one of the best Greek foods to enjoy for a simple, healthy dinner.
Try It Yourself: Try this traditional Gemista recipe from My Greek Dish when you're in the mood for a healthy, flavorful meal. For an American take on this Greek delight, why not cook up some sausage stuffed peppers, courtesy of Chef Giselle?
15. Spanakopita
Spanakopita is a popular dish at many Greek food trucks and restaurants. Great as mini turnovers or a large dish, spanakopita is a savory pie made with spinach, melted feta or ricotta cheese, onions, garlic and flaky phyllo crust.
Spanakopita is most often served as a main dish for lunch or dinner, but it can also work well as a side for special occasions like holiday dinners. The warm, cheesy and savory elements of spanakopita shine best when paired with a refreshing Greek salad or light, crisp white wine.
Try It Yourself: Dinner at the Zoo's spanakopita recipe looks so golden crispy that we're aching to give it a try!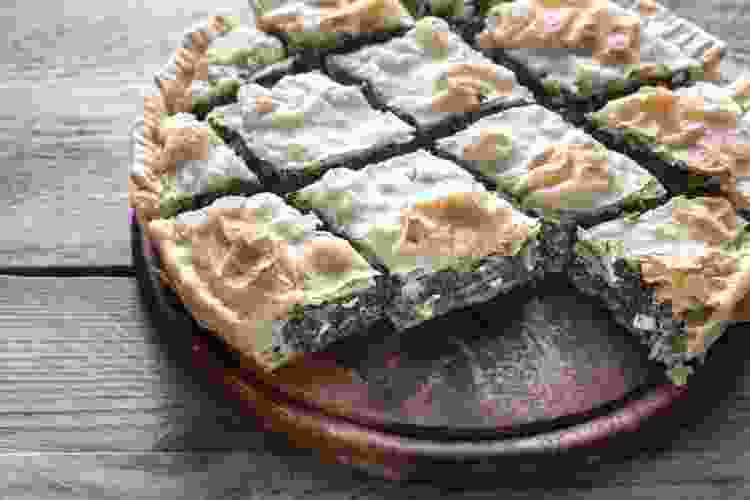 16. Soutzoukakia
Despite Greek food's reputation as a vegetable-heavy cuisine, Greek people know how to create some incredible meat dishes as well. Soutzoukakia is a spiced sausage-like meatball dish baked in creamy tomato sauce. Each meatball is delicately seasoned with a warming blend of spices, including cumin, cinnamon, pepper, garlic and wine.
The perfect meal for a cold winter's day, soutzoukakia is commonly served with fluffy rice, mashed potatoes or spaghetti pasta. Of course, you can enjoy these Greek meatballs all on their own, too.
Try It Yourself: Chef Davide's meatball marinara recipe or this traditional soutzoukakia recipe from My Greek Dish make a hearty, big-family meal.
Book a Gourmet Cooking Class Now
Kick-start your culinary confidence with help from a world-class chef. See what's cooking in your city today.
17. Greek Salad
Greek salad is a popular, refreshing choice for lunch on hot summer days. The ripe, fresh ingredients and minimal dressings allow each vegetable's unique flavor to shine. A very easy Greek food to make at home, Greek salad consists of roughly chopped or sliced lettuce, tomatoes, cucumber, red onion, black olives and feta.
Greek salad is frequently enjoyed without any dressing, but for extra flavor you can add a simple balsamic dressing, salt and pepper or oregano. Enjoy this juicy salad alongside other Greek foods, or grab a big bowl for lunch on the patio.
Try It Yourself: Ina Garten's Greek salad recipe, featured on Food Network, is so easy and delicious it will become a staple in your life after first bite.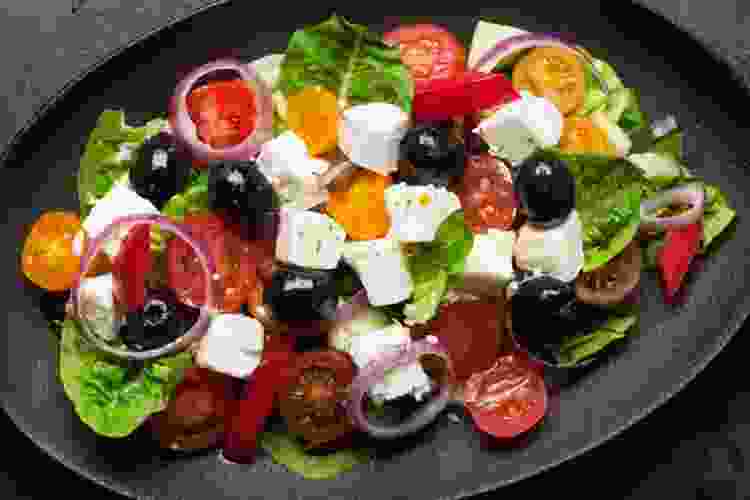 18. Gyros
Like spanakopita, gyros are another Greek street food favorite. The word gyro means "to circle or turn around."
To make gyros, meats like chicken, lamb or pork are slow roasted on a vertical spit, then carved off into hot slices. The slices of fragrant, tender meat are then wrapped or stuffed between folds of pita bread and served with fresh tomatoes, peppers, cucumbers, lettuce and tzatziki sauce. If you're determined to try the best Greek foods, you won't want to miss out on gyros.
Try It Yourself: This Christina's Cucina recipe for homemade Greek gyros with tzatziki is delicious and easy and cooks right in a loaf tin.
19. Souvlaki
The untrained taste buds might confuse gyros and souvlaki, but these two traditional Greek foods are not the same. Souvlaki is made by marinating chunks of meat, such as beef, pork or chicken, and roasting each piece on a skewer. Sometimes the meat is roasted alongside vegetables, though this may be more commonly referred to as a kebab.
Souvlaki was popular among travelers in ancient Greece because it was easy to eat on the road. While souvlaki is frequently eaten right off the skewer, the meat can also be pulled and put in a pita or salad.
Try It Yourself: In this souvlaki recipe, All Recipes uses pork tenderloin marinated in a lemony olive oil and oregano mixture.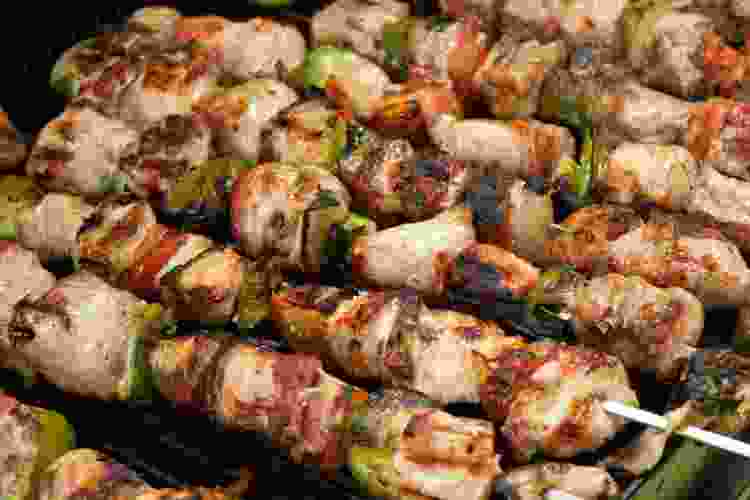 Greek Desserts
20. Loukoumades
Loukoumades are a delicacy among Greek foods that you won't want to miss out on. These doughnut-like pastries are made with fried dough balls soaked in flavored syrup or honey. Some versions of the sweet are even topped with almond crumbs, cinnamon or chocolate.
Loukoumades are a sticky, sweet and lightly flavored dessert like no other, though they do bear some similarities to the gulab jamun of Indian food. Legend has it that these Greek foods were even offered as a reward to the winners of the first Olympic games!
Try It Yourself: For a sweet, doughnut-like treat, try this stellar recipe for Greek loukoumades from My Greek Dish.
Book an Online Cooking Class Today
Five-star chefs. Step-by-step coaching. Flexible menus. Come see what's cooking in a live online cooking class.
21. Baklava
Baklava is a traditional Greek food that dates as far back as the 8th century B.C. Each paper-thin layer of phyllo dough is brushed with a coat of butter or oil, which helps it to crisp up while baking. The result is a perfectly light and crispy, satisfying and sweet pastry treat.
Baklava is generously topped with sweet syrup or honey, and some versions are even baked with hazelnuts, cinnamon or other spices. This dessert is popular around the world, and every country or region tends to have its own recipe.
Try It Yourself: Forget what you've heard about baklava being difficult to make. Simply Recipes's baklava is as wonderfully flaky and addictive as it is doable!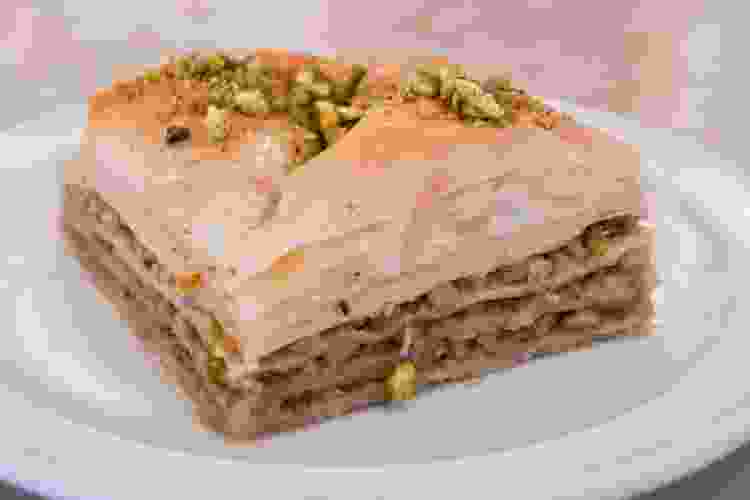 22. Feta Me Meli
Another one for the cheese-lovers in the crowd, feta me meli translates to "feta with honey." One of the more unique Greek foods on this list, feta me meli is literally a block of feta cheese wrapped in phyllo pastry, then baked or fried and drizzled with honey. While it may seem like an odd combination, the saltiness of the warm feta cheese pairs harmoniously with the sweetness from the honey.
Feta me meli is typically eaten with a fork and shared among friends as a luxurious treat. This sweet and savory Greek food is sometimes even served as an appetizer or entrée!
Try It Yourself: For only six ingredients and five minutes of prep, this feta me meli recipe from The Mediterranean Dish brings you a decadent treat that tastes more complicated than it really is!
23. Amygdalota
While it might sound like a part of the brain, the Greek word amygdalota actually means "sweet from almonds." Almonds are an essential part of many Greek foods, and almond trees have thrived for centuries in Greece. Amygdalotas are simple and delicate Greek cookies made with almond flour and lightly flavored with rosewater.
Amygdalota cookies typically only contain a few ingredients: almond flour, eggs, sugar and rosewater. As with many Greek foods, each family may have their own special twist, adding semolina, orange essence, mahlab or other flavors to the mix.
Try It Yourself: Flavor the Moments's recipe for amygdalota (almond cookies) yields a sweet, 5-ingredient treat that's equal parts chewy and crunchy.
Greek Drinks
24. Ellinikos Kafes
Ellinikos kafes is a traditional Greek coffee made with very finely ground coffee beans. Similarly to Turkish coffee, ellinikos kafes is prepared in a special copper pot called a briki and heated over hot sands. The result is a very strong brew with a layer of foam at the top and finely ground unfiltered coffee at the bottom.
Ellinikos kafes is not like most coffee; it is very strong and naturally sweet. Traditionally, you would not add sugar or dairy to this coffee, although it is recommended to sip slowly and pair with a glass of cold water. Greek people enjoy ellinikos kafes at all times of the day, frequently sipping it alongside other Greek foods.
Try It Yourself: Whip up a pot of this amazing ellinikos kafes from Savor the Flavour.
Gourmet Cooking Classes Near You
Take your culinary skills to new levels with guidance from five-star chefs.
25. Frappe
Before the green siren drive-thrus, there were Greek frappes. According to legend, this iced coffee beverage was invented at the annual Thessaloniki International Fair in 1957. When a Nestlé company worker discovered there was no hot water to brew instant coffee, he decided to shake the coffee with ice cubes and cold water.
Little did he know he had just invented one of the most delicious Greek foods: a creamy, foamy concoction known as the frappe. Traditional frappes are shaken, not blended, but they can be enjoyed with milk and sweetener.
Try It Yourself: Enjoy the frothy, icy goodness of this My Greek Dish recipe for a traditional Greek frappe.
26. Retsina Wine
If you want to be a true wine connoisseur, you have to taste traditional retsina wine. Retsina is a white or rosé wine that has been cultivated in Greece for thousands of years. Retsina has a unique, sappy and pine-like taste, which it gains from being stored in barrels sealed with pine resin.
Although it's said to be an acquired taste, retsina wine is the perfect complement to many Greek foods, highlighting flavors like anise, oregano, lemon and mint. This wine tastes best when enjoyed the true Greek way: slightly chilled and by the seaside.
Try It Yourself: Retsina wine is making a comeback, according to Wine Folly!
27. Ouzo
Ouzo is Greece's national drink, and this ice-cold, cloudy spirit is enjoyed by people of all ages in Greece. It's important to note that ouzo has some cultural significance in Greece, so it should be enjoyed with respect and intent. Ouzo is a dry apéritif made from grape must and flavored with anise. The resulting liquor has a very strong, licorice-like flavor.
Ouzo is sometimes served neat or chilled in other countries, but in Greece the bottle is typically placed on the table at room temperature. Guests are expected to pour a modest amount of ouzo into their own tall glass, then add an ice cube and top with fresh water before sipping.
Try It Yourself: Try one (or more!) of Insanely Good Recipes's formulas for ouzo cocktails.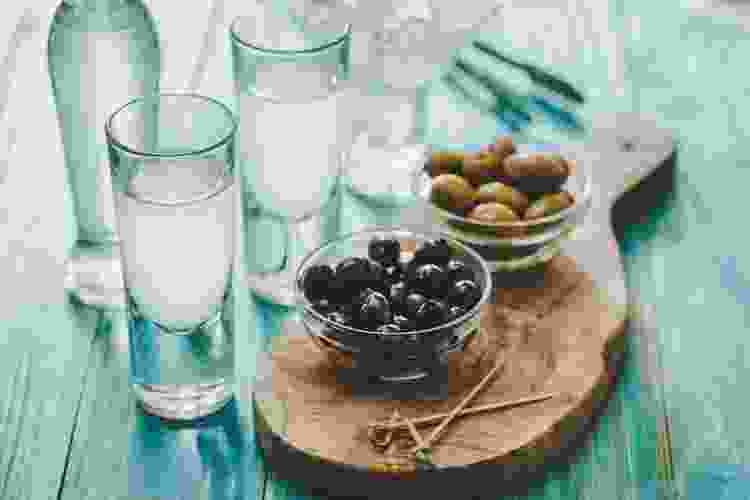 Common Greek Spices
Basil: A leafy herb that tastes similar to fresh mint, pepper and anise. Basil is frequently paired with garlic, tomatoes and thyme to bring out its complex flavors.
Dill: A pungent herb with subtle lemon, anise and grass notes. Dill is commonly used in pickling, but can also be placed as a garnish on cheese, soups, dips and more.
Fennel: A green herb similar to dill but with a potent licorice-like taste. Fennel bulbs can be cooked like an onion, while fronds are usually added as a garnish or to enhance salads.
Garlic: A pungent root herb commonly paired with tomatoes, basil and vegetables.
Mahlab: A delicate spice native to the Middle East, mahlab is made with ground cherry pits. The complex almond and rose-like flavor is typically used in Greek baking.
Join a Live Online Cooking Class Today
Your kitchen is now your own culinary classroom. Connect with chefs from around the world right from the comfort of home.
Mint: A popular herb around the globe, mint has a fresh, bright and tangy flavor.
Oregano: A small-leafed herb with robust and earthy flavors. Oregano pairs very well with tomatoes, soups and acidic dishes.
Thyme: A small-leafed herb similar to mint. Thyme has a sharp, earthy and almost minty flavor with lemon undertones.
Saffron: The world's most expensive spice, saffron has a complex honey-like flavor with soft floral undertones. Saffron is typically used in rice, vegetable or chicken dishes and gives a bright golden color.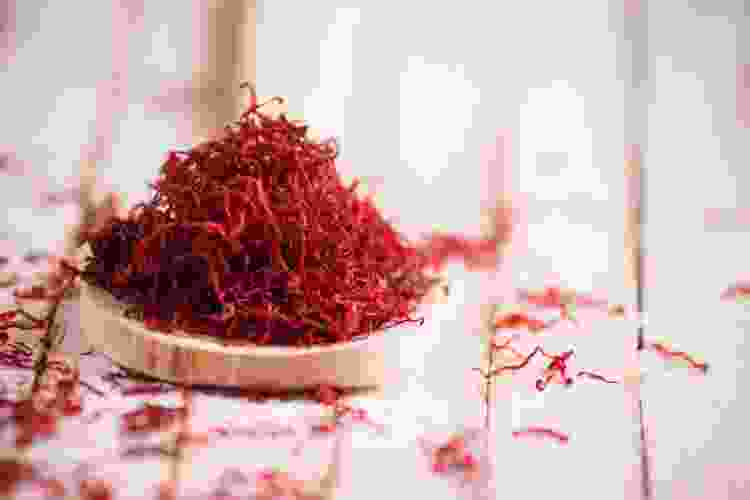 Join 200,000+ Culinary Enthusiasts
Exclusive deals, recipes, cookbooks, and our best tips for home cooks — free and straight to your inbox. PLUS: 500 Rewards Points.
If you've never tried Greek foods before, the first bite can seem a little intimidating, but once you start exploring this complex and ancient cuisine, you'll be delighted by what you discover. Reading about some traditional Greek foods, drinks, spices and their history is a great place to start, but the best way to learn is through experience! Next time you're hungry for a refreshing and unique meal, enjoy some delicious Greek foods in the sunshine.
For even more fun ways to explore Greek food, check out other experiences happening on Cozymeal.