35 Fun Date Ideas in Baltimore for 2023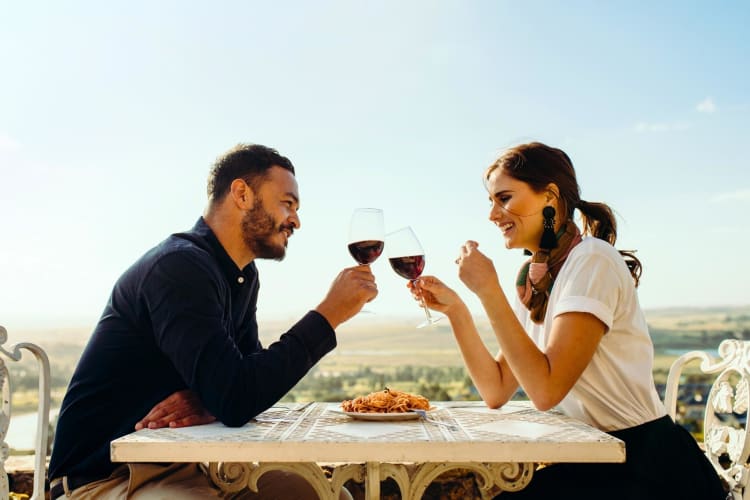 This Maryland city by the sea is rich in history and attractions, which means there's a long list of incredible date ideas in Baltimore for you to enjoy. Whether you've lived here for years or it's a new place to call home, there are tons of special spots to check out with your date.
The coastal destination notably boasts fresh seafood shops on most corners and has no shortage of specialty art museums or historical venues to visit. However, arts and cultural attractions aren't all the city offers. You and your other half can also discover a range of things to do on a date in Baltimore, from taking a cooking class to relaxing at the spa.
If you're planning to spend time with your partner in Baltimore soon, keep reading for 35 fun and romantic Charm City date ideas!
Jump to Section
Top Cooking Classes in Baltimore
Master the art of gourmet cuisine with the help of the best chefs in Baltimore.
Foodie Date Ideas in Baltimore
1. Participate in a Local Cooking Class
Whether you're an experienced chef or looking for a unique date idea in Baltimore, cooking classes are the answer. Trying something new, whether it's a kitchen skill or an entire cuisine, with your other half is a special bonding experience.
Additionally, these kinds of classes offer an interactive way to sample local or international cuisines. Cooking classes in Baltimore range from rustic, homemade Italian pasta nights to sessions on spicy Indian street food or hand-rolled sushi. Whatever you and your date's food preferences, you'll discover many interesting cooking classes near you!
2. Take a Food Tour
Have you ever asked your partner where they want to go to dinner and it's nearly impossible to get a clear answer? If so, forget the restaurants and try out one of many food tours in Baltimore!
A local expert will guide you around the city, stopping at multiple tasty spots. From popular street food vendors to hole-in-the-wall places, you'll discover an array of eateries and the best restaurants in Baltimore that only the true locals know about.
Any of these food tours near you will offer a selection of about five incredible stops. Along with sampling some dishes, you can learn a little more about the history of the area you're walking around. This Baltimore date idea is the perfect combination of good food and entertainment while still keeping things casual.
3. Hire a Private Chef
Going out to eat at a restaurant is always an excellent date idea, but if you really want to impress your date, hire a private chef to wine and dine the both of you. There are tons of world-class private chefs in Baltimore who are qualified to create an incredible meal.
Everything from the grocery shopping to the meal and clean up is included, so it's just up to you to set the scene with roses and candles. Private chefs near you can create the menu of your dreams whether that's local Maryland crab cakes or flavorful Thai street food. This is definitely one of the most unique and romantic date night ideas in Baltimore.
4. Eat Your Way Through the Maryland State Fair
This summer date idea in Baltimore has everything you need for a fun afternoon or evening together. From classic theme-park treats and other food vendors to rides and attractions, you can spend all day here. Wear comfortable shoes as you'll spend most of the day on your feet.
Book a Baltimore Private Chef Now
Indulge in the finest fare Baltimore has to offer. Book a five-star private chef experience starting at $59/person.
5. Taste Whiskey at Sagamore Spirit Distillery
Baltimore is home to several spirit distilleries, including Sagamore Spirit Distillery. During a visit to the distillery, that specializes in American rye whiskey, you can sniff and sample a variety of whiskeys. You can even enjoy an inside look at how the spirits are produced. This cool date idea in Baltimore is equally as fun during the day as at night.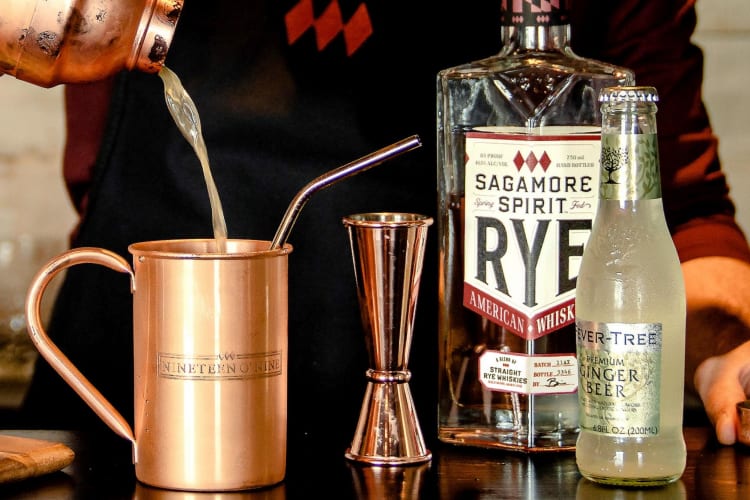 6. Have a Meal and Drinks at Pratt Street Ale House
This old-school ale house serves traditional British ales and dishes like fish and chips. You can also get some American dishes, such as Maryland crab macaroni and cheese. The hearty food paired with a game on one of the bar's many TVs makes for a cozy date idea in Baltimore for the couple that loves sports and good food and drinks.
7. Check Out Broadway Market
Another excellent place for foodie couples is Broadway Market. The popular local market has a bunch of vendors peddling delicious Baltimore foods. You'll also find a few bars here with craft beer and delicious cocktails.

This laid-back date idea in Baltimore means both of you can enjoy a meal you love at the same place, even if it's from two different food vendors. Alternatively, choose a few dishes from various vendors to share with your loved one. Visiting Broadway Market also makes a great midway or end point for an outdoor stroll through the city.
Unique Date Ideas in Baltimore
8. Play Games at Ultrazone
Let your hair down and have a little fun with this creative date idea in Baltimore. Asking that special someone to join you for a night of healthy competition at Ultrazone will make your date a little more unique and memorable. From laser tag to arcade games, you can get your heart pumping while getting to know a different side of your partner.
9. Plan a Trip to Washington, D.C.
American history enthusiasts may want to hop on the train and enjoy a cozy weekend getaway in Washington, D.C. Located less than one hour away, you could easily spend the day and come home that night if you prefer.
This unique take on a date idea in Baltimore offers an opportunity to delve deeper into U.S. history and visit an array of world-famous museums or landmarks. Not to mention the incredible food scene that D.C. is home to.
Gift an Online Mixology Experience
Raise a toast to the perfect gift. Enjoy craft cocktails, bartending basics and more taught by five-star mixologists.
10. Enjoy a Music Festival
No matter what type of music you enjoy, there are always tons of music festivals in Baltimore to attend. Depending on the show, it could be a single-night concert or a multi-day event, so you can choose whether or not you want to make a weekend out of it. This fun date idea in Baltimore is a unique way to spend the weekend together and you're sure to make some incredible memories.
11. Get Creative at an Art Class
Tuning to your creative side is always an adventure, and it's so much sweeter with the one you love. Sign up for art classes in Baltimore to try something new, like drawing, clay sculpting or painting. This sweet date idea in Baltimore encourages you to get out of your comfort zone, plus you're left with a cute memento to remember your time together.
Outdoor Date Ideas in Baltimore
12. Wander Around Upper Fells Point
The charming neighborhood of Upper Fells Point is a great spot to get lost in time with someone special. Also known as Fells Prospect, this neighborhood in Southeast Baltimore was originally home to dock workers in the 1800s before it saw an influx of immigrants from Poland, Italy and Ireland.

Today, it's a sought-after place to live and home to many great restaurants from all over the world. Strolling the scenic streets and finding a great place to stop for a bite makes this activity one of the most romantic date ideas in Baltimore.
13. Have a Rooftop Drink at 16 on the Park
Drinking outside counts as an outdoor activity, right? 16 on the Park has a fabulous rooftop with expansive views of the city. Of course, it additionally features a great drink menu and lots of tasty bar snacks are available.
Best of all, the bar has a laid-back ambiance, meaning planning a get-together here is one of the best first-date ideas in Baltimore. However, couples that have been together a while will still have an excellent time here, enjoying drinks with a stunning view.
14. Spend the Day in Maryland's Wine Country
Located about 45 minutes outside Baltimore is the city of Bowie, which is surrounded by wineries. You can either drive to Bowie yourself and join a wine tour or take a planned day trip tour from Baltimore.

Once you arrive, you can head to several local wineries, where you and your sweetheart can sip and sample delicious blends. Taking a tour of a vineyard is always lovely if the weather is nice, and you can bring home a couple of bottles of your favorite wines to enjoy on your next date night in Baltimore.
Gift a Virtual Wine Tasting Now
The ultimate gourmet gift for any wine lover on your list. Virtual wine tastings bring a virtual vineyard experience right to you.
15. Ice Skate at Glen Burnie Outdoor Ice Skating Rink
This outdoor date idea in Baltimore is one of the most romantic things you can do in winter. Sip on hot cocoa and skate hand-in-hand around this massive outdoor skating rink. Skates are available for rental or you can bring your own to use while enjoying this festive, outdoor winter date idea in Baltimore. Ice skating together is the perfect precursor to a nice meal, too.
16. Check Out Fort McHenry National Monument
Enjoy a peaceful walk through a very special place, the Fort McHenry National Monument and Historic Shrine. Located right on the water with a ton of historical artifacts to check out, exploring this famous landmark offers the perfect opportunity to absorb some new history about your city. Said to be the birthplace of The Star Spangled Banner, it's a lovely spot for a date in Baltimore on a nice day.
17. Play a Round of Golf at Forest Park Golf Course
Golf is a great way to actively enjoy nature together, especially if you both like to play. The Forest Park Golf Course is one of the best in the Baltimore area and also has a driving range. This fun date idea in Baltimore might take some planning, as you need to reserve a tee time in advance. However, once you have a time to play, it's the perfect combination of relaxation and competition.
Fun Date Ideas in Baltimore
18. Unwind at the Spa
The Four Seasons Baltimore is home to a world-class spa, which is a super relaxing spot for a date. Spend the afternoon enjoying a couples massage or lounging in and around the hot tubs or sauna. The spa offers incredible views of Harbor East as well. To expand on this date idea in Baltimore, have dinner and drinks at one of the stylish hotel restaurants after your spa session.
19. Try a Virtual Wine Tasting
Bring the feeling of a private Sonoma Valley wine tasting to your home (or anywhere you have wifi) with a virtual wine tasting. These online sessions include interactive guidance from a world-class sommelier and are an immersive experience utilizing all your senses. Sip and savor wines from all over the world in an elevated yet cozy date experience.
Top Cooking Classes in Baltimore
Master the art of gourmet cuisine with the help of the best chefs in Baltimore.
20. View Sea Life at the National Aquarium
There's something so peaceful about watching all the jellyfish and other underwater creatures float around at the National Aquarium. Spending a magical afternoon at this attraction is an interesting and relaxing date idea in Baltimore that takes very little planning. You can book a private tour if you want to do a deep dive, no pun intended, on the background of the aquarium and the sea life living there.
21. Visit Oriole Park at Camden Yards
Going to a live sporting event is a sports fan's dream, but even if you don't keep tabs on how the home team is doing, the ambiance at a game is unbeatable. Baltimore's hometown Major League Baseball team, the Baltimore Orioles, has a pretty sweet stadium that can serve as an awesome backdrop for a fun date in Baltimore.

The stadium incorporates neighboring warehouses and iconic buildings into its 360-degree design. If football is more you and your partner's thing, going to a Baltimore Ravens NFL game is a date idea in Baltimore that will appeal to you.
22. Shop for Local Produce at a Farmers Market
Visiting a farmers market on the weekends with your special someone is always a good idea. Pick up a beautiful local bouquet or some fresh produce for a home-cooked meal. Even if you don't need anything, there's a good chance that you'll find something you want to take home. Shopping here is also a great way to support small, local businesses.
Cheap Date Ideas in Baltimore
23. Spot Famous Landmarks on a Self-Guided Sightseeing Tour
Baltimore is home to numerous historical sites, many of which are free to visit. A quick search on Google will help you come up with a great itinerary of places to visit. Just a few of the landmarks to spot include the Star-Spangled Banner House and the Bromo Seltzer Arts Tower. Enjoy some fresh air and exercise with this free date idea in Baltimore that will help you gain a greater appreciation for the city.
24. Visit Mount Vernon Place
Known as the city's cultural and historical center, Mount Vernon Place is home to a high number of must-see sites. Stroll around and check out Baltimore's Washington Monument and the Peabody Library, part of Johns Hopkins University, among other landmarks.

As a side note, the Mount Vernon Place neighborhood is a great area to stay in if you're visiting the city with your loved one. There are lots of sites within walking distance and many unique restaurants — perfect for those looking for date ideas in Baltimore centered around a delicious and romantic dinner.
Book a Baltimore Private Chef Now
Indulge in the finest fare Baltimore has to offer. Book a five-star private chef experience starting at $59/person.
25. Stroll Around the Cylburn Arboretum
Take a stroll hand-in-hand around the lovely Cylburn Arboretum to enjoy some of the most pristine nature you can find in Baltimore. This peaceful date idea in Baltimore is great at all times of the year because there's always something new in bloom. Covering over 200 acres, you could spend all day exploring together. Best of all, admission is free, but do note that the park is closed on Mondays.
26. Get Ice Cream at The Charmery
Meet up with your significant other for a little sweet treat at The Charmery. There are three locations spread throughout the city, so this sweet date idea in Baltimore is accessible wherever you live.

Try out unique and seasonal flavors in a cone, milkshake or ice cream sandwich. Alternatively, opt for a comforting classic like chocolate or vanilla. Dates don't have to be extravagant to be memorable — sometimes, it's the little things like sharing an ice cream cone that make the perfect romantic activity.
27. Picnic at a Local Park
If you're looking for the ideal relaxing date idea in Baltimore, packing a picnic and heading to one of the city's many parks is an excellent choice. Great views, a basket of your favorite snacks and refreshments and the fresh air make for an unforgettable day (or night). Popular parks include Druid Hill Park, Patterson Park, and Carroll Park.
28. Go to Rawlings Conservatory
Another of many relaxing and affordable date ideas in Baltimore is going to Rawlings Conservatory. This miniature botanic park, constructed in 1888, is the perfect place to explore when the weather is nice. Something is always blooming here in one of the five different conservatory rooms, such as the Palm Room, Orchid Room or Mediterranean Room. Plus, it's free to enter.
29. Grab a Quick Coffee and Pastry at Pitango Bakery
Swing by Pitango Bakery with your other half for fresh baked goods and coffee. The charming bakery and café has an array of sweet treats, from banana bread to croissants. There's even a gelato bar! Savory toasts and sandwiches are available as well. If you're searching for the perfect weekend date idea in Baltimore, visiting this adorable spot has to be on your to-do list.
Gift an Online Mixology Experience
Raise a toast to the perfect gift. Enjoy craft cocktails, bartending basics and more taught by five-star mixologists.
Date Night Ideas in Baltimore
30. Listen to the Baltimore City Orchestra
Watching the Baltimore City Orchestra is a fun date idea in Baltimore that offers the perfect excuse to dress up and listen to a beautiful symphony of sounds. Going to a show is an ideal way to end an evening after a nice dinner.
31. Learn To Mix Drinks in a Mixology Class
Bars can get loud and busy, making it difficult to hear what your date has to say. Online mixology classes allow you and your other half to try some delicious drinks in the coziness and comfort of your home.

These fun and interactive sessions provide the perfect way to become a master bartender. You'll learn all the secrets to shaking up perfectly balanced cocktails on your own. This easy date idea in Baltimore is perfect for those wanting a romantic evening at home.
32. Hear Spooky Stories on a Ghost Tour
Since Baltimore is a city with a rich history dating back hundreds of years, it's not surprising that locals have noted some spooky sightings around town. To learn more about the area's paranormal events, go on a ghost tour.

This highly unique date night idea in Baltimore allows you and your partner to visit the city's most haunted spots. A local historian will guide you on the approximately hour-long tour, providing background on all the places you go.
33. Sip Whiskey at the Sagamore Pendry Hotel
The Cannon Room at the Sagamore Pendry Hotel is a sophisticated bar specializing in whiskey and bourbon. They offer flights, neat drinks and mixed cocktails for you to enjoy. With a lovely view overlooking the Patapsco River, this sophisticated date idea in Baltimore will set the tone for a romantic evening. Appetizers and wine are also available if whiskey isn't your thing.
34. Attend a Performance at Creative Alliance
Creative Alliance is a performance space featuring art shows, films and live music with two bars for refreshments. Check the calendar to see what appeals most to you and your sweetie. Whatever you're into, this makes for a fun night out and is one of the date ideas in Baltimore that will appeal to almost all couples.
Gift a Virtual Wine Tasting Now
The ultimate gourmet gift for any wine lover on your list. Virtual wine tastings bring a virtual vineyard experience right to you.
35. Sail Around the Inner Harbor
A romantic sunset sail through the Inner Harbor is one of the most romantic and original date ideas in Baltimore. There's no need to have your own sailboat or even know how to sail as you can charter boats or book a sunset cruise. The city views from the water are truly spectacular! Taking it all in with your loved one makes it all the more special.

Join 200,000+ Culinary Enthusiasts
Exclusive deals, recipes, cookbooks, and our best tips for home cooks — free and straight to your inbox. PLUS: 500 Rewards Points.
Now that your romantic wheels are turning, it's time to schedule a date in Baltimore and enjoy all that the city has to offer. Love is in the air, whether that's at a cozy restaurant, a live performance, or a sophisticated spa. No matter which of these Baltimore date ideas you choose, you're sure to have a memorable experience with your special someone.
For even more ways to explore Baltimore, check out other experiences happening on Cozymeal.