31 Fun and Unique California Gifts for 2023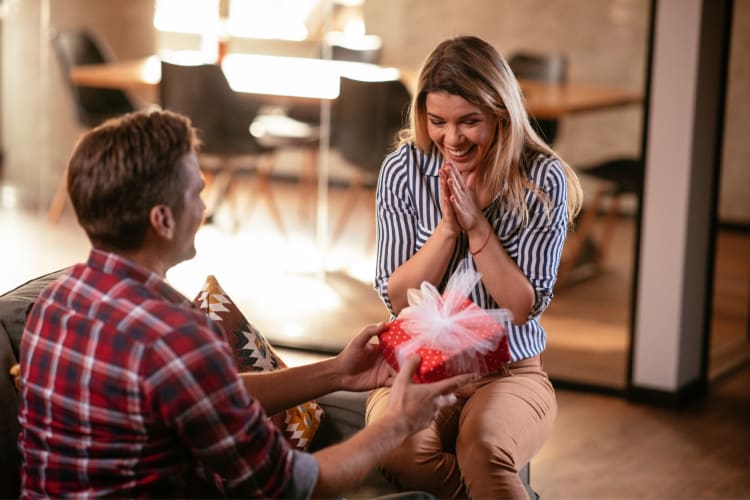 Our editorial team recommends the best products through independent research, selection and careful review. If you make a purchase through one of our affiliate links, we may earn a commission. Prices are subject to change.
Whether you are a California native or have fallen in love with the Golden State, discovering unique California gifts is an exciting venture. Many options are available aside from a t-shirt or coffee mug, with lots of gift ideas being both fun and functional or simple yet sophisticated.

What does it take to find that perfect California-themed gift that's unique, intriguing and even practical? How do you please that special someone who loves to dream big in the Land of Milk and Honey? Read on to discover our list of 31 unique and exciting California gifts.
Jump to Section
Best Cooking Classes in Los Angeles
Master the art of gourmet cuisine with the help of world-class chefs.
Best California Gifts for Foodies
1. Interactive Cooking Classes
A cooking class offers the California gift recipient an opportunity to experience local cuisine in a fun and interactive way while also learning some useful culinary skills. Consider cooking classes in Los Angeles to experience the excitement of creating globally-inspired quick bites, locally-inspired dinner options or gourmet four-course meals.

For fans of iconic San Francisco classics, like cioppino and sourdough bread, cooking classes in San Francisco are an excellent gift choice. There really are so many options, whether you are in California or hundreds of miles away. Regardless of the choice, cooking classes near you make for an exceptional and appreciated gift.
2. Food Tours
The scenic landscapes, sprawling urban districts and diverse culinary delights of California mean there is a lot to discover. That helps to explain why food tours are more popular than ever and a great gift idea for any occasion.

For example, food tours in the Bay Area showcase some of San Francisco's delectable cuisine, while also giving you a taste of the unique history and vibrant culture of the area. However, even if your gift recipient is elsewhere in California, you can gift them a fun food tour. Whether based in Los Angeles, San Jose or anywhere else in the state, you're sure to find food tours near you to check out.
3. Private Chef Meal
The beautiful, soft sand beaches and sub-tropical climate in California naturally lend themselves to feelings of tranquility and relaxation. There is no better way to relax than by enjoying a tasty and filling meal with that special someone while leaving the shopping, prep work, cooking and clean-up to a world-class chef.

From private chefs in San Diego and private chefs in Los Angeles to other California private chefs near you, you'll have no trouble finding a professional to create a memorable meal. This is one of the best California gifts because the experience is elevated, fun and personalized. Private chefs also meet the recipient's schedule, food preferences and dietary restrictions.
4. Foodie Gift Card
When you are not sure what to get your favorite food-loving friend who already has it all, the best idea is often one that they pick out themselves. This makes a foodie gift card the perfect choice for all of your California gift-giving needs.

Available in amounts of $10 to $1,000 per card, gift cards from Cozymeal are easily redeemed online for cooking classes, mixology classes, food tours and other experiences around California's most delicious cities. The recipient can also use the gift card to purchase high-quality culinary tools and barware to spruce up their own California kitchen.
Book an Orange County Private Chef Now
Indulge in the finest fare Orange County has to offer. Book a five-star private chef experience starting at $59/person.
5. Online Culinary Experience
Sometimes life gets busy with work or family requirements. Finding the time to book an in-person experience feels impossible. However, that does not have to mean leaving this unique California gift-giving idea behind. Online cooking classes, online mixology classes and virtual wine tasting offer the chance to learn new skills in the comfort of home.

Top-rated mixologists and world-class chefs introduce all the food varieties and beverage pairings California offers. They lead these fun and interactive classes, helping guests to refine their mixing and measuring skills while delighting their palates with fragrant ingredients. This all happens in a unique educational environment. Guests have fun while learning about high-quality ingredients, pairing options and flavor combinations.
6. Stemless Wine Glasses
For the wine lovers on your California gift-giving list, a beautiful set of wine glasses is the perfect choice. The Zwilling Prédicat Stemless Glass Set is an elegant yet durable choice and ideal for all varietals from chardonnay to pinot noir. This is a sophisticated gift and one that is reminiscent of California wine country. The recipient is certain to enjoy their stemless glasses at parties and intimate occasions for years to come.
7. Farmstead Fruit Basket
Almost half of the fruits and vegetables grown in the United States come from California, making California gift baskets that include local fruits and other produce quite popular. To give your gift recipient a taste of the state's high-quality produce, this California Farmstead Fruit Basket is an excellent choice.
It includes crisp Ambrosia apples, juicy Bartlett pears, a selection of rich chocolate and assorted flaky baklava. These delicious items combine to create a California gift basket to tempt your palate and heighten your senses.
8. California Charcuterie Gift Basket
Charcuterie gift baskets are ideal for small gatherings, family grazing and large-scale entertaining. They are also a popular choice for light meals and date night fun. This Ultimate Charcuterie Gift Basket includes a selection of California olive oils, richly-flavored balsamic dressings, creamy dips and smokey jams. The basket is finished off with rustic flatbread and salty, stuffed olives. It is packaged in a natural wood crate and includes a charcuterie cookbook.
Book a Bay Area Food Tour Today
Sample the best bites in the Bay Area. Top-rated tour guides show off the city's iconic eateries, hidden hotspots and more.
9. Local Coffee
Not all California gifts have to include food. Another bold and flavorful choice is beans from one of the many local California coffee roasters. From Napa to San Diego, roasters create true sensory experiences and batch-roasted delights in their specialty coffee shops. An excellent gift choice is The Bean Organic Coffee Company's California Blend. You could give this gift alone or pair it with organic syrup and cute coffee mugs to create a unique California gift basket.
Golden State Jewelry
10. California Birthstone Earrings
Compact California gifts are practical and easy to ship, along with being a perfect purchase if you are traveling. These California birthstone earrings are both personal and beautiful with a hand-crafted and simplistic design.

The earrings are created with the birthstone of your choice and a dangling map of California, along with sterling silver ear wires. Each set of earrings arrives boxed and ready for your California gift-giving needs.
11. Cutout Map Necklace
Is there a certain park, venue or street in California that has inspired someone who is special to you? This cutout map necklace gives them a personal and wearable keepsake to remind them of that place. Each pendant is hand-crafted to your specifications from sterling silver and delivered in a simple black box, making this a fantastic choice for your California gift-giving needs.
12. California Coastline Inspired Necklace
The sunny California coastline brings many people to the Golden State. Jewelry that is inspired by this natural landmark is one of the most popular California gifts. This Ocean Treasures dangle necklace is adorned with beautiful stones, reminiscent of the glow of a moonlit beach and the iridescent shells that line the shore.

The unique construction and simplistic design create a piece that is easy to wear for many occasions. It is the ideal California gift and perhaps even a future family heirloom.
Practical California Gifts
13. Vintage Designed Water Bottle
Water bottles are practical yet thoughtful California gifts for all your favorite people. This I Love California Bear Hug water bottle features a colorful and fun vintage California grizzly bear design. It is eco-friendly and durable, with a stainless steel finish to keep your beverages cold for hours.
Top-Rated Cooking Classes in San Diego
Master the art of gourmet cuisine taught by San Diego's best chefs.
14. Funky and Fun California Socks
These Hotsox California crew socks are the perfect gift for friends with frigid toes who desire warm and cozy feet instead. Constructed from cotton, the socks are comfortable and stylish. They are also functional, designed to last and a great choice for trendsetters of all ages. Socks are also a smart pick if you are searching for California gifts that are sized to pack and easy to travel with when you are visiting the Golden State.
15. California Cutting Board
This is a practical California gift that your foodie friends will get a lot of use out of. As a bonus, they can find their favorite California cities every time they chop vegetables. With a simplistic design and eco-friendly bamboo construction, the California cutting board is easy to use and store as well as being an attractive addition to any kitchen.
16. California Keychains
Keychains are practical California gifts that many people collect. They are available in a variety of unique designs that capture the beauty, history and culture of the state. Iconic California landmarks like the Golden Gate Bridge or Hollywood Sign are often showcased on keychain designs. For a unique bonus gift idea, wrap a larger gift and affix a California keychain, like this Golden Gate Bridge keychain, to a name tag on the outside of the package.
California Gifts for Sports Fans
17. San Francisco 49ers Replica Helmet
California is home to several NFL teams, including the San Francisco 49ers. Gear your favorite football fan up with an officially licensed Salute to Service replica helmet. Designed to honor the service of the men and women in the United States Armed Forces, this helmet includes a striking team logo and a military-inspired color theme, sure to add spirit to a sports memorabilia collection.
18. Kobe Bryant Front Page Print
Sports memorabilia is a popular California gift option for the sports fan on your list. Few teams are better known than the Los Angeles Lakers. This Kobe Bryant front page print honors the incredible career and legacy of one of basketball's most recognized players. The print focuses on his impressive 60-point career finish prior to his retirement. It comes framed and ready to place in any room of the house.
Book a Los Angeles Food Tour Now
Explore LA's famed eateries, hidden gems and acclaimed culinary culture with a top local guide.
19. California
Sport

s

Barware

Represent your team while enjoying your favorite frosty beverage. Sports-themed barware, like this Los Angeles Kings pint set, makes the perfect California gift for any sports enthusiast. The glasses are elegant in design as well as being fun and functional for your favorite beverage.
20. Dodgers Stadium Replica
This Los Angeles Dodgers Stadium replica is an impressive addition to any baseball fan's collection. Solid in construction and colorful in design, it brings back memories of sitting in the stands on a sunny day, enjoying the game and participating in the thunderous applause. Sports fans of all ages will appreciate this fun and unique California gift.
California Gifts for the Home
21. Los Angeles Homesick Scented Candle
Gift the scents of bright mornings, moonlit evenings and crisp, clean ocean breezes to that special someone who is missing home. This Los Angeles Homesick Candle is poured in small batches and includes notes of orange, bergamot and rose. It makes the perfect accessory to any living space and offers a warm reminder that home is never too far away.
22. California Poppy Seed Set
Bring a little piece of California home with you by adding some poppies to your garden. Packaged in a compact tin, this California Poppy Seed Set includes over 3,000 seeds. It provides enough coverage to fill an entire garden with fragrant orange poppies.
23. Taste of California Seasoning
Share a taste of California with someone special. The Taste of California Seasoning is ideal for anyone who loves to cook or wants to dabble in new flavor combinations for their next meal. Packaged in a magnetic tin, it contains no fillers and has a fruity essence with ingredients including strawberry, lime peel, thyme and cilantro.
24. Raw California Honey Gift Set
Such a sweet California gift to share! This Nature Nate's raw California honey will remind that special someone of a warm day in the botanical gardens with the sounds of bees buzzing through the air. Made in California, the honey is raw and unfiltered with no additives or preservatives. It features a delicious yet not overly sweet honey taste that's perfect for all palates.
The Best Team Building in Orange County
Treat your team to the very best cooking classes, food tours, private chefs and more in Orange County.
Locally Inspired California Gifts
25. In-N-Out Burger Merchandise
In-N-Out Burger boasts an impressive reputation as an established regional chain with locations across California. Their juicy, freshly prepared burgers are loved by many, and that makes In-N-Out merchandise a popular gift. Choose from t-shirts, ballcaps, beach towels, chairs and even pet items.
26. Route 66 Retro License Plate
With a unique vintage look and a fun and colorful design, this Route 66 retro license plate is reminiscent of the long and winding road down this historic highway. High-quality tin plate material is pre-drilled with holes, making the license easy to hang. It is the perfect addition to any home game room, basement bar, living room or garage.
27. See's Candies
See's Candies is an iconic California brand of candy invoking images of young children staring wide-eyed through large plate glass windows as they watch the candy being made. The rich and creamy, nut-filled chocolates are an exceptional choice when purchasing California gifts for family or friends. Whether you opt for a box or two of truffles, a unique Advent calendar or a pie-inspired chocolate-filled treat, your gift recipient is sure to be impressed!
28. Hollywood Star Personalized Print
Your gift recipient can join the list of Hollywood's finest with their very own Hollywood Walk of Fame print. Simply add the recipient's name and choose a symbol, like a microphone, television antenna, or classic star. This is a special California gift and a unique keepsake print for your favorite aspiring star.
California Experience Gifts
29. Surfing Lessons
Learn to catch a wave on a warm summer day with the help of seasoned professionals. San Diego Surf School offers a unique opportunity to experience an adrenaline rush while zipping up your wetsuit and grabbing a board. Lessons are offered daily and there's an option for all abilities, from beginners to those looking to level up their skills.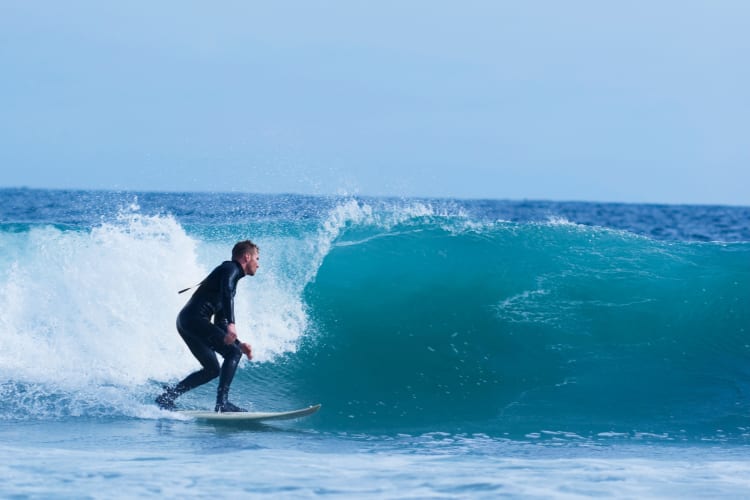 30. Universal Studios VIP Experience
Give the gift of Hollywood with awe-inspiring tours of some of the best-known soundstages and backlots. The Universal Studios VIP Experience is a special California gift for movie lovers, television enthusiasts and aspiring actors. It offers a one-of-a-kind opportunity to roll out the red carpet and tour entertainment industry sites seldom seen by the general public.
Book a San Diego Food Tour
See San Diego's famous food scene in a whole new light. Explore the best restaurants, hotspots and more with top local guides.
31. National Parks Pass
There are nine national parks in California, so gift recipients of all ages can easily get a lot of use out of a National Parks Pass. The pass is good for a year and provides opportunities to experience history at Alcatraz, hike through the distinct ecosystems of Redwood National Park or view the fascinating variety of desert plants at Joshua Tree National Park.

Join 200,000+ Culinary Enthusiasts
Exclusive deals, recipes, cookbooks, and our best tips for home cooks — free and straight to your inbox. PLUS: 500 Rewards Points.
Scouting websites or local shops for those perfect California gifts is awe-inspiring and highly fun. There are many options to choose from, and finding the right one involves considering what that special gift recipient loves most about California.

This collection of California gifts covers a lot of bases and features some of our favorite picks, but there are many more gift ideas to choose from! Have fun, get creative and enjoy the experience of shopping for something special.

For even more ways to explore California and beyond, check out other experiences happening on Cozymeal.